Oct. 02, 2017 05:17PM EST
NYCDA executive director Joe Lanteri with dance legend Bebe Neuwirth on the red carpet (photo via @nycda on Instagram)
The annual New York City Dance Alliance Foundation fundraising gala, "Bright Lights Shining Stars," is usually a star-studded affair. But last night's 2017 event proved to be extra epic, thanks to tons of superb performances and appearances by some of Broadway's best—and most legendary—dancers.
Keep reading...
Show less
The Tony Awards (airing this Sunday night!) recognize a lot of Broadway talent: actors, directors, sound designers, lighting designers, writers, composers, and our favorites, choreographers. But we all know that the true muscle behind every amazing musical is the dancers. And they rarely get Tony nominations. (Unless they happen to be the fabulous Karine Plantadit, who earned a best featured actress nomination in 2010 for her dance-heavy role in Come Fly Away.)
Enter the Fred & Adele Astaire Awards. Each June, the Astaire Awards recognize Broadway's best of the best—in jazz, tap, or character shoes. The 2014 ceremony was held last night in NYC, and the star-studded event didn't disappoint. Here are the best moments from the oh-so-dancey evening: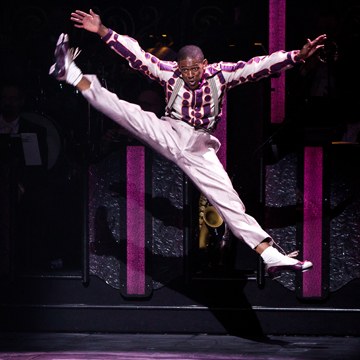 Jared Grimes in After Midnight (photo by Matthew Murphy)
1. Jared Grimes' performance. Grimes currently stars in After Midnight. He opened the show with a display of his signature lightning-fast tapping and hip-hop swag fusion that later earned him the Astaire Award for best male dancer. (After Midnight was the big winner of the entire evening: Plantadit and Dormeshia Sumbry-Edwards tied for best female dancer, and lanky Englishman Warren Carlyle won the award for best choreography. Seriously, go see this show!)
2. Angel Inniss' stellar layouts in her jazzy solo "Mr. Paganini." Man, can this senior dancer from Spotlight Studio of Dance in Maryland work a stage! Angel took home the New York City Dance Alliance Foundation's Adele Astaire College Scholarship. Congrats, Angel!
3. The presentation of the Outstanding Contribution to Dance Education Award to Luigi, the father of jazz dance (and the father of "5,6,7,8"!), and presentation of the Douglas Watt Lifetime Achievement Award to Patricia Birch. You know Patricia Birch for this choreography: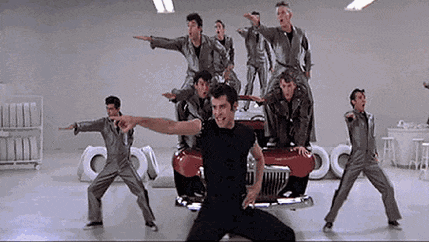 Greased Lightning! John Travolta and company in Grease
And this choreography:
Steve Martin and Gilda Radner cut a rug in "Dancing in the Dark" on "Saturday Night Live"
Of course, these are just two small snippets of this choreographer's CV, and Patricia Birch hasn't stopped moving (to quote Luigi) or choreographing. Her work can currently be seen on HBO's "Boardwalk Empire." Which brings us to top moment 4:
4. Legendary actor (and star of "Boardwalk Empire") Steve Buscemi making a surprise appearance to pay tribute to Patricia Birch for her work on the show. Best of all? We got to see a stage rendition of one of the acts from "Boardwalk." Take a look at the number in this clip from the show, and see if you can find our gal Chloe Arnold. Spoiler alert: Jared Grimes also performs!
5. Nancy Chippendale's Dance Studio tappers big finale. These teen dancers—there were more than 45 onstage!—from North Andover, MA, sure know how to stay in formation, while flapping and tapping in perfect unison. Their number "Glam" was the perfect finish to a truly glamorous event.
Let's hope Sunday's Tony Awards (8 pm on CBS) includes at least half this much dancing!
Jun. 08, 2012 02:48PM EST
Happy Tony Awards weekend, everyone! You've probably already feasted your ears on the Ultimate Broadway Playlist. But if you're like us, you can never get enough of the Great White Way. So here are a few more song-and-dance treats: 9 standout moments from the Tony Awards themselves. In reverse chronological order:
1. Last year's fantastic opening number. Neil Patrick Harris, backed by Broadway's finest dancers, tossing off laugh-out-loud lyrics—yes please. ("If you've seen a show, then you already know how magical theater can be; it's a two-hour, live-action, barely affordable, un-lip-synched version of 'Glee.'" Amazing.)
2. Billy Elliot stars Trent Kowalk, David Alvarez and Kiril Kulish accepting their joint award for Best Actor at the 2009 Tonys. So talented—and so, so adorable.
3. Lin-Manuel Miranda and the cast of In the Heights in "96,000" at the 2008 Tonys. I will never tire of this guy's crazy, and crazy smart, way with words.
4. Spring Awakening's medley at the 2007 Tonys. Before they were Gleeks, Lea Michele and Jonathan Groff absolutely nailed it in this show.
5. Bebe Neuwirth and Ann Reinking in "Nowadays/Hot Honey Rag" from Chicago at the 1997 Tonys. Two Fosse legends sharing a stage—need I say more?
6. The original cast of RENT performing "Seasons of Love" at the 1996 Tonys. Not only is this song incredibly powerful, but just look at all the soon-to-be-famous faces in this group (starting with Taye Diggs and Idina Menzel!).
7. Patti LuPone in the title song from Anything Goes at the 1988 Tonys. Yes, I loved Sutton Foster in the recent revival of this show, but Patti LuPone is pretty hard to top. (And check out the sailor girls' outfits! Scandalous.)
8. "I Hope I Get It" from A Chorus Line, at the opening of the 1975 Tonys. Now such a legendary number—and again, the original cast is mind-blowing. (Sorry about the poor quality.)
9. The cast of Hair performing at the 1969 Tonys. Harry Belafonte's introduction is unforgettable: "Theater...almost a last refuge, must commit itself to being a center of hope, where we can see the truth...where we can see what the glory of man is and what he aspires to be."
What are your favorite Tony memories? Share them in the comments, and tune in on Sunday to see what this year's standout moment will be!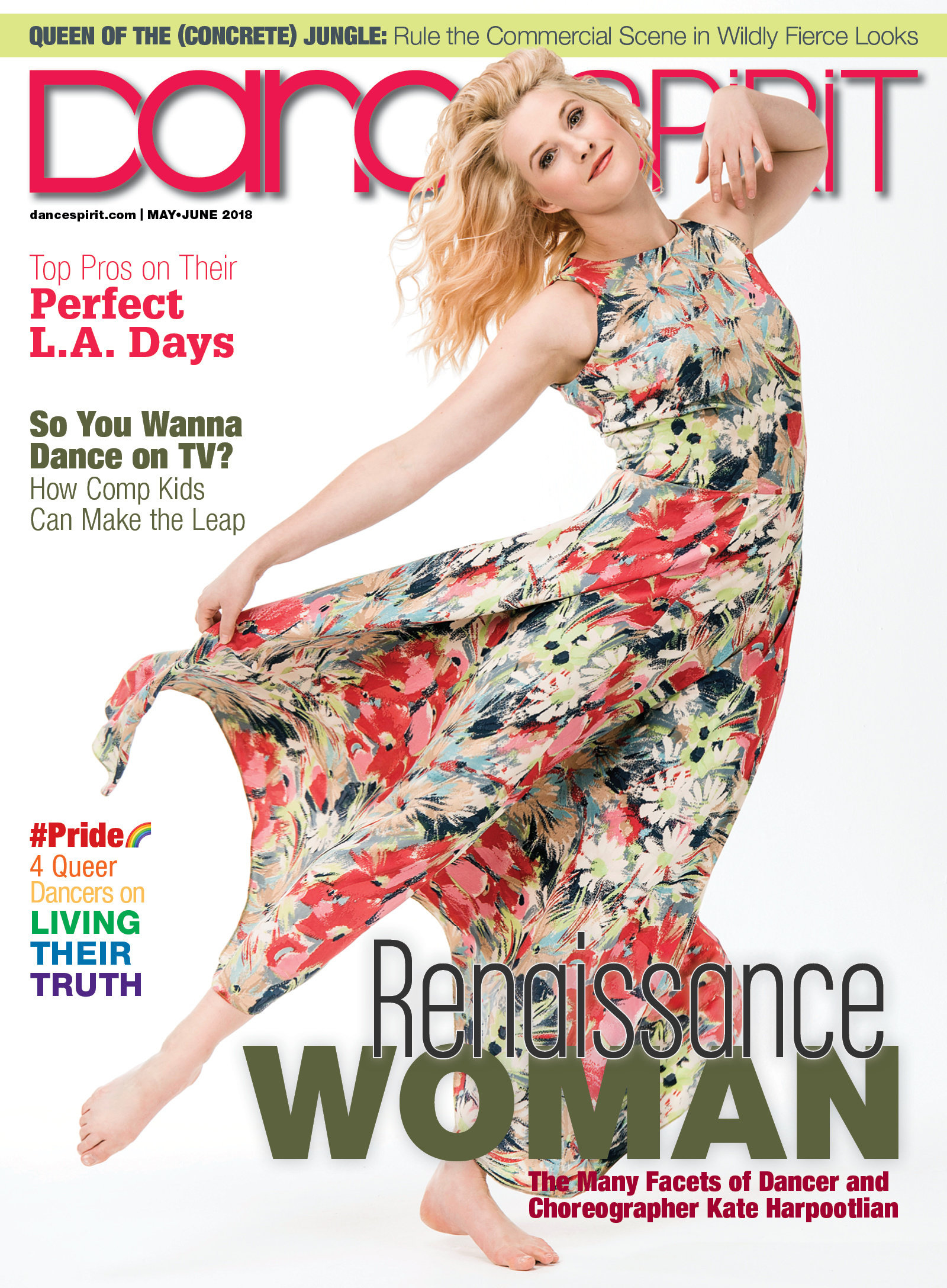 Get Dance Spirit in your inbox