Feb. 01, 2019 03:52PM EST
Courtesy Josephine Lee
Master pointe shoe fitter Josephine Lee of the California-based The Pointe Shop touches base with Ballet West principal Beckanne Sisk to hear all about her pointe shoe hacks, from Jet Glue to her preference for extra tight elastics. Plus, what she wears instead of toe pads (hint: it's paper towel).
Dance Videos
Mar. 01, 2017 03:28PM EST
Ballet West principal Beckanne Sisk as Kitri (photo by Luke Isley, courtesy Ballet West)
One of the great hallmarks of ballet is its reverence for the classics—which means generation after generation of ballerinas has performed the same iconic variations. A quick YouTube search for "Giselle Act I variation" or "Kitri Act III variation" will bring up clips of brilliant professional performances by stars like Alina Cojocaru and Natalia Osipova. And that's in addition to the thousands of results showing dazzling performances by students at ballet competitions.
If you're dancing Esmeralda's variation, how can you make your interpretation stand out from that huge, intimidating crowd? The keys to a one-of-a-kind performance are more tangible than you'd think. We asked the experts to weigh in on how to make a famous variation your own.
Do Your Research
When a ballerina performs a variation during a full-length production, she uses it to show the audience what the character is feeling and thinking at that point in the ballet—and you should try to do the same, even if you're dancing the variation out of context. "You have to do your research, not just about the character, but about the entire ballet and all of the characters," says Monique Meunier, co-director of the Academy of Nevada Ballet Theatre and a Youth America Grand Prix judge. "When you walk onstage to do an Aurora third-act variation, you need to dance as if you've lived through the first and the second act; you need to know where she's at." Read the book, if there is one, and try to see the full production in person if you can.
A winning interpretation of any variation also shows deference to and knowledge of the original intent of the choreography, especially when it comes to style. Valentina Kozlova, founder of the Valentina Kozlova International Ballet Competition, is often frustrated to see dancers lift their legs to their ears while dancing variations from Giselle, for example. "In my time, that was not allowed," she says, "because it's a very classical romantic ballet"—and the romantic style emphasizes modest, well-placed legwork rather than high extensions. Similarly, you'd need to learn about August Bournonville's style before dancing the variation from his Flower Festival in Genzano, or study George Balanchine's technique before attempting the solo from his Tschaikovsky Pas de Deux.
Your costume can also reveal if you've done your research. Xiomara Reyes, head of The Washington School of Ballet and a former American Ballet Theatre principal, dislikes seeing dancers wearing glittery dresses to perform Giselle's Act I variation, for example. "Giselle was a peasant," she says. "What does it mean to be a peasant? It means you don't have glitter on your dress."
Edit Carefully
Before she was a principal with Ballet West, Beckanne Sisk made it to YAGP's NYC finals several times. One of the ways she stood out was by slightly altering the choreography
of her variations to suit her strengths, at the direction of her coach. "My coach would
Thays Golz at YAGP (photo by VAM, courtesy YAGP)
modify the variation so that instead of doing, say, an attitude turn, I'd do a regular pirouette," she recalls. "Especially with in-between steps, there's some room for change. Not everyone has to do a sous-sus—you might do a soutenu instead."
According to Kozlova, this is where having a qualified coach is most important. While she trains all her students to dance variations by the book when they're learning them in class, once you prepare for the stage, there's no need to be a mannequin. "You can change steps—just not fundamental steps," she says. "A coach knowledgeable in the classics knows what can be changed and what cannot." If you don't have the opportunity to work with an experienced coach, Reyes suggests sticking to a version of the variation that's performed by one of the major ballet companies. If you do make small changes to the arms or transitional steps to flatter your body, just make sure they remain true to the style of the variation. "Don't add arms from Don Quixote to Diana and Actaeon," she says.
It's tempting to change choreography to fit in your own tricks—but avoid the impulse. "We've seen four pirouettes, we've seen high legs," Reyes says. "What we want to see is quality and control." Meunier says that if you have the ability, you can add an extra rotation to a turn, but make sure you're not compromising your musicality to do so. "Give me a performance," she says, "don't just give me tricks."
Use Video for Inspiration, Not Imitation
Today, clips of hundreds of dancers performing popular variations are just a click away. That's a remarkable resource—but use it wisely. "You'll see many good dancers, but the things that suit one particular dancer may not suit you," Kozlova warns.
"Watch for technique," Meunier says. "Look at the port de bras, the épaulement, how they use their plié, technical things." Don't try to imitate the specific nuances of an established ballerina's artistry. "It takes years to become an artist, and as a student you're just starting to develop your voice," Meunier says. "If you go out there and try to be Julie Kent, it's going to look fake."
Focus on What Matters
So how can you tap into your own artistry? Think about the unique strengths you bring to the table, and how you can apply them to your variation's particular challenges. Pay close attention to the tiny details—your épaulement, the in-between steps—rather than worrying about the tricks. Kozlova remembers one VKIBC dancer who had "nothing that people now are looking for in competitions, no enormous arches, no extensions or split jumps up to her ears," she says. Instead, the dancer emphasized the precision of her technique. "The way she did everything correctly was so beautiful you just didn't want to see anything else."
It can feel like you need to dance everything at high volume to impress an audience, or a judging panel, in your two short minutes onstage. But sometimes subtlety makes a bigger impact. "Don't give me fierce face when you're dancing ballet," Meunier says. "In ballet there's always more of a simmer, even if it's a bravura role."
That's a lesson that translates into professional life, too. As a principal, Sisk frequently performs full-length ballets that include variations she was known for in competition. "I was so used to punching the variations for competitions—I wanted to give it everything in those two and a half minutes," she says. Once she had to sustain a full ballet, though, Sisk was forced to hold back a little—and that actually improved her performance. "You learn where to breathe," she says. "You learn how to really find the character, so you can completely lose yourself in it."
Nov. 01, 2014 09:00PM EST
Every now and then, all the blood, sweat and oh-so-many tears dancers put into their craft result in an ultra-satisfying payoff. Here, seven professional dancers share the moments that can make them smile whenever they're feeling down.
Jared Grimes performing at the Dancers Responding to AIDS Fire Island Dance Festival (photo by Rosalie O'Connor, courtesy Jared Grimes)
Jared Grimes
Tap dancer; faculty member, Broadway Dance Center and New York City Dance Alliance
"In 2007, I spent an afternoon with trumpeter, composer and Jazz at Lincoln Center director Wynton Marsalis. We'd performed together many times, but often, I wouldn't know what song we were doing until I got onstage, and I'd have to catch his orchestrations on the fly. That day, he told me that I instinctively have the type of musical knowledge most musicians must study for years to develop. It was a major compliment. Not only is Wynton someone I admire, but I also love playing with music's inner workings and defying its rules. What Wynton said gave me confidence that I'm following the right path."
Beckanne Sisk and Thomas Mattingly rehearsing "Rubies," from George Balanchine's Jewels (photo by Beau Pearson Photography, courtesy Ballet West)
Beckanne Sisk
Soloist, Ballet West
"Early in 2012, I applied for a Princess Grace Award. The process is pretty nerve-racking. Once you send in your materials, it's a long waiting game: If you're not selected, no one tells you—you have to wait until the winners are officially announced. So by August of that year, I had kind of forgotten about it. Then I got a voicemail from a number I didn't recognize: 'I'm from the Princess Grace Foundation, and we'd like to speak with you.' I called back immediately and found out I'd won. It was totally surreal. Getting that call made my whole year."
(photo by Franziska Strauss, courtesy Francesca Romo)
Francesca Romo
Contemporary Dance Wyoming
"I went to the Royal Ballet School for seven years. It was pretty stressful. There was never any guarantee that you'd get to stay in the school, because you had to pass an exam after each semester. My best day was graduation. At the ceremony, everyone performed, and my family came to watch. The day was monumental—I knew I'd finished something big. And looking back, I wouldn't be where I am today if not for those ups and downs throughout my training."
(photo by Brooke Roberson, courtesy Ariana DeBose)
Ariana DeBose
Pippin on Broadway
"I'd just turned 20, and it was the opening night of the New York Philharmonic's production of Company. I was the youngest in the cast—which also included Neil Patrick Harris, Patti LuPone and Stephen Colbert. I was dancing with legends! In the 'Tick Tock' dream ballet, I got to perform with Chryssie Whitehead, who was in the Broadway revival of A Chorus Line. In my opinion, she's one of the best dancers to ever grace a Broadway stage. I kept thinking 'I'm sharing the stage of Avery Fisher Hall with Chryssie Whitehead—at the start of my career?' That was an incredible moment."
Jacqueline Green in Wayne McGregor's Chroma (photo by Paul Kolnik, courtesy AAADT)
Jacqueline Green
Alvin Ailey American Dance Theater
"I didn't start dancing until I began high school at the Baltimore School for the Arts. I always felt behind. Everyone else had some dance training, but I didn't know any of the terminology. The hardest thing for me was a combination my teacher used to help us learn positions, like effacé devant and derrière. I could never remember it, and I always had to follow someone. But one day—a whole month after we first tried the combination—I finally got it. My teacher exclaimed, 'You did it!' I felt so confident."
Tory Peil in Annabelle Lopez Ochoa's Crave (photo by Bamberg Fine Art, courtesy Whim W'him)
Tory Peil
Whim W'Him
"There wasn't a ballet school in my hometown. So I studied with a teacher privately and just picked up classes in any other genre I could find: jazz, African, tap—even swing dance in PE class! When I was 12, I auditioned with 60 other girls for a spot at Pacific Northwest Ballet's summer intensive. I knew my chances were slim. Still, I nervously scanned the mail every day after the audition, praying for an acceptance letter heavy with paperwork. I'd almost given up when, a few weeks later, my mom brought in the mail. There was my letter! I opened it, read the first sentence and nodded, smiling. I ended up spending 10 summers at PNB. If it hadn't been for that acceptance letter, my life could have been completely different."
Abigail Mentzer in rehearsal for Phantom of the Opera (photo by Michael Thomas Holmes, courtesy Phantom of the Opera)
Abigail Mentzer
The Phantom of the Opera national tour
"I had been performing with Pennsylvania Ballet's second company for two years when it was time for evaluations. Every member of the second company waited to hear his or her fate, one by one. It was an emotional day for sure. I had become so close with the other dancers, and I wanted to continue working with them. I had a good feeling about my evaluation—I was already being cast in ballets—but there was still no guarantee. In the end, former artistic director Roy Kaiser asked me to join the company. I was ecstatic! I called my mom and grandmother right away. That moment was the beginning of 11 happy years at Pennsylvania Ballet."
Jan. 16, 2014 10:48AM EST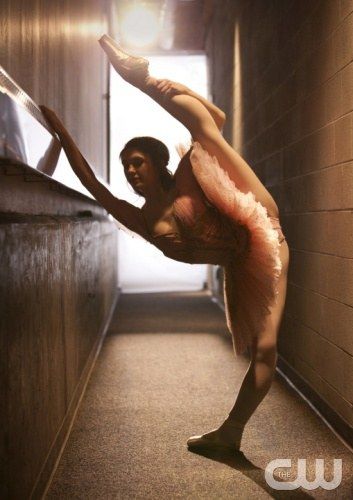 We'll even miss Beckanne's oversplit. OK, we'll especially miss Beckanne's oversplit. (Photo Erik Ostling/The CW)
Sad news, bunheads: The CW announced yesterday that it's curtains for "Breaking Pointe." The docusoap, which followed Utah's Ballet West, won't be back for a third season.
Let's be honest: Most dance fans had a pretty conflicted relationship with the show. A lot of us were irritated by the way the cast's interactions were manipulated for maximum drama, and disappointed by how little dancing actually made the final cut.
But here at DS, we're genuinely sad that "Breaking Pointe"'s run is over. It brought ballet—real, professional ballet!—to mainstream television. It earned some truly beautiful dancers, like Beckanne Sisk and Christiana Bennett, a well-deserved degree of fame. It showed us a whole lot of Frederick Ashton's amazing (and relatively rarely-seen) Cinderella. And while some of its plotlines were melodramatic, others—especially director Adam Sklute's hesitation about casting Josh Whitehead, the company's only African-American male dancer, in a comic role—addressed meaty ballet-world issues.
Farewell, "Breaking Pointe." We'll miss our weekly dose of professional ballet company life—however "real" or "unreal" it may have been.
Jun. 21, 2012 11:19AM EST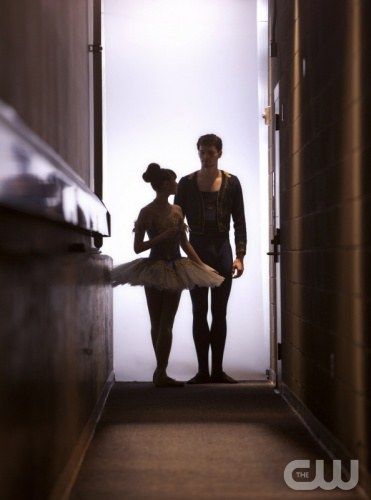 By now you're probably addicted to the new ballet reality show "Breaking Pointe," which follows Ballet West. In the first episode our hearts broke as we watched Ballet West II dancer Katie Martin learn she wouldn't receive a company contract for the 2012-2013 season. As is usual with ballet contracts, she'll be finishing out the current season with Ballet West. But don't expect her to be moping around on "Breaking Pointe"--you'll see her auditioning and bouncing back. We caught up with Katie to learn more about what it's like to star in one of the summer's hottest shows.
Dance Spirit: What was filming like?
Katie Martin: Filming was really cool. You feel like a celebrity because there are at least three cameras on you at all times. I've gained a pretty large fan base, and they've been really supportive.
DS: Do you feel like you have been accurately portrayed on the show?
KM: The producers have done a fantastic job portraying who I am and what I stand for--especially how I've handled a lot of difficult situations.
DS: Did you have any idea that you wouldn't receive a contract?
KM: I didn't know anything officially, but I had a gut feeling that I might not get one. What you saw on TV was me finding out for the first time.
DS: What has it been like to go through this difficult time on TV?
KM: It's so hard! I cried with my mom watching the first episode. We both sat on the couch with a box of tissues. But I feel like all the press interviews have been really helpful. They've been like a bunch of "dear diary" moments. I've been forced to talk about the experience and how I've really been feeling.
DS:  Do you think "Breaking Pointe" is an accurate portrayal of what it's like to be in a ballet company?
KM:  "Breaking Pointe" does a great job showing America that ballet dancers are true athletes who work very hard. Of course, everyday life isn't as dramatic as the show, but when you're creating a television episode and all the filming is packed into one hour, it gets that way. Plus, ballet is a dramatic art. It's all about beating out every girl in the room.
DS: What has the audition process been like?
KM: It's been really difficult—it's not something any ballerina ever wants to go through. I was gone almost every weekend auditioning! I can't talk about the outcome of the auditions at the moment, but it was ultimately a positive experience.
DS: How has the show affected your relationships with the other dancers?
KM: Thankfully I've been portrayed very nicely (I promise I really am a nice person!), but if anything my relationships have gotten stronger. It's been really positive for [my boyfriend] Ron and me. It's fun to hear him talk about me on the show, and we've gotten closer from seeing on screen how we actually feel about each other. Becks [Beckanne Sisk] is still my best friend and Ron's still my boy.
DS: What is your dream role?
KM: Odette/Odile in Swan Lake or Juliet in Romeo and Juliet. I love a tragedy!
DS: Where do you hope to be in five years?
KM: I hope to be at least a soloist in a major ballet company. And I would love to be in Europe. I want to have built a substantial ballet career.
DS: What's your advice for Dance Spirit readers who aspire to professional ballet careers?
KM: My advice is to keep plugging away. You need to be able to look in the mirror at the end of each day and say, "I am beautiful. I can conquer anything. I can do this." Don't lose your confidence.
DS: Do you have an acting career ahead of you?
KM: I would love to have an acting career! No one's contacted me yet, but I would definitely be interested. Be sure to put that in.
May. 31, 2012 12:56PM EST
It's the moment we've all been waiting for: "Breaking Pointe," the new CW series following Salt Lake City's Ballet West, premieres tonight!
I was lucky enough to get my hands on a screener copy of the first episode, so believe me when I say: You will be obsessed with this show. There's tons of behind-the-scenes drama—some of it dance-related (the first episode documents contract renewal day, and let's just say not everyone ends up happy), some of it not so dance-related (half the cast members are dating each other, so...). It's seriously entertaining.
And interesting. The show's mission, according to artistic director Adam Sklute, is to be "the antidote to Black Swan," disproving the movie's negative stereotypes. While a few small aspects of the show do seem a bit "Black Swan"-y (the opening includes dancers in dramatic spotlights, with a voice-over intoning "We do it to be perfect" ominously), for the most part "Breaking Pointe" seems to present ballet's joys and heartaches pretty realistically. It's nice to see Sklute talking about the instability of a dancer's life in a way that's sympathetic as well as candid: "I often have to make decisions that my dancers don't like," he says in this episode. "It's hard on them. But the best recipe for creating a hardworking and well-functioning dancer and artist is if all the dancers know that they are special, but also that they're expendable." (That's about as mean as he gets, by the way. No evil directors here.)
Can't wait for the premiere? Read our interview with cast member Beckanne Sisk about filming the series, and check out the preview below!
Get Dance Spirit in your inbox