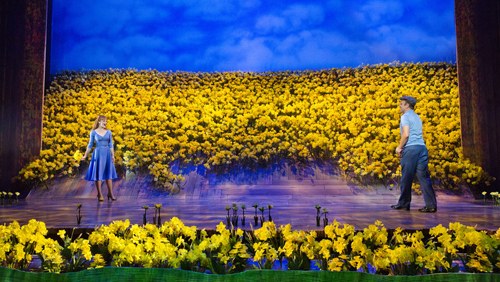 Kate Baldwin and Norbert Leo Butz in Susan Stroman's late but great Big Fish. Photo by Paul Kolnik
The 2014 Tony Award nominations came out Tuesday morning, and for us dancers—and the categories we love and care about—it's been an exciting (and somewhat surprising) whirlwind. Here's our rundown of the nominees: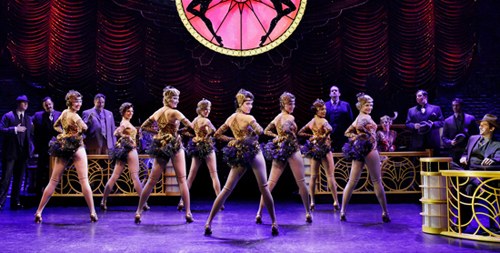 The female ensemble of Bullets Over Broadway. Photo by Paul Kolnik
Big Fish—my personal favorite dance-tastic show this season—did not make the Tony grade, earning no nominations, despite genius direction and choreography by Susan Stroman. (Did the aging American Theater Wing and Broadway League reps forget it was eligible since it closed late last year? Hellloooo...it was awesome!) We can't be too upset for the great and zany Stro, though. Her newest smash hit, Bullets Over Broadway, starring Zach Braff (aka J.D. from "Scrubs"), earned six nominations, including nods for choreography, scenic design, and costume design—all quite deserving.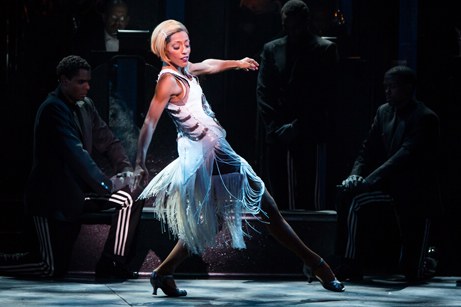 Karine Plantadit in After Midnight, choreographed by Warren Carlyle. Photo by Matthew Murphy
Other dancemakers up for the prize of best choreography: Steven Hoggett and Kelly Devine for Rocky, Casey Nicholaw for Aladdin, and Warren Carlyle for After Midnight.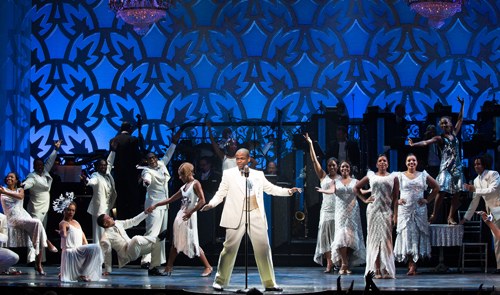 Dulé Hill (center) and the cast of After Midnight. Photo by Matthew Murphy
If you're a tap fan, a jazz fan, a Desmond Richardson fan, or a plain "I LOVE DANCE SO MUCH" fan, After Midnight is the show for you. It's 90 minutes of movement, and almost everyone on stage is a dancer, including Richardson, Karine Plantadit (who you know from the Twyla Tharp's Come Fly Away and Movin' Out), Bahiyah Hibah (a former Ailey dancer who was also in Chicago), and the reigning queen of tap, Dormeshia Sumbry-Edwards. Oh, and it's also got Emmy-nominated actor Dulé Hill (formerly Charlie Young on Aaron Sorkin's "The West Wing," and currently Gus on USA Network's "Psych"), who sings and dances like he's done all this before. Which, he has...in The Tap Dance Kid and in Bring in 'da Noise, Bring in 'da Funk.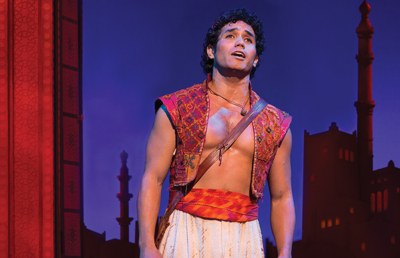 Adam Jacobs in Aladdin. Photo by Cylla von Tiedemann
After Midnight and Aladdin are also up for the night's overarching trophy, joining A Gentleman's Guide to Love and Murder and Beautiful: The Carole King Musical in the race for Best New Musical.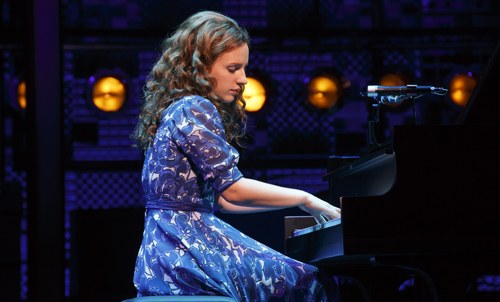 Jessie Mueller in Beautiful—The Carole King Musical. Mueller is up for Best Actress in a Musical—I really, really, really hope she wins. Photo by Joan Marcus
Be sure to tune in (or set your DVRs) on June 8 to the Tony Awards, which will be broadcast live on CBS and hosted by Broadway veteran (and Hollywood celeb) Hugh Jackman. And look in Dance Spirit's May/June issue ("Headlines," p. 19) to get the inside scoop on the evening—like what happens during commercials and how the performers prepare for the opening numbers and show excerpts.
Oct. 01, 2013 05:43PM EST
Edward Bloom, a teller of tall tales ("big fish" stories), tries to reconcile with his skeptical son from his deathbed: It may not sound like a promising premise for a Broadway musical. But with a little stage magic and a lot of dancing, director and choreographer Susan Stroman is able to bring Edward's stories to vibrant life onstage in Big Fish. The Broadway adaptation of the 2003 film opens October 6 at the Neil Simon Theatre in NYC. Stroman talked to DS about what makes Big Fish worth seeing.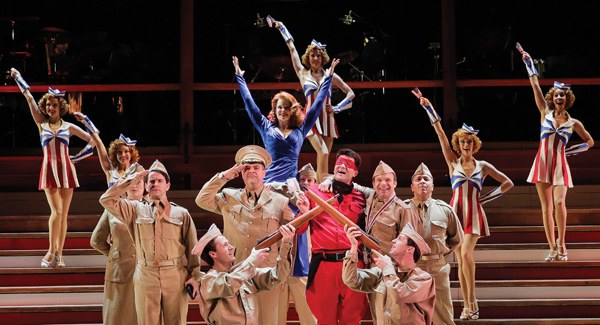 Big Fish on Broadway (by Paul Kolnik)
It's a story full of great stories.
"All of us ended up in theater because someone told us big-fish stories when we were growing up," Stroman says. "Those stories inspired us to tell our own stories. But this musical isn't just about the fantastical elements—it also has a lot of heart."
The special effects are awesome.
"It's this great combination of old-world stagecraft and new technology," Stroman says. "There are solid props made out of wood—and then a digital projection will transform that wood into something else. It's almost a metaphor for the larger story: Something real becomes something fantastical."
Pretty much every kind of dance imaginable is involved…
"Each of Edward's stories has a different type of dance that goes with it," Stroman says. "There's a big USO number with tap dance, and then there's a ballet piece where the dancers represent fire and air, and then there's a good old Alabama stomp, because the show takes place in Alabama. Usually a musical just uses one dance form—it's all tap or all jazz. But this particular story opens up ways to incorporate many styles."
…and the dancers are top-notch.
"I have some of the best dancers on Broadway," Stroman says. "Sarrah Strimel, Lara Seibert, Bryn Dowling, Angie Schworer—these people are very accomplished and well respected. There's always joy when they're onstage. I think dance fans will have fun seeing them take on different roles and styles. There are a lot of lovely surprises in store."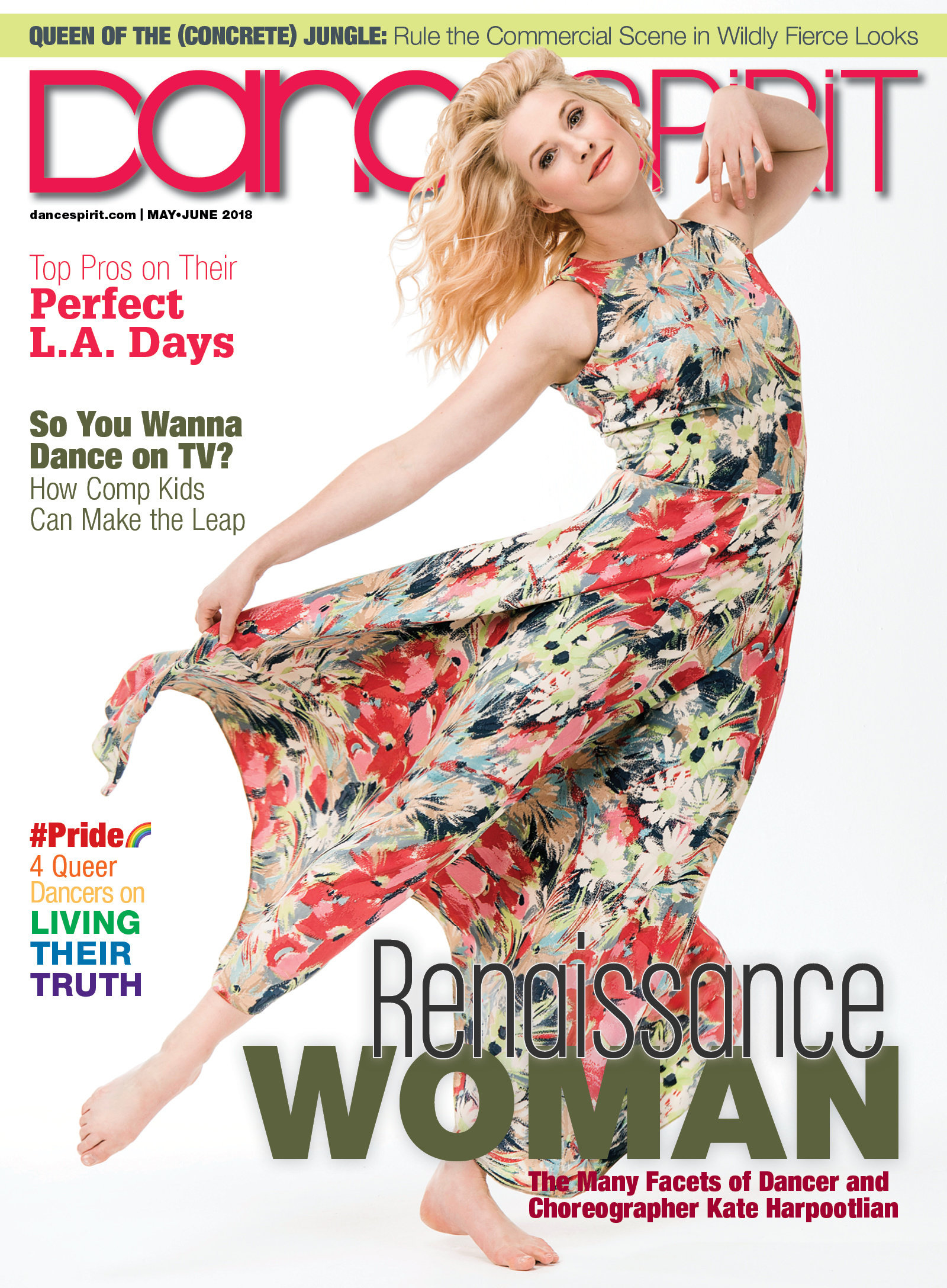 Get Dance Spirit in your inbox