Jun. 15, 2018 08:56AM EST
Including Travis Wall, obviously! (Adam Rose/FOX)
"So You Think You Can Dance" is often a launching pad for a dancer's career. While many "SYT" alums go on to perform for iconic artists or join high-profile companies, some also become choreographers—and a few even come full-circle, making dances for the show where it all began. Here are 8 talented choreographers who got their start as "SYTYCD" hopefuls.
Dancer to Dancer
May. 03, 2015 07:00AM EST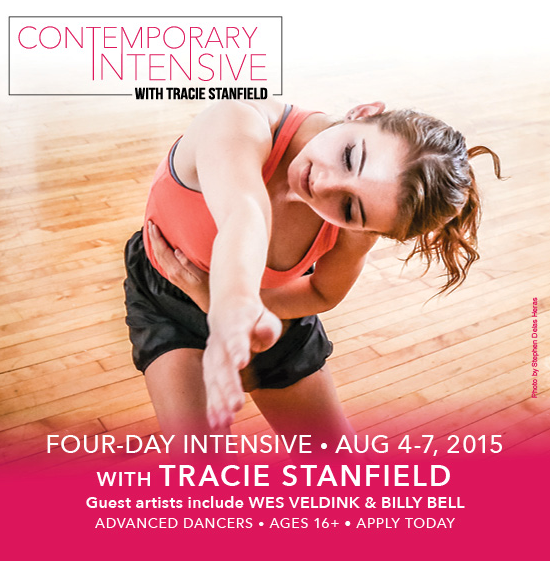 Before you finish solidifying your summer plans, consider making a little room for a four-day feast of contemporary dance.
From August 4–7, Broadway Dance Center in NYC will host a contemporary intensive for dancers 16 and up. Tracie Stanfield, the highly sought-after teacher and artistic director of Synthesis Dance Project, will head the intensive, with guest artists like former Cedar Lake Contemporary Ballet dancer Billy Bell and director/choreographer Wes Veldink. In addition to daily barre classes and technique and rehearsal with Stanfield, Bell and Veldink, the four-day workshop will include a series of master classes, a concert dance Q&A panel, an in-studio presentation and video shoot and three drop-in classes.
To apply, fill out the online form, submit the application fee of $25 and email your dance resumé, headshot and a video of you in a contemporary class or performance to workshops@bwaydance.com. If you prefer, you can audition in person during one of Stanfield's classes at BDC. Email info@SynthesisDance.org to set up a time. To access the online applicatio, click here. Good luck!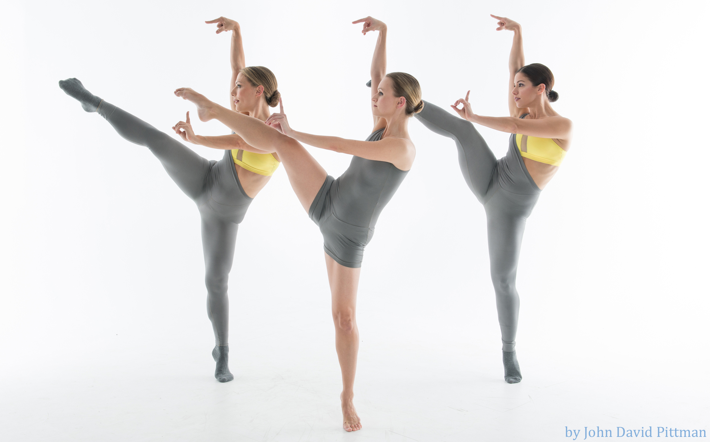 One of the workshop's master classes will be with Stanfield's Synthesis Dance Project. (Photo by John David Pittman)
Dance News
Aug. 06, 2014 07:45AM EST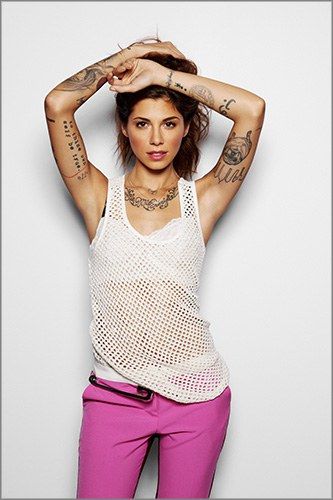 Christina Perri
(photo by Yu Tsai)
You probably remember Stacey Tookey's contemporary piece "Jar of Hearts" on "So You Think You Can Dance" Season 7—partly because of the ultra-gorgeous choreography, and partly because the song's been in your head ever since. (Click here in case you need a refresher.)
At the time, Christina Perri's song "Jar of Hearts"—and Perri herself—were virtually unknown. Cue the best Cinderella story ever: After it played on the show, "Jar of Hearts" was downloaded so much that it made iTunes' Top 20 song chart—that night. Two weeks later, "SYTYCD" invited Perri to play "Jar of Hearts" live (accompanied by Allison Holker and Neil Haskell), and the song took off—hitting number 25 on the Billboard Hot 100 chart and number 1 on Amazon's digital singles list.
Fast-forward four years, and Perri's career has been on a roll. Her newest album, Head or Heart, is available now; she's currently touring with One Republic; and this fall, she'll hit the road with Demi Lovato. Tonight, Perri will perform her latest single "Burning Gold" on "SYTYCD," and Tookey has choreographed a special performance for their four-year reunion.
Dance Spirit spoke with Perri about her second big night on "SYTYCD."
How did Stacey Tookey first find your work?
Keltie Colleen is the fairy godmother in this story. She and I have been friends for a long time—she dated my brother, and when they broke up, we kept hanging out. Up until "SYTYCD," she was one of very few people who had heard my music. She was always supportive and encouraging, and she was actually the one who helped me get a manager by posting a video of us on YouTube back in 2010. Three months after that, I emailed Keltie a song called "Jar of Hearts." I'd just recorded it, I and wanted to show her what I was working on. I asked her to keep it between us, but she immediately emailed Stacey Tookey—they grew up together and were friends—and suggested it for the show. Stacey replied, "How about this week?" I had five days to do a photo shoot and put the song on the internet. It was crazy. The night it debuted on the show, Keltie and I were in the audience. I quit my job as a waitress the next day, flew to NYC and my adventure began!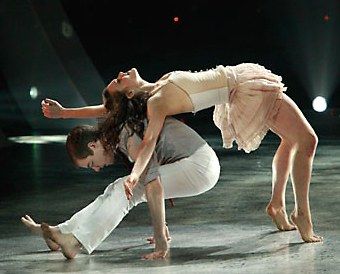 Billy Bell and Kathryn McCormick in "Jar of Hearts" on "SYTYCD"
(photo Kelsey McNeal/FOX)
What's your relationship with Stacey like?
She realized how much of an impact her work and the show had on my life. When I needed a choreographer for the "Jar of Hearts" video, I asked Stacey to work on it with Keltie and the cast of "SYTYCD" dancers. Since then, Stacey has used more of my songs on the show and we stay pretty close. I always send her champagne and flowers on June 30 (the date I was on the show). I can't wait to come back and perform "Burning Gold" with her choreographing.
What's the best part about choreographers using your music?
It's a magical combination. Dance elevates the emotional level of the song. It makes it into something brand new. I'll hear a song over and over, but when I see someone dance to it, it comes to life. I'm honored when someone dances to my music.
Do you have any advice for DS readers?
Say "yes" to the things that scare you. I was shy and lacked confidence, and there were always so many reasons to say "no"—excuses. But the moment I started saying "yes"—for instance, letting Keltie post that video online, or agreeing to play on TV—all of my dreams started to come true. "Yes" can change your life.
Be sure to watch Christina Perri tonight on "So You Think You Can Dance," and come back tomorrow to read our recap of the Top 10 episode!
Dance News
May. 13, 2014 10:01AM EST
How many companies can brag that most of their dancers are choreographers, too? That's one of the reasons we're obsessed with Cedar Lake Contemporary Ballet: a significant percentage of its artists have experimented with choreography. (Some of them—like Billy Bell, one of our February cover stars—even have choreographic side projects of their own.)
It makes sense that Cedar Lake would attract dancers with creative minds. The company is constantly commissioning new works, which means Cedar Lakers are exposed to many choreographers' visions. And frequently the process is collaborative—the dancers actually have a hand in what the final product looks like.
Now Cedar Lake is launching "Cedar Lab," a project that will give its dancers a chance to create works on their fellow company members. The choreographic participants—Jon Bond, Navarra Novy-Williams (also a February cover star!), Matthew Rich, Joaquim de Santana, and Vânia Doutel Vaz—will develop their dances during a multi-week workshop in July, and show off their works in progress in performances on July 29 and 30. Cedar Lakers choreographing on Cedar Lake bodies? This is gonna be good, you guys.
The company has launched a Kickstarter campaign to help fund the new project. Check out the intro video below, then click here for more info.
Dance News
Apr. 08, 2014 11:25AM EST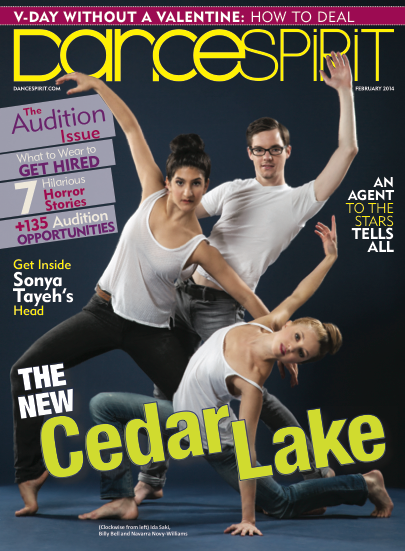 When we met up with Cedar Lake Contemporary Ballet "new kids" Ida Saki, Billy Bell and Navarra Novy-Williams for our February cover shoot, the company was in a state of limbo. Artistic director Benoit-Swan Pouffer had resigned in May 2013, and both the dancers and long-time ballet master and rehearsal director Alexandra Damiani were anxiously awaiting the announcement of his replacement.
Yesterday, nearly a year after Pouffer's resignation, the company finally made the big announcement: Alexandra Damiani is the new artistic director of Cedar Lake! A long-time soloist with Complexions Contemporary Ballet, Damiani has worked with the company since 2005, and she served as interim artistic director over the course of the last year.
But that's not Cedar Lake's only big announcement; they also named Canadian choreographer Cyrstal Pite as associate choreographer, a new position for the company. Pite has already set two works on Cedar Lake: Ten Duets on a Theme of Rescue in 2007 and Grace Engine in 2012. As associate choreographer, she will contribute a minimum of two new works over the next three years.
Want a chance to see the "New Cedar Lake"? They're celebrating their 10th anniversary with a debut season at the BAM Howard Gilman Opera House from June 11–14. The company will perform Pite's Grace Engine, among other works by various choreographers. Click here to get your tickets.
And in the meantime, watch this excerpt of Grace Engine to whet your appetite. Enjoy!
Cedar Lake Contemporary Ballet performs Grace Engine at the Joyce Theater in NYC (Photo Andrea Mohin/The New York Times)
Dance News
Feb. 01, 2014 11:47PM EST
Navarra Novy-Williams
in Jo Strømgren's Necessity Again (photo by Paula Lobo)
Here's what you already know about Cedar Lake Contemporary Ballet: It's a company of unique, thoughtful, brilliant dancers. It has a beautiful home in NYC, but it also tours all over the world. Its repertoire, which has a European flair, is as stimulating intellectually as it is physically. Thanks to all that, Cedar Lake has become The Dream Company for many, many dancers.
But the Cedar Lake we've known for 10 years is entering a new phase. Dancers tend to stick around at Cedar Lake—unsurprising, given its amazing reputation and the fact that a job with the company means a full-year contract and health insurance (perks rarely found in the NYC dance scene). Recently, though, a whole bunch of exciting new dancers have flooded the company. In addition, artistic director Benoit-Swan Pouffer, who led the group for nearly a decade, resigned last year.
That's a lot of change in a short period of time. So what's next for the prestigious company? The answer may not be certain, but one thing is: Like everything Cedar Lake does, it's going to be interesting.
The New Kids
A 10-dancer turnover sounds dramatic to begin with—and even more so when you consider that Cedar Lake is only 16 dancers strong. The company's newbies, who've joined over the past four years (six of them in 2012), have brought a fresh energy to the troupe.
"There was a fear of, Which dancer will be able to take over which roles, and be what part of the team?" says Alexandra Damiani, Cedar Lake's longtime ballet master and current interim artistic director. "When you're entering a group some dancers have been in for eight or nine years, figuring out your role can be hard. But the new dancers have made very intelligent choices."
The influx of talent changed the shape of Cedar Lake. "It's basically a different company now, because so much depends on the individual dancers' personalities," says Ida Saki, who joined in 2012. And different is good. "Turnover in a dance company is healthy," says Navarra Novy-Williams, who arrived in 2010, at the beginning of the wave. "It's important to have people who have been committed long-term—they're the foundation. But new energy is revitalizing, especially if it's positive energy. And the dancers who've arrived are all incredibly positive people."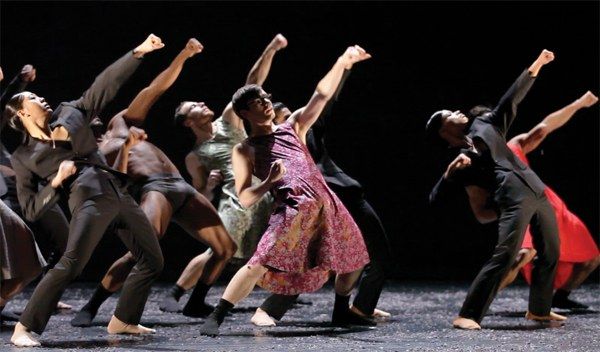 Billy Bell (center) in Johan Inger's Rain Dogs (photo by Dave Rogge)
Inside the Transition
Pouffer's departure in May 2013 was a shock to much of the dance world, not to mention the company's dancers—particularly the six who'd only started working with him the year before. "Like any transition, it was an exciting moment, but also a fragile one," says Damiani. "There was the feeling that it was the end of a cycle. I've put a lot of energy toward trying to provide continuity for the dancers. We all knew we had to pull together."
The search for a new artistic director began immediately after Pouffer's exit, and is still in progress. In the meantime, things are mostly business as usual for the company's dancers. Since the touring schedule and programming for the current season were set before Pouffer's departure, the real opportunities for change will come over the next year. "We can use everything we've done for the past 10 years as our springboard to jump into the next chapter," Damiani says.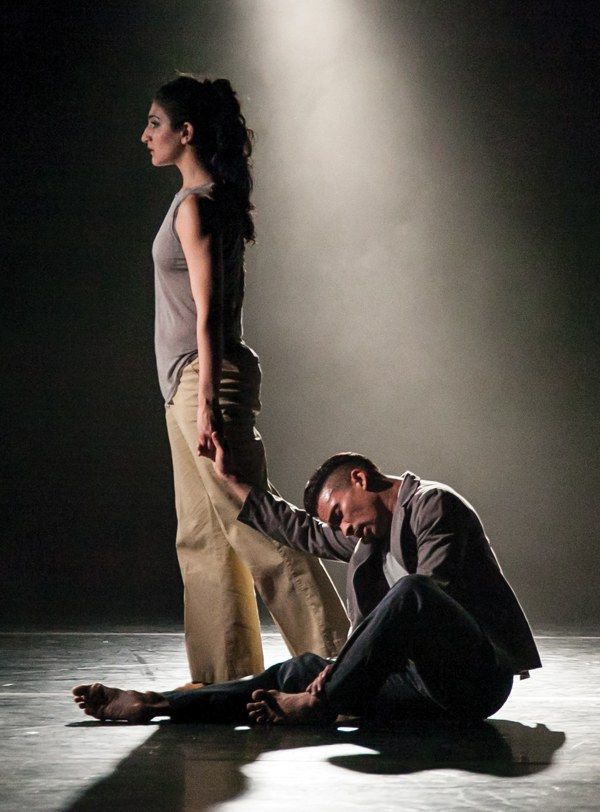 Ida Saki with Jon Bond in Crystal Pite's Ten Duets on a Theme of Rescue (photo by Sharen Bradford)
Looking Forward
What will that next chapter look like? While a lot will depend on the new director, Damiani and the dancers have been thinking carefully about that question.
Since many Cedar Lakers are interested in choreography, Billy Bell, a company member since 2012, has hopes for a dancer-on-dancer choreography showcase. "It would be really fun, and if we did it at Cedar Lake's space in NYC it would also help us promote our name in the city," he says. "People are always like, 'Cedar Lake? Oh, where's that?' I love that we tour so much, but we want people to know we're from New York."
One of the items on Navarra's wish list is already underway: An educational outreach program, which kicked off last fall. "I did a lot of outreach work before joining Cedar Lake, and it's something I'm really passionate about," she says. "It's another way to connect with the community, to share what we're doing with people who maybe can't buy a ticket to see a show."
Damiani is excited by the sense of a fresh beginning. "There's an opportunity to bring a new vision to the company," she says. "When things are going smoothly, you get stuck in certain habits, and you need to be awoken. The transition woke us up. Now we're ready to grow."
Meet the Cedar Lake Cover Stars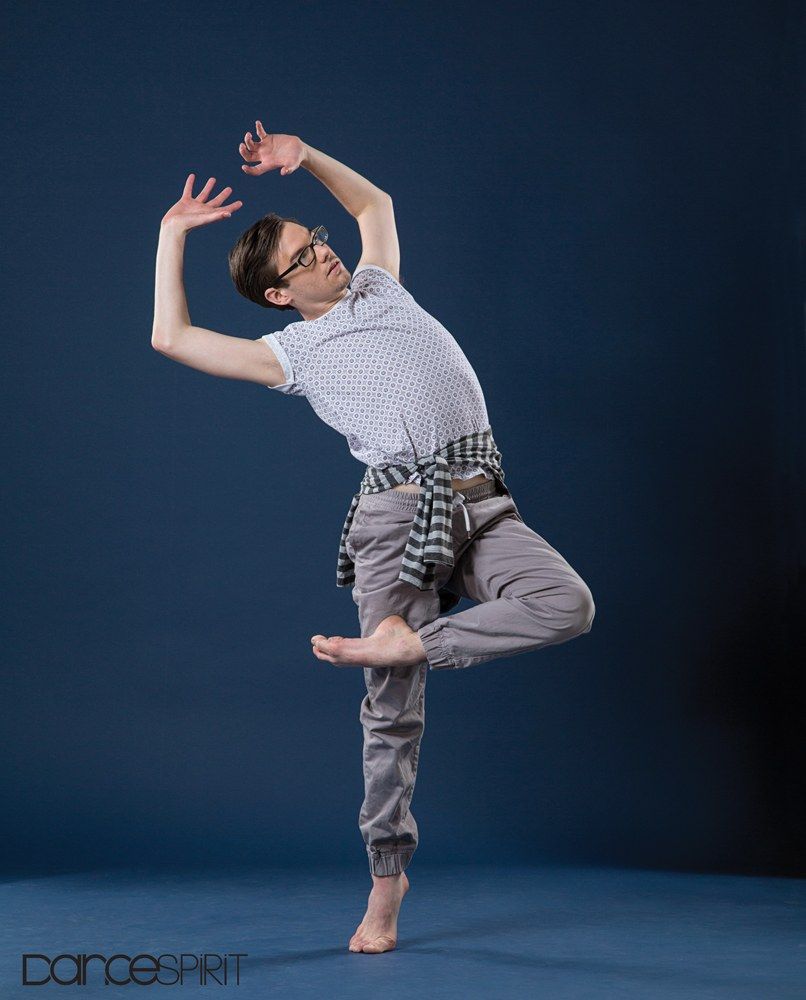 (Photo by Erin Baiano)
Why you already know him: Billy was a Top 10 finalist on Season 7 of "So You Think You Can Dance," and is the founder of Lunge Dance Collective (featured in the October 2012 issue of DS).
How he came to Cedar Lake: "I had a four-year audition process—I've had my eyes on the company for a while! I got all the way through twice but didn't get a contract. The third year I got cut before the last round. The fourth year, I missed the audition—but I emailed Benoit-Swan Pouffer, then the artistic director, and was like, 'Hi! You like me, remember?' A few weeks later, I got the call about joining the company—the one year I didn't actually audition."
How working with Cedar Lake has changed his choreography: "The range of works we do opened my mind to more possibilities as a choreographer. These days I'm more likely to say, Yeah, why not?"
How he's able to do Cedar Lake and direct Lunge without going insane: "I'm not? It's been hard. But I've been shifting the direction of Lunge from live performance to film, which helps. Film lets me channel the audience's sight. I do a travel video blog for Cedar Lake, too."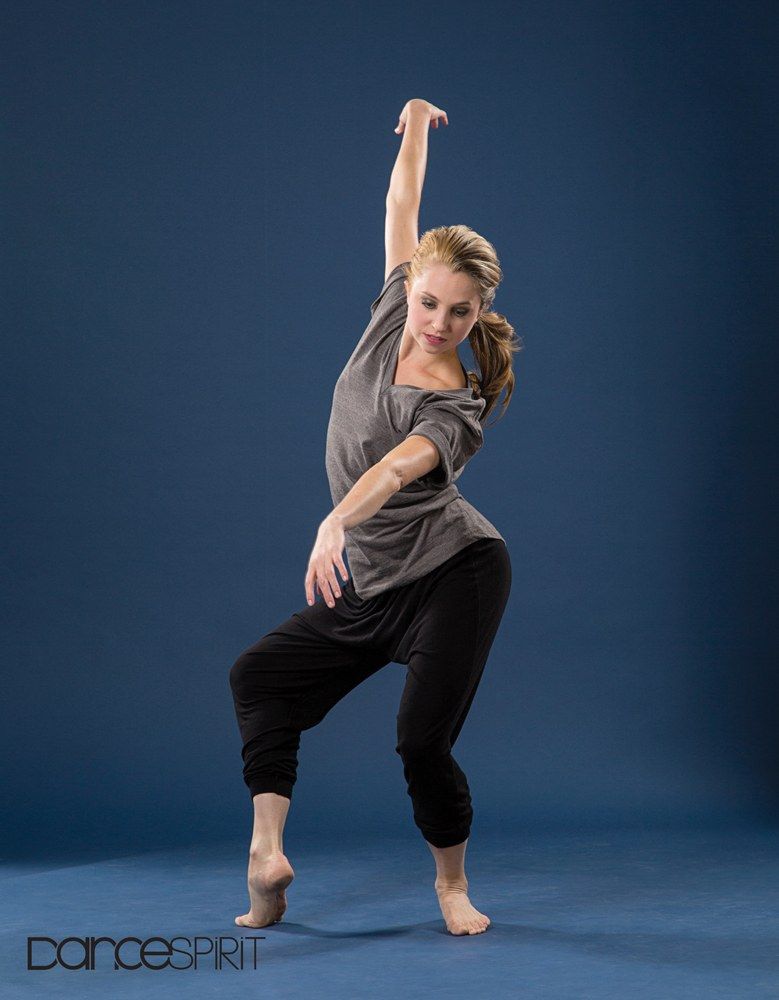 (Photo by Erin Baiano)
Why you already know her: Navarra danced with Les Grands Ballets Canadiens de Montréal and the Batsheva Ensemble before coming to Cedar Lake—and DS got The Dirt from her in our May/June 2011 issue.
Why she came to Cedar Lake: "I'm from NYC originally, and I went to The Juilliard School, so Cedar Lake has been on my radar as a great company since it started. I had an amazing year in Israel with Batsheva, digging deep into one particular world, but I eventually realized I still wanted to explore other avenues and other styles. So it was the right time for Cedar Lake, which has a vast roster of choreographers."
How she sees her role in the company: "What's nice about Cedar Lake is that we're all so different—it feels like we're each a piece of a puzzle. Nobody else could fill our particular shape."
On the choreographers she's connected with: "Working with Hofesh Shechter and Crystal Pite was especially inspiring because they left us with pieces I've continued to discover myself in. I've been able to keep growing inside their choreography."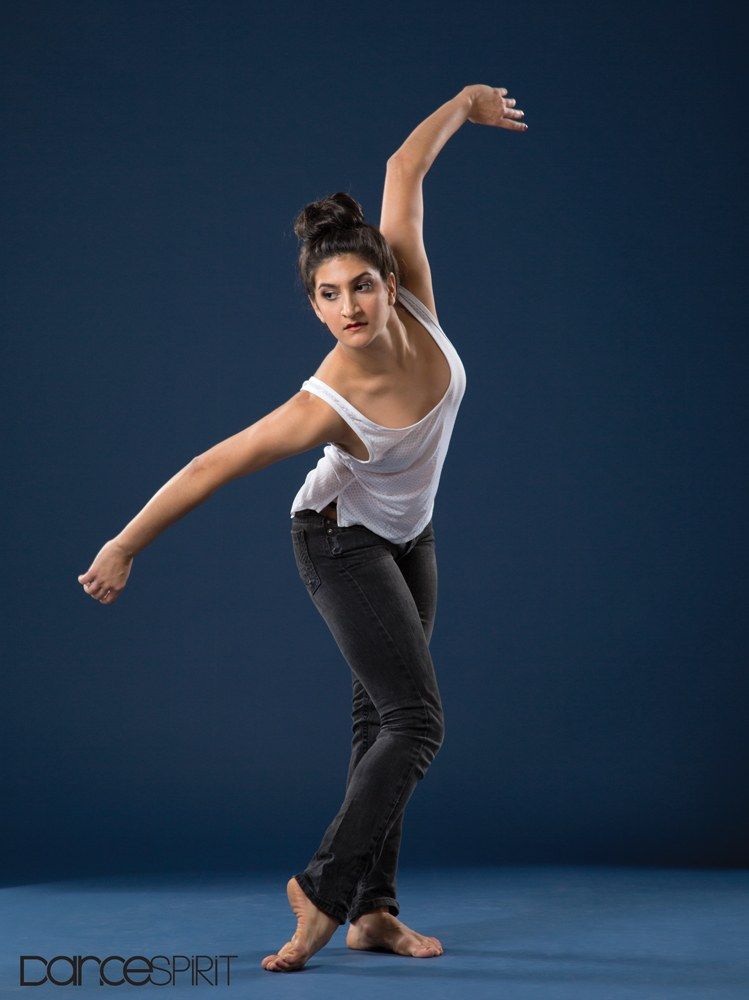 (Photo by Erin Baiano)
Ida Saki
Why you already know her: Ida was Dance Spirit's 2009 Cover Model Search winner! She was also a familiar face on the competition circuit, and was New York City Dance Alliance's National Senior Outstanding Dancer in 2009.
Why she came to Cedar Lake: "It was the first company I ever saw live. I think I was 16. My teacher, Jessica Hendricks, realized I knew nothing about professional dance—I thought the best dancers all became Dallas Cowboys Cheerleaders. She took me to see Cedar Lake, and I remember being absolutely floored. Jessica turned to me and said, 'I want to see you in this company in 10 years.' And it hasn't even been 10 years—it's surreal."
On finishing school: "I had just finished my second year at New York University's Tisch School of the Arts when I joined Cedar Lake, and I'm still working toward my degree. I have one more academic and one more technique class to go. I'm keeping my fingers crossed that I'll be able to walk in my cap and gown this summer!"
How the comp world prepared her for life at Cedar Lake: "In both worlds, you do everything, all the time. At competition, you had to be able to jump from hip-hop class to ballet class with less than a 15-minute break. Here, you're doing a super-technical Jirˇí Kylián piece one minute, and a Hofesh Shechter piece that has you rolling all over the floor the next."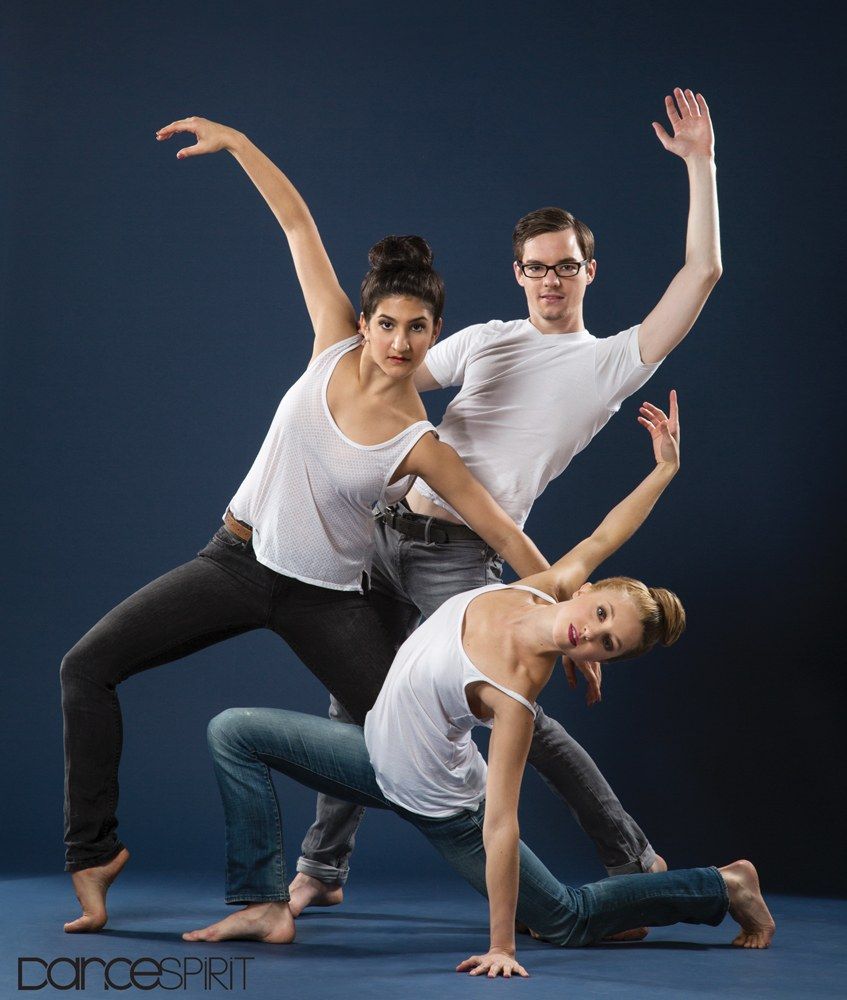 (left to right) Ida Saki, Billy Bell and Navarra Novy-Williams (photo by Erin Baiano)
From Comp Kid to Cedar Laker
When it comes to dancers, Cedar Lake will always value versatility and personality—which means it'll always embrace competition and convention dancers. (Current members Jon Bond, Matthew Rich, Ida Saki and Billy Bell all came up through the comp circuit.) "The dancers from that world are fearless!" says interim artistic director Alexandra Damiani. If you're a Cedar Lake wannabe, remember that the company has "ballet" in its name for a reason. Damiani recommends making intensive ballet training, including pointe work, a priority.
Feb. 01, 2014 07:30AM EST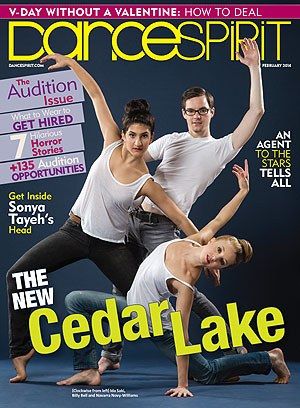 Happy first day of February!
We can't think of a better way to celebrate than showing off our fabulous February issue. It features a few Cedar Lake Contemporary Ballet dancers we adore: Ida Saki, Billy Bell and Navarra Novy-Williams. These three spent most of their day weaving in and out of a breathtaking improvisation. And it's no wonder this photo shoot was flawless; Ida, Billy and Navarra are pros, and they've all been featured in Dance Spirit before! Ida was the winner of our 2009 Cover Model Search, Billy's Lunge Dance Collective modeled cozy warmups in our October 2012 issue, and Navarra gave us The Dirt in our May/June 2011 issue.
Check out the cuteness as they show off their old issues of DS: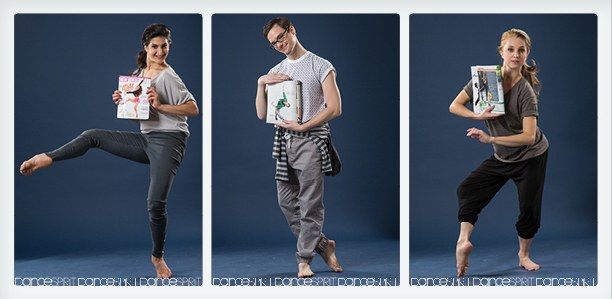 As usual, we've got fun online exclusives to make you fall as in love with Ida, Billy and Navarra as we are:
Click here to read this month's cover story about the new Cedar Lake—with exclusive interviews with our cover stars and interim artistic director Alexandra Damiani.
Click here for a look at a ton of outtakes from our stunning—and often very goofy—photo shoot with Billy, Ida and Navarra.
Click here to watch a behind-the-scenes video from our shoot—including even more fun facts about the dancers and the company.
This issue is also chock full of other great articles, like an interview with Sonya Tayeh, so many tips on auditioning for your dream job and a hilarious story by novelist Tim Federle. Not a subscriber? The February issue is available online now! Don't forget to let us know what you think!
Dance News
Jan. 22, 2014 12:46PM EST
Sep. 24, 2013 10:42AM EST
If you're a Billy Bell fan (and if you're not, we're not friends anymore), you know that Billy recently joined the very prestigious Cedar Lake Contemporary Ballet. If you're a Cedar Lake fan (and if not, again, we just don't get you), you know that the company tours all over the place on a regular basis.
But here's something you may not know: Cedar Lake recently launched a new behind-the-scenes video series following its dancers around the world. New films will be posted on the company's blog every Tuesday—and they're hosted by none other than our friend, Mr. Bell.
Check out the first installment below, featuring the troupe rehearsing and then hitting the road en route to their first stop: Turin, Italy. Needless to say, the dance footage is pretty spectacular, and with cutie-pie Billy as our tour guide, it's sort of hard to go wrong here. Don't forget to tune in next week for a peek at their Italy performances!
(Want even more Billy? Check out this episode of Dance212, where we meet the members of Billy's Lunge Dance Collective.)
Jun. 02, 2013 07:30AM EST
A young Billy Bell at YoungArts Week 2008 (by Juan Cabrera)
As of this week, applications for the National YoungArts Foundation's 2014 program are officially being accepted! The list of now-famous YoungArts alumni is a long one: Longtime Alvin Ailey dancer Linda Celeste Sims was a 1994 YoungArts Winner for dance, and choreographic genius Billy Bell was also a winner (in 2008), to name just two. So the thought of applying might have you quaking in your jazz booties. But the career-advancing opportunities offered by this program are way too amazing to be missed. YoungArts participants invariably go on to make their dreams come true—at The Juilliard School or American Ballet Theater, on the Great White Way or on "So You Think You Can Dance." Still need more motivation? Read on for 5 reasons that "Apply to YoungArts!" should be #1 on your summertime to-do list.
YoungArts accepts applications for a whopping six different disciplinary categories: ballet, modern, jazz, tap, choreography and world dance. So whether your skills lie in bourrées or Bharata Natyam, YoungArts is ready and eager to recognize your talent and accomplishments.
The 2014 application is available online through October 18. So you've got plenty of time (almost five months!) to make sure that audition video shows off all of your awesome technique and artistry.
You could be on TV! The Emmy-nominated HBO series "YoungArts MasterClass" is full of inspiring scenes from YoungArts Week, when finalists travel to the organization's Miami headquarters to learn from the best of the best. Thanks to YoungArts, you could find yourself dancing with the likes of Bill T. Jones, and then watching your career-changing experience play out on national television.
Don't want to be a performer for your entire career? No problem! Tons of YoungArts alumni have used the knowledge and connections they gain from the program to branch out within the dance world. Co-founder of Complexions Contemporary Ballet Desmond Richardson trained with YoungArts, and so did American Ballet Theatre's CEO Rachel Moore.
One word: networking. And not just with fellow dancers. YoungArts offers training, scholarships and performance opportunities to 15-18 year olds who show exceptional ability in all areas of the arts. As a YoungArts Finalist, you'll meet phenomenal singers, musicians, actors, designers, writers, visual artists, filmmakers and photographers from across the country. Who knows? Some of them might one day be artistic collaborators of yours.
So what are you waiting for? Apply now for your spot in the next generation of YoungArts Finalists!
Dance News
Get Dance Spirit in your inbox
Dec. 11, 2012 12:21PM EST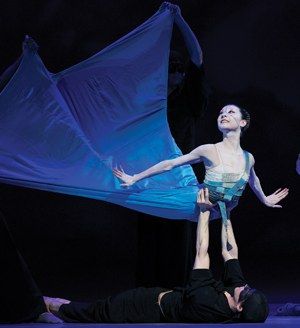 Yuan Yuan Tan in Neumeier's The Little Mermaid (ErikTomasson)
11 pros on what first inspired them to dance:
Yuan Yuan Tan
Principal at San Francisco Ballet
"My inspiration is Natalia Makarova. I used to watch tapes of her performing over and over and marvel at her port de bras."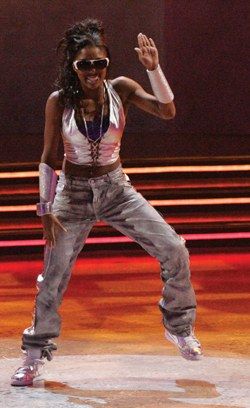 Comfort Fedoke (Kelsey McNeal/FOX)
Comfort Fedoke
Hip-hop dancer
"From the time Janet Jackson's 'Pleasure Principle' music video came out, I was all about Janet.Then I saw *NSYNC in concert and got super hyped. At my first talent show in seventh grade, I performed to *NSYNC's 'It's Gonna Be Me.' I did all of the members' parts—and wore the diamond-studded bandana, the blue jersey and the baggy pants. I was a one-woman show."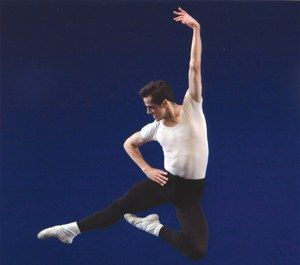 Robert Fairchild (Paul Kolnik)
Robert Fairchild
Principal at New York City Ballet
"The first time I saw a video of Gene Kelly dancing, I had a revelation. From then on, I knew performing was what I had to do."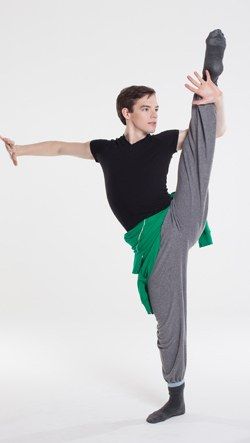 Billy Bell (Erin Baiano)
Billy Bell
Founder of Lunge Dance Collective and dancer with Cedar Lake Contemporary Ballet
"I've always been driven by challenges. If people tell me I can't do something, I'll try my hardest to prove them wrong. At age 10, I watched a breakdancing show and instantly knew that was my next challenge. At 11, I enrolled in a boys-only hip-hop class. My dance instructors convinced me my hip hop would be better if I took jazz too. Then they said my rhythm would improve if I took tap, and then that ballet would help my coordination. By the time I was 12 I was doing West African and Latin dance—anything and everything I could get my hands on."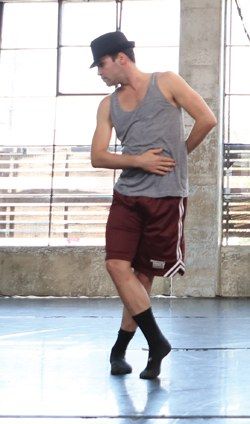 Nick Lazzarini (Tyler Golden/Oxygen Media)
Nick Lazzarini
Co-founder of Shaping Sound
"My mom put me into a recreation center dance program when I was 4. I ended up loving it. After I'd done a couple weeks of the rec center program, my kindergarten teacher asked if anybody could dance in our Christmas show. I put my hand up, like, 'Oh yeah, I'm a dancer.' I told my mom when I got home from school, and she panicked and was like, 'What are you talking about?' I said, 'Mom, I got this.' In the show, I was a giant dancing robot, and my mom says I actually pulled it off really well."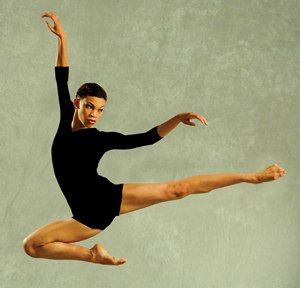 Ghrai DeVore (Eduardo Patino)
Ghrai DeVore
Member of Alvin Ailey American Dance Theater
"Dance has always been a part of my life because of my mother, who was a member of Deeply Rooted Dance Theater in Chicago. I was inspired by the lights and the fame, but also by the integrity and honor of the dancer's life. The ability to move someone from the stage—even if it's just one person—is why I do what I do."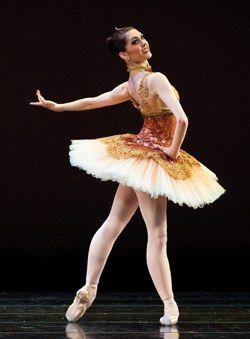 Beckanne Sisk (Luke Isley)
Beckanne Sisk
Demi-soloist at Ballet West
"My older sister got me into ballet. I would go to the studio to watch her. I remember she had a starring role in a ballet to the music from Legends of the Fall, and I wanted to be just like her. My mom finally took me in to audition when I was 4, but I couldn't reach the barre. I was devastated. By the next year, though, I was tall enough!"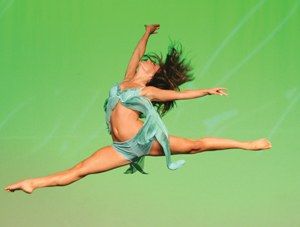 Missy Morelli
Missy Morelli
Commercial dancer and "So You Think You Can Dance" alum
"I saw classical ballet on TV when I was 1 1/2, and I was immediately hooked. None of the dance studios in my area had classes for children younger than 3, so I just watched ballet on TV whenever I could. When I finally turned 3, my mom bribed me. She said if I 'went potty' in the toilet I could start dancing. It must have worked, because I've been dancing ever since. Thank goodness for classical ballet and toilets, I guess!"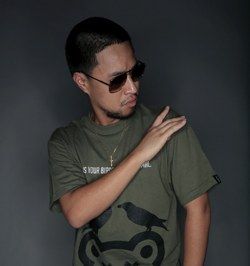 Phil Tayag (Josh Jose)
Phil Tayag
Member of The Jabbawockeez
"I've always been fascinated by dance. My parents are Filipino, and our culture is all about the arts. When I was 4 or 5, my mom got a kick out of my Michael Jackson impersonation—any time we had a family gathering she would make me dance. Later I watched my older cousins breakdance. When I was 9, I got into my first b-boy crew. Ever since then, I've been in crews, battling and performing."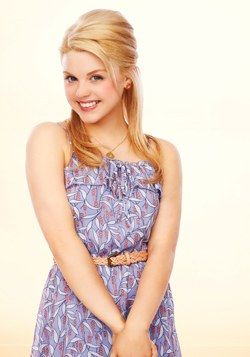 Bailey Buntain (ABC FAMILY/ANDREW ECCLES)
Bailey Buntain
Dancer/actress on "Bunheads"
"My mom signed me up for dance classes because I was shy as a child. She thought dance would bring me out of my shell. Little did she know it would turn into a complete obsession!
For me, the initial draw was that it was a new way of expressing myself. Later I was inspired by classic movies with Cyd Charisse, Gene Kelly, Fred Astaire, Ginger Rogers—and my all-time favorite, Vera-Ellen. She is a goddess!"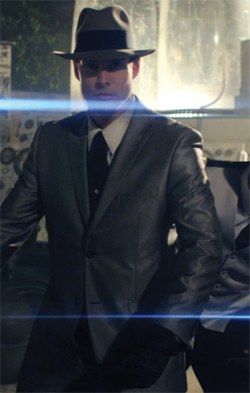 Madd Chadd (Courtesy LXD Ventures)
Chadd "Madd Chadd" Smith
Hip-hop dancer
"Growing up, I didn't dance at all. I wouldn't even go to school dances because I was uncomfortable. Then, my senior year of high school, I saw one of my neighbors doing windmills and was like, 'Whoa—I want to learn how to do that!' But b-boying and popping were just hobbies until I saw Boppin Andre dance at a party in college and everything changed. He had me questioning whether what I was seeing was real. From that point on, I practiced robotic popping 24/7."
We asked DS's Facebook fans what inspired them to start dancing. Here are some of our favorite responses!
"I was waiting for my brother to finish a soccer practice at the rec centre when I was 1 1/2, and I ended up wandering over to the dance studio. I watched the class going on, amazed. When my mom found me, I told her, 'I wanna do that!' "
—Paige Vassos
"My mom. It was her life, and now it's mine."
—Fazleen Dean
"When I was little, I used to dance on the hearth and pretend it was my stage. It's just always been in me."
—Cara Nicole Murray
"I was really into the 'Baby-Sitters Club' books when I was younger, and one of the characters, Jessi, did ballet. That got me interested in dance."
—RL Stephens
"Watching Gene Kelly in his movies. I wanted his power to make people smile!"
—Simon Harrison
Aug. 06, 2012 02:51PM EST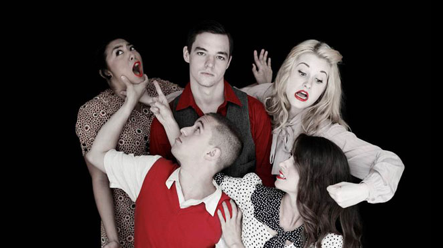 Obsessed with Billy Bell? We definitely are. If you're in the Houston, TX or Boulder, CO areas, you're in luck! Billy's Lunge Dance Collective will present their newest show "You'll Never Be Alone" at The Hobby Center in Houston August 10 and the Boulder Fringe Festival August 16-24.
Be sure to get your tickets now! And look for Billy and four gorgeous ladies from the collective modeling cozy winter warm-ups in the October issue of DS.
Read more about Lunge Dance Collective in "Life After Competition."
Dance News
Jul. 25, 2012 10:32AM EST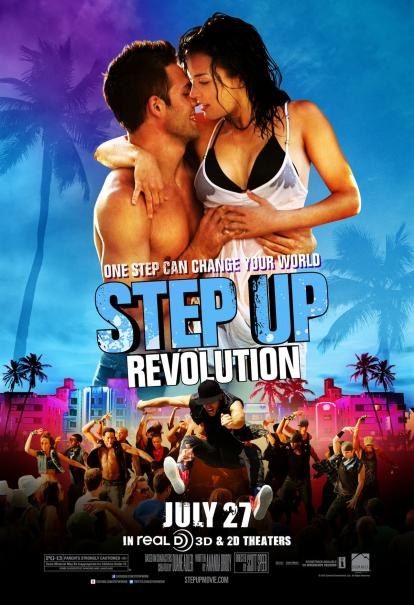 As we've discussed, the DS crew was lucky enough to get into a screening of Step Up Revolution last night (huge thank-you to Broadway Dance Center for the tickets!). And oh my gosh, you guys: It's amazing. We laughed, we screamed, we almost peed our pants multiple times. Here are just five of the many reasons you should get your bums to the theater this Friday:
1. tWitch! Mr. Boss is THE BOSS in this movie. Seriously, I think he was the highlight of the film for me. His dancing is fantastic, of course, but it's more that every time he appears onscreen you want to giggle and pinch his adorable cheeks.
2. There are more famous faces everywhere. Kathryn McCormick and Misha Gabriel and Mia Michaels (and tWitch, of course) have big old speaking parts, but you knew that already. What you might not have known is that you'll also see Phillip Chbeeb, Madd Chadd, Brandon Bryant, Chris Scott, Billy Bell and many more of the dance world's finest scattered throughout the film.
3. Peter Gallagher is typecast, in the best way possible. Are you making a dance movie? Do you need a slightly sinister, but ultimately sympathetic, authority figure to say things like, "Dance may not be the career for you"? Bring in Mr. Gallagher, aka Jonathan from Center Stage, who plays Kathryn's money-hungry, anti-dance dad in Step Up Revolution. (As usual, his eyebrows are mesmerizing.)
4. The acting is stellar. Just kidding! But let's be honest: You're not going to this movie for the acting. It doesn't matter that nobody in the cast is going to win an Oscar, because the dancing is just. that. good. Which leads us to...
5. THE DANCING. It's pretty spectacular. The "Mob" concept translates to big groups of fabulous dancers doing awesome things in unconventional locations—things which at various points involve trampolines, elaborate body paint, harnesses, hydraulic cars, glow-in-the-dark costumes, and dollar bills falling from the sky. YES.
Step Up Revolution opens this Friday, the 27th!
Dec. 08, 2011 02:41PM EST
"The first time I saw Chantel Aguirre dance was in a video," recalls choreographer Travis Wall. "My first thought was that she had crazy lines. My next thought was that I wanted to meet her." A few months later, Wall did meet Chantel, who was 18 at the time and working as an assistant at a convention. "She was quiet and reserved, but she was excited to learn," he says. "She was trained and hungry for work—she wanted to get her hands on any step, phrase or piece of choreography."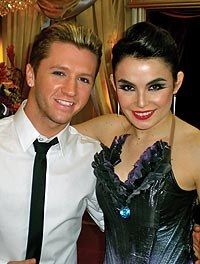 Travis Wall and Chantel backstage at "Dancing with the Stars"
Last year, when Wall was asked to choreograph a piece for the Macy's "Stars of Dance" segment on "Dancing with the Stars," he rounded up his go-to group of strikingly talented dance friends, including Jaimie Goodwin, Danny Tidwell, Nick Lazzarini and Tiler Peck—and he brought in newcomer Chantel. "Since that job, I've hired her for every single project I've done," Wall says. "Chantel does whatever you ask of her and more. She's the most professional dancer I know and she's always full-out. She has become my go-to person."
Wall isn't the only choreographer who has fallen for Chantel's quirky, ballet-based style. When Billy Bell formed his own company, Lunge Dance Collective, Chantel was one of his first members. "When I first saw her dance, I felt like I was stuck in one of those movies where everything around you freezes," says Bell, who met Chantel when she was assisting Sonya Tayeh on "So You Think You Can Dance." "She has this way of controlling a room with her focus that creates a timeless quality to her movement. It's like she's floating."
So what is it about this 22-year-old that has the industry's top choreographers dying to hire her? We sat down with Chantel to find out.
Ballet Beginnings
Chantel is one of those dancers who quite literally grew up in a dance studio. Her mother, also a dancer, owned Ballet Repertoire Theatre in Santa Cruz, CA, and Chantel was in dance classes by the time she was 2. It didn't take long for Chantel to become hooked on dancing. "My mom's studio was an amazing little competition studio, but I knew I wanted more—I wanted to do this forever," she says.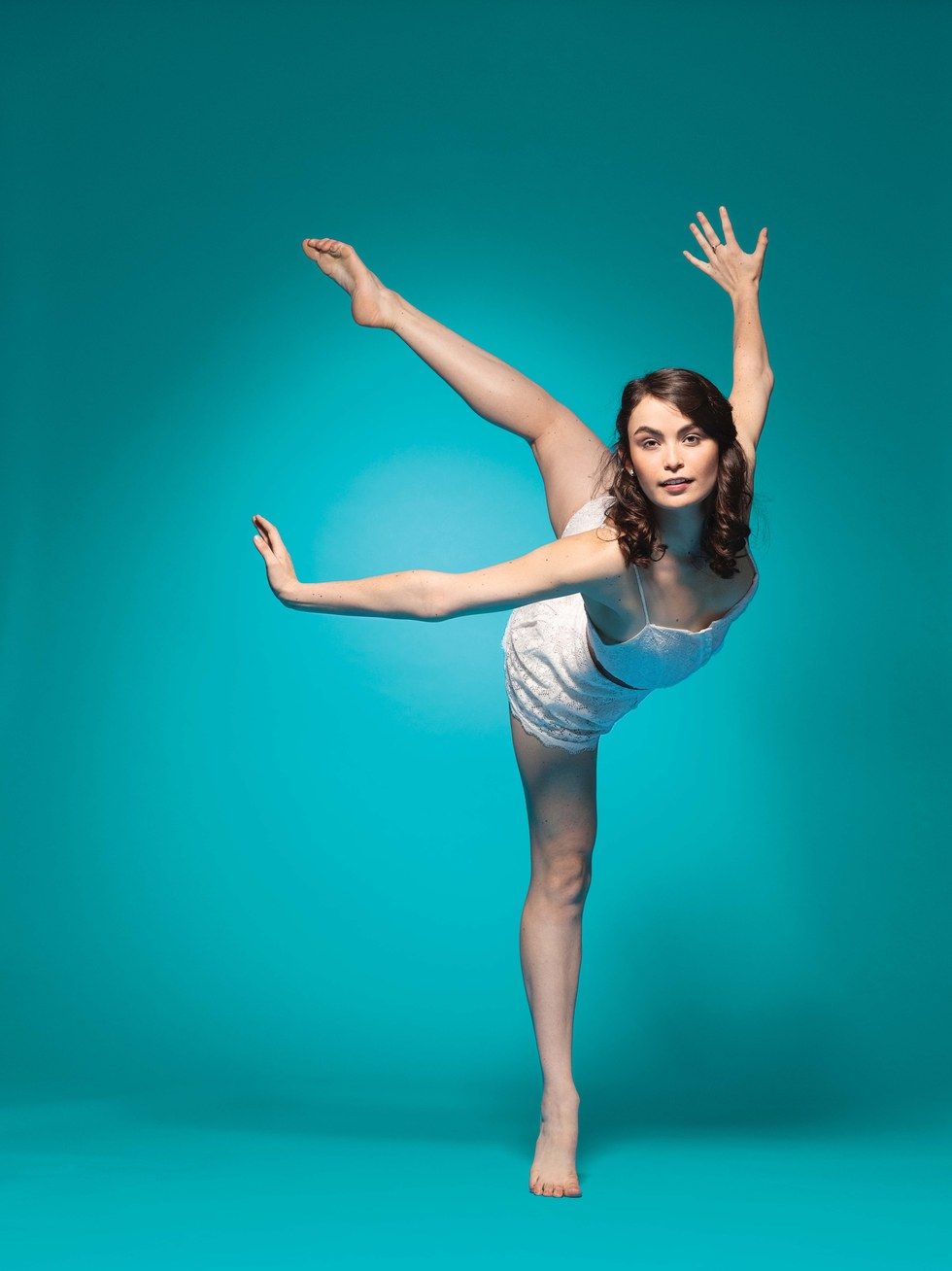 Photo by Nathan Sayers
She trained in all styles at Ballet Repertoire Theatre, but Chantel wanted to focus on ballet. At 11 she enrolled at The Studio of Classical Ballet, also in Santa Cruz. "It was always reiterated to me that you need solid technique and strong ballet skills no matter what sort of dance career you want to have," she says. In search of more intense training, Chantel auditioned for the San Francisco Ballet School during her freshman year of high school. "That's when everything changed," she says. "I was surrounded by the best dancers in Santa Cruz, but I was getting complacent. I wanted to keep getting better, and I knew I had to go beyond Santa Cruz for that to happen."
Chantel remembers being "totally terrified" at the SFB audition. "Everyone knew the combinations already because they had been in the school for years, and I wasn't even wearing the right color to the audition," she says. "I got corrected every time I did something and the teacher was on me during every exercise." To her surprise—"They must have seen potential or something," she says—Chantel was accepted to the school as a level-six student (out of eight levels).
Always Wanting More
Throughout high school, Chantel attended academic classes until 1 pm every day, and then she would commute three hours round-trip for four hours' worth of classes—all on pointe—at SFB. The work was challenging, but Chantel's drive and motivation never waned. In fact, she became more ambitious. "I didn't want to sacrifice my other training and just do ballet," she says. So on the side, the already busy girl performed with the Dance Company of San Francisco, a troupe of young artists that included future "So You Think You Can Dance" alums Nick Lazzarini and Melody Lacayanga.
The company, directed by Chris Jacobsen and Sonya Tayeh, entered local competitions, performing mostly contemporary routines. "Competing with the company taught me that competitions don't have to be all glitz, glamour and sequins," Chantel says. "We were really serious about performing, not about the awards."
Chantel did her homework in the car going to and from rehearsals, and she admits to getting "very little sleep" at the time. But this commitment to learning, training and latching on to every possible resource is what sets Chantel apart from other dancers. "My mom raised me with the belief that if you don't know exactly what you want to do, just do as much as you can. And I wanted to do everything possible," she says.
Chantel in the City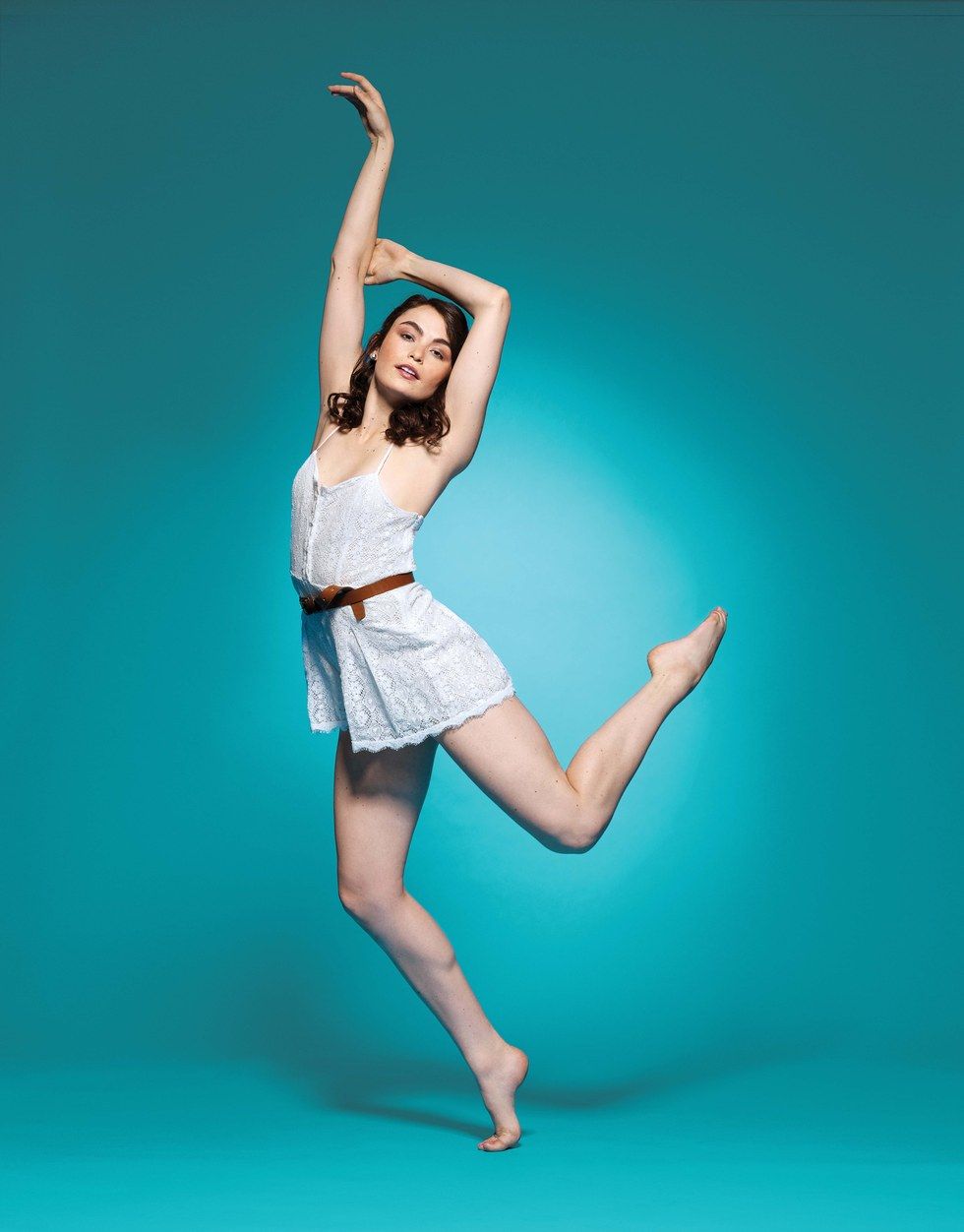 Photo by Nathan Sayers
After graduating from high school, Chantel was ready to conquer the professional dance world—but she didn't know where to start. "The hardest decision I've faced in my career was deciding where to go after high school," she says. She spent some time living with Tayeh in L.A. while she faced the ever-stressful "L.A. vs. NYC" debate. Though she says she was "too scared" to just move to NYC, ultimately that's what she did, enrolling at New York University's Tisch School of the Arts as a dance major, with a minor in business.
Chantel lived in the NYU dorms, took dance and academic classes and continued auditioning for commercial and industrial work through her Clear Talent Group agency representation. During her freshman year at NYU, she performed as a dancer in the televised Victoria's Secret Fashion Show and booked a two-week performance job at a film festival in Dubai. It was all good—but it was also too much.
"I was just going through the motions," Chantel says. "I loved school and I loved training, but I was missing jobs and auditions that I desperately wanted. I had so many conflicts, and I needed to make a decision." Chantel credits her year and a half at NYU as her "segue into NYC," but she didn't want to turn down paying jobs while her family struggled to pay for her to be in school. She took a leave of absence from college, moved into an apartment on the Lower East Side and began her full-time dance career. Soon she was performing at the MTV Video Music Awards with Taylor Swift and dancing with Justin Giles' SoulEscape company.
The Timeless Dancer
Without rigorous academic demands, Chantel fully immersed herself in dance classes and auditions. She spent another year and a half in NYC and then got a call from Tayeh, who was forming her own company in L.A. and wanted Chantel to be part of the group's first show. "Chantel is such a determined dancer—of course I wanted her with us," Tayeh recalls. "She's spirited and has so much heart, and her dancing is regal and lovely. She's well-rounded and eager. That's what makes a timeless dancer." For Chantel, the move came at the right time. "I loved NYC, but my lease was up, so I packed a few things, figuring I'd go out for the show and then come back to NYC," she says. But things didn't go according to her plan: Right after Tayeh's show wrapped, Chantel got a call to audition for the 2010 Academy Awards, and the L.A. job offers snowballed from there.
"Performing at the Academy Awards was unbelievable," Chantel says. "I remember standing onstage during a commercial break, waiting to perform, and Sandra Bullock was sitting right in front of me, looking at me. I stood on that stage and suddenly everything made sense. I knew I wasn't going back to New York."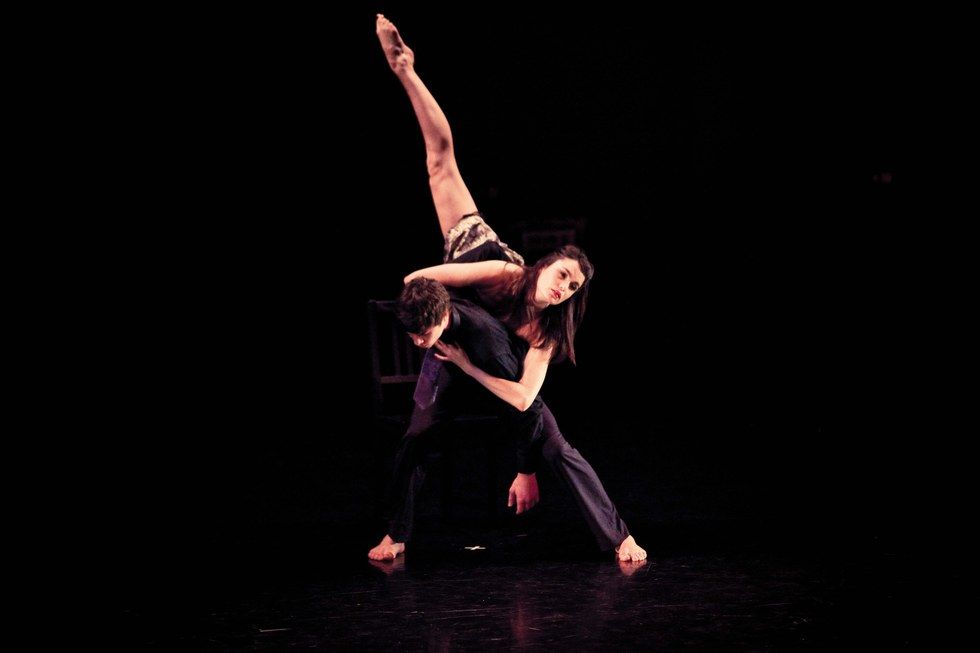 Chantel performing with Billy Bell's Lunge Dance Collective
Since moving back to California, Chantel has performed on "Dancing with the Stars" five times and at the Video Music Awards with Florence and the Machine. She is a member of Billy Bell's Lunge Dance Collective and Travis Wall's Shaping Sound Dance Company, was a featured dancer in Cristina Perri's "Jar of Hearts" music video, performed at the Billboard Awards with Beyoncé, danced at the Macy's Passport fashion shows and worked as a member of the skeleton crew for Step Up 4. Plus Chantel takes classes ("nonstop," she says) at EDGE Performing Arts Center and Millennium Dance Complex, and has started teaching at local studios and setting competition routines on younger dancers.
As Chantel continues to work hard and hone her ever-growing list of skills, the world is taking notice. When Wall held auditions for his company late last year, Chantel arrived amid hundreds of other dancers. "She stood next to Jaimie Goodwin—and everyone knows Jaimie is my favorite female dancer—but Chantel just roasted everyone in the room," Wall says. "She blew the audition out of the water. In the past year and a half, Chantel has come into a spot where everyone in L.A. knows who she is. All eyes are on her."
Chantel's Fast Facts
Birthday: May 6, 1989
Hometown: Scotts Valley, CA
Most-played artist on her iPod: James Blake
Favorite books: The Brain That Changes Itself, by Norman Doidge, MD
Favorite TV show: "Dexter"
Favorite movies: Kill Bill, Andre ("the one about the seal"), Inglourious Basterds and A Little Princess
Favorite food: Sushi
Favorite dance step: "Can I say the 'bend and snap'?!"
Dance crush: Robert Roldan
If you could work with any performer, past or present, who would it be? Dwight Rhoden. "I took a summer workshop with Dwight and Desmond Richardson, and they blew my mind. They are both such exceptionally talented geniuses. They teach
a way my body wants to move, but I'm not quite there yet."
If I wasn't a dancer I'd be… "A surgeon. It's incredible the way people can repair the human body. When I was younger I always wanted to be a doctor or a veterinarian. I used to put Band-Aids on my cat!"
Dance dream job: "I'd like to be in a professional contemporary ballet company someday, touring internationally. It's not about the money for me—it's about the creation and the positive environment."