George Balanchine backstage (Paul Kolnik, courtesy Dance Magazine Archives)
Happy birthday, George Balanchine! The great choreographer and founder of New York City Ballet would have been 114 years old today. Balanchine revolutionized ballet, especially American ballet—and he also had quite a way with words. To celebrate Mr. B's birthday, we rounded up some of our favorite iconic Balanchine quotes.
Keep reading...
Show less
Popular
Jul. 31, 2017 01:12PM EST
It's one of the most magical times of the year—and we don't mean "magical" in the holiday-spirit sense, but in the wands-and-wizards sense: Today is Harry Potter's birthday! Whether you're a Slytherin, Gryffindor, Hufflepuff or Ravenclaw, its time to celebrate not only the birth of "The Boy Who Lived," but more importantly the creation of a world that has captivated the imagination of children and adults alike for the past two decades.
Keep reading...
Show less
Can we talk about how wonderful the tWitch—Ellen DeGeneres bestfriendship is? They've hearted each other for ages. (Remember their epic duet, with Ellen doing a verrry impressive Alex Wong impression, during the "SYT" Season 7 finale? Yeah, that was SEVEN YEARS AGO). tWitch has even served as a featured DJ on "The Ellen DeGeneres Show" for the past few seasons. Their dance-based love for each other knows no bounds.
So it's only fitting that Mr. Boss would get his boss a delightfully dancey birthday present. tWitch surprised Ellen, who turned a totally unconvincing 59 yesterday, with a celebratory performance featuring some of his friends from 24 Seven. (We see you, Hefa, Randi and Kaycee!) They broke it down old school—like, running man, walk-like-an-Egyptian old school—to the equally old school and oh-so-appropriate "It's Your Birthday" by Luke. A a giant breakthrough wall of wrapping paper was also involved, which, many bonus points.
"What more perfect gift for Ellen than the gift of dance, right?" tWitch told the audience. "It is my honor to give such a gift to such a kind, genuine, generous person." 💕💕💕
Enjoy the lovefest, friends:
Nov. 13, 2013 11:56AM EST
It's the ciiiiiiircle of liiiiiiiiife!
Today the Broadway production of The Lion King celebrates its sixteenth birthday. Sweet sixteen! And it feels like only yesterday that everyone in the world fell in love with the show's crazy, puppet-y brand of awesomeness.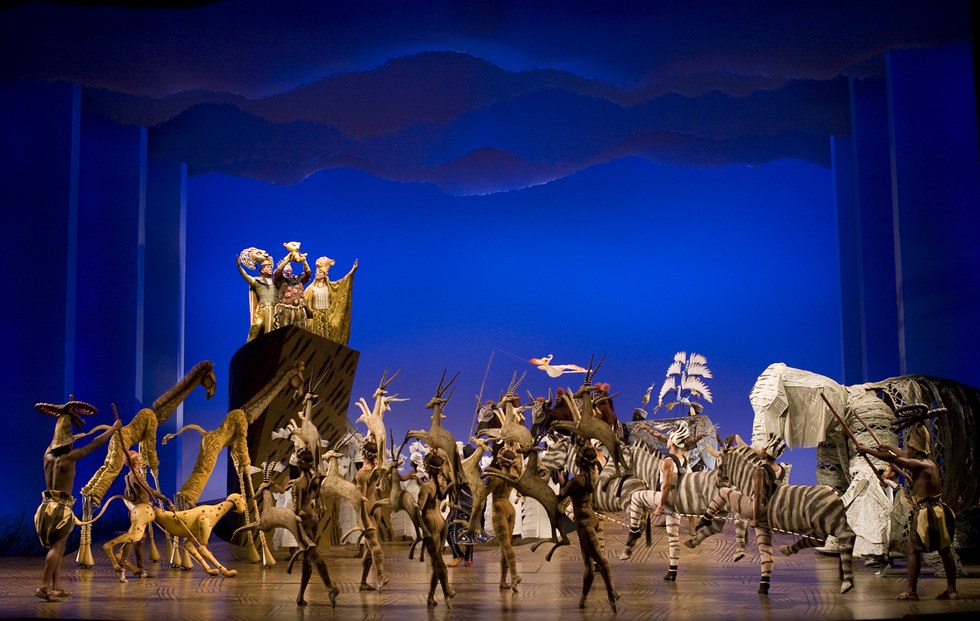 He's gonna be a mighty king! (Photo by Joan Marcus)
Some fun birthday facts:
-Today's anniversary show is also the musical's 6,660th performance. (Spoooooky.)
-The show is the highest-grossing musical in Broadway history.
-Just how much money are we talking? More than $5 billion. FIVE BILLION DOLLARS.
-Next month, The Lion King will zoom past Les Misérables to become the fourth longest-running show on Broadway.
-It has played on every continent save Antarctica.
-And a LOT of people have felllllt the looooove toniiiiight: Since its premiere in 1997, more than 70 million people have seen 21 different productions of The Lion King around the world.
Happy birthday, Lion King! (And special birthday shout-outs to my personal faves, the adorable baby Simba puppet and those wicked cool giraffe-people.) Oh we just can't WAIT for 17!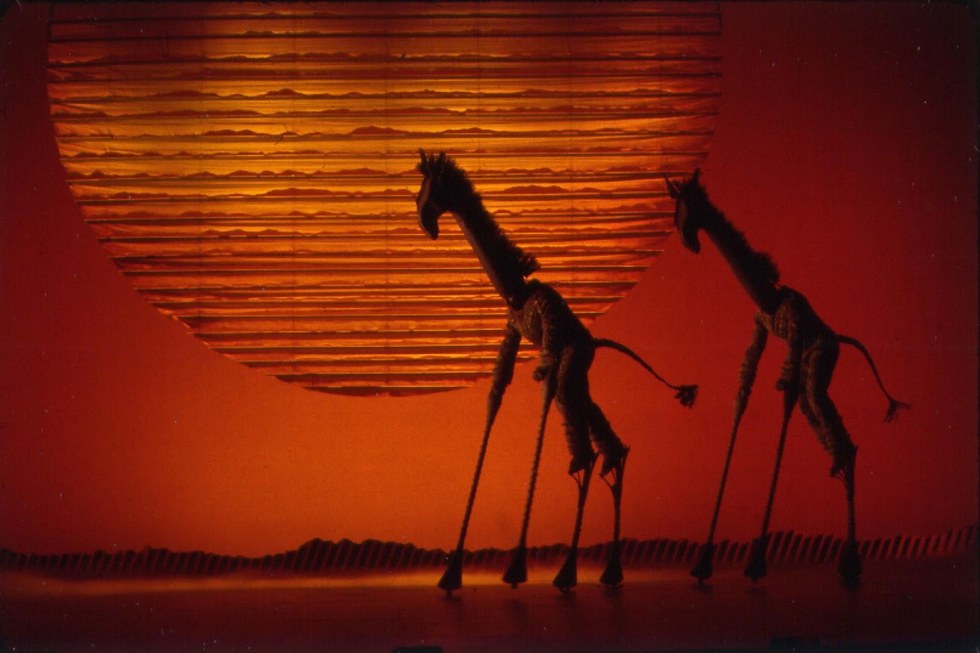 Seriously, those giraffe-people are the best. (Photo by Joan Marcus)
Happy Birthday, Dance Spirit! This month, our magazine turns 15 years old, and we couldn't be prouder. While celebrating, the DS editors had some fun reminiscing about what we were like at 15. We searched far and wide (and called our mothers) to collect these photos of our awkward, awesome and dance-y teen years.  Please don't make fun of us too much.
Editor in chief Alison Feller (center) was one singular sensation in a high-kicking tap routine at Concord Dance Academy.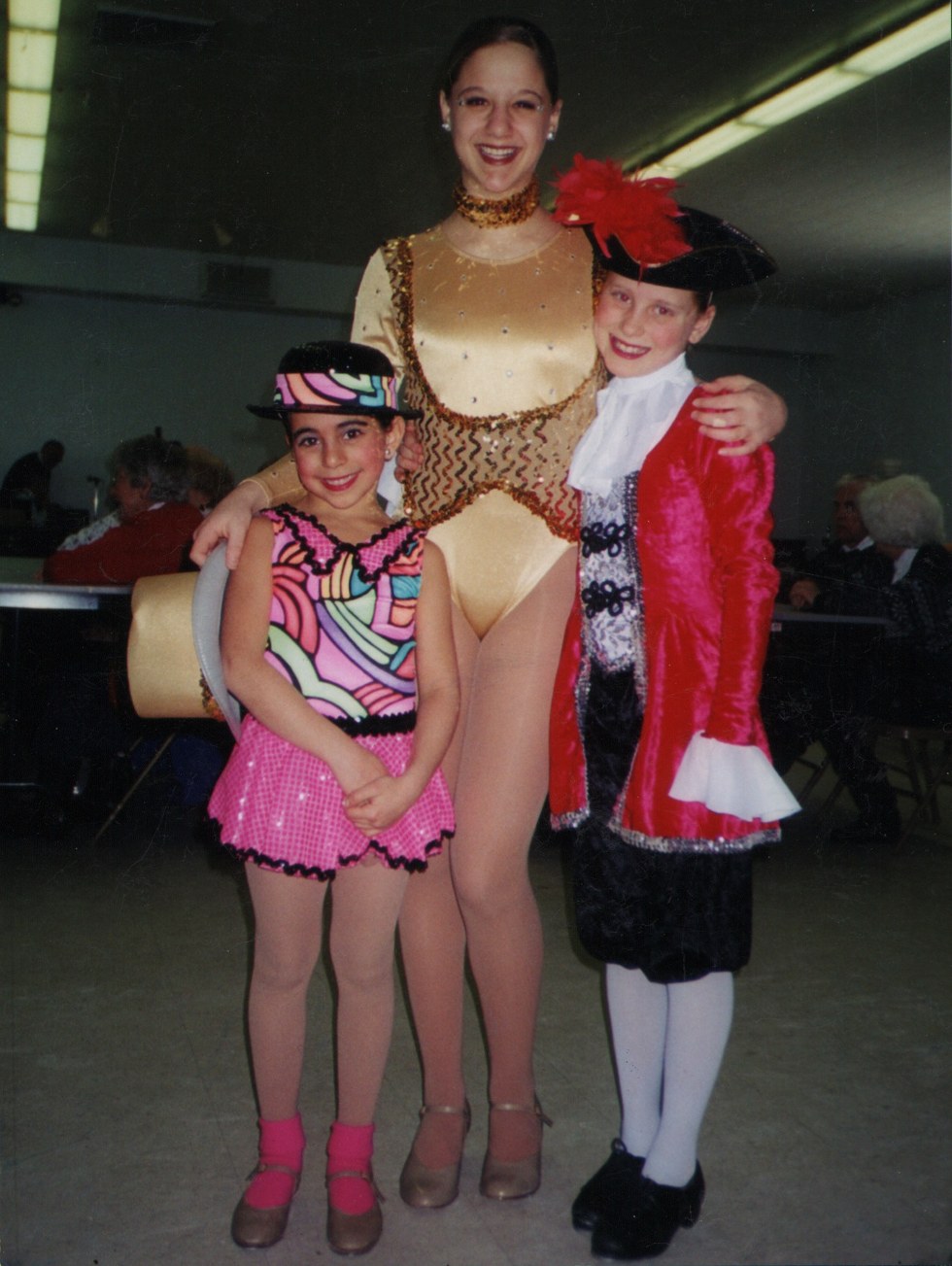 Managing editor Rachel Zar waltzed with the flowers (check out those leaves!) in Ballet Chicago's Nutcracker.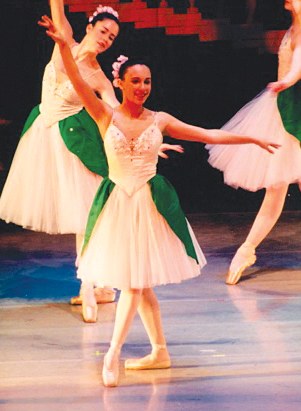 Olé! Associate editor Margaret Fuhrer showed of her Spanish side in Commonwealth Ballet Company's Nutcracker.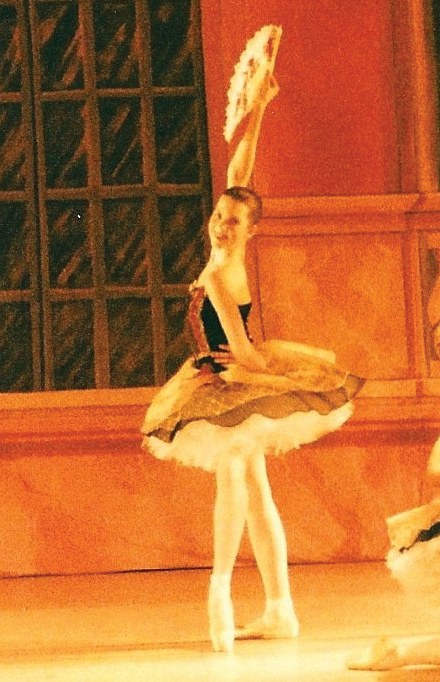 And for the grand finale: Assistant editor Michael Anne Bailey blew the competition away—and definitely deserved a Best Facial Expression award—at New York City Dance Alliance.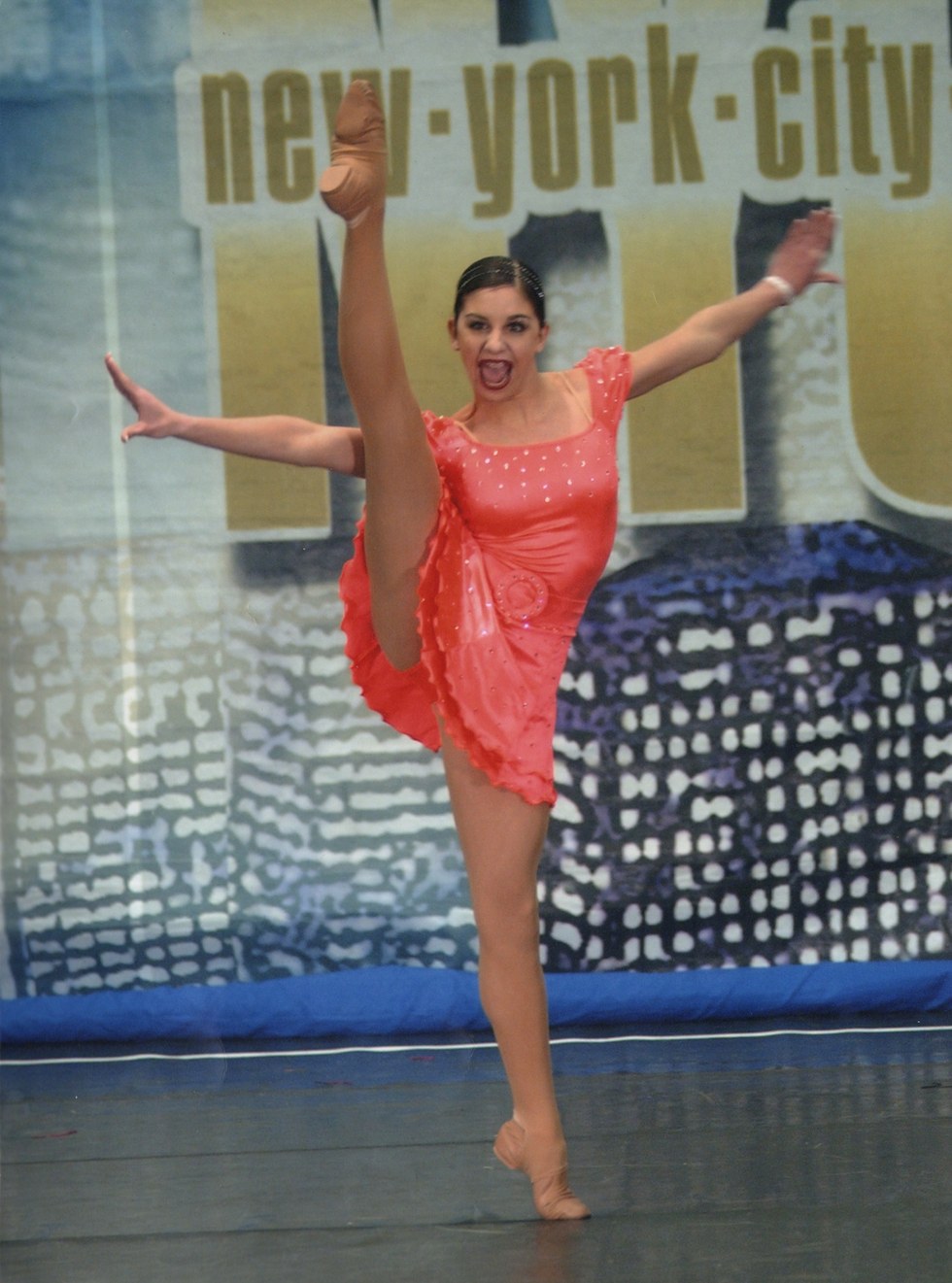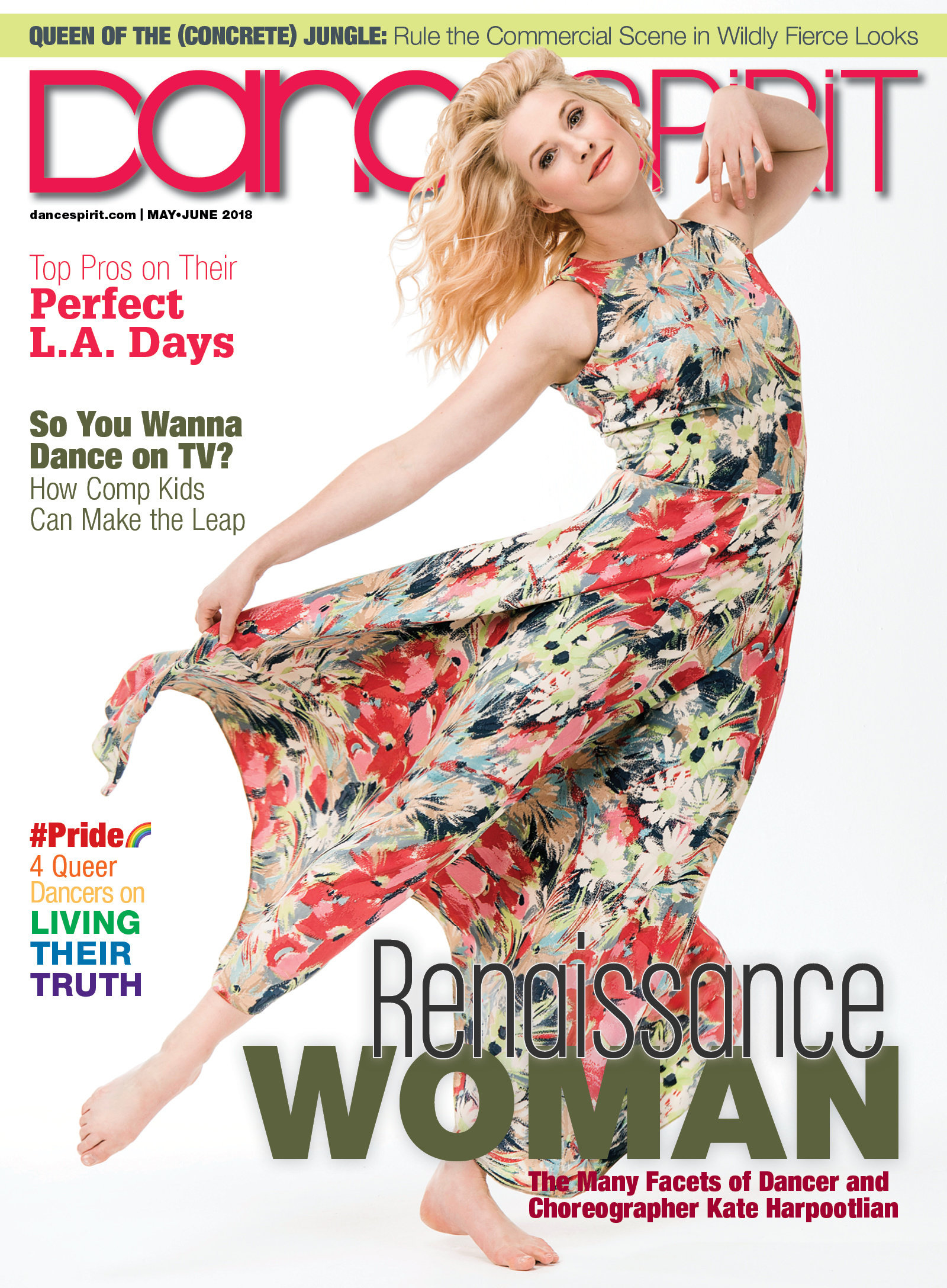 Get Dance Spirit in your inbox