May. 11, 2012 12:36PM EST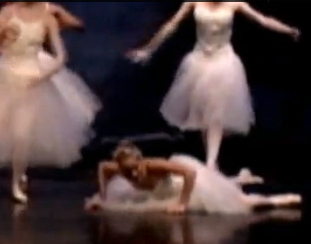 We all have nightmare stories about falling onstage. Mine happened when I was 16, dancing my first real soloist role in my first real tutu ballet. I was supposed to enter with a big, beautiful grand jeté. But on opening night, something went wrong. My back foot slipped as I attempted to push off for the jump, and I went down—hard. Even worse? I made this weird, involuntary "pfffffff" noise with my mouth as I fell.
Oh, the misery! I cried and cried afterward. Twelve years later, thankfully, I'm able to laugh at it all.
This morning I came across this collection of "ballet bloopers" on the Huffington Post. And yes, my first reaction to the slips, trips and spills was hilarity. I giggled for a good five minutes. (Sorry, cubicle mate.)
But then I had an epiphany: I realized that I appreciate it when dancers fall onstage. And not in a mean, schadenfreude kind of way.
I know that sounds weird. Hear me out.
First: Usually when a dancer falls, it means she's GOING FOR IT. Safe dancers don't faceplant, generally speaking, but they're also never all that exciting. Dancers who take risks might end up on their tushes—but when they do pull off whatever crazy stunt they were bold enough to try, it's an incredible rush (for them and the audience). Legendary ballerina Suzanne Farrell was famous for her dramatic wipeouts. Of course she was. She never did anything halfway, which is exactly what made her so magnetic onstage.
Second: It's easy to think of dancers as superheroes. How could mere mortals pull off the spectacular feats they accomplish onstage? But when they fall, they regain some of their humanity. And that's a good thing. Nobody wants to watch a robot perform. We want to watch people—flawed, complicated, messy people. The best artists aren't trying to convince us they're perfect; they're trying to make us feel something. And it's pretty hard for a robot to make you feel.
So when you fall—because we all do—don't be like 16-year-old me. Let the initial shock pass, and then be proud that you were dancing hard enough to end up on the floor. Maybe even take a little bow, as danseur Edward Villella apparently used to do after a flub. Above all, know that the people in the audience—though they may gasp or chuckle for a second—are rooting for you.
Do you have a story about falling onstage? Tell us in the comments!
Sep. 24, 2011 07:30AM EST
Technical mishaps, wardrobe malfunctions, run-ins with the scenery—we've all been there. Most dancers have had at least one cringe-worthy onstage moment. Here, nine professionals share theirs. You'll laugh—and feel a little better about that time your tap shoe flew off and landed on the judges' table!
Taylor Gordon, freelance ballet dancer:
A few years ago, as one of the ballerina bears in the "Nutcracker" scene of the Radio City Christmas Spectacular, I was supposed to enter the stage out of a giant gift box that sat under the Christmas tree. But one night the box door got stuck. I stood inside in my full bear costume and pointe shoes, panicking as the music played and my cue went by. Almost an entire minute passed before a stagehand got the door open. I only caught the last 30 seconds of the dance, and most of that time was spent trying to find my mark!
Ephraim Sykes, Broadway veteran who will play Benny in the upcoming off-Broadway production of Rent:
It took some time to get used to the custom-made Heelys (shoes with wheels built into the heels) we wore to make it appear as if we were gliding underwater in The Little Mermaid on Broadway. My eel costume was hard to move in—it basically looked like a big green sleeping bag with two little leg holes in the bottom. One night, we reached the close of the eel number "I Want the Good Times Back," and as I turned to skate offstage, I slipped and fell on my back. Between the costume and the wheels on my shoes, I kept losing my balance when I tried standing up. Finally, I had to crawl off the stage.
Sean Rollofson, corps de ballet dancer with Pacific Northwest Ballet:
On closing night of the company's production of Giselle, I was playing a peasant in the first act. I was supposed to sit in front of Giselle's house during the vine gatherer scene, but as I sat, my light brown tights got caught on a fake plant. I was stuck, so I reached behind myself and gently pulled my tights off the branch. When I turned slightly to ask my friend if I had ripped my tights, he told me that I had a huge hole on my butt and that I was bleeding—I had cut my butt on Giselle's plant life! I spent the rest of the act with ripped tights and bleeding slightly. I had a mark there for weeks!
Meghan Way, L.A.-based tap dancer:
My first performance with Gregg Russell's company, Tap Sounds Underground, was at an outdoor venue, and the stage was so slippery that it felt like an ice skating rink. Everyone kept falling down around me, but I managed to keep going without slipping. I was so proud of myself for making it through that, in my excitement, I decided it would be cool to jump backwards off the stage to exit. I jumped with such force that I ended up falling back and landing in a bush. I was stuck and my fellow company members had to pull me out while everyone was watching. Ever since, my nickname within the company has been "Shrubs."
Christina Ilisije, dancer in Parsons Dance:
Last fall, I performed "The Envelope" with the company. In one part, we have to act like spies and are dressed in black from head to toe—we even wear dark sunglasses, secured with strings that tie behind our heads. In rehearsal, I tied the string so tight that the glasses pressed into my eyes and made my eyes water so much that I couldn't see. So when I performed, I left the glasses looser. During this particular performance, I left the glasses too loose and they kept falling off. I kept smacking them back into place whenever I got the chance, which made my eyes water and my black mascara run down my face. It was terrible—I couldn't see and I kept hitting myself in the face.
Allyson Carr, ensemble dancer in Mamma Mia! on Broadway:
I was a senior at Fiorello H. LaGuardia High School of Music & Art and Performing Arts in NYC when my dance class was asked to perform at the Hispanic Heritage Awards at the Kennedy Center in Washington, D.C.—a televised event. We performed a high-energy, Latin-fusion dance with lots of partner work. During the performance, my partner and I did an around-the-world lift and he accidentally ripped my skirt off. I had shorts on underneath, but they had ridden up so much that they looked like a thong. To top it all off, I had to stand with my back to the audience for the final pose. I was mortified, and as soon as the audience started clapping I ran offstage with my hands covering my butt.
Keltie Colleen, dancer, choreographer and former Radio City Rockette:
During a show with the Rockettes, I accidentally pulled off my bloomers during a quick change. Just as I was about to walk onstage for my next dance, I realized my mistake. I quickly ran back to my dressing area to find my bloomers, but I still missed my entrance. I had to strut out mid-number to join the rest of the line. I got in big trouble, but I also had the entire cast and crew laughing their heads off.
Charity Baroni, dancer for Taylor Swift:
I was in Denver performing on Taylor Swift's Fearless tour when I started gagging during the last song because I was gasping for air. The altitude there is so high that when you get out of breath it's hard to recover. The dance was one of the hardest in the entire show because the choreography was fast and thrashy. I had almost made it to the end of the dance when I threw up in my mouth! I had about 30 seconds left, so I just tried to keep my mouth shut and finish the dance.
Kevin Aubin, swing in Spider-Man: Turn Off the Dark:
When I was a student at the School of American Ballet, I was asked to perform a character part in New York City Ballet's The Sleeping Beauty. I was supposed to stand still and act as a guard onstage for 20 minutes, holding a seven-foot spear and wearing about 60 pounds of armor. On opening night, my knees suddenly locked and I passed out onstage. As I came crashing down, my spear ripped one of the ballet dancer's dresses. When I came to, a dancer in a huge wig and tights, fully in character, was dragging me offstage. I was so lost and confused. I felt like I had woken up in a different world, like Alice from Alice in Wonderland!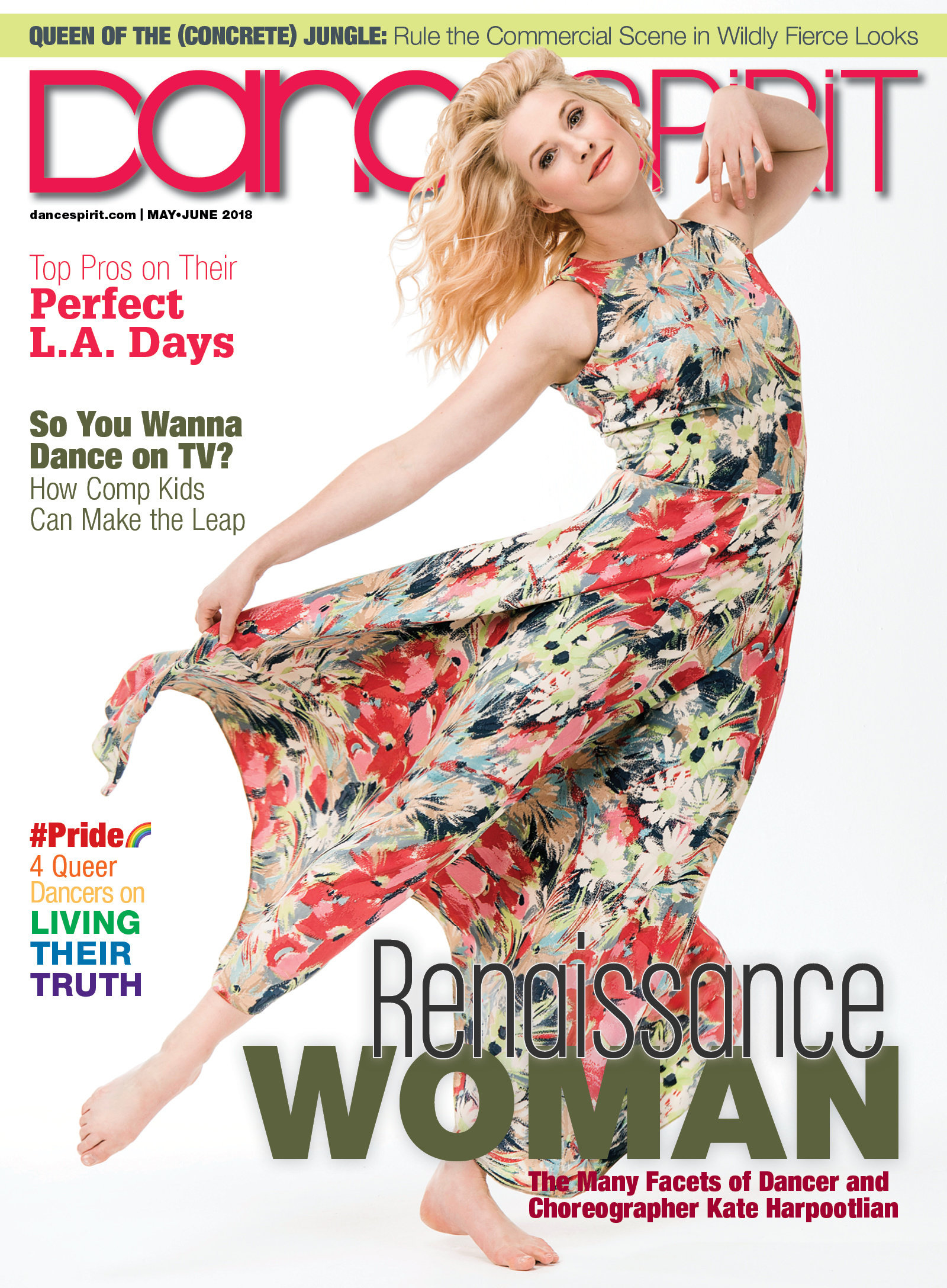 Get Dance Spirit in your inbox