May. 21, 2019 09:54AM EST
Including, of course, "Single Ladies" (Vevo)
Choreographer Bob Fosse's signature style—with its jazz hands, inverted knees, and slouched shoulders—is still a huge influence in the dance world (and, thanks to the gloriously dancy FX series "Fosse/Verdon," the TV world). But while you know to expect plenty of Fosse-isms during a stage performance of Chicago or Sweet Charity, Fosse's legacy has also seeped into pop music culture, inspiring the likes of Beyoncé and Lady Gaga. Here are just six of the many music videos that reference Fosse's iconic works.
Dance Videos
Feb. 25, 2019 10:37AM EST
JAAAAAAZZZZZZ HAAAAAANNNDDSSSS! (FX)
What got us through a disappointingly dance-less Oscars broadcast last night? THIS INCREDIBLE SPOT FOR "FOSSE/VERDON" AGGHHHHHHHH.
It is 30 seconds long. And it will fully occupy the next 24 hours or so of your life.
Dance Videos
Jul. 25, 2018 11:42AM EST
Bob Fosse in the studio (Dance Magazine Archives)
OH. MY. FOSSE.
"Fosse/Verdon," an eight-episode tv series about iconic choreographer Bob Fosse and his longtime muse (and wife) Gwen Verdon, is coming to FX.
But wait, guys. It gets even better:
Dance News
Nov. 13, 2017 11:54AM EST
A still from Center Stage (via sonymoviechannel.com)
From Dirty Dancing to Center Stage to Black Swan, there are a lot of epic dance movies out there. But how well do you REALLY know them all? Take our quiz to find out!

Quiz
Aug. 03, 2017 08:54AM EST
Bob Fosse in the studio (courtesy Dance Magazine Archives)
It's important to know about the artists who paved the way for us—especially in the musical theater world, which has been driven from the beginning by charismatic dancers and choreographers whose work continues to inspire Broadway babies. If you're a Great White Way fan, you should get to know these legendary artists, some of whom are still making moves.
Popular
Mar. 23, 2017 06:07AM EST
I realize that if I were to ask you what your favorite Broadway musical is, you're likely to tell me it's Wicked, The Lion King, Newsies or Annie, yeah?
There are some instant-classic current hits rocking out on the Great White Way these days.
But let's not forget about the great shows of the past.
In fact, let's bring them back!
Beginning March 23 (and officially opening April 25), you can catch Pippin, back on Broadway! (Yes, the musical. Not to be confused with my favorite little dancer ever.) Plus, it's being directed by Diane Paulus, who did the revivals for Hair and The Gershwins' Porgy & Bess. And those both won Tony Awards. Just saying.
The revival is currently playing at the American Repertory Theater near Boston, but it will move to the Music Box Theatre in NYC this spring.
Not familiar with the ol' tale? Here's what you're in for: Fosse.
Oh I'm sorry, did you want to know more? Why does it even matter? This is a Bob Fosse show, people. He directed and choreographed the original when it opened in 1972. And that man could do no wrong.
But if you really did want to know more, I'll tell you that Pippin is about the soul-searching son of the first Holy Roman Emperor and it's all pop-rocky and whimsical and fun. There are also circus-y elements.
I'm excited. Join me!
Jun. 23, 2014 11:14AM EST
Brilliant dancer and choreographer Bob Fosse would have been 87 years old today. Say it with us:
(OK, OK—we stole these gifs from our friends over at Playbill. They're just so darn great!)
What better way to celebrate the nine-time Tony Award winner than by watching the full versions of the three incredible Fosse routines gif-ified above? First, there's Fosse himself dancing with muse Gwen Verdon in "Who's Got the Pain" from Damn Yankees, 1958:
Next up, we've got another Fosse favorite, Liza Minnelli, in the slinky "Bye Bye Blackbird" number from Liza with a Z, 1972:
And finally we have Fosse again, tearing it up with fellow dancer Tommy Rall in "Alley Dance" from My Sister Eileen, 1955:
We miss you, Fosse! Want to learn more about this groundbreaking artist? Click here for Dance Spirit's Fosse primer.
Jan. 04, 2014 07:00AM EST
If you wanna slick your hair, wear your buckle shoes...and all that jazz, get yourself into a pair of fishnets and shoulder roll your way over to Broadway Dance Center in NYC: The iconic studio is hosting Fosse Week January 27–31!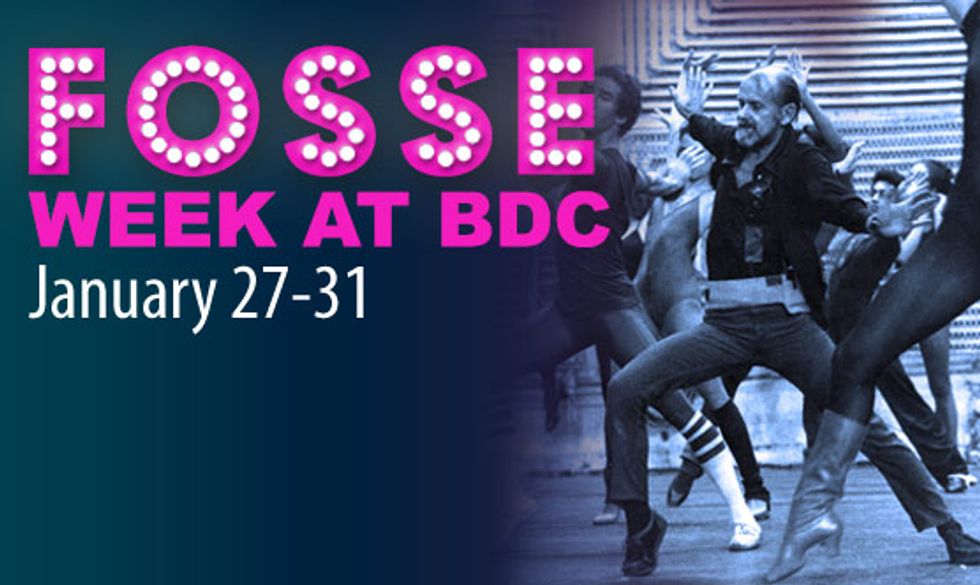 Fosse Frenzy!
Every dancer—especially all you Broadway hopefuls out there—should be well-versed in the iconic Bob Fosse style, and now's your chance to study with Diana Laurenson and Mimi Quillin, both of whom trained directly with Bob Fosse and performed in several of his shows.
Here's the schedule for Fosse Week at BDC:

All classes are at Broadway Dance Center's NYC studio
Note: These classes are for advanced dancers ages 16 and older. Regular BDC class rates apply.
Dance News
Mar. 25, 2013 12:58PM EST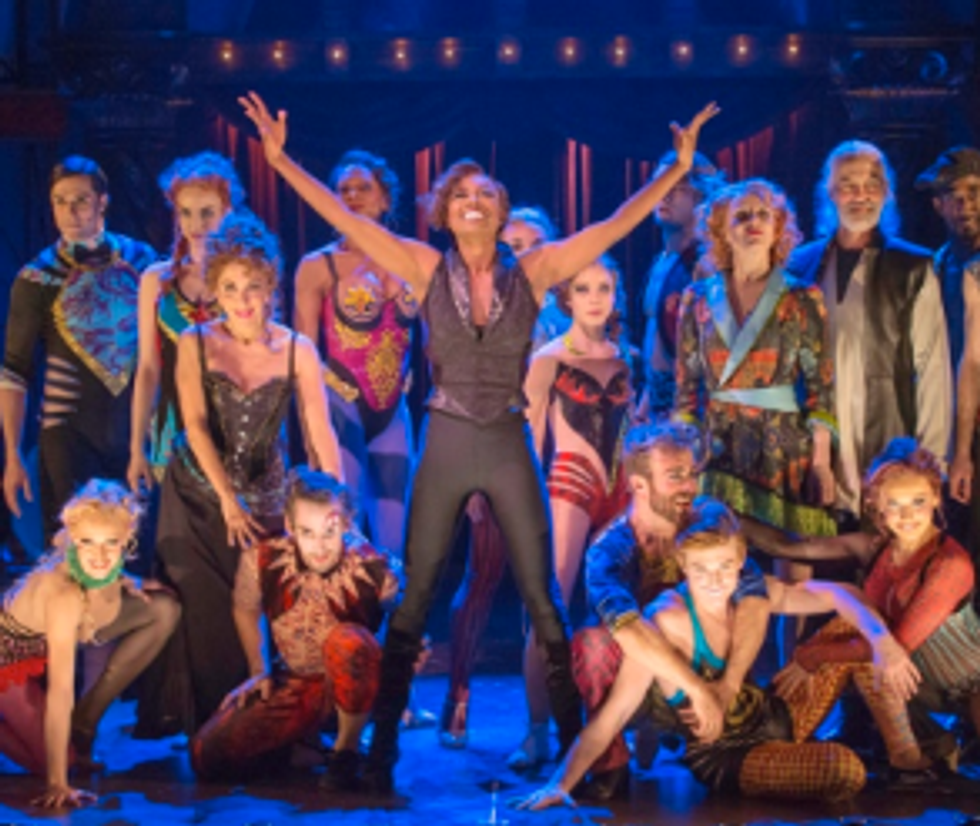 Patina Miller (center) as the Lead Player in "Pippin." Photo by Michael J. Lutch.
Once upon a time, about 35 years ago, a college guy fell in love with one of his classmates. She was not interested, which made him sad.
The guy, being kind of artsy-fartsy, was a member of an a cappella ensemble. One day, feeling inspired, he decided to arrange "Corner of the Sky"—a song from one of Broadway's biggest hits at the time, Pippin—for the group. It was (and is) a great song, openhearted and earnest, with lyrics about the challenges of finding one's place in the world.
The guy sang the song at his a cappella group's next performance. The girl heard him sing it, and suddenly she began to see the guy in a new light. She started falling for him.
A few years later, the guy and girl got married. And more than three decades after that a cappella performance, my parents are still going strong—and singing songs from Pippin.
OK, I'm sorry. That was a lot of non-dancey mushiness. But there wasn't any other way to explain to you why I'm so excited about the fact that a new production of Pippin just opened in previews on Broadway. Thanks to Mom and Dad, I grew up listening to Pippin's Stephen Schwartz soundtrack over and over on family car trips. Then, once I started dancing, I got reaaaally into the show's choreography, by this dude Bob Fosse you've maybe heard of a couple of times. (You guys: Watch this, right now.) In college, I even toned down my bunhead-iness enough to perform in a production of it. It's one of those shows that's defined my life.
Not many people are familiar with Pippin these days, but my obsession with it isn't unmerited: As we told you a few weeks ago, it's a great musical. And the revival has a circus-y twist, with crazy acrobatics spicing up Chet Walker's re-imagining of Fosse's original choreography. I got a sneak peek at the new Pippin, directed by the amazing Diane Paulus, a few weeks ago, and it looked absolutely fantastic. (You CANNOT MISS Patina Miller as the Leading Player, a role originated by Ben Vereen.)
Anyway, all I'm really trying to say is: Go. See. This. Show. It's in previews now at the Music Box Theatre, and officially opens on April 25th.
I'll see you there—and so will my mom and dad.
Feb. 05, 2013 12:42PM EST
Quick! Think of a musical that epitomizes the Bob Fosse style.
Did you pick Cabaret? Odds are pretty good you did. Who doesn't associate Fosse with fishnet-clad girls vamping to "Mein Herr"?
But here's an interesting fact: The original Broadway production of the now-iconic show, which premiered in 1966, was actually choreographed by Ron Field, not Fosse. It wasn't until the 1972 movie version, which Fosse choreographed and directed, that the jazz legend was able to put his sultry stamp on the musical numbers—which became the perfect showcase for star Liza Minnelli and her gorgeous gams. (Here's another fun fact: Guess who played the Minnelli character, Sally Bowles, in the 1968 West End production of the show? None other than Judi Dench.)
The film won eight Oscars almost exactly 40 years ago. In celebration that anniversary, a high-definition Blu-ray version of Cabaret has just been released. You can get your copy here. (Warning, though: Like a lot of Fosse, it's a little risqué.)
Four members of the film's cast, including Minnelli and Joel Grey, made an appearance on "The Today Show" last week to talk about Cabaret's birthday and the awesomeness of Bob Fosse. They even treated Hoda and Kathie Lee to a little impromptu serenade. It's adorable. Take a look!
Get Dance Spirit in your inbox
Oct. 15, 2012 01:46PM EST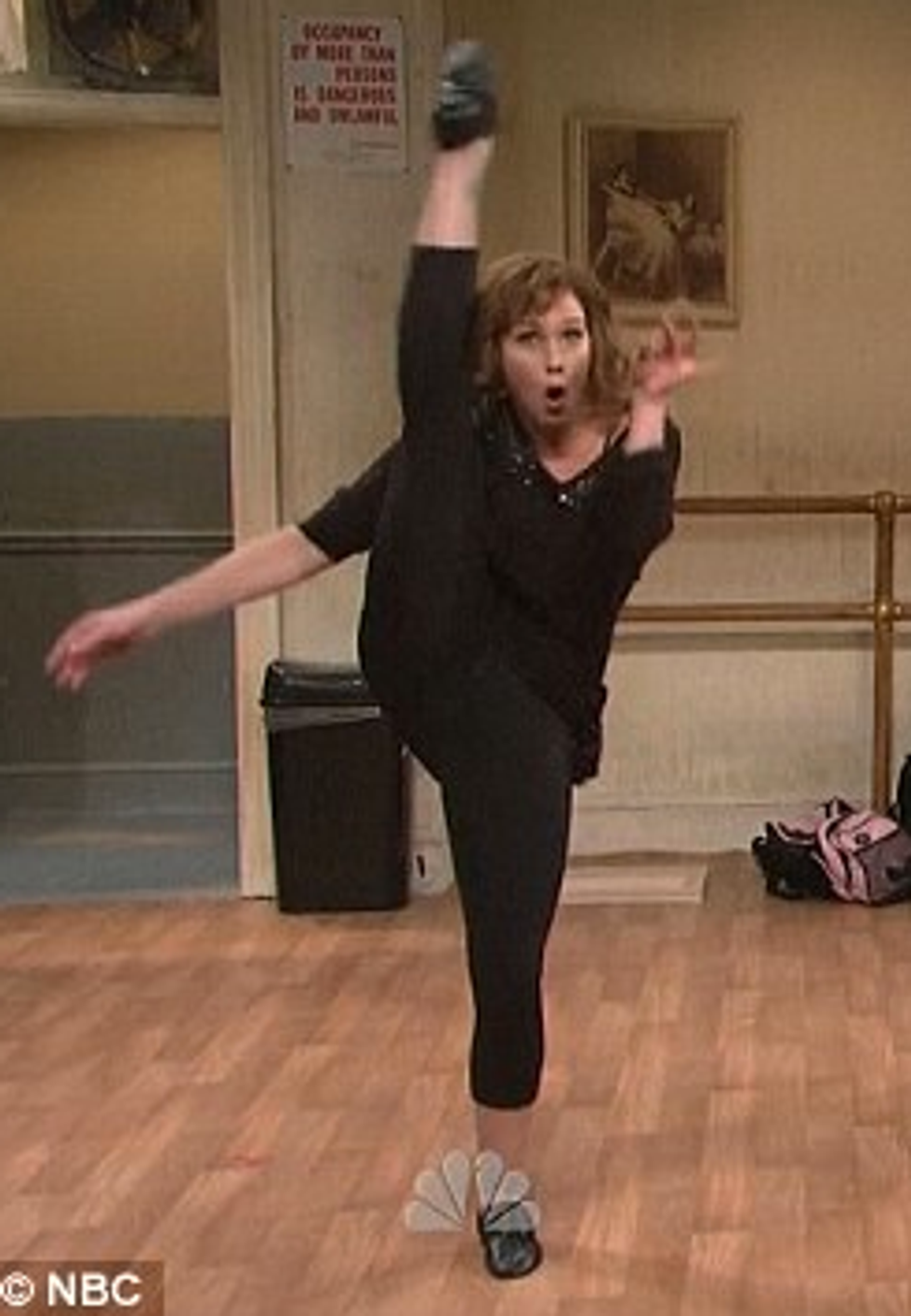 Why is Christina Applegate so amazing at everything? First, she was a total rockstar of a guest judge on "So You Think You Can Dance." Then, this weekend, she hosted "Saturday Night Live"—and proved she can (jazz) walk the walk as well as she can talk the talk in a glorious Fosse sketch.
In theory, I already knew Christina had moves. (She did headline the Broadway revival of Sweet Charity just a few years ago, after all.) But I didn't realize just how hardcore she was. Check out that to-the-nose battement!
This skit was a dance-nerd's paradise in more ways than one. I don't know why "SNL" loves crazy Fosse ladies and Tommy Tune references so much (remember Kristen Wiig doing her best Liza Minnelli last season?), but I, for one, am not complaining. And the whole premise, about kooky teachers using weird noises instead of counts? Pretty much spot-on. As Christina says: "This is Fosse, honey. We don't do 1-2-3s. We do 'ka-donks,' 'ka-doonks' and 'za-zas'!"
Check out the sketch below—then read about how to get Fosse-ified yourself.
Mar. 12, 2012 11:09AM EST
Every once in a while, Saturday Night Live shocks me by being right on my dance-nerd wavelength. (Have you seen the classic sketch "Bad Ballet"? You should.) Last Saturday, the totally bizarro—and yet spot-on—"Liza Minnelli Tries to Turn Off a Lamp" skit had me on the floor. Not only does Kristen Wiig nail it as a whackadoo Liza, but her moves aren't half bad. And there are a bunch of legitimate dance references in there! A few choice samples:
"There's gotta be like a ball on the end of a chain, remember that? Chain, ball, kick, chain!"
"Will a Fosse neck do it?"
"Look how long this cord is—Ben Vereen, it's long!"
"I'm not getting anywhere with it—it's like Tommy Tune!"
Also, her dance-off at the end with Jonah Hill is priceless. Check it out: