Mar. 23, 2017 01:36PM EST
Ever wish you could go behind the scenes of the often-cloistered Bolshoi Ballet? This month, HBO is airing a new documentary that does just that.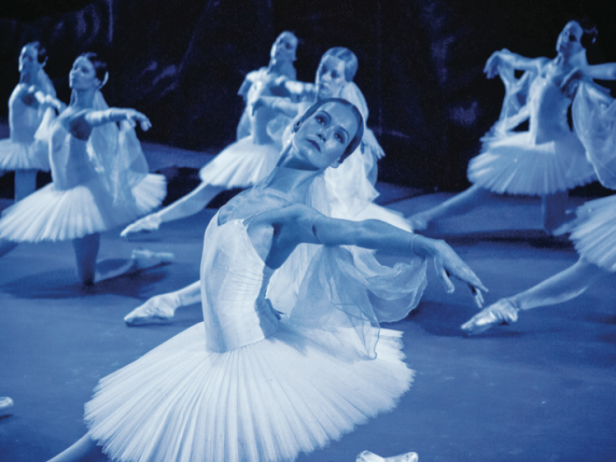 (Courtesy HBO)
Bolshoi Babylon began filming in 2013, during the aftermath of the acid attack on the company's (then) artistic director Sergei Filin. The gruesome act of violence had caught the attention of news teams around the globe—including Bolshoi Babylon's director Nick Read and producer Mark Franchetti. But ballet fans will be glad to find out that Bolshoi Babylon isn't a flashy whodunit. Instead, the cameras delve a little deeper into the company's inner workings: We see board meetings, company classes and even some of the dancers' homes. "Our goal was to show the Bolshoi—the institution and its people—in three dimensions," Read says. "And it was a privilege to be right in its heart, backstage and in the wings for about 20 performances."
The result doesn't skimp on the reality of life as a Bolshoi ballerina. Principals Maria Alexandrova and Maria Allash, along with soloist Anastasia Meskova, tell all—and we get snippets of them performing in Bolshoi classics, including Swan Lake and La Bayadère. 
Swan Lake premiered at the Bolshoi Ballet in 1877, but since then it's undergone many variations and alterations. Dancers perform everything from New York City Ballet's stripped-down two-act version to Christopher Wheeldon's Degas-esque fantasy. And while each interpretation has its own merit and relationship with Tchaikovsky's score, wouldn't it be cool to know what the original was like?
Luckily, for dance #nerdz everywhere, there's been a major discovery at the Bolshoi: The New York Times reports that "a cache of materials uncovered during the recent renovation of the Bolshoi Theater [...] helps answer lingering questions about the first Swan Lake." SO COOL.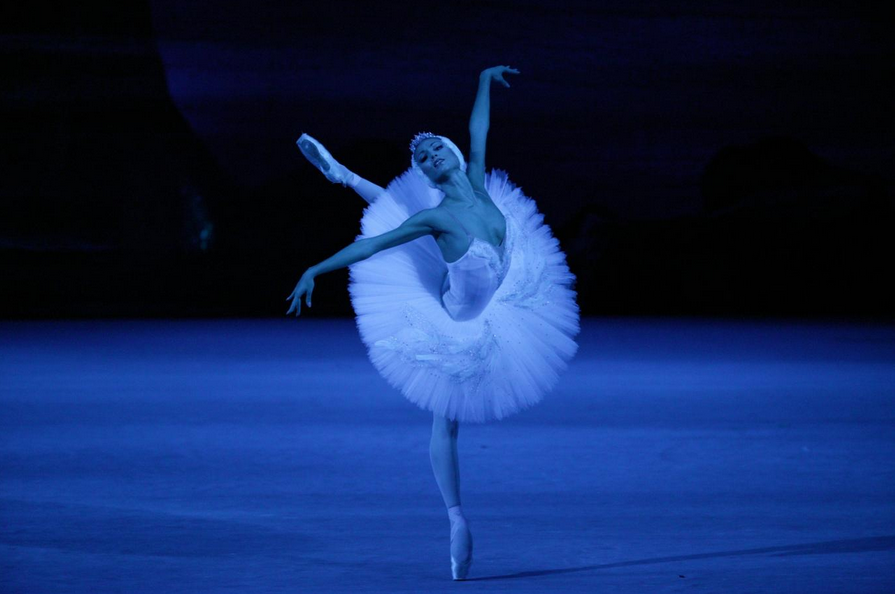 (Ekaterina Shipulina, photo by Damir Yusupov)
The classical production we're all familiar with is based on a 1895 staging by Marius Petipa, and it relied on a score that was rearranged from Tchaikovsky's original. It's hard to imagine the super-classical version of the ballet sounding or looking any different, but Lydia Geiten, the ballerina cast as the original lead, refused the part saying that the score was too boring (!). I guess generations of tinkering have spiced things up, because I can't imagine there's a bunhead out there who doesn't want to dance Odette/Odile—at least partly due to the beauty of the music.
Since Alexei Ratmansky's rebuild of The Sleeping Beauty was smashingly successful for American Ballet Theatre, maybe now is a great time to start piecing together notes on the original costumes and musical arrangements for Swan Lake. I know I would LOVE to see it.
Joy Womack is best known as the first American woman to sign a contract with the Bolshoi Ballet. In November, 2013 she quit very publicly—due to frustration with the company's politics—and now dances as a guest principal with the Kremlin Ballet Theater in Moscow.
But take one look at Joy's latest video, and it's clear that any Bolshoi-related scandal seems far behind her. Captured by filmmaker Steele Scala of Steele Films on a GoPro camera, Joy frolicks on a beach the way that only a Russian-trained ballerina can: perfectly. Hey Joy, can we join you on the beach in Santa Monica? And also maybe have your abs?
The coolest part about the video (besides it representing our ideal summer day) is that it's slightly slowed down, so you can really see the control and strength Joy uses to transition from step to step. Check it out below.
Yesterday, we said goodbye to what was perhaps the most dance-tastic Olympics of all time. And just like the somewhat cute (and somewhat creepy) Sochi Bear, we feel like shedding a single tear: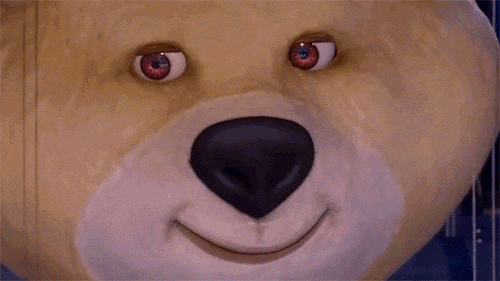 (via thebiglead.com)
Mmk, we're done moping, we promise. Now let's talk about last night's closing ceremony. Just like the ceremony that opened the games, this event did not disappoint on the dance front.
We got more beautiful performances by Bolshoi and Mariinsky dancers: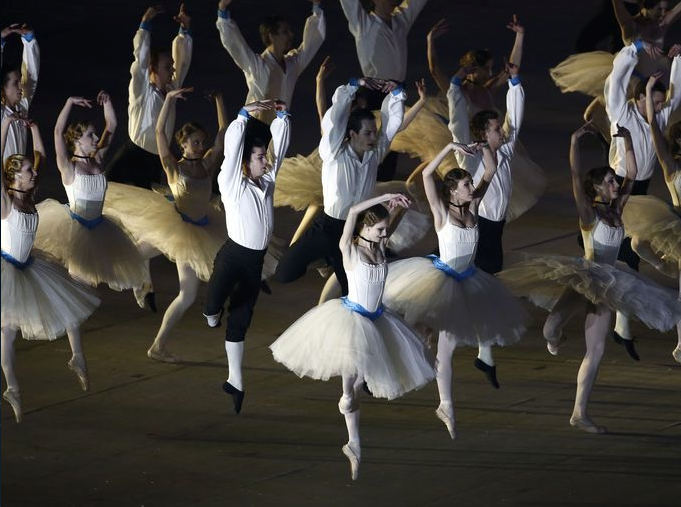 (Photo by Rob Schumacher/USA TODAY)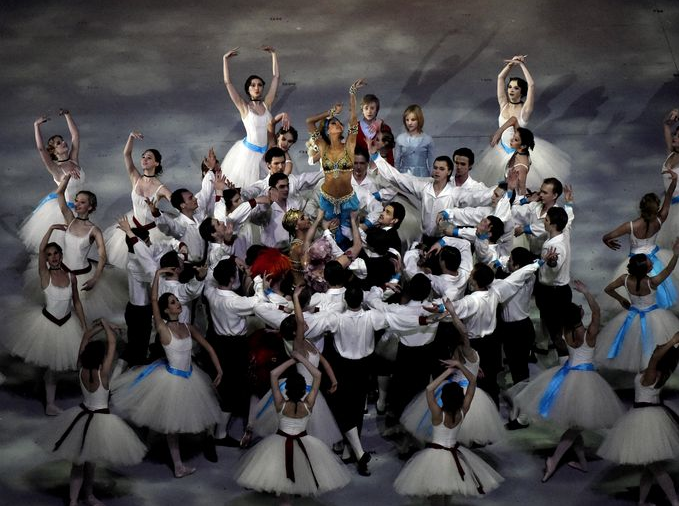 As pretty as a painting. It almost looks like a Degas, doesn't it? (Photo by Richard Mackson/USA TODAY)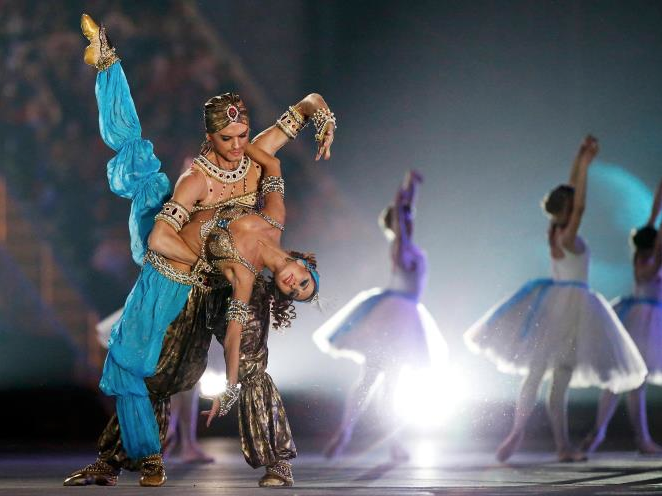 Those costumes... Can we be her please? (photo by Lucy Nicholson/Reuters)
We got some aeriel dance (from helium-filled clouds, naturally...):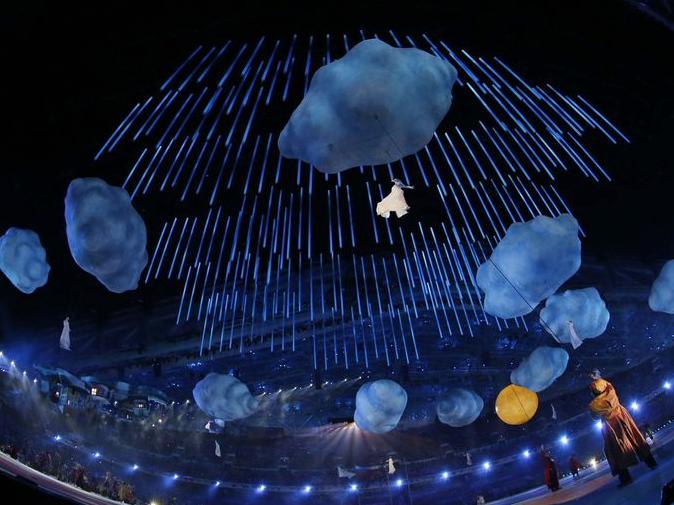 Pretty psychedelic, huh? (photo by Jeffrey Swinger/USA TODAY)
And we got some circus performers: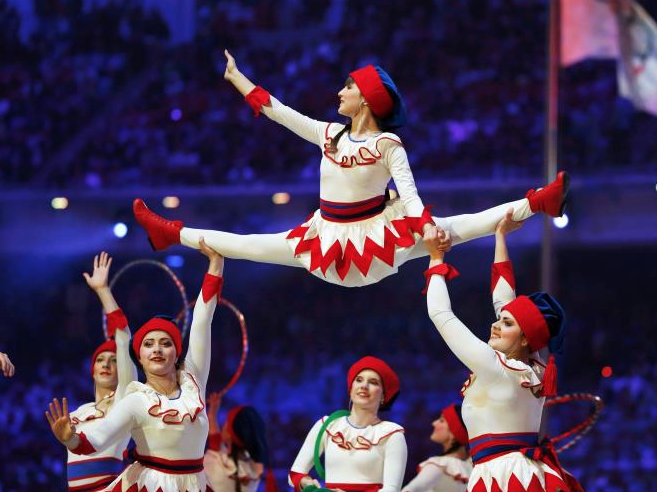 OK, so it's not technically dance, but we're counting it—because we can. (Photo by Lucy Nicholson/Reuters)
But the most talked-about moment of Sochi's closing ceremonies involved a touch of dance humor. You see, during Sochi's opening ceremony, there was a technical difficulty. Five snowflakes that were supposed to explode into the five Olympic rings ended up looking like this: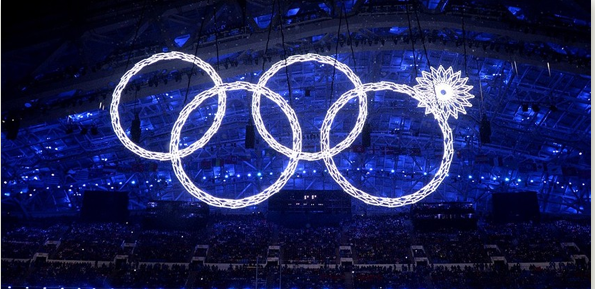 The little snowflake that couldn't... (Photo by Robert Deutsch/USA TODAY)
But instead of hoping that everyone would forget about the mishap, Sochi's creative director Konstantine Ernst made sure everyone remembered, enlisting the help of 700 very sparkly dancers to recreate the incomplete Olympic ring formation: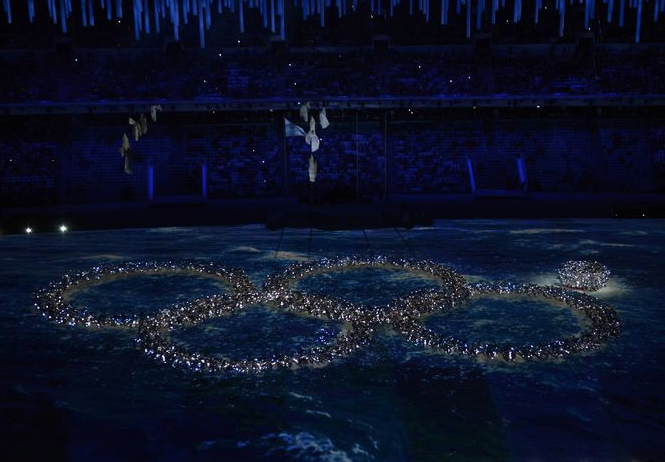 (Photo by Richard Mackson/USA TODAY)
But then, in an act of glorious redemption, the fifth ring swirled open! (Click here to watch a clip of the big moment.)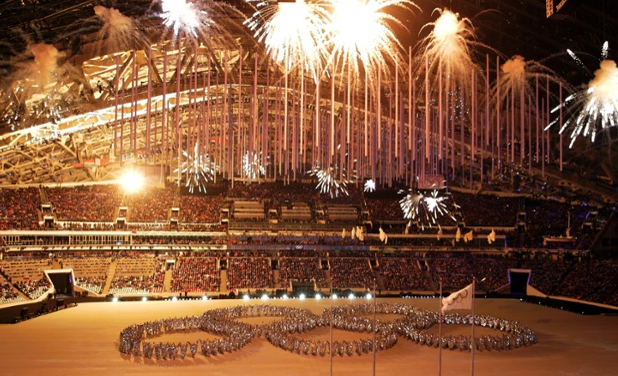 (Photo by Gregorio Borgia/AP)
Kudos, Russia. That was pretty darn funny.
Fingers crossed that the PyeongChang 2018 Winter Olympics will bring us just as much (if not more) dance. Gangnam Style, anyone?? We can dream.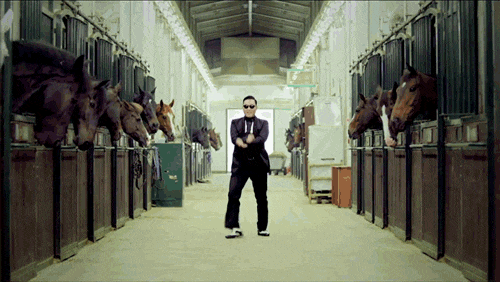 (via dailypop.in)
"Benedict Arnold with slightly tighter pants" (as Stephen Colbert says) is the news yet again.
American Ballet Theatre and Bolshoi Principal David Hallberg made an appearance on CBS News over the weekend to talk about his decision to join the ranks in Russia. Watch it here. Then tell us what you think below.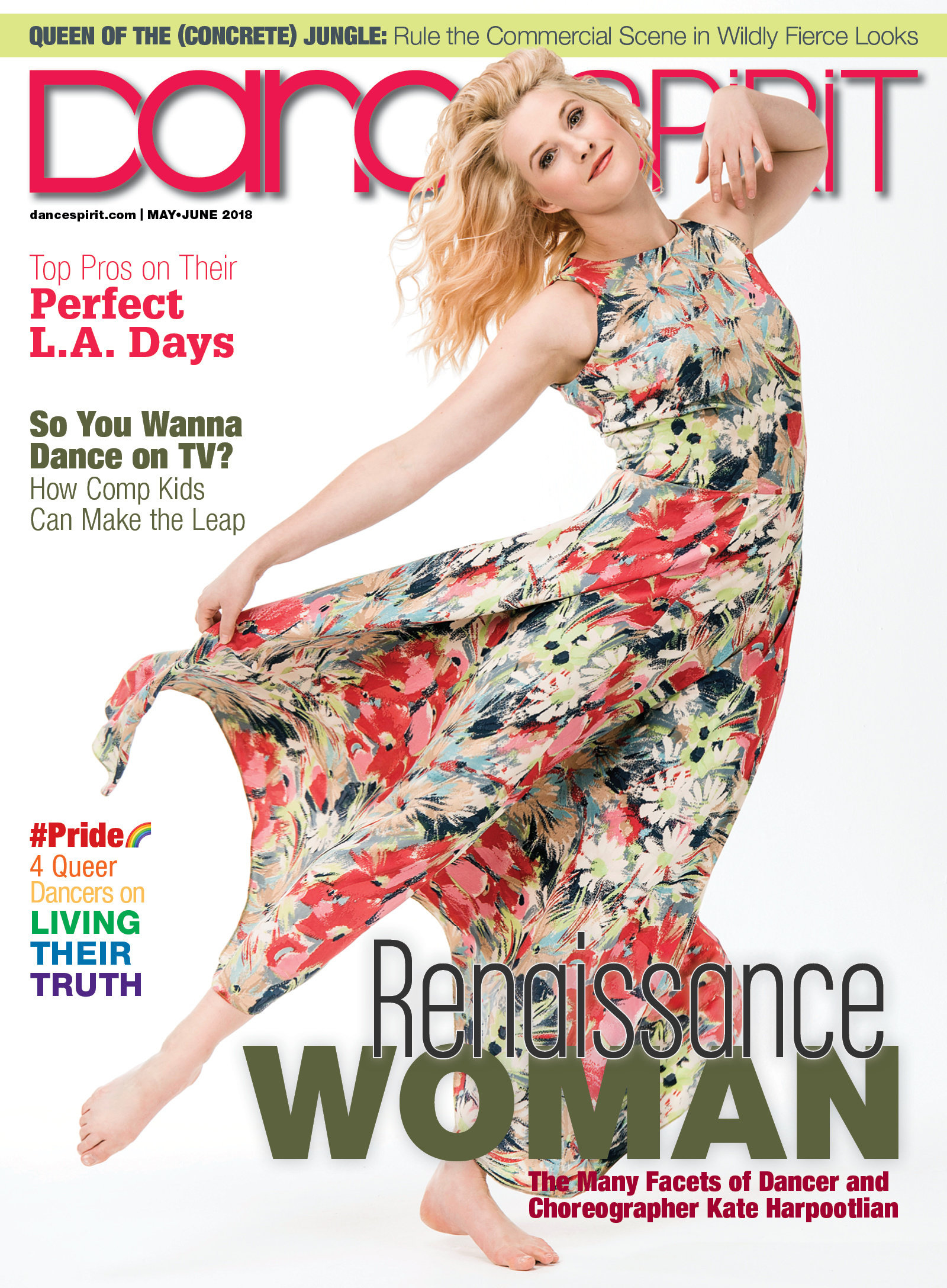 Get Dance Spirit in your inbox