Mar. 23, 2017 06:52AM EST
From fairy godmothers to lions, witches and outrageous wardrobes, the Great White Way has something for everyone. Here's your guide to the greatest—and danciest—hits.
New & Noteworthy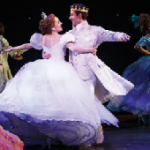 Cinderella (by Carol Rosegg)
Cinderella: You know that story where a dowdy (but beautiful) young girl meets her prince charming and gets to rock a pair of glass slippers? The first Broadway production of Rodgers and Hammerstein's musical has furiously fast onstage quick changes, a flying fairy godmother and two hilarious stepsisters.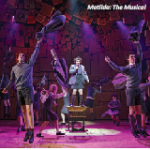 Matilda: The Musical (by Joan Marcus)
Matilda: The Musical: Roald Dahl's story comes to life as Matilda, the bookwormiest kid in her class, discovers she has supernatural powers, bringing the audience into a fun and mischievous world of imagination.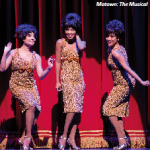 Motown: The Musical (by Joan Marcus)
Motown: The Musical: Think VH1's "Behind The Music," stage-style, in this awesomely soundtracked show about Berry Gordy, the man who launched the careers of Diana Ross, Michael Jackson and Stevie Wonder.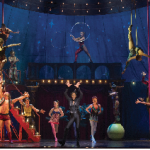 Pippin (by Joan Marcus)
Pippin: The circus comes to Broadway! Kind of. In this remake of the 1972 Bob Fosse classic, young prince Pippin embarks on a soul-searching journey—and director Diane Paulus has brought some acrobats along for the adventure. Expect tons of high-flying action on top of Chet Walker's Fosse-inspired choreography.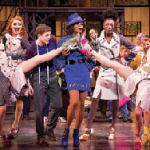 Kinky Boots (by Matthew Murphy)
Kinky Boots: A straight-laced shoemaker's son and a flamboyant cross-dresser team up in this ode to unexpected friendships. You'll love the chorus of dancing men in dangerously high heels belting Cyndi Lauper tunes, plus you'll learn an important lesson about acceptance.
The Classics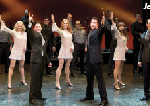 Jersey Boys (by Joan Marcus)
Jersey Boys: Learn how Frankie Valli & The Four Seasons hit the big time while dancing in your seat to the killer soundtrack, which includes hits like "Rag Doll," "Sherry" and "Can't Take My Eyes Off Of You."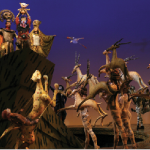 The Lion King (by Joan Marcus)
The Lion King: You already know the Disney story of Simba and his jungle buddies—and the Broadway version doesn't have a happier beginning (R.I.P. Mufasa). But the cast members in life-sized hyena, elephant and giraffe costumes will blow your mind. Hakuna matata!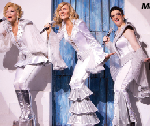 Mammi Mia! (by Joan Marcus)
Mamma Mia!: If you liked the Meryl Streep movie, you'll go dancing-queen–crazy for the original stage version, set to ABBA's greatest hits.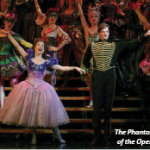 The Phantom of the Opera (by Joan Marcus)
The Phantom of the Opera: It's the longest-running show on Broadway and Act I ends with a bang (really): They drop a crystal chandelier from the theater's ceiling onto the stage!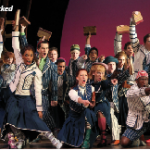 Wicked (by Joan Marcus)
Wicked: This show is consistently at the top of Broadway's "most likely to sell out" list, and for good reason: The sets and costumes are lavish, the flying monkeys will keep you on the edge of your seat and the heartfelt tale of how Elphaba and Glinda—the Wicked Witch and the Good Witch, respectively—grew up together just may get you to shed a tear.
Fun for the Whole Family…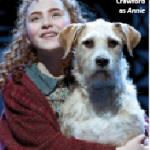 Lilla Crawford as Annie (by James Lapine)
Annie: An orphan girl meets her Daddy Warbucks, and suddenly it's not such a hard-knock life. The cast of cute kids—and a dog!—will get you singing along and beaming from ear to ear. After all, you're never fully dressed without a smile!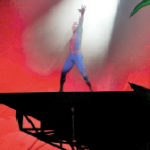 Spider-Man: Turn Off the Dark (by Jacob Cohl)
Spider-Man: Turn Off the Dark: High-flying adventure, a love story and an original score by U2's Bono and The Edge? Sold!
...or Not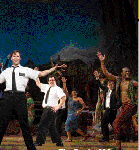 The Book of Mormon (by Joan Marcus)
The Book of Mormon: The F-bombs may fly at rapid speed, but the tap-dancing missionaries are adorable and Casey Nicholaw's choreography makes this 2011 Tony winner for Best Musical unforgettably fun. Just proceed with caution: The show, created by "South Park" masterminds Matt Stone and Trey Parker, isn't for the easily offended.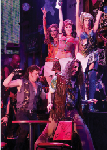 Rock of Ages (by Joan Marcus)
Rock of Ages: It's the ultimate jukebox musical that'll make you want to sing along—you just may not want to do so alongside your parents. The "small-town girl meets rocker boy" material is mostly PG, save for a few raunchy scenes involving a bathroom stall. We say take your girlfriends—or pas de deux partner!—instead.
Go for the Dancing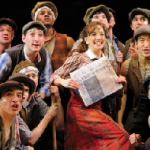 Newsies (by Deen Van Meer)
Newsies: Arguably the danciest show of them all, Newsies burst onto the scene last year to rave reviews and standing ovations (plus a DS cover story!). The boys in this cast jump so high, turn so fast and sing with such heart that you'll be tempted to leap onstage yourself. Hey, seize the day!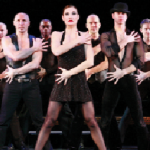 Chicago (by Paul Kolnik)
Chicago: It's sexy, it's scandalous—it's Bob Fosse on Broadway. You know the songs and you've danced your own version of the "Cell Block Tango"; now it's time to catch the fishnet-filled original.
Mar. 23, 2017 04:32AM EST
The year 2011 was filled with show-stopping onstage moments and exciting offstage drama. Whether you were captivated by New York City Ballet star Sara Mearns' 32 fouettés in Swan Lake or danced along in your seat as Sutton Foster led the Broadway cast of Anything Goes through a series of time steps, there's no doubt you were entertained. Here are the people who kept us on the edge of our seats in 2011.
—Alison Feller
In Ballet
Sarah Lane. Photo by Gene Schiavone.

When Natalie Portman won the Best Actress Academy Award for her role as a twisted-but-talented ballerina in Black Swan, she neglected to thank her dance double, American Ballet Theatre's Sarah Lane, in her acceptance speech. Later, Lane stood up to the movie industry by demanding credit for her work.
New York City Ballet principal Jenifer Ringer danced the Sugar Plum Fairy role in the company's Nutcracker, last year, and while most gave her a standing ovation, New York Times dance critic Alastair Macaulay remarked in his review that it looked as though she'd "eaten one sugar plum too many." Ringer quickly became a role model for women everywhere when she went on "Oprah" this February to discuss the critique and proclaim that she thinks her body is just fine. So do we, Jenifer. Rock on!
As if Alexei Ratmansky wasn't already the busiest man in ballet, he just extended his contract as American Ballet Theatre's resident choreographer through 2023.
Company tours are a lot of work. This year Ballet Nacional de Cuba embarked on its first U.S. tour in five years, hitting four cities along the way.
American Ballet Theatre principal (and star!) David Hallberg became the first American dancer to enlist permanently with Moscow's Bolshoi Ballet.
The Broadway production of Wonderland. Photo by Paul Kolnik.

Everyone wanted to go down the rabbit hole: Productions of Alice in Wonderland popped up everywhere, from ballet stages (The Royal Ballet, The National Ballet of Canada and Royal Winnipeg Ballet all showed versions) to Broadway (Wonderland was short-lived, but the choreography by Marguerite Derricks was quirky and fun).
On Broadway
Apparently Harry Potter can sing and dance—or at least his real-life alter-ego can. Daniel Radcliffe drew massive crowds and rave reviews when he starred in How to Succeed in Business Without Really Trying. No magic wand needed.
The Book of Mormon. Photo by Joan Marcus.

The Book of Mormon was easily the most controversial debut on Broadway this year. The show, penned by "South Park" creators Trey Parker and Matt Stone with Avenue Q co-writer Robert Lopez and choreographed by Casey Nicholaw, may have offended some audiences, but it impressed the Tony Award voters and took home nine honors, including Best Musical.
On the Comp Scene
Joe Lanteri, executive director of New York City Dance Alliance, changed 44 young dancers' lives this summer when he presented $2.8 million in college scholarships. Go get those diplomas!
Selecting the DS Cover Model Search finalists is never easy, but this year there were three dancers who stood out: Kaitlynn Edgar, Maddie Swenson and Zoey Anderson. All three hail from the competition circuit, and all three were wildly impressive.
On TV
Melanie Moore won the title of America's Favorite Dancer on "So You Think You Can Dance" Season 8 and landed on the cover of DS!
When Beyoncé revealed her baby bump at the MTV Video Music Awards, she proved she runs the world—and so do her choreographers, Frank Gatson, Sheryl Murakami and Jeffrey Page. The trio won the VMA for Best Choreography for Beyoncé's "Run the World" video.
When Laurieann Gibson wasn't throwing together award-winning choreography for Lady Gaga, she was starring on her own TV shows on E! and BET. We're not necessarily on board with her screaming fits and harsh treatment of her dancers, but we do respect her moves.
Amanda and D'Angelo on "Live to Dance." Photo by Monty Brinton.

Paula Abdul's "Live to Dance" wasn't a hit, but it introduced us to D'Angelo Castro and Amanda Carbajales, who became the show's champions. These tiny dancers won us over with their personalities and technique.
Lil' Buck may have been the coolest guy to get us talking this year. He starred in Janelle Monae's "Tightrope" video and helped make jookin' mainstream. His "Swan" performance alongside Yo Yo Ma? Breathtaking.
On the Big Screen
Natalie Portman accepts her Oscar for Best Actress. Photo by A.M.P.A.S.

She may not have done all the dancing as Nina, but Natalie Portman's Black Swan performance was definitely Oscar-worthy. Plus, she met Benjamin Millepied, her boyfriend-turned-fiancé and father to her child, Aleph, on set.
While no one can truly replace Kevin Bacon, Kenny Wormald proved that he's a stud with smooth moves in this year's remake of Footloose. Plus, his onscreen chemistry with costar Julianne Hough made us want to drag our own boyfriends to dance class.
In First Position, audiences get a glimpse at the behind-the-scenes action at the Youth America Grand Prix finals in NYC. The documentary and its stars—Michaela DePrince, Joan Sebastian Zamora, Miko and Jules Fogarty, Aran Bell and Rebecca Houseknecht—received rave reviews at the Toronto International Film Festival.
In Modern Dance
Bill T. Jones + Dance Theater Workshop = New York Live Arts. We love a good collaboration.
When Judith Jamison retired as artistic director of Alvin Ailey American Dance Theater, Robert Battle was handed the reins to the prestigious modern company. We can't wait to see what he does with the group in 2012.
Jun. 11, 2012 12:00PM EST
Who caught the Tony Awards yesterday? It was an interesting night at the Beacon Theater, with lots of surprises when it came to the winners, for sure. But I'd like to begin this recap by establishing that Neil Patrick Harris is a national treasure. If he could host everything, ever—maybe with an occasional cameo by Hugh Jackman—the world would be a happier place.
Let's run down the highlights of the show, shall we? To simplify this a bit, I've decided to rate Tony 2012's top moments by jazz hands, from one (meh) to five (YES!).
1. The Book of Mormon introduction. OK, the idea of starting out with the BofM cast members ringing famous Broadway stars' doorbells was cute. But this show had its big moment last year, and the number itself lacked...something. (Maybe the hundreds of obscenities that pepper the rest of the production's songs?)
Rating: Two jazz hands
2. Neil Patrick Harris's opener. "What if life were more like theater?" NPH asks, and thus begins a cute musical number that pays tribute to beloved theater traditions while also poking gentle fun at them. It would basically have been impossible to top last year's insane opening number, but the "preventermission" and the Annie cameo brought it pretty close.
Rating: Four jazz hands
3. Movie-musical hybrids. "The Towering Inferno No Nannette. The Exorcister Act. Field of Dreamgirls. My Left Footloose. (Think of the dance numbers!)" Cute.
Rating: Two jazz hands
4. The Newsies performance. Yes, yes, yes!! Love all these boys. Way to wake up the audience with Christopher Gattelli's high-octane moves. (And Newsies fans: Stay tuned for July/August issue!)
Rating: Four jazz hands
5. Christopher Gattelli winning for Best Choreography—during a commercial break. So well-deserved. But really? Hiding the presentation away during the commercials? Choreographers are people too, Tonys!
Rating: Five jazz hands (the award); zero jazz hands (the timing)
6. NPH's Spiderman stunt. "Any concerns I had about this Spiderman rig failing have been overshadowed by the searing pain in my junk." [Cut to Andrew Garfield.]
Rating: Three jazz hands
7. The Lion King guy sitting in the audience in full costume. I'm sorry, what??
Rating: Zero jazz hands
8. The Porgy and Bess performance. Oh, man, I could listen to Audra McDonald sing "Summertime" all day. Which is why I was a little bummed that they performed a confusing medley of songs instead of just letting her do her thing. Though it's also a treat to see Norm Lewis and David Alan Grier up there, so...
Rating: Three jazz hands
(Side note: McDonald's engaged to Will Swenson?? Where have I been??)
9. The Tony-Award winning composer medley. NPH sings a (pretty awesome) song mash-up commemorating all of the composers who've won for best score...and the whole thing is an introduction for Sheryl Crow? I'm a little confused (though I did laugh out loud at "Hello 12, hello 13, hello—where is love?").
Rating: Two jazz hands
10. The Once performance. "Gold" is a beautiful song, but I was hoping they'd do "Falling Slowly," which is just gorgeous. Also, it would've been nice to hear Cristin Milioti sing a bit.
Rating: Three jazz hands
11. Hugh Jackman's surprise face. Jackman knew he was getting a special Tony Award last night—but he didn't know that his wife, Deborra-Lee Furness, would be presenting it. That is real surprise right there, and it is adorable.
Rating: Three jazz hands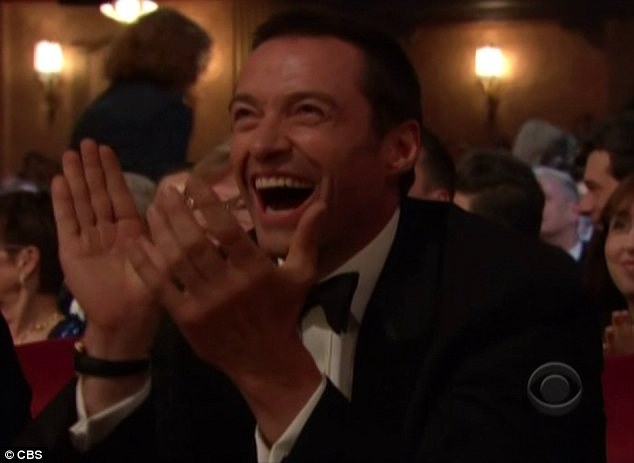 12. "I just got terrible news: The cast of Hairspray has been taken over by pirates...of Penzance." Nerdy theater jokes! Yay!
Rating: Two jazz hands
13. The Leap of Faith performance. I'm sad this show closed before I got a chance to see it, because the cast's performance was unexpectedly amazing. That is some serious choreography!
Rating: Four jazz hands
14. The closing recap. The best. And the ending was perfect. Just watch and appreciate all that is Neil Patrick Harris.
Rating: Five very enthusiastic jazz hands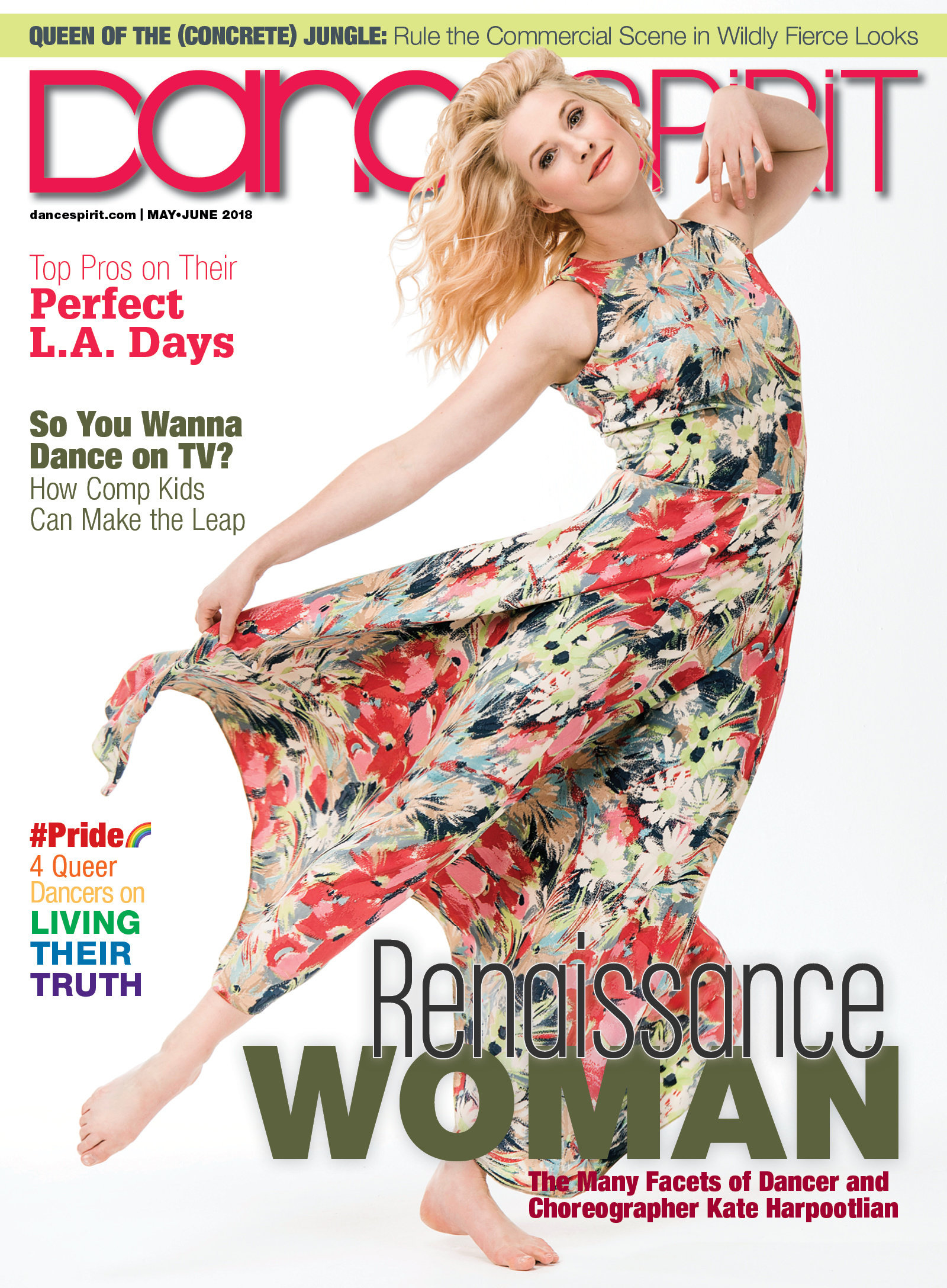 Get Dance Spirit in your inbox