Sep. 01, 2014 11:36PM EST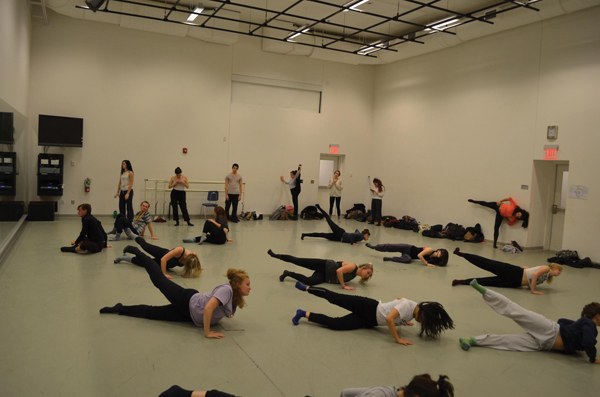 Contemporary class at Boston Conservatory (photo courtesy Holly Wilder)
Thinking about majoring in dance? Expect to find yourself juggling both dance and academics, exploring new styles and techniques and rehearsing and choreographing around the clock. If that all sounds terrific, it's time to make your next choice—between a bachelor's- or a bachelor of fine arts–degree track. BAs generally require more liberal arts courses, which means you'll have opportunities to explore other academic interests and participate in extracurricular activities across campus. In a BFA program, the majority of your classes will be directly related to dance, and you'll spend most of your days in the studio.
But life on campus varies from program to program and university to university. To give you an idea of what a day in the life of a college dancer looks like, we spoke with a senior dance major from The Boston Conservatory—a BFA program—and a senior dance major getting a BA from Texas Woman's University.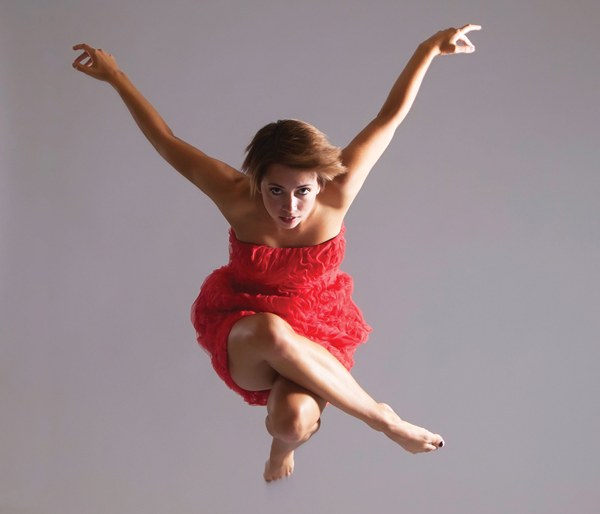 Holly Wilder (photo by Brian Mengini)
BFA: Holly Wilder, The Boston Conservatory
Holly Wilder knew she wanted the intense, focused atmosphere of a conservatory and was drawn to the BFA program at The Boston Conservatory because of its strong ballet, modern and jazz training. After graduation, Holly hopes to move to NYC to perform with a contemporary dance company. But she's also interested in pursuing musical theater and choreography—two passions she discovered during her time at school.
Holly's Wednesday
8–9 am: Somatics. "This semester we took Gyrokinesis, though in previous years we've had Pilates and yoga classes," Holly says. Eight o'clock classes can be rough, but "many of the dancers live close to campus since we have to be there early. Plus, we're all at school so often."
9–10:30 am: Ballet
10:45 am–12 pm: Modern. "This year we had one semester of Taylor technique and one semester of Twyla Tharp–based contemporary modern."
12–1 pm: Lunch break
1–2 pm: Musical theater dance
2–4 pm: Rehearsal for Karole Armitage's Rave
4–6 pm: A rare break, or rehearsals for student choreography
6–8 pm: Choreography class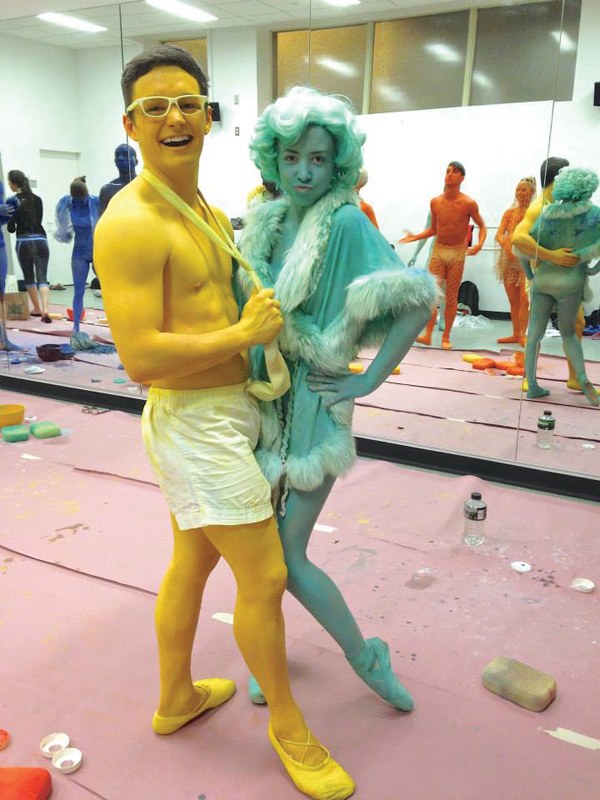 Rehearsal for Karole Armitage's Rave (photo courtesy Holly Wilder)
Late nights are reserved for rehearsals for student works or choreography class assignments. "It depends on how many pieces you're a part of," Holly says, "but I end up rehearsing at least two to three nights during the week."
The rest of the week: Holly's other classes include improvisation, Horton repertory, acting class and contemporary ballet repertory. She's learned work by such choreographers as Nacho Duato and Adam Barruch.
Weekends: If there aren't rehearsals—or guest teachers in town—Holly likes to play it by ear. Boston isn't too far from NYC, and cheap buses run between the two cities. "Sometimes I'll end up heading to NYC and staying with friends so I can take classes and see performances," she says.
Fast Facts, The Boston Conservatory
Location: Boston, MA
Dance Degree offered: BFA
No. of dance majors: 120
No. of students at the school: 774
Info: bostonconservatory.edu/dance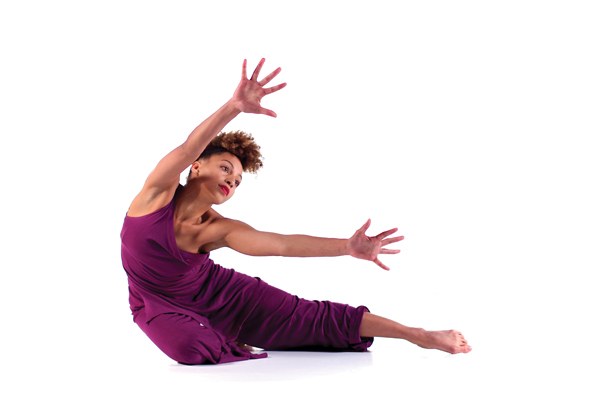 Megan Marcano (photo by Jesse Scroggins)
BA: Megan Marcano, Texas Woman's University
"I didn't really understand what it meant to study dance until I went to college," says Megan Marcano. "There are so many different theories and practices." As a BA dance major at Texas Woman's University, Megan loves the opportunities she's had to take courses outside of the department, including fashion sketching and computer science.
Megan has also participated in the dance department's outreach concert, Kids Dance. In this annual lecture-demonstration for area elementary school students, TWU dance majors have the opportunity to give back to the community. Inspired by the program,  Megan hopes to one day start her own company dedicated to performing for underprivileged children and educating them through the arts.
Megan's Wednesday
8 am: Her own morning workout at the gym
9:30–10:30 am: Urban Global Dance. "We do African, Horton
and all types of jazz," Megan says.
11–11:50 am: Essentials of Music. This liberal arts elective is outside the dance department. "It's fun to bounce around the arts and experience different worlds," she says.
12–1 pm: Private singing lesson
1–1:30 pm: University Chorus choir class. Megan takes this liberal arts elective alongside many music majors.
2:30–3:50 pm: Quantitative Literacy math class
4:30–6:30 pm: Rehearsal for Absence of Light, a duet choreographed by Andee Scott
6:30–8:30 pm: Rehearsals for student-choreographed work
8:30–10 pm: Rehearsal for gospel choir, a student-run group that performs throughout the Denton, TX, area
The rest of the week: Megan's schedule includes two ballet classes,
a stage production class, a computer science class, rehearsals for student and faculty choreography and participation in the university newspaper. "I've been a reporter," she says. "Apart from a weekly meeting, the work is mostly online and on my own time, so I can fit it in my schedule."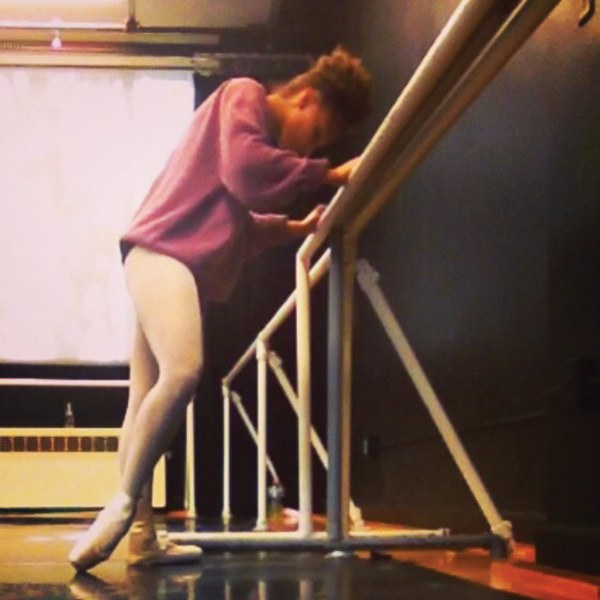 Warming up before a ballet class (photo courtesy Megan Marcano)
Weekends: Though weekends are usually reserved for rehearsals, Megan squeezes in some fun, too. "I host dance parties at my house," she says. "Friends come over and we just have a good time. Some people say dancers don't have a social life, but we're together all the time. We are each other's social life."
Fast Facts, Texas Woman's University
Location: Denton, TX
Dance Degrees offered: BA, BA with teaching certificate, MA, MFA, PhD
No. of dance majors: 175
No. of students at the school: 15,500
Info: twu.edu/dance
Dec. 04, 2013 12:29PM EST
Michael Morris, Jr., a dance student at the prestigious Boston Conservatory, is looking for ways to fund his education. But he's not just going through the usual scholarship channels.
Instead, he's setting his sights on football—the "Dr. Pepper Giveaway" football-throwing contest, to be precise.
For the past few months, Morris has been working on his football arm for 45 minutes every day, preparing for a chance to win $100,000 of tuition money by throwing footballs into a big ol' Dr. Pepper can.
Tomorrow, he'll travel to Arizona to challenge four other wannabes in the semifinals. If his aim is as good as his dancing, he'll advance to the final round on Saturday afternoon.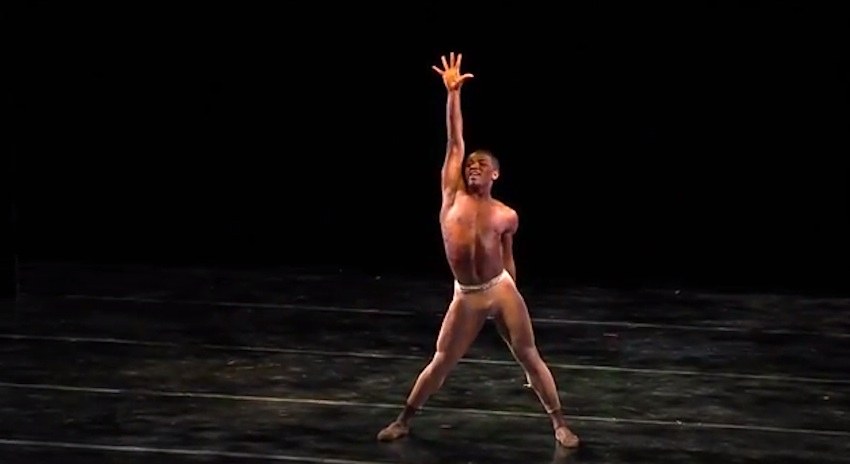 And it looks like his dancing is pretty good! (screenshot via YouTube)
This is not some pipe dream, either: He's pretty darn talented. Apparently he can now toss off 20 footballs in 30 seconds, and usually about eight of them will make it into his mock-up barrel.
Check out this video of Michael practicing for his big moment. We don't know the appropriate send-off for a dancer-turned-footballer, but just to cover all the bases: Good luck! Break a leg! Merde!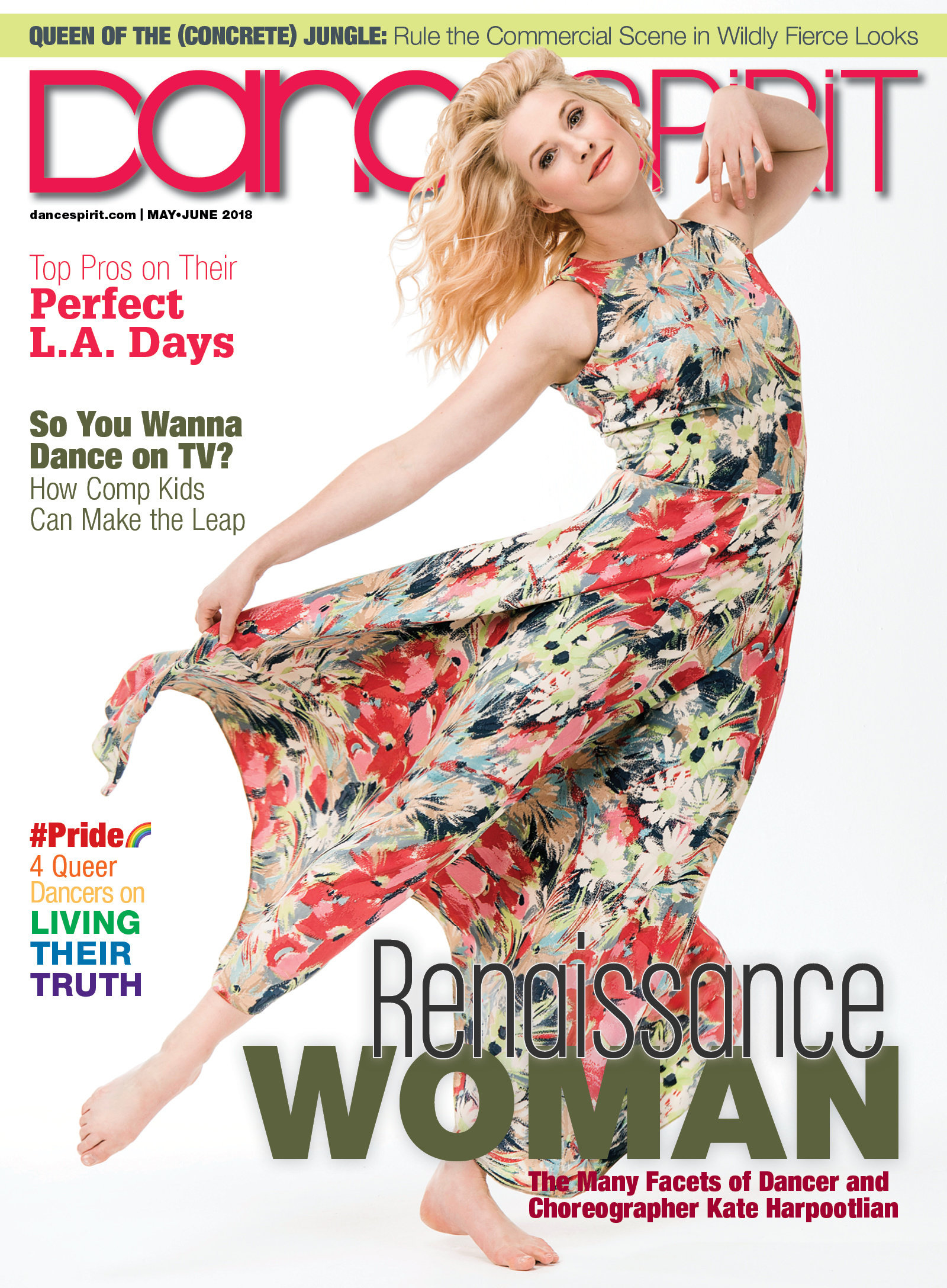 Get Dance Spirit in your inbox