Jul. 09, 2018 02:17PM EST
Kelly Schmutte fitting Sasha De Sola, a principal with San Francisco Ballet,for PerfectFit Pointe molds (photo by Jason Henry, courtesy Schmutte)
When Kelly Schmutte started dancing on pointe in fifth grade, she felt like there had to be a way to make it feel more natural. Right away she began thinking about how to improve the experience. "I wondered if there was a way to make it more enjoyable, so that a dancer could focus on technique and artistry, rather than what her shoe was doing," she says. Fast-forward to today, and Schmutte is founder and CEO of the wildly successful PerfectFit Pointe, a company that makes molded fitting solutions. Some of the biggest stars in ballet, like New York City Ballet's Sara Mearns and Lauren Lovette, say Schmutte's molds have been "game changing."
Branch Out
Mar. 23, 2017 05:37AM EST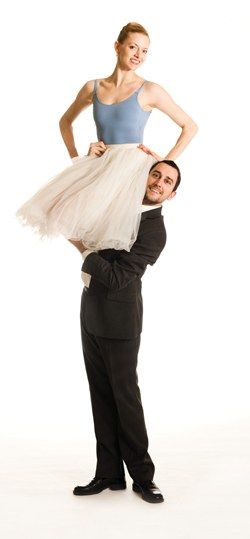 Aaron Ingley and Julia Erickson are partners on and off stage—and now, in business. (Nick Coppula)
When Julia Erickson and Aaron Ingley fell in love with dance—and each other—they had no idea their passion would result in a successful food business. Well into their professional ballet careers, the pair became dissatisfied with the lack of nutrition and plethora of artificial ingredients in energy bars. And so they created their own, appropriately named Barre.
The two started their dance careers nearly 3,000 miles apart—Ingley at the Southern Academy of Ballet Arts in Tallahassee, FL, at age 13, and Erickson at the Pacific Northwest Ballet School at age 7. They met when Ingley went to study at PNB in 1996, and they started dating a year and a half later. Ingley became a member of Pittsburgh Ballet Theatre in 1999, and Erickson joined him in 2001. She's now a principal with the company, while Ingley, who left PBT in 2008, recently graduated from University of Pittsburgh and is a freelance dancer.
For years, they discussed their frustration with energy bars, which tasted bad, didn't have enough protein and were full of questionable ingredients. Erickson found that the snacks that gave her proper fuel—like granola and trail mix—made a mess of her costumes or the studio floor. One night in 2010, she came home from work determined to make a better option. "I've always been a foodie," she says. "And I love experimenting in the kitchen."
Erickson reached for staple performance-enhancing ingredients she already had: dried fruits, like dates for their antioxidants and cranberries for their anti-
inflammatory properties; raw nuts, like pecans, which are rich in potassium, calcium and iron; oats for fiber; and a pinch of sea salt for natural electrolytes, so she could skip the sugary Gatorade. She began making a different version every couple of days, and she and Ingley quickly knew she was on to something. "The bar tasted really good," she says. "I ate it before rehearsal and it gave me awesome energy without making me feel bloated. Once I figured it out, I wanted to share it with the dance community."
She started bringing variations of the gooey snack into the studio to share with her co-workers, and many of them said they would buy it if it were on the market. With the PBT dancers as their willing guinea pigs, Erickson and Ingley perfected the recipe for Barre's debut flavor, called Pirouette Cinnamon Pecan. They spent days in their kitchen cooking, shaping and packaging what would be the first batch of Barre bars for sale. Many of their dancing friends even donned hair nets to help. The new products were sold for $2 apiece at the PBT summer program. "We sold a lot and saw that there was a market," Erickson says. "The students were really into them." They decided to officially go into business.
Since business classes aren't part of a classical ballet dancer's training, the pair was unsure what the next step would be. So Erickson approached PBT sports dietician Leslie Bonci, who was immediately on board. She directed them to a food lab to have the product analyzed; the food lab suggested a manufacturer, who introduced them to a company that produces packaging. Then, they organized meetings with Pittsburgh philanthropists to raise start-up money.
Barre made its official debut at the 2011 Dance Retailer News Expo in Las Vegas—less than a year after Erickson threw away her trail mix. "We felt like everyone in the dance retail world was a bit taken aback—in a good way," Erickson says. "It was a great affirmation that as dancers ourselves, we understand what dancers need, and we're able to meet those needs."
Currently, Barre has three flavors, all made with ingredients everyone can pronounce. They're sold across the country, including at Steps on Broadway, the NYC boutiques for Freed, Gaynor Minden and Sansha, select Whole Foods Market stores and Giant Eagle grocery stores.
Erickson and Ingley attribute much of their success to their passion for their product and their ability to "tap into the dance network." All of the Barre team members—who distribute samples at Whole Foods, design the Barre packaging and photograph the product—are current or former dancers. "Barre didn't start with the business in mind," Ingley says. "It started with the dancer's performance in mind." That's why Barre contributes a portion of all its proceeds to arts education programs.
Despite their remarkable success, the couple remains humble, admitting they're still learning as they go. "When we sit here talking about it like this, I feel like we own a real company," Ingley says. Erickson laughs, putting her hand on his. "I think we do!"
Dancer to Dancer
Mar. 13, 2017 01:12PM EST
(photo by The Emma Experience, courtesy Hsu)
You may have noticed Broadway dancer Emily Hsu's vibrant leggings and sports bras in dance and yoga studios across the country. In just two short years, Emily Hsu Designs has become a dancer-approved sensation, thanks to her unique understanding of line and fit—knowledge of a woman's body that only a dance career can teach. Her roster of clients now boasts the Rockettes and top-level Broadway dancers, who swear by her flattering gear.
Dancer to Dancer
Sep. 15, 2016 07:01PM EST
The Whole Dancer founder Jessica Spinner (Malika Ahmed, courtesy Spinner)
Dancers need more than balance at the barre to be successful—they need it in life, too. That's where Jessica Spinner's online program The Whole Dancer comes in, making professional nutrition and wellness counseling available to dancers everywhere. "There's only so much your teachers can impart on you in the studio, and they're mostly focused on technique," Spinner says. "You need to have something outside to support you, as well."
Dancer to Dancer
Jul. 01, 2014 02:36PM EST
What could possibly be better than dancing in Susan Stroman's new musical, Bullets Over Broadway? How about getting to dance next to your best friend? Beth Johnson Nicely and Amanda Kloots-Larsen have been close to inseparable since meeting on the national tour of 42nd Street in 2002. So it was only a matter of time before these two leggy ladies discovered they shared another obsession—desserts—and decided to turn their sweet teeth into something more. They started the blog Just Desserts NYC (justdessertsnyc.com) in 2007. Despite their hectic careers on Broadway and as fitness instructors in NYC, Kloots-Larsen and Johnson Nicely have continued to grow their sugary side project into a recognizable brand.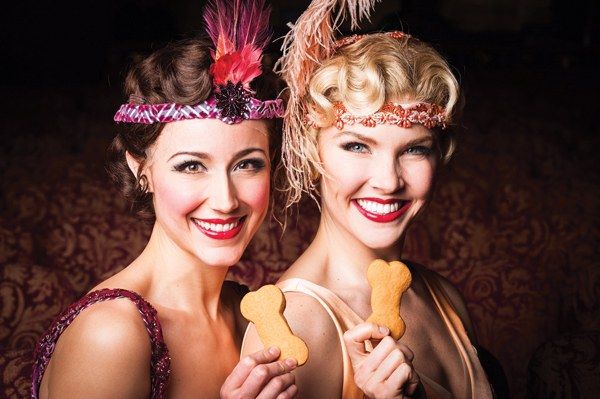 (Photo by Justin Patterson)
SWEET BEGINNINGS
Kloots-Larsen and Johnson Nicely first met during callbacks for the national tour of 42nd Street, and immediately bonded over their Ohio roots. And when they spotted one another on the first day of rehearsal, a little challenge brought them together. "We didn't know how to fill out our contracts," recalls Johnson Nicely. "We were struggling—the lead at the time had to help us."
Their friendship soon blossomed. "In every city, Beth and I would go on a search for something sweet," says Kloots-Larsen. Those delicious adventures continued once the two girls returned to NYC, and a blog seemed like a natural next step. "People kept asking us where to go for the best desserts in the city," Johnson Nicely says. "We figured our blog could be a resource for everyone."
Just Desserts NYC hit its stride around 2011, and today, new bakeries and restaurants reach out to the dancing dessert duo—who also go by "Blondie" (blonde Amanda) and "Brownie" (brunette Beth)—to taste and review their treats. They post almost daily about new desserts, recipes, the latest crazes and sweet spots to check out, not only in NYC but across the U.S. and abroad. And of course, they do it all together. (Kloots-Larsen and Johnson Nicely were even one another's bridesmaids.) "Luckily, dancing is a great workout," says Kloots-Larsen, "because our blog requires us to taste a lot of desserts!"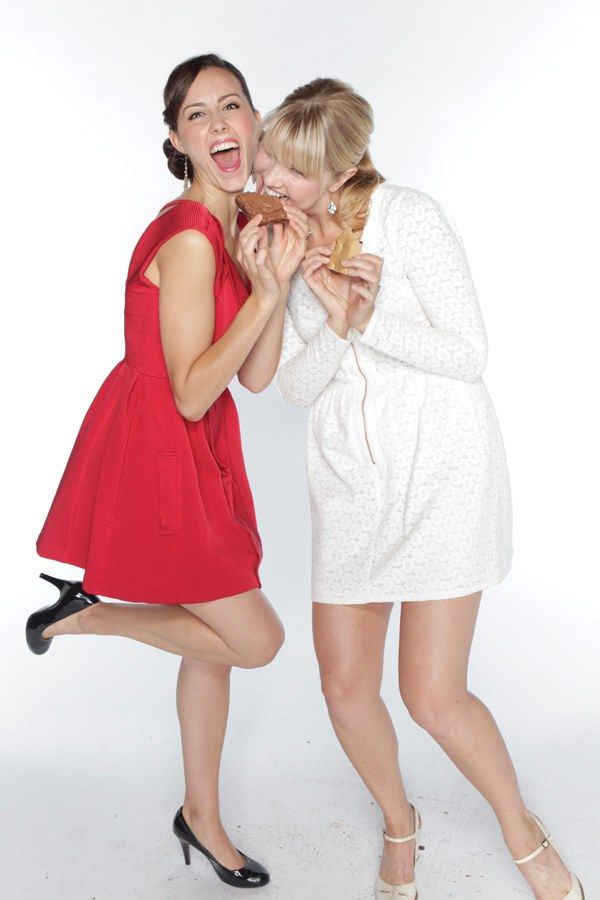 (Photo by Dana Edelson)
TASTY TREATS
In addition to the blogosphere, Kloots-Larsen and Johnson Nicely have also enjoyed great success onstage. Since the national tour of 42nd Street, they've performed as Rockettes in the Radio City Christmas Spectacular. And between the two of them, they've scored roles in Broadway musicals including Young Frankenstein, Good Vibrations, Follies, Irving Berlin's White Christmas and Spamalot. Now, Bullets has finally brought them back together—and dealing with desserts is even part of the gig.
In Bullets, the gluttonous actor Warner has an odd food fetish: dog treats that he steals and eats throughout the show. Enter Blondie and Brownie. Stroman, Bullets' director and choreographer, who was familiar with Just Desserts NYC, asked if they'd bake the "dog treats" during the show's early workshops last fall. "Beth and I consider ourselves more critics than bakers," says Kloots-Larsen. "But when she asked, we automatically agreed. You don't say 'no' to Stro!"
Now, in addition to performing eight shows per week, Kloots-Larsen and Johnson Nicely also bake two dozen edible props—tasty gingerbread-butterscotch cookies. In May, the St. James Theatre even started selling the cookies to theatergoers after each performance. So far, the extra work has been worth it. "The opportunity to marry our two loves—desserts and musical theater—has been a dream come true," Johnson Nicely says.
While Just Desserts NYC hasn't brought in extra income, the girls have high hopes for the blog's future. They've received steady attention, including webisodes on NBC's Today.com and the Cooking Channel's "Log On & Eat with Eden Grinshpan."
One day, Kloots-Larsen and Johnson Nicely dream of hosting their own TV show. But for now, their blog helps keep them grounded. "Being in show business is a lot like being on a roller-coaster ride," Kloots-Larsen says. "There are so many ups and downs in your career." Adds Johnson Nicely: "That's why it's so important to have a creative outlet on the side."
Dancer to Dancer