What do you do after you win "So You Think You Can Dance" and become super famous?
You go on to star in a dance movie, of course.
Plenty of our favorite "SYTYCD" vets (and former DS cover stars) have taken to the big screen—Kathryn McCormick and tWitch had starring roles in Step Up Revolution, and the dance casts in Step Up 3D, Footloose and Fame were packed with familiar faces.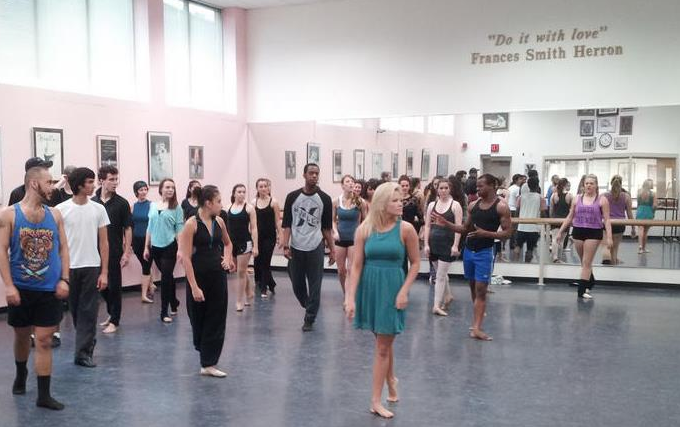 Now, three more "SYTYCD" alums, including two former winners, are graduating from the small screens to the silver ones: Russell Ferguson (Season 6 winner), Chehon Wespi-Tschopp (Season 9 winner) and Witney Carson are all set to star in the upcoming East Side Story film, produced by David Winters. Plus, Brandon Bryant (Season 5) choreographed for the movie.
A bit of background: David Winters knows his stuff. He was in the original West Side Story production on Broadway and now he's making this film to show off an "all-star dance cast." The plot is based off Shakespeare's Romeo & Juliet, and it looks like the movie will be part Dirty Dancing, part High School Musical, part West Side Story and part who-cares-these-dancers-are-awesome.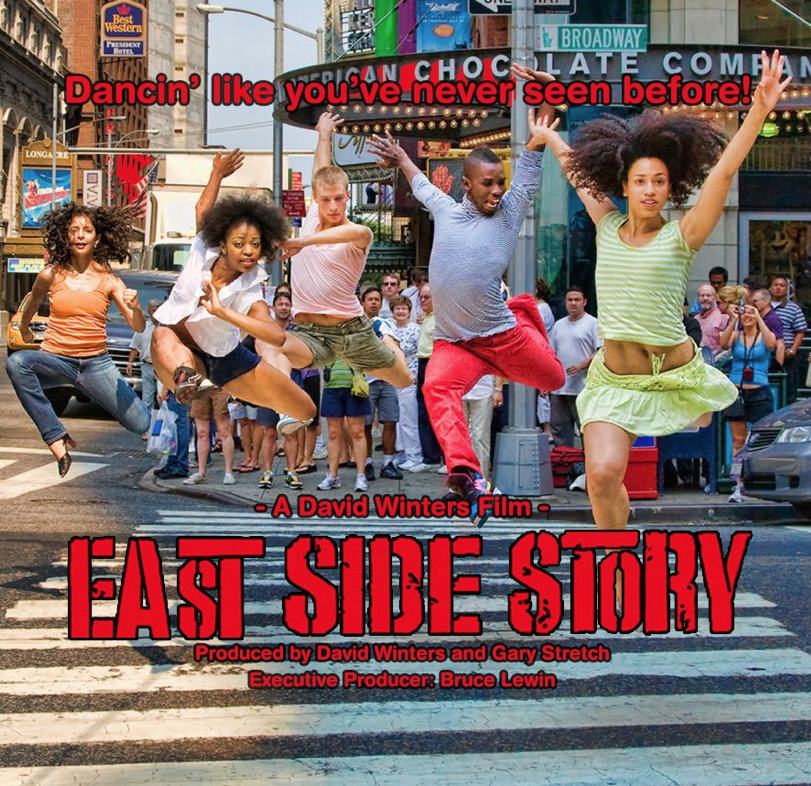 The film is still in its infant stages and some casting is still being done as scenes are filmed. (We suggest following the film's Facebook page—casting announcements are posted regularly—and checking out the East Side Story website.)
Here's a local news clip about the film featuring our December 2012 cover boy, Chehon!
Sep. 18, 2012 11:10AM EST
Today is the day! Before long we'll crown our two (two!) "So You Think You Can Dance" champions! We'll know who'll be on our December cover! It's finally happening! I'm so excited that I overdid it a little on the caffeine this morning!
But really: This should be a fantastic finale episode, right? And DS editor in chief Alison Feller and managing editor Rachel Zar will be there in person to see how it all goes down. Follow us on Twitter to catch their tweets from L.A. tonight during the show!
In honor of the fantastic four finalists, I thought I'd round up my top four routines from this season. Then I started browsing and discovered I couldn't, just couldn't, stop at four. So, without further ado, here are my top seven routines:
-Eliana and Alex—contemporary by Stacey Tookey. I mean, when they paired these two technical powerhouses, we knew something magical was going to happen. Did we know it'd be this magical? Nuh uh. Bravo, guys.
-Eliana and Chehon—ballet by Marat Daukayev. Two very classy ballet dancers doing some very classical ballet? YES PLEASE.
-Chehon and Kathryn—contemporary by Tyce Diorio. Tyce's stuff is generally far too cheesalicious for me. But Chehon's emotional connection to this "suitcase" piece made what could have been a bit melodramatic feel honest.
-Tiffany and Brandon—disco by Doriana Sanchez. Any time there's a Doriana Sanchez disco on the lineup, you know you're in for a good time. This particular routine takes everything that's awesome about Tiffany and turns it up to top volume. And those insane PANTS! Love, love, love.
-Tiffany and George—contemporary by Sonya Tayeh. (George! I miss George.) A beautiful, heartfelt routine with a bit of Sonya quirkiness to stop it short of saccharine.
-Tiffany and Cyrus—lyrical hip hop by Tessandra Chavez. Clean, musical, hard-hitting, passionate—it's reminiscent of Chelsea and Mark's showstopping "Bleeding Love" routine from Season 4. And that is high praise right there, people.
-Cyrus's Top 4 solo. OK, yes, it's not a routine. But when it comes down to it, "SYTYCD" choreography doesn't really mesh with Cyrus' unique skills. Only when he's doing his own thing can you see just what a BEAST this boy is.
Well look at that. Going into this, I thought I was an Eliana girl all the way—and who ends up on top of my roundup? Tiffany! Just one of many signs that this contest could still go in any direction—which is just one of many reasons I can't wait for tonight. Another reason? Three words: Carly. Rae. Jepsen.
Tune in tomorrow for our recap of what promises to be an epic finale!
Aug. 22, 2012 01:18PM EST
Alex Wong spilled the beans about his "So You Think You Can Dance" Season 9 All-Stardom over the weekend, but it wasn't until last night that Nigel finally tweeted the names of the rest of the All-Star crew—and oh boy, is it a crazy good list. According to @dizzyfeet, here's who you can expect to see sweeping the Top 10 around the dance floor. Tune in tonight at 8/7c to see them in action for the first time!

Jul. 27, 2012 11:45AM EST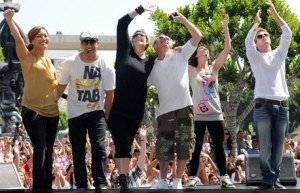 It's almost here! The dance world will celebrate the third annual National Dance Day tomorrow, July 28th, and there are all kinds of ways for dance fans to get in on the fun.
First of all: Have you learned the two official NDD routines yet? Check out the hip hop number, taught by "So You Think You Can Dance" alum Lauren Gottlieb with assists by fellow "SYTYCD"-ers Lauren Froderman and Brandon Bryant, and the Everybody Dance routine from Zumba Fitness. There's still time to upload your own videos of both routines!
West Coasters in particular have NDD options galore. From 10 am to 12 pm tomorrow, join The Dizzy Feet Foundation at Grand Park in Los Angeles for your chance to perform both the group routines with a host of fellow dancers. Then stick around for a bunch of free dance classes and performances, running until 2:30 pm.
That evening, head over to Dizzy Feet's Celebration of Dance Gala at the Dorothy Chandler Pavilion. The show will feature performances of classic "SYTYCD" routines (Mia Michael's "Bench" routine, anyone??) plus guest appearances by the likes of Alvin Ailey American Dance Theater, American Ballet Theatre and The LXD. Get your tickets here.
Are you on the other side of the country? No worries: The National Museum of Dance in Saratoga Springs, NY, is hosting its own NDD celebration on Sunday, the 29th at 2 pm. The two-hour "dance-a-thon" will be led by top instructors from all over. To cap things off, there'll be a hot ballroom performance by Ricardo Sophin and Iraida Volodina, who've appeared on "Dancing with the Stars."
There are all kinds of local events going on, too. Poke around to see what's happening in your neck of the woods—or throw your own NDD party!
Jul. 25, 2012 10:32AM EST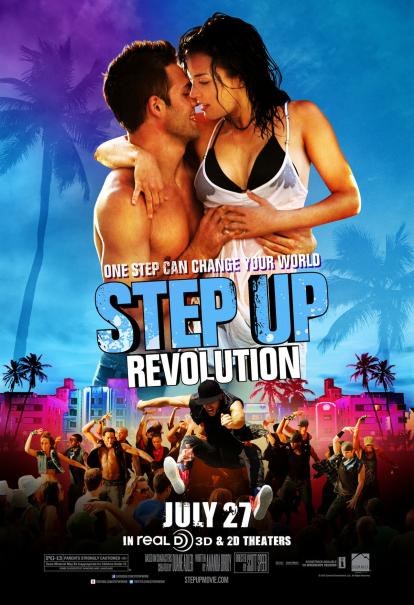 As we've discussed, the DS crew was lucky enough to get into a screening of Step Up Revolution last night (huge thank-you to Broadway Dance Center for the tickets!). And oh my gosh, you guys: It's amazing. We laughed, we screamed, we almost peed our pants multiple times. Here are just five of the many reasons you should get your bums to the theater this Friday:
1. tWitch! Mr. Boss is THE BOSS in this movie. Seriously, I think he was the highlight of the film for me. His dancing is fantastic, of course, but it's more that every time he appears onscreen you want to giggle and pinch his adorable cheeks.
2. There are more famous faces everywhere. Kathryn McCormick and Misha Gabriel and Mia Michaels (and tWitch, of course) have big old speaking parts, but you knew that already. What you might not have known is that you'll also see Phillip Chbeeb, Madd Chadd, Brandon Bryant, Chris Scott, Billy Bell and many more of the dance world's finest scattered throughout the film.
3. Peter Gallagher is typecast, in the best way possible. Are you making a dance movie? Do you need a slightly sinister, but ultimately sympathetic, authority figure to say things like, "Dance may not be the career for you"? Bring in Mr. Gallagher, aka Jonathan from Center Stage, who plays Kathryn's money-hungry, anti-dance dad in Step Up Revolution. (As usual, his eyebrows are mesmerizing.)
4. The acting is stellar. Just kidding! But let's be honest: You're not going to this movie for the acting. It doesn't matter that nobody in the cast is going to win an Oscar, because the dancing is just. that. good. Which leads us to...
5. THE DANCING. It's pretty spectacular. The "Mob" concept translates to big groups of fabulous dancers doing awesome things in unconventional locations—things which at various points involve trampolines, elaborate body paint, harnesses, hydraulic cars, glow-in-the-dark costumes, and dollar bills falling from the sky. YES.
Step Up Revolution opens this Friday, the 27th!
May. 24, 2012 11:48AM EST
Who's excited for the first episode of "So You Think You Can Dance" Season 9 tonight? (Nigel, for one!)
On Monday, we let you know that the show will crown both a male and a female winner this season. I kind of love the idea. First, of course, two winners are better than one. But also, I've been thinking back on past seasons and realizing just how many more awesome dancers would've been honored if the two-winner system had been in place from the beginning. Check it out:
Season 1 winners would have been Nick Lazzarini...and Melody Lacayanga.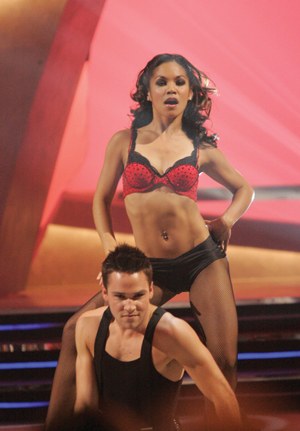 Season 2 would have honored both Benji Schwimmer...and Donyelle Jones. (LOVE her!)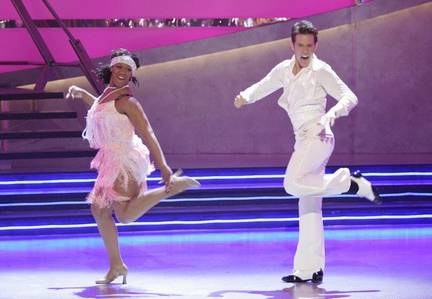 Season 3 would have given us Sabra Johnson...and Danny Tidwell (in my opinion, the best dancer ever to grace the show).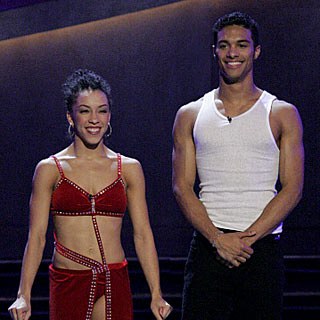 Season 4's winners would have been Joshua Allen...and Katee Shean.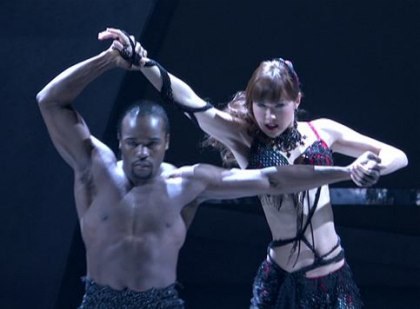 Season 5 champs would have been Jeanine Mason...and Brandon Bryant.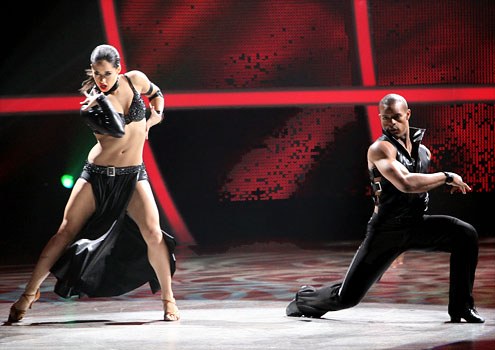 Season 6 winners would've been Russell Ferguson...and Kathryn McCormick.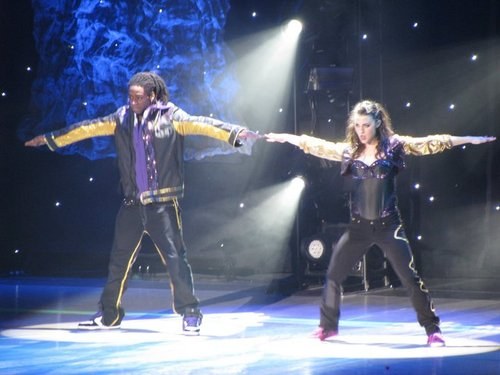 Season 7? Lauren Froderman...and Kent Boyd. (I'm guessing a lot of teenage girls would've been ecstatic about that.)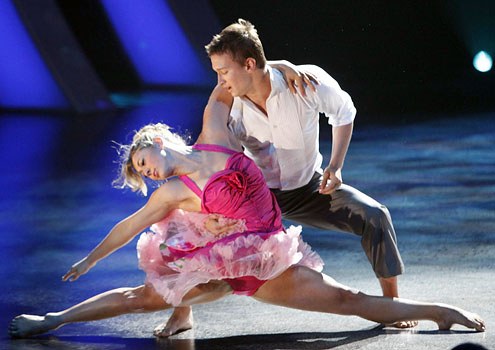 And Season 8 would've honored both Melanie Moore...and Marko Germar.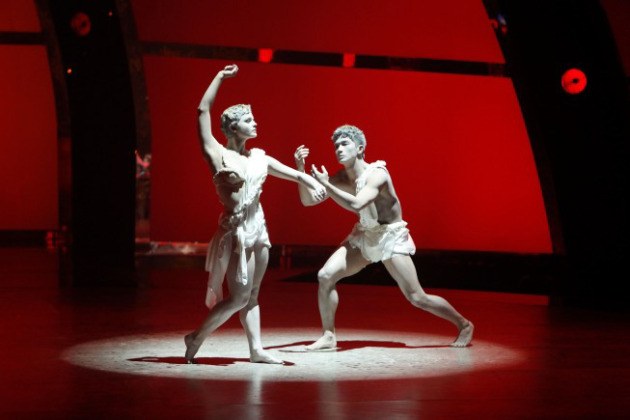 It's interesting to note that the second winner wouldn't always have been the first runner-up. (In Season 2, for example, Travis Wall came in second; Donyelle was third.) Not sure how those unlucky second-place dancers might've felt about being passed over. But I think I'm still on board with the new format. Two great dancers on the November cover of DS? Yes please!
All photos courtesy FOX.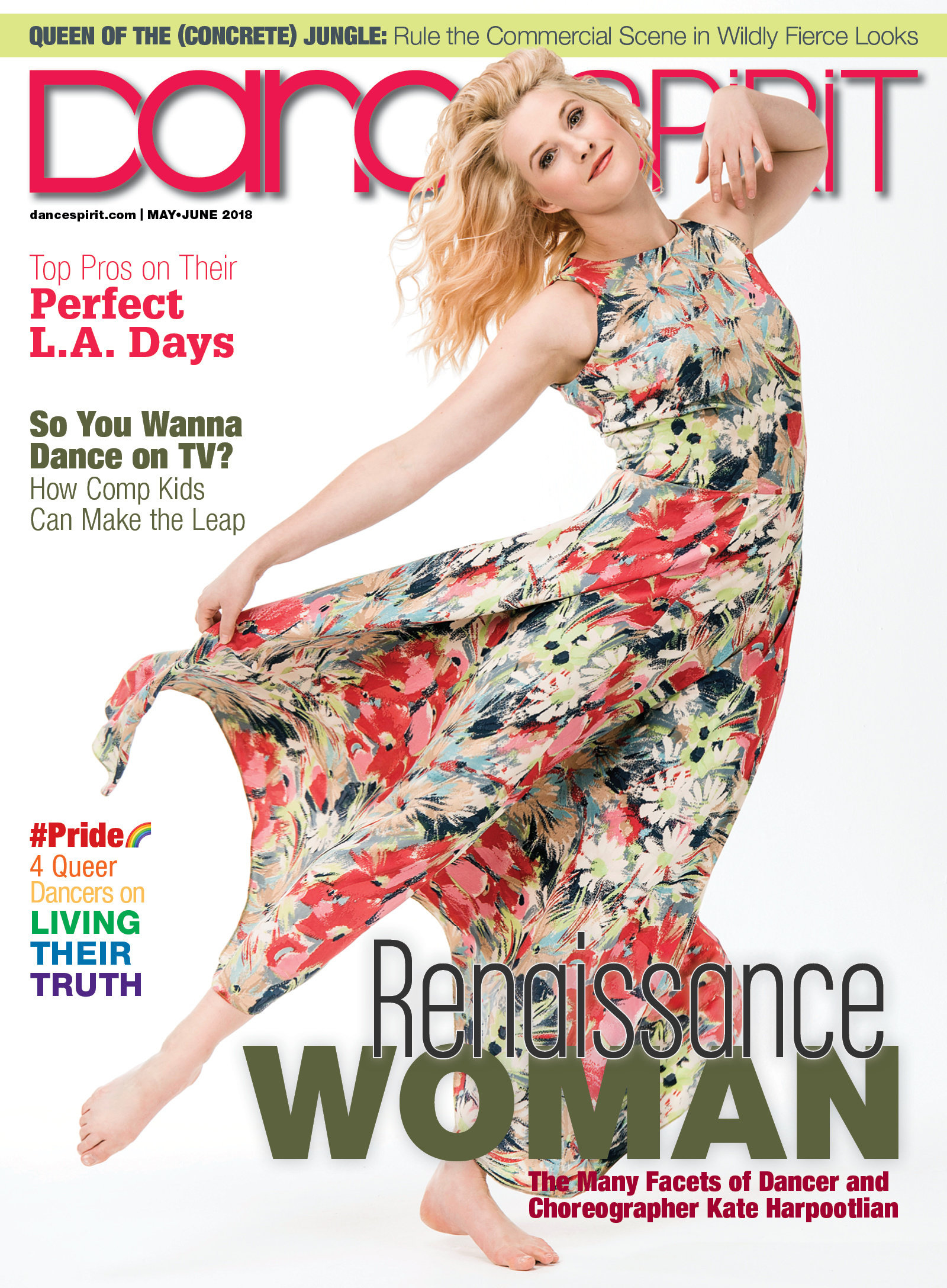 Get Dance Spirit in your inbox