Jan. 16, 2014 10:48AM EST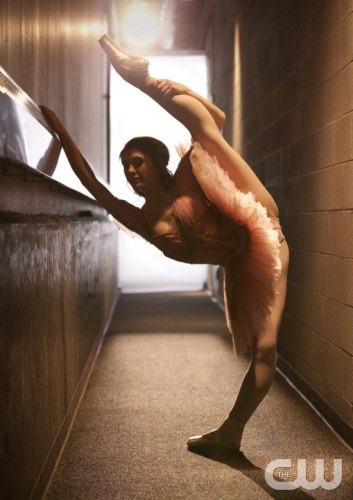 We'll even miss Beckanne's oversplit. OK, we'll especially miss Beckanne's oversplit. (Photo Erik Ostling/The CW)
Sad news, bunheads: The CW announced yesterday that it's curtains for "Breaking Pointe." The docusoap, which followed Utah's Ballet West, won't be back for a third season.
Let's be honest: Most dance fans had a pretty conflicted relationship with the show. A lot of us were irritated by the way the cast's interactions were manipulated for maximum drama, and disappointed by how little dancing actually made the final cut.
But here at DS, we're genuinely sad that "Breaking Pointe"'s run is over. It brought ballet—real, professional ballet!—to mainstream television. It earned some truly beautiful dancers, like Beckanne Sisk and Christiana Bennett, a well-deserved degree of fame. It showed us a whole lot of Frederick Ashton's amazing (and relatively rarely-seen) Cinderella. And while some of its plotlines were melodramatic, others—especially director Adam Sklute's hesitation about casting Josh Whitehead, the company's only African-American male dancer, in a comic role—addressed meaty ballet-world issues.
Farewell, "Breaking Pointe." We'll miss our weekly dose of professional ballet company life—however "real" or "unreal" it may have been.
Dec. 01, 2013 10:42PM EST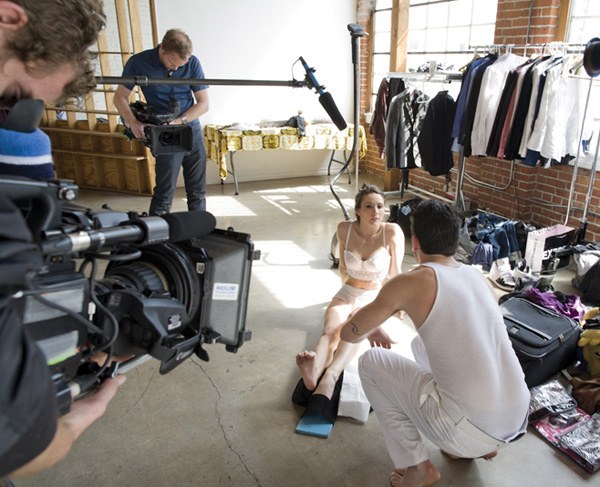 Jamie Goodwin and Teddy Forance have a not-so-private conversation on the set of "All the Right Moves." (photo by Joe Toreno)
If you're anything like us, you're probably glued to the screen anytime a reality dance show is on. Then you might watch it over and over on your DVR, obsessing over your favorite parts. (No? Maybe that's just us, then.) And, like any dance reality junkie, you're probably dying to know the juicy secrets about how things really work behind the scenes. Wonder no more: We're flipping the script and unveiling the top five reality show secrets. (Shhh! Don't tell anyone.)
Reality Secret #1: Unscripted doesn't always mean unscripted.
So how real are reality shows? It depends on the show, but in many cases, the stars might follow a loose script or even be fed certain lines by producers. Not everyone is always in on the storyline, either. For example, on "Dance Moms," some moms know the plan and others don't (making those "surprises" extra juicy). Time constraints play into it, too: When our DS insiders were on the "Dance Moms" set, they heard that dancers sometimes changed outfits several times a day to make studio scenes seem more spaced out, when really they're all filmed within a 24-hour period. And "Dance Moms" isn't the only show that enhances reality just a tad: on "So You Think You Can Dance," sometimes the contestants are asked to reshoot their "I'm going to Vegas!" reactions to make them more over the top.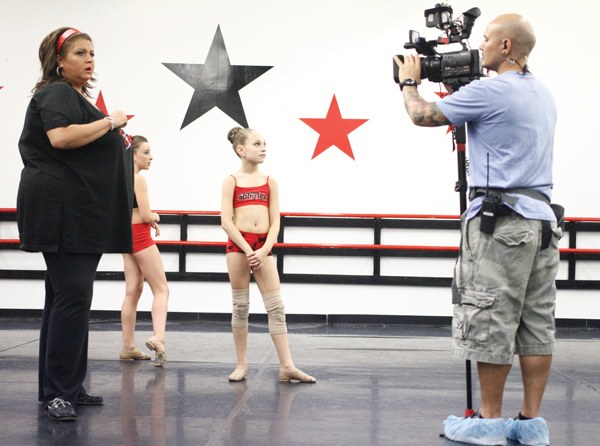 "Usually when someone's filming a rehearsal in one room, the rest of the kids will be in the other room having dance offs," says Maddie Ziegler, above, of "Dance Moms." "We listen to music and jam out." (photo by Nate Powers)
Other dance reality shows, like "Breaking Pointe," are a bit more true to life. "Breaking Pointe" executive producer Izzie Pick Ashcroft says the cameras at Ballet West rehearsals are purely observational, as that's one of the conditions of being allowed to film there. "We can film class, but we can't produce it or ask people to do anything over again," she shares. "We just have to hope and pray there's a story in there." (And there almost always is!)
Reality Secret #2: On dance competition shows, things move at lightning speed behind the scenes.
Since shows like "SYTYCD" and "Dancing with the Stars" debut new routines every week, a new show is set in motion as soon as the cameras stop rolling on the last one. To succeed, contestants must thrive amid the fast-paced flurry of activity. (By finale week on "SYTYCD" Season 10, the remaining contestants were put on IV fluids to keep their energy up.) "The question is: Can you work under that pressure and still deliver a quality performance?" says choreographer Tyce Diorio.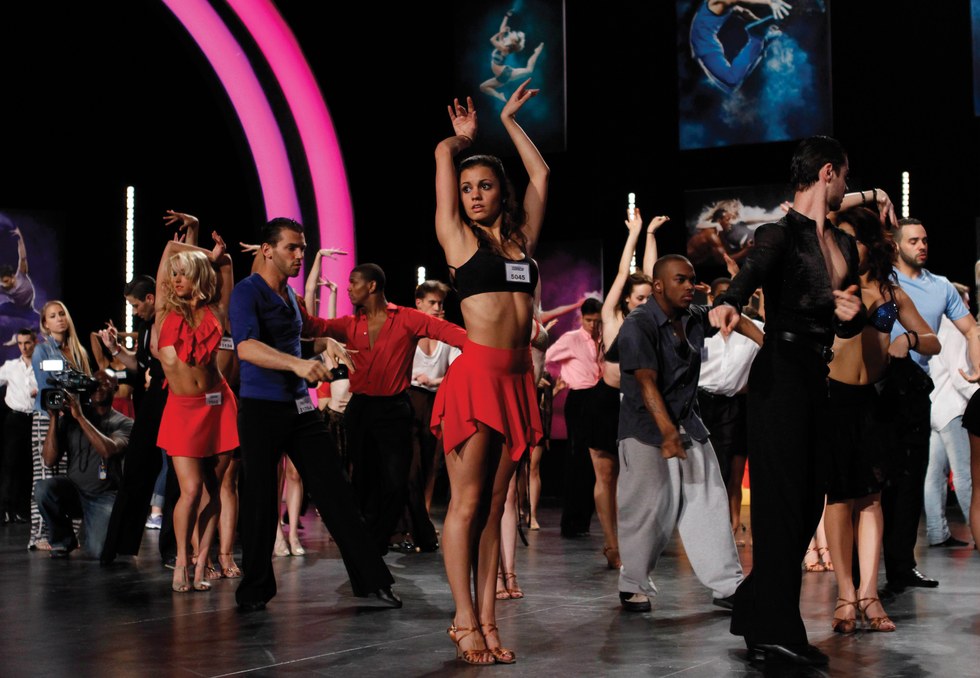 Vegas Week on "So You Think You Can Dance" is just as grueling as it seems on TV. (photo by Adam Rose/FOX)
A typical week on "SYTYCD" goes like this: After Tuesday's taping/live show, the process starts all over again. On Wednesday, the choreographers figure out their concepts, lighting, costumes and music for the next week's routine, and the contestants learn the choreography on Thursday and Friday. "They only get seven hours with us to perfect the routine," Diorio says. Contestants spend weekends working on the group routines and practicing on their own, and on Monday, they rehearse onstage for the producers. Come Tuesday, it's dress rehearsal and show time!
"DWTS" couples have a bit more time to practice, with unlimited studio time from Wednesday to Sunday. "Certain celebrities want to be in the studio nine hours a day, while others are OK with three or four," says Chelsie Hightower, who mentions Helio Castroneves and Ty Murray as her hardest-working partners.
Reality Secret #3: Everyone involved must always be ready for changes.
Even the best-laid plans sometimes hit snags. Just ask Diorio, who found out at the last minute that the song he'd chosen for Will Wingfield and Jessica King's contemporary routine in Season 4 wasn't cleared to air. But his second choice turned out to be a lucky charm. "My backup song, 'Silence,' ended up being part of my Emmy-winning routine," he says.
Real-life problems can also throw filming for a loop. For instance, when Ronnie Underwood from "Breaking Pointe" suffered a nasty foot injury, the producers had to scramble to follow the storyline. "Ronnie had his accident around Christmas, and suddenly we were all on the phone between Christmas and New Year's trying to work things out," says Pick Ashcroft. "Here's one of the senior male dancers, who would have had a big role in Cinderella, suddenly out of the picture. We just had to follow that." In the end, the show's producers got even better drama for the show than they may have hoped for.
Reality Secret #4: You're not necessarily guaranteed your spot from season to season.
Just because you're in the cast one season doesn't mean you have it made in the shade forever. For instance, the whole cast of "Breaking Pointe" had to show up for an audition interview to be considered for the second season. On recent seasons of "DWTS," the producers have switched up the pros in the mix for every new go-round (giving fresh "SYTYCD" alums like Lindsay Arnold a chance to break in!). "It's all about the celebrities and who [the producers] think will match up with them best," Hightower says. "Things like age, personality and height all factor in—it's very much a casting process."
As for the "SYTYCD" All-Stars, many return season after season, but the producers choose who will be taking the stage based on availability, ability and rapport with the choreographers. "Some choreographers request people for certain pieces," Hightower says. Diorio requested Kathryn for a Holocaust-inspired "Eli, Eli" piece with Chehon Wespi-Tschopp, and also for Season 10's jazz piece with Paul Karmiryan. In the past, he's also asked to work with Kent Boyd and Neil Haskell. "Those were three All-Stars I felt very connected to," Diorio says.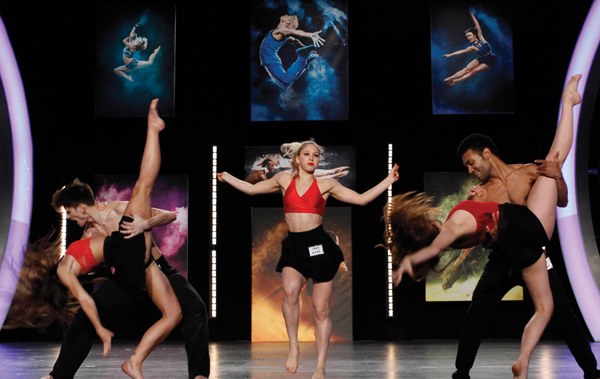 During "SYTYCD" auditions, the days are long, there's plenty of drama and yes, the injuries are real. (photo by Adam Rose/FOX)
Reality Secret #5: Once the ink is dry, reality stars don't really get any say in what's shown on TV.
Out of all the hours of footage shot for shows like "Breaking Pointe," there are probably some moments the stars wish they could erase—but they don't get to decide what ends up on the cutting room floor. "As a human, you don't want those things shown to the world, but as a participant in the show, it's understood that once you sign the contract, nothing is off-limits," explains cast member Allison DeBona. "In those moments, you have to remember that you signed up for this." She adds that the stars also don't get to watch the episodes before they air, so they see them for the first time along with the rest of the world.
Jul. 15, 2013 11:49AM EST
Brace yourselves, bunheads: Season 2 of "Breaking Pointe" premieres one week from today. ONE WEEK! Let the countdown begin!
Actually, you don't even have to wait those seven long days for your next peek at the Ballet West reality series, because it turns out "Entertainment Tonight" got their hands on some footage from the second season. The clip follows the five ballerinas hoping to dance Cinderella in the company's upcoming production of the fairytale classic. Drama! Intrigue! Frederick Ashton's beautiful choreography! Adam Sklute pretending he doesn't already know exactly who will be dancing Cinderella at this point, but hey, he'll play along for the sake of the show!
Feast your eyes—then tune into The CW next Monday, July 22 at 9/8 c for the "Breaking Pointe" season premiere. Eee!
May. 22, 2013 11:32AM EST
Heads-up, bunheads: "Breaking Pointe," the reality show following Utah's Ballet West, returns to The CW for its second season July 22. And thank goodness, right? It's one of the few mainstream portrayals of ballet that comes close to getting at the actual reality of the ballet world.
That said, because this is The CW we're talking about—you know, the network that brought you that soapiest of all non-actual-soap-operas, "Gossip Girl"—"Breaking Pointe" had plenty of drama last season, too. Did we love that side of the show, in theory? Not really. Could we stop watching it, in practice? Nope again.
The first trailer for "BP" round 2 just came out, and it's a drama-rama doozy. Ronnie is injured! There's a hot new dancer dude in town! Christiana might be feeling threatened by Beckanne! Allison and Rex are broken up...again!
On the plus side, there are hints of some pretty serious dancing going on, too. (Here's hoping season 2 includes quality footage of the company working on Balanchine's gorgeous Jewels, which they performed in April.)
Take a look!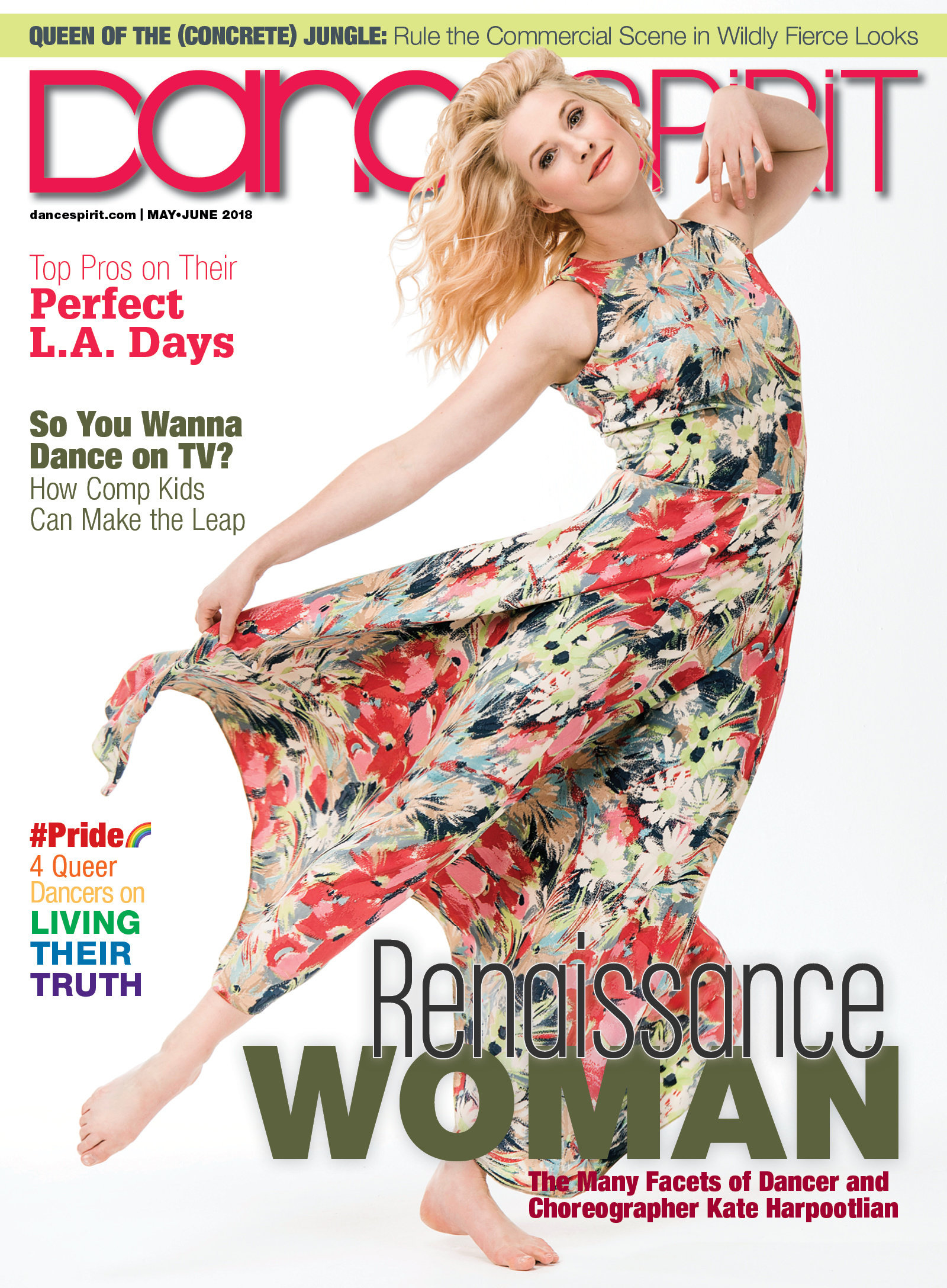 Get Dance Spirit in your inbox