Girls know that growing up means growing breasts. But for dancers, going through this change can be extra awkward—especially since we spend hours in  leotards, analyzing our bodies in the mirror.
We've got your breast interests in mind! Read on for answers to your most embarrassing boob-related questions, from size and shape to hair and sweat.
Can I predict how big my boobs will get—and can I change my fate?
Breast size is genetic. Take a look at your mom's chest, and ask her when she started and stopped growing. Chances are you'll follow in her footsteps. Gynecologist Vanessa Cullins of Planned Parenthood in NYC points out that breasts are made of fat, so they'll change a bit in size as you gain or lose weight. But for the most part, your destiny is sealed, and it's not worth dieting to try to change it. "Try not to stress about it," Cullins says. "Whether yours are big or small, all sizes are normal."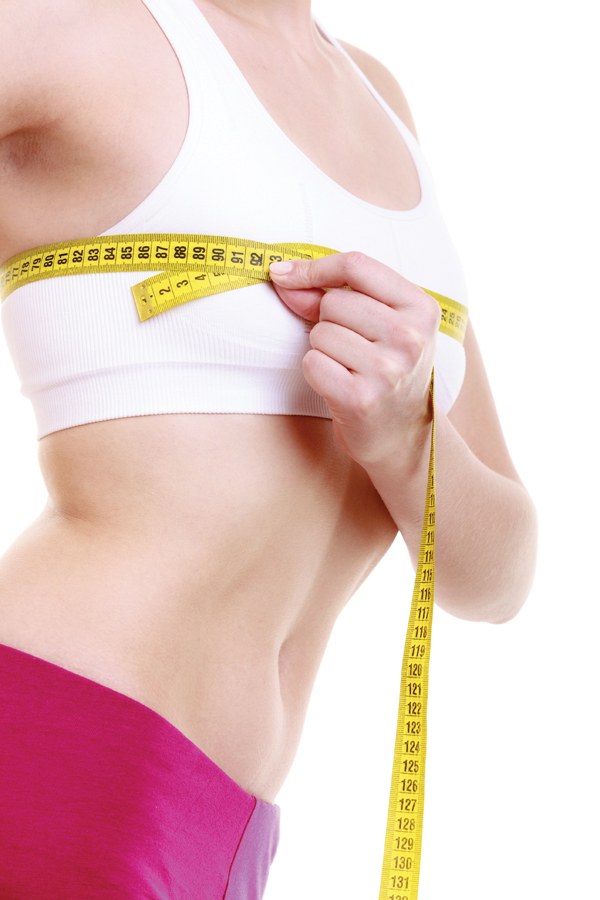 (Photo by VoyagerIX/Thinkstock)
My friends have started to grow breasts, but I haven't. What gives?
Girls may start to develop as young as 9 or as late as 14. And they'll usually continue to grow and change throughout their teenage years. "It just has to do with when your body decides to enter puberty," says Dr. Lonna Gordon, adolescent medicine fellow at Mount Sinai Adolescent Health Center in NYC. "You do need a certain amount of body fat to start the process, so thinner young women may go into puberty later than their heavier friends." If you've had your period but still haven't started to grow at all, get checked out by a doctor.
My breasts are two different sizes. Is that normal?
"Just as your feet may be slightly different sizes, it's very common for one breast to be bigger than the other, especially at first," says Dr. Judith Cothran, gynecologist at Advocate Trinity Hospital in Chicago. "But they generally even out over time." A very small percentage of women will have breasts that are dramatically different sizes their whole lives. If your breasts have stopped growing (usually three to five years after they start growing), and you're still concerned, you may want to pad one side of your bra or ask your doctor about other options.
Why do my breasts feel sore?
Just like the rest of your body, your breasts get growing pains. "Growing pains are normal," says Cullins. "It's also common for breasts to feel swollen or tender before and during your period." You can take ibuprofen if the tenderness is bothering you. See a doctor if you notice a change in the way your breasts or nipples look along with the pain.
My breasts feel lumpy. Is that normal?
Breasts are made up of tissue that naturally feels a little uneven and lumpy. That's why it's important to be familiar with how your breasts normally look and feel, so you'll be aware if a lump that's potentially dangerous shows up. Even though it's unlikely that a teenager will develop breast cancer, it's good to know how to check your breasts. Some doctors recommend checking regularly beginning at age 21, unless family history warrants earlier screening. Gordon suggests doing a self-exam in the shower when your fingers are slick, rubbing in concentric circles from the outside of your breast in toward the nipple. "Ask your doctor about any new lump that is painful, hard or immovable," she says.
My nipples look different than my friends'. What does a normal nipple look like?
Actually, there's no "normal" when it comes to nipples. "Nipples come in all shapes and sizes and can change over time," Cullins says. "Your nipples may get bigger as your breasts get bigger or darker or puffier as you grow older. Nipple color ranges from light pink to brownish black. Some stick out like buttons, and others look more like slits." If you've already finished puberty and the appearance of your nipple changes drastically—like going from an "outie" to an "innie"—check with your doctor to make sure everything's OK.
Why are there dark hairs around my nipple?
It's common to have darker hairs around the areola, or the darker skin that surrounds your nipple. "About 3 out of 10 women have a few hairs there," Cothran says. "If you don't like them, just pluck them out with a pair of tweezers."
My boobs have stretch marks! Will they go away?
While you grow, it's normal for stretch marks—pink or purple lines along the sides of your breast—to show up. "This is because your skin can't always keep up with your growing breasts," Cullins says. "Stretch marks may start out dark and raised, but most will fade and become less noticeable over time."
What can I do about gross under-boob sweat?
It's common to sweat more under your breasts than on other parts of your body. If it's uncomfortable, Cothran recommends applying a thin layer of a powder with a cornstarch base before a long day of rehearsal.
Bra Basics: In need of a support system beyond the flimsy shelf bra in your leotard? You're not alone. Here are five tips for making sports bras work in class or performance.
1. One sports bra may not be strong enough to support bigger breasts during a fast petit allégro. "For women with larger breasts, I recommend wearing two sports bras to give proper support and help with discomfort," says gynecologist Judith Cothran.
2. That said, trapping your breasts while you sweat can result in no-fun-at-all acne or even a fungal infection, so it's important to make sure your breasts can breathe. Cothran recommends a bra made of cotton.
3. If you're concerned about your bra showing in class, opt for leotard styles with more shoulder and back coverage to hide extra straps. Want to go braless? Halter or high-neck leotards tend to offer the most support and prevent spill-outs.
4. For performances, use foundation to help white or nude bra straps blend with your skin. Several dancewear companies sell bra tops with clear straps to wear under costumes. But these can reflect stage light, so apply a layer of face powder to dull the shine.
5. If your studio has a strict dress code, and you can't find a bra that works, talk to your teachers. Chances are, they'll be happy to help you find a solution that you're comfortable with.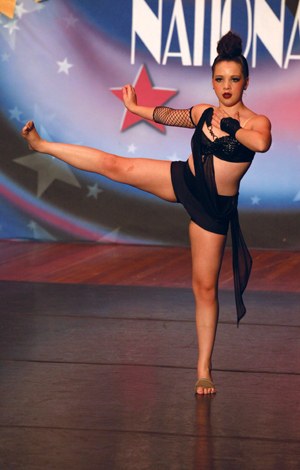 Hannah Epstein performs her solo, "House of Pain," at Starbound.
Paul Taylor Dance Company member Aileen Roehl is 5' 2" with powerful, strong legs. But growing up training in ballet, she felt lost in a sea of tall, slim ballerinas. After one summer program audition, she was in the director's office and caught a teacher pointing at her rear end. "I turned around and said, 'I know!' " she says. "I knew I had a larger butt—I didn't need the reminder."
So how did Aileen learn to embrace what made her different? "I learned to look at skinnier girls and think, I'd love to have her legs, but maybe she doesn't have the strength I have," she says. "What some people see as a flaw makes me the dancer I am." Now, as a professional, she loves her body: "I wouldn't be able to jump as high without my muscular legs," she says.
Having an unconventional body in the dance world isn't easy. You may have to work harder than your peers to be taken seriously. You may lose out on certain roles or jobs. You may get negative comments from peers and teachers. And even if you're in a nurturing environment, you may occasionally wish you looked like everyone else.
But while there are still standards for appearance—especially in professional ballet—the dance landscape is changing. You can be compact, muscular, curvy or even plus-sized and still find a place in the dance world. Here, an array of student and professional dancers share thoughts on having a body that doesn't fit the traditional mold.
The Criticisms
The pressure to be thin comes from all sides in the dance world. Sometimes it's from classmates. Fifteen-year-old Gabriella Leutzinger, who dances at Ballet Elite Dance Studio in Margate, FL, describes herself as "muscular, but not overweight," and remembers an embarrassing time in fifth grade when a fellow dancer "told me not to sit on a chair because I'd break it."
Teachers can also make you feel bad—intentionally or not. "I'm short and I have a swayback, and I didn't know how to use my abdominals properly for a long time," says Alden LaPaglia, who trained at the School of Richmond Ballet in Virginia growing up and is now an independent performer and choreographer in NYC. "My favorite teacher [at SRB] used to joke that I'd had a big brunch before Saturday ballet. It wasn't mean-spirited, but I became very self-conscious." Seventeen-year-old Page Burns trains at Eastern Connecticut Ballet with former New York City Ballet soloist Gloria Govrin. "I'm taught that the Balanchine 'ideal'—tall and thin with long legs—is the correct body," she says. "But I'm 5' 3" and have big breasts. Even though I get soloist parts, it's a struggle not to compare myself to that model."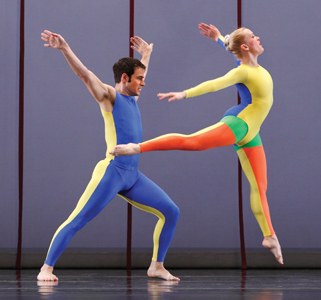 Aileen Roehl performs with fellow Paul Taylor Dance Company member Robert Kleinendorst. (Paul B. Goode)
Other times, parents can get in on the criticism action. If a parent in your studio is commenting on your body, follow the example of 12-year-old Hannah Epstein, a student at Stars Dance Studio and dancer on "Dance Moms: Miami." "I have a wider body type," she says, "and if people think it matters, that's their opinion. When the moms on 'Dance Moms: Miami' talk about [my body], I don't listen to them. I'm doing what I love—dancing."
The Dreaded Costume Fittings
Beyond the vocal criticisms, there's the nightmare of every dancer with an unconventional body: costume fittings. Eighteen-year-old Shannon Riley, who studies at Rockford Dance Company in Rockford, IL, recently performed in Cinderella. "All the girls in my class had costumes from storage, but they had to build a new one for me," she says. "They'd never needed a costume for someone busty!" L.A.-based performer and choreographer Justine Menter even remembers having to duct-tape her breasts down to fit into high school drill team costumes.
Sarah Hay, who dances with Semperoper Ballet in Dresden, Germany, developed breasts around age 13. Now a slender 5' 4" with a D-cup, Sarah struggled to feel comfortable in skimpy costumes. One of her lowest points coincided with a dream come true: She was thrilled to be cast in William Forsythe's In the middle, somewhat elevated with Pennsylvania Ballet. Then she saw the spaghetti strap leotard she'd be wearing. "I was horrified, and so uncomfortable," she says. "Even though the costume people built in a bra for me, I was crying before the show. I almost let it ruin my experience of performing that great ballet."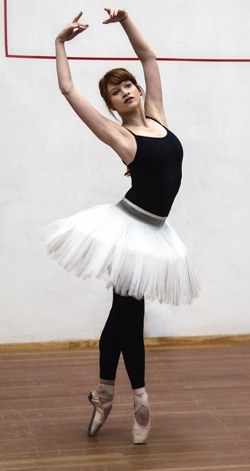 Sarah Hay in rehearsal (Ian Whalen)
The Change in Perspective
When you internalize external pressure—direct, implied or imagined—you might be tempted to take drastic steps to change your appearance or your feelings. Sarah admits that at times in her student and professional career, she wasn't eating properly or taking care of herself.
So how can you learn to accept your body as it is? Start by focusing on your strengths. In some instances, your body itself might be an asset. When Sarah appeared in the corps de ballet in the movie Black Swan, the production team loved that she looked feminine and highlighted her in several scenes. When Justine moved to L.A., she found herself auditioning alongside other dancers who had curves. "I've been able to create my own niche in L.A.," she says. "People in the commercial world want to see real women dancing." Justine also launched her own dance company, FLiRT, which accepts dancers of different ethnicities, body types and dance backgrounds.
It might take trial and error to find your place in the dance world. That may mean changing studios: Short and curvy 16-year-old Eleora Pasternack left her hard-core
ballet studio after fifth grade, saying, "They definitely had visions of a certain body type." She's now at Mass Ballet in Framingham, MA, where, she says, "Whether you have the 'right' body or not, whether you're going to be a professional dancer or not, you're trained the same way."
It took several world-class ballet academies and two professional company slots before Sarah found happiness in Dresden. "There is no 'type' here," she says. "There are girls who have figures and who are still extremely fit and beautiful. My director likes how I look, and I get a lot of compliments about appearing feminine and sensual onstage. Now I wear spaghetti strap leotards all the time!"
The Acceptance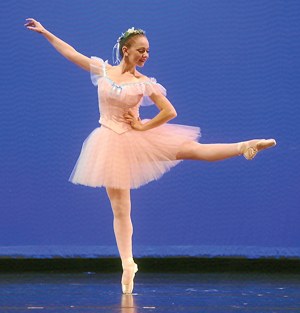 Page Burns performs a ballet solo. (Thomas Giroir)
Finding your place might also mean looking outside your genre. "With my strength, modern dance was natural to me," Aileen says. "You tend to have more body types in modern than in ballet." Alden also shifted her focus from ballet to modern, and then added musical theater to the mix. "My height is still an issue for theater, except for teenager roles," she says, "but my body doesn't hinder me the way it would have in ballet. And I've explored other things, like singing and acting." Meanwhile, Gabriella came into her own in contemporary class. "I wanted to be a ballerina, but I'd see people onstage who didn't look anything like me," she says. "In contemporary, I see dancers who look like me, and I think, 'I can do that.' "
There's no one-size-fits-all secret to finding success with a nontraditional body—or to learning to like your body and respect what it has to offer. It takes hard work, as well as a willingness to adapt and put yourself in new situations. It helps to have a supportive training environment. And perhaps there's an older girl in your studio who inspires you; Hannah looks up to a senior at her school who has a similar body. Or maybe you're built like Melanie Moore, Misty Copeland, Donyelle Jones or another talented, successful dancer who isn't pin-thin but still rocks onstage.
"You can't expect your body to turn into something it will never be, but you can work on it and improve your dancing until you find the right aesthetic for you," Sarah says. "The dance world needs art and artistry, more than another cookie-cutter body."
Changing What You Can, Living With What You Can't
You have no control over your height or how fast you build muscle. Other physical aspects are more open to change. The trick is knowing what you can and can't alter.
"You can do a lot with conditioning," says dancer and choreographer Alden LaPaglia. "When I found Pilates in college, I grew stronger and improved my alignment, which made me look longer and leaner."
If you have large breasts on a petite frame, the only real way to change that is to have breast reduction surgery—and that's not a decision to be made lightly. It's also individual to every dancer. L.A.-based dancer and choreographer Justine Menter had a breast reduction in high school. "Before, my chest hurt when I ran, and I had to wear two bras to rehearsal," she says. "I was self-conscious all the time. After the surgery, I had more confidence—and I'm still curvy, just proportionate." Ballerina Sarah Hay considered breast reduction surgery for several years, and was even told by one teacher to have the procedure done, but ultimately decided not to. Now, at Dresden's Semperoper Ballett, her curves are accepted and appreciated.
"Before, I was looking for any way to strap down my breasts and hide them,
but now I think I look fabulous," she says.
Did You Know? 
American Ballet Theatre soloist Misty Copeland is launching a new line of dancewear, M by Misty, designed with curvy women in mind! For more: mbymisty.com
Breast development is uncomfortable for every teen, but it can be especially traumatic for dancers. While you can hide behind a loose T-shirt or sweater at school, at dance your leotard or fitted costume puts your ever-changing body on display. Suddenly you have these alien things on your chest: They're lopsided, they're big, they even hurt sometimes. How are you supposed to know what's normal? We've asked experts the breast-health questions you may have been too afraid or embarrassed to ask. Read on for the answers.
Is it normal if my breasts are different sizes?
Most full-grown women have breasts that are slightly different in size, according to Dr. Kandace P. McGuire, who practices in the Surgical Oncology Division at Magee-Womens Hospital of the University of Pittsburgh Medical Center. However, size differences tend to be most dramatic while you're still growing, because one breast may develop faster than the other. "They usually even out over time," McGuire says. But if one of your breasts has grown very large, very rapidly (in a month or less), she says that it may be a sign of a problem and you should talk to your doctor.
Why do my breasts get sore and/or bigger a few days before my period?
Menstrual-cycle–related breast tenderness is normal, especially for teenagers. "Right before your period, your ovaries send out a bunch of hormones," McGuire says. "Those hormones cause your breasts to grow a little bit. All that activity can make a girl pretty sore!" Soreness and swelling will usually go away within the first few days of your period, but some women experience these symptoms throughout menstruation. McGuire says that either case is considered normal.
How will I know when my breasts are fully grown?
During the first stages of breast development, your areola (the dark-colored area around the nipple) is usually raised above the surrounding skin, McGuire says. But, "when breasts are fully developed, the skin of the areola is level with the rest of the breast skin," she says. Girls typically reach this stage between the ages of 16 and 18, "but even once your breasts are fully developed, they can still grow," McGuire says. This often happens during periods of weight gain.
All my friends have developed. Why haven't I?
"Most girls' breasts fully develop in the first two to three years after starting their periods," McGuire says. Thanks to genetics, you will likely start menstruating and developing breasts around the same age your female family members did. But diet and body weight can also impact your growth. "Young women who have very low-fat diets or low body-fat levels tend to develop later," McGuire says. She adds that many dancers may hit puberty later than their non-dance peers because of their active lifestyles, but if you've reached age 16 and haven't gotten your period or started developing, you should mention it to your doctor so she can rule out problematic causes.
Do I need to worry about breast cancer?
"Anyone with breast tissue, even teenagers and males, can get breast cancer—but this is exceedingly rare," says Dr. Therese Bevers, a professor at MD Anderson Cancer Center's Department of Clinical Cancer Prevention in Houston. Although breast cancer is uncommon in teenagers, McGuire urges young dancers to learn how to do self breast exams. "Teenagers and other young women are prone to cysts or even fibroadenomas, which are noncancerous tumors that can be annoying and painful," she says. "They usually go away with time, but will need to be discussed with your doctor."
Will my breasts change if I take birth control pills?
Maybe. Birth control pills can cause weight gain and make your breasts grow larger. They can make the lumps and bumps in your breast (like cysts and fibroadenomas) grow as well. "They will not increase your risk for breast cancer and actually lower your risk for ovarian cancer," McGuire says.
Is it true that having large breasts makes it more likely that I'll get breast cancer?
"We have not linked size of breasts to risk of breast cancer," Bevers says. According to McGuire, a woman's breast is made up of two different parts: the functional glands and ducts that make milk when you're pregnant and breastfeeding, and the nonfunctional fat and connective tissue. "Everyone pretty much has the same amount of functional breast tissue," she says—and cancer only attacks functional tissue. "Larger breasts usually have more nonfunctional tissue, but having more fat in the breast does not increase your risk for breast cancer."
Is it normal for my chest to sweat this much?
"Sweating underneath and between your breasts is completely normal, especially during puberty," McGuire says. Keep these areas clean and dry by changing and washing your bras often and controlling wetness with baby powder. Worried about developing giant sweat stains in class? Dark-colored leotards will help conceal sweat marks. If your studio allows it, a pattern or print will also help disguise sweat. While cotton is one of the most breathable fabrics, it can show embarrassing stains once you've started sweating, so look for a cotton-synthetic blend.
Support Systems
Is your favorite camisole leotard not giving your new chest the support it needs? If you're well endowed, opt for leotards with wider straps, and don't be afraid to layer your leo over a sports bra when you're in class—you're better off showing a few extra straps than worrying about your breasts bouncing every time you leap!
Making sure you have the support you need onstage is a more delicate matter. Let your teacher know if you're concerned about a particular costume, and work together to come up with a solution. In most cases, you should be able to find a bra with a strap configuration that can be concealed by your costume. Try a convertible style that comes with nude or clear straps.
Former ballet dancer Kathleen McGuire is a freelance writer based in Pittsburgh, PA.
Alyssa Lemenager's large chest always seemed to get in the way of her dancing. She loathed spaghetti-strap leos and constantly altered her costumes to accommodate her 34E bust. "I couldn't take the constant back pain and discomfort that the weight of my breasts caused," says Lemenager, now captain of the Suffolk University Dance Company in Boston. "Being a dancer only heightened these issues. I felt sore and tired, and very insecure about myself and my dancing."
The breaking point came at age 16 when she had to duct tape her breasts into a competition costume to keep from bouncing onstage. That same year, she underwent breast reduction surgery. Since then, she's been able to dance and live much more comfortably.
For many dancers whose chest size has inhibited their health, training and performance, breast reduction can be beneficial. But it shouldn't be mistaken for a "quick fix"or a way to reach aesthetic standards; it's major surgery with both benefits and risks.
The Procedure
According to a report by the American Society of Plastic Surgeons, in 2005, 114,250 women in the U.S. had breast reductions. Though there are multiple ways of performing the operation, all involve removing breast tissue, moving the nipple upward and tightening the skin around the breasts, says Dr. Richard Ehrlichman, instructor in surgery at Massachusetts General Hospital. The surgery usually lasts two to four hours and is performed under general anesthesia on an outpatient basis or with a one-night hospital stay. Pain, swelling and bruising are expected, and patients routinely wear drainage tubes for a few days to remove fluid.
According to Chicago-area plastic surgeon Dr. Anthony Terrasse, dance and other aerobic activities are off-limits for a few weeks. Though recovery periods differ greatly from patient to patient, most are up for daily activities, such as lifting arms overhead, after a few days. Heavy lifting, pushing and pulling should be avoided for three to six weeks. During recovery, patients wear special bras to minimize the tension on the skin. Though there is an immediate difference in size after surgery, final results are seen three to twelve months later, as the body needs time to adjust to the rearrangement of breast tissue, Terrasse says.
The Benefits
Large breasts can cause neck, back and shoulder pain, chronic infections under the breasts, indentations in the shoulders due to the constant pressure of bra straps and, in severe cases, curvature of the spine and difficulty breathing. For large-chested dancers, these problems are amplified in the studio, especially when it comes to running or jumping. Reduced breast size can alleviate all of these discomforts, as well as make it easier to find bras and clothing and likewise, leotards and costumes that fit.
The Risks
Permanent scars are unavoidable. Anytime you take out skin and close it, you're left with a scar, and the scars are permanent, says Ehrlichman. Scarring can range from thick red marks to nearly invisible thin white lines. Because incisions are usually limited to the nipple area and the lower half of the breast, scars typically won't show in low-cut costumes.
During surgery, each nipple is removed and reattached higher on the breast. The potentially worst (and also rare) complication is lost or compromised blood supply, which can result in loss of nipple sensation or of the entire nipple itself, Ehrlichman says. An inability to breastfeed may also result. As with any major surgery, there's a risk of excess bleeding and infection.
According to Dr. Richard Greco of the Georgia Institute for Plastic Surgery, a breast reduction isn't guaranteed to be permanent, either. Weight gain or hormonal changes, which can be elicited by such causes as pregnancy and taking birth control, can result in breast size changing even after surgery.
Covering the Cost
Breast reduction surgery can cost between $4,000 and $7,000. Insurance companies have different coverage criteria; many will only pay for the procedure for individuals who have macromastia--the condition in which abnormally large breasts cause continual health problems. Lemenager, for example, was able to prove to her provider that her chest size was detrimental to her health because the back pain persisted, in spite of her active lifestyle and a year of chiropractic treatment.
Proving the necessity of such surgery can be tricky. Strong dancers, for instance, may not suffer the same back strain from large breasts that an average person would. Whether due to pain tolerance, muscle strength or the drive to perform, people experience different degrees of pain. Even if back pain is relatively manageable, dancers with large enough breasts to merit surgery will most likely suffer from other symptoms, like chronic rashes or shoulder indentations.
Pain and other symptoms are becoming a non-issue, however, as an increasing number of insurance companies are setting weight and volume restrictions in an effort to cover only surgeries that are medically necessary, Ehrlichman says. Restrictions on weight require a patient to be at or near an "ideal" weight for her height, to prevent overweight women from having surgery when weight loss alone could significantly reduce the size of their breasts. Volume requirements dictate that a certain amount of tissue be removed from each breast (usually 300 to 600 grams, the equivalent of several cup sizes)
The reality is that not everyone who truly needs a breast reduction will fit into these coverage requirements: For example, a small-framed woman may have a large chest for her body, but still not meet the volume requirements because of her petite build. In these cases, women may partner with their doctors to appeal the insurance company's initial decision.
Talking To Your Doctor
If you're considering breast reduction, ask your physician about the benefits and potential dangers for you specifically, and interview board-certified plastic surgeons until you find one you feel comfortable with. Terrasse recommends asking a potential surgeon to connect you with a past patient of similar age or situation so that you can talk about her experience.
If you're under 18, specific guidelines apply. The American Society of Plastic Surgeons says that women younger than 18 years old shouldn't have elective (also called cosmetic) breast reduction surgery, because they may not be finished growing, says Ehrlichman. Exceptions are made for extreme cases.
Careful Consideration
Risks and benefits aside, breast reduction is serious business and shouldn't be taken lightly. "Just because you have large breasts doesn't mean you should have a breast reduction," Terrasse says. "But if they are getting in the way of [dancing with] ease, grace and athleticism, then it's something to consider." Ehrlichman warns that women considering a reduction just to achieve the small-chested look of a stereotypical "dancer's body" should proceed with caution. For a woman with debilitating symptoms, scars and other risks can be a small trade-off for the health benefits; however, when surgery is a purely cosmetic decision, the risks may not be worth it.
Several years later, Lemenager is still confident she made the right choice for her health and her career. "The first day that I walked into the studio in a leotard with no bra on, I knew that the surgery was the right thing to do," she says. "My dancing was no longer painful, and it felt as if a huge weight had been lifted--literally." As with any major medical decision, only you can decide if the risks are worth the
rewards.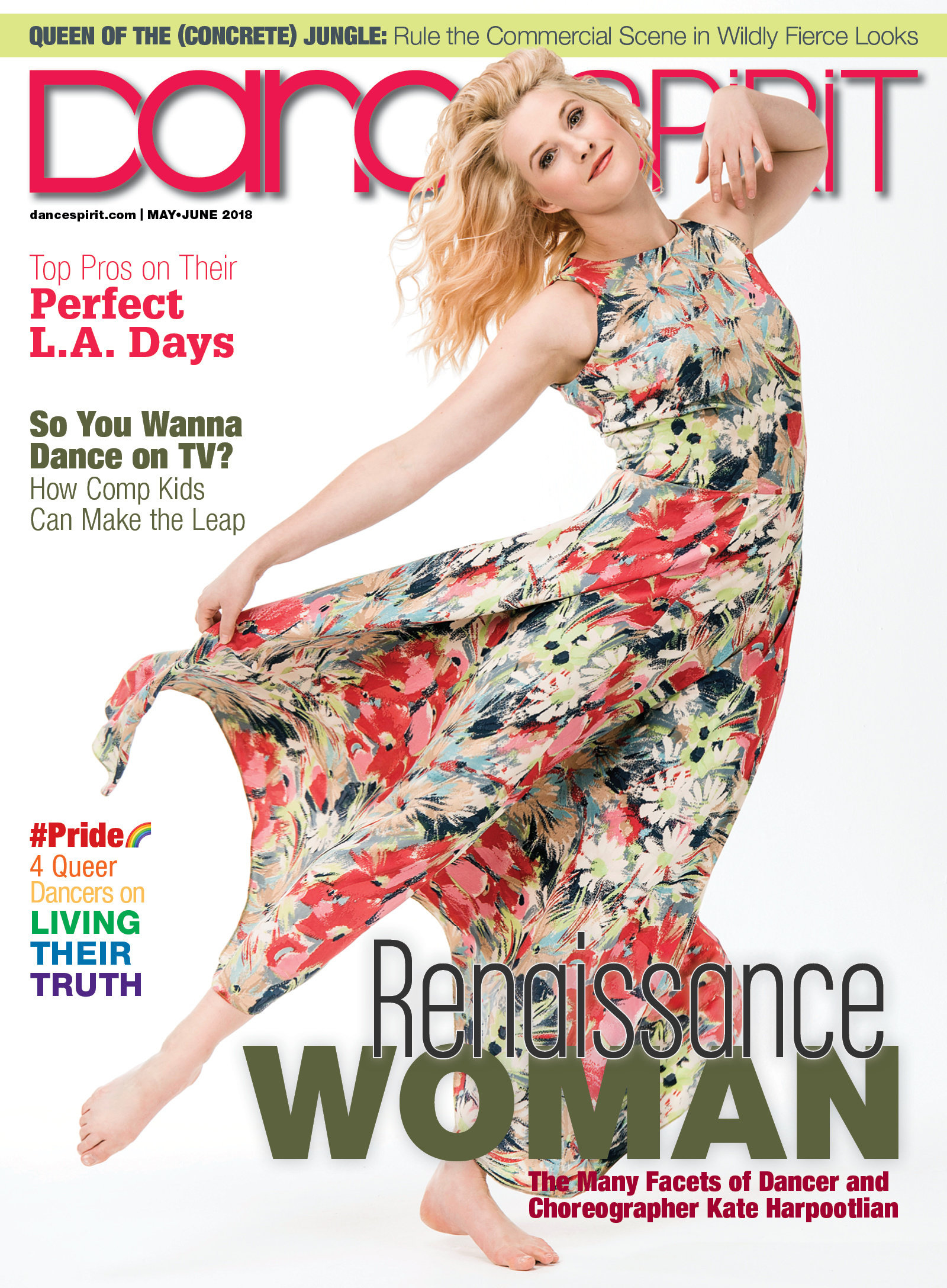 Get Dance Spirit in your inbox