Fall means many things: stepping on really crunchy leaves (so satisfying, right?), piling on legwarmers and cozy warm-ups (check out our favorites in the October issue of DS!) and the return of the beloved pumpkin spice latte at Starbucks.
But this picture-perfect season—my personal favorite, if only for the McIntosh apples—also means the return of one very special annual event: New York City Dance Alliance Foundation's Bright Lights, Shining Stars.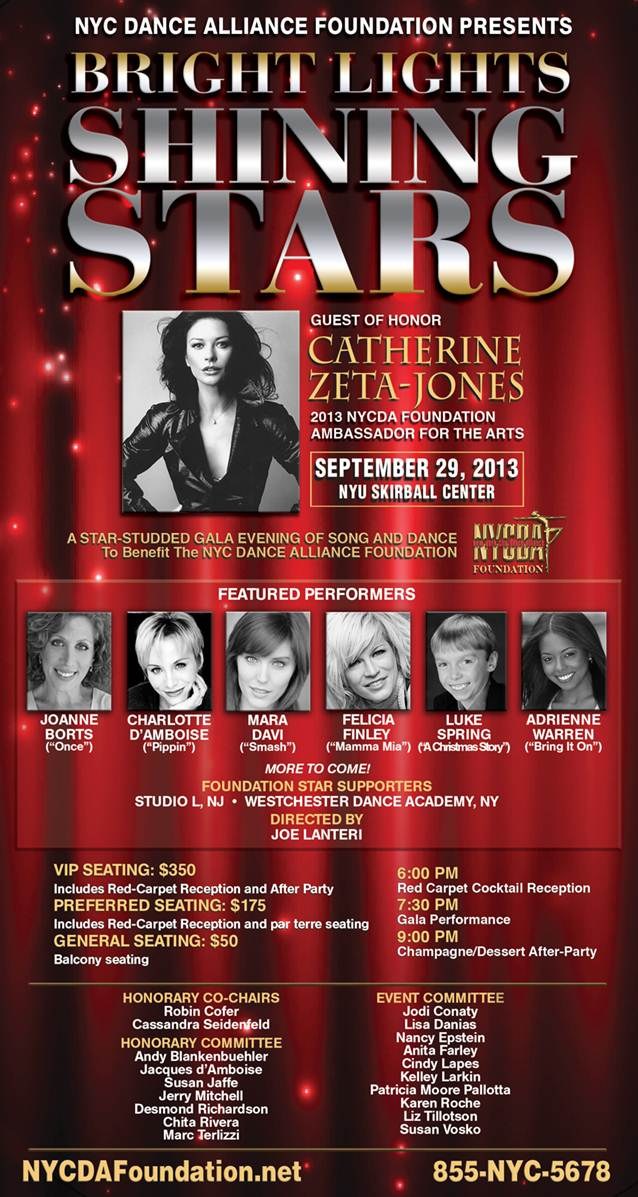 This year, the foundation is honoring mega-star Catherine Zeta-Jones, a longtime supporter of the arts and, of course, a performer herself! (Was she not to-die-for as Velma in the film version of Chicago?)
Not only will CZJ be there—surely wearing something spectacular—but there will also be performances by Charlotte D'Amboise, tiny tapper Luke Spring and Bring It On: The Musical's Adrienne Warren (loooove her).
The show will be held Sunday, September 29, at NYU's Skirball Center in NYC beginning at 7:30 pm. (But get there early for the red carpet entrances!)
Click here to get 25% off select seats.
See you there!
...and all that jazz.
Not only do our friends at New York City Dance Alliance know how to have competitions and conventions, but they know how to have a top-notch celebration, too. Last night's 2015 "Bright Lights Shining Stars" gala was the perfect example of everything we love about NYCDA.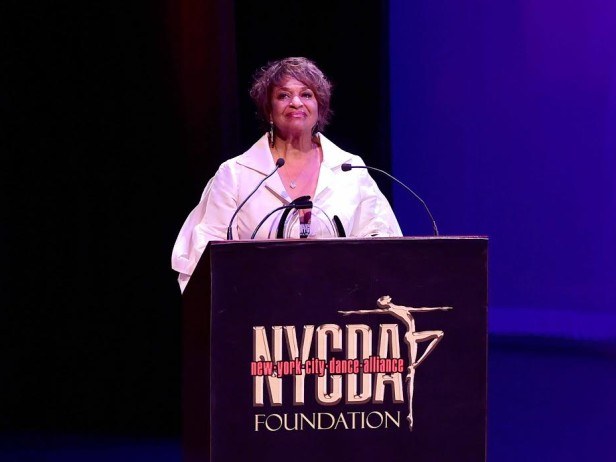 Debbie Allen making us feel all the feels. What a career and what a performer (photo Eduardo Patino, courtesy NYCDA)
Debbie Allen was the recipient of this year's NYCDAF Ambassador for the Arts Award, and NYCDA's scholarship recipients (as well as a whole slew of insanely awesome guest performers) paid tribute to Allen's incredible career through song, dance and the sweetest speeches. It was a night filled with love, dance and so much goodness. Watching all the deserving young dancers receive their scholarships is heart-warming, to say the least, and really shows what NYCDA is all about. Below are some of DS's highlights:
Chloe Arnold's Syncopated Ladies wowed us with their high-energy opening number set to some of our fav Beyoncé tracks.
Kolton Krouse performed a solo that was both technically stunning and artistically captivating. He was then presented with the Adele Astaire College Scholarship, by New York City Ballet principal and An American in Paris star, Robert Fairchild. Pretty much the definition of a win-win, we'd say.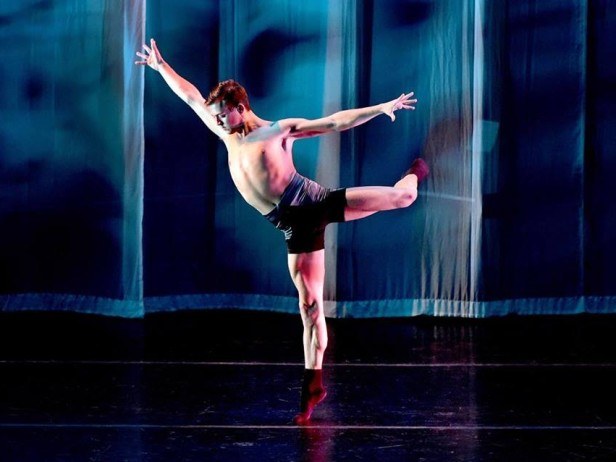 Kolton Krouse's stellar solo (photo Eduardo Patino, courtesy NYCDA)
A super special moment was when Allen's daughter, Vivian Nixon, surprised her mom by appearing onstage as Anita from West Side Story, a role Allen was known for absolutely rocking back in the day. You could practically feel the mother-daughter pride and love.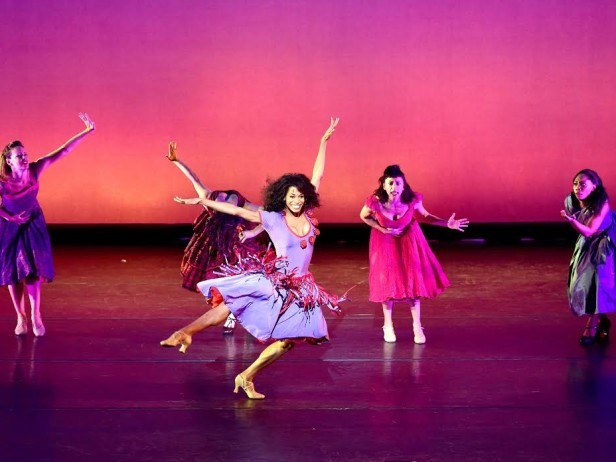 Allen's daughter, Vivian Nixon, channeling her mom and being all kinds of fabulous (photo Eduardo Patino, courtesy NYCDA)
And to close the show, the always-impressive girls from Westchester Dance Academy (a couple of whom you'll see modeling in our upcoming November issue—hey girls!) owned the stage for a beautifully choreographed (and danced) routine to Avicii's "Long Road Home."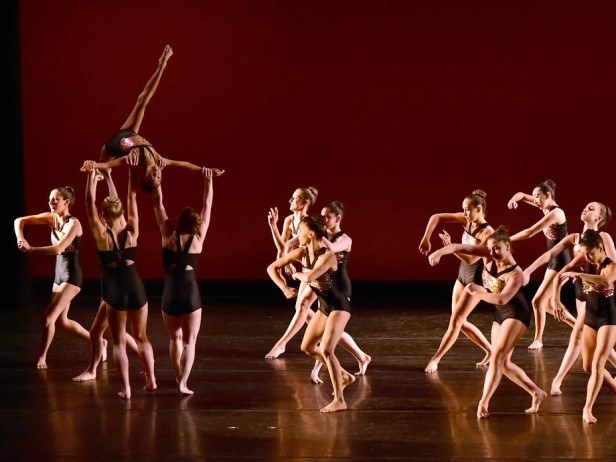 WDA girls absolutely #owning it (photo Eduardo Patino, courtesy NYCDA)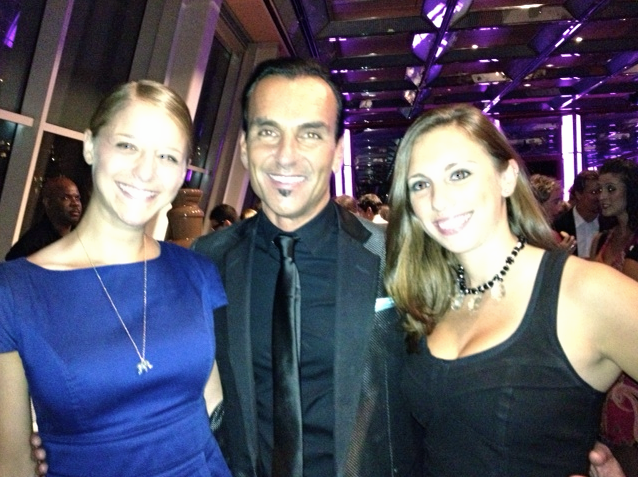 Last night I attended the second annual Bright Lights, Shining Stars gala benefiting the New York City Dance Alliance Foundation. We were told the event would be star-studded—and it sure was.
While DS managing editor Rachel Zar was positively giddy about standing in the lobby next to a Real Housewife (Ramona Singer), I was more excited to see some familiar faces in the crowd, like former Cover Model Search winner (and one of my favorite dancers of all-time) Ida Saki, Joey Dowling, Andy Blankenbuehler and Jakob Karr.
As always, I do my best thinking in list form, so here are 5 Reasons Bright Lights, Shining Stars Was a Hit:
1. It helped kids go to college. Since its inception just two years ago, the New York City Dance Alliance Foundation has awarded more than $5 million in college scholarships to more than 100 dancers. This is huge. Many dancers aren't sure if they want to go to college (do it!), and some aren't in a financial position to attend. NYCDAF helps with that, and it's so incredible to watch executive director Joe Lanteri bring a talented young dancer onstage and tell her she's getting a full ride into the life of higher education (hello, Montana Michniak). Lives change, and we get to watch it happen. It's awesome. (You heard me when I said go to college, right? Great.) It's especially fun for us because our sister publication, Dance Magazine, is one of the foundation's gold sponsors!
I only teared up once last night, and it was when Utah comp kid Mattie Love spoke to the audience, thanking everyone for coming and for helping her get to college. Thanks to the foundation, she just took her first class as a freshman at Marymount Manhattan College. Too cool. And congratulations, Mattie! We hope you have a rockin' first year.
2. It was like Dance Spirit's competition issue come to life! Logan Epstein! Noelle Meers! Alexia Meyer! Alyssa Ness! Hannah Seiden! Teeny tiny Kayla Mak! All the cool kids you read about after Nationals each year were onstage performing as NYCDAF scholarship recipients. They danced choreography by Andy Pellick and you could tell they were loving every minute of the stress-free performance. No judges! No scores! No pressure.
3. Complexions Contemporary Ballet. Natalia Alonso, will you be my best friend? The two pieces by Complexions—Testament and On Holiday—were so stunning and were definitely my favorites of the evening.
4. Julie Kent! Julie Kent is the epitome of a prima ballerina. She's lithe and lovely and sweet spoken in a way that makes me hold my breath a little while she's talking. The American Ballet Theatre principal delivered a wonderful speech about honoree Mikhail Baryshnikov, talking about how he hand-picked her to be in the film Dancers and, ultimately, to join ABT. I especially loved one quote that she shared with the crowd from Mr. Baryshnikov himself: "It's not what you did, but how you did it." Kind of makes you want to go do something really full-out doesn't it?
5. Misha and Liza. It's hard to imagine a cooler duo, isn't it? The standing ovation when these two got onstage lasted longer than Kim Kardashian's marriage (sorry, had to go there). So Mikhail Baryshnikov (affectionately known in the dance world as simply "Misha") was awarded NYCDAF's Ambassador of the Arts award, and Liza Minnelli got to hand it over to him. She was so sweet talking up her friend, and she referred to Misha as "my honey," which just about made me melt. She called him "the greatest ballet dancer the world has ever known." Misha, upon receiving the award, was humble and without a speech. He did, however, imply that he would like his next honor to be Czar of the Arts. We're on board.
All in all it was a fun, heartwarming night at NYU's Skirball Center for the Arts. Congratulations, Mikhail Baryshnikov, on your fancy new title and thank you for the endless inspiration.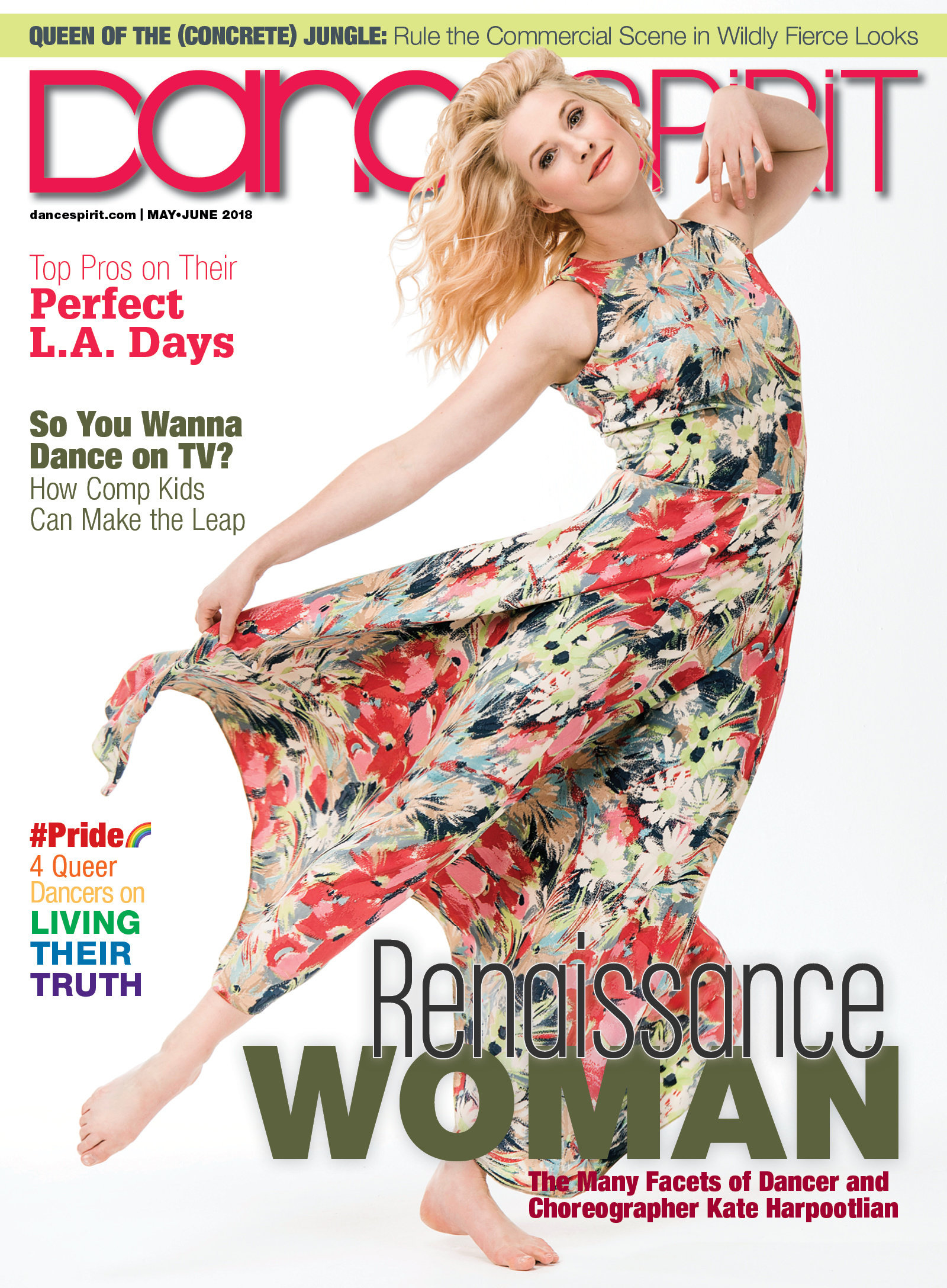 Get Dance Spirit in your inbox