Jun. 11, 2013 03:44PM EST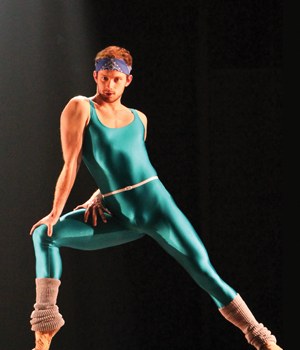 Jakob Karr in Flashdance: The Musical (DRGPhotography)
Jakob Karr, with his amazing extensions, and Kamille Upshaw, with her captivating stage presence, made names for themselves by snatching up award after award on the competition circuit. The two were hired for their first professional dance jobs in 2007—performing together during the halftime show of an alpaca auction in Virginia. And from there, their paths continued to cross: They both moved to NYC for college and then traveled internationally with Rasta Thomas' Bad Boys of Dance. But this past year, Jakob and Kamille switched gears and joined the touring cast of Flashdance: The Musical. Now the two friends are officially in love…with musical theater. "From the first day, I just thought, this feels right," says Jakob. "This is something I could love doing over and over again."
It's not unusual for competition dancers to discover they're destined for musical theater. And with the number of dance-heavy shows on Broadway today, technical dancers are more in demand than ever before. But it takes far more than a killer solo and an impressive collection of platinums to make it on the Great White Way. Read on before you book your ticket to the Big Apple.
Dance This Way
So what kind of dancers do Broadway casting directors covet? Annie choreographer Andy Blankenbuehler says the key is versatility, which many comp kids have in the bag. "The biggest asset young competitive dancers have is the ability to mimic a choreographer's style," he says. "At a convention, students take class from five or six teachers, each with very different styles. They're smart enough to adapt accordingly."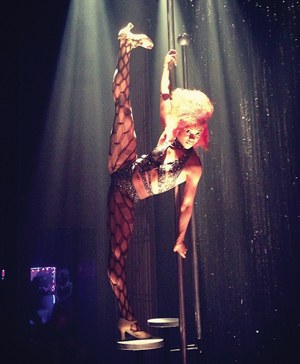 Kamille Upshaw in Flashdance: The Musical (Courtesy Kamille)
Being a smart dancer also means knowing your strengths and understanding what kind of dancing is expected from you at an audition—a lesson Jakob learned the hard way. "My very first audition was for Mary Poppins, and it was so humiliating," he admits. "They made us tap, and I'm probably the world's worst tapper. When I had to perform for the casting directors, I just did time steps over and over again. Believe it or not, I didn't get the job." Do your homework before the big day, and take classes in any styles you're unfamiliar with so you won't be taken by surprise.
Sing Out
No matter how many dance styles you've mastered at your studio, don't expect a job offer unless you can carry a tune. "I can maybe hire one person per show who can't sing. Maybe," says Blankenbuehler, who's worked on productions including In the Heights and Bring It On: The Musical. And rocking out in the shower or along with your car radio doesn't quite cut it. "Just as your body is your instrument for dancing, your vocal cords are your instrument for singing, and you have to know how to work them," says former comp kid and "So You Think You Can Dance" alum Ariana DeBose, who's currently in the ensemble of Motown: The Musical. "Find a vocal coach," she says. "Then choose at least three songs and work on them until you can present your best you no matter what."
Kamille walked into the Flashdance audition—her first musical theater audition—armed with only one semester of voice lessons from The Juilliard School. But she decided confidence would be her greatest weapon. "I figured they were looking for someone who could sell the performance," she says. "You don't need to be able to belt like Whitney Houston to be in an ensemble. Even if you don't feel like you have the best voice, prepare something that showcases your personality." For Kamille, that was Estelle's "American Boy." Jakob's first audition song? " 'Happy Birthday to You,' " he says. "I was as clueless as they come, but the next time I had a song prepared. And now I see a vocal coach whenever I'm in New York."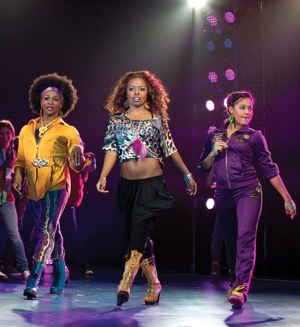 Ariana DeBose (right) in Bring It On (Joan Marcus)
Acting 101 
While some studio kids may have taken voice lessons in addition to dance class, there's a third component they must master before being a true triple threat: "You have to be a performer," Blankenbuehler says. "In a musical, dancers won't necessarily have to sing solos, but they will always have to project emotions."
Newsies dancer John Michael Fiumara, a past New York City Dance Alliance Senior Outstanding Dancer, says the hardest thing about his transition to musical theater was getting into character. "I never really thought of myself as a musical theater person, but just to be safe, I took voice lessons throughout my dance training," he says. "The biggest challenge for me in Newsies was understanding the story and imagining myself as my character, Specs. But the directors told me they chose me because they liked the flavor I gave to the role and the look on my face when I danced." Unfamiliar with acting? Sign up for a class or join a local community theater production.
Create Connections
Even if they've never had an acting or singing lesson, competitive dancers have a built-in resource many others don't: a wide network. "It's amazing how many people I danced with at competitions who are doing Broadway right now," John says. "Competing as a kid gives you so many connections to help you get there." Blankenbuehler, who teaches at NYCDA conventions nationwide, commends the rare dancer who approaches him to ask about upcoming auditions. "The resources are there—you just need to take advantage of them," he says.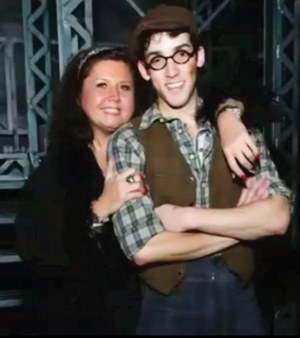 John Michael Fiumara with childhood teacher Abby Lee Miller on the Newsies set (courtesy John)
Once you've left the competition circuit, viewing every audition as a chance to expand your network will make lasting impressions that may lead to more auditions. John auditioned twice for Newsies to no avail, but the casting directors remembered him and called him back for a third, invitation-only audition when the role of Specs opened up. And a casting director from an unsuccessful audition for the show Memphis called Ariana back to audition for what would become her Broadway debut, playing Nautica in Bring It On. "That's how a lot of auditions happen," Ariana says. "You go in for one thing and you don't get the job that day, but they'll like you for something else. That's why I never turn an audition down."
"You're probably going to get a lot of 'no's' before you get a 'yes,' " adds Kamille, who auditioned for many shows while taking a short break from the Flashdance tour this spring. "This industry is hard. You audition more than you work."
Nailed It
After countless auditions and callbacks, nothing beats the feeling of finally nabbing that role. "I got the call and had to leave for the Flashdance tour the next day," Kamille remembers. "There were so many emotions happening at once. But jumping into it like that has been one of the highlights of my career."
If you're a comp kid who's caught the Broadway bug, these dancers prove it's never too late to start tuning your vocal cords, brushing up your acting chops and getting into musical theater auditions. "I didn't grow up singing or acting—I was at a ballet barre in a dance studio," Jakob says. "But with musical theater, I get to do what I love and get paid for it. I'm a part of this world now, and I hope to be part of it for the rest of my life."
Jan. 29, 2013 11:35AM EST
The DS office has been an even more gleeful place than usual this week.
Why, you ask?
Because yesterday we heard Tina Fey has plans to adapt Mean Girls into a Broadway musical.
A BROADWAY MUSICAL!!!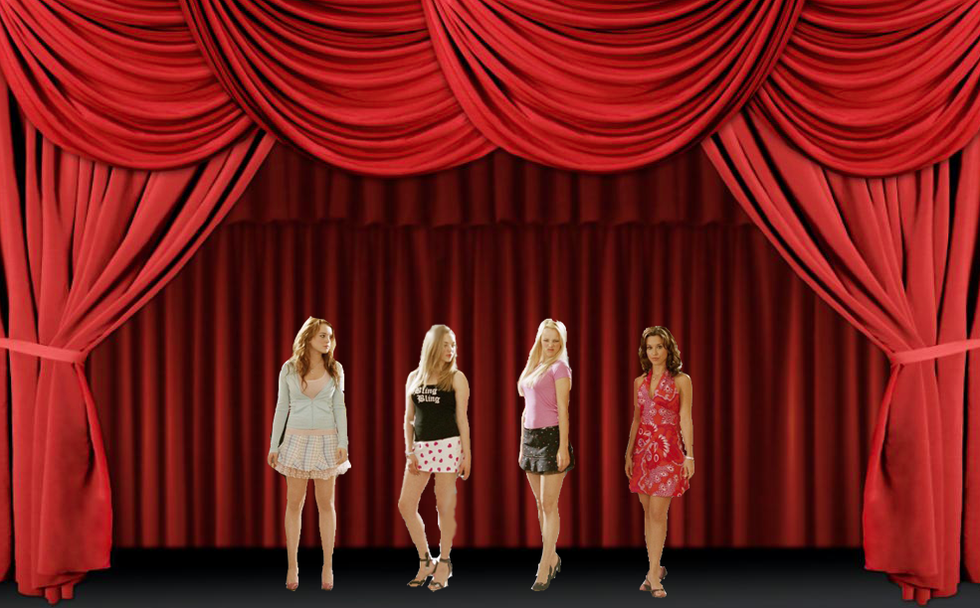 OK. Take a moment. Stop hyperventilating.
Why is this the most awesome news ever? Because here is an inarguable truth: Animated Disney films aside, few movies seem like they'd fit better on a Broadway stage than Mean Girls. Yes, the movie only features one actual song-and-dance routine—that would be the Plastics' not-so-innocent take on "Jingle Bell Rock"—but come on. Every single character in that movie is totally stage-ready. (So stage-ready, in fact, that Broadway.com chose a dream cast for the entire hypothetical show more than a year ago. Lea Michele as Regina George, aka herself? Yes please.)
Obviously, this is one show that would need some fabulous choreography. We're looking at you, Andy Blankenbuehler. Bring It On-ify this sucker!
I'm off to daydream about possible Mean Girls musical numbers. ("Regulation Hottie"? "It's Not Your Fault You're So Gap-Toothed"? I'll work on it.) In the meantime, remember:
On Wednesdays, we wear pink.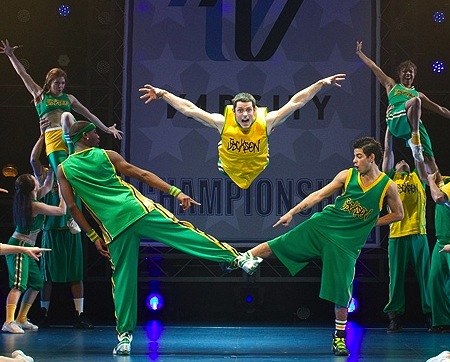 I have bad news. Bring It On: The Musical, one of the most entertaining, most dance-tastic musicals on Broadway is closing on December 30. Silver lining: You still have 35 days left to see the show!
Why should you do that, you ask? With moves by super-star Broadway choreographer Andy Blankenbuehler (who's also choreographed In The Heights and the current revival of Annie), these dance numbers are full of high-flying cheerleading stunts and hard-hitting hip hop like you've never seen on the Great White Way. Plus, the stage is crowded with beyond talented young dancers making their Broadway debuts. Just like the movie it's based on, this tale is full of quirky, laugh-out-loud one liners and, though the story is different, it still concludes with a nail-biting cheerleading competition. Won't have a chance to get tickets? Check out this awesome video montage to get a peak at its greatness:
Plus, get excited for Dance Spirit's February issue, which features one of the stunning stars of Bring It On: The Musical—and find out about her exciting next step!
Musical Theater
Nov. 14, 2012 08:20AM EST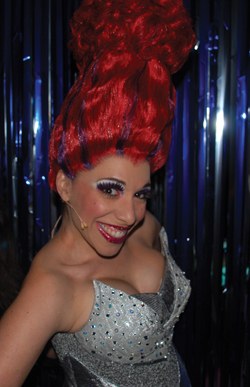 Ellyn Marie Marsh, ready to take the stage in Priscilla, Queen of the Desert
Imagine you're a swing in a Broadway show. You're backstage with nine minutes until the curtain rises. You think you don't have to go on tonight, but suddenly you hear that someone in the cast is sick and needs you to take her place—immediately! Luckily, you know all the ladies' ensemble roles, so you rush into hair and makeup and step in to save the show. Sound exciting? For a swing, it's just a regular day.
Swings are the superheroes of Broadway. Like understudies, they learn multiple parts in a show so they can step up whenever there's a man down. But while understudies usually perform an ensemble position and fill in when needed for one or two leading roles, a swing stands patiently backstage at the ready, having learned up to eight ensemble tracks.
"It's the hardest job on Broadway. Period," says Ellyn Marie Marsh, who swung six very different tracks in Priscilla, Queen of the Desert. At times, she found herself going on for five different parts in a five-show weekend. She's even had to perform two tracks at once, alternating characters from one scene to the next. "When that happens, it's like having multiple personalities," she says.
Ready for Anything
When swings aren't busy saving the day, they spend a lot of time preparing for every possible onstage scenario. Most shows have one to three female swings and one to three male swings, depending on the size of the ensemble. They arrive at the theater half an hour before show time, just like other performers. Then, they wait. In some musicals, swings sing into offstage microphones during the show, adding their voices to the mix, while in others they're free to read, train or work on personal projects. But until a swing feels confident with every nuance of each part she covers, she's likely standing just offstage, analyzing one performer at a time.
Even if the performance is already in progress, swings can be called on at any moment, and they perform more often than you'd think. In addition to filling in on a last-minute sick day, swings also cover for cast mates on vacation, vocal rest or injury leave, or for understudies who move up into a leading role. "When I swung West Side Story, I'd go on for six weeks straight, and then I might be off for two," says Lauralyn McClelland, who's also been a swing for Rock of Ages and Dirty Dancing.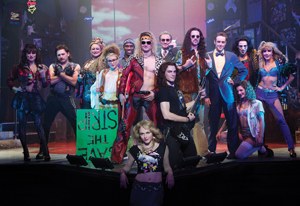 The cast of Rock of Ages (Joan Marcus)
Cues and Props and Quick Changes, Oh My!
As any musical theater pro will tell you, the ability to perform several different versions of the same show is a talent some seem to be born with. "Some performers are just cut out to be swings," says Mark Dancewicz, an ensemble member who understudies the role of Pepper in Mamma Mia! "There's a confidence there."
Andy Blankenbuehler, director and choreographer of Bring It On: The Musical, looks for specific qualities when casting a swing. "Swings have to learn quickly and have a mathematical mind," he says. "Plus, they have to be strong emotionally, because it's grueling."
Even a seasoned swing like Lauralyn admits to having felt overwhelmed. "Dirty Dancing has about 14 dance numbers, and each couple has its own set of choreography for each one. It was like learning 80-something dance numbers," she says. On top of that, she had
to memorize traffic patterns, specific blocking and even backstage choreography, including quick changes and prop pickup locations. "I had to hone in on one person at a time and learn that one track before I could move on to anybody else," she says. Generally, swings attend rehearsals and practice on the side, but they have the freedom (and responsibility) to teach themselves the show.
Swings do have a secret weapon: their show notebooks. "Everyone has a different system," Ellyn says. "I used a binder with a separate divider for each part. My dresser would hold it for me during the show, in case I needed to double-check." Lauralyn creates a large binder as well, and also makes small review sheets for each role to carry backstage. Once it's all written down, Lauralyn and Ellyn must translate that writing to the stage with little notice and less onstage rehearsal time.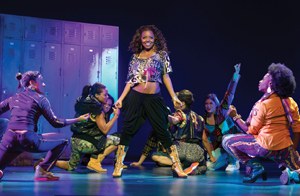 Bring It On: The Musical (Joan Marcus)
The Hard Part
Though learning the show and staying prepared are huge responsibilities, for some swings, those aren't the trickiest parts. "I don't know if everyone would admit this, but it can be really hard to take a backseat on the big things, like taking a bow on opening night," Ellyn says. "I was there and I was a part of the show, but I didn't get to bow." Swings also aren't guaranteed  opportunities like performing at the Tony Awards or singing on the cast album.
For Lauralyn, it was hard to stand back on off-nights and watch others doing what she loves to do. But she also says swinging a few shows a week in Rock of Ages was the perfect way for her to ease back into performing after an injury. "It's a good position to hold, because you know just about everything in the show," she says. "A lot of swings are dance captains, because they know the different parts already." There are also other perks, like a higher pay rate than ensemble members earn.
In the end, swings are some of the most valuable cast members in a show. So valuable, in fact, that it's difficult for a good swing to transition into a regular role. "It's easier for choreographers and directors to teach someone new one track, rather than five," Lauralyn says. But Blankenbuehler says swings are often headed towards bigger things. "Because of their mindset and ability to organize thought, many swings are working their way up to becoming choreographers," he says. "They're offstage watching the cast every night, giving notes and problem-solving. Developing this skill set is like being a choreographer-in-training."
In the meantime, swings are the glue that holds a Broadway cast together. "Swings literally keep the show open," Blankenbuehler says. "There are scenarios every week where we wouldn't go on if there weren't someone there to swing. In show business, real life never stops."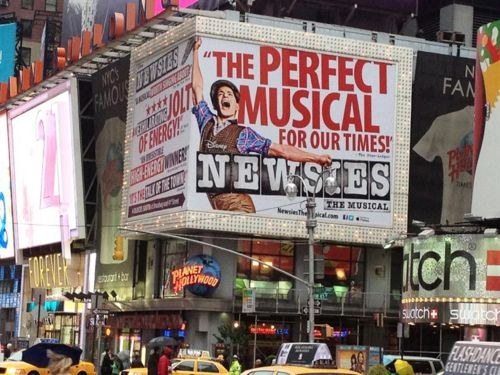 DS managing editor Rachel Zar and I love musicals—a lot. (Rachel even participated in a family musical every year growing up!) So whenever we have the opportunity to see a Broadway show, we make a mad dash for the Great White Way and eagerly scramble to our seats. From old favorites to the danciest new musicals, here's what we thought of the shows we've seen this summer.
Nice Work If You Can Get It
This show surprised us with its fun plot, kooky characters and complex (often hilarious) dance numbers. Plus, nothing beats seeing Matthew Broderick at home on the Broadway stage. It was hard not to sing along to the recognizable Gershwin tunes ("Let's Call the Whole Thing Off," " 'S Wonderful" and "Fascinating Rhythm" were a few of our faves).
Memphis
There's a reason that Memphis has won four Tony's including Best Musical. We think that reason is the dancing. Packed with a ridiculously talented cast, this tale of a radio DJ who's fighting against segregation in the 50s will keep you grooving in your seat the whole time.
Ghost
While the musical is very dance heavy, we weren't in love with it. It could just be the extremely distracting digital set. That said, leading man Richard Fleeshman is a major hunk and totally kept us entertained. Plus, there are some fabulous dancers—like Afra Hines!—that we know you'll love.
We're sure you've figured it out by now, but we're obsessed with this show! It is, after all, the danciest musical currently on Broadway. Christopher Gattelli's Best Choreography Tony Award was more than deserved and the dancers do not disappoint. We grinned like fools throughout the entire show. If you can only see one musical this summer, make it Newsies.
Shows we're dying to see:
Bring It On: The Musical, directed and choreographed by Andy Blankenbuehler!
Once, the 2012 Tony Award winner for Best Musical.
This morning the cast of Bring It On rocked the "Today Show," giving us a sneak peek of all the singing/dancing/cheerleading goodness that's headed for Broadway next month. Take a look.
Visit msnbc.com for breaking news, world news, and news about the economy
What do you think? Will you see the show?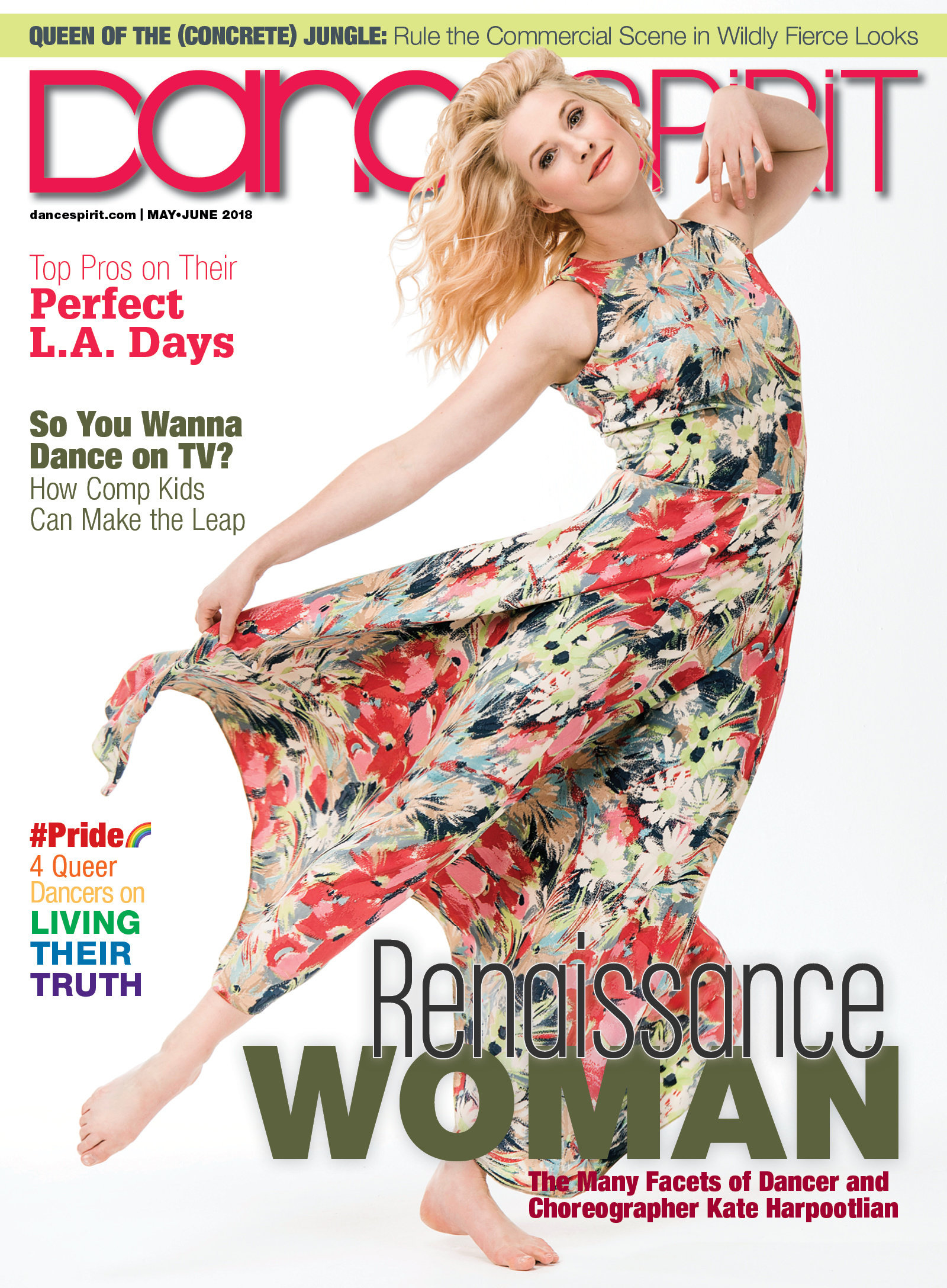 Get Dance Spirit in your inbox