Jun. 04, 2019 11:00AM EST
The vid gives us allll the snaky "Slave 4 U" vibes. (MTV)
Billie Eilish's "Bad Guy" is an absolute bop and, accordingly, has inspired all kinds of dance videos. But none of them makes our heart flutter quite like the one Britney Jean Spears just posted to Instagram.
Why? I mean IT'S BRITNEY, for starters, in all her hair-whipping, dance-diva glory. But the song also inspired the Queen of Pop to throw around a faux snake—a callback to her iconic 2001 MTV Video Music Awards performance, which featured a pas de deux with a real python.
Dance Videos
Mar. 21, 2019 10:26AM EST
Because if her Vegas show is any indication, this musical is going to be all dance, all the time. (Denise Truscello, courtesy Caesars Entertainment)
Yes, you read that right: The Britney Spears musical is officially happening, and we are SHOOK! In addition to having perhaps the most fabulous title in the history of musical titles—Once Upon a One More Time (!!!)—it also features choreography by Keone and Mari Madrid, which means it's sure to be super dancy. So, which dancers are going to bring it to life? Here are seven we're hoping will be cast in the show.
Musical Theater
Mar. 12, 2019 04:37PM EST
Britney Spears in concert in Las Vegas (photo by Kristopher Harris, via Wikimedia Commons)
Just a few weeks ago, we were musing about which major pop stars might get a jukebox musical. As our team batted ideas back and forth, I hastily shared this thought over email:

Will there someday be a (gasp) Britney Spears musical?
A Britney show seemed so inevitable that we didn't even mention it in our story. And it seems the Broadway gods had the very same thought: Once Upon a One More Time, a brand-new musical featuring hits by Spears, is officially happening.
Musical Theater
Aug. 03, 2017 10:48AM EST
We've all fantasized about dancing backup for Britney Spears. We've learned the choreo to every one of her iconic videos by heart, hoping that maybe, someday, we'll be able to dance it for the Holy Spearit herself. (The "Oops!...I Did It Again" heartbeat? Got it. The "Slave 4 U" body roll? Yup.) We've seen just enough of our favorite dancers land gigs with Spears to hold out hope for that not-quite-unachievable goal.
But actually taking class from the Princess of Pop? Not just dancing alongside her, but hearing her words of teacherly wisdom, even getting corrections from her? Learning how to dance like Britney Spears, FROM BRITNEY SPEARS? That seems like a truly impossible dream.
Except it wasn't, a few days ago, for a very lucky group of girls.
Popular
May. 11, 2017 09:50AM EST
Britney Spears in Britney: Piece of Me (Caesars Entertainment)
Hold on to your crop tops: It sounds like Broadway might be getting a piece of Britney. EEE!
Well, not Ms. Spears herself, or at least not that we know of. But Forbes recently reported that Brit's managers met with Broadway veteran Jerry Mitchell to discuss making a jukebox musical out of her epic song catalog.
Dance News
Mar. 23, 2017 03:48PM EST
Here is a sentence that will immediately brighten your day: American Ballet Theatre principal/#queen James Whiteside—or, rather, his pop-art alter ego, JbDubs—just released a music video that is, and here we are quoting directly from the YouTube description, "an homage to his life in NYC, Britney Spears, and 90s competition jazz."
Friends, it is exactly as magical as those 13 words make it sound.
"NYC Piece of Me" cleverly retools Britney's "Piece of Me" with lyrics about Whiteside's own experiences ("I'm Mr. 'Who is this queen?' since I was 17, don't matter if I'm Prince Siegfried or JB in them red high heels"). But the real highlight is, unsurprisingly, the dancing.
Why? First, because Whiteside's choreo pays cheeky tribute to his early days as a comp kid/jazzerina (Luigi warmups!), which, YUP YUP YUP. But also because his co-stars in the video are ABT's Jeffrey Cirio, Courtney Lavine, Calvin Royal III and Cassandra Trenary. And while we already knew they could do things like this...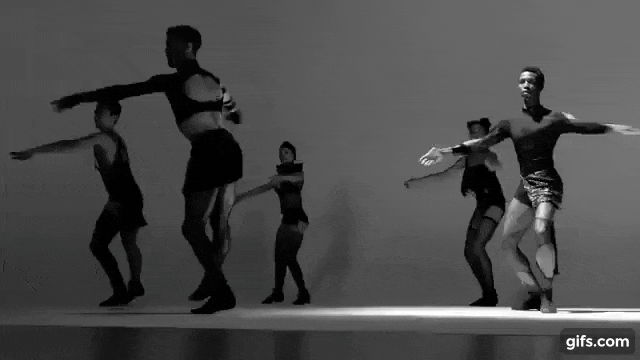 ...we didn't know they could do things like THIS: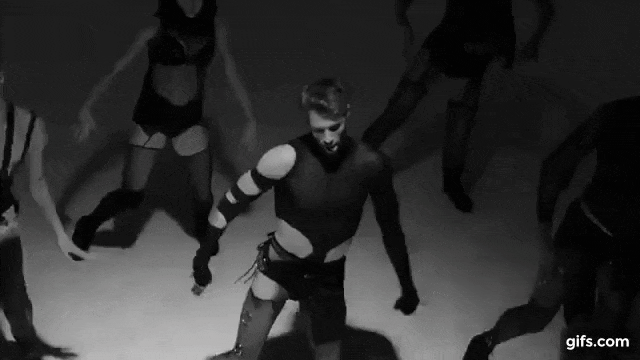 We will never, ever tire of seeing super-classical dancers getting in touch with their nasty selves. Especially when it turns out they're really good at it.
Happy #TutulessTuesday!
Dance News
Mar. 20, 2017 10:44AM EST
[Britney's "Toxic" comes on]
All our friends: Don't do it.
All our friends: PLEASE DON'T DO IT.
Us:
Dance Videos
Nov. 16, 2016 11:04AM EST
So, the #MannequinChallenge has now achieved world domination. And since dancers are singularly well-suited to this weird, wonderful thing—what with their whole lives being devoted to the development of impressive body control—there've been a lot of excellent dance submissions. Everyone has been feeling the freeze, from the Rockettes to the "Dancing with the Stars" crew to the members of Cincinnati Ballet.
But it's done, you guys. The end. Game over.
Because Britney Spears and the dancers from her Vegas phenomenon Piece of Me just did the best #MannequinChallenge of all time. Of ALL TIME.
Behold:
YUP.
The only misstep here is that Brit didn't use her 2008 song "Mannequin" as the soundtrack, because that is a real thing she actually made that definitely exists in the universe. But we're going to assume that's because she knows true perfection requires the inclusion of one tiny flaw, just to keep things interesting. (Also she's got a new album to promote and girl, we get that.)
💕 We'll never stop loving you, Britney. 💕
Dance News
Oct. 03, 2016 10:17AM EST
We are seriously, seriously 'shipping the epic best-friendship of Brian Friedman and Yanis Marshall, a match made in a heaven where everyone wears fabulous 5-inch stilettos at all times. And when the two of them team up to create a routine to the new Britney Spears song? I MEAN.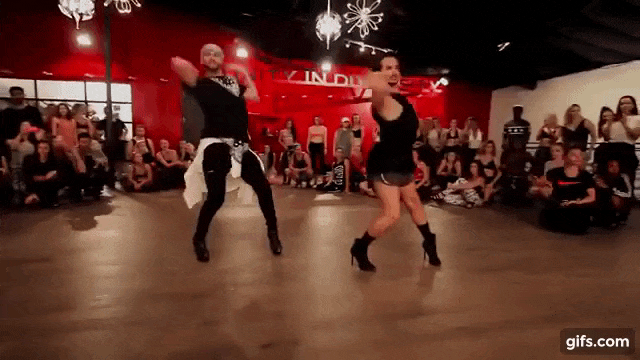 For their recent joint class at Millennium, Friedman and Marshall cooked up some spicy flamenco-tinged choreo that perfectly complements Britney's "Change Your Mind (No Seas Cortés)." Naturally, a veritable who's-who of L.A.'s all-star dance scene came out to slay it, including Kaelynn "KK" Harris, Noelle Marsh, Sloan-Taylor Rabinor, Mollee Gray, Madison Cubbage and 2016 Cover Model Search finalist Kerrynton Jones. And, thank the dance gods, Friedman and Marshall decided to kick off the class video themselves, showing the rest of the world what the dance embodiment of the fire emoji looks like. Just #goals for days.
Happy #MotivationMonday, friends:
Dance News
Aug. 29, 2016 12:37PM EST
Oh, the MTV Video Music Awards. Aka the night we're gifted with performances by some of music's hottest names. Aka the night where crazy costumes, fabulous gimmicks and fierce dancing reign supreme. We truly missed you.
But...to our surprise, last night's show was a tad tame, amirite? There weren't any hosts, no feuding or drama and zero performances that were stunningly over the top, per usual. All in all it was still an iconic night, though, and there were plenty of dance-y moments to gush over. Take a look at our top highlights:
The Beyoncé Takeover
It's been a long six months since Queen Bey's Super Bowl domination and we were desperate for another live performance to obsess over. Thankfully, last night's VMAs gifted us with more Beyoncé perfection than we ever could have dreamed. Case in point: A record-setting 8 award wins (including Video of the Year for "Formation") and an epic 15-minute long Lemonade highlights performance complete with a fierce squad of dancers like Ebony Williams. Oh, and then there was that adorable mommy-daughter red carpet fashion moment that's currently breaking the internet. Long story short, Bey slayed.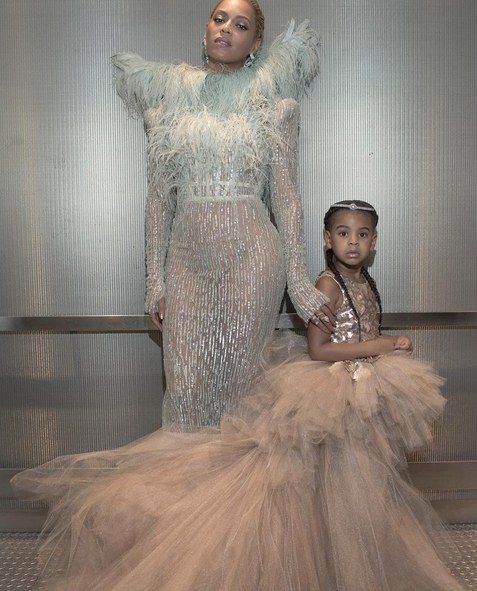 Like mother like daughter before the show. (Photo via Instagram, @Beyonce)
Prepare to be mesmerized:
Rihanna's Dancers
Rihanna also stole the show with four different performances to a ton of her hit songs. The best part? She surrounded herself with lots of new faces like Lilly Leithner, Kimberley Taylor, Kacie Noel, Dani Vitale, Sisley Loubet, Khadija Nicholas, Taeko McCarroll, Asabi Alexander, Katherine Diaz, Diana Matos, Aseil Hardison and Lance Savali to name a few. Rihanna was also presented the prestigious Vanguard Award by Drake.
See the dance goodness for yourself:
The Britney Comeback
After consistently killing it in her Vegas show and releasing a new album a few days ago, Britney Spears made her VMA comeback last night (sans a live snake, unfortunately), in her first awards show performance since 2007. She sang "Make Me" with rapper G-Eazy, and although the internet is calling her out for her apparent lip syncing, the choreo (by Charm La'Donna) was still seriously on point. We loved watching her and her awesome dancers, including Aja DePaolo and Sarah Mitchell. And tbh Brit Brit will always be the #PrincessofPop in our eyes.
Check out her full performance below and let us know what your favorite moments were!
Dance News
Get Dance Spirit in your inbox
Mar. 05, 2016 07:00AM EST
Few dance jobs are as thrilling as being a backup dancer for a major pop star (just ask our May/June 2013 cover stars!). The guaranteed high-octane atmosphere, the costumes, the hair and makeup, the top-notch choreo—we could go on and on. So it's obviously a dream job, but how do you get it? Luckily, one backup dancer shared her journey. Pam Chu spoke with Cosmopolitan Magazine about her path to becoming a backup dancer for Britney Spears. There were lots of great takeaways, including how to know what judges are looking for at an audition, and how to handle any situation:
"At the audition, I remember having a feeling like, I want to get this. You have to psych yourself up and you have to believe you can get it. You have to have that confidence without being arrogant. From the way the choreographers were teaching, I knew they wanted people who had technique, style, and would dance full out all the time. I knew not to sit down in the audition — ever. We were there for nine hours."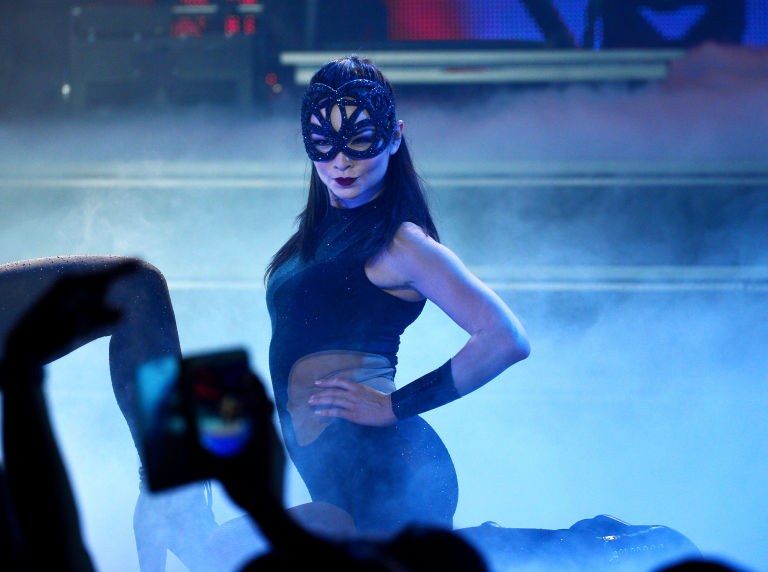 Chu working it during a performance. (Photo by Denise Truscello)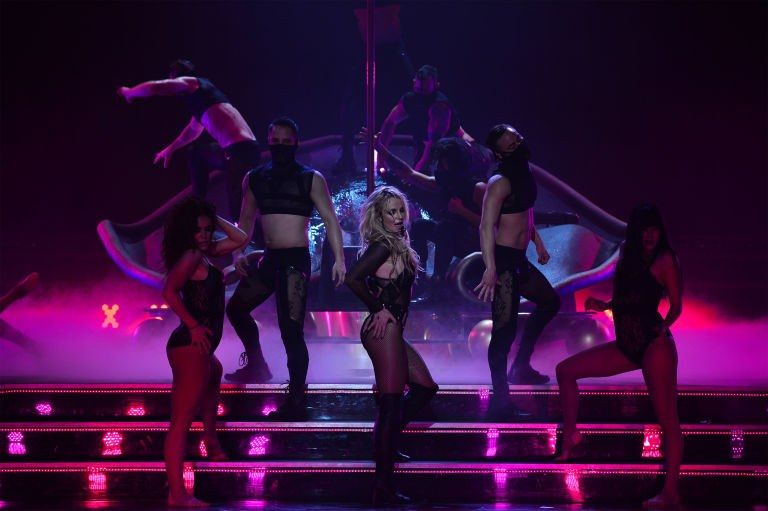 (Photo by Denise Truscello)
Chu's journey is anything but ordinary, with lots of varying dance jobs prior to landing the Britney gig. Her story goes to show that when it comes to your career, every experience is a valuable one, even if you may not realize it at the time. Check out the full story here!
Dance News
Feb. 05, 2016 11:45AM EST
Ah, the Super Bowl halftime show. For dance fans, it's, well, the Super Bowl of live performances. It's the glorious moment when literally hundreds of millions of people see 12 solid minutes of dancers (and, OK, giant musical acts) being amazing.
Of course, not every halftime show is a dancestravaganza. I mean, for what felt like 100 years following 2004's Nipplegate (oh, I so want to hashtag that, but it's FROM A PRE-HASHTAG WORLD, GUYS), the Super Bowl powers that be chose old rock-and-roll headliners, who were less inclined to get their dance on and more inclined to, um, sit at pianos.
But other years? Other years, we got lucky. Other years, we got MJ. Or Britney. Or Madonna. OR BEYONCÉ.
In honor of this Sunday's sure-to-be dance-filled spectacular (Beyyyyyy we're so glad you're back!), we put together a little #FBF list of the danciest moments in Super Bowl halftime history. And it starts in the 90s, which is when the halftime show as we know it really became a thing. (Before that, it was mostly just marching bands, believe it or not.)
Meeeemorieeeeeeesss!
1991: New Kids on the Block
OK, yes: There's an awkward Disney "It's a Small World" opening. But push through it, because afterward we get the slickly choreographed beauty of that glorious 90s phenomenon, the boy band:
1993: Michael Jackson
Here's what's most amazing about this performance, which essentially pioneered the modern Super Bowl halftime spectacle: MJ JUST STOOD THERE FOR A SOLID MINUTE. He was so charismatic that that was literally all it took to drive the crowd insane. But then he started dancing, and—I'll shut up now. Just watch him:
2001: Aerosmith, 'N Sync, Britney Spears, Mary J. Blige, Nelly
Can you tell that MTV had started presenting the halftime show at this point? Basically their approach was to take all the people who had top 40 hits and throw them onstage together. Luckily, in 2001, that group included both 'N Sync and Britney, which meant we were in for some solid choreography (THE "BYE BYE BYE" DANCE <3<3<3):
2004: Janet Jackson, Justin Timberlake (et al)
Yeah, Nelly and Kid Rock and the artist then known as Diddy also performed. But this one was all about the dance stylings of Janet and Justin—not to mention the appearance of one infamous, star-adorned nipple (yes, it's in this video, so proceed with school/work-appropriate caution):
2011: The Black Eyed Peas, Usher
Oof, the post-Janet boob years were long, dull and dance-less. (The Who? Bruce Springsteen? Tom Petty? The Rolling Stones? At least Dad was happy.) But then the Black Eyed Peas flew in on their futuristic stripper poles and brought choreography—specifically, choreography of the fluorescent-light-suit variety—back, as did one of our favorite MJ protégés, Usher:
2012: Madonna, Nicki Minaj, M.I.A., Cee-Lo Green
Leave it to Madge (and Lil Buck! and that crazy tightrope bouncer!) to cement dancing's return to the Super Bowl:
2013: Beyoncé
YESSSSSS!!! YES YES YES. Bless the Super Bowl crew for knowing that Queen Bey didn't need 15 other guest acts to make her halftime show the most #flawless of all time:
2014: Bruno Mars, Red Hot Chili Peppers
I'll admit it: After the amazingness of 2013's halftime show, I came into this one with low expectations. But Bruno Mars' high-energy, old-school choreography was surprisingly delightful, wasn't it?
2015: Katy Perry, Missy Elliott
Left Shark got all the love, but we were most impressed with Missy's crew of phenomenal kids:
So, what dance goodies will BeyBey and Bruno Mars (and, um, Coldplay, I guess) bring us this year? We'll have a full recap right here on Monday morning, of course.
And with that: Go forth into Super Bowl weekend, friends! Enjoy the dancing! Maybe enjoy the football, too, if it's your thing! Definitely enjoy lots of nachos!
Dance News
Jan. 27, 2016 10:46AM EST
So, by now it's become apparent that Yanis Marshall is basically Midas: Pretty much anything his platform stilettos touch turns to choreographic gold. Our favorite Parisian could probably create a YouTube-melting video to the sound of a dripping faucet, if he wanted to.
But Marshall's at his greatest when he turns to the music of the world's biggest divas. You know—the one-name-only crowd. Madonna. Beyoncé. Gaga. BRITNEY.
Which is why you need to watch his latest video immediately. Because it's a Spears special—and not just any Spears special.
We're talking 90s Britney. Maribou pigtails Britney. Pre-JT Britney. "BABY ONE MORE TIME" BRITNEY.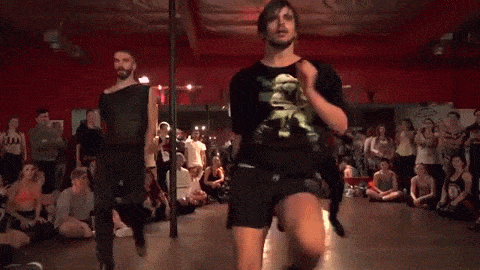 #90sBritneyHotness
Unsurprisingly, it's the best thing on the internet right now. Bonus: The video also reunites Marshall with his "America's Got Talent" boys/longtime partners in crime, Mehdi Mamine and Arnaud Boursain. And there's a special clip of our friend Jade Chynoweth—who, by the way, is almost exactly the same age Britney was when "Baby One More Time" came out—killing the choreo on her own.
Never stop, Yanis. And fellow devoted subjects of the Marshall #queendom—let's just say you're going to enjoy our July/August issue. Don't miss out.
Dance News
May. 31, 2015 07:00AM EST
I'm just gonna go ahead and put this out there: Anyone who thinks to bring Sia and Britney Spears together on the same album is pretty much a genius. Giorgio Moroder, the 75-year-old "father of electronic dance music," will release an album this June that does just that. Entitled Déjà Vu, it will also feature collaborations with Kylie Minogue, Kelis, Charli XCX, Mikky Ekko, Foxes and Matthew Koma.
If you're thinking what we're thinking—so much dance-party potential—you're on the right track (so punny). On Thursday, Moroder released a teaser video called "Déjà Vu (Album Megamix)," and it's pretty much a four-minute-fifty-second explosion of dance.
BAM.
The video features choreography by Megan and Caitlin Kinney and Ade Obayomi, set to a mashup of tracks from the upcoming album. These dancers do THE MOST. Hip hop, contemporary, disco, gymnastics—you can tell they've endured "So You Think You Can Dance" callbacks. Check it out:
BRB. Gonna go incorporate that lift at 1:50 into my next routine.
Dance News
Nov. 01, 2014 06:00PM EST
The final number in "Britney: Piece of Me" (photo by Denise Truscello, courtesy Caesars Entertainment)
In the commercial world, few gigs compare to dancing for pop icon Britney Spears. And Spears' latest project is a dancer's dream: a long-term show at Planet Hollywood Resort and Casino in Las Vegas, NV. Choreographed by Ashley Evans and Antony Ginandjar of The Squared Division, "Britney: Piece of Me" is a full-length revue of Spears' greatest hits and new works. Dancer Sarah Mitchell has performed in "Piece of Me" since the show opened last year. After a three-month break, Mitchell—who's also appeared in the film Burlesque and danced with artists including Katy Perry and 50 Cent—is back in Vegas. She documented her preparation for another stretch of Britney performances for DS.
—Jenny Dalzell
Dancer to Dancer