Hearthrob McHearthrobberson Ed Sheeran has been on a bit of a dance kick recently. A few weeks ago, the charming Brit featured Phillip Chbeeb in the video for his hit song "Don't," with Chbeeb popping and locking his way up the social ladder. Yesterday, Sheeran released another dance-y video, this time for his latest single, "Thinking Out Loud." Brace yourselves, ladies: Turns out he's got some pretty serious moves himself.
Choreographed by Tabitha and Napoleon D'umo (naturally) and co-starring "So You Think You Can Dance" Season 10 alum Brittany Cherry, the vid is swoonily romantic: Sheeran and Cherry waltz and tango and swirl all over a beautiful candlelit ballroom. Things get a little steamy...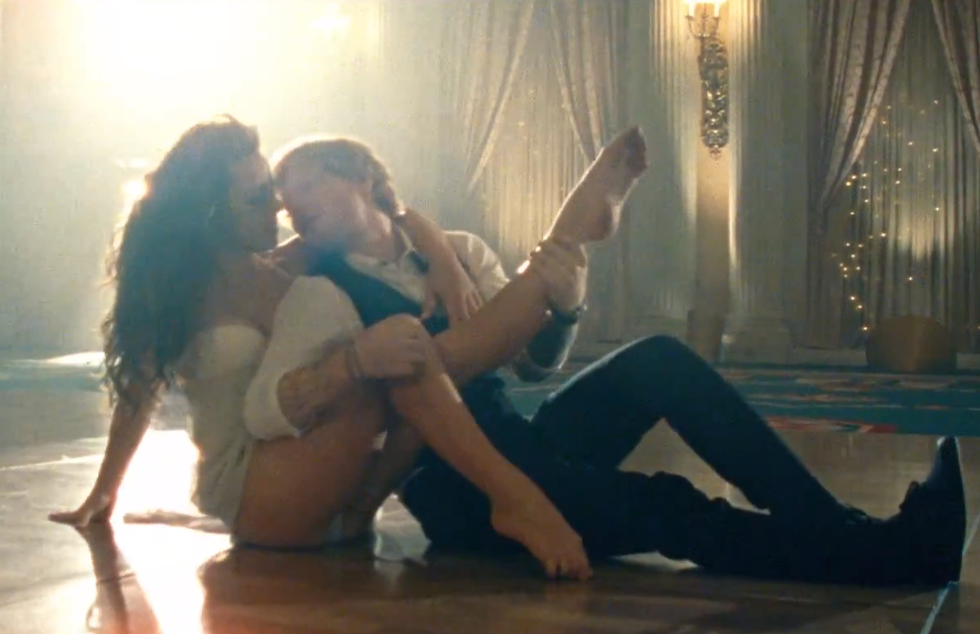 ...and Sheeran has a few chances to show off his impressive partnering skills: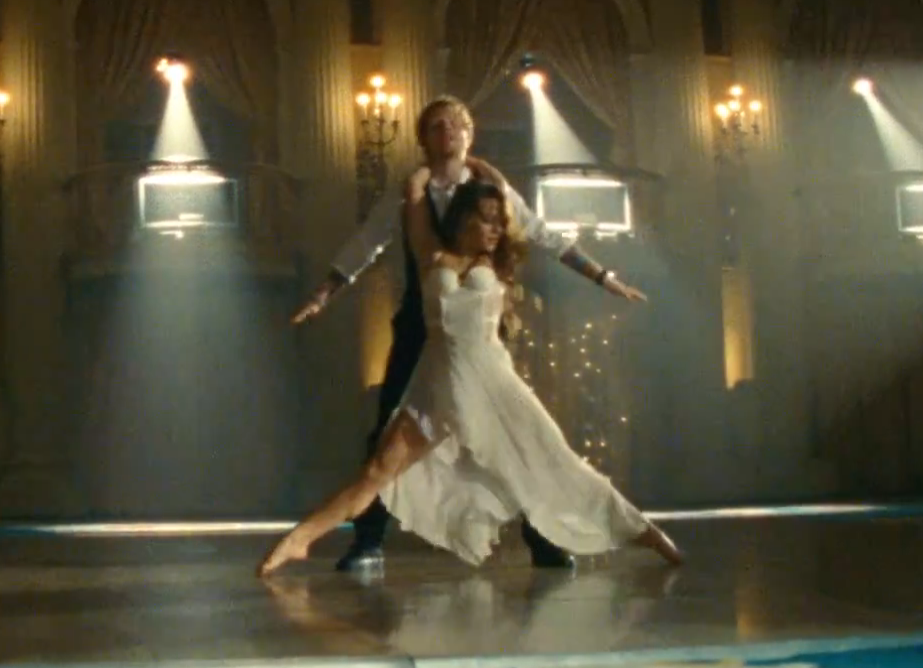 Eat your heart out, "Dancing with the Stars" celebs. And for any doubters out there, NappyTabs took to Twitter to confirm that this video is all Ed, all the time—no body doubles. Enjoy!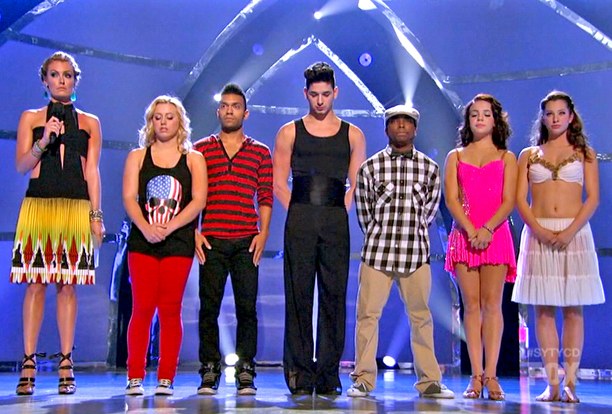 The Bottom 6: Mariah, Carlos, Alan, Jade, Brittany and Makenzie. (FOX/Adam Rose)
"First is the worst, second is the best…" Okay, so the first part of that saying might not be true here (last week's episode was pretty amazing, too), but I'm willing to bet that this second episode with the Top 20 is the best so far this season! There were so many jaw-dropping moments last night (even if we did have to say goodbye to Brittany and Carlos in the first five minutes—what?!), it's going to be tough for me to pick my own Top 5. But seeing as "SYTYCD" is a competition, it seems only right to spotlight the best—and the craziest—of the best…
1. Makenzie's in danger?! Wait, no, she's saved by the judges! This just floored me. After all the critical acclaim Makenzie had racked up in previous weeks, she'd landed squarely in my sights as the girl who was going to kill it technically—and on a regular basis, too. I mean, she practically radiates consistency, right? While it seemed that America didn't initially agree with me, the judges took pity on this utter diva, immediately bailing her out. Thank goodness for that, because the fembot/mad-scientist routine she later danced with Paul promises more mesmerizing performances from her in the future.
2. Speaking of mesmerizing, there must've been something in the water this week at "SYTYCD." Nearly every routine was smolderingly sexy, from Stacey Tookey's sensitive and intimate choreo for Nico and Alexis, to Jenna and Tucker's blazing hot cha-cha. And can we talk about how Curtis grabbed Hayley's derrière for, like, ten years during their aggressive jazz number? Pretty sure that crossed the line from sultry/awesome to just kind of awkward.
3. Guest judge Christina Applegate gets full marks for awesomeness! Mary and Nigel (but especially Mary) can sometimes get a little carried away with the gushing. Of course I agree that "SYTYCD" contestants are out-of-this-world talented. But really, there are only so many ways to say, "Oh my gosh, you're a really good dancer and I love the way you just danced!" Christina brought a breath of fresh air to the judges' panel by humbly offering constructive criticism. While also offering her fair share of compliments, she also suggested paying attention to a song's lyrics (not just to its instrumental elements) and to focus on telling the story of a Broadway piece. I couldn't agree more. Thanks for stopping by, Christina!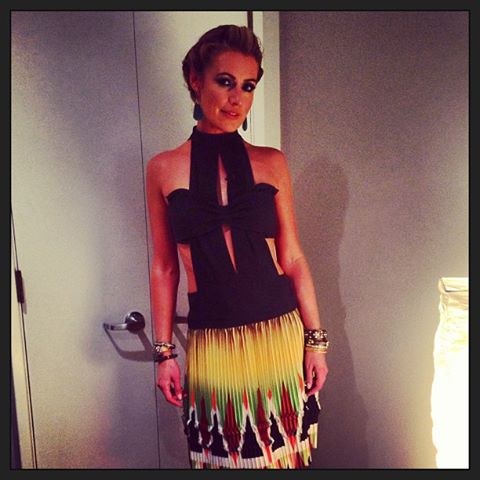 4. A rare fashion miss from Cat Deeley. Please tell me I'm not the only one who thought that quasi-bikini top just didn't work. Maybe I was just disappointed because I love to see Cat in all her super-blonde glory, and her braided chignon this week confined those gorgeous waves. Here's hoping next week's Cat-tire is as chic as usual—and incorporates some form of sparkle!
5. Mariah and Carlos' contemporary routine to Ellie Goulding's "Dead in the Water." For me, this dance represented all that is good in the world of contemporary dance. I'm talking cool lifts, genuine portrayals of emotion, poetic lyrics, and moments that simply take your breath away. In that instant when Mariah sat frozen on Carlos' shoulders, her arms raised helplessly, I'm pretty sure I had a mini contemporary catharsis. (Yes, I just invented that term. But I think you know what I mean.) Adding to the piece's high emotional level was the fact that Carlos had already been eliminated, and Mariah barely escaped elimination herself. Oh, reality TV. Why must you pluck at my heartstrings so?
Yikes! I really didn't mean to end on such a gloomy note. If you now find yourself in need of a smile, I highly recommend Fik-Shun and Amy's adorable bellhop dance. If bouncy Nappytabs hip hop on a luggage cart doesn't cheer you up, I don't know what will.
Don't forget to enter our "SYTYCD" finale sweepstakes contest—you could win a trip to the Season 10 finale!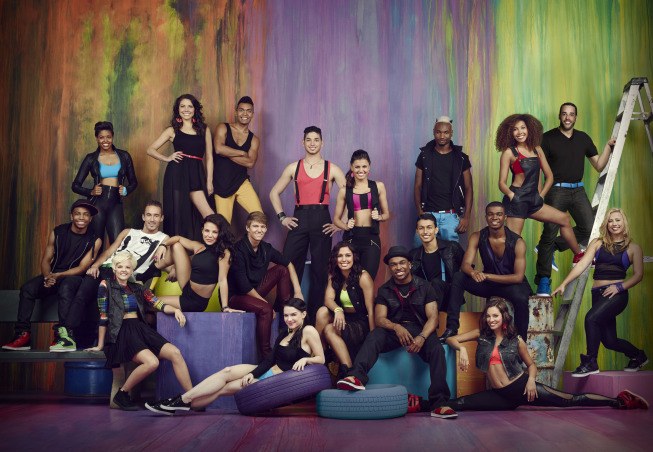 And the Top 20 finalists are: (bottom row L-R) Malece Miller, Amy Yakima, Makenzie Dustman, (middle row L-R) Fik-Shun, Tucker Knox, Brittany Cherry, Nico Greetham, Alexis Juliano, Jade Zuberi, Paul Karmiryan, Curtis Holland, Mariah Spears (top row L-R) Jasmine Harper, Jenna Johnson, Carlos Garland, Alan Bersten, , Hayley Erbert, Bluprint, Jasmine Mason and Aaron Turner (by Mathieu Young/FOX)
I kind of can't believe this week's episode lasted a full two hours: it went so fast! There was so much classic "SYTYCD" drama to focus on, it felt like the episode was over before Mary Murphy could even mention the Hot Tamale Train. Along with plenty of nail-biting moments as the Top 20 were chosen, Cat Deeley kept reminding the audience that there'd be a total of ten (!!!) performances squeezed in between footage of anxious would-be Top 20-ers facing the judges. Yet among all this craziness, a few moments still managed to really stand out from the rest:
1. Aaron Turner made it into the Top 20 at the last minute! Aaron had gotten cut at this very point last season, and we all thought that history would repeat itself in Season 10 as the judges told Aaron he was going home. But lo and behold, Emilio Dosal's unexpected injury freed up a spot for Aaron! You can't really get excited about such a turn of events, but points to Aaron for his amazing performance in Anthony Morigerato's tap routine last night—way to prove that you deserve to be on the show.
2. Tucker Knox is in! Yay! Call me cynical, but it seems like everybody on reality TV has to have a tragic sob story—and the (arguably excessive) on-camera waterworks to go with it. But Tucker's history really grabbed me. (After a serious car accident, his ability to walk, let alone dance, was in grave danger.) Tonight, Tucker cried tears of joy after dancing the Stacey Tookey routine, left almost inarticulate by how his life has changed since the accident. But I still can't decide if Mary Murphy totally ruined the genuinely emotional moment when she cooed, "You're just overwhelmed, aren't you?" Awkward.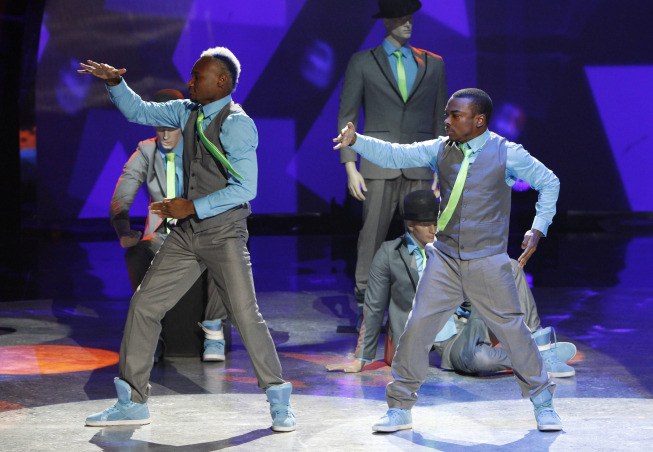 (L-R) BluPrint and Jade Zuberi: the biggest things in animation since Cyrus (by Adam Rose/FOX)
3. Against the odds, both Jade Zuberi and Dorian "Bluprint" Hector made the Top 20. The "SYTYCD" producers were totally messing with our minds here: the decision came after dramatic footage was shown of Jade's struggles with partnering, tWitch repeatedly told Bluprint to "come back and see us again" and Cat wondered out loud several times whether there was a spot in the Top 20 for an animator. Who would've known that both animators would make it through? I know I'll be on the edge of my seat for the rest of the season where these two are concerned. Will Jade and Bluprint become a dream team or bitter rivals? Or will they just crash and burn under the pressure of having to perform new styles?
4. Did anyone else notice that Amy Yakima and Jasmine Mason had Sonya Tayeh-style topknots for their victory performance (which, um, Sonya Tayeh choreographed)? I certainly hope that was a conscious choice, or it would just be too funny a coincidence. Mary called them "princess warriors," but I thought they looked more like Amazons from outer space—in the fiercest way possible, of course.
5. Christopher Scott's sand routine for the top 10 guys. This was just so cool that I almost wish it had been the episode's final number. It seemed like choreographer Scott got really excited about carrying out the concept of the piece, which he described as man "manipulating the earth." With epic music and stunning visuals (strong, tough-guy hip-hop danced while sand floated through the air), this number made me think of Cirque du Soleil. Even Nigel was blown away (sorry, I couldn't resist the pun). He raved, "When I die, I would like you to dance with my ashes like that." Um, whatever you say!
Since you've got a whole week to kill before another thrilling episode airs, why don't you enter our "SYTYCD" sweepstakes? You could win a trip to see the Season 10 finale live and in person!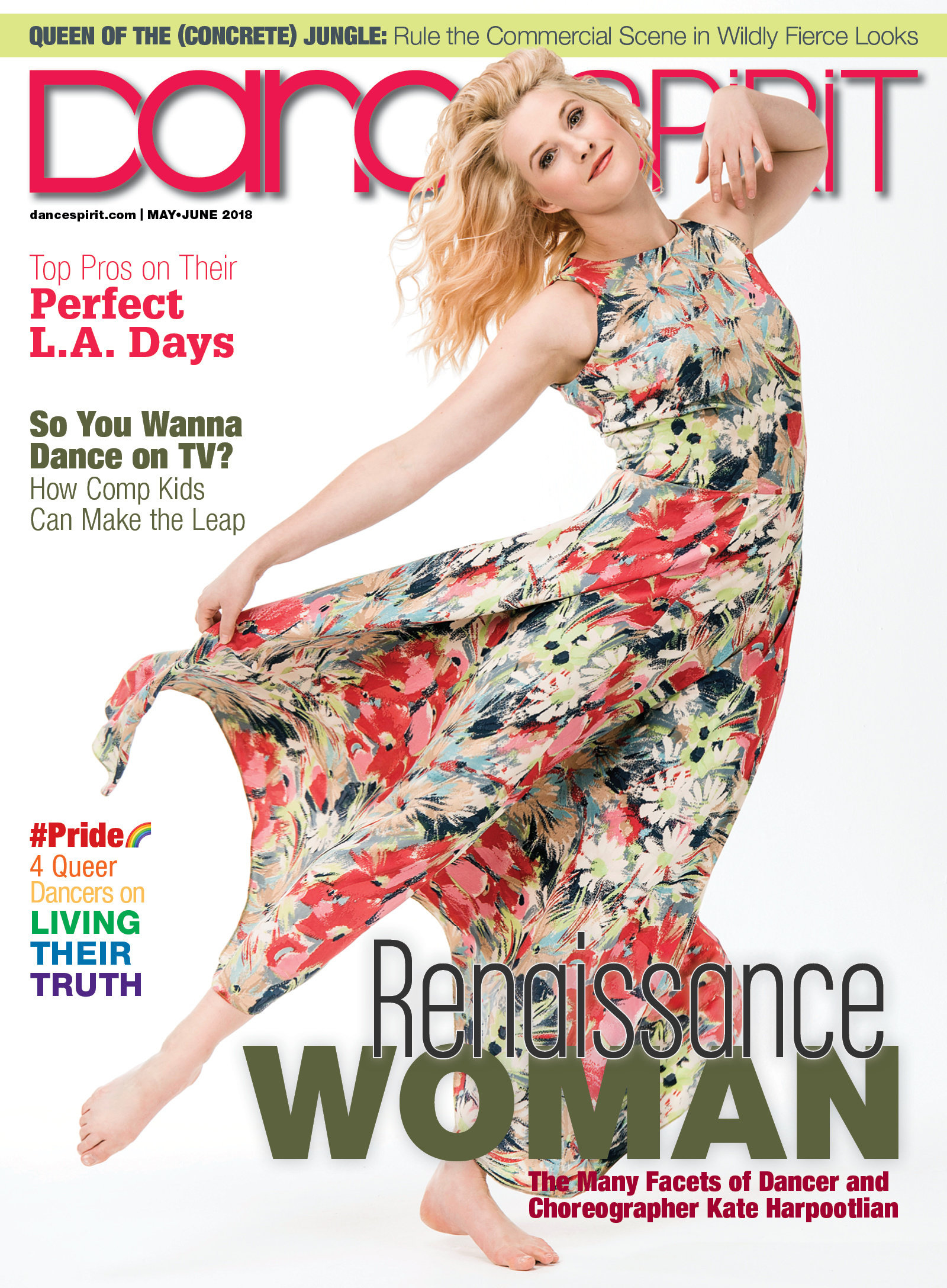 Get Dance Spirit in your inbox