Oct. 05, 2017 10:08AM EST
NYCB's Georgina Pazcoguin and Amar Ramasar in Robbins' West Side Story Suite (photo by Paul Kolnik)
Jerome Robbins—the legendary choreographer who changed the way the world thought about both Broadway and ballet—would have been 100 years old next year. That's the kind of anniversary that calls for a great party. And New York City Ballet, one of Robbins' homes, definitely knows how to throw great parties.
NYCB will actually be honoring Robbins for three whole weeks during its 2018 spring season, dancing 19 different Robbins ballets. But the centerpiece of the celebration, the company just announced, will be a new work staged by Tony Award winner/all-around Broadway rockstar Warren Carlyle, who'll assemble extracts from eight (!) of Robbins' most famous musicals.
Dance News
Apr. 18, 2017 10:44AM EST
Mar. 23, 2017 06:45AM EST
Plus, the gala dinner setup was gorgeous! (photo via NYCB)
For ballet nerds like me, there are few things more exciting than watching young dancers develop into beautiful, authoritative artists. Last night, New York City Ballet's spring gala opened with a work that let some of my favorite rising stars prove just how much they've grown up.
That'd be Christopher Wheeldon's Soirée Musicale, an alternately elegant and playful little ballet that gives nearly every cast member a moment in the spotlight. And what a cast it was!
We got Brittany Pollack, Lauren Lovette, Taylor Stanley and Chase Finlay, recently-promoted dancers I've followed since their apprenticeships. And then there were the newbies I've just begun to pick out of the corps: Sara Adams, Harrison Ball, Indiana Woodward and Peter Walker.  Nearly all of them are under the age of 25—many have only been in the company for a year or two—but they danced with the confidence of seasoned pros. A special highlight came toward the end: a poignant, romantic pas de deux for Lauren and Chase that signaled what might be the beginning of a beautiful partnership.
The gala was packed with many other fun treats too, of course. There was a second premiere by Wheeldon, a pas de deux in homage to Jerome Robbins' West Side Story danced by the sublime Tiler Peck and Robert Fairchild. There was the exhilarating nonstop acceleration of the final section of Robbins' Glass Pieces, featuring what seemed like the entire company. Queen Latifah stopped by to serenade Sterling Hyltin and Amar Ramasar as they glided through Balanchine's "The Man I Love" pas de deux from Who Cares?. And Ashley Bouder and Andrew Veyette had a jaw-dropping "anything you can do, I can do better" competition in the cheeky Stars and Stripes pas de deux.
But it was those young, newly-minted stars that stuck with me as I left Lincoln Center last night. In a gala that was all about high-wattage brilliance, they shone brightest.
Mar. 23, 2017 06:24AM EST
Congratulations to the gaggle of New York City Ballet dancers who were just promoted! No fewer than 11 of the company's finest are feeling pretty great today. Here's the rundown:
Adrian Danchig-Waring, Chase Finlay and Ask la Cour are now principals.
Lauren King, Ashley Laracey, Megan Lecrone, Lauren Lovette, Justin Peck, Brittany Pollack, Georgina Pazcoguin and Taylor Stanley are now soloists.
We're just about bursting with happiness for all of these lovelies—I mean, the list is basically a rundown of our NYCB faves. But we're especially glad for Miss Lauren Lovette and Mr. Taylor Stanley, our September 2010 cover stars, who we've been rooting for from the very beginning.
Just look how young and adorable they were at their cover shoot! And now they're all growed up. We feel like proud parents. *sniff*
(All photos by Erin Baiano)
[portfolio_slideshow nowrap=0 thumbs=true timeout=4000 showtitles=true showcaps=true showdesc=true]
Sep. 21, 2014 07:15AM EST
Oh my gosh, ladies. Wedding dresses. Pointe shoes. WEDDING DRESSES AND POINTE SHOES. I think I just lost my mind.
This summer was huge for NYC dancer brides. You already know about Tiler Peck's wedding to fellow New York City Ballet principal Robbie Fairchild. But they weren't the only happy couple. NYCB soloist Ashley Laracey tied the knot with dancer and choreographer Troy Schumacher, and Brittany Pollack, also a City Ballet soloist, said "I do" to former NYCB principal Jonathan Stafford.
Across Lincoln Center Plaza, six—count 'em, 6!—American Ballet Theatre gals were engaged as of this spring, and five have since gotten married. To celebrate the marriage mania, Brides magazine dressed them up in one-of-a-kind wedding dresses for its October/November issue.
The opening spread in Brides
Print photo by Alexei Hay
In Brides, ABT principal Isabella Boylston modeled a dress by Elizabeth Stuart. It's strikingly similar to the first gorgeous gown, designed by Cushie et Ochs, she wore at her wedding this July. (She wore a different dress later, because, of course.)
(Left) Boylston in Brides, photo by Alexei Hay; (right) photo via Instagram
Former corps member Nicola Curry (she plans to join Australian Ballet) got to play in an ethereal gown designed by Mira Zwillinger. It's not exactly similar to the dress she wore in real life—but one look at her Instagram feed makes it clear her wedding day was totally dreamlike.
(left) Curry in Brides, photo by Alexei Hay; (right) photo via Instagram
And here's Brittany DeGrofft's get-up by David Fieldon Sposa in Brides. DeGrofft is a super-new newlywed—she and fellow corps member Patrick Ogle got hitched on Tuesday! Congrats, lovebirds!
(left) DeGrofft in Brides, photo by Alexei Hay; (right) via Instagram
Before you start adding these photos to your wedding-inspiration Pinterest board (it's never too early to start!), take a look at the ultra-gorgeous behind-the-scenes video of the Brides photo shoot:
Apr. 23, 2013 11:03AM EST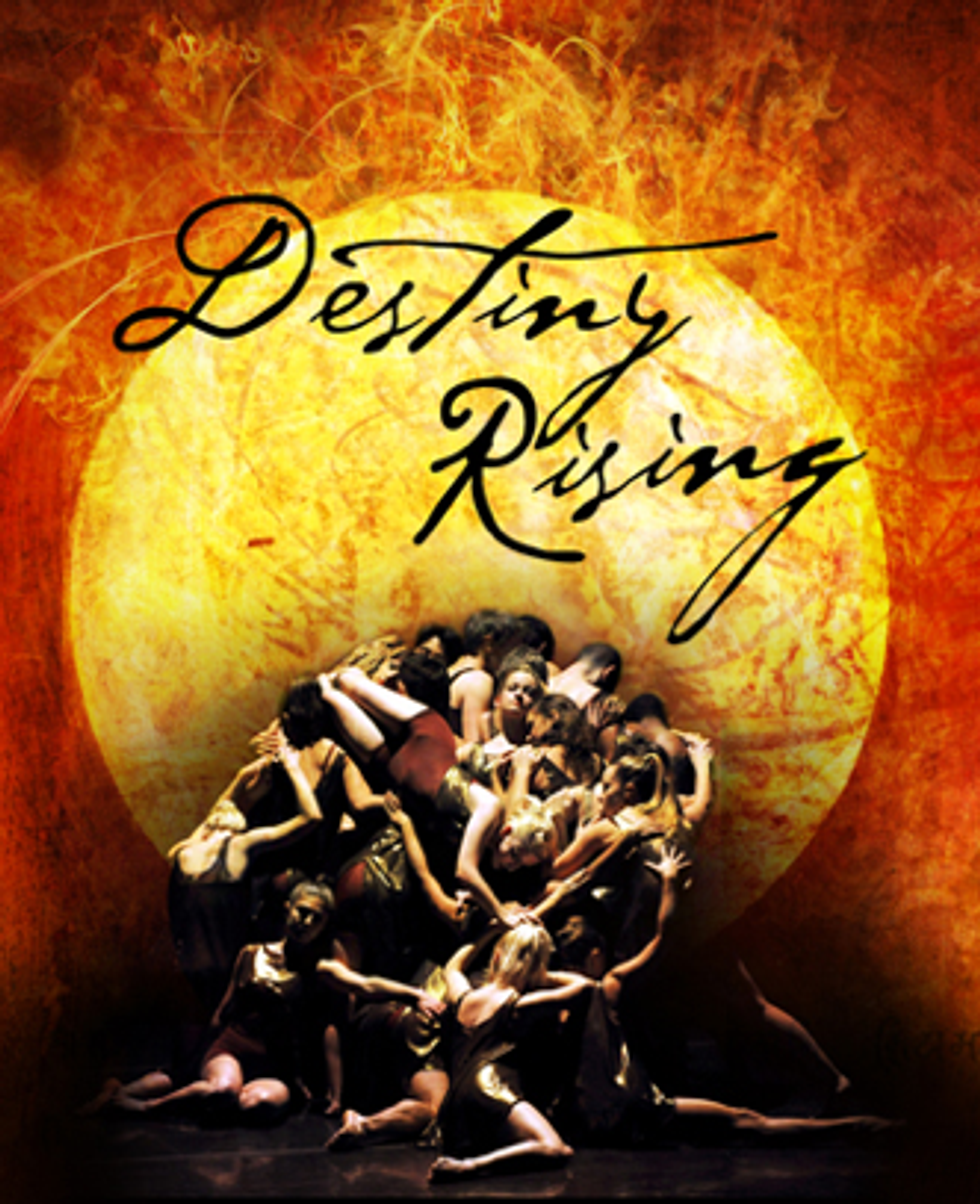 The annual Destiny Rising gala benefits the awesome New York City Dance Alliance Foundation, which is dedicated to helping young dancers fund their college educations. So how fitting is it that at last night's Destiny Rising performance, it was a college dance company that stole the show?
That would be the Conservatory Dance Company of Point Park University, which performed Garfield Lemonius' Memoirs. I have this terrible stereotype in my head of college dance groups doing sedate, solemn, stuffy pieces, but Memoirs allowed Point Park's beautiful dancers to show us the full range of their talents. Clad in flowing red dresses, the company's guys and girls tore through the intricate, emotionally wrenching choreography.
The best part? The cast included two of our favorite NYCDA alums, Kali Grinder and Victoria McWilliams, both recipients of NYCDA Foundation scholarships. And they were in top form. It looks like college has allowed them to both grow as dancers and mature as artists—and that's what the college dance experience is all about, Charlie Brown.
That's not to mention all of the evening's other fun performances. For the bunheads, there was the ABT Studio Company's exceptional Catherine Hurlin and Oliver Oguma in the kicky Flames of Paris pas de deux, followed by New York City Ballet's Brittany Pollack and Jonathan Stafford (real-life couple alert!) in the White Swan pas. For the contemporary buffs, there was Cedar Lake standout Jon Bond's lush The Devil Was Me, featuring several other CL dancers (including our baby-who's-all-grown-up-now, Ida Saki). And for everyone, there was Grace Buckley's gleeful Sing, Sing, Sing, starring the likes of Amber Jackson, Corey Snide, Ryan Steele and Jakob Karr. They dared us to stop smiling. I couldn't.
Want to find out more about the NYCDA Foundation and how you can apply for scholarships? Take a look at the organization's website.
Get Dance Spirit in your inbox