The Broadway cast of Hamilton (Joan Marcus, courtesy Sam Rudy PR)
Today, January 11, is #AlexanderHamiltonDay: A very happy 264th birthday to Alexander Hamilton! Thanks to this most unlikely of Founding Fathers—a brilliant and ballsy orphaned immigrant who dramatically rose, then fell, then rose again—we have possibly the most successful musical of all time. We also, of course, got priceless GIFs such as this one: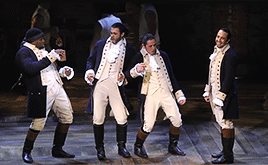 *When your crush walks over and you're trying to act natural but your friends are all like*
Aaaaaaaaaaanyway, while we can't get you "in the room where it happens" with tickets to the show's current Broadway, touring, or Puerto Rico productions—the last of which opens tonight!—we CAN offer up some fun ways to fête A.Ham's day of birth. Just you wait:

Keep reading...
Show less
The iconic 1990s musical Rent is the latest Broadway show to get the live treatment. Airing January 27, the star-studded cast includes Vanessa Hudgens as Maureen Johnson, Jordan Fisher as Mark Cohen, Tinashe as Mimi Marquez, and "RuPaul's Drag Race" contestant Valentina as Angel. Keala Settle of The Greatest Showman will also make an appearance to sing "Seasons of Love," and Sonya Tayeh will provide brand-new choreography. We caught up with ensemble dancer Khori Petinaud to get the inside scoop on the movement—and why fans of the original will be super-satisfied with this version.
Keep reading...
Show less
Broadway vet Cameron Adams, dancing Warren Carlyle's choreo from "She Loves Me" (screenshot via YouTube)
Okay, y'all: It's time to call it like it is. You've now been home from school for several days. You've spent some QT with the fam, gorged on all of the holiday goodies, and are finally starting to get just the sliiiiiiiiiightest bit tired of staring into space doing *~nothing~*. You've entered the little-understood (but super-prevalent) state called Winter Break Boredom. This calls for a boredom buster—and boy, do we have a great one for you.
Keep reading...
Show less
Josefina Scaglione as Maria (with Jeremy Jordan as Tony) in the 2008 Broadway revival of "West Side Story" (via @thelightsonbroadway on Instagram)
Every scrap of news coming from the highly-anticipated West Side Story remake has been nothing short of thrilling, tbh. First, there was the open casting call here in NYC for dancers to play the Jets and Sharks. Next, we heard the unsurprising-yet-awesome news that Justin Peck will choreograph the new movie. Now, there's possibly the most exciting news flash yet: You (yes, YOU) could play the star-making role of Maria opposite the dreamy Ansel Elgort as Tony!
Keep reading...
Show less
Nia Sioux and her co-star from North Carolina Theatre's production of Aladdin and His Winter Wish (courtesy North Carolina Theatre)
Nia Sioux has been entertaining audiences with her fab dance skills since 2011, when "Dance Moms" first aired. Now, two music videos and an acting gig (on the daytime TV series "The Bold and the Beautiful"), later Sioux is proving that she's more than just a triple threat—she's a star. And last week when Sioux debuted in North Carolina Theatre's production of Aladdin and His Winter Wish, she was every bit that star. Sioux opened up to Dance Spirit about her transition from comp kid to a triple threat and offered advice for young dancers hoping to follow in her footsteps.
Keep reading...
Show less
Eliza Ohman (photo by High 5 Games, courtesy Ohman)
Broadway baby Eliza Ohman began her dance training in Denver, CO, and at age 15 was chosen to join Robert L. Reed's tap company, the St. Louis Hoofers Club. After touring nationally with the Hoofers Club, she moved to NYC and attended The King's College, graduating with a bachelor of arts in media, culture, and the arts. She's been a swing and co-dance captain in Hamilton and has performed in the Radio City Christmas Spectacular, on "Saturday Night Live" and "America's Got Talent," and in Carly Rae Jepsen's "I Really Like You" music video. Catch her on the Great White Way this month in the newly opened King Kong—and read on for The Dirt! —Courtney Bowers
Keep reading...
Show less
Dancer Nina Lafarga (center, left) and Caissie Levy (center) as Elsa in Frozen (photo by Deen Van Meer, courtesy Disney)
Just like its namesake movie, the Broadway version of Frozen has warmed audiences' hearts. And the show's elaborate costumes, designed by Christopher Oram, are as crucial to its appeal as its addictive tunes and elegant dancing. The ensemble wardrobe closet features everything from blizzard-worthy winter wear to stunning ball gowns to the troll-like gear worn by the Hidden Folk of the Mountains. So who's responsible for keeping all those outfits in tip-top shape? And what's it really like to wear six different costumes a night? We followed Frozen's wardrobe supervisor Jessica Dermody, dancer Nina Lafarga, and dresser Katrina Newman around backstage as they prepared for a performance.
Keep reading...
Show less
(From left) Caitlin Kinnunen, who plays Emma, and Isabelle McCalla, who plays Alyssa Greene (photo by Natasha Razina, courtesy Polk & Company)
Casey Nicholaw, one of the masterminds behind last spring's Mean Girls, is bringing yet another upbeat musical set in a high school to Broadway—but this one tells a drastically different story. Choreographed and directed by Nicholaw, The Prom follows the experience of a lesbian couple in Edgewater, IN, who are barred from going to prom together. After reading about the girls' plight, four (fictional) Broadway stars descend on the small town to help—and exuberantly dancy chaos ensues. Dance Spirit caught up with dancer Isabelle McCalla, who stars as Alyssa Greene (one half of the central couple), for the inside scoop.
Keep reading...
Show less
Ellenore Scott posing in shoes from the latest Marc Fisher fashion campaign that she choreographed (courtesy Marc Fisher LTD)
It's the most wonderful time of year for fashion and fierce fall fashion/dance collabs are all over the place. But we had to pick our jaws up off of the floor after watching the new dancetastic Marc Fisher LTD footwear commercials. The shoe brand created one of the most compelling ads we've seen thanks to the fancy footwork of six dancers and the choreography of "So You Think You Can Dance" alum Ellenore Scott. We talked with the multi-talented artist to find out how choreographing for a fashion commercial compares to creating routines for live shows on Broadway, like King Kong (which opens Nov. 8th). Check out our interview where Scott shares tips on what you can do to also become a choreographer in the biz one day.
Keep reading...
Show less
Get Dance Spirit in your inbox
Popular
Aug. 10, 2018 12:06PM EST
Screenshot (courtesy Disney Channel)
What's better then a Disney movie remake? The answer: A Disney movie remake in the form of a musical! Disney Channel's giving the 2003 hit comedy "Freaky Friday" a reboot with all the singing and dancing your heart could ever desire. But choreographing the remake of a classic Disney-movie-turned-TV-musical is no joke, which is why two-time Tony nominee John Carrafa was the perfect man for the job. Known for incorporating real life, everyday movement into his dances, Carrafa brings magic into even the most mundane of movements. From having dancers "slice oranges to the rhythm of the music" to using energetic athleticism, Carrafa's choreography is bound to bring an exciting new spin to this tale.
Keep reading...
Show less
Welcome to the fourth annual Jazz Hand Awards—aka "the Jazzies"—where we rate the danciest new shows shining on Broadway.
Keep reading...
Show less
With musicals like Hairspray, Grease, Peter Pan, and The Wiz earning prime-time spots on big networks, complete with celebrity-studded casts and flashy new choreography, there's no question that live TV musicals are here to stay. But what's it actually like to perform in one? We followed dancer Conor Ryan during the rehearsal process for Jesus Christ Superstar, which aired on NBC on Easter Sunday, to get the inside scoop. The show, starring John Legend and Sara Bareilles, with choreography by Camille A. Brown, got lots of buzzy reviews. —Courtney Bowers
Keep reading...
Show less
Photo by James Jin, courtesy Jin
Jess LeProtto's fiery energy and jaw-dropping jumps and turns have earned him a place in the Great White Way spotlight. LeProtto started singing and dancing at age 5, and performed in the Radio City Christmas Spectacular in Nashville, TN, as a kid. He made his Broadway debut in The Boy From Oz in 2003, followed by stints in Dr. Seuss' How the Grinch Stole Christmas! and Bye Bye Birdie. In 2011, he made it to the Top 8 on "So You Think You Can Dance." It was his role in the original cast of Newsies in 2012, though, that truly solidified his trusted-veteran status. Since then, he's performed in On the Town, CATS, and Hello, Dolly! Currently, LeProtto dances in the Broadway revival of Carousel, which opened earlier this year. Read on for The Dirt.
Keep reading...
Show less
The Phantom cast in Masquerade (photo by Alastair Muir, courtesy Broadway Booking Office)
The North American tour production of The Phantom of the Opera is massive, with a large cast and a fabulously elaborate set (including that famous chandelier). How do all those moving parts get from city to city, giving audiences across the country the same spectacular show? Unsurprisingly, cast and crew alike have their travel routines down to exact sciences. We talked to Emily Ramirez, a former professional ballet dancer who stars as Meg Giry, and to production stage manager Heather Chockley about how Phantom hits the road.
Keep reading...
Show less
Screenshot via YouTube
It's America's birthday week, which means gold sparklers, family BBQs, and festive parades are just around the corner. But what happens when our enthusiasm for red, white, and blue moves from the backyard to the stage? Like a firework, sparks fly! See for yourself with these three patriotic dance classics.
Keep reading...
Show less