*Updated with L.A. audition date!*

Did you do a happy dance when you heard that "So You Think You Can Dance" had been renewed, hoping that Season 15 would be your chance to shine on the small screen? Well, the first step on every "SYT" dancer's journey is the audition. Here are all the ways you can get your best moves in front of the judging panel.
Keep reading...
Show less
I'll admit it: I'm addicted to the radio show "This American Life." I've listened to almost every one of its hour-long episodes (that's a little under 530 hours of my life); I've read countless books written by its contributors; I've watched its short-lived TV series on Showtime; and I've attended live events related to the show. I literally can't get enough.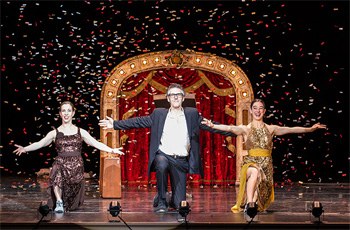 (L to R) Anna Bass, Ira Glass and Monica Bill Barnes in Three Acts, Two Dancers, One Radio Host.
(photo David Bazemore)
And much to my delight, the show has been getting even more satisfying in recent years—"TAL" is getting its dance on.
Back in 2012, host Ira Glass teamed up with downtown choreographer Monica Bill Barnes. She performed on a live episode of the show (which was then broadcast on air), and she choreographed one of the most touching dance-with-text works I've ever seen for the late author David Rakoff. (Grab a tissue before you press play.) Glass and Barnes have been collaborating ever since; the two are currently touring a stage show called Three Acts, Two Dancers, One Radio Host.
Fast-forward to 2014, and "TAL" decided to try something completely new. On June 7, the radio show took to the Brooklyn Academy of Music stage to perform a live show, complete with dance, opera, musical theater and vocal performances. Spoiler alert: The musical section was AMAZING. With help from Broadway choreographer Lorin Latarro, In the Heights' Tony winning lyricist and performer Lin-Manuel Miranda and Wicked star Lindsay Mendez, the "TAL" 2012 radio piece "21 Chump Street" came to life as a full-fledged musical theater extravaganza.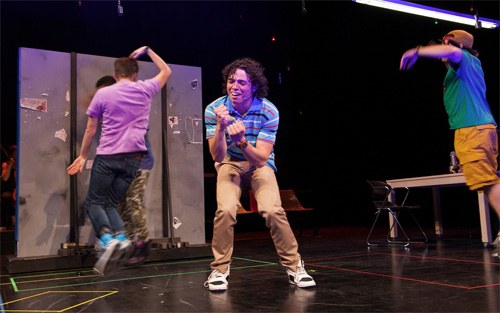 Anthony Ramos (center) and the cast of 21 Chump Street: The Musical
(photo Adrianne Mathiowetz)
21 Chump Street: The Musical follows a Florida-based high school honors student who gets into trouble with the law after he falls for an undercover cop (posing as a kid), who was stationed at the school to catch students selling drugs. You just gotta watch it. Take a look at the beginning of the musical section below:
Loving what you see? Click here to find out how to watch the full version of the performance, or click here to simply stream the radio-version online.
For the last 26 years, Brooklyn-based White Wave Dance has been quietly building a solid reputation and extensive repertoire. And though the company often gets overshadowed by its more well-known neighbors—like Gallim Dance and Mark Morris Dance Group—the troupe just had a big coming-out party last week.
From June 19-22, White Wave presented its first show at the Brooklyn Academy of Music: a 70-minute, evening-length work titled Eternal NOW. Choreographed by the company's founder and artistic director Young Soon Kim, the piece was highly athletic, and included the use of props, video projection and gorgeous costumes. Eternal Now ended on a choreographic high-note, featuring a dancer trapped inside a ring of indifferent newspaper-readers. The contrast between the lightness of the floating paper and the grounded quality of the dancing was quite beautiful.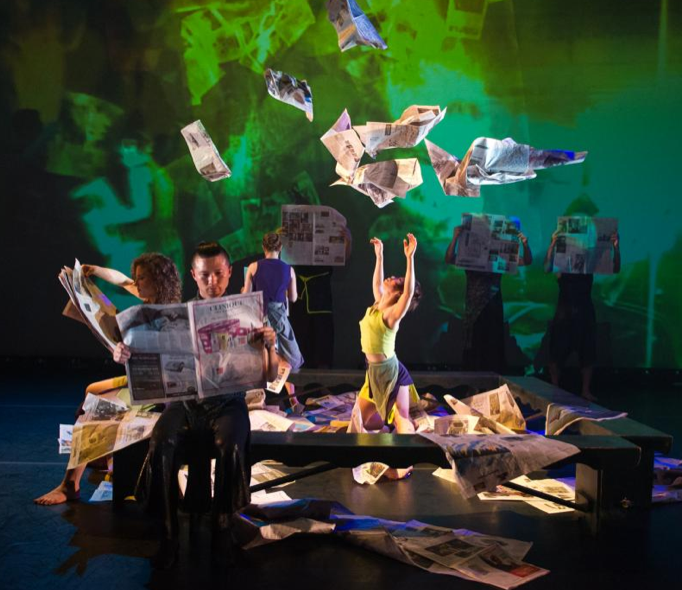 photo Paula Lobo
One thing you need to know about the company? The dancers are FIERCE: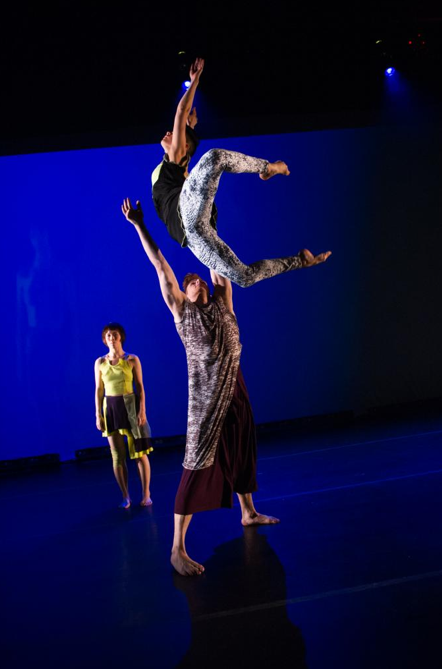 photo Paula Lobo
See what we mean? Oh, and there's this shot, too: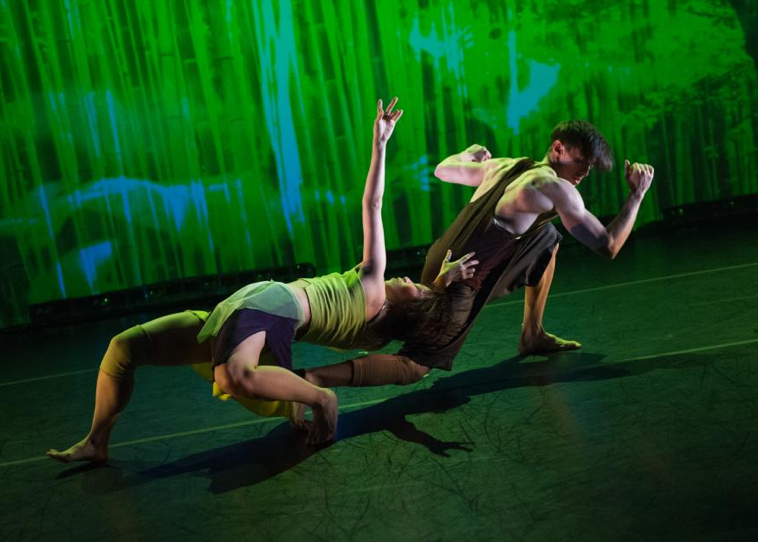 photo Paula Lobo
White Wave also offers several festivals and artist-in-residence opportunities—awesome news for budding choreographers in the NYC area. Click here to learn more about the various opportunities the company offers.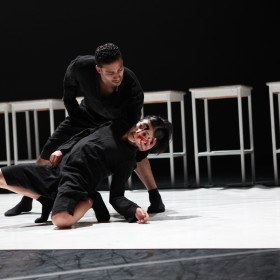 Alexander Ekman's "Hubbub." Photo by Julieta Cervantes
Allow me to indulge in a #humblebrag: I feel so incredibly lucky to live in NYC with access to so much amazing dance! I'm seeing Cedar Lake Contemporary Ballet TONIGHT, and I can't wait.
We're united in our obsession with this mind-blowing company—you probably saw them on our February 2014 cover! (If you haven't had a chance to see Cedar Lake on one of their tours, you can still catch them in Durham, NC, July 5-6 at the American Dance Festival.)
I first saw Cedar Lake perform way back in October, 2010 and it rendered me speechless. It's not an exaggeration to say that my world shifted a little bit. I have extremely high expectations for tonight.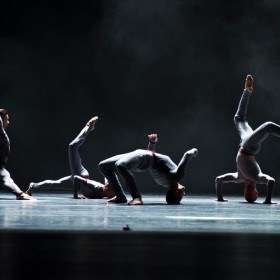 Andonis Foniadakis' "Horizons." Photo by Paula Lobo
In case you need more Cedar Lake in your life (I know you do), the Brooklyn Academy of Music made these awesome videos showing excerpts from each of the dances in their program. The excerpts are too short, but they give you a sense of the thoughtful structure of the program—an important decision, considering Cedar Lake's diverse repertoire.
If that's not enough for you (it's never enough) check out these other Cedar Lake links that BAM has rounded up for your viewing pleasure.
Nov. 14, 2012 10:59AM EST
Are you sick of Gangnam Style yet? Yes? Us too. But Trey McIntyre Project might revive your dying love for South Korean phenomenon Psy's internets-dominating song. Let's just say TMP's take on Gangnam Style isn't your run-of-the-mill invisible horse dance.
The backstory: For the past year, TMP has been working with DanceMotion USA, a program that allies the State Department with the Brooklyn Academy of Music. Through DanceMotion, TMP toured Vietnam, China, the Philippines and South Korea. TMP also collaborated with Korea National Contemporary Dance Company, and ultimately McIntyre created a piece with three dancers from the Seoul-based troupe. It premieres tonight, actually, at BAM.
OK, so: The TMP dancers wanted to figure out a creative way to welcome the three South Koreans when they arrived in the US a few weeks ago. And what better way than with an airport flash mob version of "Gangnam Style"?
Hilarity and awesomeness ensued—and, luckily for us, the whole thing was captured on video. Check it out!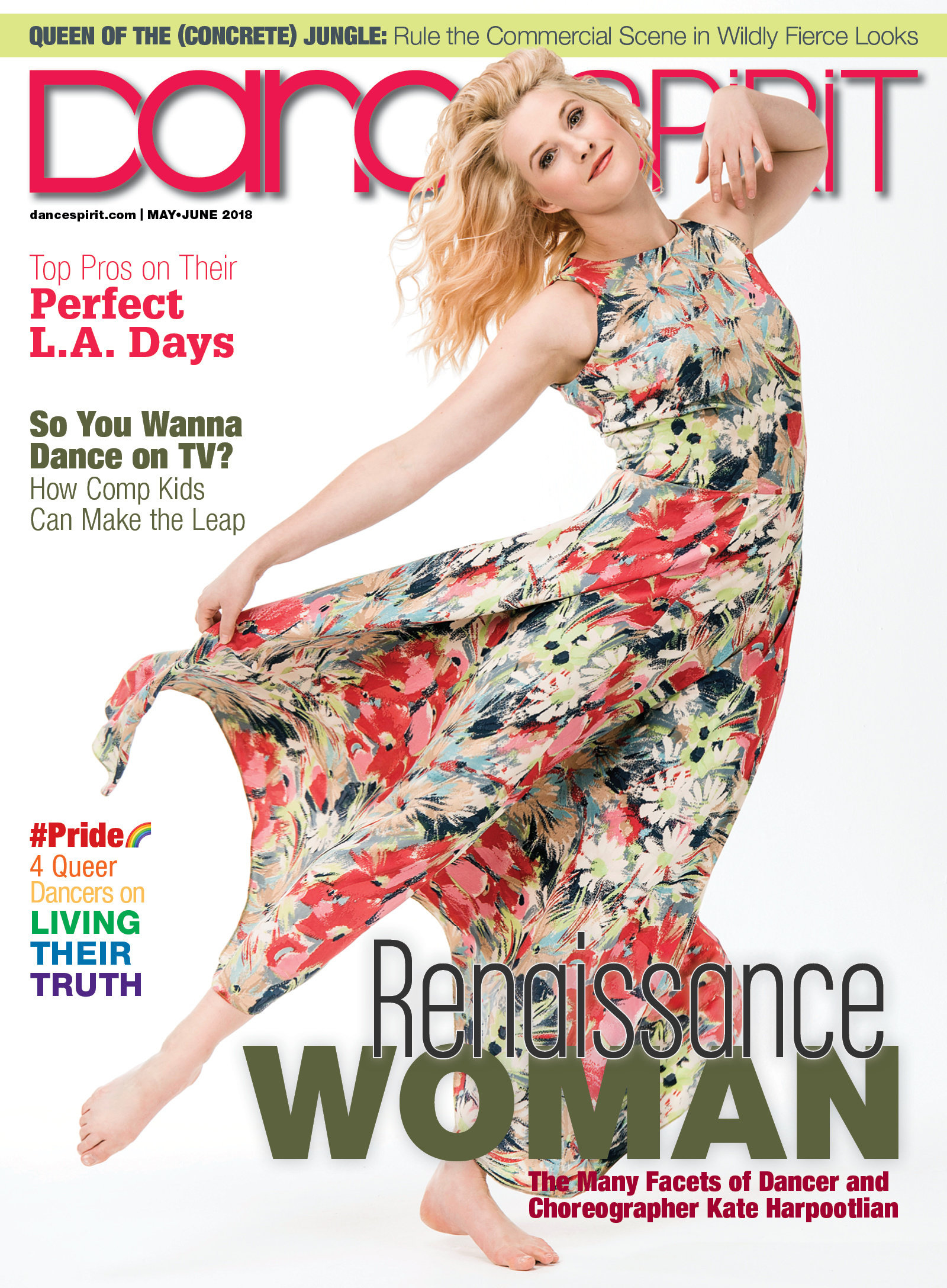 Get Dance Spirit in your inbox