Ysabelle Capitulé (left) performing in Bruno Mars' "Finesse" video (via YouTube)
When you ask successful commercial dancers why they started dancing, you tend to hear similar stories: Their 5-year-old selves turned on MTV and obsessed over "Thriller" and "Vogue," and they ended up dancing for hours in the living room, mimicking the iconic choreography and falling in love. Music videos were so many dancers' first inspirations.
But what's it really like to dance in a music video? Ysabelle Capitulé, who was featured in Bruno Mars' retro-chic "Finesse" vid, shares her experience fulfilling those living-room dreams.
Keep reading...
Show less
Put Bruno Mars in front of a camera. Turn on "That's What I Like." Let him dance his talented little feet off. Add a bit of creative animation.
Watch the view count explode.
BOOM.
Keep reading...
Show less
Imagine your ideal dance party. It probably features infectious tunes, an amazing crew and plenty of space to let loose. In fact, it might be safe to say that your ideal dance party looks exactly like this new class video from Will "Willdabeast" Adams.
Shot by Kenny Washington and choreographed to Bruno Mars' "24k Magic," this video is the definition of "good vibes only." It also happens to feature tons of dancers we're totally obsessed with, including Baily Sok, Janelle Ginestra, Sean Lew, Jade Chynoweth, Trinity Inay and Kaycee Rice. 
Can we just take a second to talk about how Ginestra is SLAYING this choreo? She even dressed the dorky, old-school part, in mismatched shoe laces and what appears to be a vintage tennis shirt. Aside from that, her feet move so fast that she looks sped up. But we know Ginestra's performance is 100% real.
Dear Chris Martin,
Hello. It's me. Beyoncé.
I have this discomfiting sense that things are...awkward between us. And since I didn't want to disturb you last night after the Super Bowl—I heard a series of snuffles and moans coming from your dressing room, and assumed you were caring for a sick pet or nursing some sort of terrible rapid-onset head cold—I thought I'd write you an apology.
I'm sorry I completely dominated your halftime show.
I'm sorry my "guest appearance" made your headline act look a bit like a 6-year-old's birthday party.
I'm sorry you ended up being a third wheel on what was supposed to be your night.
But you had to know this was coming, didn't you?
Surely you understood, when I was announced as a halftime show guest, that there is no such thing as a "guest" act by Beyoncé? That wherever I appear, I am immediately recognized by all present as the Supreme Being? (See: my recent turn on "Lip Sync Battle," in which, with approximately three hair flips, I reduced Channing Tatum—a far more formidable rival than you, if we're being honest, which I always am—to dust.)
You must have guessed, when I dropped my genius "Formation" video one day before the Super Bowl, that some serious mischief was afoot? Didn't you gaze upon the vid's inspired choreography (shout-out to the brilliant Dana Foglia, JaQuel Knight and Chris Grant) and think, "Wow, those 'Formation' formations sure would look great on a giant football field! They'd basically turn Beyoncé into the captain of the most epic dance team that ever was!"?
And so they did.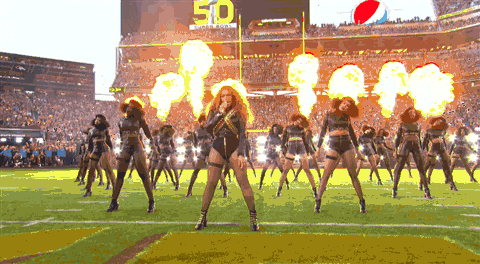 I shouldn't take all the credit, though. Again, complete honesty is my policy, and therefore I have to thank Bruno Mars for his valiant, albeit unsuccessful, attempt to defeat me in our halftime dance battle. What an adorable little man he is! What a wonderful viral moment that made! His Run DMC-style chain necklace sparkled with at least half the brilliance of my custom DSQARED2 Michel Jackson-esque military jacket, didn't it?
Here's a lesson you should learn, Chris: Don't show up to the big game alone. Four middle-aged men in psychedelic flower jeans will never be a match for me and my #squad of devastatingly fierce ladies. (So much love to Ebony Williams and Ksyn and Jasmine Harper and the rest of you beautiful, beautiful people.)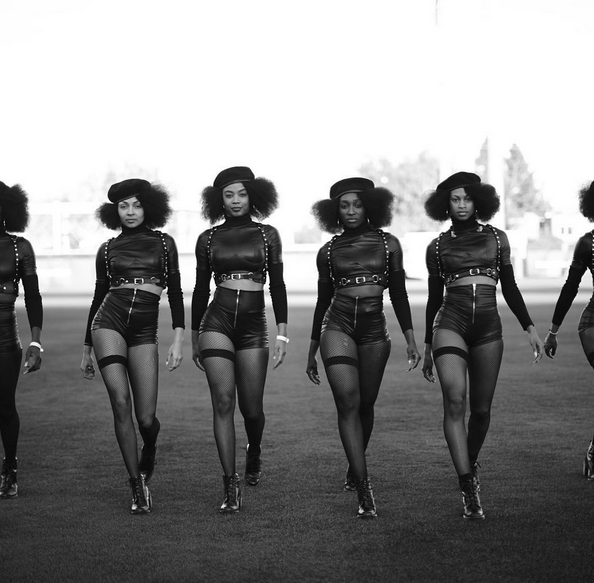 Via @beyonce
But I digress; this was meant to be a moment of contrition, not of instruction. And so please believe me when I say that there was no malicious intent here. I am simply incapable of being anything less than mind-bogglingly, earth-shatteringly, internet-breakingly fantastic.
Did you notice my hand on your back at the conclusion of the show, Chris? Did you sense that I was trying to comfort you, to reassure you that, come tomorrow, nobody would remember your set anyway, because they'd all be too busy dissecting the political implications of my girls' Black Panther costuming?
And so it has come to pass. But fear not, Chris: I've already reserved tickets for you for my Formation Tour. Because I know how thrilled you were when that tour announcement dropped immediately following what was, in theory, your halftime show. I heard you mutter that little congratulatory oath (I assume it was congratulatory?) under your breath as the world was made aware of my next great undertaking. I saw your hand tense on the mic (in happy excitement, I'm sure?) as any eyes that remained on you were wrenched, unceremoniously and inexorably, to me.
I'm sorry, Chris. I really am. But more importantly: YOU'RE WELCOME.
x Bey


Get Dance Spirit in your inbox