Apr. 11, 2013 12:10PM EST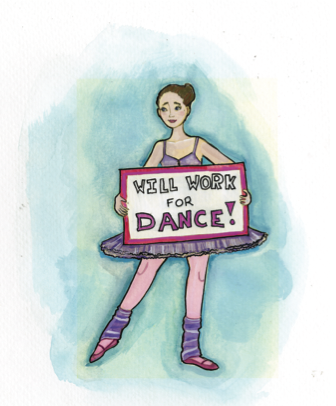 From her very first time in the studio, Anne Souder dreamed of being a professional dancer. But there was one big obstacle standing in her way: money. "I have five siblings," says Anne, who's now a rising senior in NYC's Ailey/Fordham BFA Program. "Our parents always supported our interests, but finances were tight."
So Anne took matters into her own hands, approaching Amy Morton Vaughn, director of Van Metre School of Dance in Maryville, TN, about doing work-study to cover the cost of training. From eighth grade through high school, Anne helped out at the studio, doing everything from cleaning to filing to assisting in children's classes. "I'm so grateful I had work-study opportunities, because I wouldn't be where I am now without that dance training," she says.
There are many reasons your family might have trouble affording dance classes. Maybe you also come from a big clan with a tight budget, or your mom just lost her job. Whatever the case, if you're serious about dance, there are ways to tackle the tuition problem and get the training you need.
Seek financial aid. If your studio has a scholarship program, apply. You don't always have to be the best dancer in class to receive tuition assistance. "Our financial aid committee tries to be generous," says Mary Roth, business manager of Delaware Dance Company in Newark, DE. In addition to awarding one merit scholarship, DDC offers need-based financial aid; applicants are asked to submit a financial statement along with a letter explaining why they love dance and what they hope to accomplish at DDC. You can also look outside your studio for financial aid. Harlequin Floors, for example, has a monthly scholarship video contest.
Try work-study. Work-study programs allow you to provide services to your studio—teaching, cleaning, etc.—in exchange for dance classes. Fourteen-year-old Julia Kepple started helping out at her studio, Encore Dance Center in Lancaster, PA, when she was 11. Julia had already received tuition coverage when her parents were both being treated for cancer, and when she was old enough to start work-study, she began assisting in children's classes. "I love working with little kids, and I love dancing, so it's great that I can do both at the same time and help pay for my classes," she says. Julia and the studio's other assistants also help out with studio cleaning needs.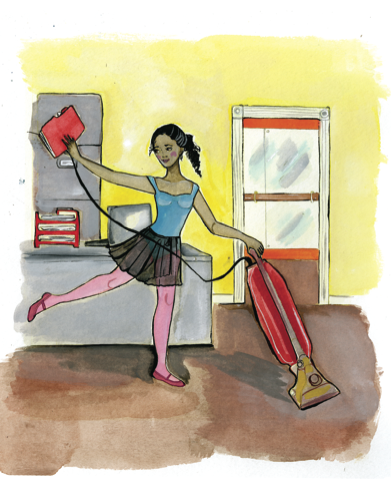 See if your studio has a work-study program, which will allow you to provide services—like cleaning—in exchange for classes.
When applying for work-study, be realistic about your skill set. "I'm a stickler for quality when choosing assistant teachers," says Melissa Hoffman, director of Melissa Hoffman Dance Center in Hudson, NH. "However, I might need help sorting costumes, and those hours could also go toward tuition." Even if your studio doesn't have a formal work-study program, Anne recommends looking for a need and offering to fill it, whether that means organizing the costume closet, answering the phone or cleaning dressing rooms.
Involve your parents. At DDC, parents are encouraged to volunteer at the studio in exchange for tuition credit. "We have parents at the reception desk, taking payments and filling out forms," Roth says. If your parents have time and are willing to help, get them involved—and that doesn't have to mean cleaning or doing office work. Does your mom sew? Maybe she can construct costumes. Does your dad do carpentry? Maybe he can build sets.
Make cutbacks. Unfortunately, studios can't always meet every financial need brought to them. You might have to cut costs on your end. If you compete, that could mean attending fewer competitions, or doing fewer numbers. At a non-competitive studio, you could cut costs by doing fewer numbers in the recital. Competing or performing less isn't fun, but it might be the way to keep your training on track.
Look elsewhere. It's possible to find free or inexpensive classes outside of the typical studio setting. For example, you could take hip hop at a local community center or YMCA, instead of paying tuition for a similar class at a dance studio. You could also watch videos online to learn new techniques and stay in shape. Just remember that recreational classes will only take you so far, and videos can't improve your placement or musicality, so these options should only act as supplements to your more intensive training.
Chances are, your studio doesn't want you to leave because of money issues. "We want to keep our students, and we want them to improve, so we do everything we can to help if classes are outside a family's budget," Roth says. Hoffman agrees. "When a kid's family is going through a rough time, such as a job loss or a sick loved one, I say, 'This is your family, too. You need to be here.' "
Above all, don't be afraid to ask for help. Anne says: "Asking for assistance when you really need it shows your teacher or studio owner that you're willing to work hard for something you love."
Illustrations by Lealand Eve
It's the dancer's dilemma. You need to eat well, but nutritious food can seem pricey. Being a dancer, however, doesn't have to mean a life of ramen noodles. With a little resourcefulness, you can get the foods you need to stay strong—without depleting your bank account.
1. Eat breakfast. If you skip breakfast, you're more likely to binge on expensive food mid-morning. "Eggs are fabulous sources of protein, and they're cheap," says Leslie Bonci, RD, MPH, company nutritionist for the Pittsburgh Ballet Theatre and director of nutrition at the University of Pittsburgh Medical Center's Center for Sports Medicine. One egg has 70 calories and 6 grams of protein.
Eggs also won't make you feel bloated. Prepare them plain, stuff them in a burrito with some veggies or prepare them as a frittata. Even if you eat out, a classic diner breakfast of eggs and bacon will give you a lot of fuel for less than the price of a large frozen cappuccino. Oatmeal, another breakfast standby, is a good meal any time of the day. Save money by choosing a container of plain oats over a box of individual packets.
2. Put the freeze on fruits and veggies. Frozen produce is just as good as fresh—better, if you consider that "it's cheaper and lasts longer, because you won't end up losing a lot to spoilage," says sports nutritionist Nancy Clark, MS, RD. Use frozen fruit to make smoothies, and add frozen vegetables to your eggs or into a premade can of soup. You can also toss in veggies with chicken or tuna for a cheap stir-fry.
3. Drink your nutrition. "Smoothies are a fabulous way to pack a lot of nutrients into a portable meal," says Bonci. "I always recommend low-fat milk, 1% or less. Cow's milk is less costly than soy milk, and rice milk is nutritionally inferior to [both] and is pricey, too." Mix milk, yogurt, frozen fruit and two tablespoons of dry milk powder in a blender for a cheap, easy-to-digest meal that's high in protein, calcium, vitamins and minerals. Milk powder, which runs about $6 per 320-ounce box, is good to add to beverages and soups for extra calcium and protein, because it won't dilute liquids.
4. Go nuts. "Peanut butter is one of the best sports foods," says Clark. It's high in protein and you'll get energy without feeling too full. Clark recommends that all dancers keep a jar around for snacking. Put some in a pita or on a celery stick or banana. The healthiest peanut butter is "all natural," meaning peanuts and salt are the only ingredients. These run between $3.50 and $5 per 8-ounce jar. Nuts are also good sources of inexpensive protein. Mix with yogurt for extra calcium. Peanuts and sunflower seeds are the best bargain buys (roughly $1 for a half-pound bag of either). Even if you splurge every once in a while on pricier nuts such as macadamia or pistachios, the large bag should last long enough to make the expense worthwhile.
5. Shop by unit price. Resist the urge to purchase small cartons of yogurt or single energy bars. You'll most likely spend much less in the long run if you buy large cartons of yogurt and boxes of bars. It's best to shop by unit price, or the cost per unit, rather than sale price (exception: anything that spoils). Unit prices are typically listed next to sale prices. Compare the unit price of a 12-ounce can of soup with a 24-ounce can of soup; in most cases, the 24-ounce can will cost less per ounce.
6. Make your own coffee. If you're buying a cappuccino three times a week, you're throwing away a lot of cash. Better to brew your own coffee and save the money for nutritious food. "Whip up your own [frozen coffee] with ice, coffee, vanilla yogurt and dry milk powder for extra protein," says Bonci. Your frozen drink will have less sugar and more calcium and protein.
7. Look for deals. Shop with coupons and buy what's on sale. If frozen berries are discounted, purchase three bags instead of one. Split the cost and the food with friends or roommates.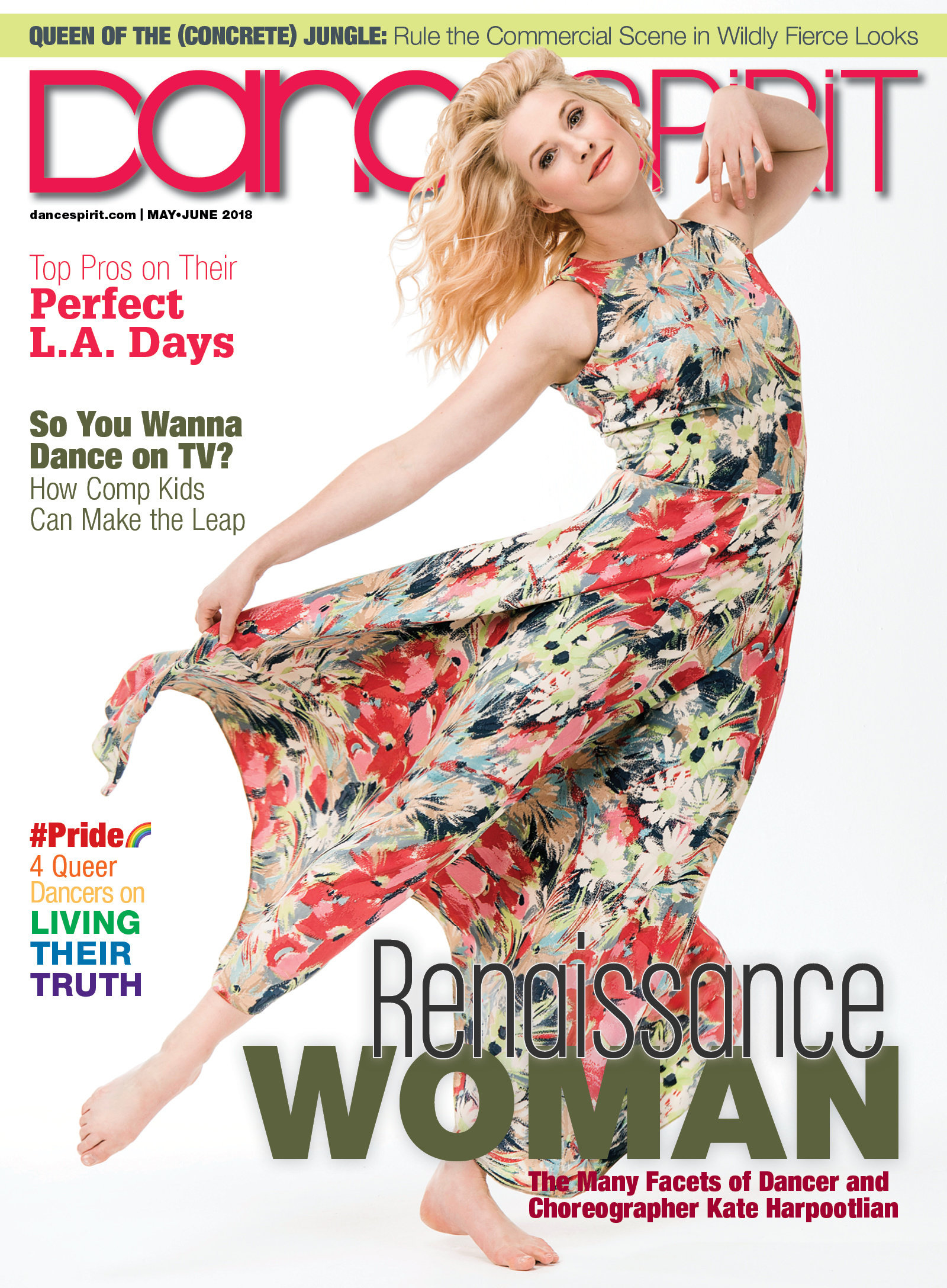 Get Dance Spirit in your inbox