If you're in NYC this month and free at lunchtime, consider heading over to Bryant Park for a special Broadway treat. Each Thursday (until August 14), performers from the hottest shows will come together to sing and dance their hearts out as part of a special summertime event hosted by 106.7 Lite FM.
Last week, performers from Pippin, Les Misérables, Chicago and the off-Broadway show Atomic took to the outdoor stage, and this Thursday, the lineup is even better: Rodgers + Hammerstein's Cinderella, Avenue Q, Piece of My Heart and Bullets over Broadway. Take a look at the complete list of performances—you don't want to miss out, especially when the shows are free!
Can't wait until Thursday? Check out these clips of Chicago's Bianca Marroquin (Roxie Hart) and Amra-Faye Wright (Velma Kelly) from last week's show. Be sure to get to the park early to stake out a spot.
What could possibly be better than dancing in Susan Stroman's new musical, Bullets Over Broadway? How about getting to dance next to your best friend? Beth Johnson Nicely and Amanda Kloots-Larsen have been close to inseparable since meeting on the national tour of 42nd Street in 2002. So it was only a matter of time before these two leggy ladies discovered they shared another obsession—desserts—and decided to turn their sweet teeth into something more. They started the blog Just Desserts NYC (justdessertsnyc.com) in 2007. Despite their hectic careers on Broadway and as fitness instructors in NYC, Kloots-Larsen and Johnson Nicely have continued to grow their sugary side project into a recognizable brand.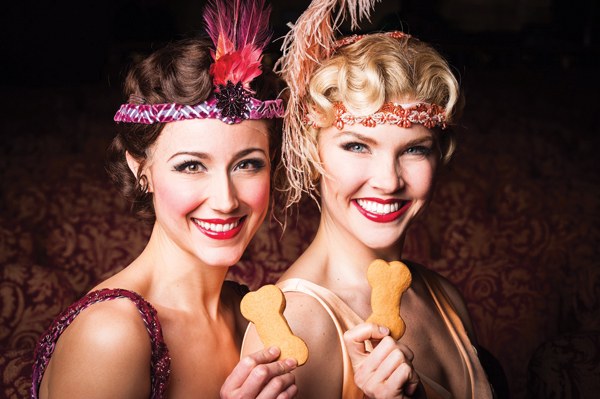 (Photo by Justin Patterson)
SWEET BEGINNINGS
Kloots-Larsen and Johnson Nicely first met during callbacks for the national tour of 42nd Street, and immediately bonded over their Ohio roots. And when they spotted one another on the first day of rehearsal, a little challenge brought them together. "We didn't know how to fill out our contracts," recalls Johnson Nicely. "We were struggling—the lead at the time had to help us."
Their friendship soon blossomed. "In every city, Beth and I would go on a search for something sweet," says Kloots-Larsen. Those delicious adventures continued once the two girls returned to NYC, and a blog seemed like a natural next step. "People kept asking us where to go for the best desserts in the city," Johnson Nicely says. "We figured our blog could be a resource for everyone."
Just Desserts NYC hit its stride around 2011, and today, new bakeries and restaurants reach out to the dancing dessert duo—who also go by "Blondie" (blonde Amanda) and "Brownie" (brunette Beth)—to taste and review their treats. They post almost daily about new desserts, recipes, the latest crazes and sweet spots to check out, not only in NYC but across the U.S. and abroad. And of course, they do it all together. (Kloots-Larsen and Johnson Nicely were even one another's bridesmaids.) "Luckily, dancing is a great workout," says Kloots-Larsen, "because our blog requires us to taste a lot of desserts!"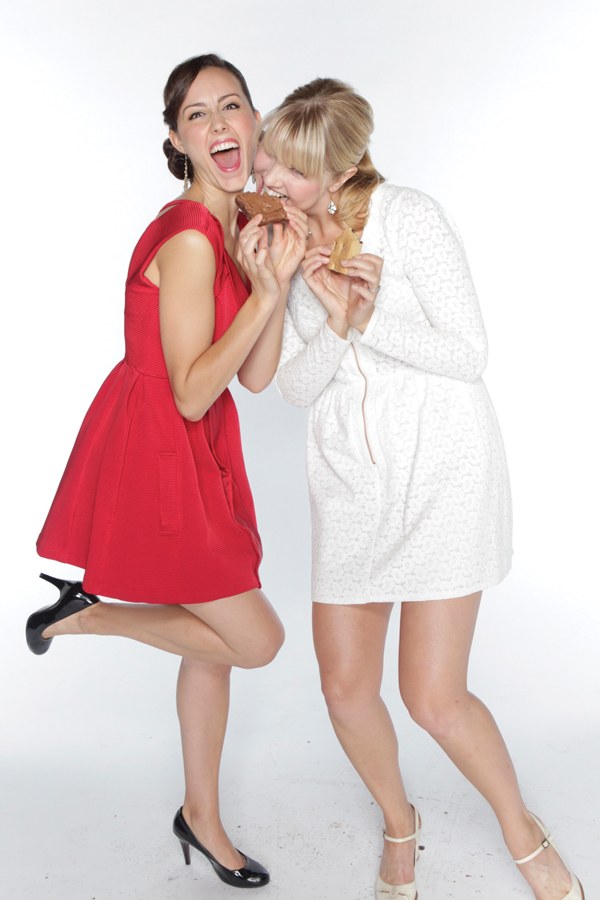 (Photo by Dana Edelson)
TASTY TREATS
In addition to the blogosphere, Kloots-Larsen and Johnson Nicely have also enjoyed great success onstage. Since the national tour of 42nd Street, they've performed as Rockettes in the Radio City Christmas Spectacular. And between the two of them, they've scored roles in Broadway musicals including Young Frankenstein, Good Vibrations, Follies, Irving Berlin's White Christmas and Spamalot. Now, Bullets has finally brought them back together—and dealing with desserts is even part of the gig.
In Bullets, the gluttonous actor Warner has an odd food fetish: dog treats that he steals and eats throughout the show. Enter Blondie and Brownie. Stroman, Bullets' director and choreographer, who was familiar with Just Desserts NYC, asked if they'd bake the "dog treats" during the show's early workshops last fall. "Beth and I consider ourselves more critics than bakers," says Kloots-Larsen. "But when she asked, we automatically agreed. You don't say 'no' to Stro!"
Now, in addition to performing eight shows per week, Kloots-Larsen and Johnson Nicely also bake two dozen edible props—tasty gingerbread-butterscotch cookies. In May, the St. James Theatre even started selling the cookies to theatergoers after each performance. So far, the extra work has been worth it. "The opportunity to marry our two loves—desserts and musical theater—has been a dream come true," Johnson Nicely says.
While Just Desserts NYC hasn't brought in extra income, the girls have high hopes for the blog's future. They've received steady attention, including webisodes on NBC's Today.com and the Cooking Channel's "Log On & Eat with Eden Grinshpan."
One day, Kloots-Larsen and Johnson Nicely dream of hosting their own TV show. But for now, their blog helps keep them grounded. "Being in show business is a lot like being on a roller-coaster ride," Kloots-Larsen says. "There are so many ups and downs in your career." Adds Johnson Nicely: "That's why it's so important to have a creative outlet on the side."
In case you missed the best night on TV—a.k.a the live broadcast of the Tony Awards—Dance Spirit's got your back. Here's a rundown of the show's highlights, a couple of its more cringe-worthy moments, and some of our favorite (and least-favorite) red carpet outfits.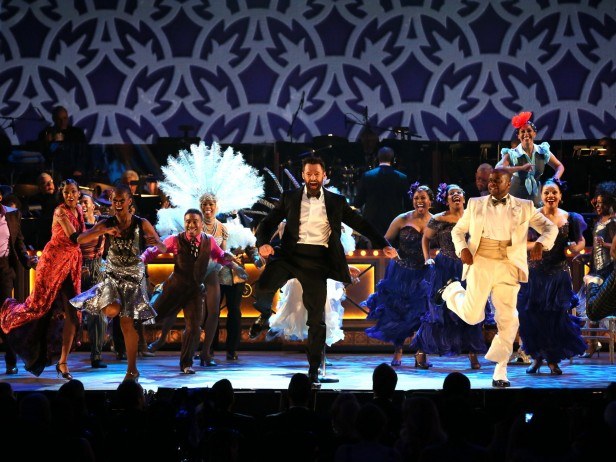 Hugh Jackman with the cast of After Midnight
(photo Sara Krulwich/The New York Times)
The Highlights: 
–Hugh Jackman as host. It's great to see Wolverine back on the Radio City Music Hall Stage, singing and dancing with the stars of Broadway. He even cut a rug with Dulé Hill and the fabulous cast of After Midnight. Sure, his opening number (with all that awkward hopping) wasn't as fabulous as NPH's extravaganza last year, but his serenading of the female best actress nominees—in both the play and musical categories—stole my heart.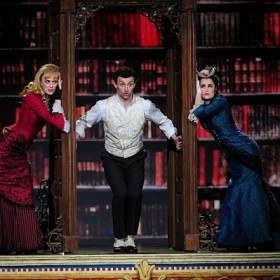 Bryce Pinkham (center) and the cast of A Gentleman's Guide to Love and Murder
(photo Heather Wines/CBS)
–The performances, obv. After Midnight, Aladdin and Bullets Over Broadway were especially impressive—so. much. tap. dancing.  And here's to genie James Monroe Iglehart's win for best featured actor in a musical. But I was especially enamored with the performance from A Gentleman's Guide to Love and Murder—the Tony winner for best musical. In case you chose to take your bathroom break during the number, you can re-watch it here. There's not much movement, but the witty trio really brought down the house.
–The crazy Music Man rap. My viewing party went pretty nuts when Hugh Jackman busted some rhymes from The Music Man—and then even more nuts when LL Cool J and T.I. joined in. The beats—commemorating the song "Rock Island" from 1957's The Music Man, supposedly the first-ever rap—came courtesy of Questlove of The Roots. (Pretty cool.) Here's the song in the 1962 film; compare it to the Tony Award shenanigans here.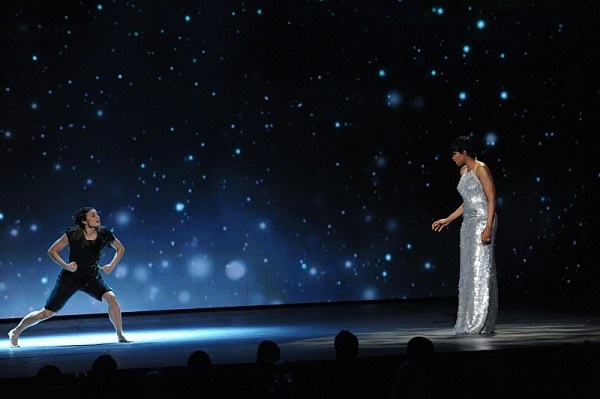 Melanie Moore with Jennifer Hudson in Finding Neverland. (photo Heather Wines/CBS)
–Melanie Moore as Peter Pan. When Finding Neverland hits the American Repertory Theater in Cambridge, MA, this summer, "So You Think You Can Dance" Season 8 winner (and DS cover star) Melanie Moore will get the opportunity to work with Mia Michaels again: Mama Mia will be choreographing the new musical. The full cast has been announced (helloooo, Jeremy Jordan!). Unfortunately, Jennifer Hudson, who sang in last night's preview, is not in the show.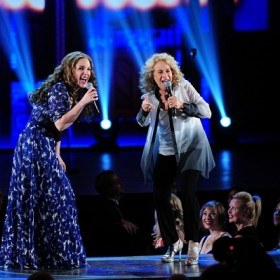 Jessie Mueller (left) with Carole King. (photo Heather Wines/CBS)
–Jessie Mueller and Carole King together (again) on one stage. I certainly felt the Earth move under my feet during this performance. Jessie Mueller is fantastic as the iconic singer/songwriter Carole King in Beautiful, and I suspect she'll be fantastic in roles to come. Congrats on your Tony for best leading actress in a musical, Jessie!
–The dreamy Matthew Bomer announcing a new Tony Awards partnership with his alma mater, Carnegie Mellon University. Next year the Tonys will celebrate one elementary, middle or high school theater teacher who really makes a difference. Know someone who you think deserves special recognition? Read about the new award here.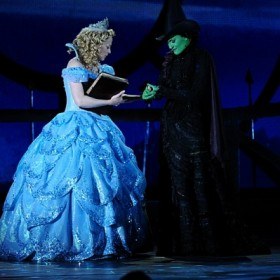 Jenni Barber (left) and Christine Dwyer (photo Heather Wines/CBS)
The Missed Opportunities:
–Wicked's 10th anniversary performance. Yes, Christine Dwyer and Jenni Barber sang an amazing rendition of "For Good." But weren't you just a little disappointed that Idina Menzel and Kristin Chenoweth didn't pop out to sing a line or two? I mean, we know Idina was there—she sang something from her new musical If/Then. Lame, Tony Awards. Lame.
–The absent-from-TV award for best choreography. Remember last year, when we got to see Jerry Mitchell accept his choreography award on TV? Apparently the producers forgot about that precedent, and After Midnight's Warren Carlyle received his award for best choreography during a commercial break. Boooooo! Maybe if we give his acceptance speech video a ton of online views, the producers will get the point for next year.
The Best Dressed: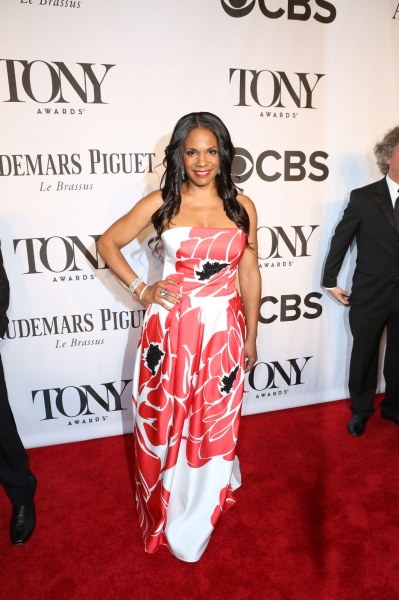 The history-making Audra McDonald, who took home her sixth Tony Award. She also became the first performer to win in all four acting categories (featured musical, featured play, leading musical and leading play). Yeah, she's legendary—and stylish to boot, in this pretty printed gown. (photo Walter McBride/Broadway World)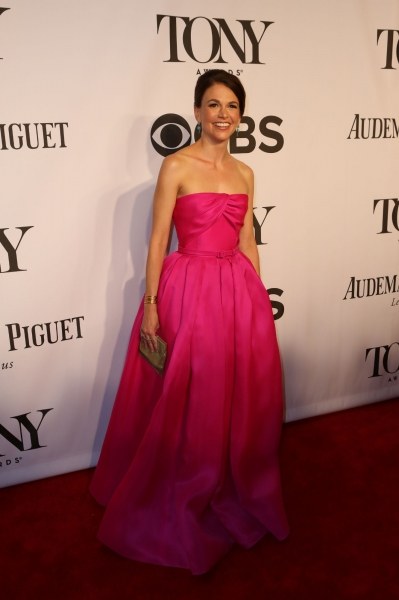 The always effortlessly gorgeous Sutton Foster. She didn't leave with a win, but her performance for Violet was strong.
(photo Walter McBride/Broadway World)
And the Worst: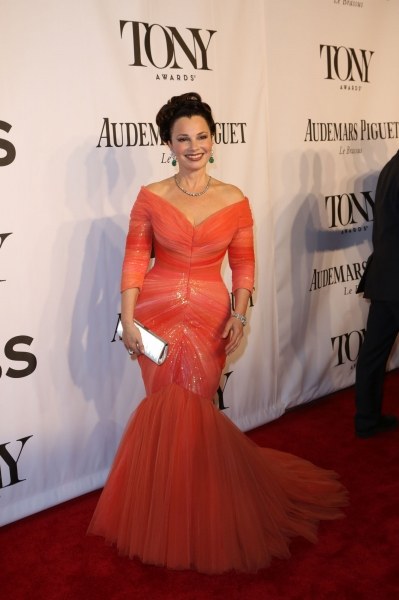 The flashy Fran Drescher. She may be on Broadway in Cinderella, but believe it or not, this over-the-top tangerine dress is not a costume.
(photo Walter McBride/Broadway World)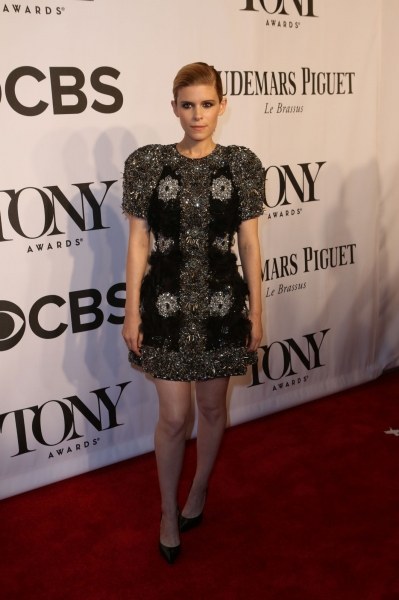 The weighed-down Kate Mara. This dress just looks heavy. Here's hoping Netflix turns "House of Cards" into a musical so Kate can redeem her look as a Tonys presenter next year.
(photo Walter McBride/Broadway World)
What did you think of the telecast? Which performance was your favorite, and who did you think was best dressed? Was any show or artist robbed of an award? We want to hear what you have to say!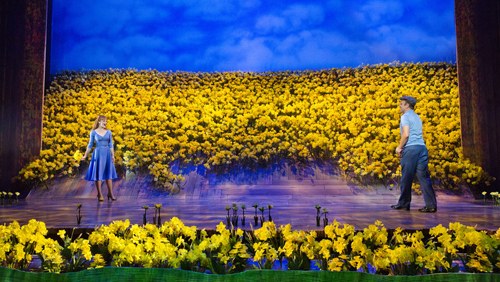 Kate Baldwin and Norbert Leo Butz in Susan Stroman's late but great Big Fish. Photo by Paul Kolnik
The 2014 Tony Award nominations came out Tuesday morning, and for us dancers—and the categories we love and care about—it's been an exciting (and somewhat surprising) whirlwind. Here's our rundown of the nominees: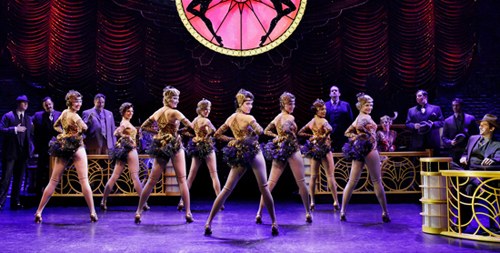 The female ensemble of Bullets Over Broadway. Photo by Paul Kolnik
Big Fish—my personal favorite dance-tastic show this season—did not make the Tony grade, earning no nominations, despite genius direction and choreography by Susan Stroman. (Did the aging American Theater Wing and Broadway League reps forget it was eligible since it closed late last year? Hellloooo...it was awesome!) We can't be too upset for the great and zany Stro, though. Her newest smash hit, Bullets Over Broadway, starring Zach Braff (aka J.D. from "Scrubs"), earned six nominations, including nods for choreography, scenic design, and costume design—all quite deserving.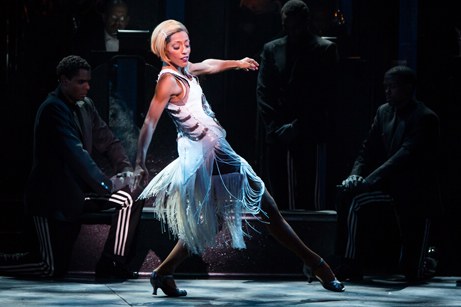 Karine Plantadit in After Midnight, choreographed by Warren Carlyle. Photo by Matthew Murphy
Other dancemakers up for the prize of best choreography: Steven Hoggett and Kelly Devine for Rocky, Casey Nicholaw for Aladdin, and Warren Carlyle for After Midnight.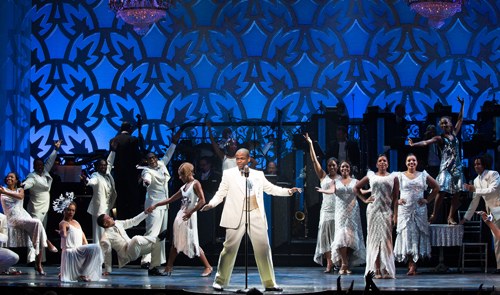 Dulé Hill (center) and the cast of After Midnight. Photo by Matthew Murphy
If you're a tap fan, a jazz fan, a Desmond Richardson fan, or a plain "I LOVE DANCE SO MUCH" fan, After Midnight is the show for you. It's 90 minutes of movement, and almost everyone on stage is a dancer, including Richardson, Karine Plantadit (who you know from the Twyla Tharp's Come Fly Away and Movin' Out), Bahiyah Hibah (a former Ailey dancer who was also in Chicago), and the reigning queen of tap, Dormeshia Sumbry-Edwards. Oh, and it's also got Emmy-nominated actor Dulé Hill (formerly Charlie Young on Aaron Sorkin's "The West Wing," and currently Gus on USA Network's "Psych"), who sings and dances like he's done all this before. Which, he has...in The Tap Dance Kid and in Bring in 'da Noise, Bring in 'da Funk.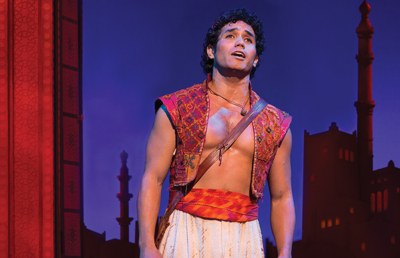 Adam Jacobs in Aladdin. Photo by Cylla von Tiedemann
After Midnight and Aladdin are also up for the night's overarching trophy, joining A Gentleman's Guide to Love and Murder and Beautiful: The Carole King Musical in the race for Best New Musical.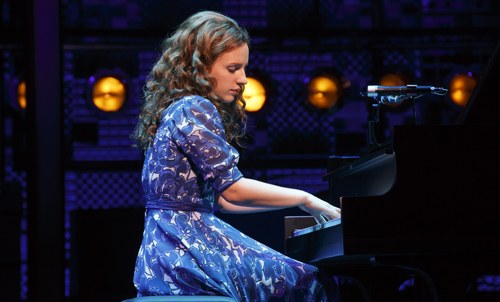 Jessie Mueller in Beautiful—The Carole King Musical. Mueller is up for Best Actress in a Musical—I really, really, really hope she wins. Photo by Joan Marcus
Be sure to tune in (or set your DVRs) on June 8 to the Tony Awards, which will be broadcast live on CBS and hosted by Broadway veteran (and Hollywood celeb) Hugh Jackman. And look in Dance Spirit's May/June issue ("Headlines," p. 19) to get the inside scoop on the evening—like what happens during commercials and how the performers prepare for the opening numbers and show excerpts.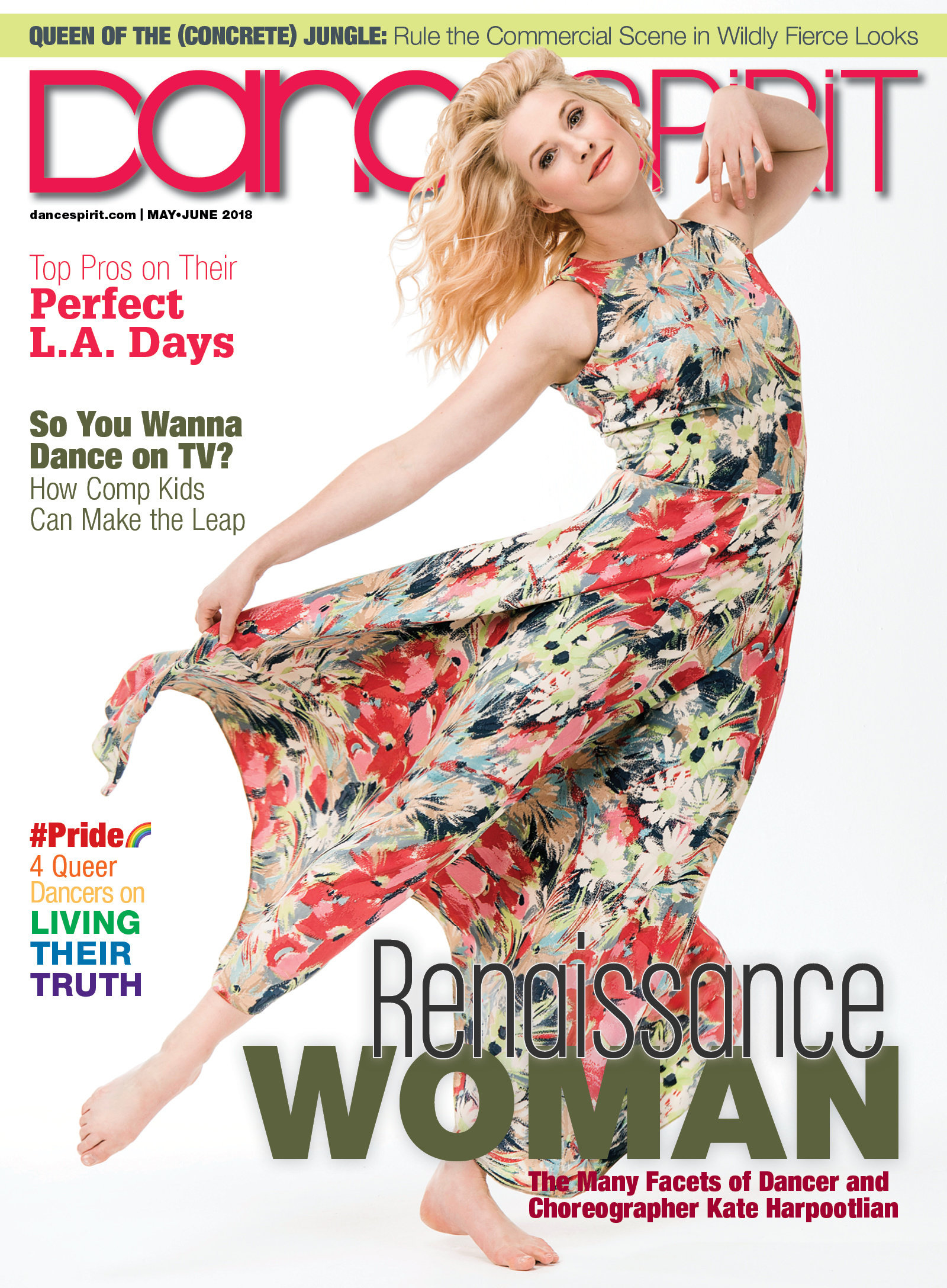 Get Dance Spirit in your inbox