Oct. 07, 2012 12:00PM EST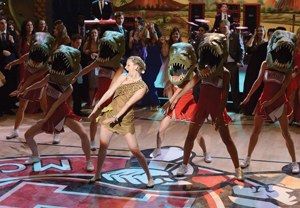 Heather Morris transitioned from dancer to actress/dancer on "Glee." (Mike Yarish/Fox)
Whether they're kick-ball-changing into your living room on "Glee" or tearing up the silver screen in Step Up Revolution, dancers are nabbing some of today's juiciest acting roles. And the trend isn't going to end anytime soon, according to McDonald/Selznick Associates agent Shelli Margheritis. "More projects than ever are considering dancers, from films to commercials to television shows," she says.
Of course, being successful as an actor takes more than just a dancer's killer physique and stage presence. To get insider intel on how to become a true double threat, we asked some of your favorite famous faces for their top tips on making the transition in style.
Don't fake it till you make it. Learn the craft. 
When the chance to audition for "Bunheads" came along, ballerina Julia Goldani Telles had never read a television script before. To get ready for the opportunity, she enlisted an acting coach—a move that, she says, helped prepare her to play the role of Sasha on the show. "My coach taught me how to approach and understand the characters and story," she says. "It was helpful to get feedback and constructive criticism from someone who really knows what she's talking about."
Taking regular acting classes is also essential. Commercial dancer Tyne Stecklein, who's had acting roles on projects like "True Blood" and Rock of Ages, studies everything from cold-reading techniques to the Meisner method of acting in various schools around L.A.—an approach Margheritis says is spot-on. "Dancers always have to keep training, and the same is true of acting," Margheritis says. "If you stay in class, you'll continually add depth to your ability." To find reputable classes in your area, ask your dance agent for a list of referrals or check the listings on websites like backstage.com and nowcasting.com.
Look for help within your agency.
If you already have a dance agent, see if he or she can connect you to a colleague who's plugged into the acting scene. (Once dancers branch out, they may choose to have agents for each of their areas of interest—acting, commercial, voiceover, etc.) "Lots of dance agencies have theatrical departments, which is great for dancers who want to transition," says Stecklein, who's signed with Clear Talent Group. "Staying within your agency is a great way to break into the acting world."
Many of Step Up Revolution's acting roles went to dancers, including (front, L to R) Stephen "tWitch" Boss and Misha Gabriel. (Sam Emerson)
Get noticed.  
Want to get ahead? Learn how to dazzle the people who can actually give you parts: casting directors. Margheritis says casting directors often hold workshops and attend acting showcases to spot emerging talent, and her first piece of advice to would-be actors is to seize these opportunities. (Consult trade magazines like Backstage to find out when workshops and showcases are taking place.) "It's an added bonus when a casting director receives your submission for a role after seeing you in person," she says. "They're much more likely to bring you in if they have that connection."
Also, make sure your headshot and reel are up-to-date and represent you in the best light. Margheritis says it's important to have separate acting and dance reels, as well as an array of photos (commercial, theatrical, etc.) so casting directors can envision you in different types of roles. "Be savvy with your picture choices so they're diversified enough to reflect your skill set," she says.
Play up your unique qualifications as a dancer.
All that hard work you've done in the dance studio is about to pay off. From taking direction to hitting marks, many dance skills translate seamlessly to acting.
"Dancers tend to have really good timing, which is essential when delivering dialogue," Margheritis says. Stecklein also found that her experience with memorizing choreography helped tremendously when it came to learning lines. "Sometimes you're handed 10 pages of dialogue the day before you have to perform," she says—but if you already know how to pick up a complicated dance routine in an hour-long class, that kind of time pressure is familiar to you.
And if you've performed in music videos or as a dance extra in a film, you already know how to deal with life on set. Misha Gabriel, one of the stars of Step Up Revolution, points out that while the film was his first as an actor, it was his sixth as a dancer. "I was no stranger to the long hours and different shots and camera angles," he says.
Work your connections. 
If you make a great impression on a choreographer on a dance project, you'll be fresh in her mind when she's hiring on a film or TV set. Stecklein danced frequently with Marguerite Derricks and Michael Rooney, both of whom later referred her to acting projects. "Dance connections can get your foot in the door and help you get in front of directors," she says.
If you have friends who've successfully made the transition from dancer to actor, don't be shy about mining their resources, too. After Gabriel landed the part in Step Up Revolution, his best friend and Footloose star Kenny Wormald "hooked me up with all his people, like his manager and his acting coach," Gabriel says. "I really appreciated his advice and help."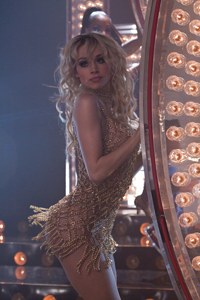 Tyne Stecklein's dancing skills helped her land a role in Burlesque. (Stephen Vaughan)
Be ready to make sacrifices.
Breaking into acting requires dedication and a considerable time commitment—which may complicate your dance career. "I had to turn down long-term dance projects or gigs that would take me out of L.A. because I wanted to be available for acting auditions and classes," Stecklein says. "I was forced to be more selective about the dance jobs I took."
Gabriel had to make similarly difficult choices. His dance jobs are now mainly limited to JUMP conventions on the weekends, leaving his weeks open for acting opportunities. "Watching Kenny turn down job after job, I learned there is no easy way to make this transition," he says. "It was hard watching my friends dance on tour for Chris Brown, but I knew I had to make a change if I wanted to get serious about acting."
That said, taking the risk can pay off. While dance jobs are rarely lucrative, the full day rate on film or TV projects for members of the SAG-AFTRA union can be quite profitable.
Keep a healthy perspective.
Remember that there are very few overnight success stories in the acting world. "There are artists who've been training for years within the acting realm, so it's important to be realistic," Margheritis says. You may already have made a name for yourself as a dancer, but as an actor, you're essentially starting over. Take advantage of even the small parts that come your way. "Do your due diligence to earn visibility and an appreciation for what you bring to the table," Margheritis says.
Stecklein also urges dancers to keep the odds in mind. "Often at a dance audition, they're looking for 20 or more people. As an actor, you're going up for a single role," she says. The process can be intimidating, but keep your eyes on the prize. "There's a role out there for everyone," Stecklein says. "Rejection is just part of the journey to the part that's meant for you."
Dec. 08, 2011 02:30PM EST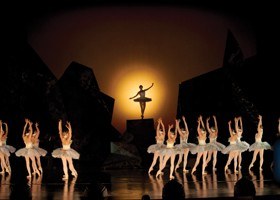 A scene with the corps de ballet in Black Swan. Courtesy Summit Entertainment.
With technology, pretty much anything is possible onscreen these days—but no visual effects can compare to the feeling of watching a dancer take the floor for real. That's where a dance double comes in. Dance doubles step in for actors when scenes call for highly technical dance moves. Thanks to clever camera work, audiences often don't notice the swap.
That was the problem for Black Swan dance double Sarah Lane, an American Ballet Theatre ballerina who subbed for Oscar darling Natalie Portman in the flick. Lane made headlines by speaking out about the fact that she'd done the majority of the dancing that Portman received credit for in the media. Yet other dancers rave about their experiences on similar jobs, like Las Vegas–based Jackie Dowsett, who has played double to both Cameron Diaz and Cher. "As a dancer, you're happy to land a job where you're on set, working with such incredible actresses," Dowsett says.
So what's it really like to be a dance double? We chatted with several dancers who've been there and done that to find out! Meet Jackie Dowsett, Jessica Cropper (one of Cate Blanchett's dance doubles in The Curious Case of Benjamin Button), Marcy McCusker (who doubles for "a top-secret A-list pop star") and choreographer Marguerite Derricks.
Looking the Part
Dance ability is key to landing a dance double job, but being a physical match for the talent is even more crucial. "When you hire a double, you're looking for the star's twin," says Derricks, who has choreographed dozens of movies and recently cast Emma Stone's double in Crazy Stupid Love. "You have to match them up, especially the body type, height and skin tone—you even need similar facial features for side shots."
McCusker agrees. "You're ultimately getting the job because you fit the exact specifications they need," she says. "So if your resumé says you're 5' 4" and 115 pounds, it had better be true—you can't lie about your height and weight if you want to be considered for these jobs."
Of course, some things can be altered, as Dowsett found out when she auditioned to be Cameron Diaz's double in What to Expect When You're Expecting. "Choreographer Tyce Diorio asked if I'd be willing to dye my hair blonde," says Dowsett, a brunette, who also wore blue contact lenses for the role. "The reason I got the job was mostly about my measurements, the fact that I was tall and that I could partner."
Those weren't the only physical changes Dowsett made to "become" Cameron Diaz. "I'd had knee surgery and gained 10 pounds in the six months I was out, so when I found out I'd have to wear a skimpy outfit, I was mortified," she says. "I didn't want Cameron to be disappointed in her body double, so I decided to lose the weight. There are definitely certain sacrifices you might have to make in order to take a role."
Being a double also means imitating the talent in other ways, as well. On the set of Benjamin Button, Cropper studied Cate Blanchett's personality and "regal, queenlike presence" in order to re-create it onscreen. Same with McCusker, who had a blast playing a pop star in a music video and performing her choreography full-out onscreen: "Dancing 'as her' felt like just as much of an acting job as it was a dance job," she says. "Every artist or actor has a certain way they move or carry themselves, and you have to be able to emulate it."
On the Job
So what does a dance double do, exactly? The requirements vary widely depending on the type of job. In Cher's Las Vegas show, Dowsett wore a Zoot suit and danced "as Cher" onstage to allow the star time for a wardrobe change. On the What to Expect  set, she stepped in to do lifts and partnering in a cha-cha scene featuring Diaz and "Glee" star Matthew Morrison.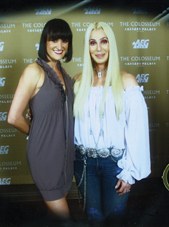 Dancer Jackie Dowsett was a double for Cher during her Las Vegas show and in the film Burlesque. Courtesy Jackie Dowsett.
"As a double, you're there in case they need an extra trick or style that requires a professional dancer," says Dowsett, whose work on Cher's stage show also led to a gig as a
double in the film Burlesque. "Sometimes the choreographer will also ask you to go over the counts with the actors or help them remember a step."
In some cases, dance doubling may lead to other responsibilities on set. On Crazy Stupid Love, the dance double Derricks cast for Emma Stone was such a dead-on physical match that she did other scenes as a stunt double, and Cropper ended up doing underwater and love scenes for Cate Blanchett on Benjamin Button. This can sometimes lead to a pay bump, as can being the double for one of the movie's leads.
Dance doubles might also be used to cut down on the amount of time an actor has
to spend on set. "Let's say Brad Pitt and Angelina Jolie are supposed to be dancing on the floor," says Derricks, who choreographed Mr. & Mrs. Smith. "You shoot the front of Brad and the back of the dancer doubling for Angelina—if you have a dancer dancing with the actor, they look better. It's a great way to use the dance double."
Another way Derricks utilizes doubles is in what she calls her "skeleton crew." She'll assemble a group of dancers and stage the choreography for the director's approval. "Ninety percent of the time I workshop it on dancers first, present it to the director and then teach it to the actors," she says. "That way any necessary creative changes can happen before the actors learn it."
All Guts, No Glory?
In the wake of the Sarah Lane controversy, dance doubling has been a topic of debate. Some think Lane was right to claim credit for Portman's dancing, whereas others think being a behind-the-scenes double is what Lane signed up for. So do dancers deserve more credit for these kinds of jobs?
"From my perspective, you're not doing it to be famous—you're doing it to create
a really cool end product for this actor or performer," McCusker says. "The ballet world
is different because they're not necessarily used to the smoke and mirrors of TV and film—it's not Lane's everyday job, so that's likely why she was resentful in the end."
Both Dowsett and Cropper say that their double jobs were among their favorite so far in the industry. For Cropper, it was her first professional job after graduating from the EDGE Performing Arts Center's scholarship program, and she says she would "do it all over again if I could. Hands down, it was one of the best job experiences I've had."
Twice the Fun
Take a look back at some of the most famous dance flicks that used doubles:
Flashdance: It took a whole village to pull off the fast-paced, flashy moves featured in Flashdance. Among the dancers subbing in for Jennifer Beals were French dancer Marine Jahan, break-dancer Crazy Legs and gymnast Sharon Shapiro.
Footloose: Remember Ren's romp through the Roller Mill? With the release of the recent remake, Kevin Bacon explained that he had a stunt double, a dance double and two gymnastic doubles for the scene.
Center Stage: Though many of the actors in this flick did their own dancing (like Amanda Schull and Ethan Stiefel), Béjart Ballet dancer Aesha Ash stepped in for Zoë Saldana, who played Eva.
Oct. 15, 2010 09:14AM EST
There's a group of blonde bombshells headed to a cinema near you this month. Burlesque, which follows a small-town girl finding her niche at a burlesque club in L.A., features a cast of gorgeous women—including Christina Aguilera, Julianne Hough and Kristen Bell—getting their grooves
on. But Tyne Stecklein, the head-turner who plays Jesse, will get you to tear your eyes away from those superstars.
Tyne's no stranger to being a part of a stellar cast. This commercial dancer has shared the screen and stage with the likes of Zac Efron, in High School Musical 2 and 17 Again; Bebe Neuwirth, in Fame; Will Ferrell, in Step Brothers; and the King of Pop himself, as a dancer booked on Michael Jackson's This Is It tour. The former comp kid was also a member of Justin Giles' contemporary company, Soul Escape. Check out Burlesque in theaters November 24 and read on for The Dirt!
One thing you can't live without: Performing!...and coffee in the morning
Who would play you in a movie? Rachel McAdams
Most-played song on your iPod: "Fast Cars and Freedom" by Rascal Flatts
Must-see T.V. show: My favorite TV show has always been "Friends." I still watch the reruns. Now I like "Modern Family" and I love that "Glee uses so many dancers.
What's your biggest guilty pleasure? Ice cream and chocolate :)
One thing most people don't know about you: I watch football every Sunday but don't understand the game, even though my dad was a coach.
Photo of Tyne Stecklein in Burlesque by Stephen Vaughan.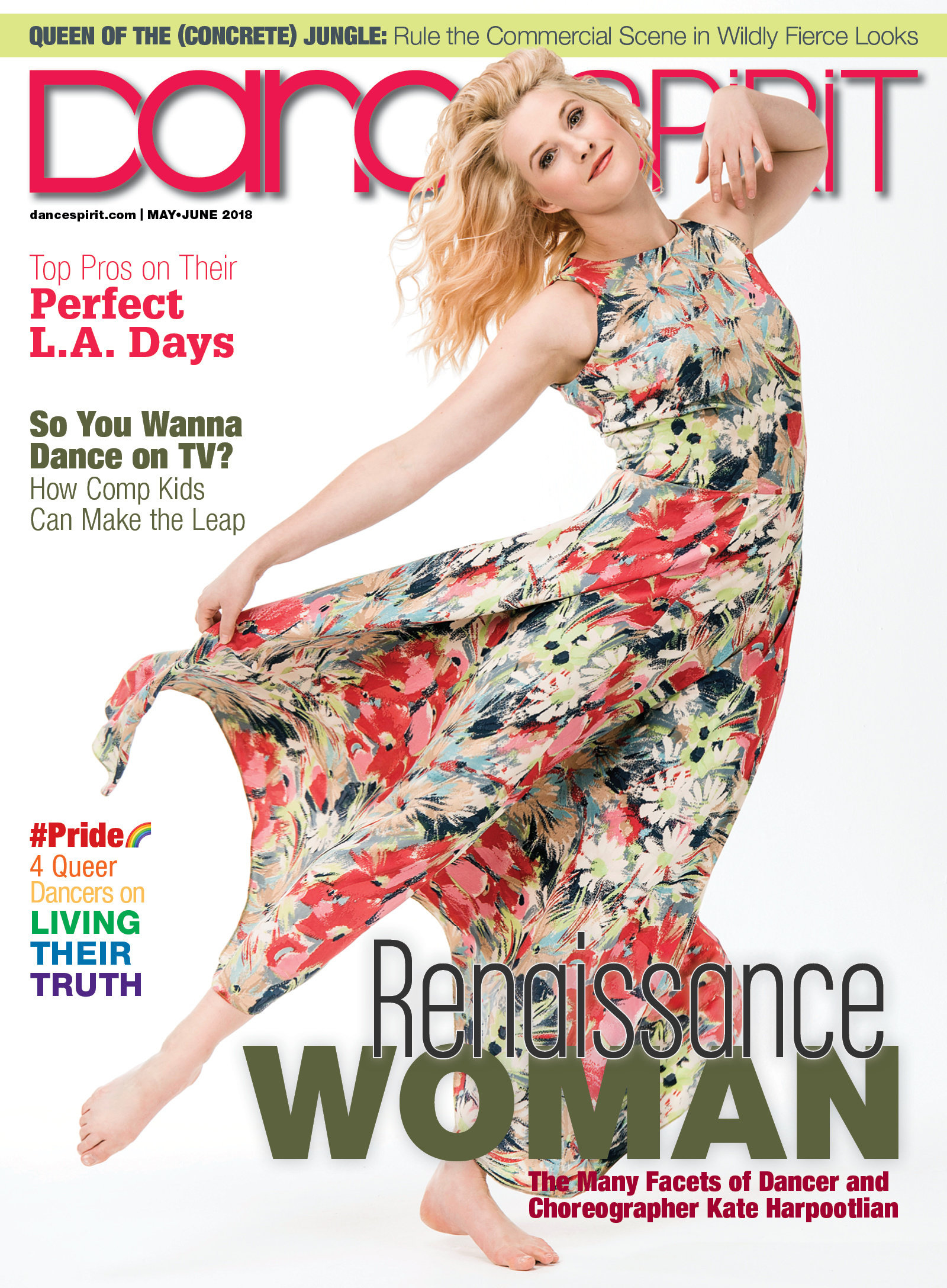 Get Dance Spirit in your inbox