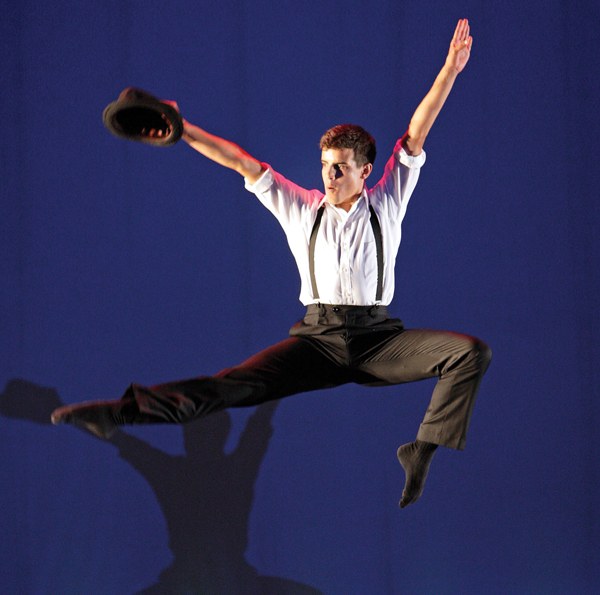 (Photo courtesy Jacob Guzman)
When Jacob Guzman takes the stage in the latest Broadway revival of Fiddler on the Roof this month, he'll be among some pretty strong dancers. That's because contemporary choreographer Hofesh Shechter, whose work has been performed by Cedar Lake Contemporary Ballet and Nederlands Dans Theater, is reimagining the choreography. (Jerome Robbins set the musical's original dance numbers in 1964.) But Guzman, a former comp kid who trained at The Gold School in Brockton, MA, isn't a stranger to dancer-heavy ensembles: He made his Broadway debut in Newsies in 2012. Guzman also appeared in NBC's "Peter Pan Live!" and has performed at Dancers Responding to AIDS' Fire Island Dance Festival. Want to know more about Guzman? Read on for The Dirt. —JO
What's one food you can't live without?
Chicken
What's your favorite dance movie?
Footloose
What's the most-played song on your playlist?
"The Wilhelm Scream" by James Blake
What's your most-watched TV show?
"Criminal Minds" on Netflix
Do you have any nicknames?
Jaob. I received fan mail at Newsies and the sender forgot the "c" in Jacob and it stuck.
What's something you're most proud of?
Making my Broadway debut with my win brother in Newsies
What's your advice for young performers?
Always be yourself.
Thanksgiving leftovers are easily the best part about the holiday. But digesting rich foods can sap your energy. We spoke with Emily Cook Harrison, a registered dietitian at the Centre for Dance Nutrition in Atlanta, for the scoop on the best Turkey Day leftover recipes for performance power. She suggested a number of delicious combinations, all of which are easy to prepare and transport.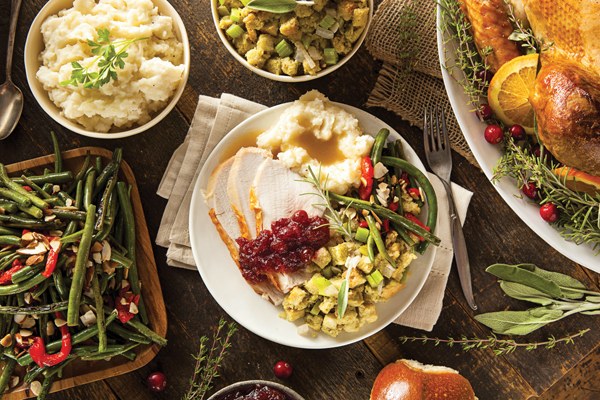 (Photo via Thinkstock)
1. Cranberry-apple relish on multigrain toast
The giant bowl of cranberry sauce sitting in the fridge keeps for up to a week and can be transformed into an energy-rich breakfast treat. Harrison suggests chopping some tangy Granny Smith apples and mixing them in with the sauce. For an extra kick, shave a bit of ginger and sprinkle it in. Cranberries outrank almost every fruit when it comes to antioxidants, and with the toast's carbohydrates, you're sure to feel energized.
2. Wild rice and turkey salad
It's a given that there's always too much turkey at Thanksgiving—this dish is a great way to use up what's left. Simmer 1 cup of wild rice in about 2 cups of water for 35–40 minutes (if you have some vegetable stock, use it instead of water for added flavor). Chop up any leftover vegetables (celery, spinach and kale work especially well) and sauté them with olive oil. Shred or slice some lean, white turkey meat and add it in. Once the rice has cooked, mix all the ingredients together. The vegetables paired with the turkey offer both antioxidants and protein, and the rice's high magnesium content promotes sharper memory.
3. Day-after dip
Sweet potatoes are one of the most delicious Thanksgiving foods—and they're also one of the best carbohydrates for you. Heat up any leftover potatoes, and chop up a mix of almonds, pecans and pumpkin seeds. Once the potatoes are warm and easily mashable, put all the ingredients into a food processor and blend for a delectable dip. Serve it with everything from crackers to fruit.
Bye-Bye Bad Habits
Everyone has bad dance habits, and getting rid of them can feel next to impossible. According to Art Markman, a psychologist at the University of Texas at Austin, trying to break your bad habits isn't enough—you have to replace them with better ones, instead.
Why? For starters, if you know you've got a habit to break, like constantly looking in the mirror during class, it only seems natural to say, "I need to stop doing that." The problem with this is that it's a negative goal—something you inherently don't want to do. And since it's a habit, it's nearly impossible to unlearn, because your body and mind are so used to it.
Markman says it's much easier to learn something new than unlearn something old, so try developing a better habit to replace the bad one. If you catch yourself looking in the mirror too frequently, practice using your head to complete your épaulement—and make sure to follow the line with your eyes. A little modification can go a long way.
Did You Know?
Reaching for your laptop or scrolling through an endless feed of Instagram pics is tempting, especially during a holiday break, when you have more downtime than usual. But it's important to limit your screen time. A number of studies have shown that our short-term memory has limited storage, and according to Erik Fransén of KTH Royal Institute of Technology in Sweden, even a single session on the internet can affect our ability to retain information. That means if you OD on @real_world_ballerina's Instagram feed, the choreo that was fresh in your mind before break may be harder to remember once you're back in class. Browse wisely!
Every July since 1966, New York City Ballet has headed to Saratoga Springs, NY, to perform at the Saratoga Performing Arts Center, the company's official summer home. This summer, the open-air amphitheater celebrates its 50th birthday—and to honor the anniversary, the company will present 17 different ballets, including the world premiere of resident choreographer Justin Peck's latest work. We chatted with NYCB principal Sterling Hyltin—who first performed at the venue in 2003 as a corps member and has been back every year since—about what makes SPAC special.

Keep reading...
Show less
Apr. 14, 2016 01:49PM EST
The vision for Paul Taylor's reimagined company, Paul Taylor's American Modern Dance, becomes fully realized this month with its spring season, opening March 16 and running through April 3. Rather than its usual all-Taylor programming, the group will perform commissioned premieres by choreographers Larry Keigwin and Doug Elkins, as well as Diversion of Angels by Martha Graham and two new Taylor works, Sullivaniana and Dilly Dilly. Dancer Heather McGinley, a Paul Taylor company member since 2011, takes us behind the scenes.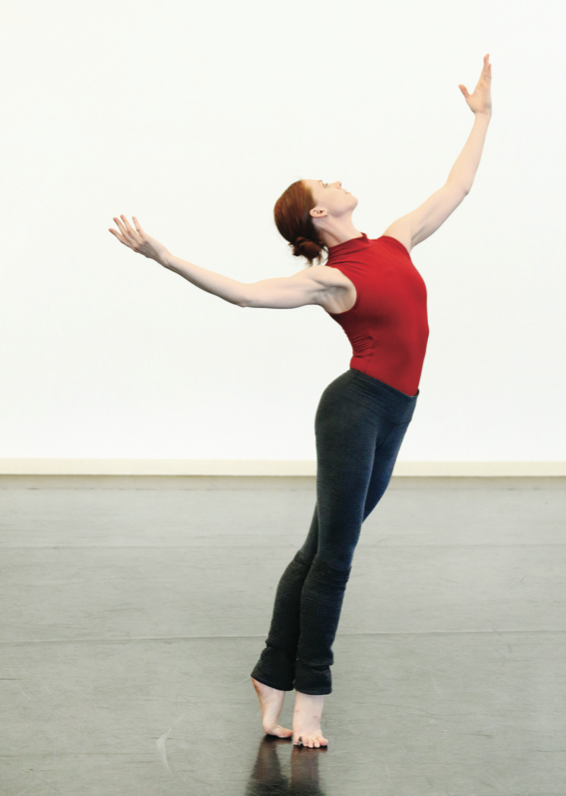 Heather McGinley rehearsing Martha Graham's Diversion of Angels. (Photo by Paul B. Goode, courtesy Paul Taylor Dance Company)
Dance Spirit: What's it been like working with new choreographers?
Heather McGinley: Larry Keigwin and Doug Elkins are very different—it's been thrilling to work with them. Larry's style is a little bit closer to what we're used to. Doug's is more of a departure. His choreography involves a lot of break dancing, voguing and house dancing, so we had workshops to get the feel.
DS: Has Paul Taylor been involved in rehearsals?
HM: So far, Taylor's let the choreographers have us to themselves. He hasn't seen the final product yet. He's been letting Larry and Doug do their thing!
DS: As a former Martha Graham Dance Company member, what does it mean to be able to perform a Graham piece again?
HM: It's very exciting. We've been taking some Graham classes to get into the style, and I'm hoping it'll be like riding a bike! Diversion of Angels is going to be really beautiful on the Taylor Company.
DS: Are Keigwin and Elkins letting Taylor's style influence their choreography?
HM: Absolutely. It's not like they came in and said, "Forget everything you know, I want you to move like this." They're very interested in seeing what we do with the movement they're giving us.
DS: What will audiences take away from this new season?
HM: I think they'll feel an excitement for the future of the company. It's only been Paul Taylor for over 60 years, so it's a pretty big departure and a big deal.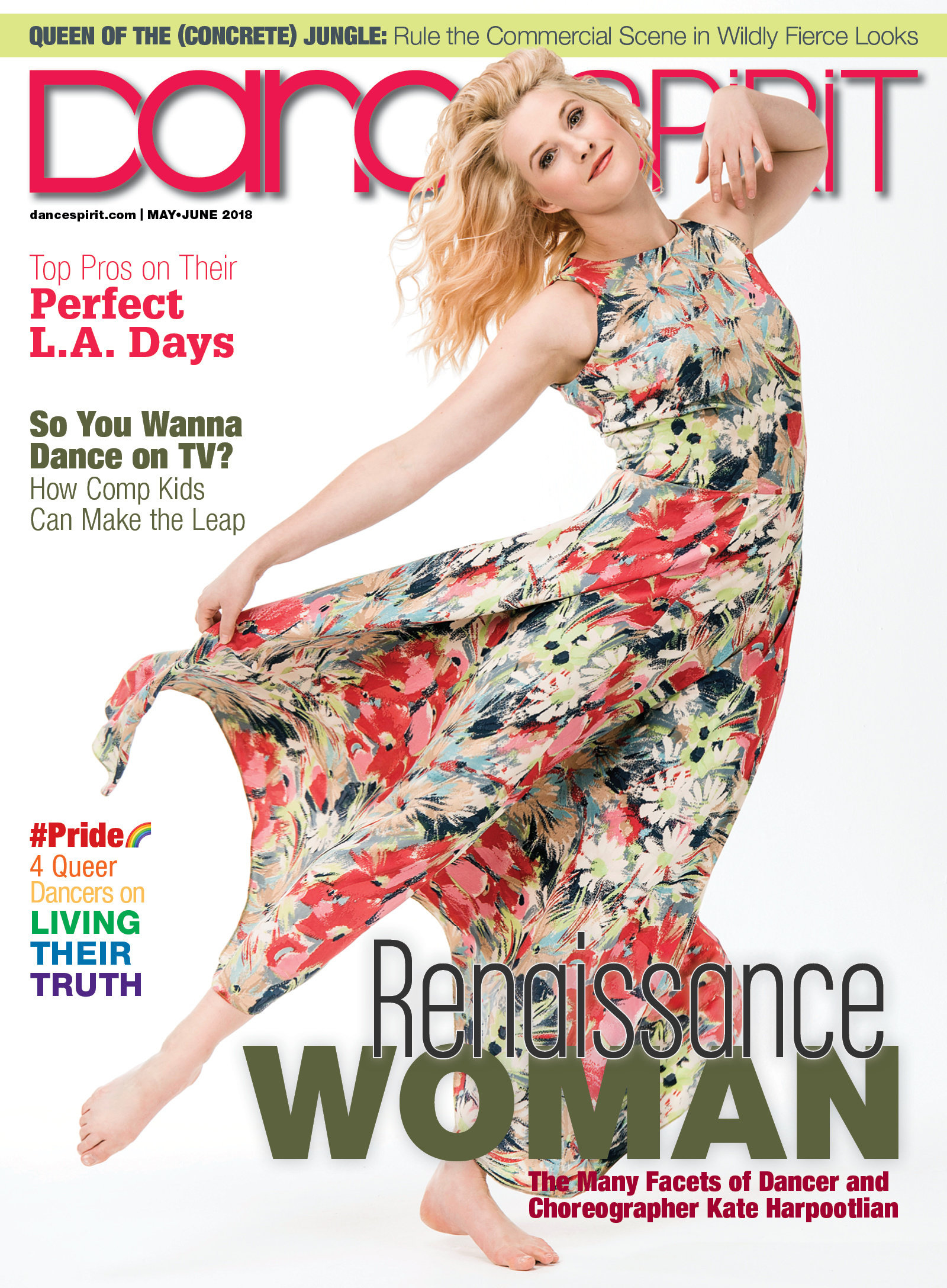 Get Dance Spirit in your inbox