Via Instagram
Everyone has moments of reckoning in their lives, moments when something so earth-shattering happens that we're no longer sure who we even are.
The first time I saw this video of the Brigham Young University mascot, Cosmo the Cougar, casually slaying some choreo on the field at halftime? That was one of those moments for me.
Cosmo the Cougar is a better dancer than I am.
Cosmo the Cougar is a better dancer than I, who trained intensively for two decades, ever was.
What have you done to me, Cosmo? WHAT HAVE YOU DONE?
Keep reading...
Show less
How To
Mar. 07, 2016 04:30PM EST
Brigham Young University's Cougarettes in performance (Michael Skalla, courtesy Shaye Smith)
It's the ultimate groan-inducing moment: A dancer's graceful contemporary piece is going off without a hitch—her technique is flawless, her lines are pristine—but all of a sudden, she's taking four counts to walk to the upstage corner, narrowing her eyes in preparation. She might as well be yelling, "A TRICK SEQUENCE IS COMING." And she's broken the choreography's magic spell.
Keep reading...
Show less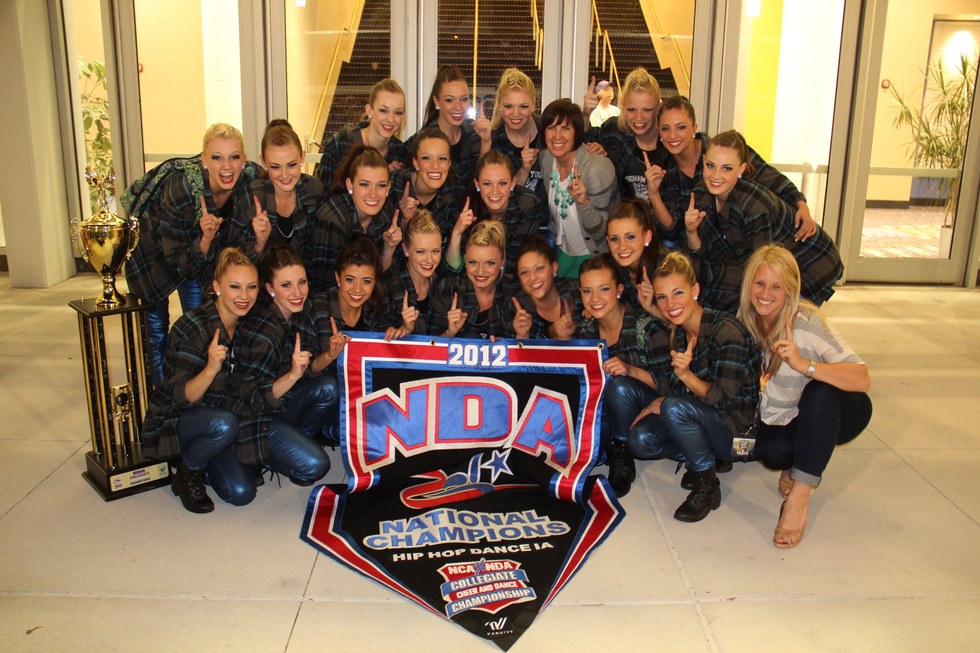 The BYU Cougarettes after winning the 2012 Division IA Hip Hop Championship with a score of 9.984!
This week, dance teams from across the country will head to Daytona Beach, FL, to compete at the 2013 National Dance Alliance Collegiate Dance Team Championship. They've been rehearsing like crazy for months and will finally get to show their stuff at Prelims on Thursday and (hopefully!) Finals on Friday.
To get you pumped up, here's a look at some of last year's winning routines:
Dance Division I Champions: Towson University
Hip Hop Division IA Champions: Brigham Young University
Dance Division IA Champions: Penn State Lionettes
Hip Hop Division I Champions: Stephen F. Austin State University Jack Attack
Pretty awesome, right? Good luck to everyone competing this week! And don't forget to check back next Monday to watch all the winning teams.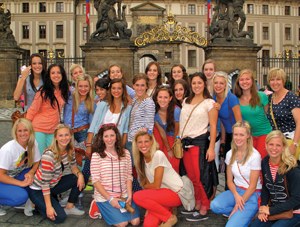 The Cougarettes at Prague Castle
While most college dance teams spent the summer taking a much-needed break, the 20 members of the Brigham Young University Cougarettes did just the opposite. The 2012 National Dance Alliance National Champions received an anonymous—and very generous—donation that allowed the team to travel to the Czech Republic and compete at this year's New Prague Dance Festival. Kaitlyn Swenson, a four-year member of the Cougarettes and a BYU senior, documented the team's experience for DS. —Alison Feller
Friday, June 29
We arrived at Salt Lake City International Airport to see "Welcome BYU Cougarettes" displayed on a large screen over the check-in counter. Despite it being 6 am, each of my 19 teammates walked into the airport with a smile. We flew to NYC and then on to Prague, Czech Republic.
Saturday, June 30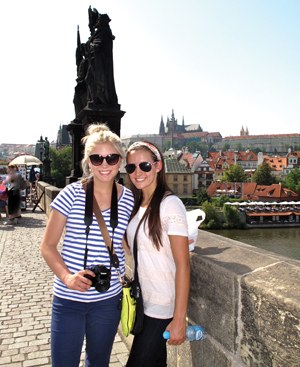 Kaitlyn (right) with teammate Megan Gee Phillips on the Charles Bridge in Prague
Our first day in Prague! We took a tour of the city's Old Town, and I fell in love with the historic center of the city and the quaint buildings. As we explored the winding cobblestone streets I felt like pinching myself: After dreaming of Prague for almost a year, we're finally here.
Sunday, July 1
This morning we woke up tired, but excited to see where we'd be competing. Nová Scéna, the concert hall, held a stage larger than any I'd ever been on. We had a brief rehearsal to space our numbers: a contemporary piece, a jazz routine, a lyrical number, our team dance from NDA College Nationals and our first-place hip-hop routine from NDA.
Monday, July 2
Today we started early with classes led by teachers from the Czech Republic. There were dancers from all over the world in each class.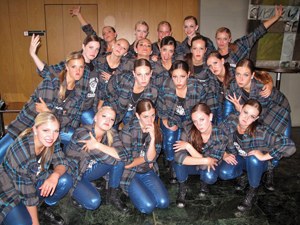 In character before the hip-hop routine
Jiri Horak from the National Theatre Ballet taught an incredible ballet class. Each time we did a lunge he would say "like Swan Lake" and the pianist would break into music from Swan Lake. Next we took hip hop with Tomas Protivinsky, which was challenging but fun. Finally, in the theater makeup class, we learned ways to create different characters onstage.
After a break for lunch we returned to the theater to prepare for the evening competition. The festival officially opened with a pas de deux performed by dancers from the National Theatre Ballet. The NPDF director, David Pospísˇil, welcomed us, and then we went backstage to get ready for our first number.
As we took the stage, the hot lights flashed on and the energy was tangible. In one section, we do fouetté turns in silence, which made the crowd erupt in cheers. As soon as we finished, we ran up six flights of stairs to our changing area to prepare for our next number. Again when we executed our turns, the crowd went wild, and even other dancers backstage applauded. It felt good to be recognized by our fellow competitors.
While we rehearsed our third routine backstage, we were approached by dancers from Turkey who said they were excited to see us. Their youngest dancer kept clapping her hands, screaming, "I love USA!"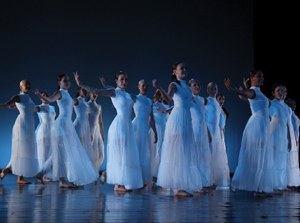 The Cougarettes performing Come Thou Fount
As we began our final number of the night, the audience fell silent when we appeared dressed all in white. This routine, "Come Thou Fount," is special to us because it represents our religious beliefs.
Tuesday, July 3
Today, we took classes all morning and then competed in the evening. It was exhausting, but rewarding.
Wednesday, July 4
We had today off, so we explored. We visited Karlsˇtejn Castle and the historic Prague Castle. At night, NPDF hosted a dinner cruise along the Vltava River.
Thursday, July 5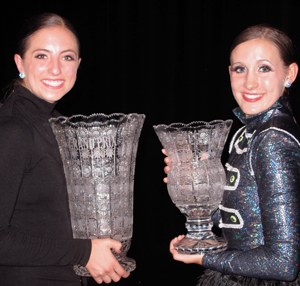 Kaitlyn (right) and Victoria Heaton holding the Grand Prix and Most Friendly trophies
We're all exhausted, but as we took the stage for our final performance, it was like we were breathing and moving as one. We closed the evening with our hip-hop routine. We had so much fun dancing that number, knowing it was our last time this year being together as a team.
Afterward, we joined the other dancers in the auditorium for the awards ceremony. We felt honored when we received the "Most Friendly" award, which is voted on by all dancers.
Finally, it was time for the most prestigious award: the "Grand Prix." We were ecstatic to hear BYU announced. We hugged and cried while the entire audience cheered for us. We felt overwhelming support from the other dancers as we held up our hands in hearts and "I Love You" symbols to show our appreciation. After celebrating onstage, we attended the dinner gala and celebration party where we ate delicious food and danced the night away with our new international friends.
Journeying to Prague was a wonderful adventure that showed how dance truly functions as a universal language. We were able to communicate by sharing the one thing we have in common: a love for dance in all its forms.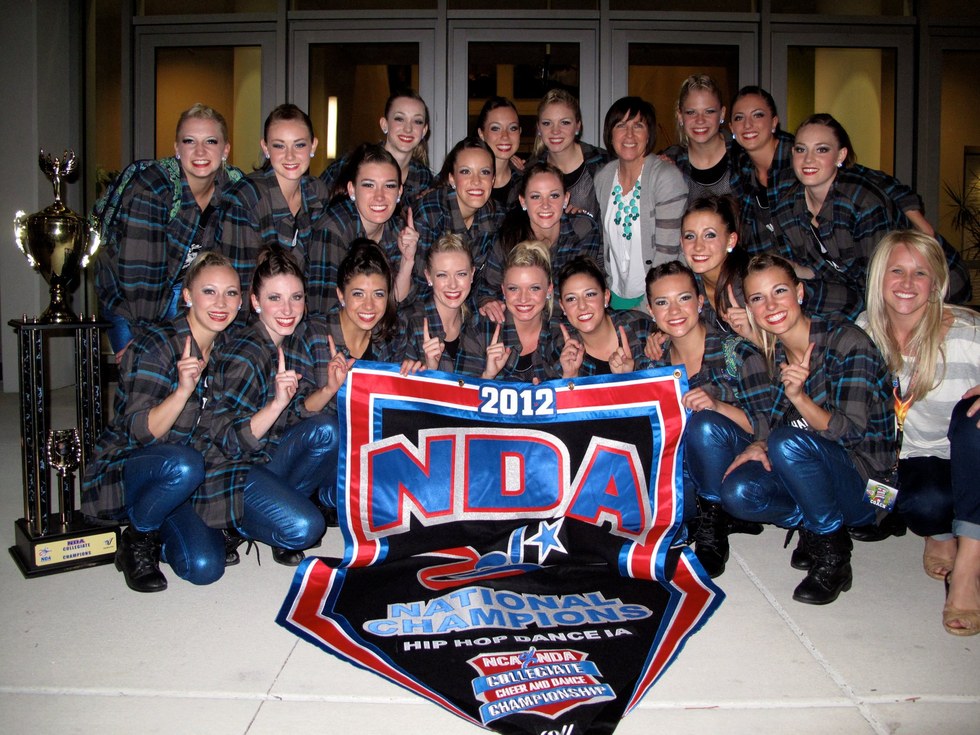 This time last week, I was glued to my computer nervously watching the live stream of the 2012 NDA Collegiate Dance Team Championships in Daytona Beach, FL. It was the first time in five years that I wasn't at the competition in person. But let me tell you—my heart was still nervously pounding as each team took the stage.
Now, a little background. I was on the dance team at Brigham Young University—an extremely competitive NDA team. I still sport my National Championship ring and still feel the pangs of sadness when I think of the year that we lost the championship to our rival by .03. While I have since moved on (Yay, Dance Spirit!) from my dance team days, my little sister carries on the torch as the president of the BYU dance team today.
This year, for the first time ever the Penn State Lionettes beat out Division IA favorites BYU and the University of Louisville with a score of 9.777! While I was sad for my little sister (BYU finished in 2nd and Louisville in 3rd) , it was really great to see a new team capture the coveted championship trophy. Also, we have to mention that Towson University won their 14th consecutive Division I title—wow!
Penn State Lionettes
Brigham Young University
University of Louisville
Then came the hip-hop competition—and allof the teams brought down the house. When you think of college dance teams, "funky" is probably not the first word that comes to mind. Well, BYU might just change that. With a 9.984, they nabbed the hip-hop championship title.
Brigham Young University
University of South Carolina
Do you think the right teams nabbed the championship? Which routine was your favorite? Watch all of your favorite teams here.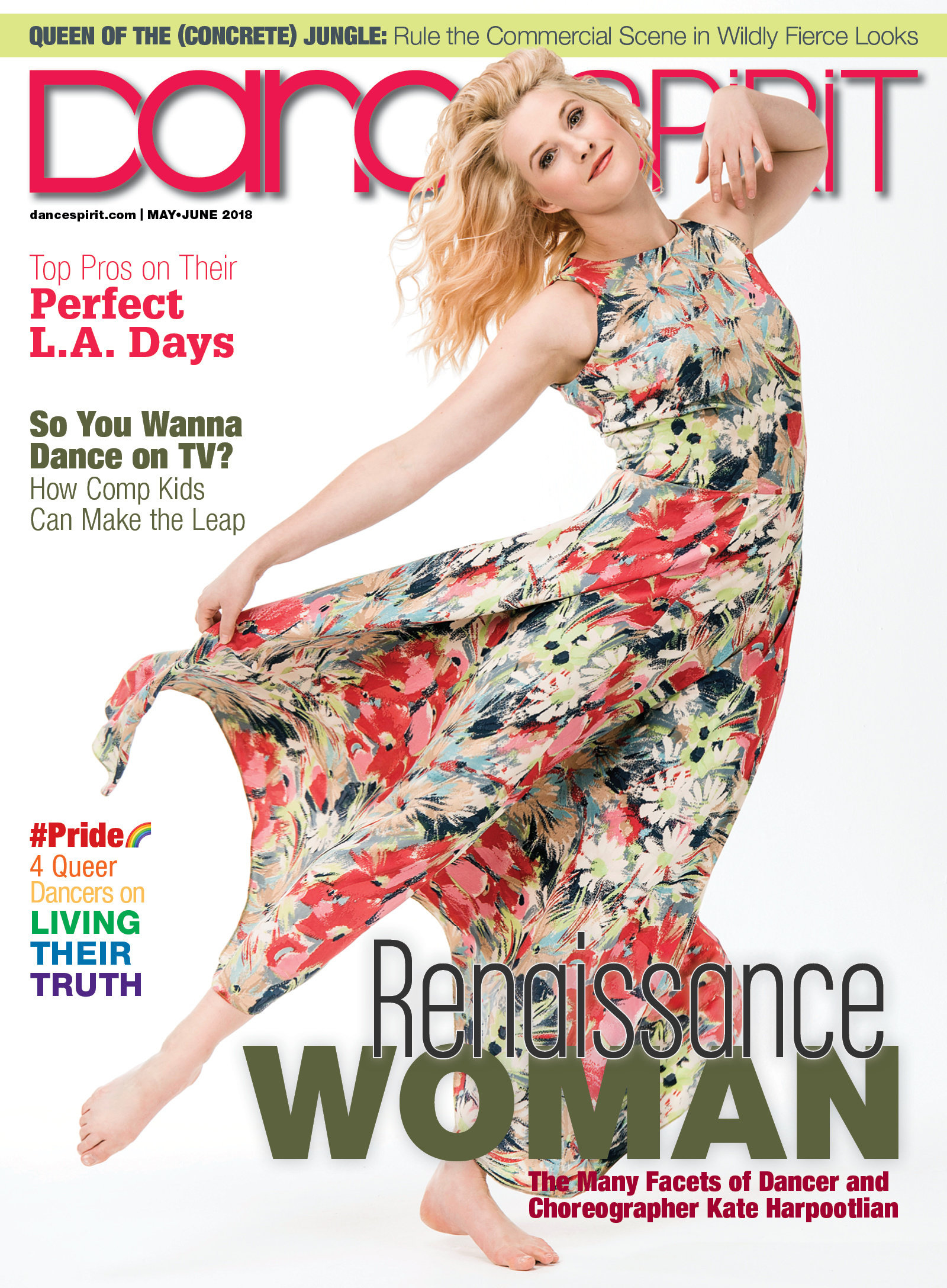 Get Dance Spirit in your inbox