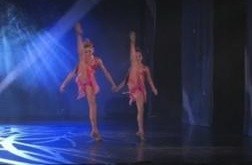 Bam!
"Dance Moms," I've missed you this last month. In fact, I've missed you so much that the fact that this episode was full of Cathy and her fame-hungry dance dads, way too much crying and almost no Mackenzie moments only mildly upset me. (But don't do it again!) At least it was also chock full of dancerly romance! Here are my top three AWESOME and AWKWARD moments.
AWKWARD: Maddie and Gino sitting in a tree… While this little crush is the cutest thing in the whole wide world, the way the adults handle it is pretty disgusting. Apparently, Gino gave Maddie a kiss on the cheek at the last competition. While this was no make out (Mom Melissa makes that very clear), it was definitely the most scandalous kiss in "Dance Moms" history. At least Abby and Cathy can finally agree on one thing: no kissing the enemy!
AWESOME: The "group" dance—although you can hardly call this the group without Paige, Brooke or Mackenzie. Still, Maddie, Chloe, Nia and Kendall make an excellent foursome of "bad girls." They couldn't have been more in sync if they were clones of each other, and the choreography was so cute! Even if Candy Apples' bicycle/unicycle dance hadn't been kind of all over the place, I still think the girls would have nailed the top score.
AWKWARD: Gino and Zack do an emotional dance about Anthony's late father. While I generally love when choreographers use their own emotional experiences to inspire movement, this was probably not the best venue to honor your dad who died only one week earlier, Anthony. Plus, this routine, while sweet, was pretty darn boring. Only Candy Apples would bring in fabulous dancers from all across the country and then give them choreography that's mostly just hugging and caressing each other. Where's the dancing?! Abby, as usual, was honest about not liking the dance, and the Apples freaked out. It all ended in a ridiculous fight where Cathy cried because no one had her back. The dads get all awkward and uncomfortable, except for Jalen's dad, who has clearly decided that his life goal is to live up Cathy's butt. Then Gino's dad asks to join the ALDC. Sigh… In case you haven't noticed, I'm not the biggest fan of the adults associated with Candy Apples.
AWESOME: Chloe and Maddie dancing together. Thank goodness we get to take a break from this little battle (although it looks like it's coming back in full force on the next episode…). Again, their synchronization was insane. That first place win was no surprise. Now the question is: How is Abby going to decide who goes on the top of the pyramid next week?
AWKWARD: Mom Kelly, for this entire episode. I don't even know where to start. First, Abby told her that both Brooke and Paige would be featured at competition, which upset her for a reason I must have missed. Then Mom Jill stirred up trouble and Mom Christi yelled in Paige's face. So now Kelly has an actual reason to be upset, but says she's not upset. Then both her daughters do really well, so she cries and says she's leaving the ALDC. I'm confused…
AWESOME Brooke gets to dance with the seniors! Oh, was Brooke too old for this group of munchkins? Of course she was! She's not quite at the seniors' level yet, but at least she's finally being challenged. And holy beautiful dancers, Abby. It's eye opening to see how well-trained and professional Abby's kids grow up to be (yup, she knows what she's doing!). To make this little twist even better, cute 17-year-old Kevin is a part of this dance, and he takes Brooke on a date (because Abby makes him). Turns out, Kevin can eat a lot of dessert. I think these two are just precious together. Can I be invited to their wedding, please?
Time for the QUOTE OF THE WEEK:
"Miss Abby always says, no boys, no boys. But this is the second date she's set me up on!" – Brooke
And, just for kicks, here's a fun fact that will blow your mind: ALDC dancer Kevin (Brooke's date) and Candy Apples dancer Gino (Maddie's crush) are BROTHERS! Both beautiful dancers, they study at Dance Attack in Miami, FL. (Apparently, Kevin's been competing this piece with ALDC as a guest all season.) Oh Lifetime, as if this show wasn't scripted enough…
That's all for this week. Tune in next week for more "Dance Moms" fun and, of course, another recap.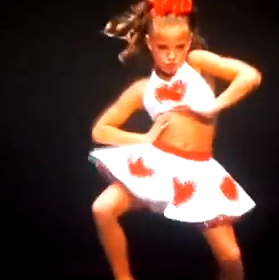 Work it, Kenzie!
Finale time! The whole crew—and I mean the whole crew—was in New Orleans for In10sity Nationals. Much of this episode was hard to watch (aka the parts featuring the moms), but, in the end, there was a ton of great dancing. Here are my top AWESOME and AWKWARD moments from last night.
AWKWARD: Abby made the girls go head to head to decide who would perform a solo at Nationals. Mackenzie vs. Asia. Brooke vs. Payton. Chloe vs. Kendall. Nia vs. Paige vs. Maddie. Each group would learn one solo, and only one kid from each match up would get to perform. Of course, this stirred up plenty of drama among the moms. The kids, however, out-matured their parents as usual and seemed fine with a little healthy competition. It was a nail biter, alright, but then the whole plan was turned on its head because of the moms and their mayhem (see below).
AWKWARD: The moms get drunk. Long story short: Mom Christi and Mom Leslie end up in an actual physical fight and Leslie then tried to beat up a producer. Obviously, they were asked to leave the show. The worst part? Their kiddos had to leave with them. Bye, Chloe and Payton. And Mom Kristie, apparently appalled by the moms, took Asia out of the equation, too. I would say I think this will teach the moms a lesson…but that would be a lie.
AWESOME: Mackenzie as "Dance Doctor." Things didn't look good for Mackenzie at the start of this episode: Abby pitted Little Mac up against Big-Personality Asia in an improv-off—and Asia crushed it. But after Asia had to leave the competition, it was up to Mackenzie to snag the title. She. Was. Awesome. I know Abby is always saying how good Asia was for Mackenzie—forcing her to step up her game—and I think she may be right. It looked like some of that Asia sass had worn off on her, and all her old tricks were still top notch. Abby might call second place the first loser, but Mackenzie was the champ of this episode in my book.
AWESOME: Where did you come from, Kendall? While it's sad that Chloe had to leave, it was nice to see Kendall have her moment in the spotlight. And I was blown away by how strong she looked in her solo! As Abby says, she's "nipping at Maddie's heels."
AWESOME: Maddie's solo. There's a reason she's unbeatable, people. This girl knows how to perform. The moms had a point when they said this choreography was designed for Maddie, and she performed it flawlessly. While it was a little expected since Chloe had left the competition, it was nice to see how genuinely thrilled Maddie was (she even looked surprised!) to be named first place. Congrats, Maddie!
AWKWARD: The Cathy came back. Sigh, but we were having so much fun without her! And, to continue avoiding doing any work herself, she's brought Blake McGrath in as a choreographer—who's sporting a strange (read: awful) neck tattoo. The kids do a good job picking up his tricky choreography…just not good enough. The Candy Apples group dance gets second to the ALDC, who killed it with an emotional tribute to Hurricane Katrina. Don't cry, Cathy!
And…the ALDC kids are the National champs!
Now, the Quote of the Week:
"Nia needs to compete for a solo with Maddie and Paige. It doesn't take a doctor to find out how that's gonna end up." —Mom Dr. Holly
That's all for this season, folks. We're left wondering: Will there be a Season 4? And with no Asia, perhaps no Chloe or Payton, and maybe even no Abby, should there be? Weigh in below!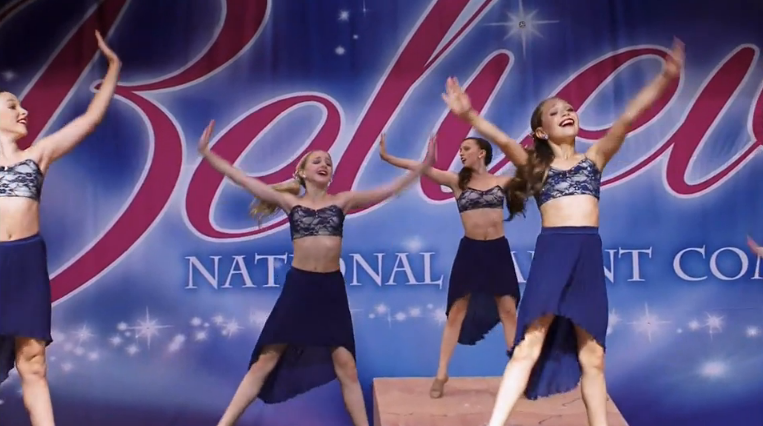 The girls showed genuine emotion in their contemporary routine this week—and we loved it!
After a grueling week of Abby Lee Dance Company showcase prep and performances, Abby's dream team was back and ready to compete—minus a few key members. The Hyland family is still M.I.A. this week, much to the team's dismay and Abby's delight. With plans to attend a new and highly-acclaimed competition and go head-to-head with Cathy and her fresh crew of MVPs, the stakes were higher than ever. Here are my top AWKWARD and AWESOME moments from this week.
AWKWARD: We're back at the Candy Apple's Dance Center this week, but things aren't exactly how we left them. While choreographer Anthony has stuck around, many of Cathy's recruits have not. With Jaden and Zack inexplicably absent (not to mention old favorites Gino and Nick), we're introduced to a new cast of talented dancers from around the country. Amongst them is none other than Lucas Triana, a super-flexible, strong and driven dancer who we first saw on "Dance Moms: Miami." I was thrilled to have a chance to see more of Lucas, but just really confused as to how Cathy can play this off. With Lucas came Mom Bridgette, whom Cathy claims to be "very good friends with on Facebook." While the team is undeniably comprised of impressive talent, it's pretty awkward that Cathy and crew keep shuffling their players around in hopes of defeating the invincible ALDC.
AWESOME: It's a miracle—the moms are getting along! It seems that in times of need and turmoil, the moms make an unconquerable army. They really come together to face the Candy Apples and lobby for Kelly's return. In Brooke's absence, Abby calls in senior company dancer Payton, and with her comes Mom Leslie. In the past, the other moms have been far from thrilled to share the observation mezzanine with her, but this week they're appreciative of her strong demeanor. Grateful to have another ally by their side on the upcoming trip, the moms have nothing but compliments for Payton, and they go pretty easy on Leslie as well. How refreshing!
AWKWARD: We may have gotten a break from the Pittsburgh mama drama this week, but that doesn't mean there was any shortage of conflict. Although breaker Jalen and Dad Rick weren't with the CADC this week, Cathy made sure to keep her team stocked with powerful and outspoken parents—and I don't just mean the parents of the dancers. Cathy's mother (reluctantly) agreed to tag along to Lancaster with the team, and choreographer Anthony's mother came to support, too. The two remained silent until the inevitable post-awards showdown, when Anthony's mother was far from hesitant to tell the ALDC how she felt. One set of moms is enough—let's not bring in another! Christi said it best: "This is about dance! Are you people insane?!"
AWESOME: At this week's pyramid revealing, Abby told Nia once again that she wants more from her, a point to which Mom Holly argued could only be improved if Nia had more time in the studio with her teacher. Well, she instantly got her wish. Abby was disappointed in Maddie's reluctance to perform a new solo last week, so she put Nia in her spot for a trio with Kendall and Chloe. She cut Nia no slack in rehearsals—and it certainly paid off. The girls looked beautiful onstage in a technical and stunning routine. Even Melissa remarked that Nia's facials were "priceless." The best part? Abby agreed! Go Nia!
AWKWARD: It seems that Yvette and Kristie Ray have a bit of unresolved tension from their time together on AUDC last season. As the two reunited, they instantly burst into an argument rehashing all kinds of things that had been said in the past. These two have each met their match—neither was willing to back down, especially in the defense of their daughters. Once the members of their respective teams pulled them apart, Kristie managed to get the last word by calling Yvette out on her Spanx being too tight (ouch!).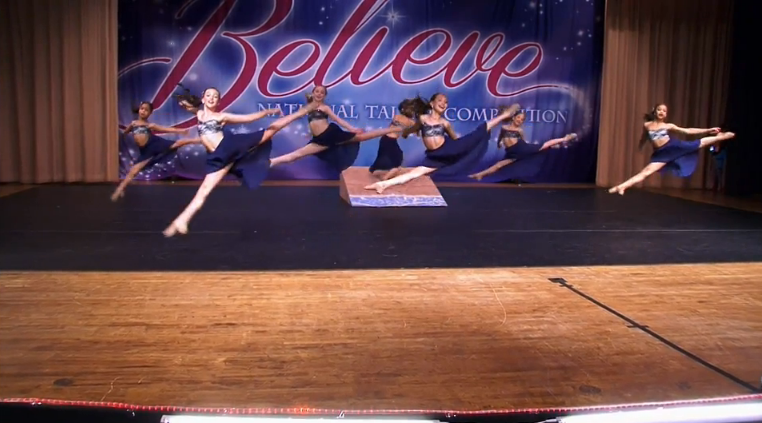 "Open Waters" was both technical and moving.
AWESOME: I loved the group number this week. Entitled "Open Waters," the piece showcased technical excellence, strength and emotion—all the elements that make up a winning contemporary number. The girls looked so strong and mature, and the costumes, in combination with a sleek low-ponytail, made for a clean and professional look. Even with the challenge of working with a prop (and a new team member), they still managed to pull off a first place win (and reign supreme over the Candy Apple's crew!). Victory for the ALDC yet again!
Although the numbers looked great and the drama was scarce, the show really isn't the same without the Hylands. The moment Abby pointed out what an asset Brooke's unmatchable contortion work would have been to the group number, it became clearer than ever that the family actually isn't replaceable. So, with Leslie and Payton determined to stay put, tension will most certainly be high at the ALDC next week.
QUOTE OF THE WEEK:
"Leslie's like the boil on the butt of humanity." –Mom Christi
Poor Nick always gets the worst costumes...
My thoughts on this week's episode are best summed up by a tweet from the one-and-only Abby Lee Miller: "Snore snore bring on #ALDC!" With another hour filled with Candy Apples and "Abby's Ultimate Dance Competition" drama, we didn't even catch a glimpse inside the walls of the Abby Lee Dance Company. Here are my top three AWESOME and AWKWARD moments from this week.
AWKWARD: Instead of seeing Abby's infamous pyramid, we're introduced to Cathy's "apple tree." Different from her previous ranking system, each dancer's face was represented by an apple on the tree—the higher the branch, the higher the ranking. Curiously enough, Nick was the tree-topper because of his noted stellar performance the week prior. Thanks to my Twitter research, I learned that Nick had a solo that we didn't get to see—and that solo received the highest score of the whole competition!
AWESOME: Anthony standing his ground. From the start, I've thought Anthony and Cathy were a bit of an odd duo, in terms of both dance background and personality. In recent weeks, we've seen the two clash, but this time, Anthony wasn't playing any games. He proudly rattled off his accomplishments—working with Beyoncé, Rihanna and more—and topped it of by calling Cathy's comebacks corny. She responded to the situation by carefully weighing her options; after shelling out for a choreographer as coveted as Anthony, she wondered if she could have better spent the money on some new designer handbags. "Great choreographer, or new Louis?"
AWKWARD: Bunny cataloguing. I didn't even know that was a thing, but apparently, it's one of Cathy's two favorite pastimes (the second being spending time with Vivi). Lucky for her, she was able to combine her two passions when she and Vivi took inventory of each statue and figurine of a bunny in their home as "one hoppy family." Then, Cathy brought a real live bunny to the competition for luck. Whatever works!
AWESOME: Hadley and Nick's duet. Although the clip of Abby calling Hadley road kill has somehow made its way into every recent episode of "Dance Moms," Hadley certainly has improved since her "AUDC" days. The two did a contemporary tribal-themed duet, which was impressively technical and entertaining. With a difficult headpiece that caused a pre-performance mini-meltdown, Hadley wiped her tears and measured up to front-runner Nick. First place!
AWKWARD: This week's Candy Apples group dance seemed eerily familiar to me—a sassy character jazz routine set to music by a theatrical cross-dresser, elaborately costumed and ending with a death drop. No, this isn't ALDC's "My Pumps" (which, might I add, is my favorite group dance in the show's history), but rather, "So Chic." Similar in style from the start, I noticed parallels between the two numbers from the second it began…but was floored (no pun intended) by the ending pose. I can't help but wonder how Shangela feels about all of this.
Check out this video of "My Pumps" and compare for yourself:
See what I mean?
AWESOME: Maddie's solo. Although we barely got to see any ALDC this week, this glimmer of familiarity was much appreciated. A guest performance on a taping of "AUDC," Maddie's routine was flawless as always. Faced with the challenges of dancing with a live musician and adjusting to camera angles, Maddie rose to the occasion and nailed every step. From the looks of it, the "AUDC" judges agreed! And who is that sitting at the judge's table next to Season 1's Richy Jackson? None other than Rachelle Rak, the Broadway superstar who guest choreographed for Abby earlier this season. Lucky for us, we'll get to see more of her (and an encore of Maddie's performance) within the next few months! (P.S. Is anyone else as curious as I am to see who the "AUDC" contestants will be this year?!?)
QUOTE OF THE WEEK:
"I'm not gonna have no girls lookin' like He-Man." –Anthony, defending his belief that girls shouldn't have to do push ups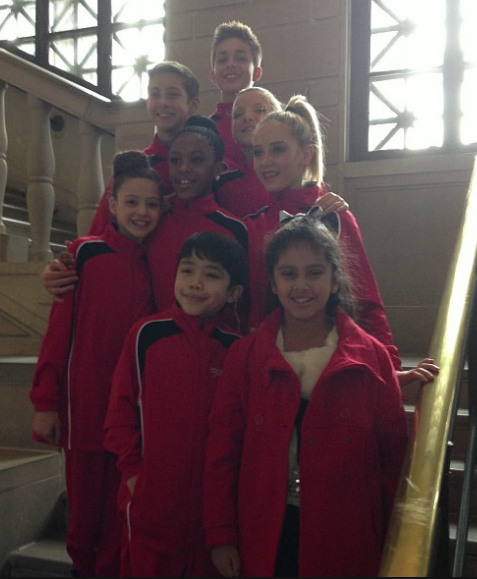 Some familiar faces in this crowd...just not the ones I wanted to see for an entire episode.
How do I love "Dance Moms"? Let me count the ways... Chloe, Maddie, Paige, Brooke, Nia, Kendall, Mackenzie. Oh, you know, just the 7 characters that weren't even in this week's episode of the show. Yep! That's right. No pyramid. No solos. No groups. Nothing. Are you KIDDING me?!?
Week after week, I'm frustrated with the focus on Mama Drama versus actual dancing, but considering the show is called "Dance Moms," I really can't complain. But after seeing tonight's episode, I'd gladly sit through endless footage of screaming in the ALDC observation mezzanine.
Set and focused entirely on the Apple Cores,  "An Apple a Day Keeps Abby Away" followed the plotline of yet another hand-picked team, lead by none other than Cathy and her new sidekick, esteemed choreographer Anthony Burrell. If Lifetime is trying to teach us the age-old lesson of "you don't know what you've got 'till it's gone," they're seriously nailing it. With no more than a taunting glimpse inside the ALDC, I felt a major void during this week's episode, so unconventional that it can't even be categorized into awkward and awesome. Here's a rundown of the hour's top shocking and questionable moments.
Is this "Dance Moms" or "Abby's Ultimate Dance Competition"?  With Abby hunting for studio space in L.A. (is that really going to happen? I'm not sure my heart could take it), we got to see some behind-the-scenes footage of the upcoming season of "AUDC." Undeniably a fan of any and all things Abby Lee, I'm eagerly anticipating the show's second season…but not at the expense of my beloved "Dance Moms." Between these sneak peeks and Cathy's utilization of both Zack and Hadley from "AUDC"'s first season, I honestly don't know what I'm watching anymore. On the positive side, it was great to see the two performing Burrell's choreography, both in the group number and individual solos. They're stronger every time we see them!
The (second) return of Kaya and Nicaya. Yeah, the mother who calls herself "Black Patsy," inspired by Patsy Ramsey, who is famous for being an overbearing, psychotic stage mother. If that's not enough to deter you, Kaya's uninhibited yelling, name calling and overall aggression earlier this season probably put you off. Don't worry, Cathy personally recruits the pair and invites them to represent her own studio. Great! Can't wait to see ya!
The moms unite. Aside from the brief, nondescript clips of the ALDC girls rehearsing a piece we never saw, the only taste of familiarity in this episode were scenes with the moms we know and love. And…they were getting along! And bonding! What a relief. While toasting to Abby's absence over a festive lunch and gossiping about the possible studio move, the moms seemed to be enjoying each other's company (even Kristie!). After discovering Jill's sneaky spy skills in last week's episode, Abby gives her the task of rounding up the troops and heading to the competition to see what Cathy and her new team have to show for themselves. Jill quickly complies, and follows through until the very end (but not without throwing a few insults in the green room.)
To sum it up, this week's episode was a different program entirely. On the bright side, it's great to see how the "AUDC" dancers, Apple Cores and new recruits have improved, giving the dancers and studios exposure on a primetime national platform.
Next week, it's more Candy Apples with a side of "AUDC"—but this time, we at least see a solo from Maddie, who's awarded a special guest performance. I can't say I expect this to go over well among the moms, but I'll welcome the drama if it means seeing the familiar faces we know and love.
Quote of the Week:
"Cathy will enter herself in the open solo category and dance her own dance if it means competing against us." —Mom Christi (Next week on "Dance Moms"…)
Last night's episode of "Dance Moms" was traumatic, to say the least. There was so much yelling, too much cursing and not enough dancing from those talented kids we adore. But as always, we're not here to complain about Crazy Christi (um, Chloe got a solo and that still wasn't good enough for Christi, but OK) or Even Crazier Cathy (why are the Candy Apples still a part of this show, again?). We're here to highlight the few things that were actually kind of awesome.
Here are the Top 5 Moments from "Revenge of the Candy Apples":
5. Maddie keeps her cool. This poor kid is constantly being put in awkward situations. She's talented, and yet she's always faulted for it. The other mothers hate her, and she remains modest. This week, Abby forced her to do a solo, all in the name of beating Justice The Candy Apple Kid at Starbound. Maddie's mom refused to let her perform—considering it was the night before competition and she didn't even have a routine prepared—but Abby pushed on. Still, Maddie was poised and professional and didn't end up taking the stage with a solo. Keep it up, kid. Stay strong.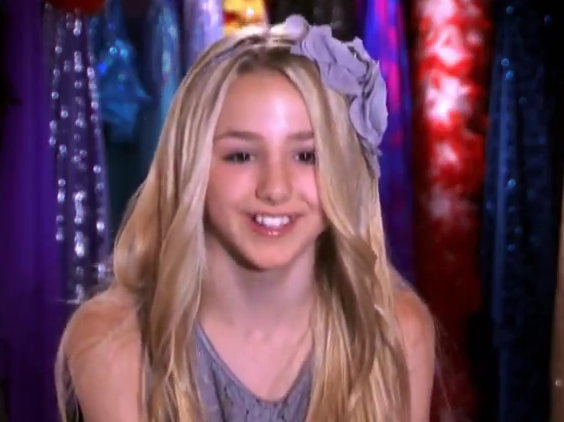 4. Chloe's hair. Whether she's rocking her signature braids or her hair is all blown-out for her camera interviews, this girl has some seriously shiny locks. Since there was very little dancing in this week's episode, I am awarding a top spot in my own pyramid to Chloe's hair. It's fair.
3. "Straight legs and stretched feet will never go out of style." Abby said something that I agree with! Abby was at her most crazy this week, and I did my fair share of cringing throughout the episode. She cared far too much about winning, she attacked Chloe and blamed her for the team not getting the "clean sweep" she was after, and the way she acts in front of her kids when she's around Cathy is just...awful. But she's right about one thing: Straight legs and stretched feet are just divine.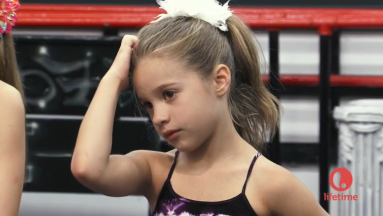 2. Kendall and Mackenzie's duet. Now we all know Mackenzie can do no wrong in life, and this week's addition of a polka-dotted two-piece costume and a massive bow made up for the fact that her high-energy front walkovers were kind of spastic. The routine was messy and Kendall and Mackenzie didn't exactly have dream chemistry, but they were cute and they won. This made up for Mackenzie's tearful breakdown earlier which made me want to reach through my TV, grab little Mac and put her in my pocket to protect her from harm forever.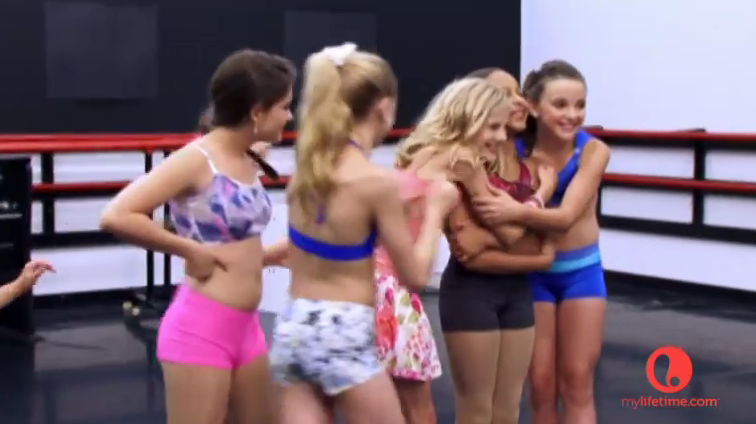 1. Nia is at the top of the pyramid! I'll admit, I'm not the biggest Nia fan. I think her dancing is usually just OK and her technique could use some work. I also passionately hate the "death drop" that everyone raves about. What is that? But did Nia go totally full-out at competition last week? Oh heck yeah she did. She deserved her spot at the top of the pyramid, and it was super-cute how all the other dancers were excited for her, including Maddie and Chloe. Nia's a cute kid and I support her pyramid topping. Of course, landing that spot meant she was "team captain" and Abby later forced Nia to call Maddie telling her to get to practice against her mother's wishes. That wasn't awkward at all. Way to be the adult, Abs. Nia was a champion though, saying being team captain "means you correct your friends even if you don't want to—you have to...I can get used to this." Own it, young Nia. Own it.
What'd you think of this week's episode of "Dance Moms?" I say more dancing, less Mom stuff and please, someone get Abby Lee Miller a Xanax or something, because she has truly lost it. Also, the Candy Apples doing "My Hair Like This" will haunt me for at least three days. Please, no more knee-high patent leather boots on pre-teens. Or anyone. Ever. Vivi scares me.
That was a doozy. I'm exhausted.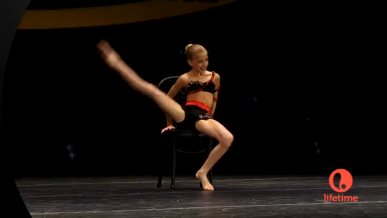 Let me be the first to say that going two weeks without any new Abby Lee Dance Company footage was rough! I missed these little girls; Their moms, not so much. And this episode brought us back to all the things we love—the moms enjoyed some cocktails, the Candy Apples returned and Maddie got to the top of the pyramid (twice!). Here are my top 5 moments from last night's show:
5. Kendall is so precious, and such a hard worker. And I loved seeing her smiling face after a less-than-excellent award ceremony. But that girl was just taking abuse from all sides last night: Abby Lee's one goal was to beat her, her teacher Cathy had pretty much given up on her, her music was skipping all over the place, and then even her mom seemed angry with her performance!  Keep your head up, Kendall—I'm rooting for you!
4. Paige's solo smack down. Ok, while I really can't stand her mom, I love Paige and was so happy to see that she finally got the chance to shine with a solo (as long as she perfected it on her own time with no help from any teachers). Let the mayhem ensue. Her mom went ahead and re-choreographed the whole thing to make it more challenging, and, surprisingly, it worked! Paige placed 7th (only one spot below Chloe), blowing competition Kendall out of the water, and she proved to Abby Lee that she's outgrown her safe, boring choreography. Time to step it up, Abby Lee.
3. Vivi as human prop. Even professional choreographers don't know what to do with this child; the dancers awkwardly carrying her (the "Asian Princess") around the stage was hard to watch. We get that you're using her to bring the age of your piece down, Cathy. Problem is, when she's 15, and still hasn't learned to pick up choreography, poor girl is going to run into some serious problems.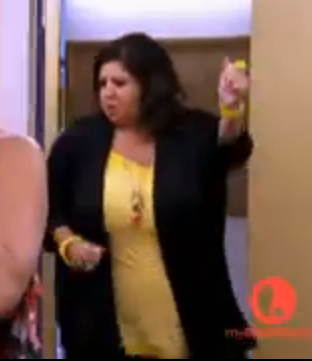 2. Abby Lee brings in some ringers. There's nothing that usually distracts me more than when 18-year-olds dance with 6-year-olds (see number 3), but Abby Lee really pulled it off with class. The choreography was beautiful, and all of the girls really held their own in this week's group number. And, since she hasn't been mentioned yet, let me take a moment to praise little Mackenzie for killing that tricky choreography alongside senior dancers! Take that, Vivi.
1. I was definitely expecting some serious yelling (and perhaps some chair-throwing) when Abby Lee came back to the dressing room after awards. Instead, she gave us the most awesome victory dance ever!  Though it was only about 4 seconds long, I may have re-watched it a couple of times.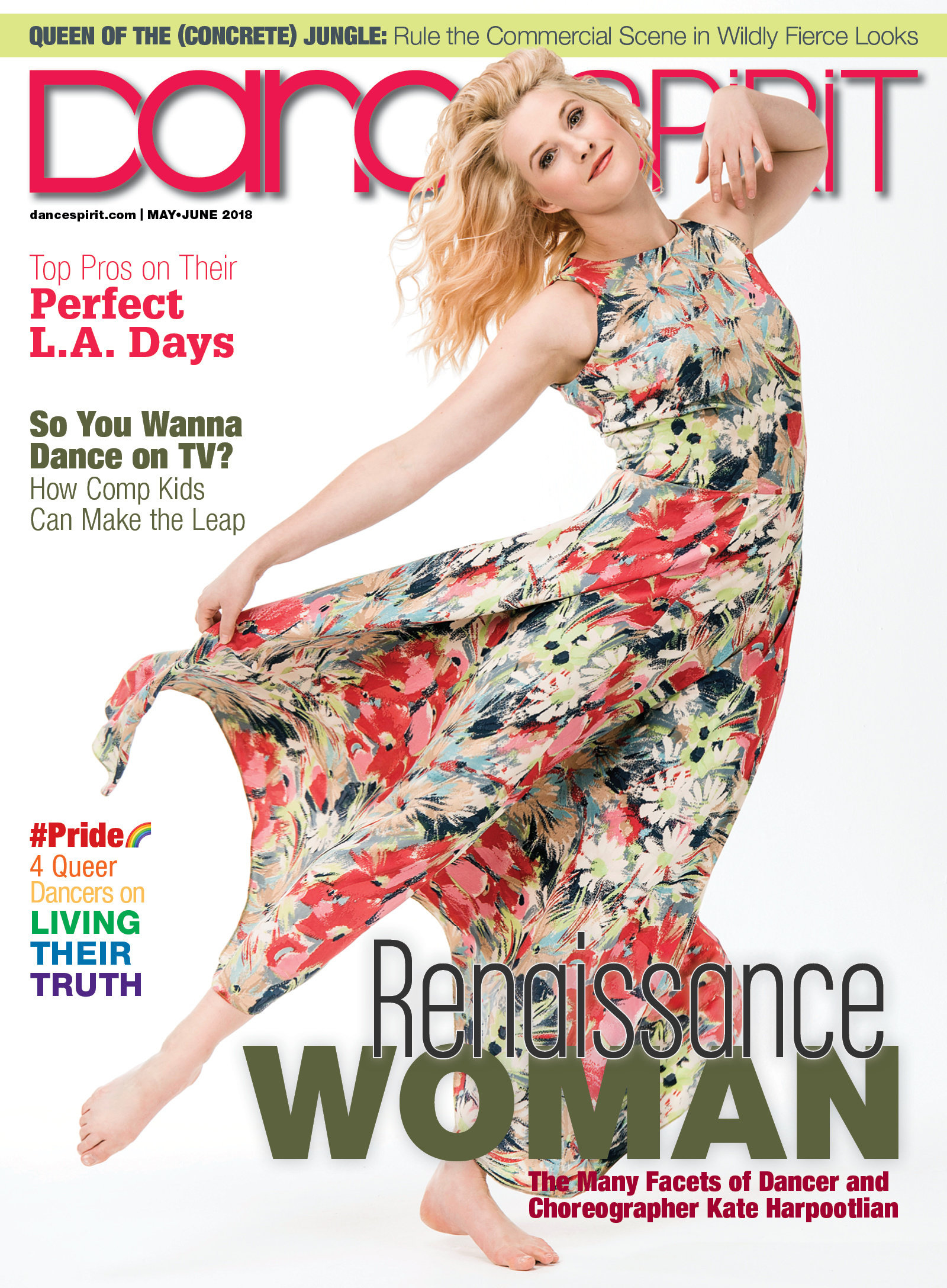 Get Dance Spirit in your inbox