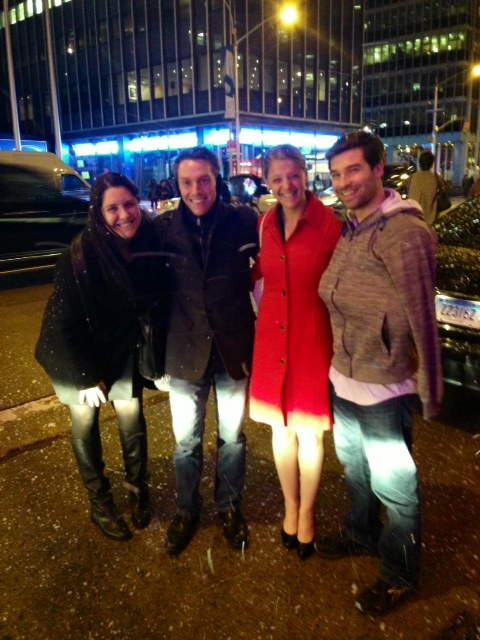 With some of my favorite people after seeing one of my favorite shows! (On opening night, they make it "snow" outside Radio City Music Hall. How's that for magical?) I'm the one in the red coat, flanked by my friends Lauren and Scott on the left, and my boyfriend, Brian (hiding his broken arm in a cast inside his sweatshirt), on the right.
Living in NYC, lots of things get old really fast: car horns, ambulance sirens, crowded subways, car horns, unavailable taxis during rush hour, pollution, car horns... But the one thing that never ever ever ceases to amaze me is the Radio City Christmas Spectacular, starring The Rockettes.
If you've never seen this classic show, here are five reasons to catch it this year, either at NYC's iconic Radio City Music Hall, or in one of the show's tour cities:
1. The Rockettes! Duh. These women aren't just beautiful and talented: They're perfect. I've never seen formations as impeccably spot-on as the ones in "The Parade of Wooden Soldiers," and the reindeer costumes in "Sleigh Ride" make me wish for my own pair of light-up antlers. Plus, the Rockettes can do much more than eye-high kicking. In "The Twelve Days of Christmas," they tap up a storm, and in "Snow," which is new this year (though, sadly, it replaces "Shine," which is my forever-favorite Rockette number), the Rockettes show off a little contemporary style.
While the dozens of women onstage may somehow manage to look exactly alike, it's fun trying to spot familiar faces in the line. This year, I saw former comp kid (and DS model!) Kali Grinder and "Dance212" veteran (and another former DS model!) Jenny Laroche.
2. The "other" dancers. Fun fact: The Rockettes aren't the only dancers in the show. There are more dancers in the show who do more traditional, jazz-based dancing throughout the 90-minute program. ("So You Think You Can Dance" alum Matt Dorame and New York City Dance Alliance demonstrator Chase Madigan are among the NYC group this year.)
3. The Claras! The fourth scene of the Spectacular is "The Nutcracker," and it just might be my favorite part. It's a twist on the classic Nutcracker's "Land of Sweets," with dancers in giant bear suits playing the parts of the sweets. Leading the group of bear-dancers is Clara, a real-life, talented little girl who bounds around the stage on pointe with a grin on her face that seems to stretch from stage right to left.
Past Claras have included "SYTYCD" Season 10 winner and current DS cover girl Amy Yakima, American Ballet Theatre Studio Company dancer Catherine Hurlin, up-and-comer Madeleine Gardella and my all-time favorite ballet dancer, Juliet Doherty. (Click here to meet a whole group of former Claras—all of them came from the comp world!)
4. The camels!!! The second-to-last scene of the show is "The Living Nativity." Surprisingly, this is one of my favorite parts of the show (though, apparently, all parts of the show seem to be my favorite at this point). There's no dancing during this scene, and it's based on the story of the first Christmas. So it doesn't really sound like something I'd be into—and then four camels walk across the stage. Real camels. There are sheep, too, but it's the camels that get me every time. Camels, sharing a stage with Rockettes. I mean...where else can you see that?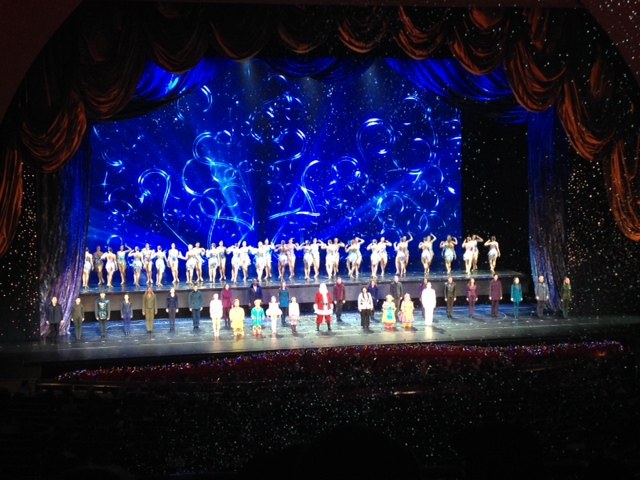 Balcony seats for the win! (You get to see all the formations that way.)
5. The sheer joy it brings. There is something for everyone in the Radio City Christmas Spectacular, whether you're young, young at heart, old, old at heart, a boy, a girl, a dancer, a hater, a Catholic, a Buddhist, a Muslim, a non-believer, a ballerina, a tapper, a tourist or a longtime New Yorker. Basically, The Rockettes = world peace.
So you promise to go see the show? Great! Here's where to buy your tickets.
Jun. 18, 2013 11:21AM EST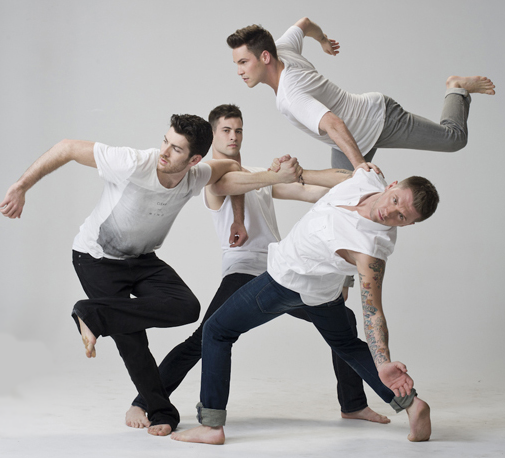 (L to R) Shaping Sound's Teddy Forance, Kyle Robinson, Nick Lazzarini and Travis Wall, photographed for "Dance Spirit" by Joe Toreno
Last night, the DS staff got all gussied up and headed to the Beacon Theater for Shaping Sound's That's Where I'll Be Waiting. So did pretty much everyone else in NYC.
No, but really: The crowd at this show, which was the last stop on the company's month-long tour, was incredible. Along with mainstream dance fans like Jesse Tyler Ferguson (a.k.a. the best "So You Think You Can Dance" judge of all time), there were a host of familiar dancers and choreographers milling through the lobby of the Beacon. Joey Dowling! Kenny Wormald! Dana Wilson! Ida Saki! Catherine Hurlin! It was like a reunion for all the dance world's cool kids.
Not that that's surprising. The members of Shaping Sound are some of the most exciting people on the commercial scene, after all—and definitely not less famous since their turn on the reality show "All the Right Moves." Almost every Shaping Sound dancer is a dance celebrity, and the people most prominently featured in That's Where I'll Be Waiting—Travis Wall, Nick Lazzarini, Teddy Forance and Kyle Robinson, who also created and choreographed the show—have become legit stars. More celebrities onstage = more celebrities in the audience (and also = more opportunities for us lesser non-celebrities to totally freak out because Jesse Tyler Ferguson is sitting one seat away from us, eee!).
The Shaping Sound foursome were smart about how they presented their well-known team, too. That's Where I'll Be Waiting gives each dancer a specific character—i.e., "The Trouble" (Alexa Anderson), "The Temptress" (Channing Cooke), etc—and at least a few moments in the spotlight. While the piece is threaded through with a love-triangle dream-story involving Travis, Teddy and Jaimie Goodwin, it's really driven by all the strong personalities onstage—personalities the audience already knows and loves.
Does that always work? Well, not quite. (Frankly, I'm still not sure why Chelsea Thedinga is "The Being.") Could I watch Nick, a.k.a. "The Wayward," do his flamboyantly fabulous David-Bowie-in-Labyrinth-meets-Herr-Drosselmeyer act (which is really just Nick being Nick) in his leather cape-vest alllll night? Oh, totally. And so could the rest of that star-studded crowd, which went standing-o bonkers for the entire cast at the curtain call. Congrats, guys!
Apr. 23, 2013 11:03AM EST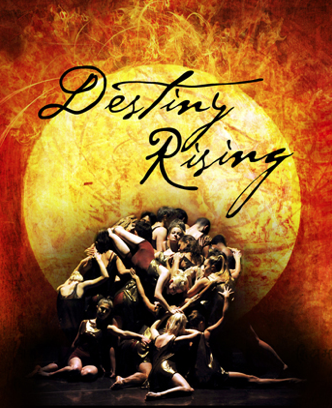 The annual Destiny Rising gala benefits the awesome New York City Dance Alliance Foundation, which is dedicated to helping young dancers fund their college educations. So how fitting is it that at last night's Destiny Rising performance, it was a college dance company that stole the show?
That would be the Conservatory Dance Company of Point Park University, which performed Garfield Lemonius' Memoirs. I have this terrible stereotype in my head of college dance groups doing sedate, solemn, stuffy pieces, but Memoirs allowed Point Park's beautiful dancers to show us the full range of their talents. Clad in flowing red dresses, the company's guys and girls tore through the intricate, emotionally wrenching choreography.
The best part? The cast included two of our favorite NYCDA alums, Kali Grinder and Victoria McWilliams, both recipients of NYCDA Foundation scholarships. And they were in top form. It looks like college has allowed them to both grow as dancers and mature as artists—and that's what the college dance experience is all about, Charlie Brown.
That's not to mention all of the evening's other fun performances. For the bunheads, there was the ABT Studio Company's exceptional Catherine Hurlin and Oliver Oguma in the kicky Flames of Paris pas de deux, followed by New York City Ballet's Brittany Pollack and Jonathan Stafford (real-life couple alert!) in the White Swan pas. For the contemporary buffs, there was Cedar Lake standout Jon Bond's lush The Devil Was Me, featuring several other CL dancers (including our baby-who's-all-grown-up-now, Ida Saki). And for everyone, there was Grace Buckley's gleeful Sing, Sing, Sing, starring the likes of Amber Jackson, Corey Snide, Ryan Steele and Jakob Karr. They dared us to stop smiling. I couldn't.
Want to find out more about the NYCDA Foundation and how you can apply for scholarships? Take a look at the organization's website.
Apr. 20, 2012 11:03AM EST
Want the scoop on what it's really like to be a dancer in the Big Apple? You're in luck, because "Dance212" is back on the web for a sixth season. Starting this month, cameras watch as five young dancers traverse class, rehearsals and the NYC streets. DS caught up with the stars of the show so you could learn a little about them.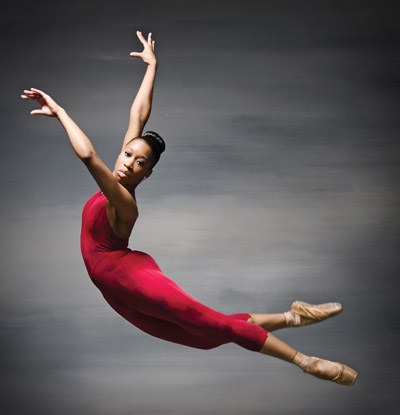 Daphne Lee (Photo by Kyle Froman)
Daphne Lee, 21, is a junior in the Ailey/Fordham BFA program and an apprentice with Ailey II.
Guilty pleasure: Cupcakes and gummy bears. "I have a really big sweet tooth."
Fun fact: Daphne appears shy at first, but don't be fooled. "When hanging out with my friends, I tend to be the clown of the group, doing silly things that no one would ever think I was capable of."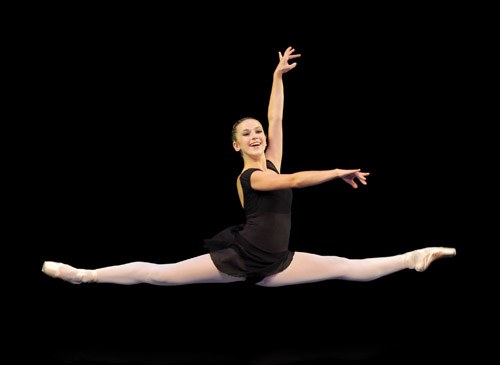 Victoria Grempel (Photo by Eduardo Patino)
Victoria Grempel, 18, is a senior at the Professional Children's School and studies at The School at Steps.
Favorite NYC activity: Victoria has great style and loves shopping at thrift stores in Brooklyn. "There are so many hidden treasures!"
Non-dance talent: "I was a competitive ice skater. I competed all around the metropolitan area, winning first place in Lake Placid two years in a row."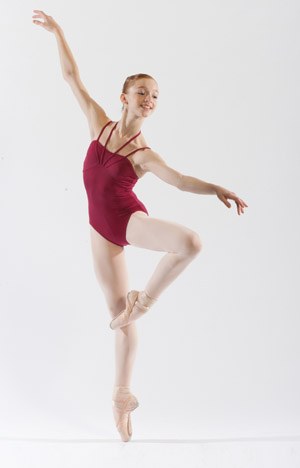 Catherine Hurlin (Photo by Rosalie O'Connor)
Catherine Hurlin, 16, is a student at The Jacqueline Kennedy Onassis School at American Ballet Theatre.
Non-dance talents: "I can do a mean manicure and pedicure. I'm not really allowed to wear nail polish in class, but I collect it and do my nails when I have time off."
Guilty pleasure: Shoes. "When I get my first paycheck from any job, I try my best to keep it away from my mother so I can shop for shoes instead of putting it in my bank account."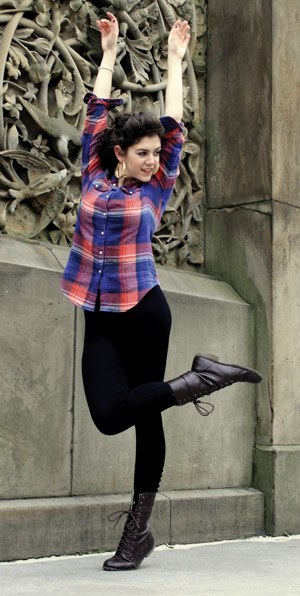 Simone Gunderson (courtesy Simone)
Simone Gundersen, 20, is part of the Professional Semester at Broadway Dance Center, concentrating on both hip hop and jazz.
Non-dance talent: Photography. "I've done headshots, family portraits, senior photos and decorative wall art."
Fun fact: "I am a European soccer super-fan."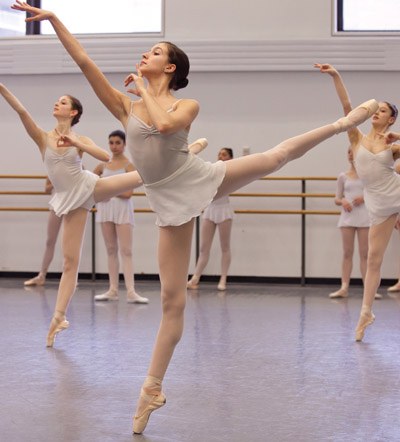 Ashley Hod (courtesy School of American Ballet)
Ashley Hod, 16, is in level C2 at the School of American Ballet.
Favorite NYC activity: "I love watching NBA basketball games with my dad and brother. The New York Knicks are my favorite team."
Fun fact: "I can sing like The Chipmunks. I'm always singing the latest pop hits with my chipmunk voice. My friends and family find it very entertaining."
Last night, DS assistant/fashion editor Michael Anne Bailey and I got all decked out —I wore jeans, actually, but she was decked out and looked super cute — to attend the New York City Dance Alliance Foundation's Destiny Rising show at The Joyce Theater in NYC.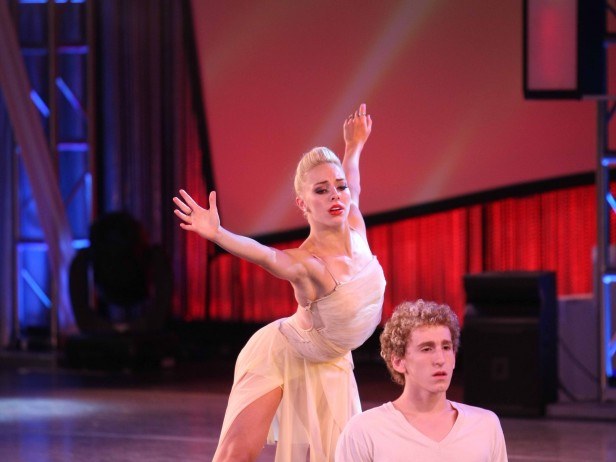 In honor of NYCDAF's first anniversary, last night's show boasted a star-studded roundup of choreographers and performers, many of whom are New York City Dance Alliance faculty and alumni (including New York City Ballet principals Tiler Peck and Robert Fairchild and Houston Ballet's Melissa Hough and Garrett Smith).
The people watching in the audience was, as with any NYCDA event, spectacular. But the real action happened onstage, and Michael and I are here to recap all the fun for you...
Alison: ‪OK, so last night we went to the New York City Dance Alliance Foundation's Destiny Rising show at The Joyce. How would you describe the night in one word?
Michael: ‪Progress. The foundation is really taking groundbreaking steps that will help young dancers get the training and education they need to be successful — not just in their 20s, but for the rest of their lives.‬
Alison: Totally. One of my favorite parts of the night was actually the video they played recapping some of the amazing scholarship opportunities NYCDAF has presented to dancers since its inception.‬
Michael: ‪I loved that, too! I actually got emotional watching it — I know the scholarships will change lives. We talk about the importance of formal education in DS all the time, but to hear Susan Jaffe speak‬ about how a lack of education initially held her back after an extremely successful dance career, really brought the issue home.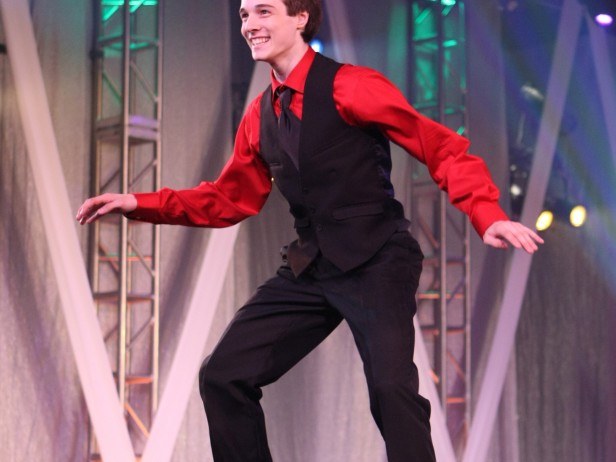 Alison: Yes! I love that she admitted that. And we got to hear from Corey Snide, who was the first-ever Astaire Award scholarship recipient. He's a freshman at The Juilliard School now, and he's flourishing there, thanks to NYCDAF.
Michael: ‪Let's talk about the dancing. Did you have a favorite number?
Alison: Catherine Hurlin!‬ I have always loved watching Catherine, and last night she performed a variation from Flames of Paris. She was just so sweet and easy to watch. That girl is a star, and I'm so glad she's getting awesome training at the Jacqueline Kennedy Onassis School at American Ballet Theatre.
Michael: ‪She was my husband's favorite! He kept talking about her performance all the way home
Alison: Here's the thing:‬ There were a ton of contemporary numbers last night. Lots of instrumental music. When Catherine came out in her bright-white tutu and flashed that giant smile of hers, it was just fun. It was a nice change of pace.
Michael: ‪I couldn't agree more. I was blown away by Melissa Hough and Garrett Smith from Houston Ballet. And when I realized that Garrett had choreographed the piece, I couldn't believe it! Her technique, passion, and dedication to the piece were unmatched.
Alison: I absolutely agree. Melissa Hough is another one of my favorites — all of my favorite dancers right now are ballet dancers who grew up on the comp scene. Go figure.‬
Michael: And it's so fun to see a ballerina in bare feet every once in awhile. Melissa Hough is so versatile, which I definitely think comes from growing up on the comp scene.‬
Alison: Camille A. Brown's piece was fantastic, too. She's hilarious, and even my boyfriend got into her solo.
Michael: I loved loved loved Camille A. Brown's piece. I had never seen her perform and was absolutely wowed. She draws you in like a true entertainer.
Alison: ‪What was particularly amazing about her performance was that we couldn't see her face the entire time, but she was still so expressive. Her hat was down over her eyes, but she didn't need to connect with the audience visually. Her movement spoke volumes. She's a really unique performer.
Michael: ‪I've never seen anything like it. And I would die to see it again!‬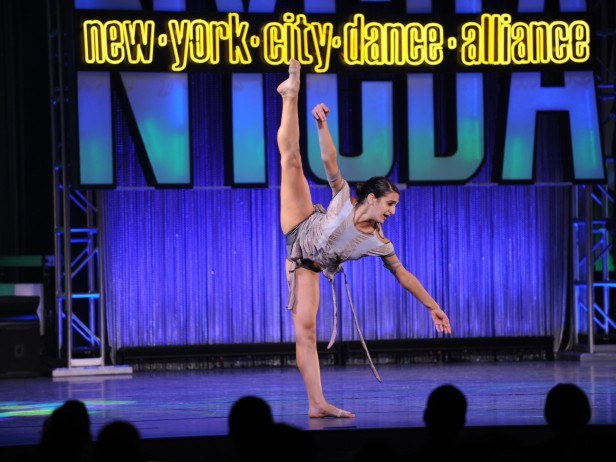 Alison: ‪So can we talk about how incredible our former Cover Model Search finalists were last night? Two of my favorite performers of the night: Ida Saki and Zoey Anderson. Those girls are insane.
Michael: ‪YES!!! It's so fun to see how much they've grown since attending Tisch (Ida) and Marymount Manhattan (Zoey). Zoey danced in a number with probably 30 other girls and I only watched her. Zoey has always been an outstanding performer, but now her movement quality and technique are becoming more and more flawless.
Alison: ‪Zoey is gorgeous. Absolutely stunning. And Marymount is working for her. She's grown a ton since we saw her for the CMS. I didn't love the number Ida was in, sadly — it just wasn't my style, and I wanted the show to kick off with something a little more upbeat — but the choreography really played to Ida's strengths.‬
Michael: ‪I agree. I'm a bit bored with most of the contemporary pieces I'm seeing lately. Everything is starting to look the same: the music, the choreography, the performance quality.‬
Alison: ‪Absolutely. Dear choreographers: We get it. We see what you're doing. We're ready for large group jazz numbers now! Love, DS‬
Michael: ‪Ha ha, just something new and innovative, please! I'm ready to be wowed again, and I know these choreographers are talented enough to do it! That said, I left last night with an even greater respect for the NYCDAF, Joe Lanteri and the dance community in general — young dancers are in good hands!‬
Alison: ‪Yes, at each event Joe's passion for the arts truly comes through. He knows each NYCDA kid by name, and that blows my mind. He knows which studio they're from, what the name of their solo is and where they're thinking about going to college. He's so invested in their futures, and as an audience member, it's a total pleasure to witness.
Michael: ‪I couldn't agree more. What a wonderful night it was.‬
Alison: ‪Have I mentioned I have a huge dance crush on Joe Lanteri? No? It's clear though, right?‬
Michael: ‪Ha ha, yes, Alison, we know. But I'm pretty sure it's a general Dance Spirit crush.
Alison: ‪On that note, thank you, Joe, for a wonderful night, and thank you Michael for being a great show-seeing partner.‬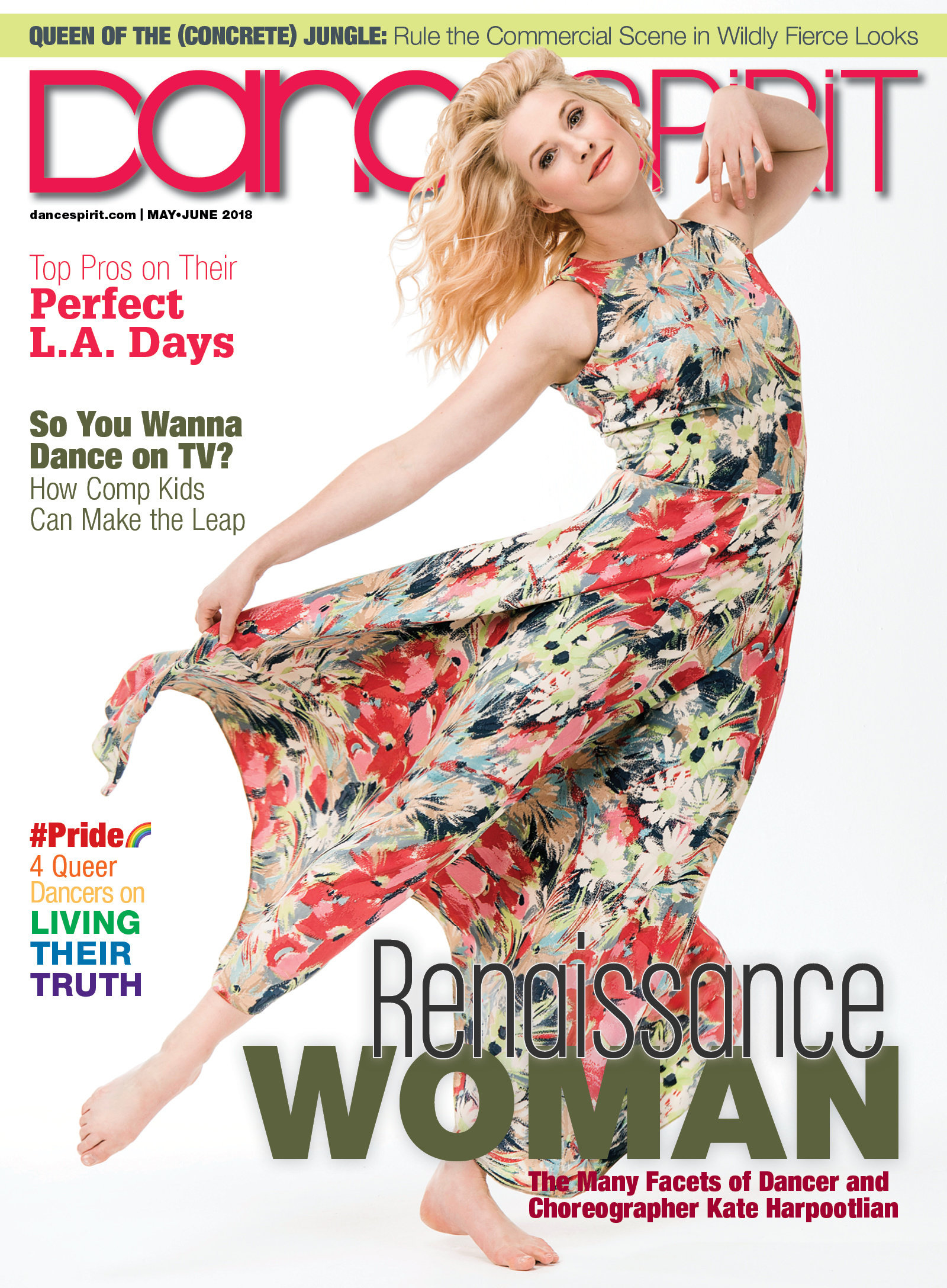 Get Dance Spirit in your inbox