Right now, you're probably getting pretty pumped about one major high school milestone: Prom! Do you have your dress yet? Did you work up the courage to ask that special someone? Are you planning the best-ever post-prom party? We thought so.
Dancers do prom in the best way. I mean, getting dressed up and dancing the night away? That's kind of our M.O. To get in the spirit of all things prom, Dance Spirit asked a few of our favorite pros about their big nights—and what they had to say is just so cute!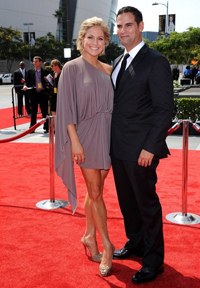 Tookey looking fab with husband Gene Gabriel at the 2011 Emmy Awards (via Zimbio.com)
Stacey Tookey
I wore a floor-length, velvet (yes, velvet!) wine-colored dress with a sweetheart neckline and a long slit up the side. I also wore long white gloves, like I was royalty or something. My mom did my hair—which, in that pre-blonde era, was brown—in an updo. (Actually, that hair is the only part of the outfit I'd reprise today. Go, mom!) It was 1994, and I thought my outfit was amazing.
At the reception, my date pulled out my chair for me, and like the dancer I am, I sat down in a wide, turned out second, and I ripped the slit of my dress all the way up to my waist! I was so embarrassed. But my very sweet date gave me his suit jacket, and I wore it all night.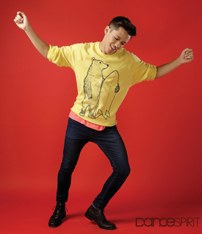 Kyle Hanagami can certainly bust a move now! (Jayme Thornton for DS)
Kyle Hanagami
I went to prom with a bunch of friends. I think I wore a suit... I don't really remember, but I'm sure it wasn't super cool. What I can remember is standing on the dance floor and being terrified to dance! I didn't start dancing until after I graduated high school, so I couldn't even two-step. How embarrassing!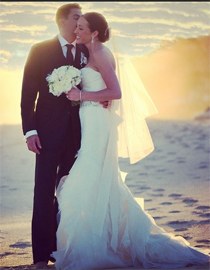 Dowling in her real wedding gown with husband Reza Fakrieh (via @joeydowling)
Joey Dowling
When I was a sophomore, I got to go to prom with a guy I thought was the hottest boy in school. He was a junior, and he was blonde, tan and buff—he looked like a surfer. I remember shopping for my dress with my mom, and thinking how absolutely perfect it had to be. I found it: A white halter dress with a low back and beading all the way up the front. I probably looked like I was about to walk down the aisle...but I thought it was gorgeous! I wore my hair in a high French twist with the ends hanging out and curled. (That was big back then.)
The prom was held in the Capitol building in my hometown. The whole night felt like a fairy tale. Date dances in high school were usually lame and awkward, but that night was one of the best of my life!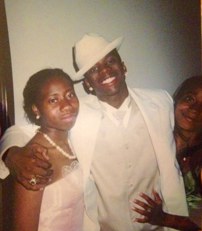 Prom! A young Torbert posing with friends from Fiorello H. LaGuardia High School of Music & Art and Performing Arts (Courtesy Torbert)
Ade Chike Torbert
I ended up asking my girlfriend at the time to prom. But because we didn't start dating until the end of the school year, we had both originally planned to go with close friends of ours—so it was a little tough breaking the news to them.
I wore an all-white suit with a white fedora and a champagne-colored vest. I was definitely the best-dressed! We all had such a great night. Our prom was held at this beautiful venue by the South Street Seaport in NYC, and there was a ton of food and great music. Then we boarded a yacht and continued to party until the wee hours of the morning.
Not going to prom this year? You're not alone. Many of the dancers we spoke with confessed they never made it, either—they were too wrapped up in their dance commitments. Take former New York City Ballet soloist (and current Dance Spirit columnist!) Kathryn Morgan, for example: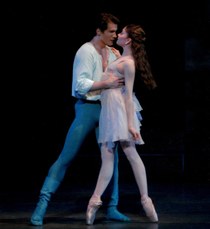 Morgan with Seth Orza in NYCB's Romeo and Juliet (Paul Kolnik/NYCB)
Kathryn Morgan
Unfortunately, I never got to go to a real prom. I was hired by New York City Ballet at the end of my junior year of high school and finished school online. I do, however, consider my debut as Juliet my "prom." I was 17, and it was a huge deal for me. There was a beautiful ballroom scene, and that was a pretty great prom substitute! I wore three dresses and had two hairstyles: up for the first half of the evening, and half-up/half-down for the second. My "date" was my Romeo, Seth Orza...though he was engaged to someone else!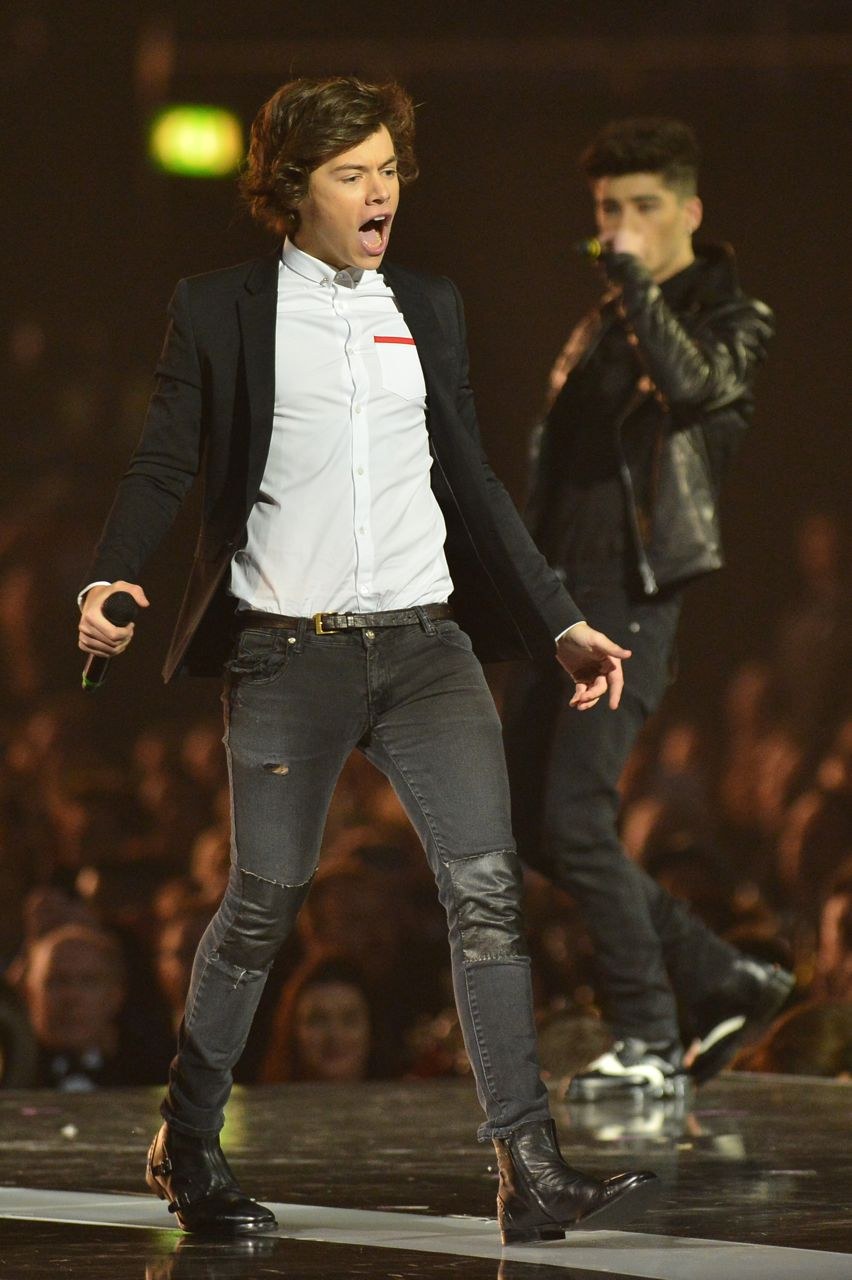 Harry Styles is ready to upgrade his onstage steps. Less standing, more sauté-ing? (AFP/Getty Images)
The British accent? Guess again. The wild mop of brown locks? Nope! All right, all right, it's kind of a trick question. The correct answer is: ballet!
British tabloid The Sun reported late Sunday night that my favorite One Directioner has decided to take up ballet. "That's the Achilles' heel in Harry's training. He can't dance and neither can any of the 1D boys—their choreographer recognised early on that they shouldn't dance on stage," said a source.
So what spurred Harry to catch the ballet bug (other than the many Internet jabs about his onstage, um, gracelessness)? In an interview last month with Q magazine, Mick Jagger revealed, "I alternate between gym work and dancing…I'm training for stamina." Instantly, the worldwide blogosphere was on fire with stories squealing that ballet must be the secret to a long and healthy rock-star life. Harry is apparently convinced, too: "Harry wants a career spanning decades like Mick's and to have that he recognises that fitness, health and developing his body is the key," The Sun's source said.
Of course, all of us at DS already knew that dance keeps you young and happy, but we're psyched to see another celeb jumping on the ballet bandwagon. Maybe we'll see Harry and fellow heartthrob Ryan Gosling taking class together some time? A girl can dream!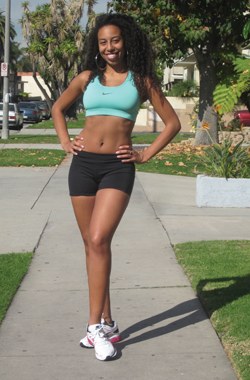 Maud Arnold (by Tadeo Arnold)
At DS we spend our days fawning over Lauren Froderman's fabulous legs, Ashly Costa's impressive abs and Maud Arnold's awesome curves—so naturally we wanted to know how these pros stay in such great shape. Turns out, they work hard to maintain their totally toned bodies. But they've also found ways to keep fitness fun. So what are their go-to exercises for feeling good and looking great? Read on!
Maud Arnold, tap dancer
Workout she swears by: Cuerpaso, a class designed by her brother, Tadeo, a celebrity fitness trainer. "It's a full-body workout that uses a soccer ball and Latin dance moves to tone all of your hot spots. Cuerpaso targets my 'problem areas'—my stomach, thighs and butt. Plus, my brother doesn't let me slack off, so I get results fast. I love being challenged physically, feeling like the workout is nearly impossible, and then realizing I'm actually able to do it."
How it helps her dancing: "It makes me stronger overall. If I can squat 45 pounds, holding my own weight tap dancing feels like a breeze. My core is solid, and I've built major stamina."
Her favorite way to get sweaty: "In tap class with lots of other dancers and no air conditioning. I feel like I'm accomplishing something when I'm dripping with sweat."
Her best fitness tip: "Being healthy is a lifestyle, not something you do when you feel like it. Commit!"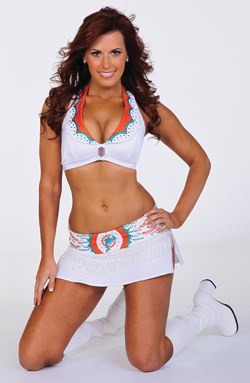 Amy (copyright Miami Dolphins, LTD)
Amy, Miami Dolphins cheerleader
Workout she swears by: Indoor cycling classes. "They give fast results and you feel great at the end of class. It's also up to you to choose how hard to push yourself."
How it helps her dancing: "We perform on the sidelines of every home game—that's up to four hours at a time. Cycling helps build endurance, which we need from the start of the game to the final seconds."
Her favorite way to get sweaty: "Going for a morning jog before the sun gets too brutal. It feels wonderful to exercise outside while enjoying a cool breeze."
Her best fitness tip: "If you want to be healthy inside and out, you need to give your body the natural fuel it needs: food! The foods you eat will ultimately get you the results you want. Treat your body with respect, and it will love you back."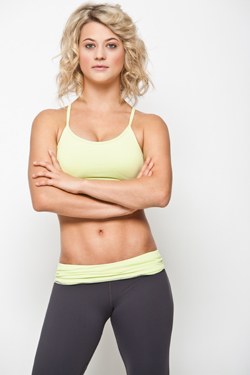 Lauren Froderman (by Vince Trupsin)
Lauren Froderman, winner, "So You Think You Can Dance" Season 7
Workout she swears by: "I love the elliptical machine!"
How it helps her dancing: "Having slim, strong legs improves my extensions and helps me move in a grounded, swift, powerful way. I get that from the elliptical."
Her favorite way to get sweaty: "I love trying different exercise classes, like Zumba, indoor cycling and barre method."
Her best fitness tip: "Stay hydrated and stay motivated. Results don't happen overnight, but you'll feel better every time you get up and do something to stay in shape."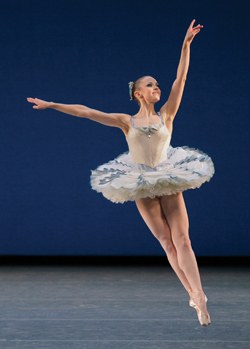 Anderson in George Balanchine's Divertimento No. 15 (by Paul Kolnik)
Marika Anderson, corps de ballet member, New York City Ballet
Workout she swears by: Gyrotonic, a holistic approach to exercise designed to increase strength, flexibility and energy.
How it helps her dancing: "It lengthens and strengthens my body, and it has taught me how to use my muscles differently. My trainer has a good eye and comes to the ballet often, so she can offer tips on how to strengthen certain areas."
Her favorite way to get sweaty: Bikram yoga.
Her best fitness tip: "Find something that inspires you and that you connect with. Otherwise, working out can be a struggle."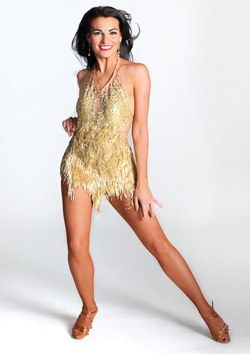 Ashly Costa (by Omi)
Ashly Costa, professional, "Dancing with the Stars"
Workout she swears by: Core work. "I do a mix of Pilates, planks with twists on each side and sit-ups on an exercise ball. I love the burn that comes from core exercises, and if you work consistently, you see real results."
How it helps her dancing: "As a dancer, your abs are some of your most important assets. Core strength helps you maintain good form and posture in all dance styles. Without a strong core, I can't dance my best."
Her favorite way to get sweaty: "Dancing the jive!"
Her best fitness tip: "Do something you love that also challenges you."
These Are A Few of Our Favorite Sweat Songs
Whether you're stretching or strength training, a good workout playlist can make all the difference in your moves—and your motivation! Here's what the stars are working out to right now.
•"Take Him Out" by Mya, featuring Spice; and "Diva" by Beyoncé —Maud Arnold
•"One minute I'll be rocking out to Jennifer Lopez and David Guetta, and then I'll switch to country songs by Luke Bryan. Any song with a great beat is perfect for working out." —Amy
•"Wild Ones" by Flo Rida, featuring Sia —Lauren Froderman
•"DJ Got Us Fallin' in Love" by Usher, featuring Pitbull —Ashly Costa
•"Anything by Billy Idol, Michael Jackson or The Beatles." —Marika Anderson
Competition
Jun. 15, 2012 09:26AM EST
Competition dancers work hard to polish their routines. But when they're finally backstage on the big day, even the veterans can start to doubt themselves. Below, nine professional dancers (all former comp kids!) share the tricks they use to keep cool in these crucial moments.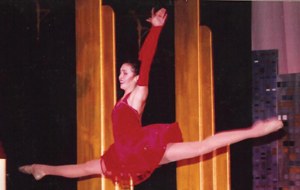 Joey Dowling at NYCDA in 1995
Joey Dowling, master teacher/choreographer
"Focus on the things you can control—it will make you feel more powerful. When I was competing, I tried not to watch anyone else. I'd go in the corner and only worry about what I came there to do. I would listen to music that put me in a good mood, like Cyndi Lauper or Madonna. Then I would lie on the floor and envision my solo and how I wanted it to go."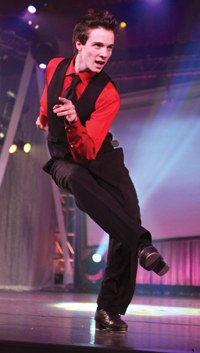 Corey Snide performing at New York City Dance Alliance Nationals in NYC
Corey Snide, Juilliard student
"Whenever my friends from my studio and I got butterflies at competition, we would make butterflies with our hands on each other's stomachs, then slap them away and say, 'Bad butterflies! Bad butterflies!' Silly as it is, I've done it since I was 6, and it works."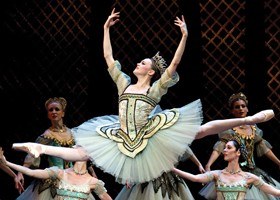 Dusty Button as Queen of the Dryads in Boston Ballet's production of Don Quixote
Dusty Button, Boston Ballet
"I remind myself that everyone in the audience and on the stage is in the same position. In life, everyone is a person first, before they're a dancer, a judge or an audience member. The audience is forgiving most of the time, because they're people, too. They are there to enjoy your performance, and it's so much more fun watching someone who is enjoying herself than someone who is worked up."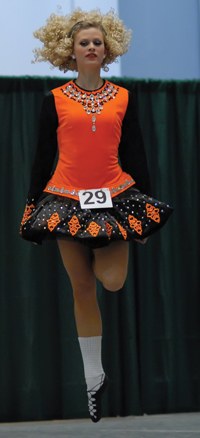 Maggie Darlington at the Western Region Oireachtas world qualifiers in 2009
Maggie Darlington, Riverdance
"Having good company backstage eases my nerves, whether it's a friend or a teacher. When I competed with teams, we would feed off of each other's energy—jumping up and down, talking to each other and giggling—instead of thinking about the competition."

Jason Luks, tap dancer
"I do push-ups and big jumps right before I perform to get my blood pumping. The moment you step onstage is a huge rush—it's great to get a head start on that energy."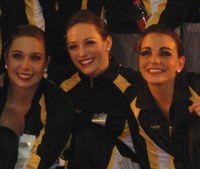 Haylee Roderick (center) with Center Stage Performing Arts Studio
Haylee Roderick, commercial dancer
"Right before we went onstage, my team and I would get together and say a prayer to remember why we were there. We were so close, like a family, so we would dedicate our dances to each other. Dancing for one another instead of a gold medal made the performance feel much more worthwhile."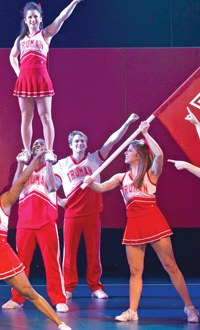 Neil Haskell in Bring It On: The Musical
Neil Haskell, Bring It On: The Musical
"I don't run through routines or sing lyrics beforehand, because I know if I forget them backstage, it will freak me out and then I won't be able to remember them onstage. I just try to relax and trust myself. And I know if I do mess up, there are other people onstage who have my back and will be able to cover for me. Knowing that makes me much more comfortable."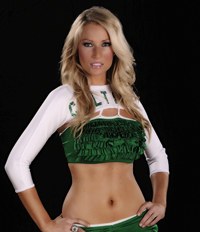 Alison Preston, Boston Celtics dancer
"My mom is my biggest supporter, and she told me to tap my foot three times if I got nervous. When I was standing in the wings waiting to go on and heard them call my name, I would get really anxious. But then I would tap my foot three times, and it would calm me down."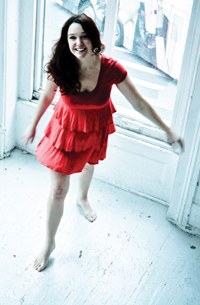 Cameron Adams, Nice Work If You Can Get It on Broadway
"As a kid, I was superstitious. I would do a really good warm-up by myself, and then I'd take a moment with my dance teacher to go over anything that was giving me trouble. My teacher and I had our own special handshake, too—a little routine we would do right before I went onstage."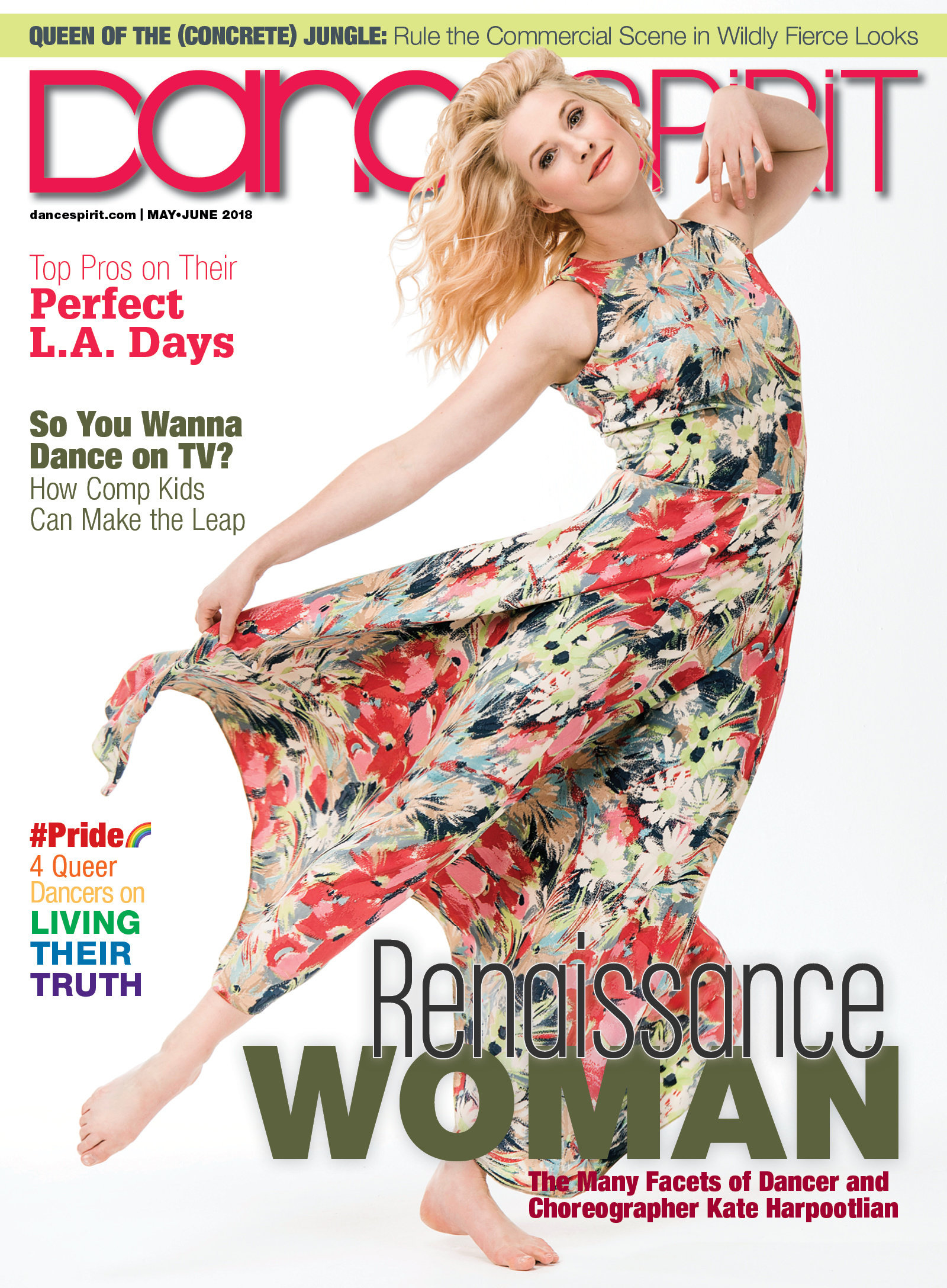 Get Dance Spirit in your inbox