Just for Fun
Sep. 14, 2018 05:59PM EST
Yes, the "workshop" ballet was just as life-changing as I'd been told it would be.
I have a confession. Until today, I had never seen the seminal classic Center Stage.
Keep reading...
Show less
#8: Red pointe shoes are EVERYTHING.
We're just going to say it: Center Stage is the best dance movie of all time.
Seriously, though, is there anything better than this oh-so-quotable classic? Not only does it star some brilliant dancers, but it's also chock-full of wisdom. If you're a die-hard Center Stage fan (which, like, c'mon, we know you are), you'll be familiar with these 8 life lessons straight from the movie.

Keep reading...
Show less
Jennifer Lawrence with her Red Sparrow dance double, ABT's Isabella Boylston (via Twitter)
Guys, how excited are you for Red Sparrow? The fabulous-looking thriller, starring Jennifer Lawrence as a ballerina-turned-spy, has dancers everywhere buzzing—in no small part because a real star dancer, American Ballet Theatre principal Isabella Boylston, acts as Lawrence's dance double. (The film's ballet bona fides don't end there, btw: Your boyfriend Sergei Polunin makes an appearance as Lawrence's partner, and Justin Peck provided the choreography.)
Red Sparrow got us thinking about some other famous onscreen dance doubles—and about the controversy they've inspired. (Always credit your dancers, filmmakers!) Here are a few of our all-time faves.
Keep reading...
Show less
Quiz
Nov. 13, 2017 11:54AM EST
A still from "Center Stage" (via Entertainment Weekly)
News flash, guys: Halloween is LESS THAN A WEEK AWAY. We know how easy it is to get caught up in the endless cycle of school, rehearsal, rest, and repeat. And if you're nodding to yourself right now, thinking "#Storyofmylife," we feel you—and we're here to help. Behold, our favorite dance-movie-inspired Halloween costumes that you can most definitely pull together by Tuesday!
Keep reading...
Show less
Have plans Saturday night? You might want to cancel them ASAP (or at least set your DVR) because Center Stage: On Pointe is making its much-anticipated (and MUCH-waited-for) world premiere. The threequel (which we've been freaking out about since November) has all the makings to be a huge win for dance movies, taking what we love about the original Center Stage and adding some new twists.
Remember Bella (Nicole Muñoz), Kate's little sister from Center Stage: Turn It Up? SHE'S BACK, and this time it's her turn to audition for the American Ballet Academy. Other old favorites who'll be returning: Tommy (Kenny Wormald), Charlie (Sascha Radetsky) and Cooper (Ethan Stiefel). And of course, it wouldn't be the ABA without a return from Johnathan Reeves (Peter Gallagher)! If that's not enough for you, up-and-comer Chloe Lukasiak (you know her from Dance Moms) will be there too, cast as dance prodigy Gwen.
As for the plot? The American Ballet Academy is headed in a more contemporary direction, and Johnathan is holding a "Dance Camp" training intensive to find his new superstars. His top choreographers (Tommy, Cooper and Charlie, obviously) are tasked with recruiting dancers to compete at the camp, with the winners earning a coveted spot at the ABA. Plenty of dance and plenty of drama, what more could we ask for? Here's to hoping there's at least one iconic costume change moment. (Not holding our breath, though, this one is hard to top.)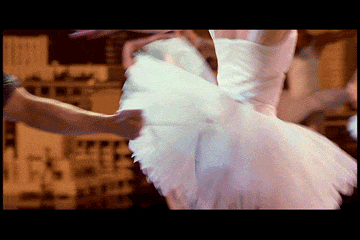 Check out this exclusive sneak peek video from Entertainment Weekly and get. ready. bunheads.
See the movie on Lifetime at 8/7c this Saturday, June 25th.
You guys. Our entire office is on the verge of hyperventilating right now, because we just found out that there is a third Center Stage movie in the works.
I REPEAT: THERE IS A THIRD CENTER STAGE MOVIE IN THE WORKS.
And here's the thing: It sounds like it might actually recapture some of the magic of the original.
How, you ask? What could this threequel—which is titled Center Stage: Dance Camp and has a yet-to-be-announced premiere date on Lifetime—possibly do to top this...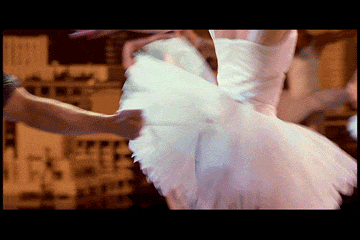 ...and this...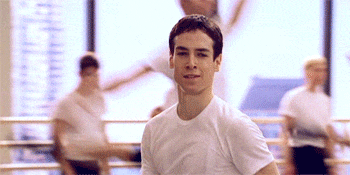 ...and this...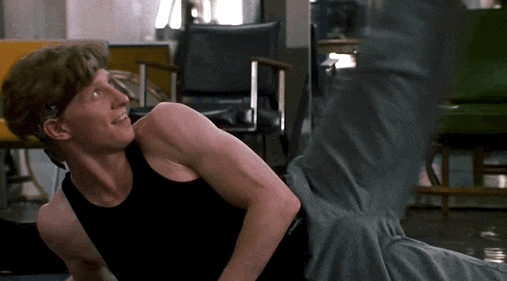 ...and, oh lord, this???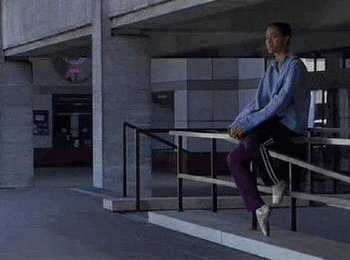 Well, it could involve a whole mess of Center Stage and Center Stage: Turn It Up stars, for starters. Word is that Cooper (Ethan Stiefel) and Charlie (Sascha Radetsky) and Jonathan (Peter Gallagher) and even Tommy (Kenny Wormald) will all be back for round three.
It could also bring in one of today's up-and-coming dancers for a little extra sparkle. Someone like, say, Chloe Lukasiak, who has been tapped to play a dance prodigy (of course) named Gwen. This is perfect for several reasons, and one of them is that Chloe may or may not be Amanda Schull's baby sister.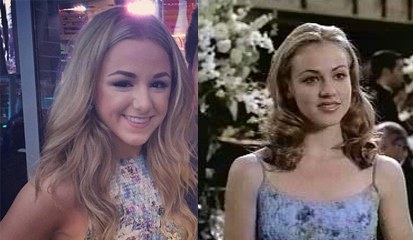 Right? Do we see it?
Here, according to Deadline, is the plot of this latest Center Stage installment:
"Jonathan Reeves...is tasked with infusing more contemporary styles and modernism into the American Ballet Academy. [He] enlists his his top choreographers Charlie..., Cooper... and Tommy...to recruit dancers to compete at a camp where the winners will be selected to join the Academy." [Gwen is one of the dancers at the camp.]
My heart, you guys. My HEART. I so, so want this to be good. I so, so need it to be worthy of the amazingness that is the original. (Center Stage: Turn It Up was...I mean, it just didn't have the feet. Or the heart.) And I so, so hope Jody makes a cameo. Is she still a principal in Cooper Nielson's company? Are she Charlie still together? Do they have beautiful dancing babies?* THE WORLD NEEDS TO KNOW.
Anyway, stay tuned. We will be obviously be monitoring this situation aggressively.
*Real talk: Their kids could potentially be teenagers by now. Has it seriously been that long, Center Stage? It feels like only yesterday that we first discovered how *on* you were.
Here's one of the many (MANY) things that makes Center Stage so magical: There's a sense that the dance-actors were basically playing themselves. Amanda Schull, a real-life sweetheart who struggled with her turnout, became the sweet and turnout-challenged Jody Sawyer. Sascha Radetsky, a real-life heartthrob and all-around nice guy, became the adorable and eternally nice Charlie. And Ethan Stiefel, a real-life superstar with a bit of a bad-boy edge, became Cooper Nielson, a superstar with a MAJOR bad-boy edge.
Which is why it's so delightful when—16 years out!—Center Stage-rs do things that reconfirm that feeling of art imitating life. Like when Ethan Stiefel, tasked with creating a new ballet for The Washington Ballet, decides to take a 9,000-mile motorcycle ride to figure out the rather daring concept for the work. Because that's straight out of Cooper's playbook, and it really did just happen.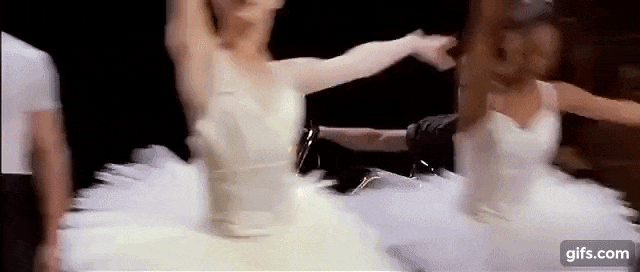 According to The Washington Post, earlier this year, Stiefel received a call from his former American Ballet Theatre colleague, Kathleen Donahue Julie Kent, now artistic director of The Washington Ballet. She wanted him to make a ballet for the company, and she wanted it to commemorate John F. Kennedy's would-be 100th birthday. "I was elated and flattered," Stiefel told the Post. "And, like, 'Whoa.' I needed a moment." That moment turned out to be a six-week motorcycle trek across the country. By the end of the trip, he had his idea: He'd make a ballet based on Kennedy's space initiative. Which is just the kind of intriguing, unexpected thing that Cooper Nielson might do.
The article includes a ton of fascinating info about the new ballet, Frontier, set to premiere in D.C. in May. (For example: Stiefel actually met with astronauts at NASA headquarters, which, 🙌.) Read the whole thing—and then go watch the Center Stage finale one more time, because it's Monday and you deserve it.
Center Stage
is, in my humble opinion, the most important dance movie of all time (if not the most important movie in general). Every moment was iconic, everyone was so beautiful and every costume change was so truly #goals, I can't even: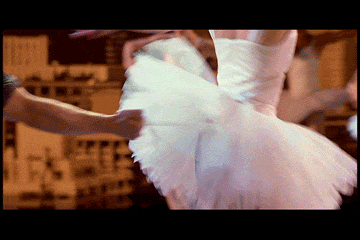 Same.
So I, along with many other fans, have been a little skeptical about the latest follow-up to our beloved 2000 classic (because we can't forget the OG sequel, Center Stage: Turn It Up). But everyone can breathe a collective sigh of relief, because the trailer for Center Stage: On Pointe delivers. Let's break it down, shall we?
Intense, high-pressure audition? Check. The trailer opens with our main character revealing she's vying for a spot in the "American Ballet Company." But plot twist—according to the diner patron she's speaking to in the trailer, she's "not the ballet type," which leads us to...

Intense, high-pressure training montage? Check! Honestly the best part of dance movies is the blood, sweat and tear-filled studio scenes, culminating in the always-exciting finales. It's pretty much a guarantee we'll be getting that with this film.

Ballet everywhere. Check!! As a (not-so-secret) ballet maniac, I was very excited to see the glimpses of pointe shoes and partnering class, not to mention all the falls. Nothing like a good spill (only on camera, of course!).

Ethan Stiefel and Sascha Radetsky as "top choreographers" Cooper and Charlie? Check and check. Enough said.
I don't know about you, but my countdown clock to June 25th starts now. In the meantime, I'll just be watching these GIFs in preparation. Don't miss the full trailer below.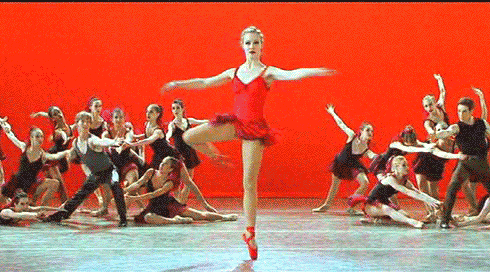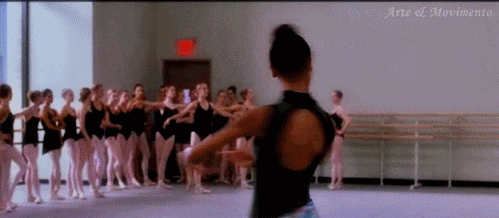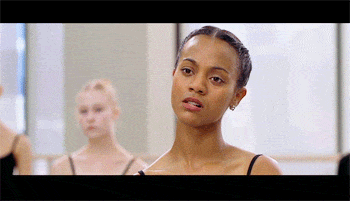 Ballet
Apr. 13, 2016 05:35PM EST
Nathan Sayers
Ah, pointe shoes: We love those beautiful, glamorous torture devices! But pointework didn't always look or feel the way it does today. In fact, pointe shoes evolved over the course of several centuries—with many fascinating (and some straight-up bizarre) stops along the way. Here are a few highlights of pointe shoe history.
Keep reading...
Show less
Get Dance Spirit in your inbox
Is it Friday yet? WOMP. If you, like us, are suffering from a severe case of the Mondays, we've got a little something to ease your pain (or at least distract you from whatever productive thing you "should" be doing).
You know we love a good dance-in-movies supercut, and today, we're sharing perhaps the most epic montage yet. It features 88 dance scenes in just over three minutes (88!)—and it's set to Walk the Moon's "Shut Up and Dance," which is pretty much always good advice.
The coolest thing about this supercut is its range: It has your classic dance flicks—Dirty Dancing, Center Stage, Footloose, Save the Last Dance, Flashdance, White Nights—and a number of movies you wouldn't automatically associate with dance. Like who'd have thought to include Perks of Being A Wallflower in a dance supercut? Or what about She's All That, or (500) Days of Summer? This supercut genius thought outside the box, and we're pretty pleased with the results.
Now that we've given you a head start, it's time to test your dance-in-movies chops. Watch the supercut, and see how many of the 88 scenes you can name. (Or, you can cheat and read the comments—the movies are listed frame by frame.)
I don't know what Buzzfeed's connection to Center Stage is, and frankly, I don't care. Because whatever cosmic force is driving the site's writers to put out post after brilliant post about the Greatest Movie of Our Times is obviously a force for good.
The awesomeness started back in 2013, with "26 Steps to Becoming an Amazing Dancer as Told by Center Stage." So. Perfect. (TURNOUT, JODY!)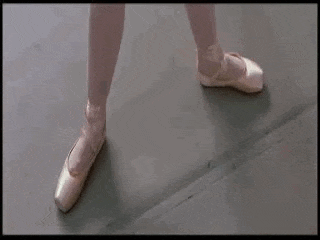 Then there was "20 Times Center Stage Was Truthful, According to Ballet 422," which showed a bunch of delicious little parallels between every bunhead's favorite fictional ballet film and every bunhead's new favorite ballet documentary. (I especially love the Charlie–Justin Peck comparison, which I kind of can't believe I didn't think of myself.)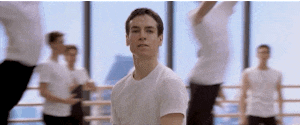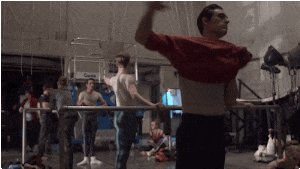 Back in September, we got "Why Center Stage Was the Best Movie of 2000." That may sound like a silly idea (I mean forget 2000, it's the best movie of all time), but in actuality the post was rather insightful, particularly in its recognition of the two greatest quick changes EVER: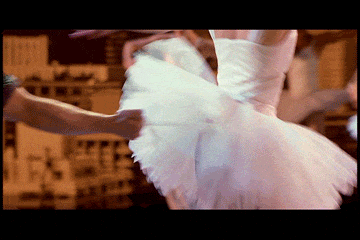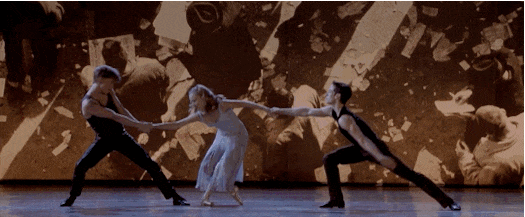 And now we have "How Well Do You Know Center Stage?", the perfect little #TBT quiz. Obviously, you need to take it immediately. But be forewarned: If you don't get a perfect score on this thing, we are officially not friends. It's delightful, but it's JV-level Center Stage trivia, and any self-respecting dance obsessive NEEDS TO BE ON THE VARSITY TEAM. K?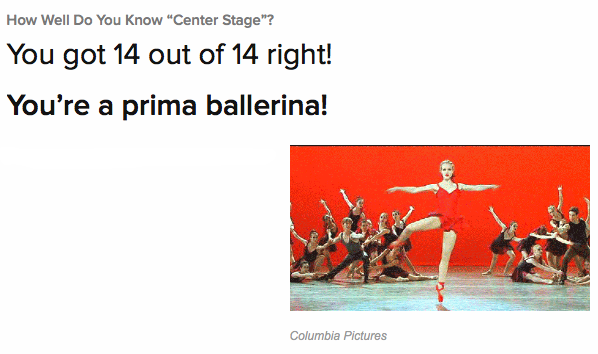 My results, of course. #primaballerina
(All GIFs and images via Buzzfeed)
Jan. 01, 2015 08:00PM EST
Since her breakout role in Center Stage, former San Francisco Ballet dancer Amanda Schull has been steadily beefing up her acting resumé—and not only in dancing parts. Yes, she sautéed on screen in Mao's Last Dancer. But her recent credits also include non-dancing characters on "Suits" and "Pretty Little Liars." And this month, Schull stars as Dr. Cassandra Railly in "12 Monkeys," a new show on the Syfy network loosely based on the 1995 film of the same name. Dance Spirit caught up with Schull to talk about her latest role and making the switch from stage to screen. —Jenny Dalzell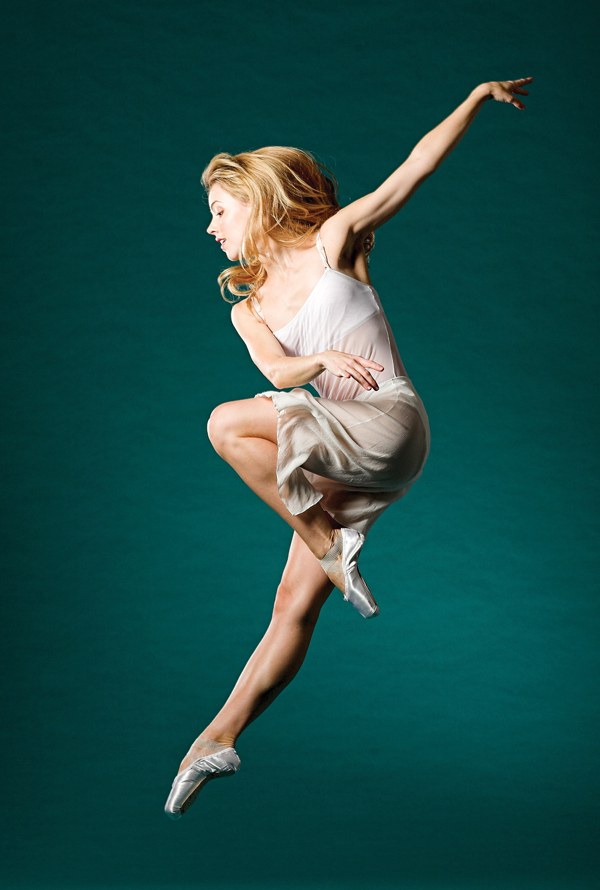 (Photo by Marty Sohl, courtesy Amanda Schull)
Dance Spirit: What's "12 Monkeys" about?
Amanda Schull: My character, Dr. Railly, is a virologist who specializes in the containment of viruses and plagues. I meet James Cole, played by Aaron Stanford, who comes back to the present day from the year 2033. He tries to enlist my help for a mission: saving the world from a plague that's about to be unleashed on the population. Of course,
I don't believe him at first—I mean, time traveling? But I eventually come around and try to help him.
DS: That sounds kind of scary.
AS: I'd say it's more thrilling, though it does have some scary moments. There are a few scenes that are a little graphic, but it's more exciting than gruesome.
DS: Will we get to see you dance on the show?
AS: I do a little bit of ballroom dancing, but it's really basic. There have been talks about the possibility of my character having grown up as a dancer, but that idea hasn't gone anywhere yet. It would be so fun to explore—I'd definitely be interested!
DS: Has your dance training influenced your work as an actress?
AS: I've spoken to directors who've said my dance background was a huge bonus when casting me, and one of the reasons they initially looked at me more seriously. Dancers are dedicated, and our strong work ethic comes in handy when we're learning a script or working on dialogue. When you're creating a character, embodying his or her physicality is something we, as dancers, grasp much better than non-dancers. Dancers also understand timing and landing on their marks—that's extremely helpful in acting, too.
DS: Are you still involved in dance?
AS: I am! I occasionally teach ballet classes when I go home to Hawaii,
and last year I performed as the mother in the party scene of Ballet Hawaii's The Nutcracker. I actually got a colleague from "Suits," Rick Hoffman, to be in the show, too. He played the grandfather. He'd never even seen a ballet before!
DS: What's been your favorite role so far?
AS: Every role is my favorite when I'm in it. I know it sounds cheesy, but I've loved all my opportunities. That being said, playing Jody Sawyer in Center Stage was pretty special.
Nov. 07, 2013 10:22AM EST
Hey, Buzzfeed: We have a bit of a bone to pick with you.
This is rare for us. We are usually big fans of the sweet, sweet procrastination your listicles provide. And in the past you have done very, very right by dancers.
But this week, Buzzfeed, you took things a little too far. You published a piece called "12 Dance Movies That Are Still Amazing Despite Their Terrible Plots."
OK. Look. We will agree with you that the You Got Served plot is, perhaps, a bit thin. We'll even give you Honey, though we will happily watch it every time a cable channel plays it at 2 pm on a Sunday. (Jessica Alba's abs are plot enough.)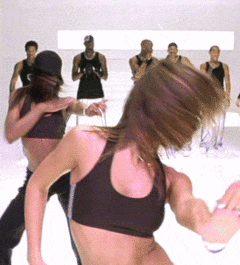 But guys: Why is Step Up on this list? Why is Dirty Dancing on this list? WHY IS CENTER STAGE ON THIS LIST?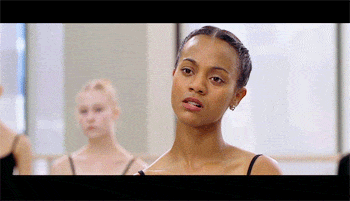 There are some dance movies that we just refuse to hear anything negative about—even if the criticism is made with love. Especially Center Stage, The Greatest Dance Movie of Our Times.
Forget Margot Fonteyn and her feet: Center Stage may not have great dialogue, but when Center Stage is on screen, you can't tear your eyes away from it.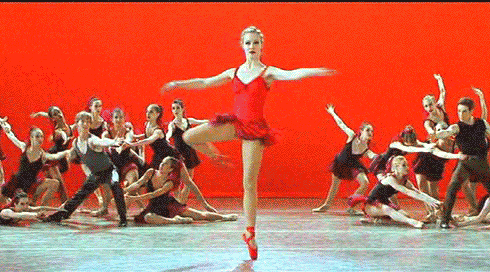 Are we clear? Good. Now let's get back to being best friends, Buzzfeed. We really need you this week.
Jul. 25, 2012 10:32AM EST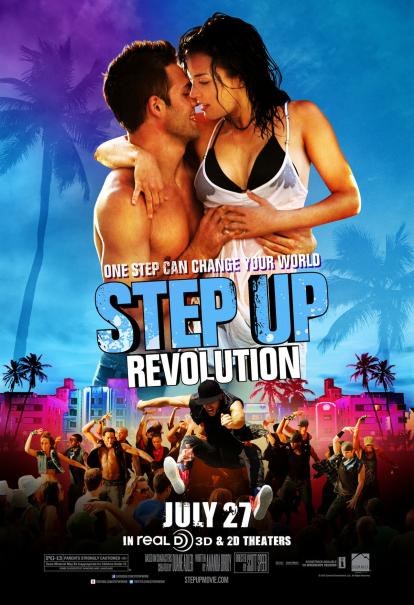 As we've discussed, the DS crew was lucky enough to get into a screening of Step Up Revolution last night (huge thank-you to Broadway Dance Center for the tickets!). And oh my gosh, you guys: It's amazing. We laughed, we screamed, we almost peed our pants multiple times. Here are just five of the many reasons you should get your bums to the theater this Friday:
1. tWitch! Mr. Boss is THE BOSS in this movie. Seriously, I think he was the highlight of the film for me. His dancing is fantastic, of course, but it's more that every time he appears onscreen you want to giggle and pinch his adorable cheeks.
2. There are more famous faces everywhere. Kathryn McCormick and Misha Gabriel and Mia Michaels (and tWitch, of course) have big old speaking parts, but you knew that already. What you might not have known is that you'll also see Phillip Chbeeb, Madd Chadd, Brandon Bryant, Chris Scott, Billy Bell and many more of the dance world's finest scattered throughout the film.
3. Peter Gallagher is typecast, in the best way possible. Are you making a dance movie? Do you need a slightly sinister, but ultimately sympathetic, authority figure to say things like, "Dance may not be the career for you"? Bring in Mr. Gallagher, aka Jonathan from Center Stage, who plays Kathryn's money-hungry, anti-dance dad in Step Up Revolution. (As usual, his eyebrows are mesmerizing.)
4. The acting is stellar. Just kidding! But let's be honest: You're not going to this movie for the acting. It doesn't matter that nobody in the cast is going to win an Oscar, because the dancing is just. that. good. Which leads us to...
5. THE DANCING. It's pretty spectacular. The "Mob" concept translates to big groups of fabulous dancers doing awesome things in unconventional locations—things which at various points involve trampolines, elaborate body paint, harnesses, hydraulic cars, glow-in-the-dark costumes, and dollar bills falling from the sky. YES.
Step Up Revolution opens this Friday, the 27th!
Apr. 06, 2012 12:19PM EST
Does the lovely blonde with the, um, acute sense of smell in this McDonald's commercial look familiar?
That's right: It's Amanda Schull, aka Jody Sawyer from Center Stage (and Elizabeth Mackey from Mao's Last Dancer). I'm not sure if the American Ballet Academy would approve of her Shamrock Shake habit. But I kind of love Schull in this ad. Who knew she was a comedian?


Get Dance Spirit in your inbox