In case you haven't heard, "Step Up: High Water" is returning for a second season. Yay! In fact, production for the 10-episode, hourlong series is currently underway in Atlanta, GA. As if we weren't already excited enough, check out who's returning for Season 2—and all the stars who'll be entering the "High Water" universe for the very first time.
Keep reading...
Show less
So grainy. So stinkin' cute. (via YouTube)
It's almost too good: To celebrate "Step Up: High Water" premiering on YouTube Red, producer Jenna Dewan-Tatum decided to share footage of her audition for the ORIGINAL Step Up movie. As in, a circa 2005 tape of baby Jenna showing off some impressive moves—and some impressive chemistry with baby Channing Tatum.
It is all kinds of d'awwwwww. And it is all kinds of obvious that the two young'uns have all kinds of real-life couple potential. 💘 💘 💘
Keep reading...
Show less
"Step Up: High Water" cast photo (courtesy Jaccara Jenkins/Rogers & Cowan)
It's the day we've all been waiting for—"Step Up; High Water" has officially launched on YouTube, and everything about this series (from the dancing to the drama) is completely #savage. The show captures all the elements that made us fall in love with the original "Step Up" almost eleven years ago, while also introducing fresh and exciting new components.
We especially love how the creators use the show to shine a spotlight on real life issues teens struggle with, that aren't always addressed in mainstream media. Characters deal with everything from disabilities to coming to terms with their sexual orientation and finding self-acceptance. Creating a dance series that incorporates such weighty subject matter also adds another dimension to the dancing.
Keep reading...
Show less
This is not a drill: The 2006 classic Step Up—the dancetastic movie that inspired a series and, perhaps more importantly, marked the beginning of Channing and Jenna Dewan Tatum's magical relationship—is returning to movie theaters for one night only. I repeat: THIS IS NOT A DRILL.
Keep reading...
Show less
The cast of the upcoming YouTube Red series "Step Up: High Water" rolled into the Teen Choice Awards last night and casually nailed some fabulous choreo, as they do.
Executive producers Channing and Jenna Dewan Tatum weren't onstage, sadly. But the newest "Step Up" crew—led by the flawless Jade Chynoweth and Kendra Oyesanya—did #TeamTatum proud.
Keep reading...
Show less
Jade Chynoweth in the "Step Up: High Water" trailer (via YouTube)
In case you were wondering whether Channing and Jenna Dewan Tatum knew how to cast a dance show, surprise! THEY DO, GUYS. And the new trailer for the upcoming series "Step Up: High Water," which #TeamTatum is executive producing, proves it.
Keep reading...
Show less
Jade Chynoweth and the cast of "Step Up: High Water" (via @stepupseries on Instagram)
Bless Channing and Jenna Dewan Tatum for understanding that our Step Up love burns with a flame that will never die. It's just been announced that the magical twosome are executive producing "Step Up: High Water," a new series based on the Step Up franchise coming to YouTube Red this fall. And as you'd expect of a Tatum family production, the dancing looks like it's going to be very, very legit.
Keep reading...
Show less
Oh hi guys! Would you like an early holiday present? Because it looks like the Tatum family is about to give us one heck of an amazing dance gift.
Tatum as in Channing and Jenna Dewan, of course—the couple that's held fairly significant real estate in my heart ever since they Step Up-ed into it back in 2006. (2006!!) They're just so talented. And so pretty. And so...delightful.
Channing and Jenna are living proof that the couple that dances together, stays together. And on January 7, they're going to make all our Step Up-fueled fantasies come true when they do a "Tatum Takeover" of Spike's "Lip Sync Battle."
You know what that means: IT'S TATUM DANCE-OFF TIME.
In case you're wondering why I positioned this as an early holiday gift, given that the episode doesn't air until several days into the new year, feast your eyes upon the delicious promo below, which the dynamic duo blessed us with yesterday.
I spy Jenna getting her Magic Mike on. I spy Channing as Elsa from Frozen. (Oh, little Everly Tatum is gonna be one happy girl.) I spy host Chrissy Teigen responding to the showdown in the only appropriate fashion: by totally and completely losing it.
Enjoy, and set your DVRs for Thursday, January 7 at 10/9c!
Here at DS, we live for the Step Up movies. Whether Channing Tatum is romancing Jenna Dewan with his slick dance moves, or Alyson Stoner and Adam Sevani are sweetly tap dancing through the NYC streets, every Step Up movie is just the best.
OK, so maybe the plot lines leave a bit to be desired, but who cares? The dancing is so good.
This summer, the mega-hit dance franchise gets back to the big screen with Step Up: All In, and we couldn't be more psyched. This time around, all of our past favorites are back: Alyson Stoner (as Camille), Ryan Guzman (as Sean), Adam Sevani (as Moose), Misha Gabriel (as Eddy), plus the Lombard Twins, tWitch, Christopher Scott (who also choreographed) and so many more.
The official trailer for the film was released last week and we can't. stop. watching.
Here ya go:
Step Up: All In hits theaters this summer. We'll race you to the theater!
Jenna Dewan Tatum just may have the best. life. ever.
First, she's an amazing dancer. (Step Up was great. "Toddlerography" was brilliant. Her performance with Travis Wall was downright lovely. And her new dance show will undoubtedly be epic.)
Second, she's married to Step Up costar Channing Tatum. (Their "Lip Sync Battle" was one of our all-time favorites, and they have a too-cute daughter together named Everly.)
And now, the 35-year-old actress can add model and brand rep to her list of credentials: She's the new face of Danskin!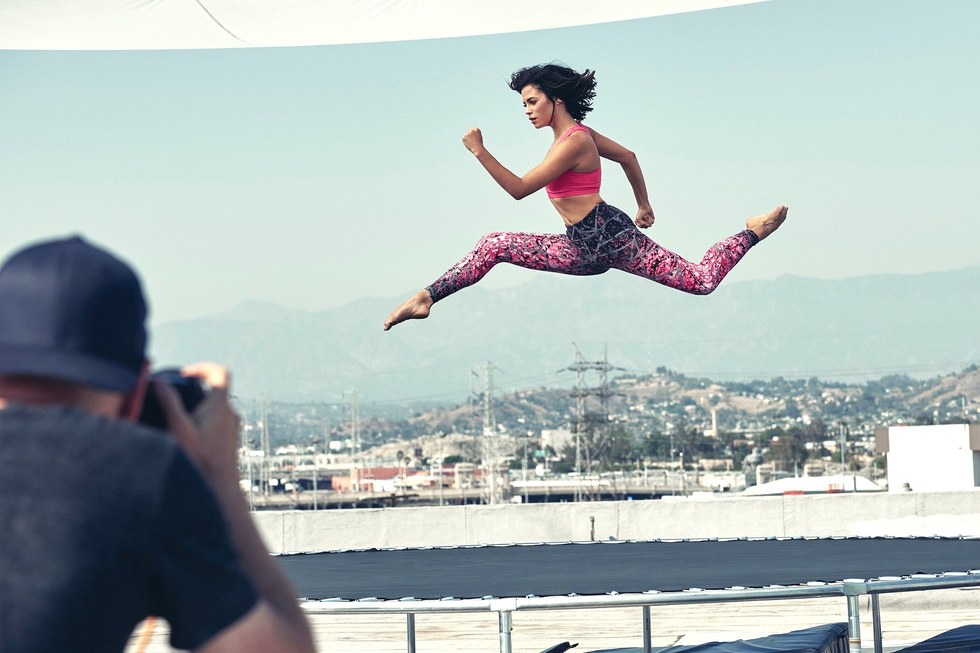 (Photo by Monica May via Danskin)
"My mom reminded me, when I was four years old, starting a community dance class on the weekends and I had to wear a black leotard and pink tights," Dewan Tatum told PeopleStyle on the set of her ad campaign shoot. "She got me a Danskin black little cap sleeve leotard and pink tights—that's kind of why I jumped at this offer. I love Danskin—I've been wearing it for literally 30 years."
Also adorable? Dewan Tatum says 3-year-old Everly is a budding ballerina herself. (Not surprising, considering her parents met on the set of one of the best dance movies ever.) "She has a leotard. The first thing she said to me today when she saw me on set, 'Mommy, you're wearing a leotard like me.' We have a plethora of tutus. Name the color and the sparkle and we have," Dewan Tatum told PeopleStyle. "We started her in dance class and it was too structured for her. She really likes to be free and do her own thing—she's her own little spirit. She likes a good dance, [but] the pressure is on or the attention is on, she's like 'No.' To look at her in a leotard and tutu makes my heart melt, but I'm really conscious not to push it on her."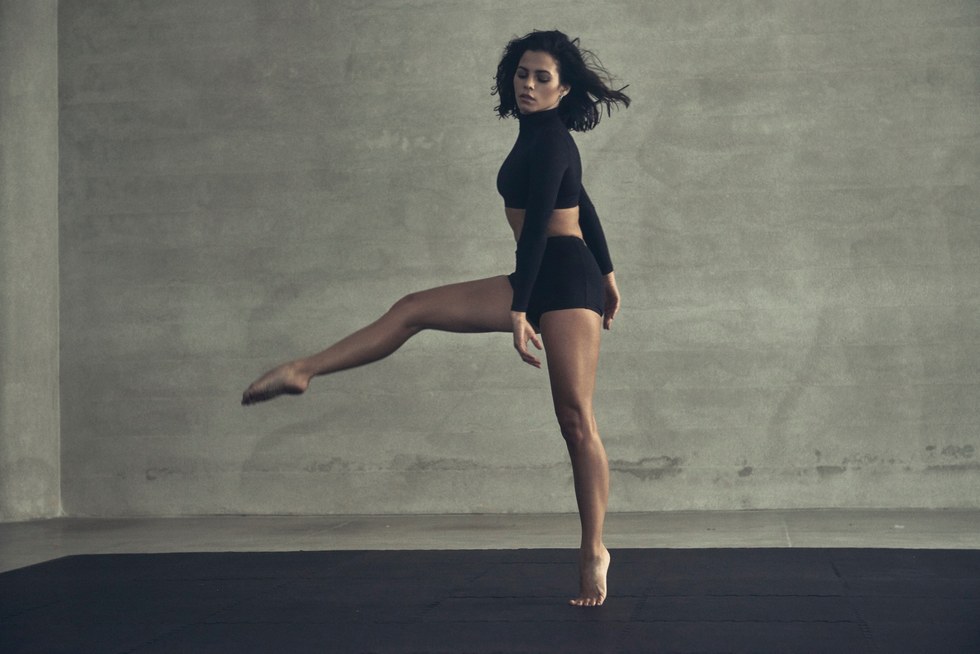 Check out that relevé! (Photo by Monica May via Danskin)
Solid skills, a hot husband, a cute kid, a modeling gig with the OG of dance brands and a level head when it comes to parenting? Keep living your best life, JDT.
Get Dance Spirit in your inbox
Here's a delightful development, which makes so much sense we're actually shocked it didn't happen years ago:
NBC has greenlit a dance competition project headed by dancer/actress/expert Paula Abdul lip-syncer Jenna Dewan-Tatum, who'll serve as a judge and mentor for the series. And her hubby Channing, one of our favorite interpreters of the Beyoncé ouevre? Oh, yes: He'll appear on the show, too.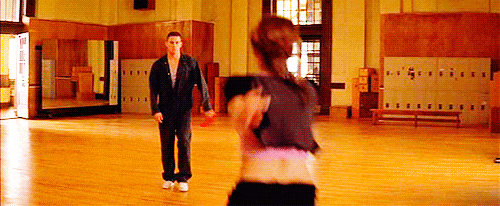 AND EVERY EPISODE WILL OPEN WITH A RE-ENACTMENT OF THIS STEP UP SCENE. (Ideally.)
We don't know a whole lot more about the as-yet-untitled project. But honestly, those snippets of info alone are enough to get all of us #TeamTatum 'shippers on board. (For the three or so of you who aren't yet obsessed with The Family Tatum—may we refer you to this, this and, oh goodness, THIS?)
More to come as we hear it, obviously!
It's official: Channing Tatum can do it all. This was confirmed when we found out that our favorite dancer/dad/dreamboat is playing a tap-dancing sailor in Hail, Caesar!, the latest film to be corrected by the Coen Brothers, Joel and Ethan. The trailer offers a tiny glimpse of Tatum, clad in a very Fancy Free-esque sailor uniform, hoofing like a pro.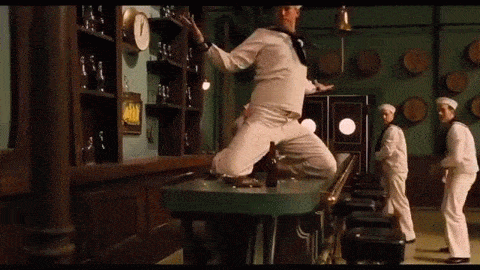 Sliiiiiiding into my heart.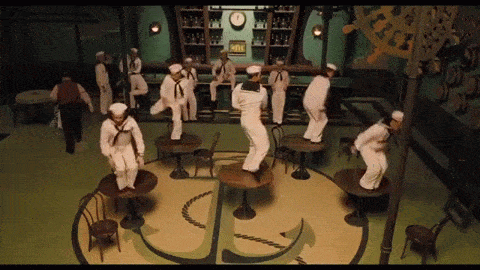 You're perfect, we get it.
But those five seconds of glory aren't nearly enough. So, after a little digging around the Internet, the dance gods #blessed us with this behind-the-scenes video of Tatum rehearsing his tap scenes. Happy weekend, indeed! Check out the full videos below.
When we first heard that power couple Channing Tatum and Jenna Dewan-Tatum were going to duke it out on the season premiere of Lip Sync Battle in a #TatumTakeover, we knew we were in for some pretty great moments. But we had no idea it would be this amazing.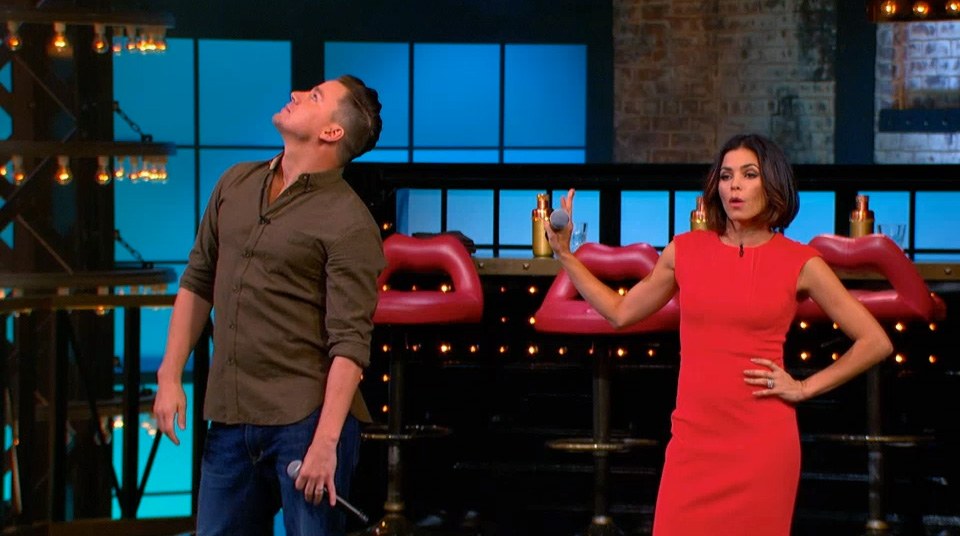 Just a little healthy marital competition. (screenshot via Spike online)
Seriously, guys, this is going down in television history.
The episode, which premiered last night, is filled with so many quality dance moments and #RelationshipGoals it's hard to keep track. The duo pulled out all. the. stops.
The highlights breaking the Internet today:
Jenna straight-up killing her routine to "Cold Hearted" by Paula Abdul. The singer herself made a surprise appearance (!) and danced to the second half of the song.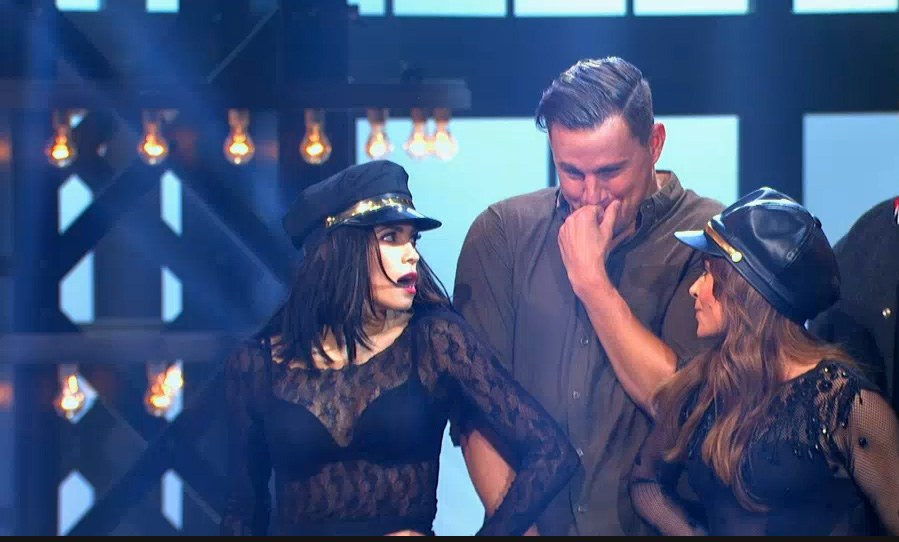 Can you say girl power? (screenshot via Spike online)
Jenna's recreation of a Magic Mike scene to Ginuwine's "Pony." Naturally, she got her hubby in on the action.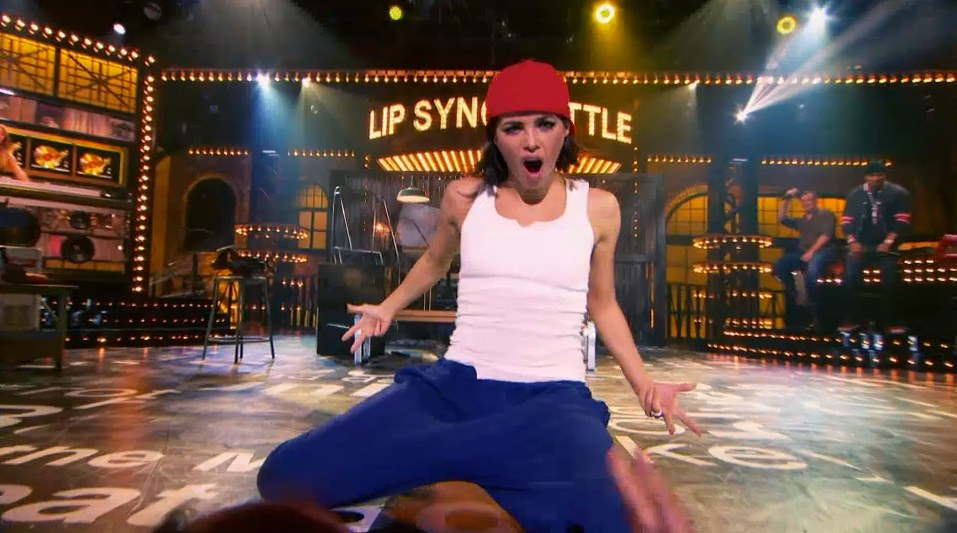 Yaaaaaas girl. (screenshot via Spike online)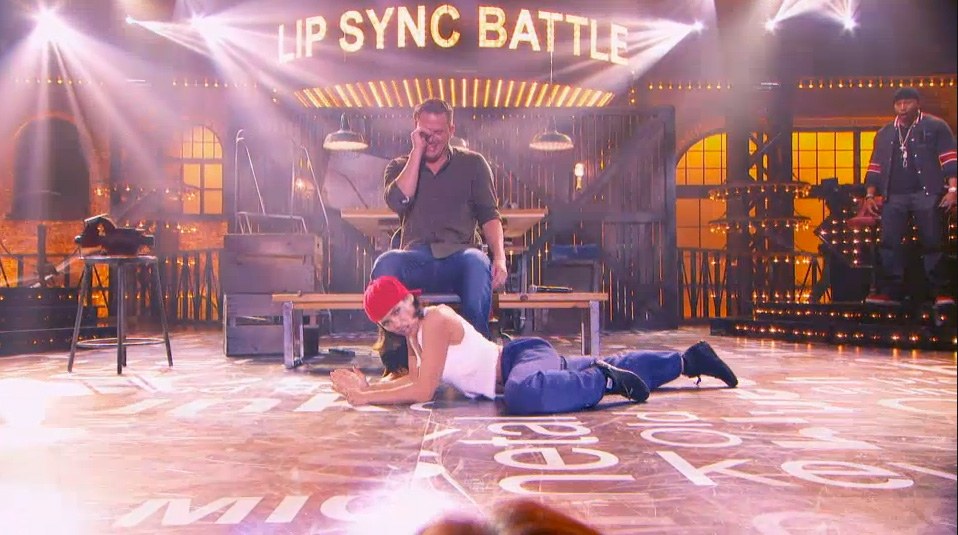 The best part? Channing couldn't stop laughing. (screenshot via Spike online)
Channing's amazing "Run the World (Girls)" performance, which started with a hilarious moment atop a horse and ended with an appearance by none other than Queen Bey herself—she pulled out a few moves (and a few hair flips) with Channing at the end of the song. I meannnnnnnnnn, does it get better than that?!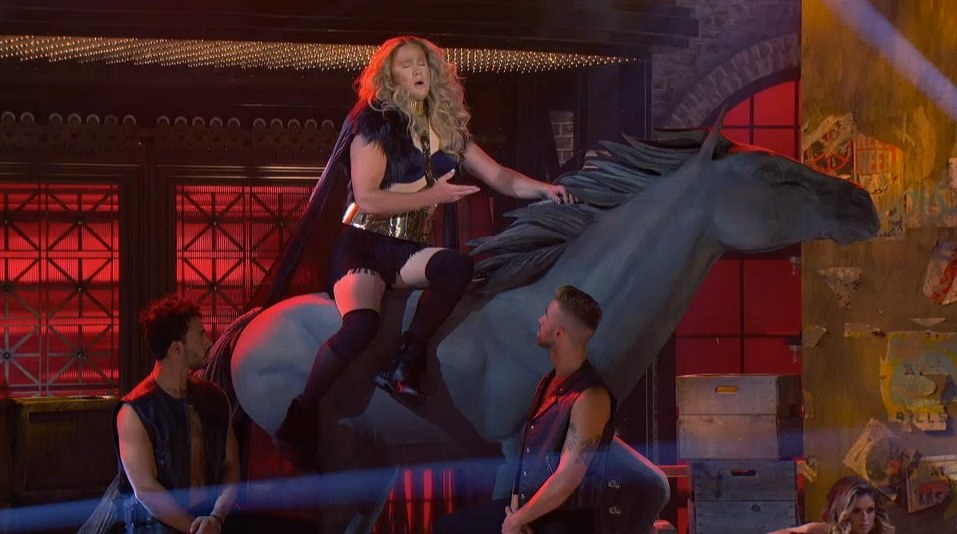 Those contoured cheekbones. That wig. Those knee high boots.  (screenshot via Spike online)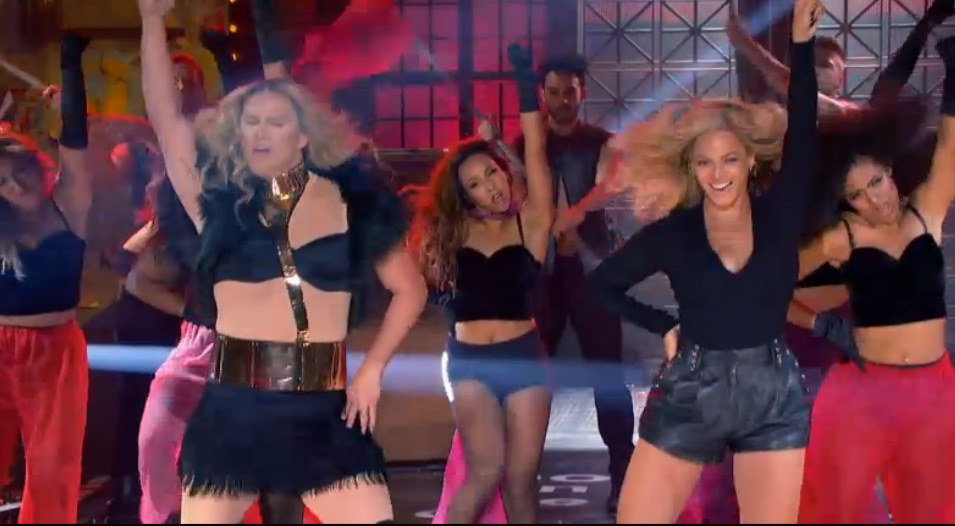 BOW DOWN. (screenshot via Spike online)
Jenna's reaction to seeing Beyoncé strut out and dance with her man pretty much sums up the night perfectly: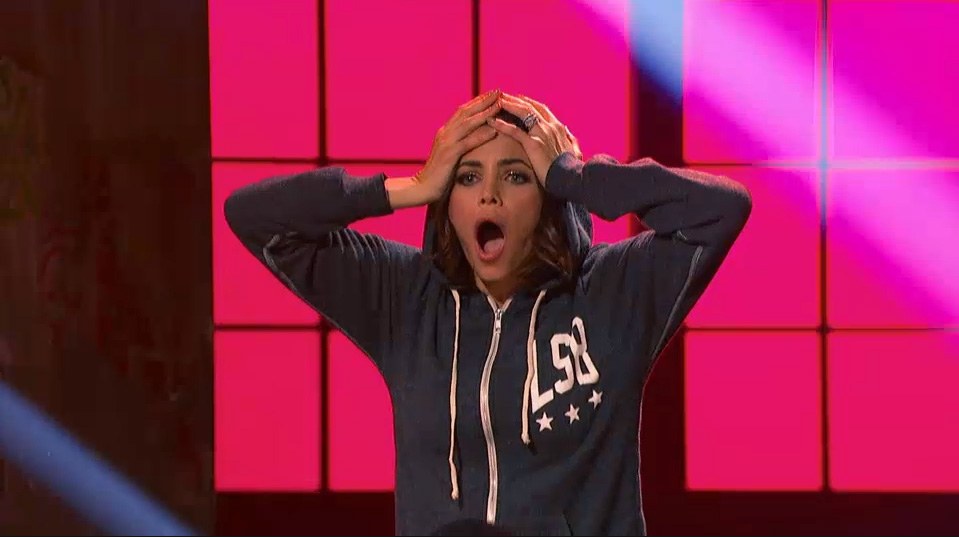 Us too, girl. Us too. (screenshot via Spike online)
Missed the epic episode? Head over to Spike online to watch the whole thing—or, if you want to get right to the good stuff, check out the video of the "Pony" and "Run the World (Girls)" moments below.
Jan. 23, 2014 11:14AM EST
We don't know about you, but whenever we imagine Channing Tatum and Jenna Dewan-Tatum's home life, we pretty much picture it as a 24-7 version of that club scene from Step Up. (You know, the one where everyone suddenly knows the same choreographed dance? Just like in real life? Ah, movies.)
Well, imagine our delight when we discovered that the couple's life actually is a dance party, at least some of the time—even post-baby. A couple of nights ago, Team Tatum hit the town in Miami to celebrate Jenna's cover for Ocean Drive magazine. And by "hit the town," we mean "spent the entire night on the dance floor."
There isn't a whole lot of video evidence—you can see a quick clip here—but there are photos. How cute is this?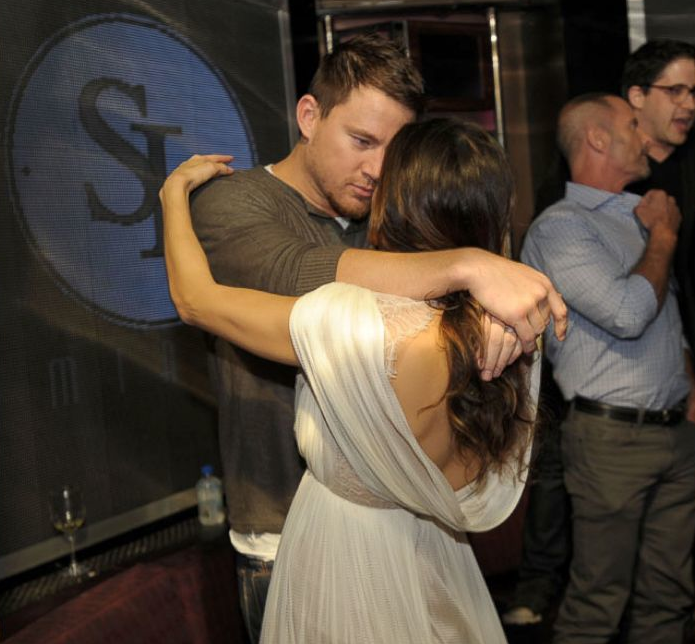 Seth Browarnik/Worldredeye.com
And thank you to E! Online for beating us to the punch and comparing the dynamic duo's Miami moves to their Step Up choreo: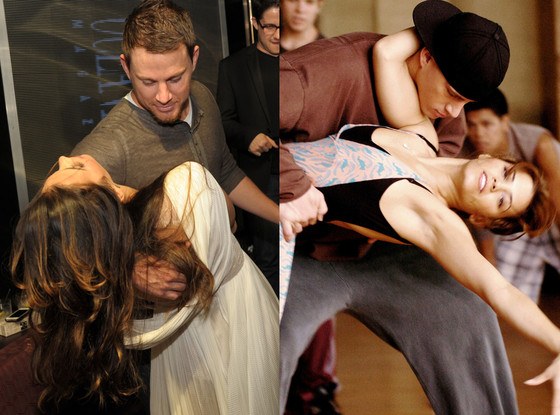 Seth Browarnik/startraksphoto.com; Touchstone Pictures
Anyway, let's not kid ourselves: This post is just an excuse to bring out that Step Up club scene again. Here you go!
Apr. 25, 2013 11:34AM EST
Ever since we saw Joseph Gordon-Levitt re-enact "Make 'Em Laugh" on "Saturday Night Live" and Channing Tatum strut his stuff in Step Up, we've been dying for the two cuties to get involved in some kind of Broadway musical production. (And we only got more excited after their dancetastic performances at the Oscars.)
But apparently we weren't dreaming big enough. Because yesterday it was announced that they might be doing a movie musical together.
Not just any musical, either. Fox has acquired the rights to the classic hit Guys and Dolls, and the studio is reportedly eying Tatum for the role of put-upon gambling man Nathan Detroit and Gordon-Levitt for the ultra-suave Sky Masterson. (If you're a fan of the amazing 1955 film version—and if you're not, you need to go watch it immediately—that's Frank Sinatra and Marlon Brando, respectively.)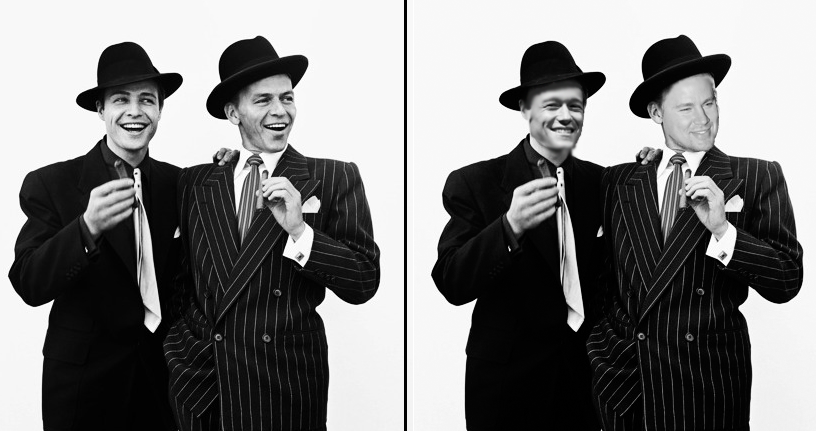 Left: Brando and Sinatra in 1955. Right: the new dream team??
Putting aside the fact that I personally see Tatum as more of a Sky and Gordon-Levitt as more of a Nathan, this is pretty much the best Broadway-nerd news to come out of Hollywood since the announcement that Mean Girls was going to be a musical. But some big questions remain—two, to be precise: Who's going to play uptight missionary Sarah Brown, and who's going to take on cheeky nightclub queen Miss Adelaide?
Paging Anne Hathaway! She'd be a perfectly prim Sarah, am I right? As for blonde bombshell Adelaide—well, nobody can shimmy quite like Megan Hilty. Kristen Bell might do a credible job, too (or am I just saying that because Burlesque was on TV this weekend?).
What do you guys think?
Feb. 25, 2013 12:44PM EST
I expected the borderline-inappropriate jokes. I expected the appearance by Ted (sighhhhh). I even kind of expected the tribute to boobs on film.
But what I didn't expect from Seth MacFarlane's turn as host of the Academy Awards was a whole bunch of dance numbers. Dance! And here I was thinking the Busby Berkeley-style opening to "Family Guy" was a joke! Who knew that Mr. MacFarlane, the modern master of the fart joke, was a legitimate song-and-dance man?
Anyway, I think I'm not alone in feeling that the dancing elevated what could otherwise have been a very "meh" Oscars show. Let's run down all of the fun dance-y numbers, shall we?
We got off to a strange but, let's be honest, hilarious start with the boobs song. I know, it's terrible and tasteless and everything everyone hates about Seth MacFarlane, but c'mon. It was funny, and not less so thanks to the troupe of tux-clad backup dancers.
Next up, my personal favorite: Charlize Theron (who studied at NYC's Joffrey Ballet School!) and Channing Tatum channeling Ginger Rogers and Fred Astaire in an elegant foxtrot that was even better for being totally unexpected.
Then we were treated to a cute little softshoe by Daniel Radcliffe and Joseph Gordon-Levitt. Harry Potter's dance skills could use a little polishing, but points for effort—and Gordon-Levitt looked pretty darn legit. (Remember that time he redid the entire "Make 'Em Laugh" number from Singin' in the Rain on "Saturday Night Live"? I'm striking out in my search for video of the performance, but trust me: It was amazing.)
And then there was that big ol' reworking of "Be Our Guest" from Beauty and the Beast. It wasn't the biggest hit of the night, but I'm never really going to knock any production of a classic Disney song. Plus it featured some of DS's fave dancers, including Alex Wong, Spencer Liff, Cody Green and Jaimie Goodwin.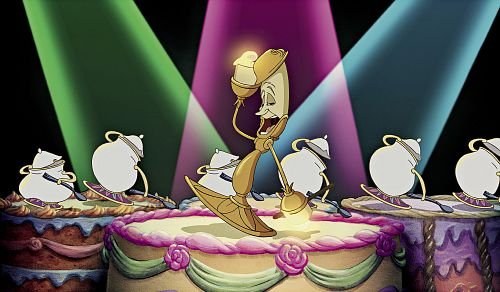 (I can't find any good video of this number, so you'll have to settle for a screenshot from the original instead. Just pretend Lumière is Seth MacFarlane. Not such a stretch, actually.)
Last but certainly not least: Catherine Zeta-Jones and a Fosse chorus in "All That Jazz" from Chicago. Girl's still got it! And it was another chance for our dancer friends to show off a little, too.
My only regret is that Bradley Cooper and Jennifer Lawrence didn't get to re-enact their so-bad-it's-awesome dance from Silver Linings Playbook. But I guess the two of them had other things on their minds, what with being nominated for Academy Awards and everything.
(Side note: Jennifer Lawrence. You are amazing. You basically fell on your face last night and it only made everyone, myself included, love you more. I feel like you and Emma Stone and maybe Sandra Bullock should hang out and be awesome and funny and super-stylish together.)