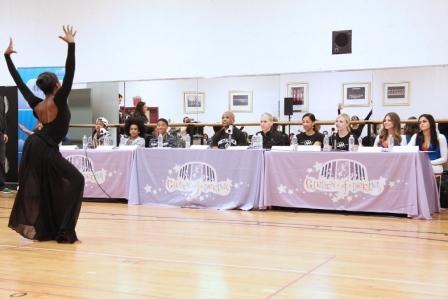 Alexis Stewart of Elmont, NY, rehearses her performance to "He Lives in You" from The Lion King in front of celebrity guest mentors Mindless Behavior, Darryl McDaniels of Run DMC, Broadway actor Tony Vincent, Rockettes Karilyn Surratt and Tara Dunleavy and Knicks City Dancers Alyssa Quezada and Ana DeMatos. (by Kristina Bumphrey/Starpix)
Rockettes are famous for their lengthy legs, perfect time steps and star quality—but what many don't know is what they're up to when they're not on stage. Each spring, the Rockettes, alongside other divisions of the Madison Square Garden Company, give children their own shining moment on the Radio City stage through non-profit charity Garden of Dreams.
Established in 2006, Garden of Dreams turns dreams into realities for children facing adversities from illness to homelessness. The Rockettes serve as judges, mentors and inspirations for children who audition for the charity's talent show, which takes place on the Radio City Music Hall stage. So far, Garden of Dreams has provided magical and memorable opportunities for over 225,000 children and their families!
Here's how it works:  Last month, contestants auditioned for a rotating panel of expert judges including Broadway stars, Knicks City Dancers and, of course, Rockettes. Then, those who were chosen presented their acts twice more before the final performance while getting pointers from the judges on how to fine-tune their acts and eliminate their nerves. The final talent showcase, called "Dare to Dream," is this Tuesday, April 16, and it will include approximately 200 children from across the tri-state area.
What are the highlights? There are too many to count! But Rockette and judge Tara Dunleavy told DS: "A 5-year-old boy will sing Bruno Mars. He's so cute and fearless, and so much fun to watch."
If you're in NYC, there's no reason to miss this touching event, because it's open to the public and free of charge! For more info, check out gardenofdreamsfoundation.org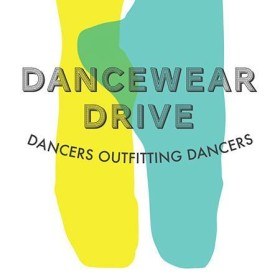 Dancers are pretty awesome—especially when they go above and beyond to make this world a better place. Remember Katarina, from Texas, who started a pointe shoe recycling program to keep old shoes out of landfills? How about Georgia, who helped establish a series of dance classes for kids in Florida? Now, there's a new name to add to our Young Dancers Who Rock list: Sidney Fitzgerald.
Sidney, who's 13 and trains at the Los Angeles Ballet School, started Dancewear Drive, a program that takes gently worn (or new!) dancewear and donates it to students in need. I caught up with Sidney to find out more.
Dance Spirit: What inspired you to start your project?
Sidney Fitzgerald: Last fall, my mom and I were joking about how quickly I was growing out of my dancewear—and how often we needed to shop. Most of my too-small leotards are still in great shape. I felt bad throwing them away—and I knew that my friends all had the same problem.
Around the same time, I started volunteering at the Hope Street Family Center in downtown L.A., assisting my teacher and former L.A. Ballet principal Allynne Noelle, who was teaching class there. I realized that the kids at Hope Street could really use the gently-worn dancewear. Allynne and I talked to the manager of Hope Street and arranged for the center to be the first beneficiary of Dancewear Drive.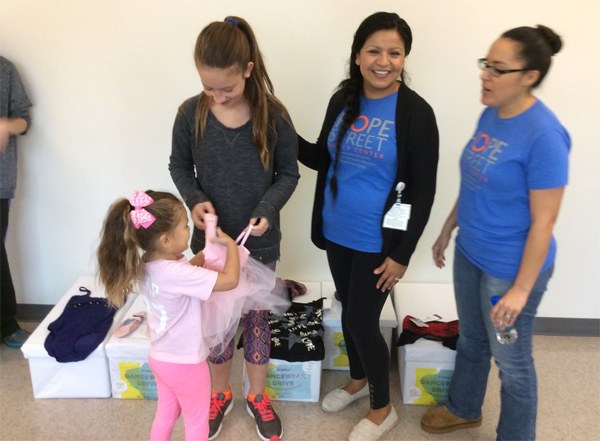 Sidney donating a new outfit to a baby ballerina at Hope Street Family Center (via danceweardrive.org)
DS: What happened next?
SF: I put out bins at three collection sites: my ballet studio, my school and a dance store in L.A. Then we got really lucky: Discount Dance heard about my project and sent a bunch of boxes of dancewear they couldn't sell. That's when I had the idea to launch a delegate program, allowing dancers from all over the country to start collecting for beneficiaries in their neighborhoods.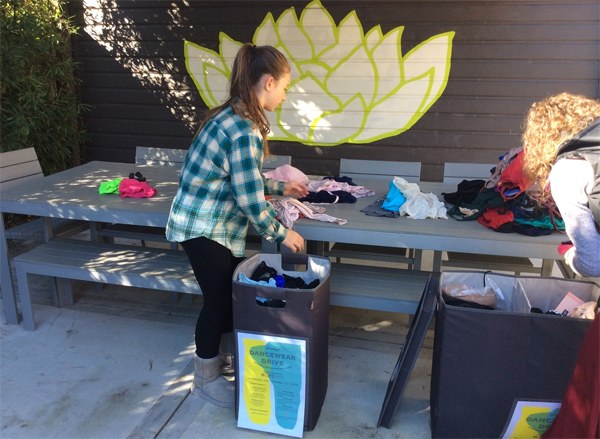 Sidney hard at work (via danceweardrive.org)
DS: How can others get involved?
SF: If you're 13 or older, you can be a delegate. Go to Dancewear Drive's website, click the "Programs" tab and apply to be a delegate. Then, Dancewear Drive will help you find a beneficiary for the collected dancewear—or you can suggest your own. If you can't get a collection bin yourself, I can ship them to you—along with the logo for the bins. Of course, getting all the materials (and shipping them!) does cost money, so Dancewear Drive also accepts donations.
Want to help? Check out Dancewear Drive's Facebook, visit danceweardrive.org or email info@danceweardrive.org for more info.
OK, so it's definitely no secret at this point that we're in love with Chaz Buzan. (It's almost been a month since we've mentioned him! Almost...)
And no, this post is not just a #WayBackWednesday to our January 2013 cover, which featured Chaz alongside fellow Mia Michaels assistant Ryan Ramirez and Mia herself, of course.
Although, we can't quite resist bringing back this gem: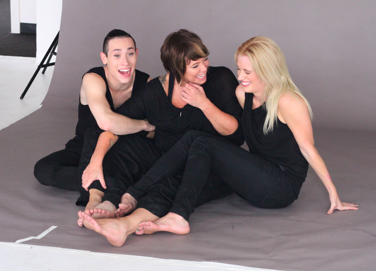 Chaz, Ryan and Mia behind the scenes of our January 2013 cover shoot. So precious!
But really, we  just thought you might need a little boost to get you through your Wednesday. And lucky for us, there's a new video of our favorite superhuman performing at the MOVEtheWORLD charity event. Enjoy!
This time of year, it's easy to get caught up in it all—the holiday parties, the shopping, the baking, the caroling, the Nutcrackering...
But one dance studio didn't let the holiday hustle and bustle distract them from what's really important: giving back to the community. Variations Dance Studio in Auburn, AL embodied the true spirit of the season by donating over 300 dance costumes to Children's Hospital in Birmingham. Each ballerina included a personalized note with her costume, signed as her character title from The Nutcracker.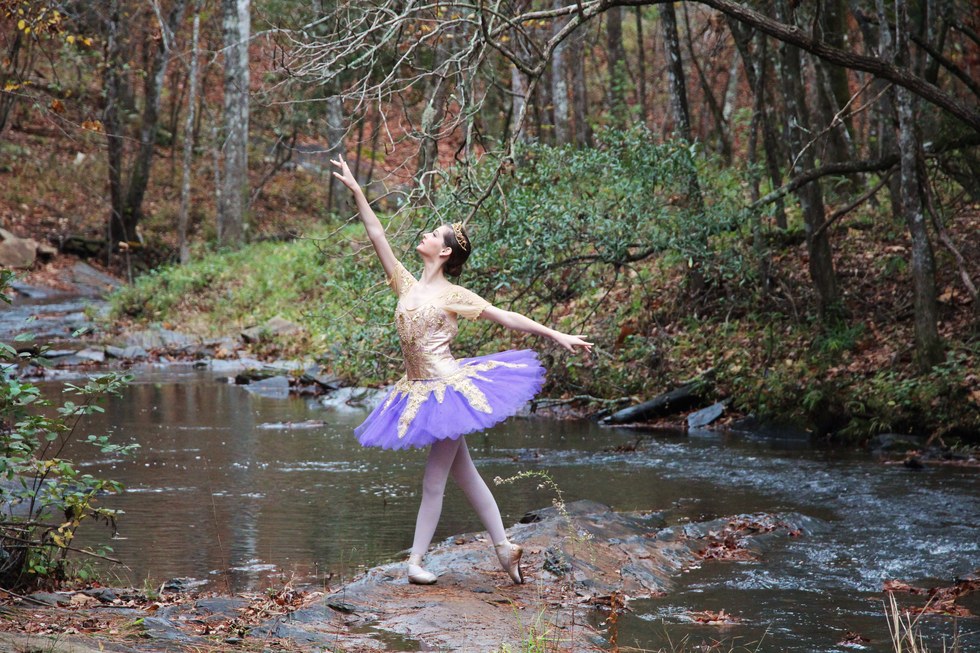 Imagine a little girl receiving this costume (modeled by Christy Evans of Variations Dance Studio) from the Sugar Plum Fairy herself! (photo by Stacy Young)
It really warms the heart...doesn't it? So as you sort through your holiday gifts today, consider setting one aside for donation. You may find that giving it away feels twice as good as receiving it in the first place.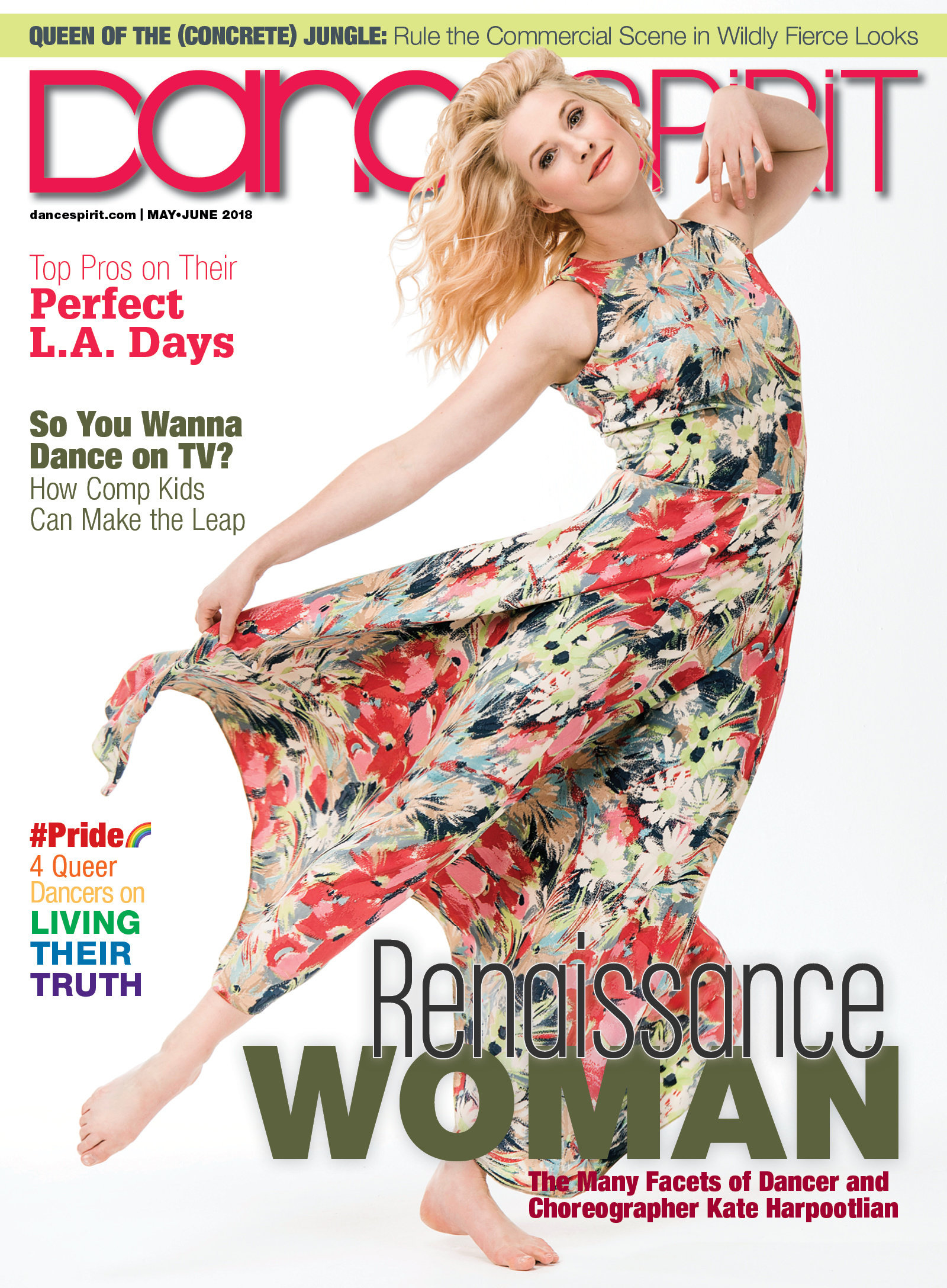 Get Dance Spirit in your inbox