Popular
Apr. 17, 2018 10:27AM EST
Oh, hi, EVERYBODY. (Screenshots via YouTube)
Sometimes, you hear talk about an upcoming class video and it sounds too good to be real. Wait: Todrick Hall made a track featuring RuPaul, and then Todrick personally asked Brian Friedman to choreograph it, and then Brian got Maddie and Charlize and Jade and Kaycee and Sean and Gabe and Larsen and Bailey to come out for the class? I just...that can't be right. Can it?
It is right, friends. It is SO RIGHT.
Keep reading...
Show less
Photo by Joe Toreno
The coolest place she's ever performed:

I'd have to say the Super Bowl. The field was so cool, and Katy Perry was right there. And there were so many eyes—definitely the most eyes I've ever performed for!
Something she's constantly working on:
My feet. I'm flat-footed, so I'm always hearing, 'Point your toes!' And I'm like, 'I am!'
Signature look:
My hair! That, and a pair of leggings with a T-shirt or tank top.
Keep reading...
Show less
Photo by Joe Toreno
Some might say Charlize Glass' fame kicked off with a single three-letter word. In 2014, Beyoncé shared a video of the then–12-year-old dancer performing to "Yoncé" on Instagram, along with a simple caption: "WOW!"
But by that point, the hip-hop mini had already performed at the MTV Video Music Awards and on "The Ellen DeGeneres Show," and won first runner-up with her crew, 8 Flavahz, on "America's Best Dance Crew." And her Queen Bey Insta shout-out wasn't even the pinnacle of her tween career: She earned a spot on The PULSE On Tour as an Elite Protégé for the 2014–2015 season, and performed with Missy Elliott at the Super Bowl XLIX Halftime Show in 2015.
These days, the 16-year-old spends her time touring the country as Brian Friedman's assistant at Radix Dance Convention and blowing up YouTube and Instagram with her class-video cameos. And while the Char Char we fell in love with was a hip-hop cutie pie, the more mature artist we see today is sure to rock the dance world for years to come.
Keep reading...
Show less
via YouTube
Keep reading...
Show less
On a scale of one to Beyoncé, 13-year-old Charlize Glass is pretty darn Beyoncé. Watching Charlize dance is like flipping through a series of perfect snapshots—each isolation of her body is that precise and finessed. And in 2014, a video of the young hip-hopper performing a Jose Hollywood routine to "Yoncé" got an Instagram shout-out from Queen Bey herself. That's just the cherry on top of Charlize's already impressive list of accomplishments, which includes performing on "The Ellen DeGeneres Show," winning first runner-up on "America's Best Dance Crew" with 8 Flavahz Crew and dancing in music videos for Willow Smith, Ciara and Justin Bieber. Most recently, Charlize has been traveling the country with The PULSE on Tour as a 2014–2015 Elite Protégé.
"It would be a dream come true to dance with Beyoncé. She's had such an impact on my career so far."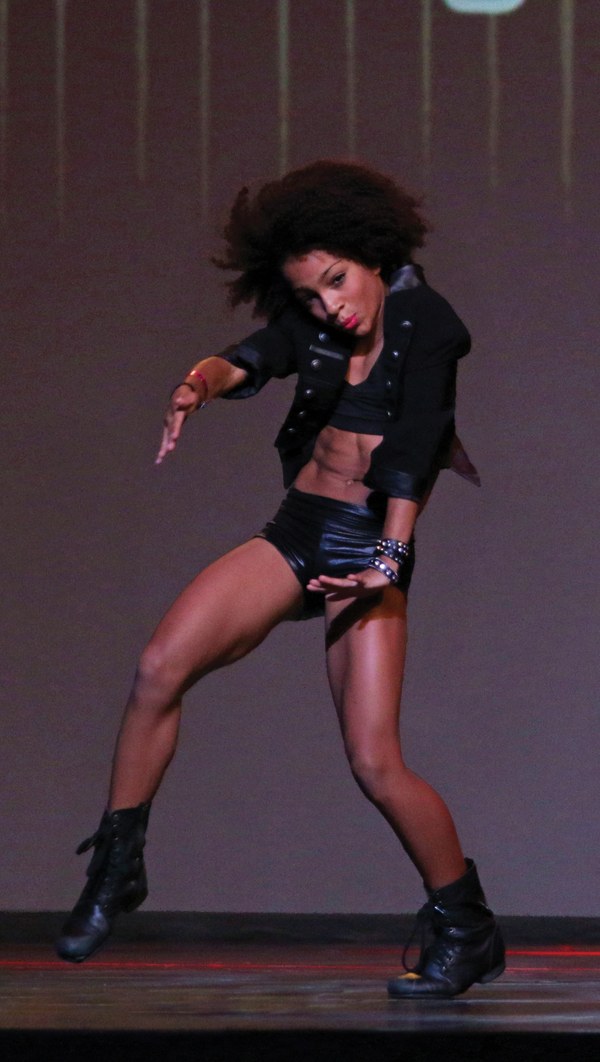 (Photo by Rick Clark Photography, courtesy the Glasses)
Fast Facts
Birthday: November 27, 2001
Hometown: L.A.
Dance studios: The Rage Complex, Academy of Dance Westlake Village, Soul Motion and Movement Lifestyle
Secret talent: "I like to speak in cat language to my four cats."
If she weren't a dancer, she'd be… a track and field sprinter.
Dance mentor: Marcelo Pacleb, the creator of 8 Flavahz Crew
Favorite meal: chicken, broccoli and rice with apple pie and cookie dough
Dream job: "I want to choreograph for major artists—or at conventions like The PULSE!"
Whoa, guys. We're kind of still recovering from the incredible intensity of The PULSE on Tour's Final Night Gala, held yesterday in NYC.
The thing is, we came in thinking we were prepared for the awesomeness. We know how great The PULSE faculty is. When you have the likes of Cris Judd, Dave Scott, Ian Eastwood, Dee Caspary, Gil Duldulao and Tricia Miranda (to name just a few!) putting together pieces for some of the country's most talented dancers, you know you're in for a good time.
But we weren't prepared for just how good it would be. The PULSE dancers had less than a week to learn their routines, but they performed with the polish of experienced pros. We particularly loved the old-school romance of Judd's piece, set to Billy Joel's "Scenes from an Italian Restaurant," and the ferociousness of Duldulao's hard-hitting (literally—baseball bats were involved) number set to some classic '90s hip hop. (As you've probably figured out by now, we're all about a good #throwback.)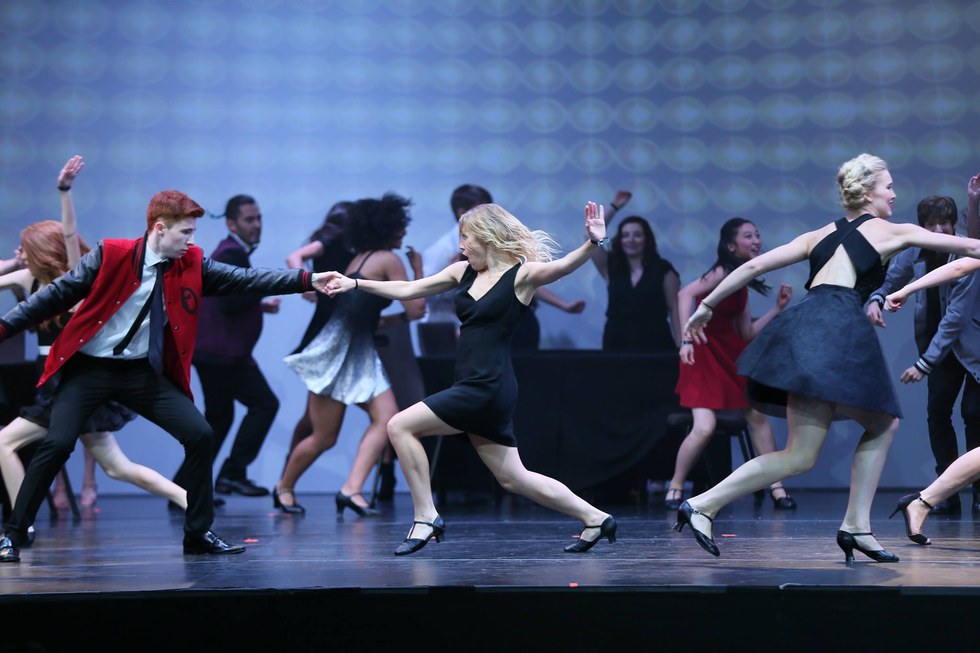 Rocking out to Billy Joel in Cris Judd's piece (photo via The PULSE)
There were also several knockout guest performances. Zendaya, one of our favorites of the moment, showed off some impressive dance skills while performing her hit song "Replay," backed by a crew of PULSE dancers. Flight Crew, a jump-roping (!) team currently competing on "America's Got Talent," did some unbelievable things with jump ropes. And a remarkable group of Elite Protégé alums celebrated The PULSE's 10th anniversary by reuniting for a piece by the fabulous Rhapsody James. (One of the sweetest moments of the night was the faculty's outsized reaction to that performance. Those dancers were once their students, and now they're earning A-list jobs all over the world.)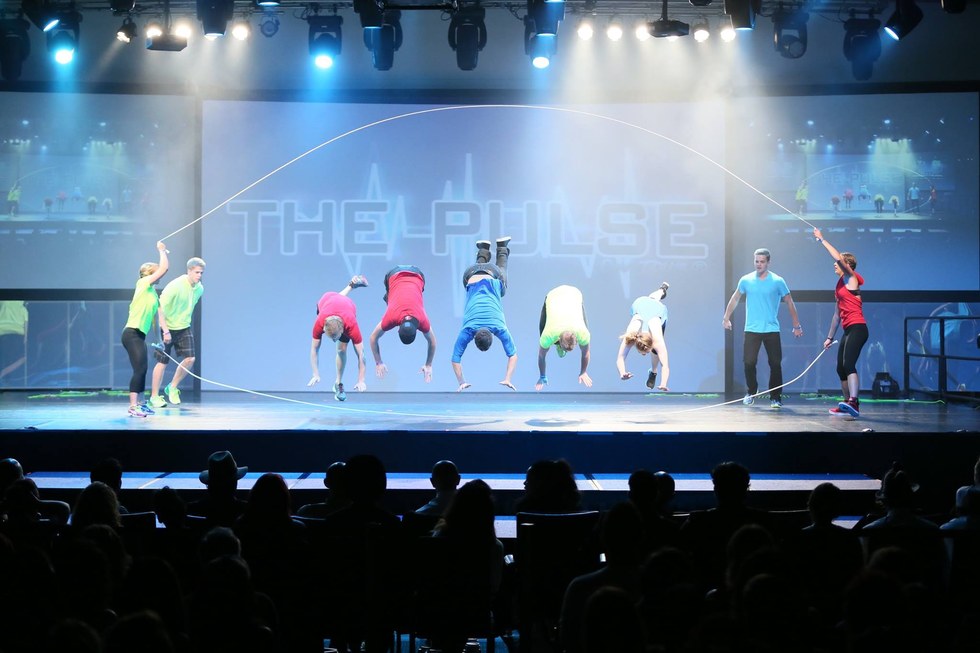 Flight Crew mid-flight (photo via The PULSE)
Emotions ran high as it came time to announce the 2014-2015 crop of Elite Protégés. 13 talented dancers—including Charlize Glass, Kierstyn Tupa, Elyssa Cueto and Trevor Takemoto—earned yearlong scholarships to The PULSE, plus opportunities to assist the convention's faculty. Congrats, everyone! We're so excited to see what amazing things you'll get up to this year.
Jan. 03, 2014 09:54AM EST
You guys know how we feel about Beyoncé.
And you know how we feel about yung'uns rocking out to Beyoncé.
So our new favorite video should come as no shock to you all: It's a yung'un. Rocking out. To Beyoncé. ("Yoncé," to be exact.)
Her name is Charlize Glass. She is 12, and adorable, and totally, totally sick. Did we mention she's already worked with Justin Bieber and Ciara, appeared on "Ellen" (dancing to Beyoncé, of course) and been a runner-up on "America's Best Dance Crew"? 12 years old, and already more accomplished than we will ever be.
Enjoy! You can find more Charlize here.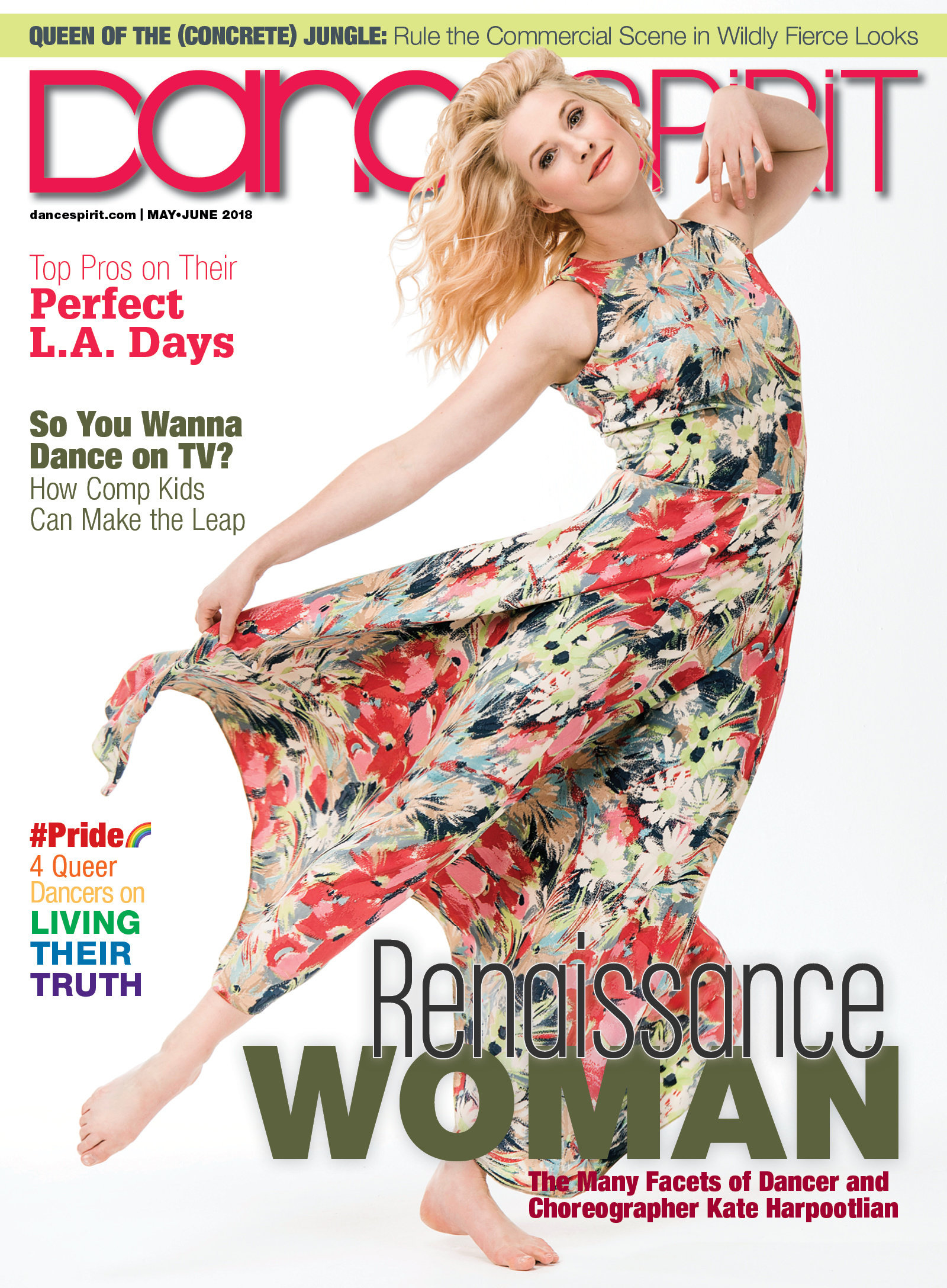 Get Dance Spirit in your inbox