Season 2 of "city.ballet."—the AOL On series that gives an insider's look at New York City Ballet—is live now! We're recapping one episode per week. Watch all 12 at dancemagazine.com.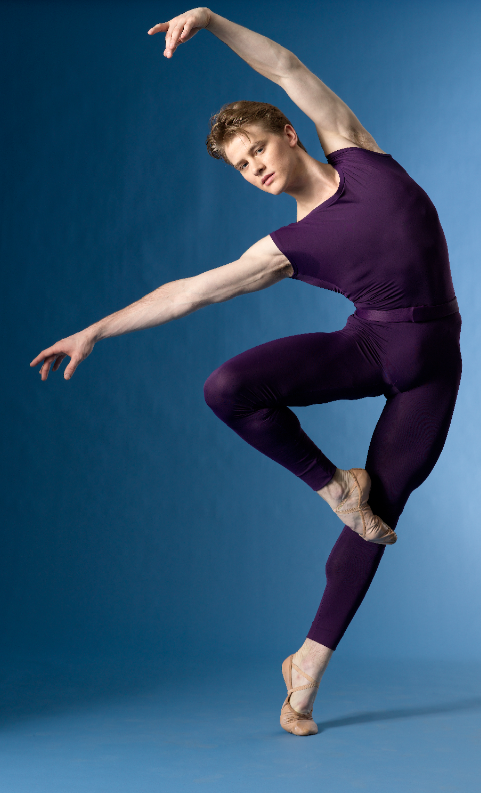 Finlay in costume for Christopher Wheeldon's m...i'm not sure (photo by Nathan Sayers)
Episode 8 of "city.ballet." follows Chase Finlay—who, as the youngest male principal in New York City Ballet, is under a lot more pressure than your average 24-year-old. But these days, that pressure is even higher than usual: Finlay is coming off a serious foot injury, and he needs to show the company that he's recovered and ready to take on his old roles. Here are five things we learned from the ep.
1. Finlay is a bro, bro. "Right after I broke my foot, I was like, 'Forget this, I'm just going to go drink a beer and watch football,' " he says. Dude, we feel you.
2. There is titanium in his foot right now. He broke his fifth metatarsal, and they had to insert a titanium screw to fix it. Crazy!
3. His parents are adorbs. We see Finlay and his dad playing a cute father-son round of golf—in coordinating polo shirts, naturally. And Finlay's mom's description of baby Chase's first time watching The Nutcracker will make you melt a little bit. "He was so small he was sitting in my lap," she says. "And the curtain went up, and I felt his little ribcage go, 'Oh!' " They're both obviously so proud of him, and it's the best.
4. Coming back from an injury is terrifying. "I don't want to go up into a turn or jump and wonder if it's going to work," he says. We hear that. All the close-ups of him landing on his injured foot make us cringe.
5. But it's also a chance to prove yourself anew. "You don't want to be a lesser dancer than what you were before," Finlay says. "You want to come back and wow people." From the footage we see in this episode, it seems like he's well on his way to wow.
Click the image below to watch the full episode!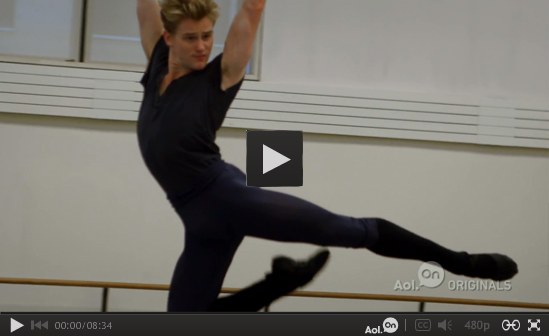 Mar. 23, 2017 06:45AM EST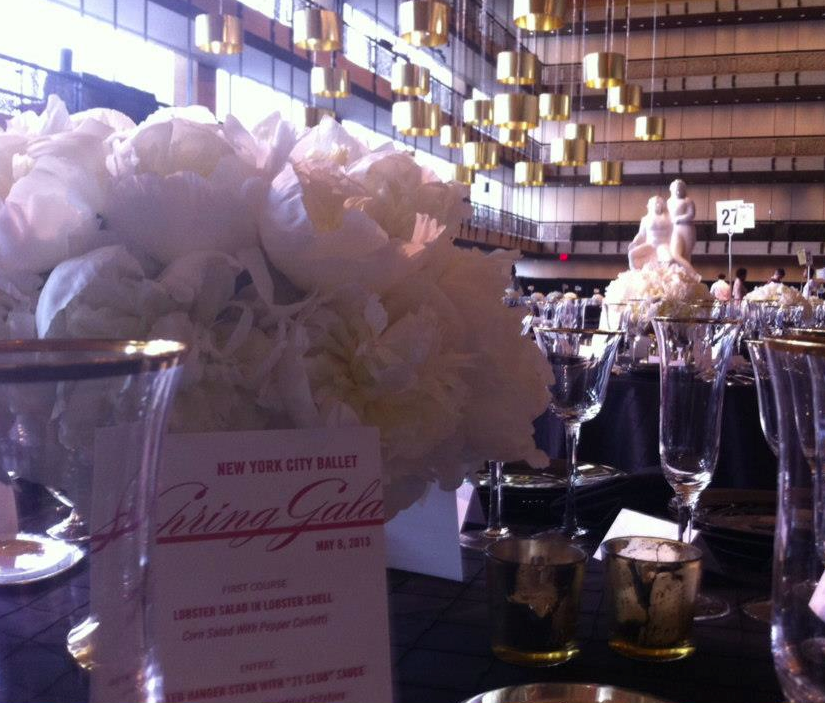 Plus, the gala dinner setup was gorgeous! (photo via NYCB)
For ballet nerds like me, there are few things more exciting than watching young dancers develop into beautiful, authoritative artists. Last night, New York City Ballet's spring gala opened with a work that let some of my favorite rising stars prove just how much they've grown up.
That'd be Christopher Wheeldon's Soirée Musicale, an alternately elegant and playful little ballet that gives nearly every cast member a moment in the spotlight. And what a cast it was!
We got Brittany Pollack, Lauren Lovette, Taylor Stanley and Chase Finlay, recently-promoted dancers I've followed since their apprenticeships. And then there were the newbies I've just begun to pick out of the corps: Sara Adams, Harrison Ball, Indiana Woodward and Peter Walker.  Nearly all of them are under the age of 25—many have only been in the company for a year or two—but they danced with the confidence of seasoned pros. A special highlight came toward the end: a poignant, romantic pas de deux for Lauren and Chase that signaled what might be the beginning of a beautiful partnership.
The gala was packed with many other fun treats too, of course. There was a second premiere by Wheeldon, a pas de deux in homage to Jerome Robbins' West Side Story danced by the sublime Tiler Peck and Robert Fairchild. There was the exhilarating nonstop acceleration of the final section of Robbins' Glass Pieces, featuring what seemed like the entire company. Queen Latifah stopped by to serenade Sterling Hyltin and Amar Ramasar as they glided through Balanchine's "The Man I Love" pas de deux from Who Cares?. And Ashley Bouder and Andrew Veyette had a jaw-dropping "anything you can do, I can do better" competition in the cheeky Stars and Stripes pas de deux.
But it was those young, newly-minted stars that stuck with me as I left Lincoln Center last night. In a gala that was all about high-wattage brilliance, they shone brightest.
Mar. 23, 2017 06:24AM EST
Congratulations to the gaggle of New York City Ballet dancers who were just promoted! No fewer than 11 of the company's finest are feeling pretty great today. Here's the rundown:
Adrian Danchig-Waring, Chase Finlay and Ask la Cour are now principals.
Lauren King, Ashley Laracey, Megan Lecrone, Lauren Lovette, Justin Peck, Brittany Pollack, Georgina Pazcoguin and Taylor Stanley are now soloists.
We're just about bursting with happiness for all of these lovelies—I mean, the list is basically a rundown of our NYCB faves. But we're especially glad for Miss Lauren Lovette and Mr. Taylor Stanley, our September 2010 cover stars, who we've been rooting for from the very beginning.
Just look how young and adorable they were at their cover shoot! And now they're all growed up. We feel like proud parents. *sniff*
(All photos by Erin Baiano)
[portfolio_slideshow nowrap=0 thumbs=true timeout=4000 showtitles=true showcaps=true showdesc=true]
Every July, New York City Ballet heads to Saratoga Springs, NY for their annual residency at the Saratoga Performing Arts Center, and every July, us members of the dance world watch in envy as NYCB company members' Saratoga photos start filling our Instagram feeds.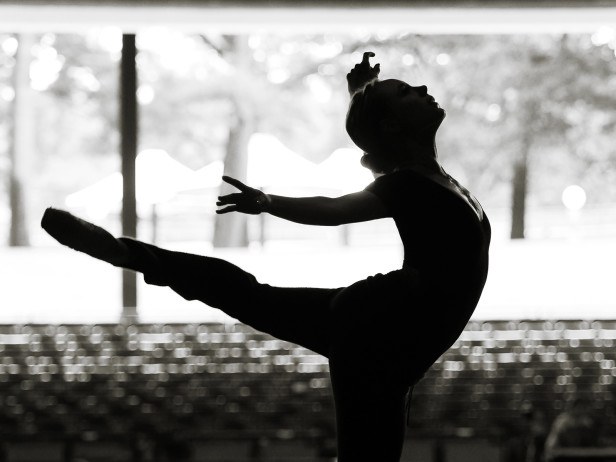 Sara Mearns rehearsing onstage at SPAC (Photo by Kyle Froman Photography)
They've got it all: Lake days! Home-cooked meals! Hikes through gorgeous meadows! Dancing their incredible rep on a giant, outdoor stage! And best of all, engagements! (Congrats to Chase and Lauren!!!!)
Here are some of our favorite moments thus far:
A photo posted by Reid Bartelme (@reidbartelme) on
(Via Marika Anderson's Instagram, Justin Peck's Instagram, Tiler Peck's Instagram, Gretchen Smith's Instagram, Reid Bartelme's Instagram and Ashley Bouder's Instagram)
Season 2 of "city.ballet."—the AOL On series that gives an insider's look at New York City Ballet—is live now! We're recapping one episode per week. Watch all 12 at dancemagazine.com. 
Ah, dancer love. It seems so much more intense than regular old civilian love, amirite? Dancing together is such an inherently romantic, and inherently intimate, thing. Episode 9 of "city.ballet." follows Lauren Lovette and Chase Finlay, two up-and-coming New York City Ballet dancers who are partners both on- and offstage. Here are five things we learned from the ep.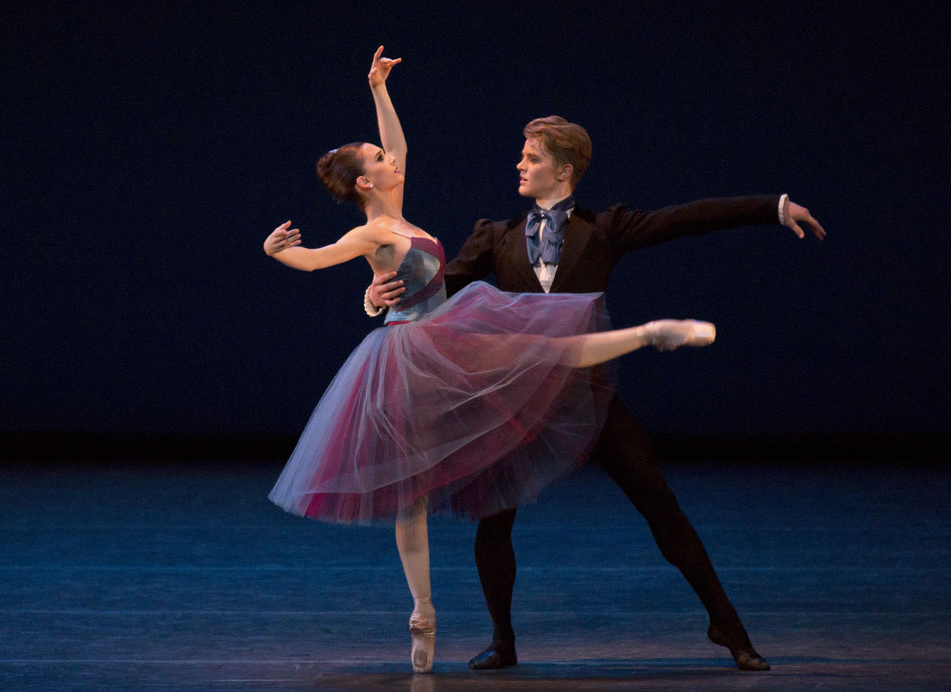 Lovette and Finlay in Christopher Wheeldon's Soirée Musicale (photo by Paul Kolnik)
1. Their romance started as a friendship in the back of the studio, of course. Initially, Lovette was a little intimidated by Finlay. He'd been something of a hotshot as a student at The School of American Ballet. "I never thought he liked me at all," Lovette says. "He was too popular and I was too...weird!"
2. Their non-dance relationship benefits their dance relationship...for the most part. Since they know each other so well, they're better at communicating what is and isn't working in the studio. "I can trust him with anything, I can ask him anything," Lovette says. But, she adds, "when you're dating somebody, you have to say what you want in a more sensitive way. You don't want to get in fights at home!"
3. OH MY GOSH LAUREN'S DOGGGGGGGG. Her name is Penny Banks. She is teeny. And she is a total scene stealer. Schmoop.
4. The couple that cooks together, stays together. Or, well, Finlay cooks, and Lovette cuddles with Penny and watches. Which is the way it should be.
5. You can totally tell these two are in love while they're dancing. The footage of Lovette and Finlay working in the studio (and there's a lot of it, yay!) will make you swoon. First of all, they partnered frequently even before they started dating because physically they're a great match. They look nice together. But there's also all kinds of electricity happening, and it's awesome. "You don't have to make up chemistry," Lovette says. "It's already there. It's romantic, and it's fun, and it's wonderful."
Click the image below to watch the full episode!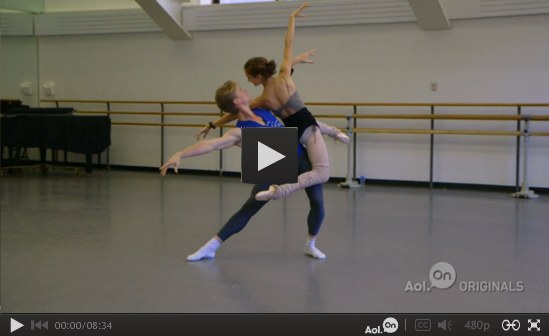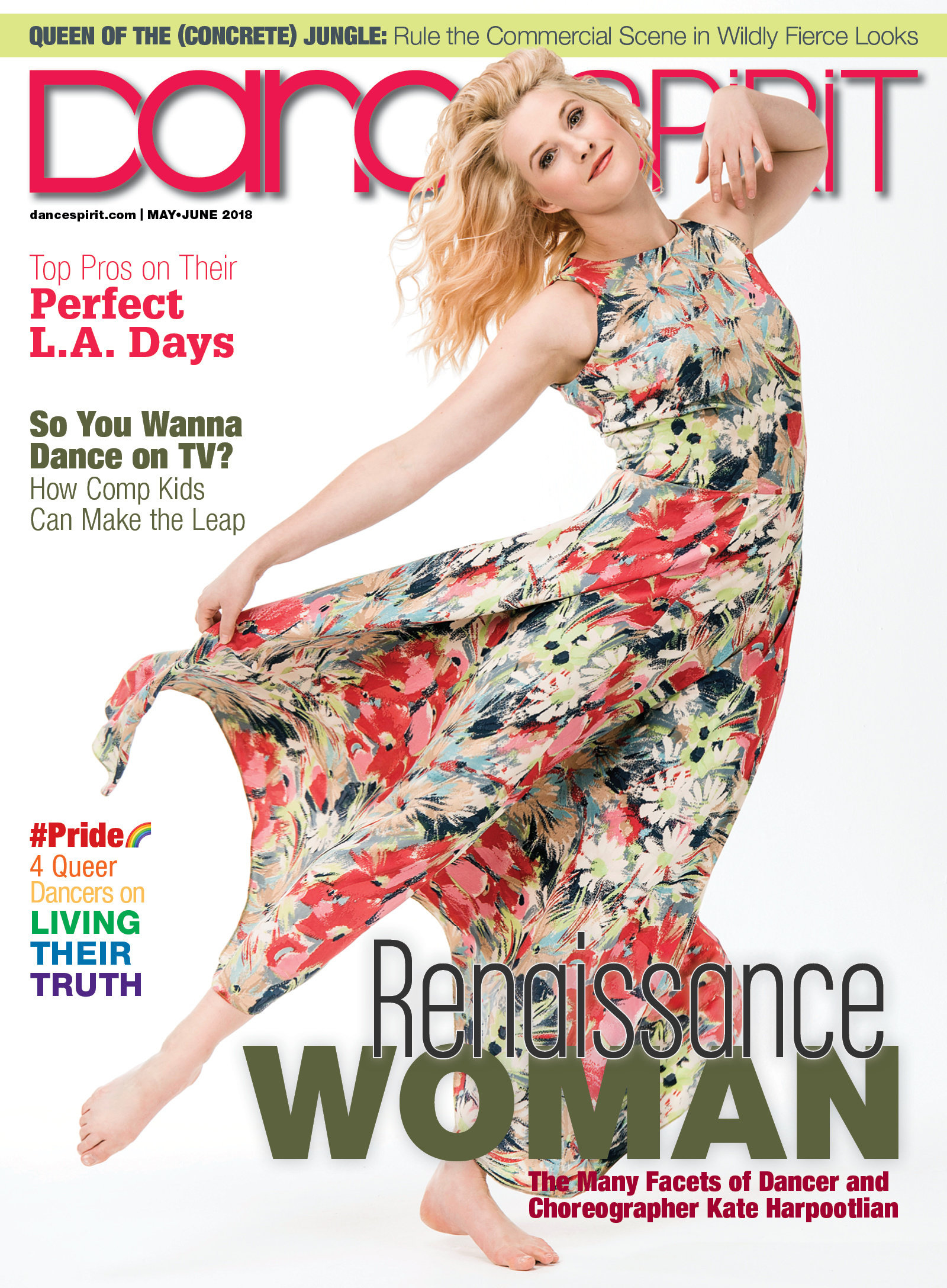 Get Dance Spirit in your inbox