Tonight at 8 pm, Symphony Space will host Impressions IV—an evening celebrating all-things-dance. Performers include Taeler Cyrus (After Midnight), Jess LeProtto (Newsies), Michael Rosen (West Side Story), Amelia Lowe ("So You Think You Can Dance"), Phoenix Project Dance and ICONic Dance Crew ("America's Best Dance Crew"), to name a few.
Oh, and did we mention that the magnificent Chaz Buzan—assistant to Mia Michaels and DS January 2013 cover star—will perform solos throughout the evening?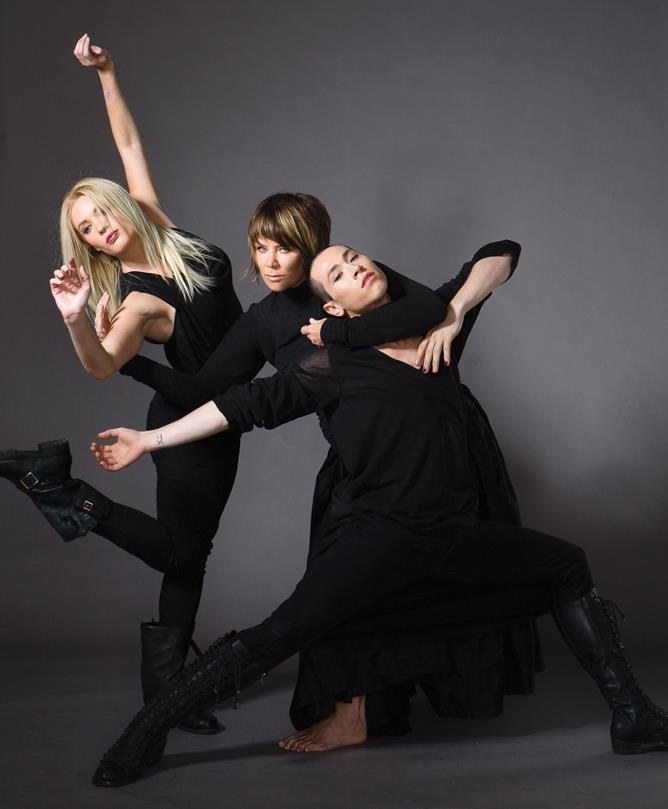 Chaz Buzan (right), with Mia Michaels and fellow assistant Ryan Ramirez on the set of the DS January 2013 cover shoot (Photo by Joe Toreno)
If you've never seen Buzan perform, tonight's your chance to find out why Mia Michaels affectionately calls him a "freak of nature." (If you have seen him perform, then we don't really have to convince you...do we?)
Impressions IV is tonight at 8 pm at the Peter Jay Sharp Theatre at Symphony Space. Click here for more info and to buy your tickets. Portions of ticket proceeds benefit St. Jude's Children's Hospital.
And to tide you over in the meantime, here's a video of Chaz Buzan performing "My Heart," choreographed by TOKYO, at the KARtv Awards in Las Vegas:
How To
Apr. 12, 2016 03:57PM EST
On the set of "Let It Go" (courtesy Talia Favia)
Odds are good you've seen a T. Milly—aka Tim Milgram—production: He's filmed class routines for the likes of Tricia Miranda and Brian Friedman, and his concept videos for the Fraternal Twins and 8 Flavahz crew have garnered millions of views. You've also probably encountered talented choreographer Talia Favia, a Capezio A.C.E. Award winner whose lush creations are highly camera-friendly.So what does it take to capture the essence of a dance on film? And what makes choreography pop on screen? Dance Spirit got the scoop from Milgram and Favia, who discussed "Let It Go," the popular video they collaborated on last year.
Keep reading...
Show less
OK, so it's definitely no secret at this point that we're in love with Chaz Buzan. (It's almost been a month since we've mentioned him! Almost...)
And no, this post is not just a #WayBackWednesday to our January 2013 cover, which featured Chaz alongside fellow Mia Michaels assistant Ryan Ramirez and Mia herself, of course.
Although, we can't quite resist bringing back this gem: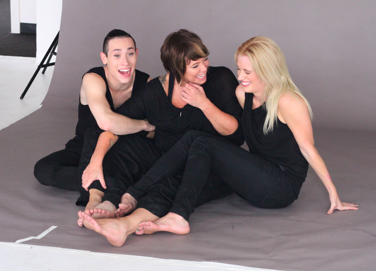 Chaz, Ryan and Mia behind the scenes of our January 2013 cover shoot. So precious!
But really, we  just thought you might need a little boost to get you through your Wednesday. And lucky for us, there's a new video of our favorite superhuman performing at the MOVEtheWORLD charity event. Enjoy!
We preach all the time about the things you "need to do if you want to make it as a professional dancer:" Be smart. Be kind. Be gracious. Be talented.
But perhaps the most important rule for going pro: Be on time!
Don't show up to an audition late.
Don't arrive to class late.
And my goodness, don't even think about getting to a performance too close to curtain-up time.
Don't just take it from me, though: Our January cover guy, Chaz Buzan, has been assisting Mia Michaels for years now. As he explains in the story, it hasn't always been easy. But the roughest day he ever had as Mia's right-hand-man was the day he was late.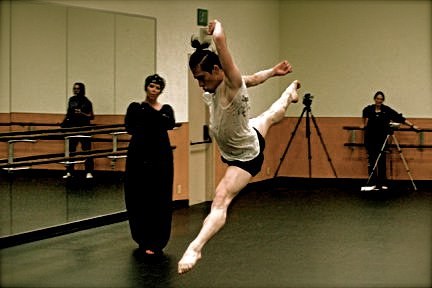 A few years back, Chaz was supposed to assist Mia at a workshop in Minneapolis, MN, but he was running late to the airport and missed their flight. Chaz found another flight but arrived to the class already in progress an hour late, where the studio owner greeted him saying, "Mia's not going to need you for class anymore." After the class ended, Mia met Chaz at their hotel where he knew he was "gonna get it." "She said, 'You know how much I rely on you. You cannot miss assisting. I can't show what the movement is supposed to look like—that's your job.' I paid the studio owner back my assistant fee [upon his own insistence, not Mia's], developed a thick skin and have never missed a flight for anything since then."
So write it down and set your alarms accordingly: Early is on time. On time is late. Late is...you're fired.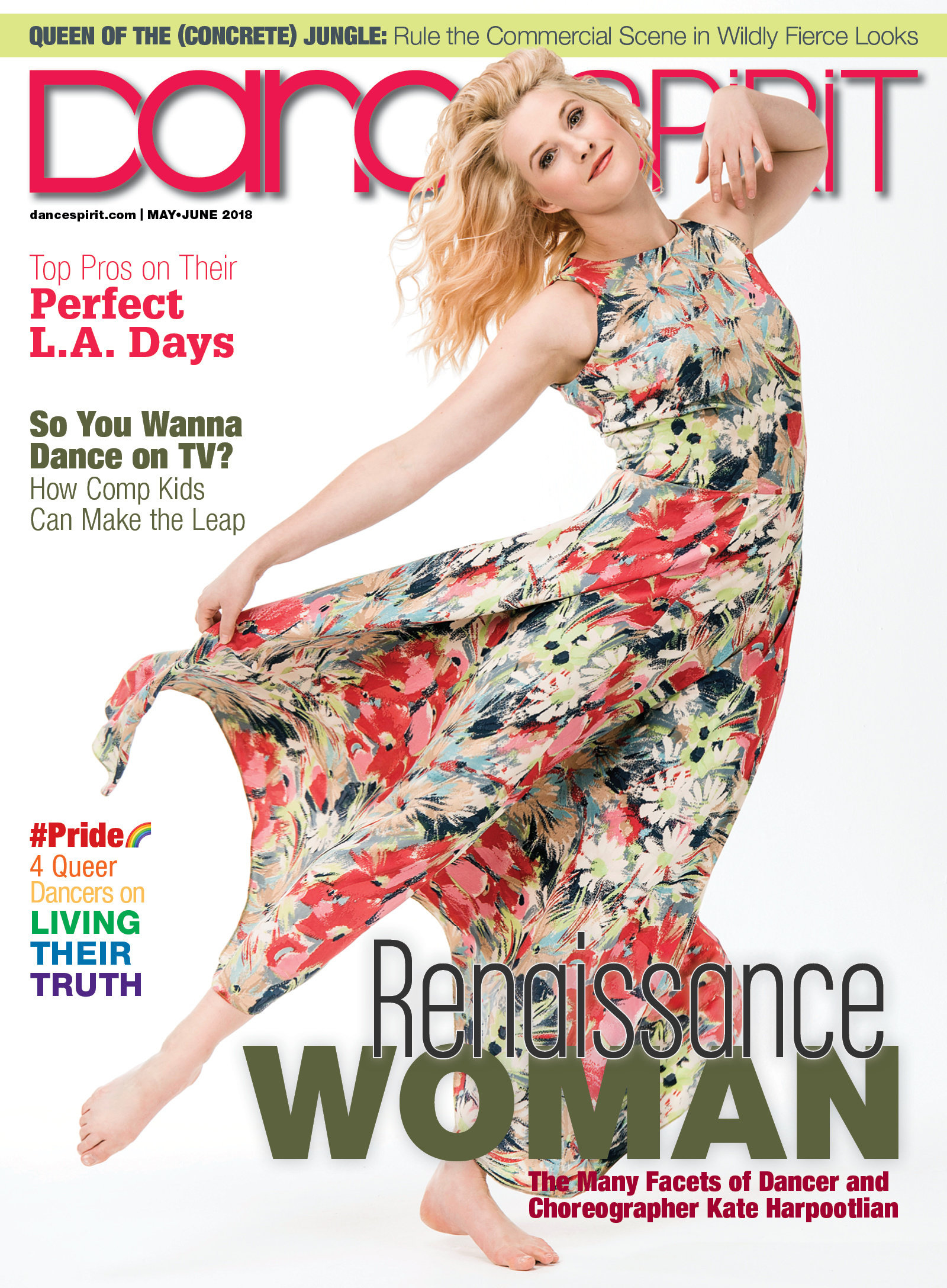 Get Dance Spirit in your inbox