Mar. 23, 2017 04:53AM EST
Did you know that ballroom beauty Chelsie Hightower also happens to have a gorgeous voice? And the "So You Think You Can Dance" alum and "Dancing with the Stars" pro isn't just crooning at her local karaoke joint. Here she is performing with none other than Jewel—and giving the pop star a run for her money.
(This, by the way, is reason #40598703 why singing is a valuable skill for dancers. Want to improve your vocal chops? Check out our "Singing for Dancers" app!)
Feb. 26, 2013 10:25AM EST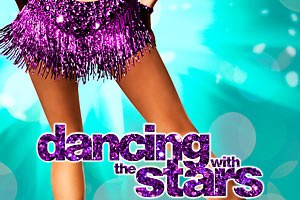 The season of sequined fringe is upon us.
The season 16 cast of "Dancing with the Stars" was announced today on "Good Morning America." Yay?
Sorry. I'm sure the latest season of this weirdly fascinating cultural phenomenon will be just as entertaining as the last 15. I'm just feeling a little sad that one Chelsie Hightower isn't involved in the proceedings this time around. Chelsie! We'll miss you!
The happier news is that Aly Raisman, the awesome surprise hero of last year's U.S. Olympic women's gymnastics team, will be competing for the mirrorball trophy. And there are some newbie pros—including "So You Think You Can Dance" alum Lindsay Arnold—on the list who might spice things up a little. Real yay!
Here's the lineup:
Wynonna Judd and Tony Dovolani

D.L. Hughley and Cheryl Burke

Jacoby Jones and Karina Smirnoff
Lisa Vanderpump and new dancer Gleb Savchenko
Andy Dick and new dancer Sharna Burgess
Victor Ortiz and new dancer Lindsay Arnold

Zendaya Coleman and Val Chmerkovskiy

Aly Raisman and Mark Ballas

Ingo Rademache and Kym Johnson
Kellie Pickler and Derek Hough

Dorothy Hamill and Tristan MacManus
Tune in for the premiere of "DWTS" on March 28 at 8/7 central on ABC.
Aug. 14, 2012 12:28PM EST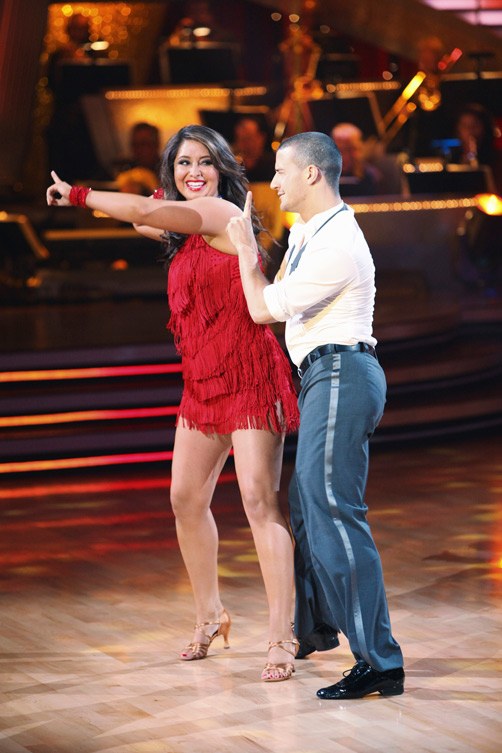 A few weeks ago, we told you about the All Star cast for Season 15 of "Dancing with the Stars." Well, there's more news from the Land of the Mirrorball Trophy: The star/pro pairings have been announced!
And the list has raised a few eyebrows. Interestingly, five of the 12 All Star contestants are going to take the floor with their original partners. Does that give them a bit of an edge over their freshly-paired competitors? What do you think?
Here's the full list:
Kelly Monaco and Valentin Chmerkovskiy

Emmitt Smith and Cheryl Burke

Joey Fatone and Kym Johnson
Kirstie Alley and Maksim Chmerkovskiy

Bristol Palin and Mark Ballas

Pamela Anderson and Tristan McManus

Apolo Anton Ohno and Karina Smirnoff

Gilles Marini and Peta Murgatroyd

Drew Lachey and Anna Trebunskaya

Helio Castroneves and Chelsie Hightower

Melissa Rycroft and Tony Dovolani

Shawn Johnson and Derek Hough
(As we mentioned in our last "DWTS" post, the 13th cast member—either Carson Kressley, Sabrina Bryan or Kyle Massey—is being chosen in an online vote, which ends August 24.)
See how this all plays out when "DWTS" premieres on Monday, September 24!
Ballroom
Feb. 15, 2012 09:29AM EST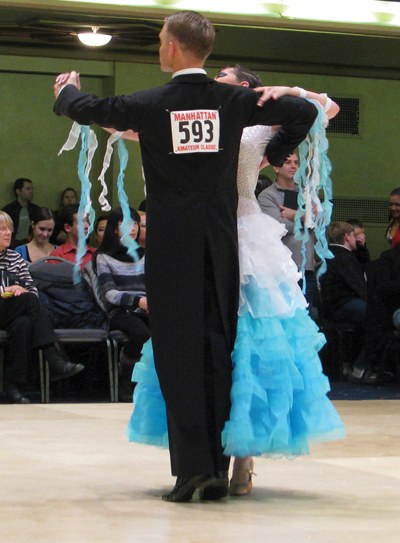 by Krista Fogle
When reality TV star Kristin Cavallari stepped onto the dance floor to perform during the second week of "Dancing with the Stars" Season 13, she seemed like an early front-runner. She and her professional partner, Mark Ballas, had prepared a glamorous quickstep number they thought was sure to dazzle. Though judges Len Goodman and Bruno Tonioli noted that she had improved since the first week, they still singled out Cavallari for not holding proper frame throughout the dance. "Your beautiful lines got lost," Tonioli told her.
Dance newbies—celebrities or not—aren't the only ones who have trouble grasping ballroom frame. Even dancers highly trained in other styles sometimes find it challenging to master the arm positioning and stance required for ballroom styles. For example, ballet dancers "understand posture brilliantly, but don't always get that you need a certain amount of grounding," says "DWTS" pro Chelsie Hightower. "Most dancers learn visually, so they'll try to mimic proper body position, but often they don't understand the roots of where it's coming from."
So what is frame, exactly? "Frame" is the word used to describe a dancer's body position in terms of how she stands, holds her arms and physically connects with her partner.
Hightower says traditional rules of frame apply more to standard ballroom dance styles (like the waltz and foxtrot) than to Latin ballroom styles (like the cha-cha and rumba). "Frame is so important in the standard styles. Not only is it something you're judged on, but having the right frame can also improve your dancing, whereas not having it can seriously hinder you," she says. "Without frame, dancers' bodies aren't able to connect. Lopsided, sloppy frame means you're not able to move together as one. Plus, it can really throw off your center of balance."
Here, Hightower and ballroom expert John Cassese share their tips for mastering proper standard ballroom frame:
Understand the basics. According to Hightower, correct frame begins with the four points of connection: the guy's left hand to the girl's right hand, the guy's right hand to girl's left lat (the muscles in your upper back), the girl's left forearm to the guy's right elbow, and the girl's left hand to the man's right bicep.
For stable frame, Hightower says you should picture a long, strong line stretching between your elbows ("almost as if there were two muscle men pulling your arms out"). She also suggests "locking down your lats," which means keeping your shoulders back and down.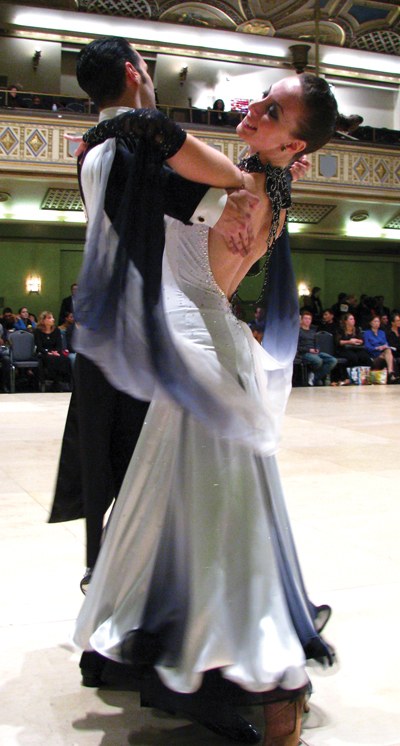 by Krista Fogle
Perfect your posture. Upright posture is a major part of proper frame. When Cassese teaches new students at his Santa Monica studio, The Dance Doctor, he always starts with one simple exercise. "Stand with your back against the wall, pressing your feet, calves, buttocks, shoulders and head against it, and then walk away and try to maintain that position—now you're in perfect posture," says Cassese, who has trained celebs including Elizabeth Hurley, Adam Sandler and U2's The Edge. "The stretch in your abs should feel like an elastic band, pulling both up and down from the waist." Cassese advises beginning ballroom dancers to do that exercise several times a day so the correct posture begins to feel more natural.
Resistance is key. Remember the "spaghetti arms" from Dirty Dancing? They're a major don't in ballroom. "If both partners are limp, there's no connection and you can't travel as a unit," Cassese says.
To avoid noodle limbs, add a touch of resistance to your frame. Typically, the male partner sets the tone by applying slight pressure in the connected palm, and the female partner follows his lead by giving the same amount back. "The female has to be very precise so that she's not overly resistant," adds Cassese. "If you over-resist, you can't be led. If you under-resist, you can't be led. It has to be the perfect flow of energy, like electricity traveling from one person into the other."
Let it bloom. For a great overall visual of what frame is supposed to look like, Hightower and Cassese tell their students to picture a flower blossoming. "We use the visual of a rose opening up in full blossom because it brings to mind a very narrow stem and a big flower," Cassese  says. "From the diaphragm down is the stem; from the diaphragm up forms the flower."
Confused? Basically, the man's right leg should go between the woman's legs, and they should stay intertwined throughout the dance. Partners should stay close from the kneecap to the chest (like a stem) and then blossom outward with their upper bodies. "Think of the legs as puzzle pieces—the middle of her body should line up with the right side of his body," says Hightower. "One of the difficulties of learning to do ballroom well is figuring out how to dance while keeping that connection. The frame is what holds it all together—it's the glue."
Dec. 17, 2010 01:50PM EST
No dancer is perfect. Maybe you're more flexible on your right side than on your left, or perhaps you just can't seem to nail all four sounds in your double pullbacks. Don't despair—even the pros have weaknesses and off days. The key is finding new tactics to help you continue to improve. We got 16 of the most talented people we know to dish about exactly what you need to do—from daily tricks to life lessons—to become the best dancer you can be.
Alex Wong
As dancers, we put our bodies through a lot of stress, so it's important to get enough sleep. Your body needs to replenish and recharge itself. When I get enough sleep, my body and mind are rested and are more able to learn new information.

Don't hide under bulky dance clothes. It's important for you and your teachers to see what's going on underneath them. Once your body is warm, ditch the warm-ups and stop covering up.

Learn what you're good at and work to make that even better. Don't stop when you've reached the same level as everyone else. If my feet aren't good enough, if I'm not flexible enough or if I'm too short, I know that I'd better make up for it with something else!
Desmond Richardson
Stay hydrated. I like Zico coconut water. It replaces your lost electrolytes quicker than regular water and has more potassium than a bunch of bananas!

Eat well. Make sure you're eating enough proteins and lean meats and not eating too much sugar. When my body is at its best, I'm at my best.
Keltie Colleen
Watch other dancers. Instead of staring at yourself in the mirror, take a look around. See what things your peers are doing and copy what you love. You don't just learn from your teachers—you learn from your classmates, too.
Joey Dowling
Learn how to follow directions. You can get a job just by listening to a director in an audition and simply doing what he or she asks you to do.

Be realistic about what you look like, how you eat and how much you exercise. If you want to get into a ballet company, the reality is that you need the right body type. As you grow up, your body will go through changes and you may not even notice. Put in the work to stay in shape. You don't want to get cut at auditions because of your body.

Be different!
Gillian Murphy
Be intellectually curious. Read, go to museums and attend live performances as often as you can. These experiences will expand your imagination and thereby your artistic taste and dimension as an individual and dancer.
Heather Morris
Figure out what makes you happy when you're performing. Then keep doing it.

Perform—whether it's singing, acting or dancing—as much as you possibly can, wherever you can, so you can get over your nerves. You don't want to be shocked or nervous when you're called upon to perform.
Ida Saki
Try cross-training. As dancers it often feels like we have no time to do anything extra, but participating in different activities has done wonders for my dancing.

It's OK to step down a level in order to go back to basics. If you notice you're not turning out your leg all the way, don't be afraid to lower it in order to strengthen your turnout.

Create scenarios in your mind as you're dancing. What are you moving through? Pudding? Water? Sand? What are you surrounded by? Thinking these things through will give your dancing more depth.
John Jasperse
Respect your body's pain. I see young dancers who feel like they have to push through their pain. Don't mistreat your body—this career requires longevity. In a funny way, injury is your best teacher because it's your body's way of telling you something is wrong. Pay attention to your injury instead of getting angry about it. Learn what you're doing wrong to your body so that you can prevent it in the future.
Tiler Peck
Strengthen your core muscles so you're able to engage your legs for fast footwork while keeping your upper body free and lyrical.

You don't want your pointe shoes to be louder than the music. I bang the bottom of my shoes before every show so when I jump, the shoe is softer and doesn't make as much noise.

Find certain moments in the choreography to flourish in. You can't dance a ballet at the same energy level throughout the whole piece or you'll get tired. Find moments that you can put all your energy into to highlight the steps.
Chelsie Hightower
Keep nutrition bars in your dance bag. Lärabars are my favorite.

Be a good person. Choreographers may hire people based on their talent, but they re-hire them because of the type of person they are. There are thousands of talented dancers out there—it's who you are that makes you stand out.
Jeanine Mason
Introduce new types of exercise to your routine. Yoga and Pilates have helped correct injuries and alignment issues I've had with my body.

Be ambidextrous. If you're only exercising one side of your body, your muscles will build unevenly.

Make your own trail mix. Raisins and almonds are great sources of energy. I also include M&Ms!
Brenda Bufalino
Put your whole self into practicing. Work on the rudiments of technique, but don't practice mechanically.

Learn a variety of time steps. It will help you choreograph and compose in different time signatures and improve your improvisation.
Andy Blankenbuehler
The best tips for becoming a great dancer might be things you don't learn in the studio. Watch people's body language on the street. Watch how fearless children are. Watch how people interact. Those are the kinds of real life things that we should aspire to capture in our dancing.

Learn about music. Know the difference between a quarter note and a sixteenth note, and know what a crescendo is. Learn the terminology and then see how it applies to your dancing. Music is your roadmap.

Real life is about many different emotions—frustration, relief, impatience, joy. Strive to show all of these in your dancing. Don't just dance performances about angst and anger. That's limiting and unoriginal. Audiences are moved by new interpretations of things they recognize from their own lives. To be great dancers and great performers, we need to be great analysts of life.
Debbie Allen
Dancing isn't a hobby, it's a way of life. Being a dancer defines how you spend your time and your money. To dance is to be disciplined.
Julie Kent
Don't skimp on meals. Develop good eating habits now and they will last you your whole life.

The most interesting part of your dancing is you! You need technique in order to express yourself, but it is not the end goal. Use your own personality in your dancing, and it will be more rewarding for you and more enjoyable for everyone to watch.
Misha Gabriel
Develop good networking skills. Some choreographers don't like to hold auditions, so make a point of getting to know choreographers by taking their classes. You'll create long-lasting professional relationships.

Stay aware of the quality of your dancing. Don't get wrapped up in booking jobs and building your resumé—you have to keep training, taking class and building your dance skills.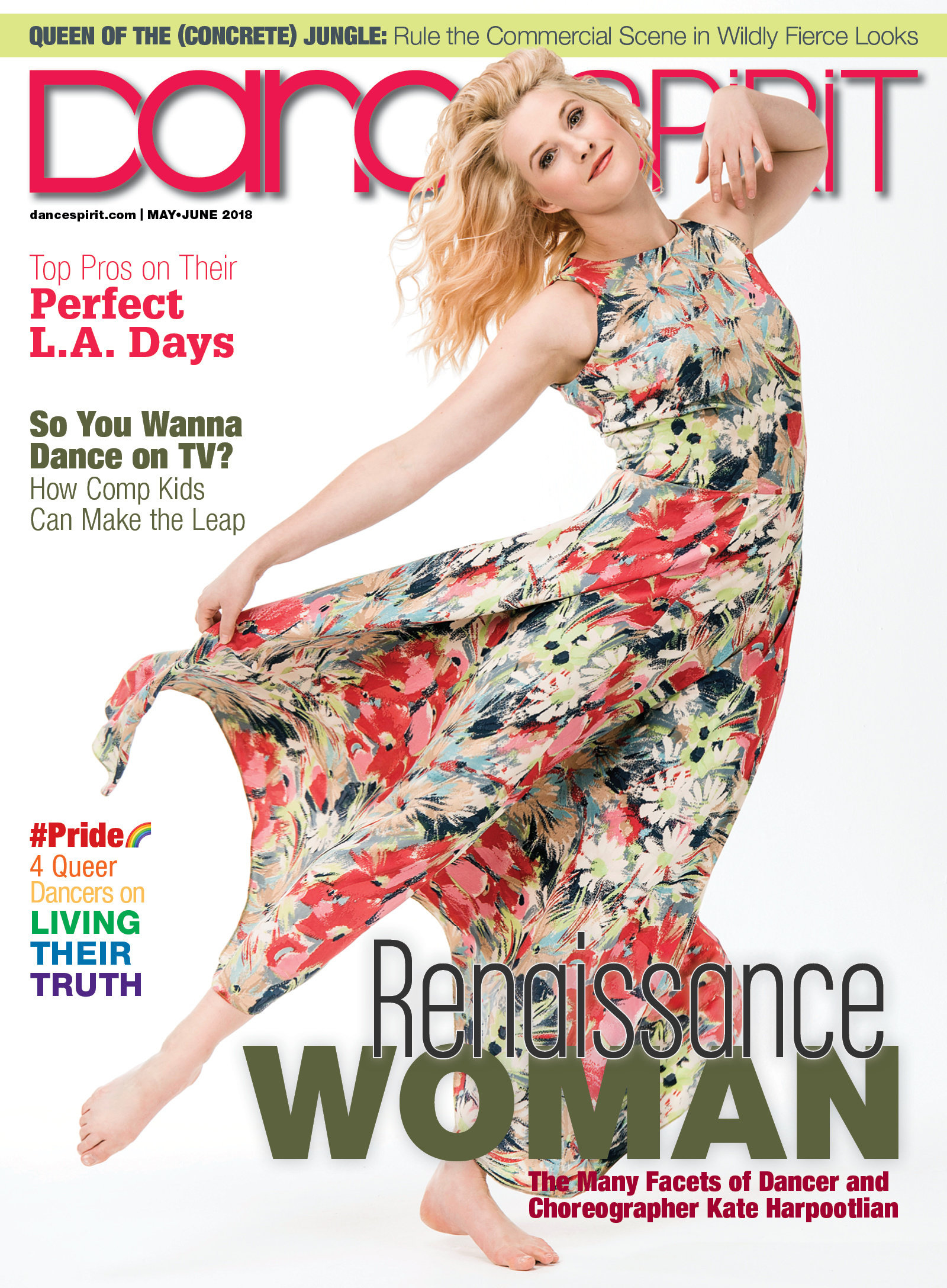 Get Dance Spirit in your inbox