Nov. 02, 2018 05:50PM EST
ABC/Eric McCandless
ICYMI, this week on "Dancing with the Stars" was Halloween Week. And since we're still in MAJOR denial that all the spookiness has subsided for the year, we're revisiting our favorite pieces. There were not one but two perfect scores that night, and the dances do not disappoint.
Dance News
Oct. 10, 2017 12:24PM EST
Drew Scott and Emma Slater (Screenshot via YouTube)
Not to pull a Captain Obvious or anything, but the "Most Memorable Year" episode of "Dancing with the Stars" is always, um, super-memorable. Each celeb performs in a number that recalls (often painful or extremely difficult) personal memories, and the result is an emotional doozy. Celebs are crying, pro partners are crying, I'm not crying, YOU'RE CRYING!
Aug. 30, 2016 10:12AM EST
We called it (well, almost)! One of the fabulous Final Five is going to be cha cha-ing her way around the "Dancing with the Stars" ballroom in two weeks. And while Simone Biles might have to wait until next season to don her dancing shoes, the gymnast gracing the floor this go-around is an even more natural fit for "DWTS": Laurie Hernandez, whose deliciously dance-y Olympic floor routine earned her a forever home in our hearts.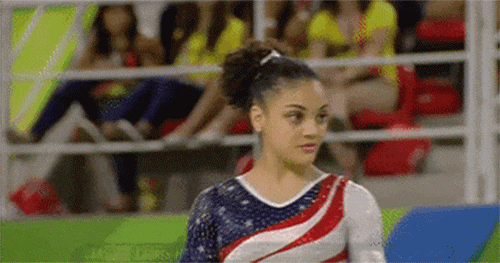 We'd like to request that all her "DWTS" routines begin with this exact wink, please and thank you. (via Giphy)
The full Season 23 "DWTS" cast list was revealed this morning on "Good Morning America," and while some of the other celeb choices left us scratching our heads (Ryan Lochte? Jeah no), there's lots of happy news on the pro front. For starters, the lovely Allison Holker is returning to show off her incredible post-baby body (dancing with, fittingly, Babyface). But also: Maks is back! Derek is back! CHERYL IS BACK, YOU GUYS!
Get your spray tan on and pull out your favorite bedazzled mini (as if you aren't already wearing it): Season 23 premieres Monday, September 12 on ABC. Here's the full cast list:
Maksim Chmerkovskiy and Amber Rose
Valentin Chmerkovskiy and Laurie Hernandez
Artem Chigvintsev and Maureen McCormick
Sasha Farber and Terra Jole
Derek Hough and Marilu Henner
Witney Carson and Vanilla Ice
Lindsay Arnold and Calvin Johnson
Jenna Johnson and Jake T. Austin
Allison Holker and Babyface
Sharna Burgess and James Hinchcliffe
Emma Slater and Rick Perry
Cheryl Burke and Ryan Lochte
Gleb Savchenko and Jana Kramer
Want more Dance Spirit?
Dance News
Mar. 04, 2014 10:55AM EST
"Dancing with the Stars" announced its cast for Season 18 earlier this morning, and holy moly we're excited. Not only did our suspicions about Olympians competing for the mirror ball trophy come true, but the list of athletes involved is even better than we had hoped.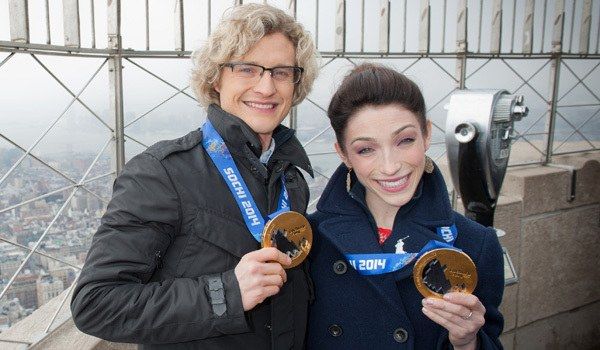 Charlie White and Meryl Davis sport their gold medals at the Empire State Building last week. Photo via OK! Magazine.
First up is Meryl Davis and Charlie White, Sochi's ice dancing gold medal winners (USA! USA! USA!), though they won't be paired together—Meryl will dance with Maksim Chmerkovskiy (#TeamMaksyl ...eh, we'll work on that one) and Charlie will dance with Sharna Burgess. Next is Paralympian Amy Purdy, a snowboarding champ who is also a double amputee. She'll be paired with the unstoppable Derek Hough (is there anything he isn't doing these days?).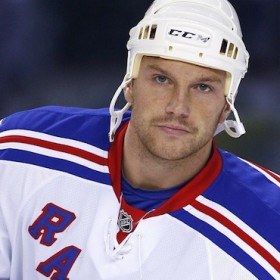 Sean Avery, before he retired from hockey. Photo by Larry MacDougal/The Canadian Press
Dancing with Karina Smirnoff is Sean Avery, the NHL dreamboat who's played for the New York Rangers, the Detroit Red Wings, the Los Angeles Kings and the Dallas Stars. Rounding out the sports category is Diana Nyad, a long distance swimmer who is the only person in history to go from Key West to Cuba—that's 110 miles—without stopping and braving sharks, jellyfish and exhaustion. Let's just say her partner, Henry Byalikov, better bring it.
Of course, what would the show be without a smattering of TV celebs? This season does not disappoint. Two words: Winnie Cooper. Another two words: D.J. Tanner. That's right, Danica McKellar from "The Wonder Years" and Candace Cameron Bure from "Full House" will be going neck and neck in just two weeks. Winnie Danica will dance with Val Chmerkovskiy and D.J. Candace will work with Mark Ballas.

(R to L) Kevin Arnold (Fred Savage) and Winnie Cooper (Danica McKellar) in "The Wonder Years"; D.J. Tanner (Candace Cameron Bure) in "Full House"
Cheryl Burke will be paired with Drew Carey, whom I can't believe hasn't been on the show yet. And Real Housewife of Atlanta NeNe Leakes (also known as Roz Washington on "Glee") will be swept off her feet by Tony Dovolani.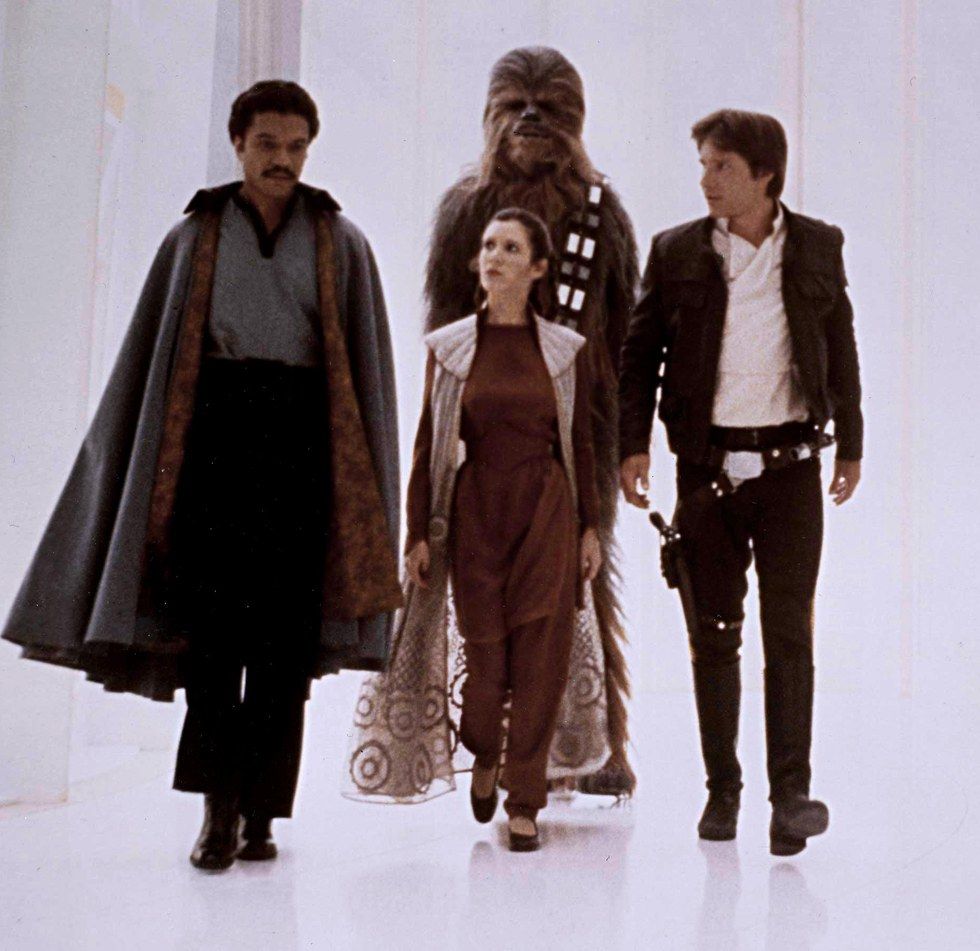 (L to R) Lando (Billy Dee Williams) with Princess Leia (Carrie Fisher), Chewy and Hans Solo (Harrison Ford)
Star Wars nerds rejoice: Billy Dee Williams (you know him as Lando Calrissian) will also dance, paired with British musical theater vet Emma Slater.
Cody Simpson is the youngest competitor. At 17, the Aussie pop singer will dance with Witney Carson, the Season 9 "So You Think You Can Dance" bombshell from Utah. And James Maslow, the 23-year-old sweetheart from Nickelodeon's "Big Time Rush" will be competing with Peta Murgatroyd. From the looks of this picture of the duo out on the town earlier this February, it may be a match made in "DWTS" heaven: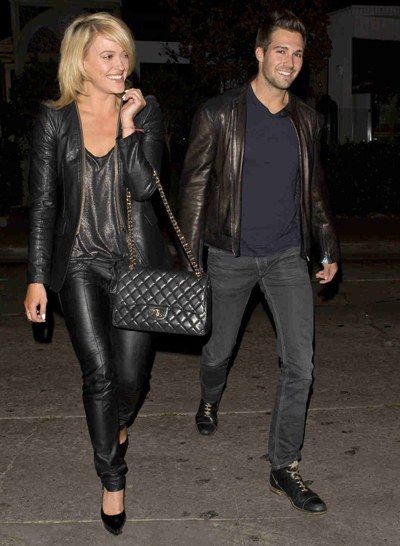 Peta and James leaving a restaurant in West Hollywood in early February. Photo by SPW/Splash News
All in all, it's going to be a great season. Who are you most excited to see? Any early predictions? Don't forget to set your DVRs (or just tune in!) for the two-hour season premiere, March 17 at 8 pm ET on ABC.
Dance News
Feb. 26, 2013 10:25AM EST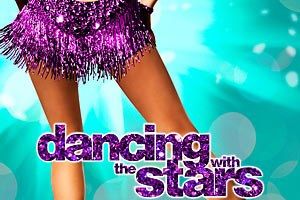 The season of sequined fringe is upon us.
The season 16 cast of "Dancing with the Stars" was announced today on "Good Morning America." Yay?
Sorry. I'm sure the latest season of this weirdly fascinating cultural phenomenon will be just as entertaining as the last 15. I'm just feeling a little sad that one Chelsie Hightower isn't involved in the proceedings this time around. Chelsie! We'll miss you!
The happier news is that Aly Raisman, the awesome surprise hero of last year's U.S. Olympic women's gymnastics team, will be competing for the mirrorball trophy. And there are some newbie pros—including "So You Think You Can Dance" alum Lindsay Arnold—on the list who might spice things up a little. Real yay!
Here's the lineup:
Wynonna Judd and Tony Dovolani

D.L. Hughley and Cheryl Burke

Jacoby Jones and Karina Smirnoff
Lisa Vanderpump and new dancer Gleb Savchenko
Andy Dick and new dancer Sharna Burgess
Victor Ortiz and new dancer Lindsay Arnold

Zendaya Coleman and Val Chmerkovskiy

Aly Raisman and Mark Ballas

Ingo Rademache and Kym Johnson
Kellie Pickler and Derek Hough

Dorothy Hamill and Tristan MacManus
Tune in for the premiere of "DWTS" on March 28 at 8/7 central on ABC.
Aug. 14, 2012 12:28PM EST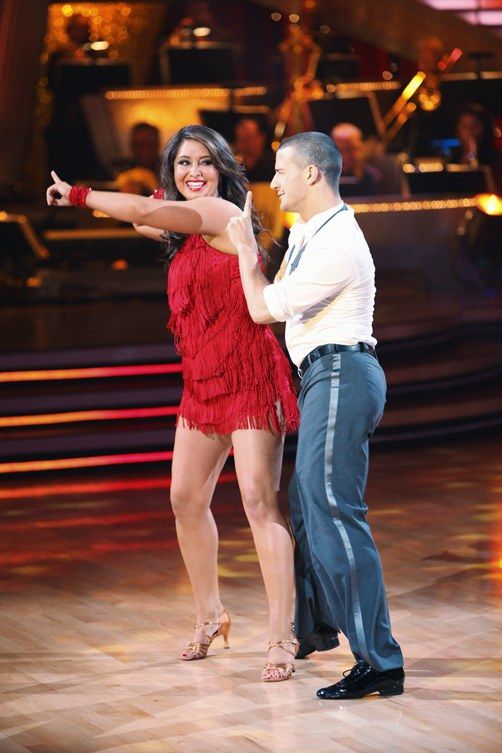 A few weeks ago, we told you about the All Star cast for Season 15 of "Dancing with the Stars." Well, there's more news from the Land of the Mirrorball Trophy: The star/pro pairings have been announced!
And the list has raised a few eyebrows. Interestingly, five of the 12 All Star contestants are going to take the floor with their original partners. Does that give them a bit of an edge over their freshly-paired competitors? What do you think?
Here's the full list:
Kelly Monaco and Valentin Chmerkovskiy

Emmitt Smith and Cheryl Burke

Joey Fatone and Kym Johnson
Kirstie Alley and Maksim Chmerkovskiy

Bristol Palin and Mark Ballas

Pamela Anderson and Tristan McManus

Apolo Anton Ohno and Karina Smirnoff

Gilles Marini and Peta Murgatroyd

Drew Lachey and Anna Trebunskaya

Helio Castroneves and Chelsie Hightower

Melissa Rycroft and Tony Dovolani

Shawn Johnson and Derek Hough
(As we mentioned in our last "DWTS" post, the 13th cast member—either Carson Kressley, Sabrina Bryan or Kyle Massey—is being chosen in an online vote, which ends August 24.)
See how this all plays out when "DWTS" premieres on Monday, September 24!
Mar. 19, 2012 03:21PM EST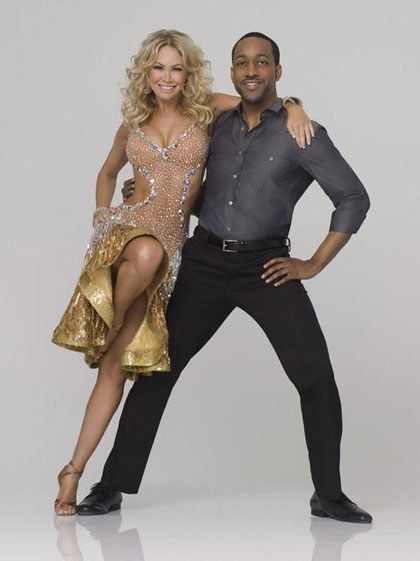 It's "Dancing with the Stars" day! Season 14 premieres tonight, and—with some studly stars and our favorite ballroom ladies and gents fighting for that Mirror Ball Trophy—it's definitely going to be a good one. To start off the season right, DS got the inside scoop from "DWTS" pro Kym Johnson about her expectations for partner Jaleel White and who she thinks is her biggest competition:
Dance Spirit: How has Jaleel's dancing been in rehearsals? Is it different than you expected?
Kym Johnson: I really didn't know what to expect from him, but it's going really well. There are things that we still have to work on, like his frame, but he's definitely got rhythm. Now we're at the point where we're just ready to dance for an audience.
DS: Were you a fan of Jaleel's character, Steve Urkel, on "Family Matters"?
KJ: "Family Matters" was very popular in Australia, but I actually didn't watch it.  I felt a bit bad about that when I met him. Obviously, I knew the character of Steve Urkel, since he made that very famous. But he'll play more of a smooth character when he's on the dance floor.
DS: We won't see any of Urkel's signature moves?
KJ: I don't think so. Jaleel says he doesn't think the judges are ready for The Urkel.
DS: So what's your strategy for this season?
KJ: I think the best way to approach this competition is to enjoy it as much as possible, and just take it week by week. The first show is always really fun. That's when we'll see what the other couples are bringing to the dance floor, and we'll figure out where we stand in the competition and what we can work on. Hopefully we'll connect with people.
DS: Who do you think will be your biggest competition?
KJ: I have to say it's going to be a really strong dance season. I think William [Levy] and Cheryl [Burke], plus Donald Driver and Peta [Murgatroyd], are really good. Plus, I saw Katherine Jenkins rehearse the other day, and she's beautiful, so she's going to be a tough one. It seems like everyone is big competition right now. There are going to be some amazing performances.
We can't wait! And if you're like Kym, and "Family Matters" wasn't a part of your regular TGIF lineup, here's a little insight to why this team will most likely kill it on the dance floor. I give you The Urkel: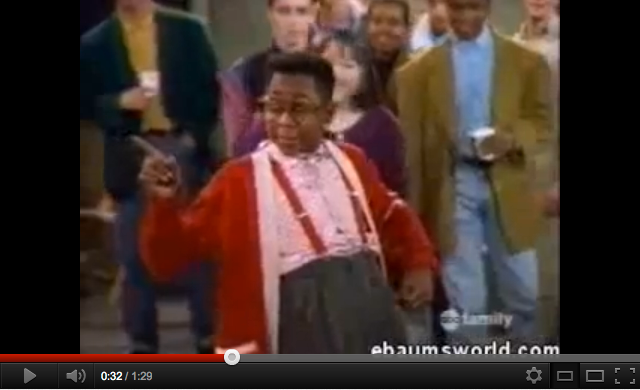 Dance News
Mar. 09, 2012 04:16PM EST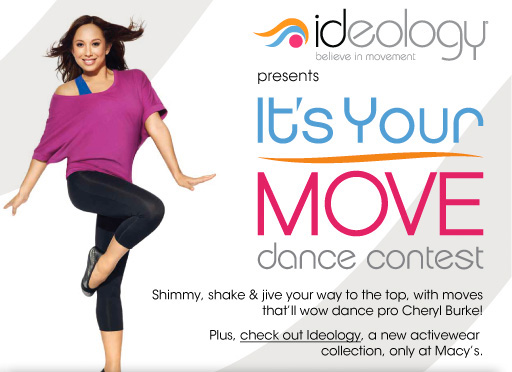 How would you like to take a VIP trip to L.A. to meet "Dancing with the Stars" pro Cheryl Burke and score a $1,000
Ideology
shopping spree? (That's right—$1,000 of to-die-for dance and athletic gear!) Sounds pretty good, right?
Head on over to Macy's Facebook page and click on their "It's Your Move Dance Contest." The contest, in celebration of the launch of their new Ideology line, is simple. Just follow these easy steps:
1. Select one of the pre-recorded music tracks from the contest tab on the Facebook page. You must use one of the approved songs or your submission will not be considered.
2. Choreograph and film a dance to the song you've selected. Be sure to keep your video under two minutes in length. *Your dance can be performed individually or with a partner.
3. Upload your video on the contest tab of Macy's Facebook page.
And hurry! All videos must be submitted by March 15. After you've submitted your video, check out the new Ideology line (we're love the springy bright colors, super-cute styles and awesome fabrics). Then, click here to enter to win an Ideology item of your choice (up to $30). Check out our picks from the collection below.
[portfolio_slideshow nowrap=0 height=500 thumbs=true timeout=4000 showtitles=true showcaps=true showdesc=true]
Dance News
Get Dance Spirit in your inbox