Oct. 02, 2017 05:17PM EST
NYCDA executive director Joe Lanteri with dance legend Bebe Neuwirth on the red carpet (photo via @nycda on Instagram)
The annual New York City Dance Alliance Foundation fundraising gala, "Bright Lights Shining Stars," is usually a star-studded affair. But last night's 2017 event proved to be extra epic, thanks to tons of superb performances and appearances by some of Broadway's best—and most legendary—dancers.
Keep reading...
Show less
The dance community is a powerful force—and it's pretty awesome to see that force harnessed to support important causes, like the battle against cancer. Nonprofit organization Dancers Against Cancer (not to be confused with the equally wonderful Dance Against Cancer team) just released a compelling PSA featuring some of the world's most famous dancers, aiming to raise awareness about the cause in the lead-up to the charity's Industry Dance Awards this summer.
Featuring Derek and Julianne Hough, Paula Abdul, Chita Rivera and Vanessa Hudgens, as well as young dancers Ruby Kaufman, Chloe Frank and Ahna Rasmussen, the video includes a series of powerful mantras: "Cancer will not overcome us." "Our dance community is making a difference." "Together, we will fight this disease." "Pain is real, but so is hope." (Hudgens' participation is especially moving—she lost her father to cancer earlier this year.)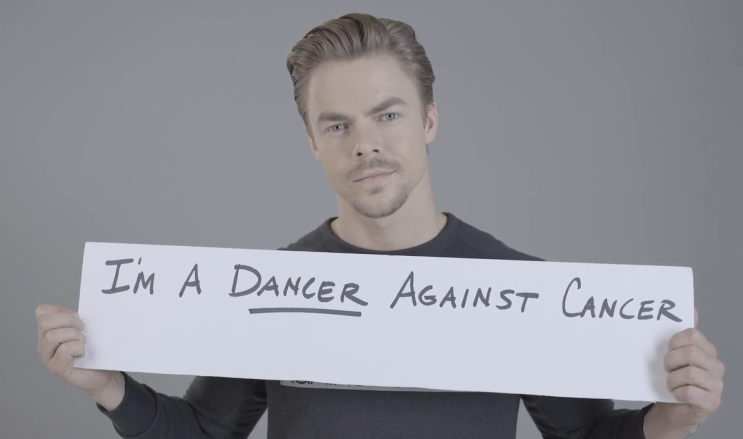 Derek Hough for Dancers Against Cancer (screenshot via people.com)
So far, Dancers Against Cancer has raised $500,000 to help dancers, dance teachers and dance families affected by the disease. Get inspired by the video below, and then learn more about how you can support the organization.
The Tonys are coming, the Tonys are coming! It's like musical theater Christmas!
The 2015 Tony Award nominations were announced this morning by the ever-glamorous Broadway (and TV and movie) star Mary Louise Parker and Bruce Willis (whom you know as "Dancing with the Stars" front-runner Rumer Willis' dad). And guys, there are so many amazing things to report. Because, well, ballet.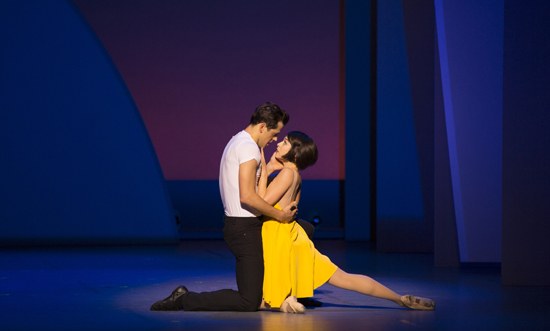 Robert Fairchild and Leanne Cope in Christopher Wheeldon's An American in Paris (Photo by Angela Sterling, courtesy Boneau/Bryan-Brown)
New York City Ballet principal Robert Fairchild and Royal Ballet first artist Leanne Cope received Tony nominations for their lead performances in An American in Paris. Christopher Wheeldon—ballet choreographer extraordinaire—earned TWO nominations for the show, for both best direction and best choreography of a musical.
Joshua Bergasse also earned a nom for his choreography of On the Town. Remember when he taught us 16 counts of the number "New York, New York"? You might want to revisit that combo before June 7—if the cast performs it at the awards ceremony, you can dance along with them in front of your TV. (Y'all know I certainly will be.)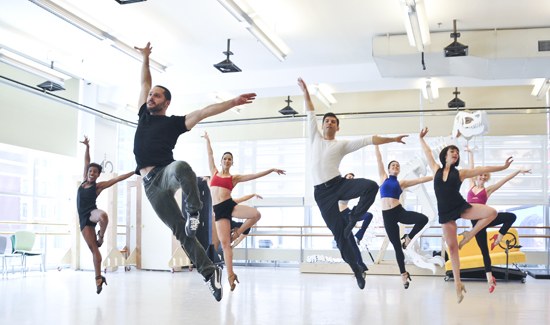 Joshua Bergasse (front) rehearsing the cast of On the Town (Photo by Jenny Anderson, courtesy Matt Ross Public Relations)
Other choreographers nominated include Casey Nicholaw (Something Rotten!), Christopher Gattelli (The King and I) and Scott Graham and Steven Hoggett for Frantic Assembly (The Curious Incident of the Dog in the Night-Time).
Chita Rivera—as in West Side Story, Fosse and OVERALL BROADWAY LEGEND CHITA RIVERA—received a nomination as best female lead performer in a musical for her role in The Visit. She plays an aging bajillionaire who returns to her small hometown to seek revenge on a former boyfriend—and the town itself. And while she doesn't do a whole lotta dancing in the show, I think we can expect a pretty stellar performance at the Awards. After all, it's her 10th Tony nomination, so...go big or go fun home, amirite?
All in all, An American in Paris racked up 12 Tony nominations—the most this year, tied with Fun Home. Get the full list of nominees here, and start placing your bets now! Who do you think should win for best choreography? Was anyone (or any show) snubbed? Let us know what you think in the comments!
Last night I got all dressed up—er, stayed in my nicer-than-normal work attire, actually—to attend the 30th annual Fred and Adele Astaire Awards at New York University's Skirball Center for the Performing Arts.
Now, awards shows are usually fun because you get little glimpses of dancers: those performing backup at the MTV Video Music Awards, the ones in the opening act at the Academy Awards, and maybe a dancer or two making moves at the Grammys. But the Astaire Awards are all about dancers and choreographers.
So naturally, between the people watching (Newsies choreographer Christopher Gattelli! New York City Dance Alliance executive director Joe Lanteri! "Smash" choreographer Josh Bergasse! A real housewife!) and the performances (oh, Fosse, Fosse, Fosse—which is fun to say, as presenter Chita Rivera pointed out), this evening was oh-so-entertaining.
Here are a few of my favorite moments from last night's Astaire Awards:
Luke Spring. This kid is dynamite, and you're going to see much more of him in upcoming issues of Dance Spirit. Promise. Little Luke is just 9 years old, but he's got a smile the size of Jupiter and the fastest tapping feet I've seen in a long time. Luke isn't just a good tap dancer for his age—Luke is good. Period. He opened the show with a solo performance and the crowd was in awe. Luke is going to be a star. In fact, he already kind of is.

The New York City Dance Alliance boys performing "Seize the Day" from Newsies. This season's huge Broadway hit scored a whopping 11 nominations last night (though, sadly, no wins). Naturally it would have been nice if the cast could be there to perform—but the show must go on, and Newsies had a show of its own last night. Leave it to choreographer Christopher Gattelli and NYCDA head honcho Joe Lanteri to save the day. Joe put out a call for young men and Christopher brought them in—a crew of 14–18 year olds from all over the country—for a two-day "Newsies bootcamp." The result? A show-stopping performance from the rising generation of dancers. Considering they had just learned the piece, these young men pulled it off exceptionally well.

The Fosse veterans swiveling their hips to "Dancin' Man," "I Gotcha" and "Bye Bye Blackbird." I will never get sick of that sultry style, and getting to see the iconic moves performed by dancers who trained directly under Bob Fosse is pretty special. Bravo!

Chita Rivera presenting the Douglas Watt Lifetime Achievement Award to Liza Minnelli. It was so endearing hearing the wonderful stories everyone shared about the fabulous Ms. Minnelli. Close friends Tony Danza, Marvin Hamlisch and Mikhail Baryshnikov (!!!) joined Chita onstage to talk about what a wonderful performer and friend Liza is. It was heartwarming and, frankly, pretty awesome.
Here's the full list of last night's winners:
Outstanding Female Dancer in a Broadway Musical: Lisa Nicole Wilkerson (Porgy & Bess)
Outstanding Male Dancer in a Broadway Musical: Leslie Odom, Jr. (Leap of Faith)
Outstanding Choreographer for a Broadway Musical: Ron Brown (Leap of Faith)
Outstanding Feature Film Choreography: The Artist
Outstanding Dance Documentary: Pina
Congratulations to all!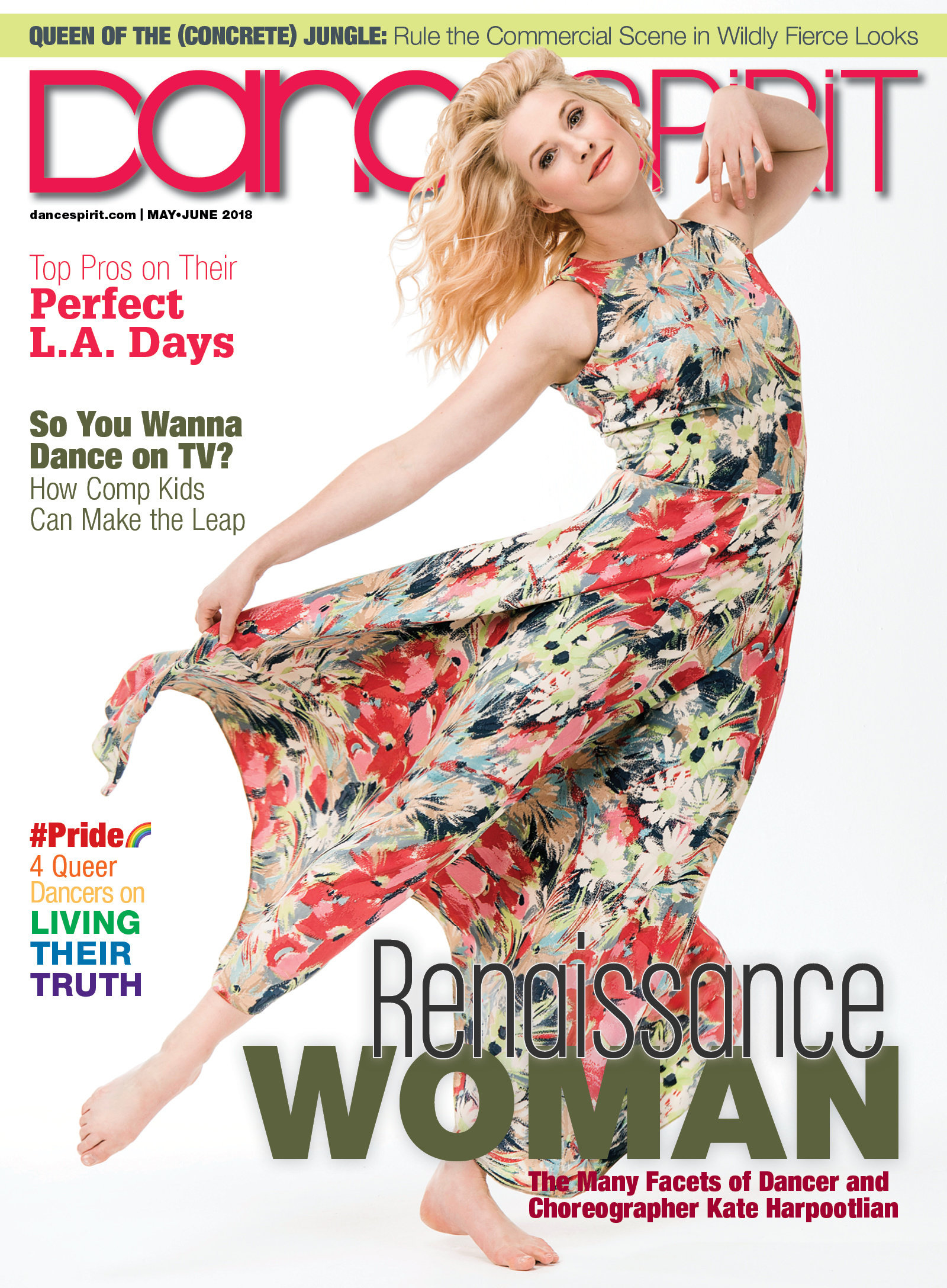 Get Dance Spirit in your inbox