(From left) Nia Sioux, Kendall Vertes, Chloe Lukasiak, and Kalani Hilliker (via @chloelukasiak)
Keep reading...
Show less
Have plans Saturday night? You might want to cancel them ASAP (or at least set your DVR) because Center Stage: On Pointe is making its much-anticipated (and MUCH-waited-for) world premiere. The threequel (which we've been freaking out about since November) has all the makings to be a huge win for dance movies, taking what we love about the original Center Stage and adding some new twists.
Remember Bella (Nicole Muñoz), Kate's little sister from Center Stage: Turn It Up? SHE'S BACK, and this time it's her turn to audition for the American Ballet Academy. Other old favorites who'll be returning: Tommy (Kenny Wormald), Charlie (Sascha Radetsky) and Cooper (Ethan Stiefel). And of course, it wouldn't be the ABA without a return from Johnathan Reeves (Peter Gallagher)! If that's not enough for you, up-and-comer Chloe Lukasiak (you know her from Dance Moms) will be there too, cast as dance prodigy Gwen.
As for the plot? The American Ballet Academy is headed in a more contemporary direction, and Johnathan is holding a "Dance Camp" training intensive to find his new superstars. His top choreographers (Tommy, Cooper and Charlie, obviously) are tasked with recruiting dancers to compete at the camp, with the winners earning a coveted spot at the ABA. Plenty of dance and plenty of drama, what more could we ask for? Here's to hoping there's at least one iconic costume change moment. (Not holding our breath, though, this one is hard to top.)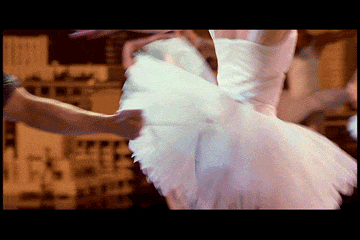 Check out this exclusive sneak peek video from Entertainment Weekly and get. ready. bunheads.
See the movie on Lifetime at 8/7c this Saturday, June 25th.
You guys. Our entire office is on the verge of hyperventilating right now, because we just found out that there is a third Center Stage movie in the works.
I REPEAT: THERE IS A THIRD CENTER STAGE MOVIE IN THE WORKS.
And here's the thing: It sounds like it might actually recapture some of the magic of the original.
How, you ask? What could this threequel—which is titled Center Stage: Dance Camp and has a yet-to-be-announced premiere date on Lifetime—possibly do to top this...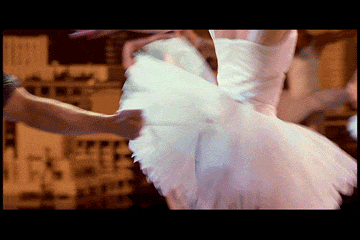 ...and this...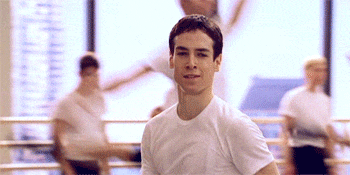 ...and this...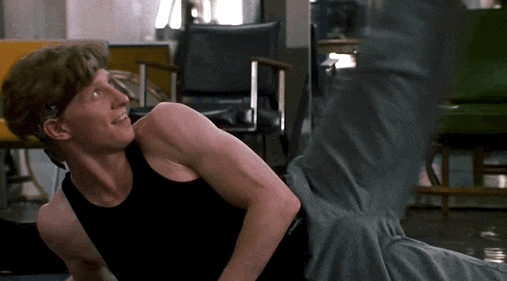 ...and, oh lord, this???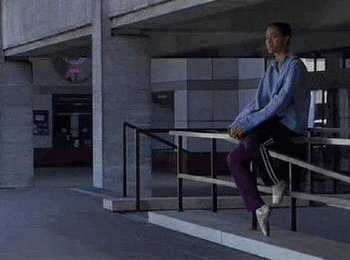 Well, it could involve a whole mess of Center Stage and Center Stage: Turn It Up stars, for starters. Word is that Cooper (Ethan Stiefel) and Charlie (Sascha Radetsky) and Jonathan (Peter Gallagher) and even Tommy (Kenny Wormald) will all be back for round three.
It could also bring in one of today's up-and-coming dancers for a little extra sparkle. Someone like, say, Chloe Lukasiak, who has been tapped to play a dance prodigy (of course) named Gwen. This is perfect for several reasons, and one of them is that Chloe may or may not be Amanda Schull's baby sister.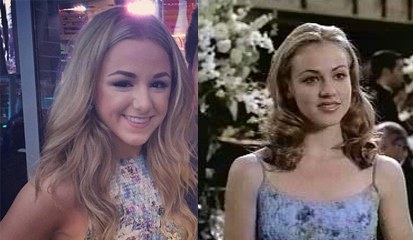 Right? Do we see it?
Here, according to Deadline, is the plot of this latest Center Stage installment:
"Jonathan Reeves...is tasked with infusing more contemporary styles and modernism into the American Ballet Academy. [He] enlists his his top choreographers Charlie..., Cooper... and Tommy...to recruit dancers to compete at a camp where the winners will be selected to join the Academy." [Gwen is one of the dancers at the camp.]
My heart, you guys. My HEART. I so, so want this to be good. I so, so need it to be worthy of the amazingness that is the original. (Center Stage: Turn It Up was...I mean, it just didn't have the feet. Or the heart.) And I so, so hope Jody makes a cameo. Is she still a principal in Cooper Nielson's company? Are she Charlie still together? Do they have beautiful dancing babies?* THE WORLD NEEDS TO KNOW.
Anyway, stay tuned. We will be obviously be monitoring this situation aggressively.
*Real talk: Their kids could potentially be teenagers by now. Has it seriously been that long, Center Stage? It feels like only yesterday that we first discovered how *on* you were.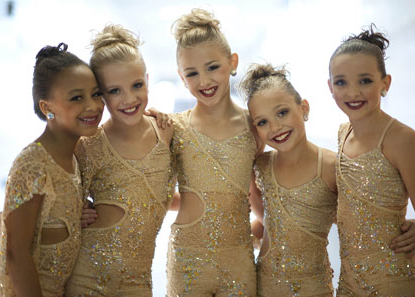 These could be your new BFFs!
Calling all comp kids! Are you dreaming of making your small-screen debut? If you think your leaps are as strong as Maddie Ziegler's, your shimmies are as fierce as Asia Monet Ray's and your pirouettes are as sharp as Chloe Lukasiak's, now may be your time to shine! Here's the catch: Your mom (or dad!) has to be on board as well.
Why? The infamous Abby Lee Miller is looking for new kids and their parents to add to the cast of "Dance Moms"—and possibly "Abby's Ultimate Dance Competition."
Auditions for dancers 13 and under will be held in Orlando, FL (Oct. 25), Atlanta, GA (Nov. 8), and NYC (Nov. 23). Find out more and register at dancemomscasting.com.
See you on TV!
If you had to name just one dancer as your absolute favorite, could you do it? We love to ask this question when we interview dancers for our "You Should Know" or "The Dirt" columns. More often than not, we either get a long list of names or total silence. With so many fabulous and unique dancers out there, it's a seriously tough question!
But, alas, it's the question FOX's Teen Choice is asking the Twitterverse. The 2015 awards—which will air on Sunday, August 16, at 8/7c—has a brand-new category: Choice Dancer. And they're currently accepting nominations via Twitter. Here's how to submit your nom:
Simply insert the twitter handle of your favorite dancer in the draft below—be sure to include #TeenChoice and #ChoiceDancer—and tweet away! And if you really can't make up your mind, there's nothing that says you can't nominate more than one dancer...

Who do you think will make the final list of nominees? We've been doing some research in the depths of our Twitter feed to get a sense of the front-runners, and here's what we came up with:
"So You Think You Can Dance"/"Dancing with the Stars" babe Allison Holker is making a serious bid for the top.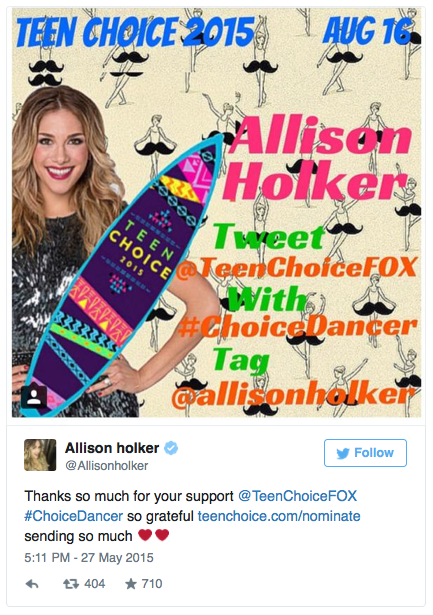 Step Up star Alyson Stoner is winning support through her humble spirit.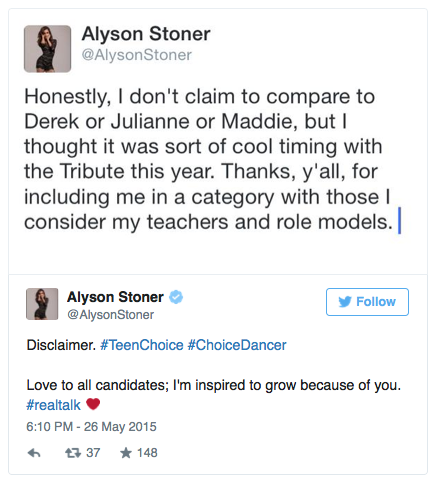 Former "Dance Moms" fave Chloe Lukasiak doesn't need to campaign—her fans are going above and beyond.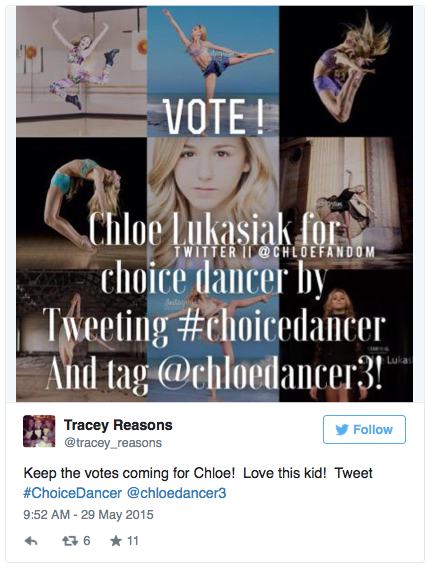 And repin' the dudes, "DWTS" pro Mark Ballas has perhaps the most adorable fan support. (Everybody now: D'awwwww)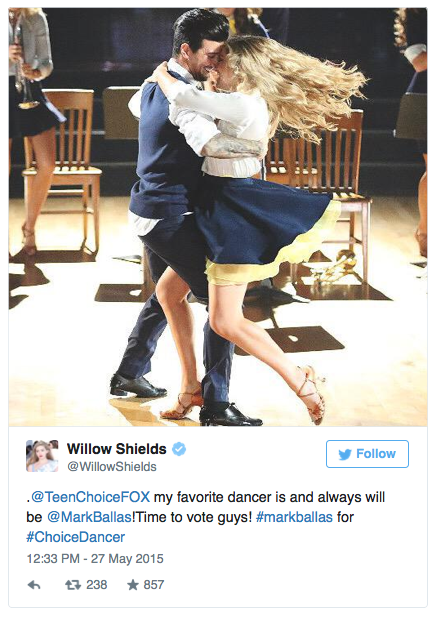 So we're predicting Allison, Alyson, Chloe and Mark for #ChoiceDancer, but there's still time to change the game. (Where my #TeamMaddie and #TeamMisty's at?) Happy tweeting!
Have you seen Jess Godwin's "Fool Me Once" video starring "Dance Moms" cutie Chloe Lukasiak? It's been making waves on the interwebs since it dropped last week. Godwin's soulful piano ballad pairs perfectly with Chloe's lyrical movement—which was smartly choreographed by Dance Spirit fave Kyle Hanagami. It's the perfect video for a quiet Saturday afternoon:
"Dance Moms" super-fans may remember Goodwin's song from the show: Maddie and Kendall both performed a solo to "Fool Me Once" on Season 4, but Chloe wasn't given the chance (#dramz). Now it's Chloe's time to shine—and shine she does!
You've got to admit it though: While the finished product is stunning, there's something even more fulfilling about watching Chloe's rehearsals with Hanagami. Get all the behind-the-scenes action in Chloe's video below. You won't regret it!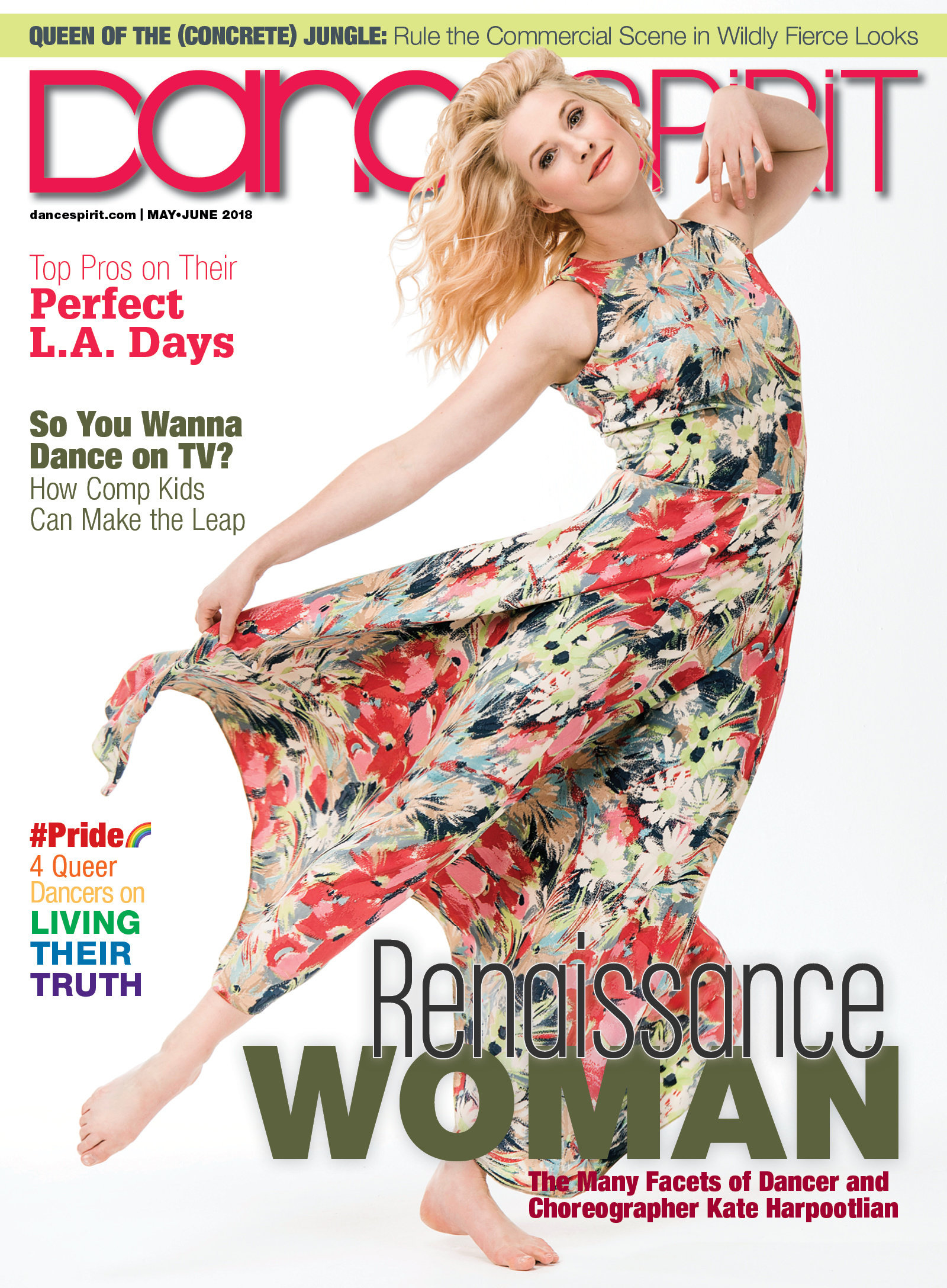 Get Dance Spirit in your inbox