Dec. 08, 2017 03:57PM EST
Kalani, Kendall, and Chloe (courtesy Anne Watkins)
Our favorite drama-filled, dance reality show may have ended this past fall, but "Dance Moms" stars Chloe, Kalani, and Kendall aren't about to let that end their dance careers. In fact, these dancing kweens are taking their moves to a city near you with their Irreplaceables Tour! The girls are going all out for the three-week dance production, which is taking them across the country. And these dazzling dancers aren't just content with showing off their dance skillz—they want to pass along their tips and tricks in a dance workshop where they'll lead fans in stretches and dance routines from the show.
Dance Spirit caught up with Chloe, Kalani, and Kendall to find out what they love about tour life and where they see themselves five years from now.
Dance News
Jun. 24, 2017 01:02PM EST
Looking for an extra dose of inspiration this weekend? Chloe Lukasiak can help!
Dance Videos
Mar. 23, 2017 06:36AM EST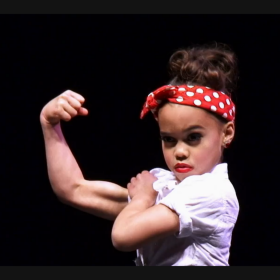 You had muscles like that at seven years old, right?
It's week two of Asia with the ALDC, and the drama surrounding this little firecracker has just begun. Here are my three most AWKWARD and AWESOME moments from last night's episode:
AWKWARD: Asia vs. Mackenzie. New girl Asia gets on top of the pyramid in her first week. Uh oh, looks like she's just earned a big fat target on her back. But no, the moms are still ganging up on Mackenzie, claiming that she's faking her injury. She loves to dance, people. She would not fake this injury! Plus, now she really wants to kick little Asia's butt. I'm going to assume that, healed or not, Mac will be back next week. Team Mackenzie!
AWESOME: Asia's solo. This is just so much better than her puppy dance from last week. She's playing Rosie the Riveter, a tough cookie just like she is. Holy muscles, Batman! This girl is fierce. Everything about the choreography is super cute—and her costume is appropriate! Can I be Team Mackenzie and Team Asia?
AWKWARD: Flaggate (a.k.a. the group number). Asia isn't doing most of the choreography, but she does get to run across the stage with an American flag. Essentially, Abby's tacking a young kid on at the end to bring the overall age of the routine down. Isn't this the same kind of thing we used to make fun of Vivi for in Cathy's choreography? But the real drama comes when apparently the flag is held up the wrong way onstage. Someone must be blamed! Was it Paige's fault or Asia's fault??? We never find out, but I'm going to go with: Who cares? They looked great.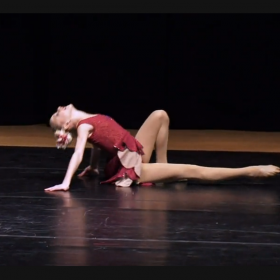 So pretty. And so not deserving of what Abby put her through this week.
AWESOME: Maddie's solo and Chloe's solo. My goodness, I love these two. This rivalry isn't anything new. We spent most of Season 1 wondering if Chloe would ever be triumphant over Maddie (spoiler alert: she was!). After months of no head to head competition, they're both onstage this week. Yippee! Chloe is elegant and clean and gets second place; Maddie is emotional and striking and gets first. Just goes to show, a little healthy competition goes a long way…
AWKWARD: I spoke too soon. Abby takes this Maddie vs. Chloe thing way too far. She kicks things up a notch by asking everyone (moms and kids) to vote for either Maddie or Chloe after watching them perform. Sigh. This does not seem like a productive activity. Maddie wins the vote by a landslide, leaving Chloe feeling terrible. Best moment: Mom Kelly votes for Paige. Hahaha. In your face, Abby.
AWESOME: Holly's defense of getting an education. Mom Melissa has decided that Maddie and Mackenzie should be home schooled, and the other moms are not pleased. Yes, sometimes home schooling is the best option, but this is clearly not one of those times, especially with little Mackenzie, who's too young to have decided whether she even wants a career in dance. Plus, she'd miss her friends! Holly does a remarkable job of explaining the seriousness of pulling kids out of school: "School's not just about busy work. It's about: Can you think? Can you be a citizen of the world and think for yourselves?" Yes, Holly! In the end, smart dancers are successful dancers.
And now (drum roll please) the QUOTE OF THE WEEK:
"Asia might be a big deal on the Internet, but so is a dog who can bark his ABCs." —Mom Christi
A dog who can bark his ABCs!? Where is this dog? Will someone send me a link, please?
Dance News
Mar. 23, 2017 05:36AM EST
I have a confession: I miss "Dance Moms." And these last two weeks of reunion shows with the moms (where are the kids?!) just aren't cutting it. Luckily, I have a fun video of Chloe and Maddie's visit with Dance Spirit to carry me through. Check it out:
Dance News
Mar. 07, 2015 07:30AM EST
Have you seen Jess Godwin's "Fool Me Once" video starring "Dance Moms" cutie Chloe Lukasiak? It's been making waves on the interwebs since it dropped last week. Godwin's soulful piano ballad pairs perfectly with Chloe's lyrical movement—which was smartly choreographed by Dance Spirit fave Kyle Hanagami. It's the perfect video for a quiet Saturday afternoon:
"Dance Moms" super-fans may remember Goodwin's song from the show: Maddie and Kendall both performed a solo to "Fool Me Once" on Season 4, but Chloe wasn't given the chance (#dramz). Now it's Chloe's time to shine—and shine she does!
You've got to admit it though: While the finished product is stunning, there's something even more fulfilling about watching Chloe's rehearsals with Hanagami. Get all the behind-the-scenes action in Chloe's video below. You won't regret it!
Dance News
Sep. 04, 2013 11:21AM EST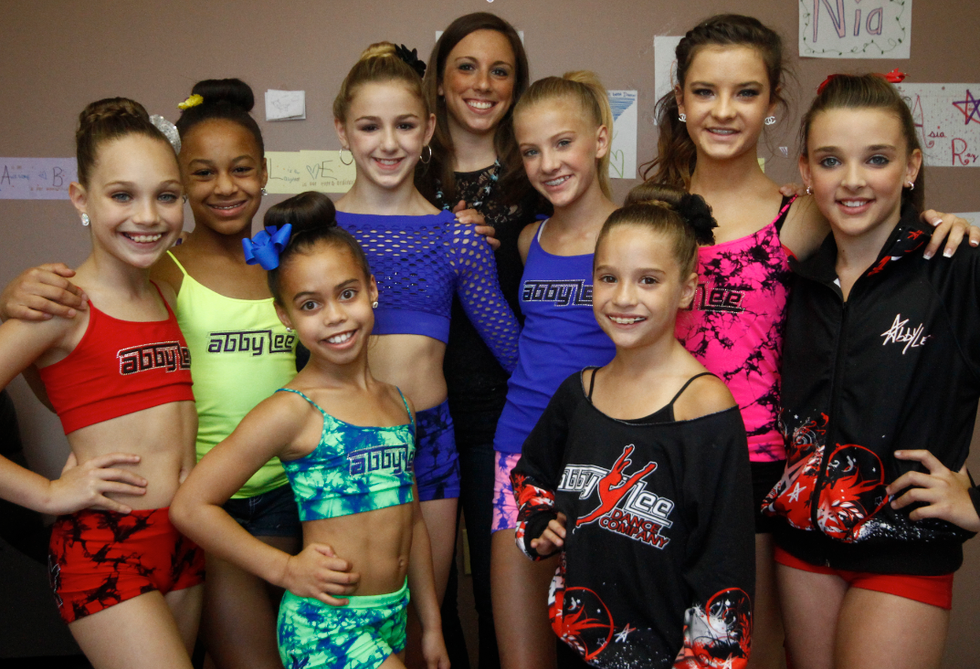 On set with all the ALDC kids! (Photo by Nate Powers)
Last night's "Dance Moms" episode featured a very special guest: Dance Spirit! So instead of our usual recaps, I'm going to give you a rundown of five things you didn't see on TV—but I did.
1. You know those moments when the kids and moms are speaking directly to the camera about what's happening? That's called an "On the Fly" or "OTF." And though it may appear that they're done against a wall of brightly colored costumes, they're not. They're actually filmed outside the studio on the grass. And they really are done on the fly! Cast members get almost no warning before they're called away to share their thoughts.
2. Those plot twists are planned—but not everyone is in on them. When Jill came for a "surprise" visit to our photo shoot? The only one who was shocked was Melissa. Jill and Kendall were waiting outside the house for more than an hour before entering, hanging out with the crew. The producers had cooked up the whole thing. And yes, even I knew it was coming.
3. The kids are generally nowhere near the mama drama. And that's a good thing. Maddie told me that as soon as the fury begins, one of the moms will whisk the children out of the room. And remember that scene in last night's episode where Abby calls Jill down to yell about Kendall? It seems like Kendall is right there, hearing it all, but really Gianna had moved Kendall and Maddie into a corner to run the choreography—and stay far away from the mayhem. Of course, they'll see it later on TV… but it's the thought that counts.
4. This show has really good editors. After all, they have to cut a full week of footage into one hour. They can also make it look like you're reacting to anything that's said in whatever way they want. How do I feel about that?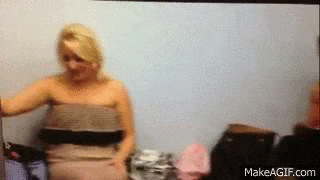 5. Beyond all the fancy camera work and editing, some of it actually is real. I saw real emotion, real hard work and real smiles from all the kids on set. And we really were there to capture a day in the life of Maddie for our November issue. "Why just Maddie?" you ask? It seems a lot of the dance moms had the same question. We chose Maddie because we see some serious potential in her. If she stays in class (which she promises me she's doing), she has the skills and the commitment to make it in the dance world when her time on "Dance Moms" is a distant memory.
Want more behind-the-scenes details from the show? Maddie spills it all in our November issue. Get excited!
Dance News
Aug. 21, 2013 10:34AM EST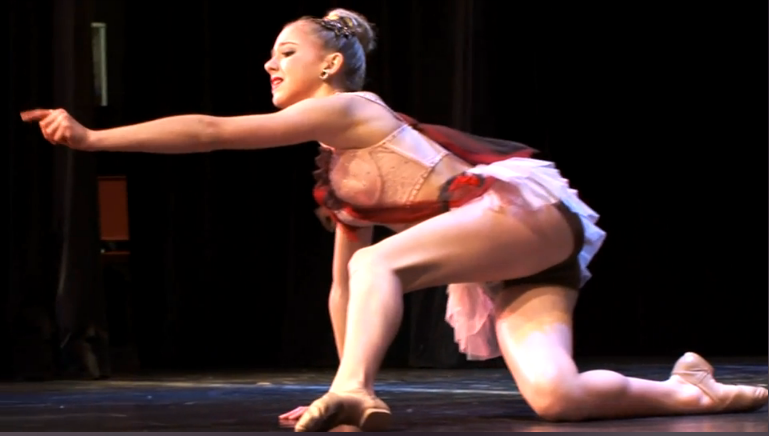 Chloe and Gianna clearly make a good team.
When we left the ALDC last week, the team was celebrating a clean sweep pulled off in Abby's absence. Uncertain about when they could expect their leader's return, the moms were fixated on Abby's whereabouts and intentions this week. Luckily, Gianna came back to the rescue, and lead her team through another very successful competition. Here are my top AWKWARD and AWESOME moments from this week.
AWKWARD: Melissa pays a visit to Abby's home to discuss the fast-approaching Nationals. She voiced her concerns about Abby's absence, Mrs. Miller's health and Maddie's need for her teacher's instruction. Abby makes it clear that she will be putting her family first (rightfully so), but reassures Melissa that she need not worry about Maddie performing a solo at Nationals this year. As Maddie has been winning first place trophies all season, this makes a lot of sense, but Melissa knows the other moms won't see it that way. When they ask about her visit, she chooses not to mention those details…as if they wouldn't come out on national TV in a few weeks.
AWESOME: No Abby means more Gianna, and that's something I can get on board with. As I mentioned last week, Gia's relationship with the girls is healthy, supportive and constructive—and produces incredible results. Without Abby to lead Pyramid, Gia calmly and quickly told the moms who would be dancing what numbers. Each routine was memorable—not to mention, she worked under the added pressure of facing the dreaded Candy Apples. Gia for President!
AWKWARD: Last week, Abby made it clear that she had no desire to see Brooke and Paige at the studio when she returned. So when she finally arrived at rehearsal this week, you could see the fear wash over the Hyland girls' faces. Unsurprisingly, Abby gave them a hard time, and warned them that they'd be doing solos every week and learning them in the same amount of time that Maddie learns hers. On the bright side, Brooke and Paige performed with their team for a second consecutive week, so let's hope they're here to stay.
AWESOME: With all the drama between Abby and the moms, it can be hard to remember that Abby has independent relationships with her students. After awards, the moms pressured Melissa to call Abby to deliver the results; Abby dismissed them, explaining she'd already spoken to the girls (who hadn't even made it back to their dressing room). This moment showed that, whether she's physically present or not, Abby supports her team. I guess we can't believe everything we see on TV...
AWKWARD: Over at Candy Apples, choreographer Anthony has pulled the plug on his time with the team. Cathy brags that she is "perfectly capable of leading her own team," but that's clearly not the case at all. Lucky for her (or not), she had Mom Yvette to step up and take charge. When the troupe encountered their rival ALDC moms at competition, they bragged that Cathy did everything herself, a statement that caused Yvette to have a serious meltdown. Sobbing and screaming, "I hate it, I hate it, I hate it," she escaped to the wings. Mom Holly probably summed it up best on her Twitter account (@DanceMomHolly): "Do you think Yvette hates it?" Yes, I think she does. We'll see if she returns for another week.
AWESOME: Cathy's main concern this week was choosing a soloist who could beat ALDC rep, Chloe. She selected Zack, a very technical dancer who has beaten Chloe at previous competitions. Chloe has a history of being neck-in-neck for first place with a Candy Apple boy (throwback to the Justice days), but with Gia choreographing a lyrical solo for her, she was ready for the challenge. Both dancers performed beautifully, but Chloe outdid herself this week. The choreography was challenging both technically and emotionally, and Chloe danced so well that she had every Mom standing (not just her own!). After what felt like years, Chloe earned that first place slot, proving that she, too, can beat the boys.
QUOTE OF THE WEEK:
"I'm ready for Abby to just walk into rehearsal and be like, 'You're doing this wrong. You're doing this wrong!' " —Kendall
Next week, it looks like more Hyland drama (Don't cry, Paige!), but Abby seems to be back in action. With Nationals around the corner, we can certainly expect the drama!
Dance News
Jul. 17, 2013 10:38AM EST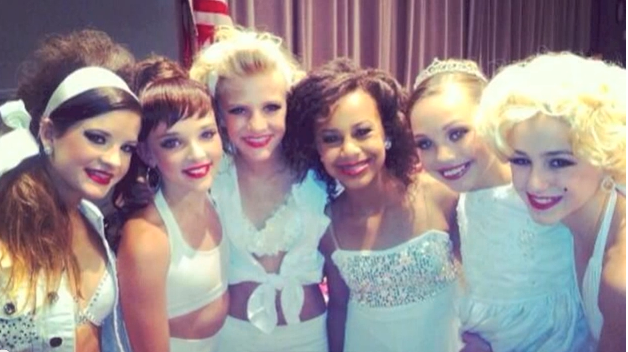 Cuteness overload!
Finally, an episode of "Dance Moms" that didn't leave me feeling infuriated! This week, the hour was loaded with our favorite dancers, moms, choreographers and even some familiar drama. With Abby's return from "Abby's Ultimate Dance Competition" filming came the return of the infamous pyramid, based not only on of the last competition's results, but also on the girls' reported work ethic in Abby's absence. With a quick recap from each dancer (Brooke recorded a CD! Nia has added 4 classes per week!), we were caught up and ready to get back on track with the Dream Team. Here are my top AWKWARD and AWESOME moments from this week.
AWKWARD: Abby may have a snazzy new hairdo, but her demeanor has not changed; without missing a beat, she's back in the studio dishing out the tough love. This week, the victim is none other than Mackenzie, who was awarded with a solo as a chance to earn first place while Asia is out of town. In case that didn't make her feel bad enough, Abby tells her that she's getting too old to be cute (I disagree), and that she's all over the place. On top of everything, Abby's frustrated with how exhausted Mackenzie is after a day at school—specifically, playing at recess. She strongly suggests (a.k.a. orders) that little Mack refrain from joining her friends on the playground, and makes sure Mom Melissa knows it. 
AWESOME: This week, Chloe was given the challenge of a hip-hop solo. Having only performed hip-hop twice and taken just a handful of classes, she's less than confident about the routine. As always, she handles the situation with grace, working hard with senior company dancer Payton to sharpen her skills. Abby explains that in order to succeed in the industry, it's vital to excel in every style, not just your favorite. Great point! It's good to see Payton back in the game, and even better to see how awesome her relationship is with Chloe. What's not quite as awesome is the return of Mom Leslie, making a brief but memorable appearance in the observation mezzanine, much to everyone's dismay.
AWKWARD: Things seemed especially extreme in the Mama Drama department this week (like when Melissa said she thinks everyone wishes she would die in a car crash…?? Eek!). I wanted the ALDC back, but I didn't want to revisit the same issues that caused Melissa to file a lawsuit in Season 2. It's kind of unclear how the blowouts started…something about Melissa's failure to comply with the moms' pact to prevent the girls from visiting the "AUDC" set. But things quickly escalated into screaming and storming out. The situation never really got resolved, and I'm nervous to see how the tension carries over into next week's episode.
AWESOME: SOLOS! Mackenzie nailed every trick and remembered every step of her number—while rocking the most precious futuristic spacewoman costume in the world. She looked stronger than ever, and judges agreed—a well-deserved win! Chloe hit her hip-hop routine with confidence and strength, nailing her turns in some fancy glittered boots. Maddie's tap (!!!) was outstanding. I can't remember the last time we saw her do something other than lyrical, and I wish we could see more. Not to mention, she handled a costume malfunction like a pro—but come on, Melissa, we know you know better than to think Velcro could hold a costume together!
AWKWARD: In case we needed a refresher, we were reminded throughout the episode that, after a mysterious score sheet error, Maddie had received a higher overall score than Chloe at the last competition. Anyone who watched that episode will recall Abby reporting that "the competition came to her" to discuss the discrepancy, but this week, some new footage revealed that Abby had indeed brought the numbers to their attention. Skeptical all along, audiences (including Chloe and Christi) have now witnessed what really happened behind the scenes. What's done is done, but Chloe has maintained her signature brave face and persistence.
AWESOME: The group dance, "Gone Too Soon," required each girl to embrace the persona of a celebrity who had faced an untimely death. Featuring Whitney Houston, Selena, Amy Winehouse, Anna Nicole Smith, Marilyn Monroe and Princess Diana, the girls were challenged to portray a story. Their costumes and makeup looked amazing—and the dancing was awesome! I knew the performance would be top notch from the footage of Kendall nailing 5 turns in rehearsals, but each girl seemed to have improved during the competition hiatus. The team's technique looked strong, and they really earned that first place slot.
QUOTE OF THE WEEK:
"Sorry Kendall, you are NOT playing Selena Gomez." —Abby Lee Miller 
Next week, we'll go behind the scenes at the ALDC annual showcase. Let's hope the moms are back on speaking terms before then.
P.S. Did anyone else notice Abby's "Save Your Tears For Your Pillow" iPhone case? I want one!
Dance News
Jun. 19, 2013 10:25AM EST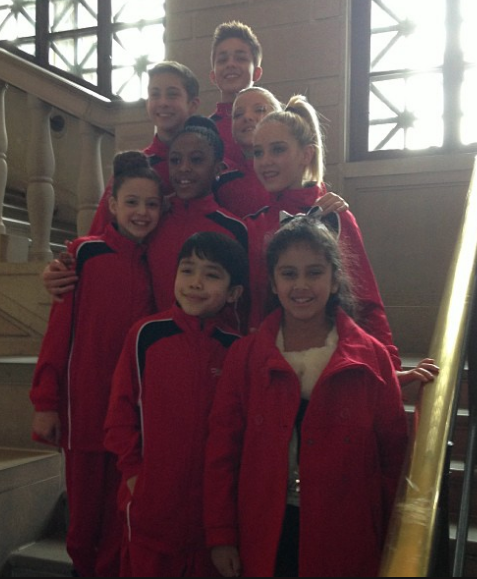 Some familiar faces in this crowd...just not the ones I wanted to see for an entire episode.
How do I love "Dance Moms"? Let me count the ways... Chloe, Maddie, Paige, Brooke, Nia, Kendall, Mackenzie. Oh, you know, just the 7 characters that weren't even in this week's episode of the show. Yep! That's right. No pyramid. No solos. No groups. Nothing. Are you KIDDING me?!?
Week after week, I'm frustrated with the focus on Mama Drama versus actual dancing, but considering the show is called "Dance Moms," I really can't complain. But after seeing tonight's episode, I'd gladly sit through endless footage of screaming in the ALDC observation mezzanine.
Set and focused entirely on the Apple Cores,  "An Apple a Day Keeps Abby Away" followed the plotline of yet another hand-picked team, lead by none other than Cathy and her new sidekick, esteemed choreographer Anthony Burrell. If Lifetime is trying to teach us the age-old lesson of "you don't know what you've got 'till it's gone," they're seriously nailing it. With no more than a taunting glimpse inside the ALDC, I felt a major void during this week's episode, so unconventional that it can't even be categorized into awkward and awesome. Here's a rundown of the hour's top shocking and questionable moments.
Is this "Dance Moms" or "Abby's Ultimate Dance Competition"?  With Abby hunting for studio space in L.A. (is that really going to happen? I'm not sure my heart could take it), we got to see some behind-the-scenes footage of the upcoming season of "AUDC." Undeniably a fan of any and all things Abby Lee, I'm eagerly anticipating the show's second season…but not at the expense of my beloved "Dance Moms." Between these sneak peeks and Cathy's utilization of both Zack and Hadley from "AUDC"'s first season, I honestly don't know what I'm watching anymore. On the positive side, it was great to see the two performing Burrell's choreography, both in the group number and individual solos. They're stronger every time we see them!
The (second) return of Kaya and Nicaya. Yeah, the mother who calls herself "Black Patsy," inspired by Patsy Ramsey, who is famous for being an overbearing, psychotic stage mother. If that's not enough to deter you, Kaya's uninhibited yelling, name calling and overall aggression earlier this season probably put you off. Don't worry, Cathy personally recruits the pair and invites them to represent her own studio. Great! Can't wait to see ya!
The moms unite. Aside from the brief, nondescript clips of the ALDC girls rehearsing a piece we never saw, the only taste of familiarity in this episode were scenes with the moms we know and love. And…they were getting along! And bonding! What a relief. While toasting to Abby's absence over a festive lunch and gossiping about the possible studio move, the moms seemed to be enjoying each other's company (even Kristie!). After discovering Jill's sneaky spy skills in last week's episode, Abby gives her the task of rounding up the troops and heading to the competition to see what Cathy and her new team have to show for themselves. Jill quickly complies, and follows through until the very end (but not without throwing a few insults in the green room.)
To sum it up, this week's episode was a different program entirely. On the bright side, it's great to see how the "AUDC" dancers, Apple Cores and new recruits have improved, giving the dancers and studios exposure on a primetime national platform.
Next week, it's more Candy Apples with a side of "AUDC"—but this time, we at least see a solo from Maddie, who's awarded a special guest performance. I can't say I expect this to go over well among the moms, but I'll welcome the drama if it means seeing the familiar faces we know and love.
Quote of the Week:
"Cathy will enter herself in the open solo category and dance her own dance if it means competing against us." —Mom Christi (Next week on "Dance Moms"…)
Dance News
Jun. 12, 2013 10:57AM EST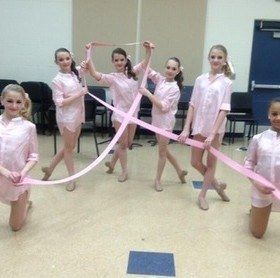 Cuties fighting cancer
Finally, an episode of "Dance Moms" that features only the ALDC! Triumphant over Cathy and the Apple Cores at last, Abby's dream team was back and better than ever. From the start, Abby's spirits were high as she greeted each girl (and mom!) with a smile as they entered the studio. I knew things had to be too good to be true—and I was right. Although lacking the CADC drama that has dictated most recent episodes, this week's "Two Girls, One Solo" took tension between the mothers (AND the girls!) to a new level. Here are my top 3 AWESOME and AWKWARD moments.
AWESOME: Brooke is at the top of the pyramid! I can't say I remember the last time this happened, but she certainly deserved it. With a breathtaking and technically astounding performance among ALDC's senior company last week (and compliance with Abby's insistence on a date with partner Kevin), Brooke truly outdid herself. (Surprise! She was not rewarded with a solo. Maybe next week?)
AWKWARD: This week, Abby had a few tricks up her sleeve…in the form of teammate showdowns. With Asia's return after a job in L.A., she's set to compete a solo against Mackenzie. And Chloe and Maddie will go head-to-head as well, which is nothing new. But, of course, Abby couldn't leave it at that. The two will be competing the same solo with identical choreography, costumes, and music—an unprecedented tactic at the ALDC (and as far as I know, everywhere.) Everything about this made me nervous and suspicious—as Mom Christi pointed out, the choreography would likely be catered to only one of the girls' strengths. After an impeccable duet performance last week, it really was a toss up...
AWESOME: The group dance. A concept piece based on fighting cancer, "Living With the Ribbon" was tasteful, unique and beautifully performed. The choreography showcased all of the girls' strengths (they're looking better every week!) and tapped into their personal experiences with the disease and loss. With such an important subject, Abby devoted as much time and energy into conveying the message to her dancers as she did teaching the choreography. A well-deserved win for the ALDC!
AWKWARD: I'm definitely a fan of Asia, but what I am not a fan of is lip-syncing during a routine. From the moment she started her solo, it was all I could focus on—and Abby agreed. Upon returning to the green room, Asia was instantly scolded for the mistake. As Mackenzie awaited her own critique, Abby asked her what she had learned from watching Asia in the wings, to which she responded, "not to lip sync." Good girl!
AWESOME: Although certainly challenging her dancers this week, Abby seems to have softened up a bit after last week's win. Yes, pitting her dancers against each other wasn't the most kind-hearted mechanism, but in rehearsal scenes, her critique is constructive, encouraging, and at a moderate volume. With a group dance based on a heavy topic, Abby opens up to her girls about her own experiences and encourages them to share their own. I'm confident this is a side of Abby that is constant, but maybe not shown in every episode, and it was a welcome change. It's clear that the relationship between Abby and her girls is one based on admiration, respect and trust—something we may forget amongst all the surrounding drama.
AWKWARD: Awards. Finally, the Maddie/Chloe showdown came to a dramatic finish. Maddie was announced second, and Chloe first (!), leaving Maddie's eyes filled to the brim with tears and Chloe grinning ear-to-ear. A proud Christi cheered from the audience while Abby whispered to Melissa, "There is no doubt Maddie should have won." Though her shining moment was already tainted, Chloe was a great sport and congratulated the other girls without flaunting her victory. Back in the green room, a competition director came in to apologize for a score discrepancy—as it turns out, Maddie actually had the higher score, making her the overall winner. Abby was beside herself with glee, and Chloe was fighting back tears as she traded in her plaque (while my heart seriously broke into a thousand pieces for her.) The moms, suspicious about the sudden alteration, asked Abby how the mistake was possible. Moments later, the director thanked Abby for bringing the situation to their attention.
Between Jill and Christi's discovery of the Ziegler girls' extra rehearsal time and a possible instance of foul play in scoring, we are certainly headed down a dramatic and probably tear-filled road this season! Though things seem to be on the mend with Christi and Kelly for the moment, we can undoubtedly expect blowouts galore in the coming weeks. Hopefully, the drama will stay among the adults, not the girls.
QUOTE OF THE WEEK:  "I thought they both did a fabulous job, so I don't think it matters who the winner is." –Paige (TRUE THAT, PAIGE!)
Dance News
Get Dance Spirit in your inbox
Apr. 24, 2013 12:44PM EST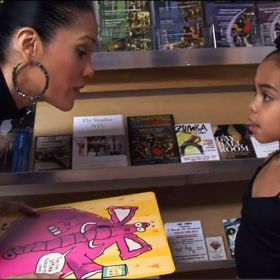 Mom Kristie decides to suck up to Abby. Because that's definitely the best way to make everyone else hate you.
I must admit that this week's episode had way too much Cathy, way too much mom drama and not nearly enough dancing. But there's nothing like rooting for little Mackenzie to keep me riveted. Here are my top three AWESOME and AWKWARD moments.
AWESOME: Pyramid time! Chloe's on top of the pyramid even though she didn't win first place last week. I love that Abby's finally showing her that ounce of encouragement. Chloe, Asia, Maddie and Kendall will all get solos! Unfortunately, we won't actually get to see them until next week.
AWKWARD: The battle over "The View" continues. Abby announces that Asia's filling in for Mackenzie on the show, which makes Mom Melissa very upset. Then Abby tells Mackenzie to make her mom fight for her (because 8 year olds should definitely tell their moms what to do). Of course, the kids are fine with whatever happens, but the far-less-mature moms will not stop fighting over it. Somehow, Mom Kelly makes it all about her and her kids, but I'm not really sure how that happened. I sense that Abby knows the whole time who she wants to use, but has found the perfect tactic to rile these moms up and stretch the NYC trip over two episodes. Yes Abby, please draw this fight out for as long as possible. You know how that thrills me.
AWESOME: The results are in…and Little Mac gets to perform! Even though I knew this was coming, I was still excited to see her little face light up. And Asia handles rejection like a pro. The kids' performance is great, and Abby doesn't yell at anyone afterwards. Great success!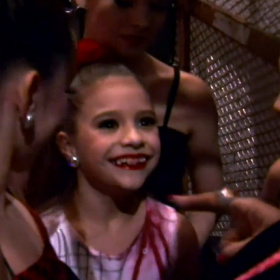 "As soon as I did my cartwheel over the seat, I was like, 'I'm back.' " —Mackenzie
AWKWARD: Cathy. The Candy Apples director announces that she's holding auditions for a new dancer—because no one at her actual studio full of dancers is apparently good enough. Good job being a teacher, Cathy. Watching the judging process is cringe-worthy. First she tells a girl she won't get the job just because her name is Maddie, then she calls a child Had instead of Hannah, then she asks a chubby (but awesome!) little boy "Are you sure you're a dancer?" about a dozen times. So inspirational. To make it worse, Vivi is a judge. Shockingly, she doesn't have much to add.
AWESOME: As awful as Cathy is, I do like this new dancer she's chosen, Victoria. Victoria is a student from Larkin Dance Studio, and she is stunning. Anthony Burrell's choreography starring the newcomer looks like it's going to be pretty cool. I'm excited to see what's to come for this little one.
AWKWARD: Cathy and Vivi eat cheesecake. First, Vivi admits to eating five pieces of pizza in one day. Then, Cathy grills Vivi about new kid Victoria (who she's never spoken to) and tries to force Vivi to admit that she wants Jalen to be her boyfriend. Again, Vivi doesn't have much to add.
QUOTE OF THE WEEK:
Mom Cathy: "This is hard work auditioning people."
Vivi: "I'm hungry."
To be continued!!! Stay tuned for next week when the girls will finally perform the solos we've heard almost nothing about. Until then, let me know what you thought of this week's episode in the comments.
Dance News
Apr. 17, 2013 03:10PM EST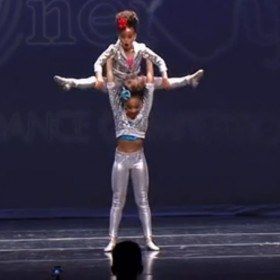 Pure awesome.
This week on "Dance Moms," the moms get angry and the girls sweep the competition. Here are my top three AWESOME and AWKWARD moments:
AWESOME: Abby says the ALDC is going to Ohio, so I fear that the worst is about to happen: Cathy and her annoying Candy Apples will come out to play. But then…Cathy's not there! Best episode ever!
AWESOME: Asia and Nia's duet. I love this! If these two can do anything it's put on a good show, and this drag queen-inspired routine—complete with lots of shiny spandex—is absolutely perfect. The moms freak out when they don't get a chance to rehearse backstage. And while I would never condone dancers going onstage without warming up, Asia and Nia rise to the challenge. What a fantastic duo. First place, baby!
AWESOME: Maddie as assistant choreographer. For the group number, "Hear No Evil," Abby pulls superstar Maddie out of the dance to test the other kids' musicality without her. Instead, Maddie gets to help Abby out with the choreography. I have to say, Maddie impressed me! She does an excellent (and very mature) job giving directions and drilling the other girls backstage. She definitely deserves some of the credit for their first place win.
How come Chloe doesn't get the opportunity to show this kind of emotion?
AWKWARD: The whole Chloe vs. Maddie debacle. Normally, I don't buy the moms' conspiracy theories about Abby setting Chloe up to lose. But this week, Chloe's solo is just so darn boring. And what's up with that song? Depressing. Chloe's great technique makes scoring second place a cinch, but I'm convinced that her lack of exciting choreography (especially compared to Maddie's) is what's holding her back from first.
AWKWARD: Asia vs. Mackenzie…still. Ugh, this "Is Mackenzie faking her injury?" battle has gone on way too long. Props to Abby, though, for asking Mackenzie to wait to dance until her doctor-prescribed two weeks of rest is up. To add insult to injury (literally), apparently Asia is now bullying Little Mac! Given that the cameramen that are constantly following these kiddos around haven't captured any bullying footage, I'm going to assume Asia's innocent until proven guilty. But all this madness has made Mom Kristie's true colors come out, and she's done playing nice.
AWKWARD: Abby gets invited to co-host "The View"—and the girls get to dance as well. Asia replaces injured Mackenzie in rehearsal, so the moms are super concerned about which tiny dancer will get to perform in NYC. Since we already know the outcome because we watched that episode of "The View" two months ago, it kind of takes all the fun out of seeing the drama unfold. (Spoiler alert: Mackenzie gets it.) And it won't even be resolved until next week's episode. What a nail biter!
QUOTE OF THE WEEK: "Chloe is second only by one point. Maddie, Melissa, you better wake up. Chloe has learned her lesson and she is hot on your trail." —Abby
Sounds like we may be in for a change next week…
Until then, let me know what you thought of this week's episode in the comments!
Dance News