Aug. 10, 2012 05:00PM EST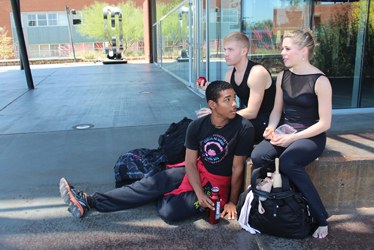 University of Arizona BFA undergraduates David Maurice, Adam Houston and Laura Kaufman take a break between classes. (Ashley Bowman)
With so many great dance colleges out there, deciding on a few to visit and audition for can be tough. Asking these questions before you plan your college tour can help you narrow your search and target the best schools for you.
What dance degrees are offered? 
The first step toward finding your ideal program is thinking about what kind of college dance experience you're looking for. Do you want to hone your technique intensively and go straight into a professional company? Or would you rather spend more time exploring a broad range of dance styles and related fields? Most colleges with strong dance programs offer either a Bachelor of Fine Arts (BFA) or a Bachelor of Arts (BA) degree in dance. A BFA program typically looks a lot like a conservatory program, but it also includes liberal arts classes like history and science. "Essentially, a BFA curriculum is more heavily grounded in technique and performance than a BA, with the primary goal being to join a dance company after graduation," says Melissa Lowe, professor in the BFA program at the University of Arizona.On the other hand, a BA could be a perfect fit for a dancer looking to explore. "A BA is more about studying a range of things," says Terry Creach, a faculty member in the BA program at Bennington College. "Dance is definitely the concentration, but the thought is that you're beginning an arts career that could go many different directions." You might end up dancing professionally, or you might go on to manage a company, choreograph or design costumes.BA and BFA degrees aren't the only options. Some schools might not have a dance degree at all, but instead offer a dance minor or a dance team that can fulfill your dance goals while you pursue an academic major. Cortney Colich, a 2012 graduate and senior captain of the University of Minnesota dance team, decided she could best satisfy her dance interests by joining the UMinn team and focusing on pursuing an advertising degree. "I've always been a team-oriented person, and I love to compete and challenge myself," she says.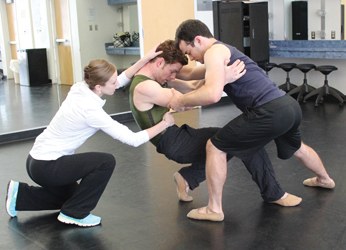 (L to R) University of Arizona MFA student Alyssa Alger choreographs on BFA students Weston Krukow and Raffles Durbin. (Ashley Bowman)
What's the tuition? And what scholarships and financial aid are available?
Unfortunately, tuition costs are going up, while dance scholarships tend to remain much smaller than scholarships for other subject areas. The good news is that most liberal arts schools also offer academic scholarships to dancers with high grades.
When you're comparing scholarship packages at different schools, don't forget to consider the cost of living and other extra expenses, like travel. "What a lot of dancers tend to do is say, 'This school is giving me $15,000 and this one is only giving me $8,000,' " says Lowe, "when in fact, once they sit down with their families and measure the total costs, they see that $8,000 would actually go a lot farther toward the total tuition bill of that school than the $15,000 would at the other."
Who's on the faculty?
For Indiana University ballet major Laura Pollin, studying with the right faculty for her goals was a top priority. "I wanted to work with people I knew would push me and have my best interests at heart," she says.
Most schools offer short biographies of each faculty member on their website. You certainly don't have to study with the most famous dancers in the world, but look for faculty members whose backgrounds interest you. After all, they'll be your mentors during your years in the program.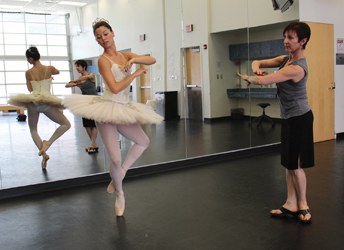 University of Arizona professor Melissa Lowe coaches BFA undergraduate Amie Kilgore. (Ashley Bowman)
What's the alumni networking situation like?
Researching what the alumni of a program have done with their careers can be revealing. Are they dancing with modern companies? Are they on professional dance teams? Are they on the administrative side of a dance company? Look for a school whose alumni are following paths you can see yourself on.
According to Creach, dance program graduates also find alumni connections to be a valuable resource when they graduate. "Alumni who graduated five years ago are out there making connections and working in the field," he says. "They know exactly what a new graduate is facing, where she should go and who to connect with." A school with a strong dance alumni network might help you jump-start your career after graduation.
What styles does the dance department specialize in?
Most dance programs focus on some combination of ballet, modern and jazz, often with an emphasis on one or two of the three styles. Some also offer theater dance, voice and acting classes, perfect for the aspiring Broadway dancer. Others, like Bennington, place their greatest emphasis on the creation of new work. Every program is different, so it's important to think about the stylistic focus of each one you consider.
Where is the school, and how big is it?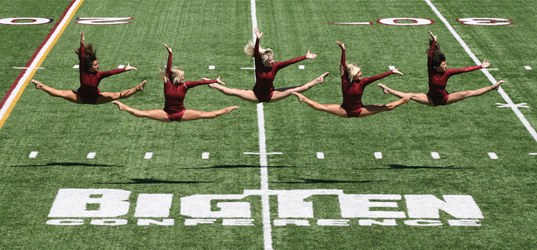 Is it in a vibrant city? Nestled in peaceful mountains? Does it have a contained, haven-like campus, or does the dorm's front door open to the excitement of NYC?
"It's important to ask yourself, 'Do I flourish in an environment where there are a lot of stimuli—like in a big city—or do I need the sanctuary of a quieter campus?' " Lowe says. Think about size, too: At a very small school like Bennington, you might get to know everyone on campus, dancers and non-dancers alike. If you attend a large university, you'll have the opportunity (and responsibility) to customize your own close-knit community by joining your favorite clubs and organizations. (Not sure which size is your style? Check out the "What College Is Right for You?" quiz.)
How's the food?
It sounds a little silly, but food is a really important part of campus life, especially for dancers. The quality of cafeteria food can vary from one campus to the next. Poke around college websites to see what meal plans are offered and what kinds of food are readily available—especially if you have special dietary needs. Fortunately, many schools are now accommodating of vegetarian, vegan and gluten-free diets. "I'm allergic to gluten, and that can be tough," Colich says. "But it's been amazing to see how the school provides options for people with allergies. Now, wherever I go on campus I'm able to find something to eat."
Aug. 10, 2012 04:30PM EST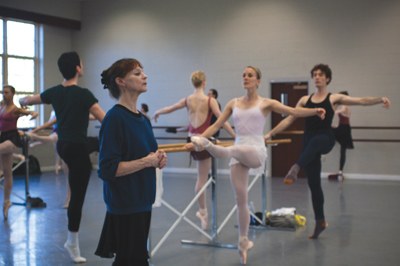 Florida State University studnets take Suzanne Farrell's ballet class alongside Suzanne Farrell Ballet company members
Stressed about picking the right college? Even if a great dance program is your top priority, there's a seemingly never-ending list of other factors to consider, from location to class size to extracurricular options. When it comes time to sort through that stack of college catalogs, use our quiz to help you narrow the field and decide what type of school best suits you. 
After a long day of classes, you prefer to unwind by: 
a. hitting up a poetry reading with friends.
b. rooting for the home team at a football game.
c. checking out the theater department's new play.
d. heading downtown to bask in the local nightlife.
Besides dance, what's your favorite kind of class? 
a. A class in which you're encouraged to share your opinions and ideas about the material
b. A lecture where you can be anonymous and concentrate on taking notes
c. What other classes? Dance is all that matters!
d. A class that involves frequent field trips   and on-site learning at museums, historic sites and galleries
You're packing your school bag for the day. You make sure to include:
a. a draft of the philosophy paper you're working on.
b. your science textbook and laptop.
c. an extra leotard and a copy of the day's rehearsal schedule.
d. your bus or subway pass.
You have an unexpected break between classes. How do you spend your extra half-hour? 
a. Diving into the novel you've just been assigned
b. Racing across campus to make it to your next lecture on time for once
c. Stretching and reviewing choreography
in your head
d. Squeezing in some homework and
people-watching at a busy café on the
corner
It's the first week of school! What are you most excited about?  
a. Taking classes in a wide variety of subjects that interest you
b. Scoping out the Greek life scene
c. Getting to focus on dance 24/7
d. Exploring the neighborhoods surrounding your campus
Which of these dorm styles appeals to you?
a. A quiet, laid-back dorm small enough for you to know everyone
b. A multistory building constantly bustling with activity
c. A dorm dominated by the sounds of show tunes and impromptu rehearsals
d. An apartment-style dorm smack dab in the middle of a city
What's your lunch of choice on a busy weekday?
a. The daily special from the only cafeteria on campus
b. A sandwich from one of the on-campus sub shops included in your meal plan
c. Anything light and portable you can eat between rehearsal and modern class
d. Something exotic from a new, trendy restaurant near campus
Aside from dance, what kinds of extracurriculars does your ideal school offer?
a. Plenty of clubs and an active student government
b. A variety of sports teams, sororities and fraternities
c. Student-directed shows and performance groups
d. Internship opportunities in almost every field imaginable
You prefer to be surrounded by:
a. a rural landscape.
b. a relaxed, suburban neighborhood.
c. ballet barres, of course!
d. a hip, urban environment.
You hit a mental block while working on a big term paper. Where do you go for help?
a. Your professor
b. The extensive campus library, to do some more research
c. Dance class, to blow off some steam and clear your head
d. A nearby art gallery for inspiration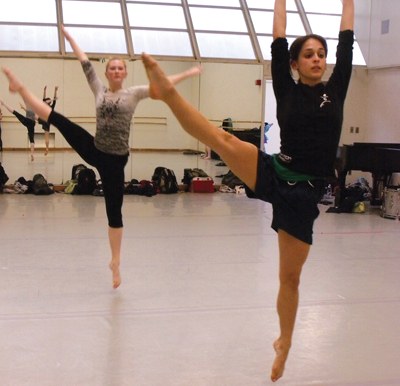 Dancers in class at SUNY Purchase
HOW'D YOU SCORE?
Mostly A's: A small private liberal arts college. Your voice will be heard in one of these intellectual hubs, which boast intimate class sizes. Check out Sarah Lawrence College, Amherst College and Bates College.
Mostly B's: A big research university in the suburbs. These schools offer solid academics with bustling campus social scenes and, often, fantastic dance programs. Check out Indiana University, Florida State University and University of Michigan.
Mostly C's: A performing arts conservatory program with an exclusive dance focus. Some conservatory programs pair with universities to offer academics, while others focus entirely on dance. Check out The Juilliard School, Point Park University, SUNY Purchase and the Alonzo King LINES Ballet BFA program at Dominican University of California.
Mostly D's: A cool school in a big city. Who needs a sprawling campus when you've got hot nightlife, enriching cultural experiences and killer internship opportunities at your fingertips? Check out New York University, The Boston Conservatory and Barnard College.
Come up with a mixed bag of answers? Check out schools that offer the best of multiple worlds! For example, places like Marymount Manhattan College and Columbia College Chicago offer liberal arts programs in a big-city setting, while University of North Carolina School of the Arts lets dancers reap the benefits of a conservatory program while enjoying the resources of a state university.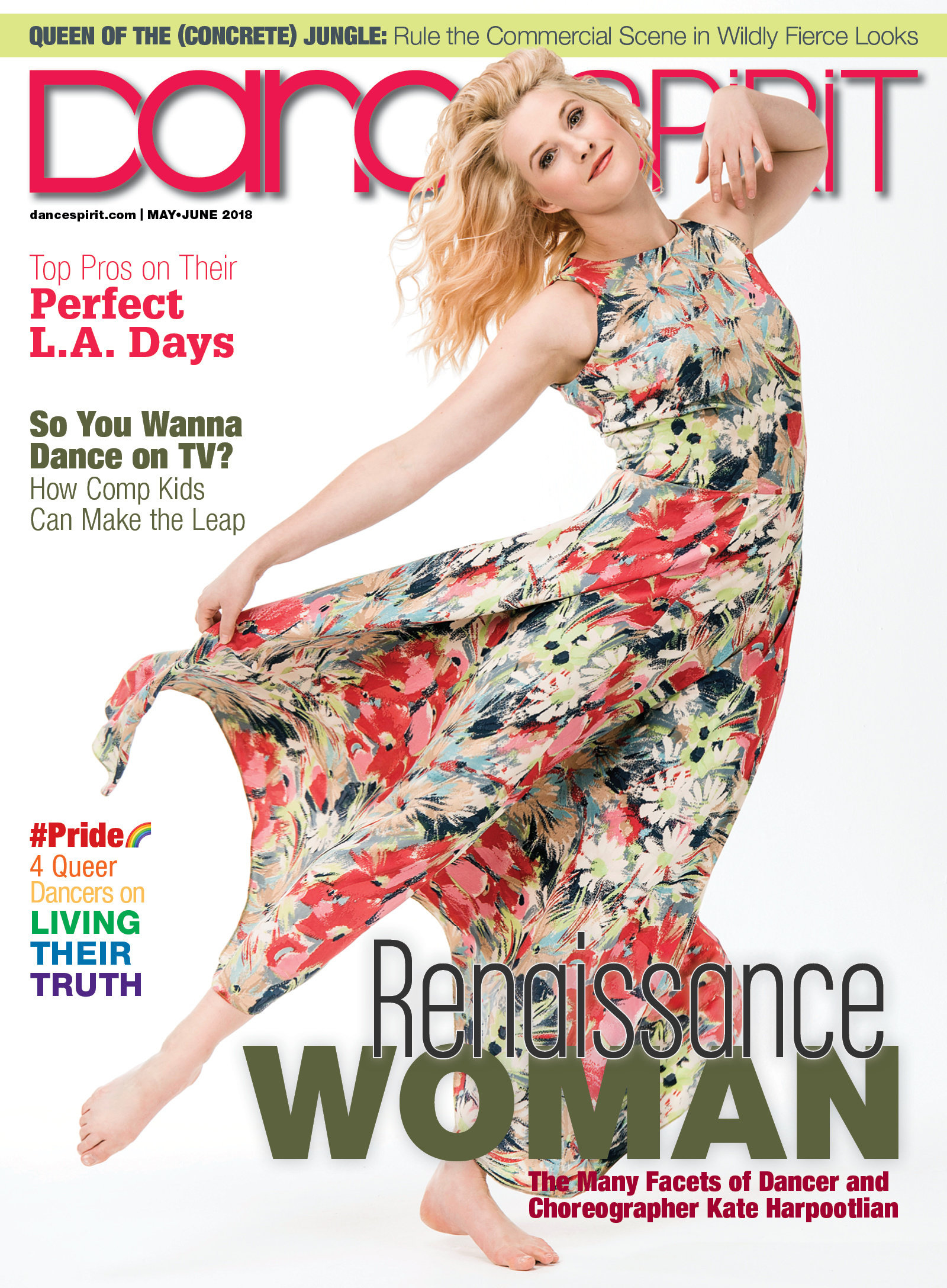 Get Dance Spirit in your inbox