It seems like only yesterday we were raving about the super-adorable Disney Channel original Teen Beach Movie. In reality, though, it's been close to two whole years since the made-for-TV musical had our hearts singing with its summery dance-filled numbers. Choreographed by Christopher Scott (of "So You Think You Can Dance" and "LXD" fame), it featured "SYT" alums Kent Boyd and Mollee Gray and our gorgeous L.A. tour guide, Jessica Lee Keller.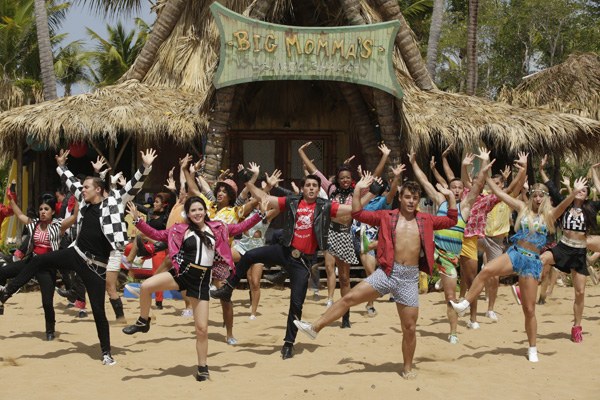 Teen Beach 2! (Disney Channel/Francisco Roman)
It's about time for another, right? Teen Beach 2 hits the small screen this Friday, and Scott is back at the dance-helm of this surf-inspired spectacular. Dance Spirit spoke with him about the sequel.
Dance Spirit: Do you have a favorite part of Teen Beach 2?
Christopher Scott: "Gotta Be Me." It's really a dancer's number. It takes place in a gymnasium, and I was able to showcase everyone's individual talents. I found out what everyone was capable of when making the first film, so this time around I was able to push the dancers to their ultimate limits.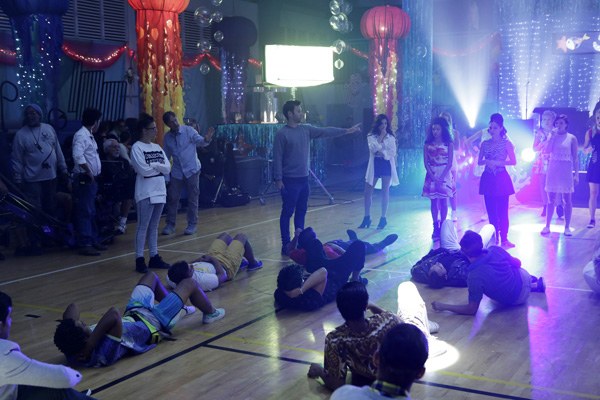 Christopher Scott (center, pointing) choreographing "Gotta Be Me" for Teen Beach 2 (Disney Channel/Francisco Roman)
DS: Creating musical numbers for Disney seems pretty different from your other projects, like "The LXD."
CS: It is, but the theater world is where I fell in love with dance. I'm actually a big musical theater nerd. Teen Beach has a lot of references to West Side Story, and that's the first musical I performed in.
DS: Is your process different when you're creating work for "SYT" compared to Teen Beach?
CS: No matter what I'm doing, there's a story involved and a reason for the dance. When I'm working with the dancers on "SYT," I don't really take into account of what the dancers are or aren't able to do—it's a contest and they have to live up to expectations. But when I'm choreographing for something like Teen Beach, I'll tailor the movement to the dancers I'm working with. There's more collaboration.
DS: Do you have any advice for Dance Spirit readers who are hoping to work in Hollywood?
CS: Take advantage of all the new technology and platforms available today. You can easily shoot a movie on your iPhone in your living room—just go out and start making work. There's no reason not to get started now.
Check out the trailer for Teen Beach 2 below, then set your DVRs for Friday, June 26 to catch the premiere!
It's National Dance Day time! The annual event, launched in 2010 by Mr. Nigel Lythgoe and his Dizzy Feet Foundation, will be held on Saturday, July 26 this year.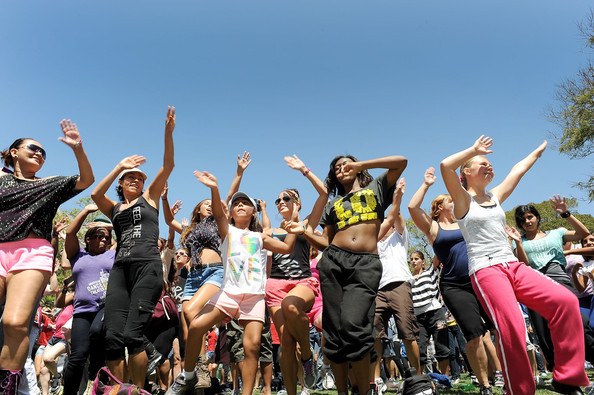 Dancers getting their groove on in L.A. at NDD 2012 (photo Valerie Macon/Getty Images North America)
As always, there are plenty of ways for you to get in on the celebrating. If you're based in or around L.A., NYC or Washington, D.C., you're in particular luck: There'll be large-scale events in each of those three locations. The flagship L.A. celebration, held in Grand Park, will run from 10 am to 3 pm and include classes in all kinds of styles, from hip hop to salsa to afro-cuban dance. In NYC, you'll be able to rock out with fellow dancers at Lincoln Center plaza beginning at 4 pm. In D.C., there'll be a series of performances and demonstrations at The Kennedy Center starting at 4 pm, celebrating the 24th anniversary of the Americans with Disabilities Act—and led by AXIS Dance Company, which is renowned for its physically integrated dance.
If you're not near one of those metropolises (metropolii?), though, no worries! There are all kinds of other dance events happening across the country. Click here for the full list.
And no matter where you are, you can always participate in NDD by learning one of the official routines and posting your video to the Dizzy Feet Facebook page. We've included the instructional videos for this year's routines below. (The advanced number features choreography by Chris Scott to Mark Ballas' hot new single "Get My Name"—not too shabby.)
Have fun celebrating, everyone!
Beginner routine
Beginner routine (seated)
Advanced routine
Oct. 30, 2013 11:21AM EST
Air travel is an awesome thing with a lot of un-awesome aspects to it. Security lines? Baggage fees? Teeny-tiny seats? That one guy with the B.O. who always, somehow, ends up seated next to you? Ugh.
Usually, by the time you're listening to an inane in-flight safety announcement—really, who doesn't know how to use a seat belt??—you're just about ready to scream.
But for people flying Virgin America, that's all about to change. Because the airline just did an incredibly savvy thing: It turned its safety video into a sweet, sweet song-and-dance number. (A "safety dance"! Get it?)
You will not be able to stop watching this thing. Directed by Jon Chu, it features the likes of Madd Chadd, Cyrus Spencer, Chris Scott, Tyne Stecklein and Phillip Chbeeb, plus music and lyrics by former "American Idol" contestant Todrick Hall. To give you a sense of its genius, I'll just say that my personal favorite moment is the "robot dance" led by Mr. Chadd demonstrating how to use inflatable vests. (That is definitely not a sentence I ever thought I would type.)
And you know what? I'll admit it: I did learn something about airline safety while watching the video (30 times in a row). Snaps to Virgin.
Enjoy!
Jul. 25, 2012 10:32AM EST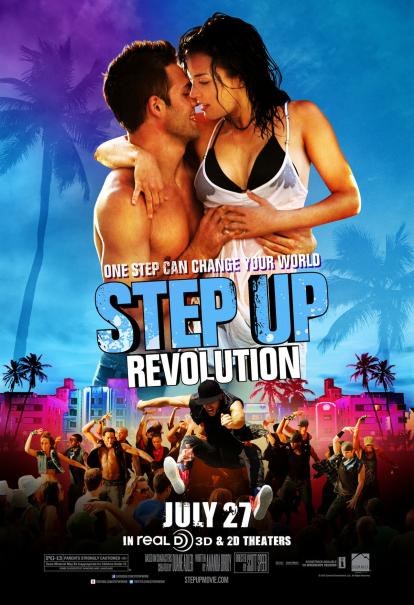 As we've discussed, the DS crew was lucky enough to get into a screening of Step Up Revolution last night (huge thank-you to Broadway Dance Center for the tickets!). And oh my gosh, you guys: It's amazing. We laughed, we screamed, we almost peed our pants multiple times. Here are just five of the many reasons you should get your bums to the theater this Friday:
1. tWitch! Mr. Boss is THE BOSS in this movie. Seriously, I think he was the highlight of the film for me. His dancing is fantastic, of course, but it's more that every time he appears onscreen you want to giggle and pinch his adorable cheeks.
2. There are more famous faces everywhere. Kathryn McCormick and Misha Gabriel and Mia Michaels (and tWitch, of course) have big old speaking parts, but you knew that already. What you might not have known is that you'll also see Phillip Chbeeb, Madd Chadd, Brandon Bryant, Chris Scott, Billy Bell and many more of the dance world's finest scattered throughout the film.
3. Peter Gallagher is typecast, in the best way possible. Are you making a dance movie? Do you need a slightly sinister, but ultimately sympathetic, authority figure to say things like, "Dance may not be the career for you"? Bring in Mr. Gallagher, aka Jonathan from Center Stage, who plays Kathryn's money-hungry, anti-dance dad in Step Up Revolution. (As usual, his eyebrows are mesmerizing.)
4. The acting is stellar. Just kidding! But let's be honest: You're not going to this movie for the acting. It doesn't matter that nobody in the cast is going to win an Oscar, because the dancing is just. that. good. Which leads us to...
5. THE DANCING. It's pretty spectacular. The "Mob" concept translates to big groups of fabulous dancers doing awesome things in unconventional locations—things which at various points involve trampolines, elaborate body paint, harnesses, hydraulic cars, glow-in-the-dark costumes, and dollar bills falling from the sky. YES.
Step Up Revolution opens this Friday, the 27th!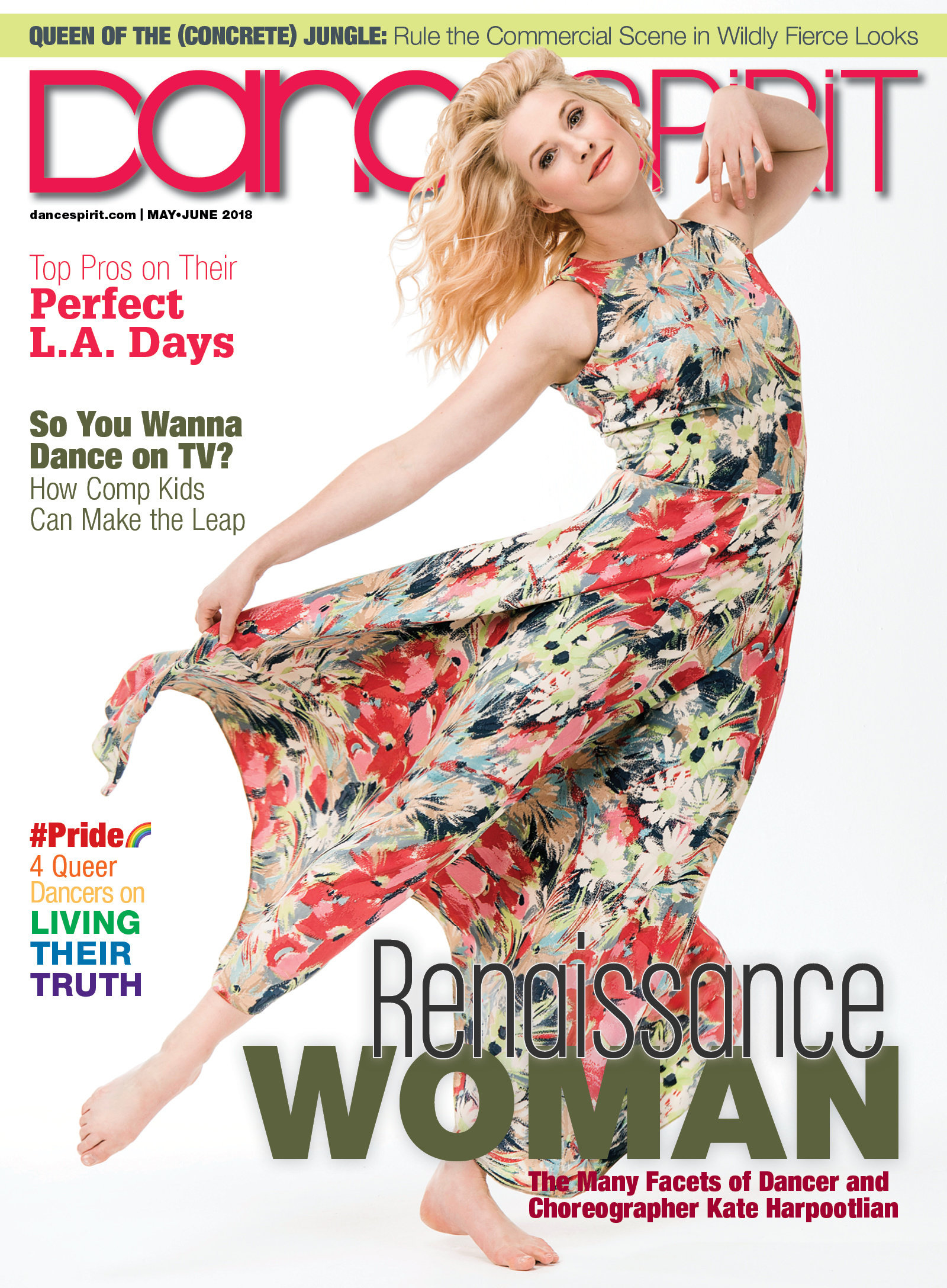 Get Dance Spirit in your inbox