Arg, it's the toughest cut yet. And, is it just me, or is everyone starting to look a little bit tired? But on a positive note, once we're down to the Top 10, every vote will really, really count—and we'll all find out that it's possible to get just a little bit more obsessed. Here are my Top 5 moments from last night's episode of "So You Think You Can Dance."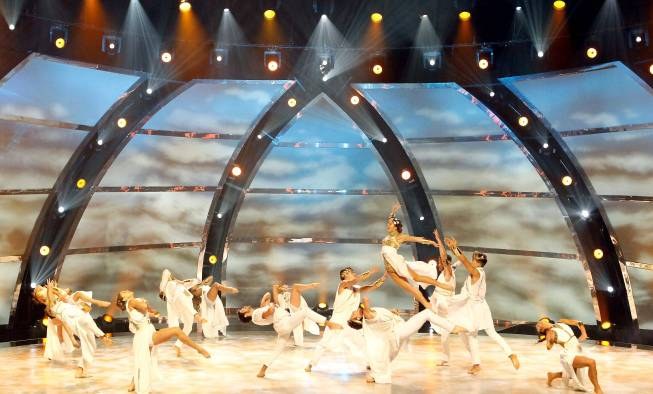 The Top 14 in Stacey Tookey's "Last Moment"
(photo by Adam Rose/FOX)
1) "Last Moment." You know we love Stacy Tookey. And I'm always a sucker for anything even remotely reminiscent of Greek goddesses. So, thank you, opening number, for putting those two great pieces together into one even better whole.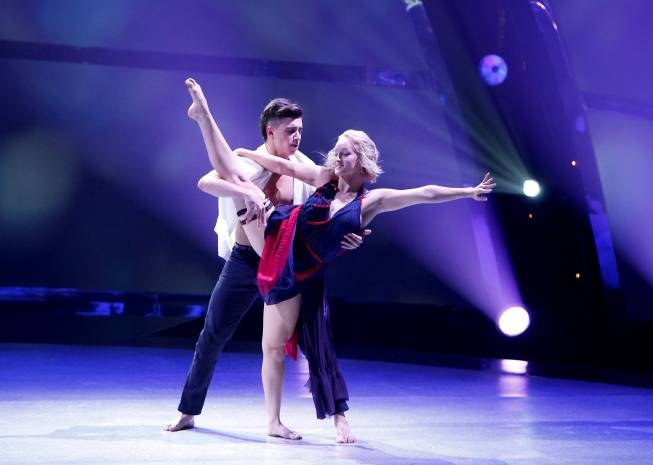 Rudy Abreu and Tanisha Belnap in "Seduces Me," choreographed by Mandy Moore
(photo by Adam Rose/FOX)
2) Mandy Moore's contemporary piece. Um, can you say commitment? Rudy and Tanisha completely abandoned themselves to Mandy's insane lifts, and the result was quite impressive. And as if that weren't enough thrill for one show, that throw (?) at the end of Travis' group piece, "Wave"? Ridiculous.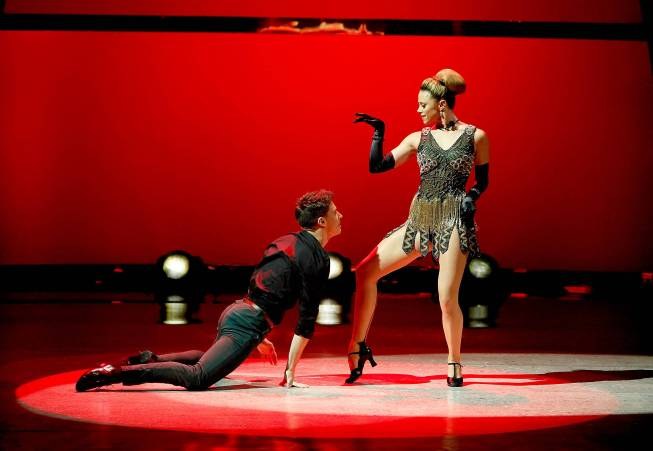 Teddy Coffey and Emily James in "From This Moment On," choreographed by Warren Carlyle
(photo by Adam Rose/FOX)
3) More Warren Carlyle Broadway! So maybe the judges didn't love Emily and Teddy in their "Kiss Me Kate" inspired Broadway number, but I sure did. And maybe I'm biased toward our former cover model, but I do think there's something to be said for a little bit of subtlety.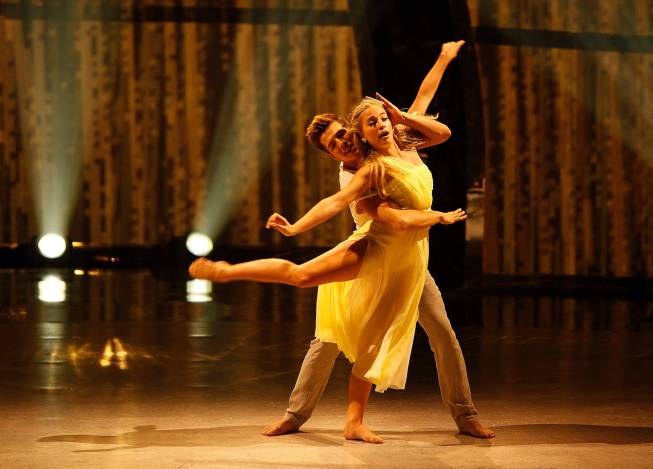 Casey Askew and Jessica Richens in "Like Real People Do," choreographed by Travis Wall
(photo by Adam Rose/FOX)
4) Travis Wall's "Like Real People Do." I called Jessica early, and I still think she has what it takes to win this thing. It was great to see her dance with Casey, and I think he's a partner who can not only keep up with her, but take her to the next level. And her solo! This girl's technique is beyond rock-solid.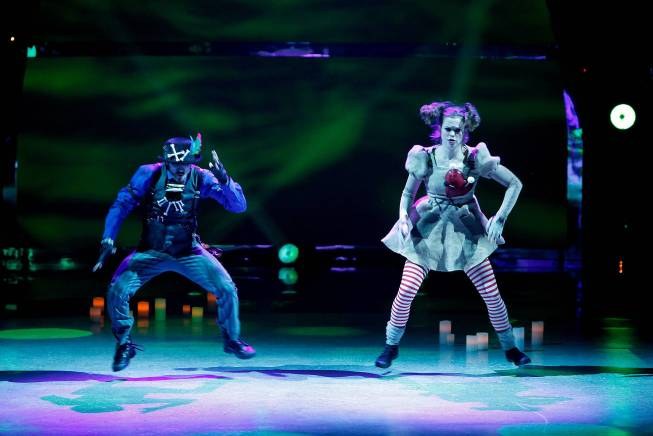 Ricky Ubeda and Valerie Rockey in "Turn Down For What," choreographed by Christopher 'Pharside' Jennings and Krystal 'Phoenix' Meraz
(photo by Adam Rose/FOX)
5) Valerie in "Turn Down for What." I'm going to be real and say that I just didn't like Pharside and Phoenix's music (hello, overplayed song!) or costume choices, but that doesn't stop me from thinking that Valerie's weirdo-split-puppeteering thing was AWESOME.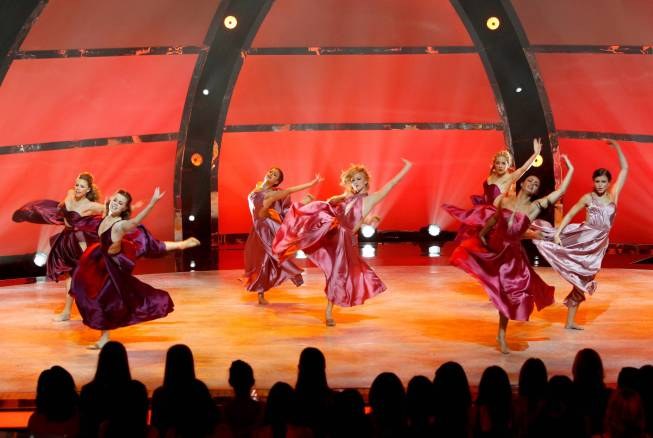 The Top 7 girls in Mandy Moore's work, "My Immortal"
(photo by Adam Rose/FOX)
It's so sad to see Serge, Carly, Emily and Teddy go home, though I'm excited to see Casey and Jessica go on to the next round. This far along in the competition, it's not really about talent—everyone is just so good, so it's hard to compare dancers. Like the judges said about the women's group number: You can't single anyone out.
But the dancers do start to stratify based on their ability to inhabit each choreographer's vision, as well as their ability to deliver week after week. What did you think of last night's episode? Did the right people get sent home? Let us know in the comments, and come back here next week for our recap of the best episode yet—when the Top 10 perform!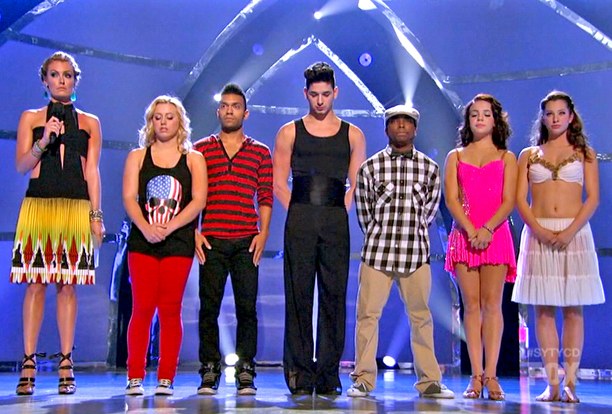 The Bottom 6: Mariah, Carlos, Alan, Jade, Brittany and Makenzie. (FOX/Adam Rose)
"First is the worst, second is the best…" Okay, so the first part of that saying might not be true here (last week's episode was pretty amazing, too), but I'm willing to bet that this second episode with the Top 20 is the best so far this season! There were so many jaw-dropping moments last night (even if we did have to say goodbye to Brittany and Carlos in the first five minutes—what?!), it's going to be tough for me to pick my own Top 5. But seeing as "SYTYCD" is a competition, it seems only right to spotlight the best—and the craziest—of the best…
1. Makenzie's in danger?! Wait, no, she's saved by the judges! This just floored me. After all the critical acclaim Makenzie had racked up in previous weeks, she'd landed squarely in my sights as the girl who was going to kill it technically—and on a regular basis, too. I mean, she practically radiates consistency, right? While it seemed that America didn't initially agree with me, the judges took pity on this utter diva, immediately bailing her out. Thank goodness for that, because the fembot/mad-scientist routine she later danced with Paul promises more mesmerizing performances from her in the future.
2. Speaking of mesmerizing, there must've been something in the water this week at "SYTYCD." Nearly every routine was smolderingly sexy, from Stacey Tookey's sensitive and intimate choreo for Nico and Alexis, to Jenna and Tucker's blazing hot cha-cha. And can we talk about how Curtis grabbed Hayley's derrière for, like, ten years during their aggressive jazz number? Pretty sure that crossed the line from sultry/awesome to just kind of awkward.
3. Guest judge Christina Applegate gets full marks for awesomeness! Mary and Nigel (but especially Mary) can sometimes get a little carried away with the gushing. Of course I agree that "SYTYCD" contestants are out-of-this-world talented. But really, there are only so many ways to say, "Oh my gosh, you're a really good dancer and I love the way you just danced!" Christina brought a breath of fresh air to the judges' panel by humbly offering constructive criticism. While also offering her fair share of compliments, she also suggested paying attention to a song's lyrics (not just to its instrumental elements) and to focus on telling the story of a Broadway piece. I couldn't agree more. Thanks for stopping by, Christina!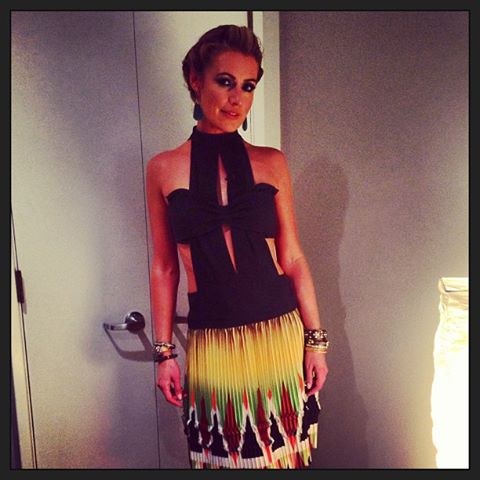 4. A rare fashion miss from Cat Deeley. Please tell me I'm not the only one who thought that quasi-bikini top just didn't work. Maybe I was just disappointed because I love to see Cat in all her super-blonde glory, and her braided chignon this week confined those gorgeous waves. Here's hoping next week's Cat-tire is as chic as usual—and incorporates some form of sparkle!
5. Mariah and Carlos' contemporary routine to Ellie Goulding's "Dead in the Water." For me, this dance represented all that is good in the world of contemporary dance. I'm talking cool lifts, genuine portrayals of emotion, poetic lyrics, and moments that simply take your breath away. In that instant when Mariah sat frozen on Carlos' shoulders, her arms raised helplessly, I'm pretty sure I had a mini contemporary catharsis. (Yes, I just invented that term. But I think you know what I mean.) Adding to the piece's high emotional level was the fact that Carlos had already been eliminated, and Mariah barely escaped elimination herself. Oh, reality TV. Why must you pluck at my heartstrings so?
Yikes! I really didn't mean to end on such a gloomy note. If you now find yourself in need of a smile, I highly recommend Fik-Shun and Amy's adorable bellhop dance. If bouncy Nappytabs hip hop on a luggage cart doesn't cheer you up, I don't know what will.
Don't forget to enter our "SYTYCD" finale sweepstakes contest—you could win a trip to the Season 10 finale!
Jul. 02, 2013 10:54AM EST
Who's excited for "So You Think You Can Dance" tonight?? The lovely and hilarious Christina Applegate is returning to guest judge, plus we'll find out which two dancers will be first to leave the competition. It promises, in other words, to be quite a show.
To get you even more pumped up, here's FOX's nifty time-lapse video from last week's episode. It shows the Top 20 preparing for that stellar Nappytabs opening number—getting made up, rehearsing, goofing around—and then speeds through the whole routine from a few different camera angles, so you can see some of the behind-the-scenes action. Take a look!
Oct. 15, 2012 01:46PM EST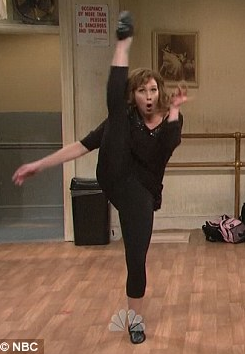 Why is Christina Applegate so amazing at everything? First, she was a total rockstar of a guest judge on "So You Think You Can Dance." Then, this weekend, she hosted "Saturday Night Live"—and proved she can (jazz) walk the walk as well as she can talk the talk in a glorious Fosse sketch.
In theory, I already knew Christina had moves. (She did headline the Broadway revival of Sweet Charity just a few years ago, after all.) But I didn't realize just how hardcore she was. Check out that to-the-nose battement!
This skit was a dance-nerd's paradise in more ways than one. I don't know why "SNL" loves crazy Fosse ladies and Tommy Tune references so much (remember Kristen Wiig doing her best Liza Minnelli last season?), but I, for one, am not complaining. And the whole premise, about kooky teachers using weird noises instead of counts? Pretty much spot-on. As Christina says: "This is Fosse, honey. We don't do 1-2-3s. We do 'ka-donks,' 'ka-doonks' and 'za-zas'!"
Check out the sketch below—then read about how to get Fosse-ified yourself.
Sep. 06, 2012 08:30AM EST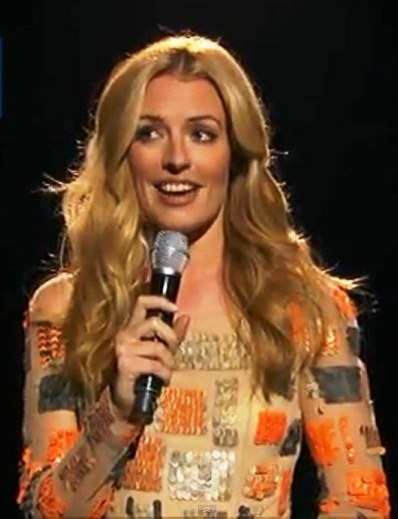 Before I get into last night's episode of "So You Think You Can Dance," can I just say that I am so excited to see Chehon, Cyrus, Eliana and Tiffany  rock it out in the finale next week? Seriously—I haven't been this psyched about a "SYTYCD" finale since Danny Tidwell melted my cold little heart in Season 3.
I'll admit that, going into yesterday's episode, I had my favorites (*cough ELIANA cough cough*). But all of the Top 6 dancers were so talented that really, this showdown could have gone in any direction. And what a showdown it was! Without further ado, here are my top five Top 6 moments:
1) Girls Partnered Boys a Lot, and It Was Awesome. Tiffany and Benji's cartwheels? Melanie lifting Cole, over and over again? This trend is great, people, and way underused. Keep it up.
2) Christina Applegate Is My Favorite Judge. Ever.  Eliana and tWitch's hip hop routine was, frankly, not that great (for the record, I don't think the "SYTYCD" format is Chris Scott's forte). Christina's response? "Eliana, would Jay-Z hire you to be next to him in the video? Maybe not. But who cares? 'Cause you could—what do they say on '[American] Idol'? You could sing the phone book? What would be the dancing equivalent of singing the phone book? You could do 'YMCA' in front of me for hours and I'd be happy." Yup. And then, after watching Witney's lyrical jazz piece with Marko: "Witney, we know you're not just a ballroom dancer. No ballroom dancer does a double attitude turn like that. You're a dancer dancer." YUP. Finally, on Cyrus and Comfort's "dubstep" routine: "That was carved out for you [Cyrus] like the David was...carved out for David. And I want to play a game where I throw pens through your ears." Me too, Christina. Me too.
3) Chehon and Kathryn's Tyce Diorio Routine Was Surprisingly Poignant. I'm not usually the biggest fan of Tyce's choreo, which tends to veer quickly and inevitably into cheesy territory. But then Chehon had a personal connection to the piece's idea of living out of a suitcase...and suddenly everyone, myself included, was crying. The work actually reminded me of Oltremare, a theatrically powerful piece about American immigrants that Mauro Bigonzetti made for New York City Ballet.
4) Everyone On "SYTYCD" Has a Beautiful Family. For real, though: Tiffany has a gorgeous sister who's basically her twin? Allison Holker brought her adorable daughter Weslie to the taping? Cole's mom is kind of a hottie? I love everything and everyone involved in this show.
5) Eliana and Cole's Mia Michaels Routine Was Amazing. In my mind, at least, the odds were against this piece. "I was inspired by rams and how they fight," explained Mia, which doesn't bode well for anything, ever. Plus, it was set to Samuel Barber's Adagio for Strings, which, generally speaking, we should probably just leave not-so-danceable masterpieces alone. But somehow Mia worked her magic, as she always does. And I cried. Again.
The So You Think You Can What? Moment of the Night: Christina Applegate and Benji Schwimmer take dance classes together? On a regular basis?! [HEAD EXPLODES]
(Runner-up SYTYCW moment: Can we re-do the intro, please? I love everyone from Season 5, but it's time to get some newer "SYTYCD" faces in there.)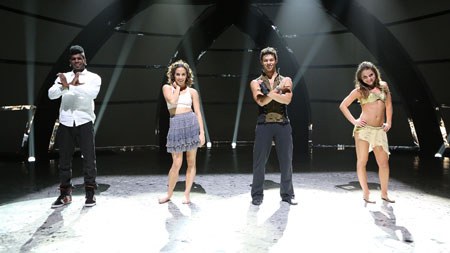 Aaanyway. In the end, though I was genuinely sad to say goodbye to Cole and (especially) Witney, I think America made the right choice. Tune in next week, same time, same place, for our recap of the big finale episode! Who do you think will win it all—and end up on the December cover of Dance Spirit?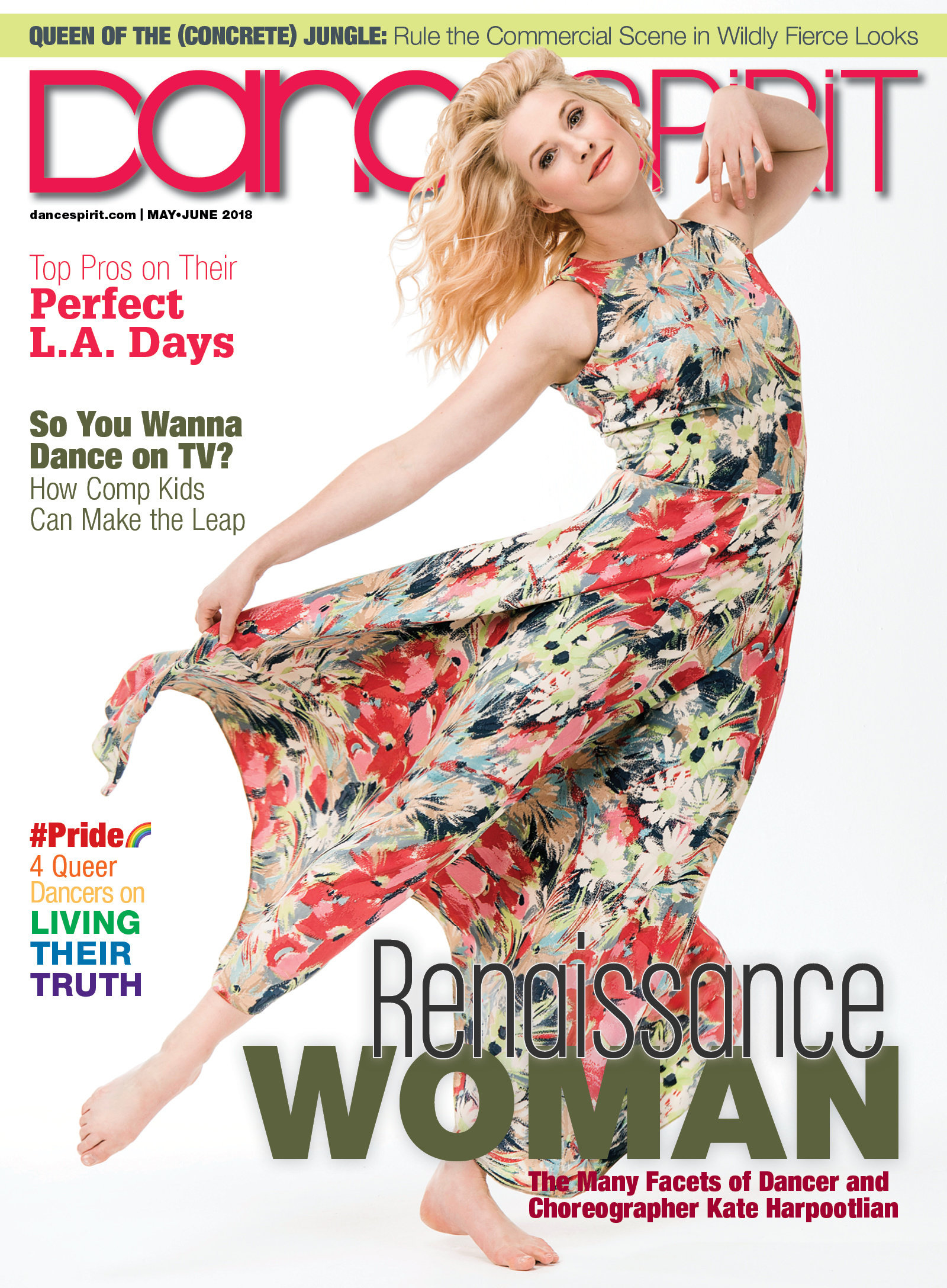 Get Dance Spirit in your inbox