Original image via @englishnationalballet on Instagram
Happy merry everything, everyone! Whether or not you celebrate Christmas, you'll LIVE for this:
The English National Ballet has constructed a pointe shoe Christmas tree. It is made out of 540 pointe shoes. And it is even more delightful than you'd imagine.
Keep reading...
Show less
Misty Copeland in the trailer for The Nutcracker and the Four Realms (via YouTube)
When we first heard about Disney's live-action film The Nutcracker and the Four Realms, we honestly weren't sure what to expect. Would it bear any resemblance to the ballet story we know alllllllll too well? Would it be light and fun, or dark and dramatic? Most importantly, would it involve dancing?
Well, the first trailer for Disney's Nutcracker has arrived, and it appears that the answers to those questions are 1) barely, 2) the latter, and 3) YES—more specifically, dancing by the one and only Misty Copeland. 🙌 🙌 🙌
Keep reading...
Show less
Via YouTube
There are holiday ads, and there are HOLIDAY ADS. Apple's festive new campaign, titled "Sway," is definitely the latter! We love everything about it, from the music (can't go wrong with a Sam Smith serenade), to the insane dance stunts, to the "punny" tagline: "Move someone this holiday." But the coolest part of the ad has to do with the dancers themselves.
Keep reading...
Show less
Courtesy MSG Entertainment
For some it's a holiday tradition, for others its an iconic spectacle, but no matter the reason, more than 1 million people will watch the Rockettes perform in the Radio City Christmas Spectacular each year. And though the production has been around since 1933, much of what goes on behind those velvety curtains and intricate sets remains a mystery. To curb our curiosity and find out what ensues when these leggy ladies aren't doling out their sky-high kicks, we got a backstage tour from the legends themselves.
From hair and makeup, to warm-up exercises, and costume quick changes (the fastest quick change in the show is a #mindblowing 75 seconds, by the way) we got a glimpse into the glamorous (and sometimes not so glamorous) world of the Rockettes.
Keep reading...
Show less
Popular
Dec. 07, 2017 03:16PM EST
Instagram via @lindseystirling
Lindsey Stirling may not have won "Dancing with the Stars," but that hasn't kept the violinist from showing off the stellar dance moves that took her all the way to the finale. In her new holiday release, "Carol of the Bells," Stirling transforms the classic carol into a feast for the eyes. And while the fabulous Addie Byers, Ashley Gonzales, Savannah Timeus, and Maleca Miller may technically be her backup dancers, their emotive artistry takes center stage.
Basically, this video is proof that you can take the star out of "Dancing with the Stars," but you can't take the dancing out of the star! Let Stirling's performance transport you to a magical winter wonderland:
Keep reading...
Show less
Via YouTube
If you're even half as obsessed with Mean Girls as we are, you're counting the days until its Broadway debut this March. And if you need a little something extra to hold you over till then, look no further: Larsen Thompson and her squad have given us an early Christmas present in the form of a Mean Girls-inspired dance routine. That's right, they've done the impossible—they've made fetch happen...in Santa suits and 6-inch heels, no less.
Keep reading...
Show less
Courtesy MSG Entertainment
Watching the Radio City Rockettes perform a dazzling array of precision dance routines in their annual Christmas Spectacular show is a tradition many New Yorkers use to welcome the winter season. But how do these leggy ladies spend their off-season and what do they do to maintain their pristine technique, strength, and stamina when they're not on stage? We caught up with the Rockettes a few months before the opening night of the Christmas Spectacular to find out exactly what they do to keep those legendary leg kicks year round.
Keep reading...
Show less
Shwetali Sapte, courtesy Boston Ballet
Yes, Dance Spirit, there really is a Santa Claus. And we've got proof—namely, the delightfully silly stunt Boston Ballet's Nutcracker Bear pulled off last week to celebrate the start of ticket sales for BB's 2017 production of the holiday ballet classic.
Keep reading...
Show less
A merry, happy, holly-jolly Christmas to everyone celebrating!
This is one of those days when—as we sit in a pile of wrapping paper debris, snuggly in our snowflake onesies, eating delicious cookies and celebrating the end (or near-end) of an insane Nutcracker season—we can't help but be intensely grateful for all the good things in our lives. It's a day for feeling feelings.
And here's a dance story that—partly because it involves people who aren't able to enjoy the comforts of home on Christmas—might make you shed a holiday tear or two.
Today, Lincoln Center is hosting a broadcast of New York City Ballet's production of George Balanchine's The Nutcracker. It's not the first time this has happened; the Nut performance has already aired twice in U.S. theaters over the past few weeks as part of the Lincoln Center at the Movies series.
But today's broadcast is different. It's being beamed to about 400,000 members of the U.S. Armed Forces and their families, who are serving abroad in 175 countries and U.S. territories.
So, nearly half a million service men and women—people spending Christmas in Afghanistan and Iraq and even on naval ships in the middle of the ocean—will have their holidays brightened by one of the world's greatest ballets, danced by some of the world's greatest artists.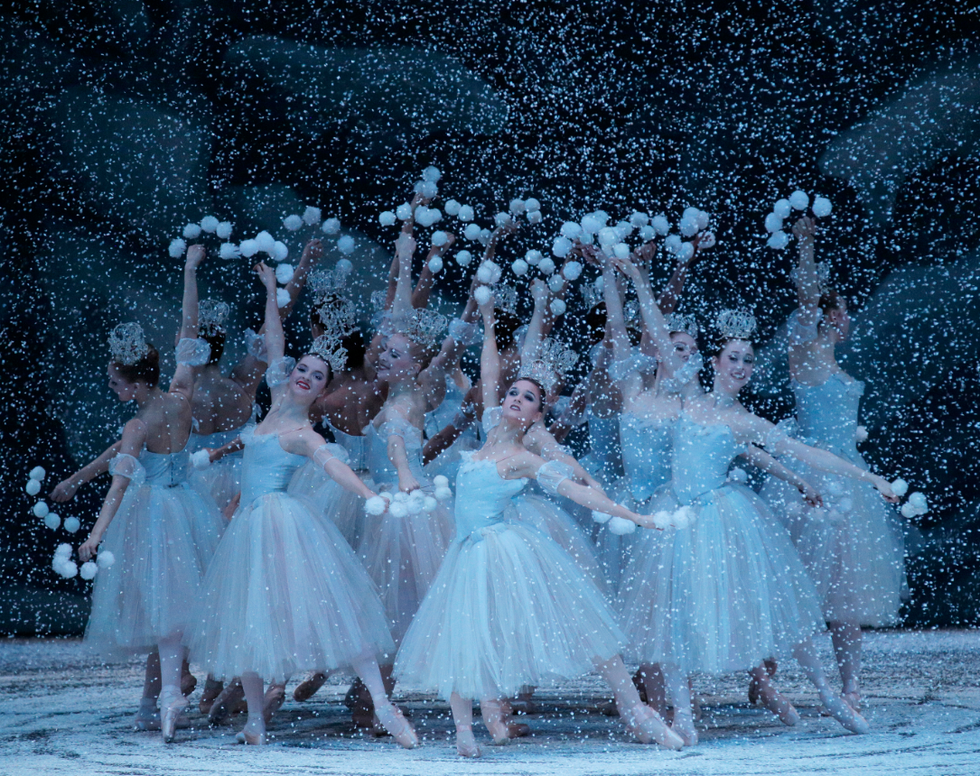 Snow has never made us feel so warm inside. (NYCB in Nutcracker; photo by Paul Kolnik)
Goodness, I must have a Christmas cookie crumb stuck in my eye. You too? So weird.
Happy holidays, everyone.
Get Dance Spirit in your inbox
So if you're a procrastinator and have yet figure out what you want for Christmas, then turn your attention to Andrew Barret Cox's most recent Instagram video:
Yup, that pretty much sums it up. This video, those dance moves, on repeat until the morning. We'll be dancing the night away like this, and we hope you'll all be doing the same. Merry Christmas Eve, everyone!
Love, DS
Dear Santa,
Hi! How are you? Busy, I bet! Har har. (Ho ho?)
Look, I know I'm late—it's Christmas Eve, and I'm sure you're dealing with all kinds of #reindeerprobz—but I thought I'd reach out to you anyway. Because I'm not just some girl who'll be happy with a Kylie Lip Kit and Adele tour tickets. (Actually, if you can get me either of those things, you are an actual MAGICIAN and I will worship you forever. But I digress.)
No, Santa: I'm a dancer. And that means I have special gift needs. Needs that I want to make sure don't go undocumented.
And so here, in no particular order, are the things I really, actually, genuinely want for Christmas. Take notes.
1) Sophia Lucia's pirouettes. I'd settle for half her average, actually.
2) Gisele Bethea's feet. Gimme.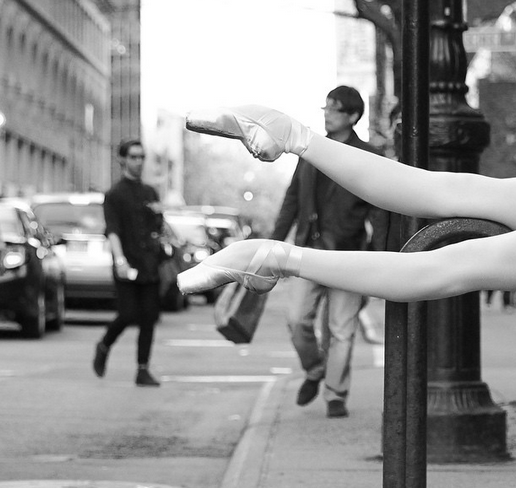 Via @giselebethea
3) The Fraternal Twins' swagger in general, and facial expressions in particular.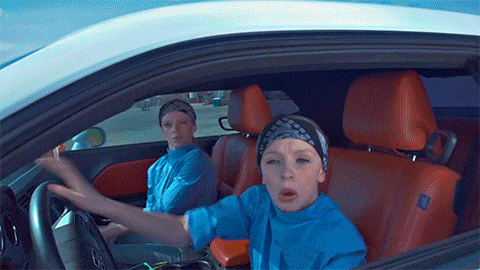 4) Yanis Marshall's everything. Just...everything.
5) Speaking of everything: all the things from Maria Kochetkova's t-shirt line.
5) To be adopted into tWitch and Allison's too-cute-for-words family. (I can make myself useful! I'm great with babies!)
6) Tickets to Hamilton sometime before next summer. Again, you'll need to work some magic here, but I believe, Santa. I BELIEVE.
7) My very own pointe shoe Christmas tree. (And, on a related note, several air fresheners.)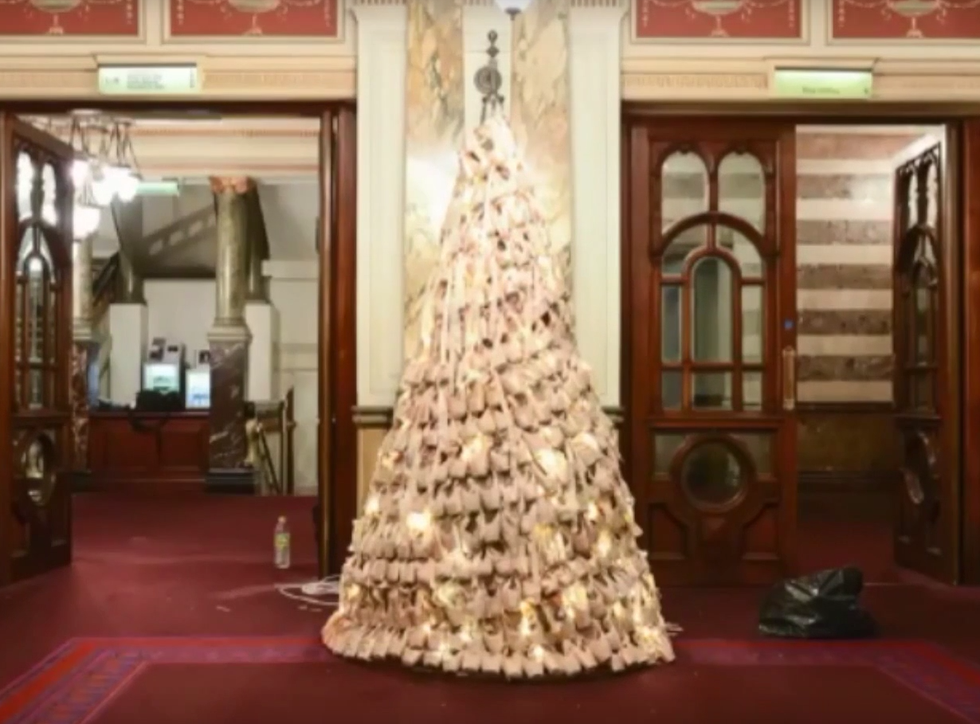 WANT. (screenshot via YouTube)
8) Another season of "So You Think You Can Dance." Ideally with Mia and, since he seems to be back at it, WADE.
9) For the following people to make cameos in Center Stage: Dance Camp:
Zoe Saldana

Ilya Kulik

Susan May Pratt

The girl who said "Did you see how on I was?"

That old salsa club lady

Warren Carlyle—specifically, Warren Carlyle doing this

Channing Tatum (a little series crossover never hurt nobody)

AMANDA SCHULL, OBVIOUSLY. WHERE IS AMANDA SCHULL???
10) To live inside the Bieber "Sorry" video. Forever.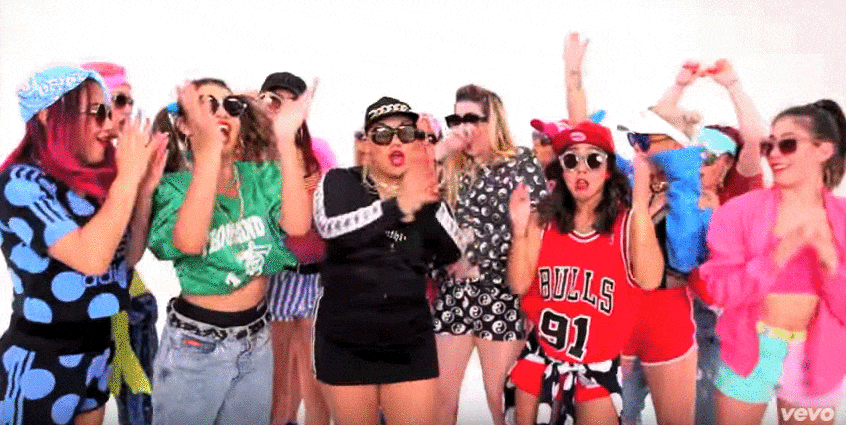 Got it? K thanks Santa! Safe sleighing! Tell Dancer and Prancer I say hi!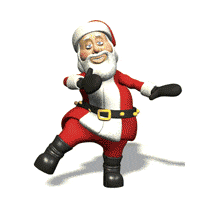 Get it, Santa. (via netanimations.net)
We wish you a merry Christmas, a happy belated-Hanukkah and a joyous early-Kwanzaa! If you're celebrating today, we hope you've had a magical morning—filled with hot cocoa, holiday carols, bear hugs and Santa surprises.
While old Kris Kringle may be through making his rounds for this year, we've still got a few holiday hopes and dreams up our sleeves. So in the (dance) spirit of the season, I asked my fellow editors to share their Chrismakwanzika wishes, and this is what they all had to say:
I wish...
"...for more and more people to discover the genius of ballet choreographers like Alexei Ratmansky and Justin Peck...and for more and more women choreographers to experience that same level of success." —Margaret Fuhrer, editor in chief
"...to be a guest judge on 'So You Think You Can Dance' Season 12...and for this movie to actually, finally get made (please, please, please??) and somehow incorporate Ryan Gosling, too." —Jenny Dalzell, managing editor
"...that more companies make it part of their mission to bring regular dance training to under-served communities." —Nicole Loeffler-Gladstone, assistant editor
"...for a chance to see The Nutcracker with my best friend!" —Meggie Hermanson, fashion editor
As for me, I wish that by this time next year, I'll be able to post a video of the DS editors performing an ugly-Christmas-sweater dance routine. Fingers crossed it rivals the smooth moves of these dads from the Sainsbury's Christmas jumper commerical. (Fun fact: Apparently "jumper" is a British word for sweater.)
Start learning your choreo, guys. I call the whacking solo that starts at 0:55!
...gooey cinnamon buns for breakfast, a giant mug of hot chocolate with whipped cream on top and a roaring fire in the fireplace.
OK, and a few other things. We'll get to those in a sec.
First: Merry Christmas, everyone, from all of the Dance Spirit editors!
It's arguably the most festive day of the year, and if you're a Christmas celebrator, we hope you're in the midst of a very merry day. (Pajamas mandatory all day long. Deal? Deal.)
But you don't have to celebrate Christmas in order to make a lengthy wish list, right? Here's what the Dance Spirit editors are dying for this year...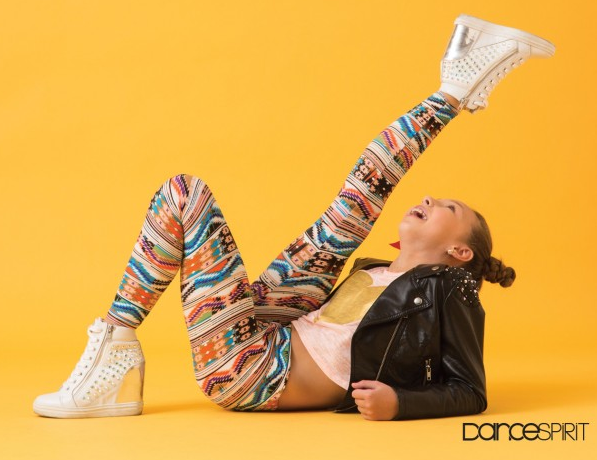 Sophia's shoes are from Steve Madden. Get 'em while you still can! (Photo by Erin Baiano)
"Sparkly wedge high-tops, like the ones Sophia Lucia is wearing on our January cover. As a fellow shorty, I understand her need for a little extra height—even when it's a sneaker day." —Rachel Zar, managing editor
"I want another live musical on TV! How about Singin' in the Rain? Ryan Steele in the Gene Kelly role? Cloud Campos in Donald O'Connor's part? Somebody get Rob Ashford on this, stat!" —Margaret Fuhrer, associate editor
"I want to go to a taping of 'So You Think You Can Dance' during Season 11 so I can scream 'judges' in a Cat Deeley-esque British accent. That, and a pair of harem pants so I can feel like less of a bunhead in hip-hop class." —Maggie McNamara, assistant editor
"In a perfect world, stores would play Nutcracker music all year long—and the rest of the world would love it as much as I would." —Meggie Hermanson, fashion editor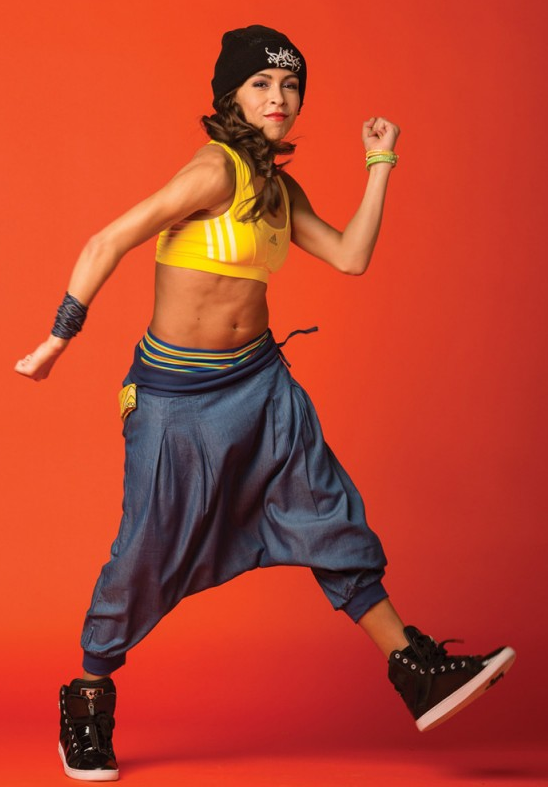 Simi! Let's be twinsies. (Photo by Erin Baiano)
As always, I've got quite the list of my own going: I want Lin-Manuel Miranda to bring something—anything—to Broadway ASAP. I want to go shopping with Simrin Player. I want to put an end to "Dance Moms" and in its place create a TV show about all the great things that happen in the competitive dance world. I want Juliet Doherty to take home the top prize at the Prix de Lausanne. I want Nick Lazzarini to be the next President of the United States. I want newlyweds tWitch and Allison Holker to have, like, millions of little dancer babies. And I want to grow just one more inch so I can be tall enough to audition for the Radio City Rockettes.
Get busy, Santa—you've got some serious work to do for us this year.
Happy holidays!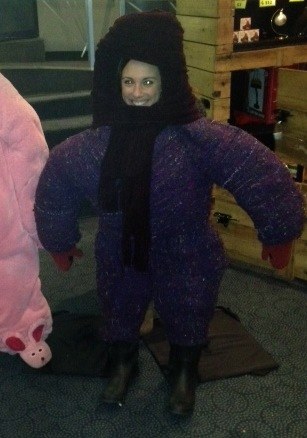 No show is complete without activities! Here I am in the MSG lobby, sticking my head in the hole of this snowsuit. "I can't put my arms down!"
Last Thursday, A Christmas Story opened at Madison Square Garden in NYC for a very limited run (through December 29). I was lucky enough to snag a seat. It. Was. Awesome. Here are 5 reasons you should buy your ticket now:
1. The story. Nothing says, "The holidays are almost here!" quite like A Christmas Story. You've seen the movie—which runs on repeat on TBS every Christmas Eve—and all your favorite parts are in the show! Little brother stuffed into a snow suit? Check. Embarrassing bunny costume as a Christmas present? Check. Tongue stuck to a flag pole? Check!
2. The songs. OK, so there were no songs in the movie version, but trust me when I say the musical numbers give this show an extra-special something. I still can't get "Ralphie to the Rescue" out of my head.  And the classic line, "You'll Shoot Your Eye Out," is somehow so much funnier when it's sung by a school teacher in full flapper garb.
3. The dancing. Holy smokes, this show gave choreographer Warren Carlyle a chance to get really creative. After all, many of the songs take place in protagonist Ralphie's wacky imagination. And if you love the classic leg lamp from the movie, you'll go crazy over the leg-lamp kickline in "A Major Award."
4. The kids. It takes a ton of talent to make it to the Broadway stage. Which is why it's SO impressive that all that talent could come from someone who hasn't even made it through middle school. This cast is chock full of pint-sized prodigies! Singing, acting, dancing... these kids can do it all. You'll love Jake Lucas as Ralphie, and little brother Randy, played by Noah Baird, is honestly the cutest thing you ever did see.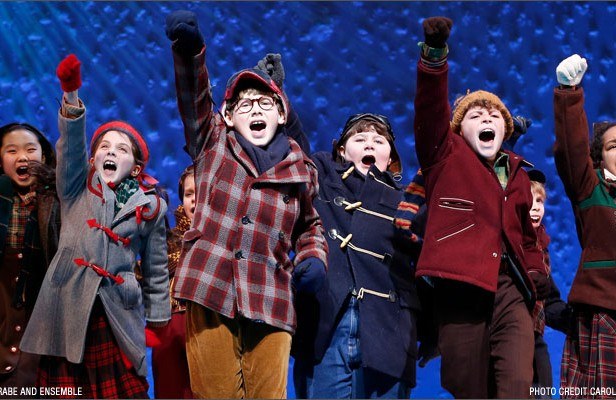 Which cast has the cutest kids on Broadway? The A Christmas Story crew certainly gives the Matilda and Annie kids a run for their money. (photo by Carol Rosegg)
5. Luke Spring. It's no secret that we're OBSESSED with this comp kid. And 11-year-old Luke never fails to disappoint. His starring role in the "You'll Shoot Your Eye Out" tap number got the biggest applause of the night! We can't wait to see what this tiny tapper does next.
Watch this performance featuring all the cute kiddos and little Luke (at 2:55) at the 2013 Tony Awards:
Still don't have your tickets? Allow me to introduce Pete and Lily, the furriest members of the cast: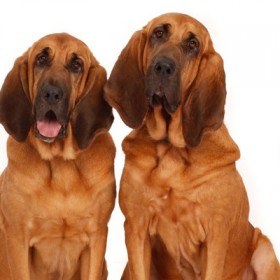 Hi! We're the Bumpus dogs! (photo by Carol Rosegg)
Consider yourself convinced.