So many noms for Mean Girls, you go Mean Girls! (From left: Erika Henningsen Ashley Park, Taylor Louderman, Kate Rockwell, and Barrett Wilbert Weed in Mean Girls. Photo by Joan Marcus, courtesy Boneau Bryan-Brown.)
Happy Tony nom day, everybody! This morning, we heard the full list of 2018 Tony Award nominees, straight from the very beautiful lips of announcers Leslie Odom, Jr. and Katharine McPhee. We're especially happy that two of our faves—Mean Girls and SpongeBob SquarePants—are leading the pack with 12 nods each. And we're even more excited about the jam-packed race for Best Choreographer (Justin Peck! Casey Nicholaw! Christopher Gattelli, twice!).
Keep reading...
Show less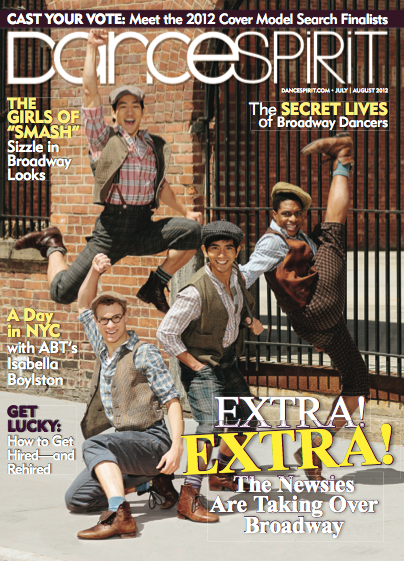 We love these guys so much we just HAD to put them on our July/August 2012 cover. (Photo by Jacob Pritchard)
Have we mentioned lately that we're obsessed with the Broadway show Newsies? OK, maybe we have once or twice (or maybe it was three times). But can you blame us? I mean, Disney sure knows how to put on a completely dance-tastic show. If you've seen it, you can probably relate to that overwhelming desire to get up out of your seat and seize the day right alongside these über-talented dancers.
Disney has capitalized on that urge as a part of its new "Get Up and Go" campaign. The idea behind it is pretty self-explanatory: It's about using dance—specifically Broadway dance—to get kids moving. Since December, Newsies cast members have been visiting participating NYC schools to talk to students about healthy living and to teach them some of the choreography from the show. (Jealous!)
This week, Disney released a free online tutorial with Newsies choreographer Christopher Gattelli teaching a section of "Seize the Day." Now you don't have to be in one of those NYC schools to get in on the fun! Oh, and they got none other than Michelle Obama to introduce the tutorial. Super casual. If you think about it, it makes sense—"Get Up and Go" has a similar mission to the First Lady's "Let's Move" campaign.
The cast will also include live tutorials in select cities as a part of their upcoming national tour. And this is just the beginning: Disney plans to continue "Get Up and Go" with Aladdin and The Lion King in 2015.
Look out for Gattelli and select cast members on "Good Morning America" this Tuesday, July 22. They'll be teaching the choreo to a live audience in NYC's Times Square. And in the meantime, check out the tutorial below, and get dancin'!
Jun. 11, 2012 12:00PM EST
Who caught the Tony Awards yesterday? It was an interesting night at the Beacon Theater, with lots of surprises when it came to the winners, for sure. But I'd like to begin this recap by establishing that Neil Patrick Harris is a national treasure. If he could host everything, ever—maybe with an occasional cameo by Hugh Jackman—the world would be a happier place.
Let's run down the highlights of the show, shall we? To simplify this a bit, I've decided to rate Tony 2012's top moments by jazz hands, from one (meh) to five (YES!).
1. The Book of Mormon introduction. OK, the idea of starting out with the BofM cast members ringing famous Broadway stars' doorbells was cute. But this show had its big moment last year, and the number itself lacked...something. (Maybe the hundreds of obscenities that pepper the rest of the production's songs?)
Rating: Two jazz hands
2. Neil Patrick Harris's opener. "What if life were more like theater?" NPH asks, and thus begins a cute musical number that pays tribute to beloved theater traditions while also poking gentle fun at them. It would basically have been impossible to top last year's insane opening number, but the "preventermission" and the Annie cameo brought it pretty close.
Rating: Four jazz hands
3. Movie-musical hybrids. "The Towering Inferno No Nannette. The Exorcister Act. Field of Dreamgirls. My Left Footloose. (Think of the dance numbers!)" Cute.
Rating: Two jazz hands
4. The Newsies performance. Yes, yes, yes!! Love all these boys. Way to wake up the audience with Christopher Gattelli's high-octane moves. (And Newsies fans: Stay tuned for July/August issue!)
Rating: Four jazz hands
5. Christopher Gattelli winning for Best Choreography—during a commercial break. So well-deserved. But really? Hiding the presentation away during the commercials? Choreographers are people too, Tonys!
Rating: Five jazz hands (the award); zero jazz hands (the timing)
6. NPH's Spiderman stunt. "Any concerns I had about this Spiderman rig failing have been overshadowed by the searing pain in my junk." [Cut to Andrew Garfield.]
Rating: Three jazz hands
7. The Lion King guy sitting in the audience in full costume. I'm sorry, what??
Rating: Zero jazz hands
8. The Porgy and Bess performance. Oh, man, I could listen to Audra McDonald sing "Summertime" all day. Which is why I was a little bummed that they performed a confusing medley of songs instead of just letting her do her thing. Though it's also a treat to see Norm Lewis and David Alan Grier up there, so...
Rating: Three jazz hands
(Side note: McDonald's engaged to Will Swenson?? Where have I been??)
9. The Tony-Award winning composer medley. NPH sings a (pretty awesome) song mash-up commemorating all of the composers who've won for best score...and the whole thing is an introduction for Sheryl Crow? I'm a little confused (though I did laugh out loud at "Hello 12, hello 13, hello—where is love?").
Rating: Two jazz hands
10. The Once performance. "Gold" is a beautiful song, but I was hoping they'd do "Falling Slowly," which is just gorgeous. Also, it would've been nice to hear Cristin Milioti sing a bit.
Rating: Three jazz hands
11. Hugh Jackman's surprise face. Jackman knew he was getting a special Tony Award last night—but he didn't know that his wife, Deborra-Lee Furness, would be presenting it. That is real surprise right there, and it is adorable.
Rating: Three jazz hands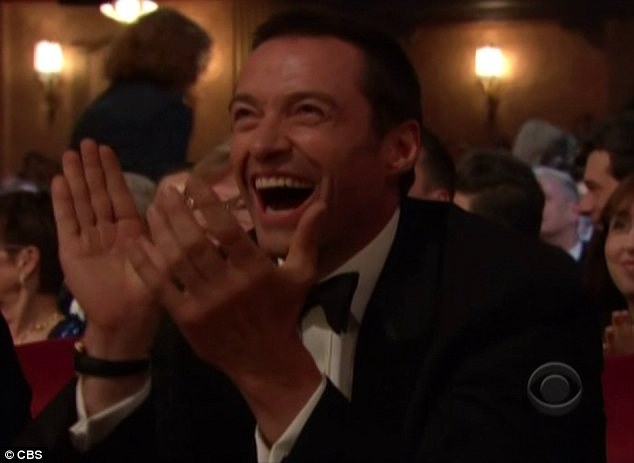 12. "I just got terrible news: The cast of Hairspray has been taken over by pirates...of Penzance." Nerdy theater jokes! Yay!
Rating: Two jazz hands
13. The Leap of Faith performance. I'm sad this show closed before I got a chance to see it, because the cast's performance was unexpectedly amazing. That is some serious choreography!
Rating: Four jazz hands
14. The closing recap. The best. And the ending was perfect. Just watch and appreciate all that is Neil Patrick Harris.
Rating: Five very enthusiastic jazz hands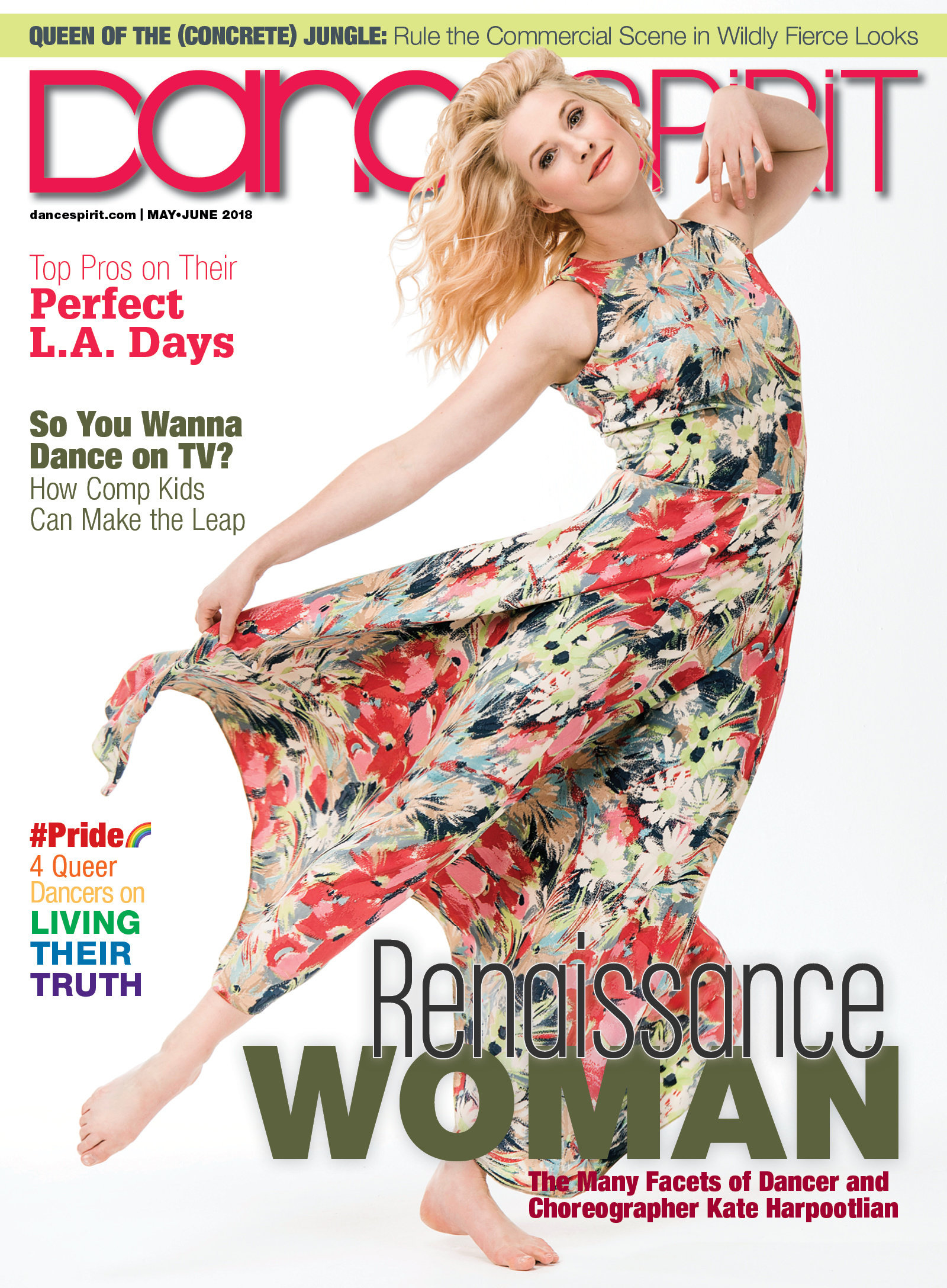 Get Dance Spirit in your inbox