Here at DS, we live for the Step Up movies. Whether Channing Tatum is romancing Jenna Dewan with his slick dance moves, or Alyson Stoner and Adam Sevani are sweetly tap dancing through the NYC streets, every Step Up movie is just the best.
OK, so maybe the plot lines leave a bit to be desired, but who cares? The dancing is so good.
This summer, the mega-hit dance franchise gets back to the big screen with Step Up: All In, and we couldn't be more psyched. This time around, all of our past favorites are back: Alyson Stoner (as Camille), Ryan Guzman (as Sean), Adam Sevani (as Moose), Misha Gabriel (as Eddy), plus the Lombard Twins, tWitch, Christopher Scott (who also choreographed) and so many more.
The official trailer for the film was released last week and we can't. stop. watching.
Here ya go:
Step Up: All In hits theaters this summer. We'll race you to the theater!
It seems like only yesterday we were raving about the super-adorable Disney Channel original Teen Beach Movie. In reality, though, it's been close to two whole years since the made-for-TV musical had our hearts singing with its summery dance-filled numbers. Choreographed by Christopher Scott (of "So You Think You Can Dance" and "LXD" fame), it featured "SYT" alums Kent Boyd and Mollee Gray and our gorgeous L.A. tour guide, Jessica Lee Keller.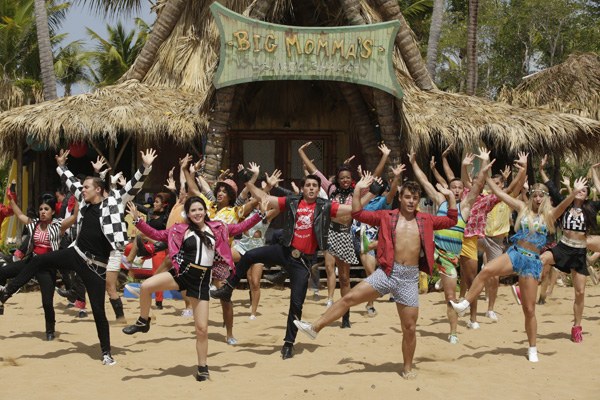 Teen Beach 2! (Disney Channel/Francisco Roman)
It's about time for another, right? Teen Beach 2 hits the small screen this Friday, and Scott is back at the dance-helm of this surf-inspired spectacular. Dance Spirit spoke with him about the sequel.
Dance Spirit: Do you have a favorite part of Teen Beach 2?
Christopher Scott: "Gotta Be Me." It's really a dancer's number. It takes place in a gymnasium, and I was able to showcase everyone's individual talents. I found out what everyone was capable of when making the first film, so this time around I was able to push the dancers to their ultimate limits.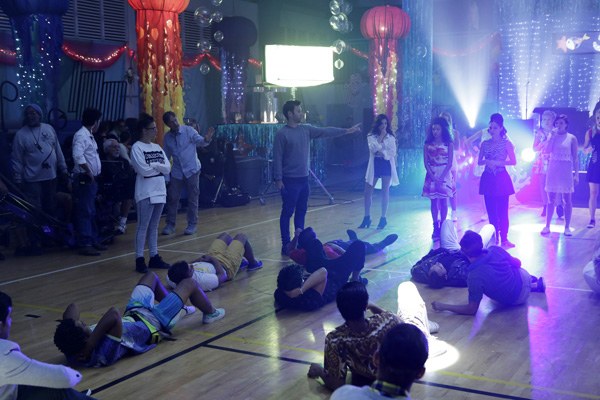 Christopher Scott (center, pointing) choreographing "Gotta Be Me" for Teen Beach 2 (Disney Channel/Francisco Roman)
DS: Creating musical numbers for Disney seems pretty different from your other projects, like "The LXD."
CS: It is, but the theater world is where I fell in love with dance. I'm actually a big musical theater nerd. Teen Beach has a lot of references to West Side Story, and that's the first musical I performed in.
DS: Is your process different when you're creating work for "SYT" compared to Teen Beach?
CS: No matter what I'm doing, there's a story involved and a reason for the dance. When I'm working with the dancers on "SYT," I don't really take into account of what the dancers are or aren't able to do—it's a contest and they have to live up to expectations. But when I'm choreographing for something like Teen Beach, I'll tailor the movement to the dancers I'm working with. There's more collaboration.
DS: Do you have any advice for Dance Spirit readers who are hoping to work in Hollywood?
CS: Take advantage of all the new technology and platforms available today. You can easily shoot a movie on your iPhone in your living room—just go out and start making work. There's no reason not to get started now.
Check out the trailer for Teen Beach 2 below, then set your DVRs for Friday, June 26 to catch the premiere!
"So You Think You Can Dance" isn't wasting any time this season. Not only did the 20 contestants get only eight seconds each to introduce themselves to America, but there were roughly zero seconds of unnecessary banter between segments during Season 11's first live episode. (Serious dancers, rejoice!) So to take a page from everyone's favorite show, let's just get right down to last night's top five highlights: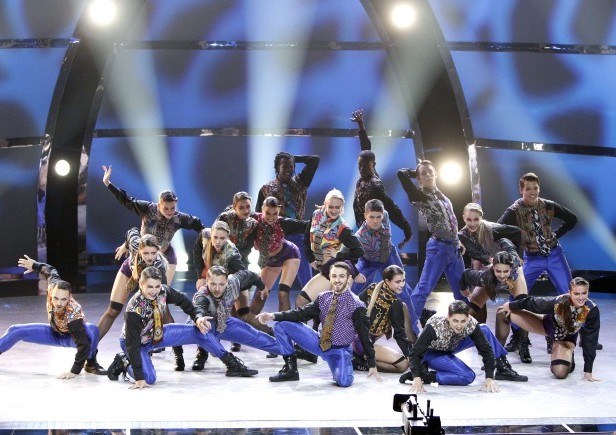 Sonya Tayeh's Stalker Ha
(photo Adam Rose/FOX)
1. The caliber of choreography. Sonya Tayeh kicked off the night with a group routine that felt like Madonna's "Vogue" meets Jim Carey's The Mask. Stalker Ha was not my fave from Tayeh, but the show kept moving right along, with pieces from choreographers including Travis Wall, Stacey Tookey, Christopher Scott, Louis Van Amstel and tapper Anthony Morigerato. Let's just say it was a BIG name kind of night.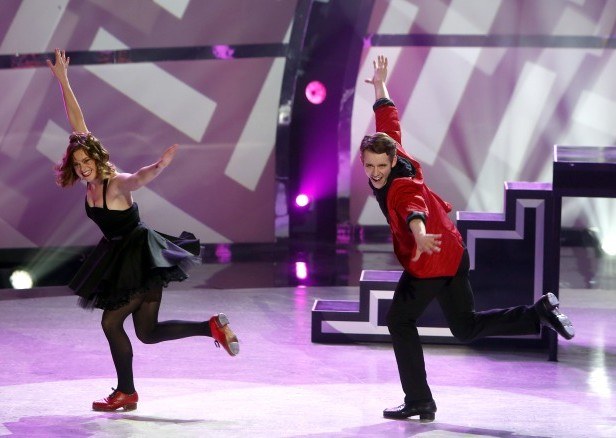 Valerie and Zack in Sing
(photo Adam Rose/FOX)
2. The tappers. Zack and Valerie channeled stair-dance legend Bill "Bojangles" Robinson in the best tap routine the show has seen yet. Choreographed by Anthony Morigerato, Sing featured rapid-fire footwork, amazing showmanship and nearly perfect unison. These two dancers certainly have a ton of charisma, and I hope they get a chance to bring it in other styles, too.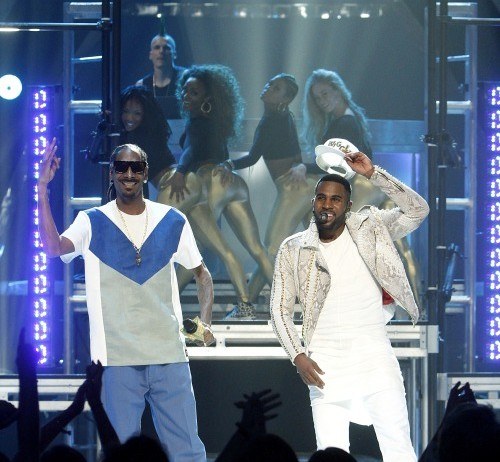 Jason DeRulo (right) performs "Wiggle" with Snoop Dogg
(photo Adam Rose/FOX)
3. " What you gonna do with that big fat butt?" Dear guest judge (and musical performer) Jason Derulo: You may love dance, and you may know dance, but those lyrics...oy. In other news, 42-years-young Snoop Dogg made an appearance during Derulo's "Wiggle," and that did not disappoint.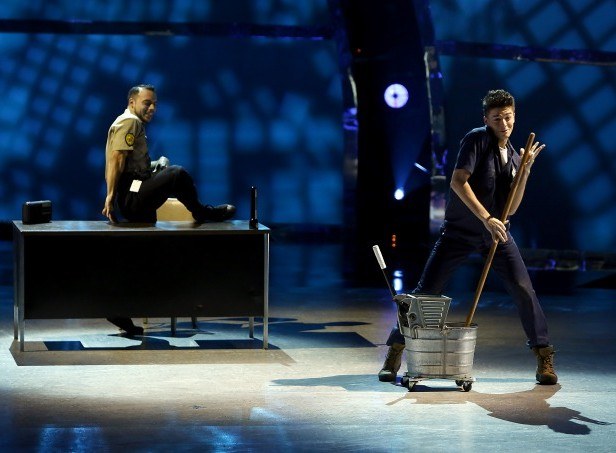 Emilio and Teddy in Nightshift
(photo Adam Rose/FOX)
4. The mop-and-bucket hip-hop routine. It's evident that choreographer Christopher Scott has a knack for storytelling (see: every LXD episode he crafted), and his routine for Emilio and Teddy was no exception. I also loved that Scott's Nightshift evoked Gene Kelly's dance break in the 1943 film Thousands Cheer. Haven't seen it? Take a look below. It's supremely amazing, and I can so see Teddy in a remake:
5. Meredith Monk's "SYTYCD" debut. Move over, 1960s Judson Dance Theater: There's a new postmodern contemporary choreographer around, and her name is Sonya Tayeh. Nigel Lythgoe said that Tayeh's piece, set to Meredith Monk's "Vow," took the show to "another level entirely." Jessica and Ricky brought the audience to complete silence. Then? An eruption of cheers and a giant standing ovation. It was pretty awesome.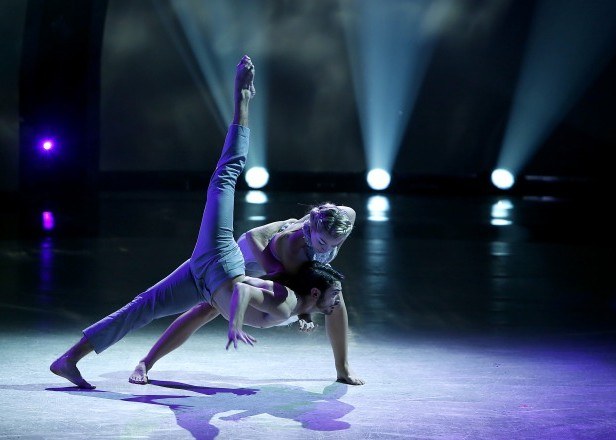 Jessica and Ricky in Tayeh's Vow
(photo Adam Rose/FOX)
I, for one, can't wait to see more from these talented dancers. Be sure to cast your vote online for your favorites, and come back here next week to find out which dancers didn't make the cut. And if you want to enter the sweetest sweepstakes EVER (the prize is a trip to watch the "SYTYCD" finale episode live, in person!!), click here.
We've said it once, we've said it twice, we've said it countless times: Derek Hough is beyond amazing. And last night's episode of "Dancing with the Stars" really let his star-power shine.
Hough got together with "So You Think You Can Dance" choreographer Christopher Scott to create the "Macy's Stars of Dance" performance—a tribute to classic Hollywood. The piece featured Teen Beach Movie's Jessica Lee Keller (Christopher Scott was also the choreographer behind that Disney original) as a glamorous Hollywood starlet. Hough played the part of the starstruck male lead, who fantasized about dancing with the woman of his dreams. The story unfolds with split screens, set changes, props, super fast footwork, break dancing...
True to Hollywood form, it was sheer entertainment.
Kenny Ortega, who served as guest judge, told Hough, "You redefine choreography of this generation." That's pretty high praise coming from the renowned choreographer of High School Musical and This Is It, and we'd have to agree with him!
In the end, Olympian Charlie White was sent home. We're pretty bummed—we were crossing our fingers for an epic face off between White and his ice dancing partner Meryl Davis for that coveted mirror ball trophy. Ah well...at least now White can be #TeamMeryl during next week's finals!
In case you missed it, here's last night's Hough-tastic Hollywood tribute. Enjoy!
Hip Hop
Mar. 01, 2014 05:00PM EST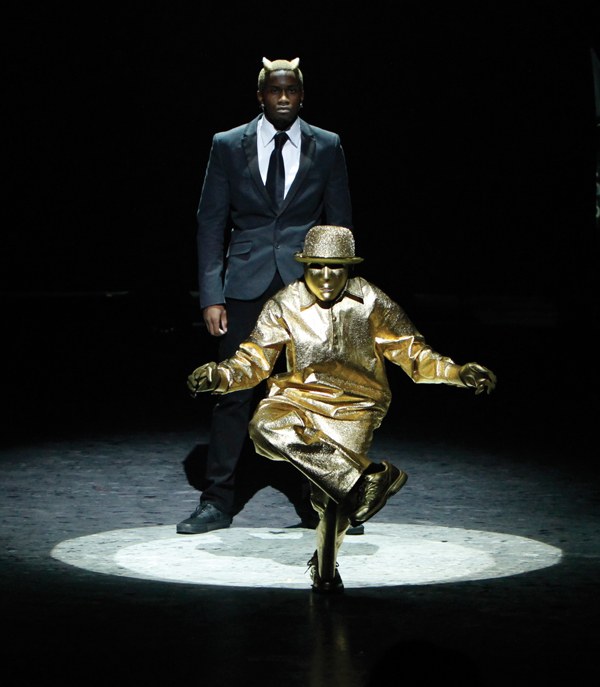 Bryan "Chibi" Gaynor (in gold) performing with Dragon House Crew on "So You Think You Can Dance" (photo by Adam Rose/FOX)
When Cyrus "Glitch" Spencer of Dragon House Crew auditioned for Season 9 of "So You Think You Can Dance," fans were blown away by his "new" style: animation. The fascination continued in Season 10, when judges selected not one but two animators—Jade "Soul" Zuberi and Dorian "BluPrint" Hector—for the Top 20. And while we're still waiting for an animator to be crowned America's Favorite Dancer, one thing's for sure: America's caught the animation bug.
But what exactly is animation? Dance Spirit went to the pros to find out.
Where did animation come from?
This style isn't new. Some sources say it originated in the late 1980s. Old-school animators, like Boppin Andre, drew inspiration from a form of stop-motion animation called dynamation, which brings inanimate models to life within a live-action film—think the early versions of King Kong and Godzilla. Most animators trace their history back to the 1958 dynamation movie The 7th Voyage of Sinbad (which is why Boppin Andre used to call the style "Sinbad dance"). Claymation films are also a source of inspiration for animation dance.
The resulting movement is almost human, but not quite. "When you're animating, you're pretending to be an inanimate model that's trying to move like a human," says Bryan "Chibi" Gaynor of Dragon House and RemoteKontrol crews.
"Animation is about bending reality," adds Soul. "You want to make the audience question whether what they're seeing is real."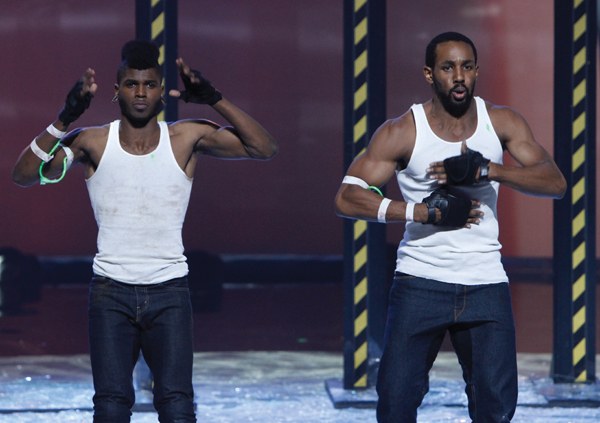 Cyrus "Glitch" Spencer (left) and Stephen "tWitch" Boss performing Like a Criminal on "SYTYCD" Season 9 (photo by Adam Rose/FOX)
How Do You Become an Animator?
Anyone can pretend to be a robot on the dance floor, but becoming a master animator takes a lot of time and research. "As with any style, start by doing your homework," says Soul. When Soul first began animating, he would spend hours on YouTube watching animation-dance videos to pin down the basics.
Glitch stresses that you need to master the fundamentals of popping—hard hits, stopping, isolations, etc.—before you can animate. "Then you can begin to experiment and find out what feels good on your body," he says. "For example, you can add movement—waving, tutting, gliding—to the hard hits of popping to make it look less mechanical."
While it's essential to learn the fundamentals, it's equally important to develop your unique way of moving. "It's easy to mimic someone else's style," Chibi say. "It takes time to find you."
Why Now?
If animation has been around since the late '80s, why the sudden surge in popularity? Soul explains that animation, like any form of street dance, requires exposure to grow. "Now that we have YouTube and camera phones, we can record our stuff and put it out there—and it spreads like wildfire," he says.
When Chibi auditioned for "SYTYCD" in 2007, he not only introduced America to animation, but also set the standard for what it's supposed to look like. The animators who have followed him—on "SYTYCD" and "America's Got Talent," in the Step Up movies, on YouTube and on TV commercials—continue to raise the bar. "The young people coming up are gonna have something that really amazes us," Chibi says.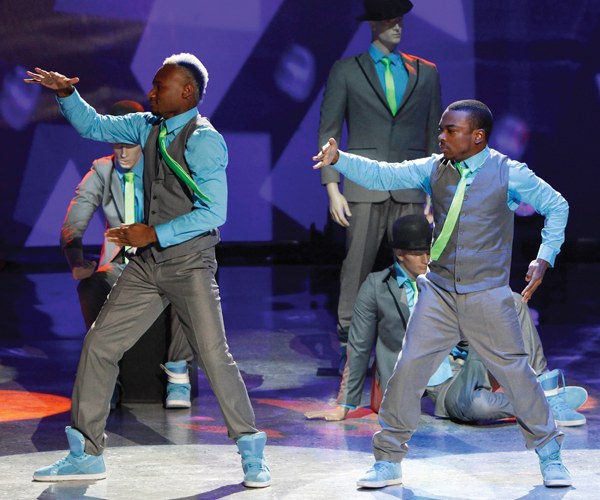 Dorian "BluPrint" Hector (left) and Jade "Soul" Zuberi performing Trigger on "SYTYCD" Season 10 (photo by Adam Rose/Fox)
A Note on Music
Jade "Soul" Zuberi of "So You Think You Can Dance" Season 10, Cyrus "Glitch" Spencer of Season 9 and Bryan "Chibi" Gaynor of Dragon House and RemoteKontrol crews all note the importance of music to style development. Because animation hit the commercial dance scene around the same time dubstep music exploded, many mistakenly call it dubstep dance. "Animation is not dubstep dance," says Glitch.
Glitch's music preference depends on his mood. When he wants to be expressive, he performs to slow music. Hip-hop helps him convey strength and power, and glitch-hop (a form of electronic music with deliberate "glitches" or malfunctions in the sound) is perfect for crisp, small movements.
Soul prefers dancing to classical, ambiance or glitch-hop music.
But just because animation isn't dubstep dance doesn't mean you can't perform animation to dubstep music. Chibi likes using it because it offers a lot of sounds he can capture. "It can be a simple 'tick, tick, tick' or a big move that emphasizes the sound," he says.
Nov. 08, 2013 10:33AM EST
Last week, we told you about the unlikeliest of viral videos: Virgin America's in-flight safety instructions. The awesomeness, of course, came from the people delivering the instructions—namely, a crew of some of our favorite dancers, ever.
If, like us, you've basically been watching the clip on repeat for days now, you'll be especially happy to hear the latest news from Virgin: The airline is hosting an online "safety dance battle," the winner of which will be featured in the final cut of the in-flight video.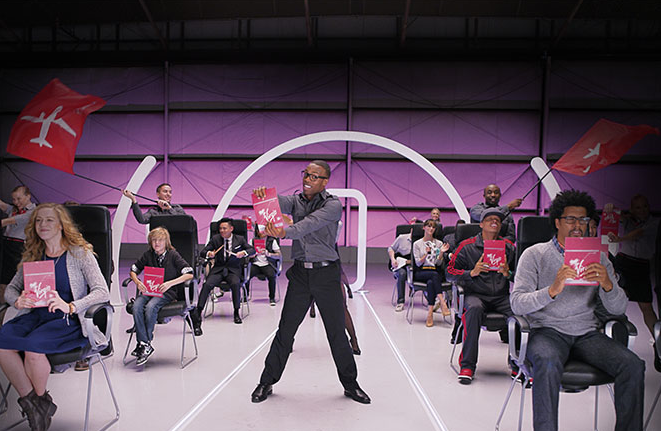 This could be you!
They're looking for any and all kinds of dancers, from bunheads to breakers. And the "audition" process is simple: just download the official song, Instagram a video of your best moves with the tag #VXsafetydance and then enter the video on the official contest page.
Who's doing the judging, you ask? The impressive group includes director Jon M. Chu, choreographer Jamal Sims, choreographer/dancer Christopher Scott, "American Idol" finalist/Broadway vet Todrick Hall and producer Justin Berfield.
The contest ends November 22, so get dancing!
If you've ever wondered what it's like to work at Dance Spirit, the new Microsoft Surface Pro commercial gives you a bit of an inside glimpse.
OK, no. It doesn't. That's not us in the commercial.
But the spot—which was directed by hot shot Jon M. Chu, choreographed by Jamal Sims and Christopher Scott and aired for the first time during the Grammys—does feature plenty of our favorite people, including Daniel "Cloud" Campos (the man of my dreams)...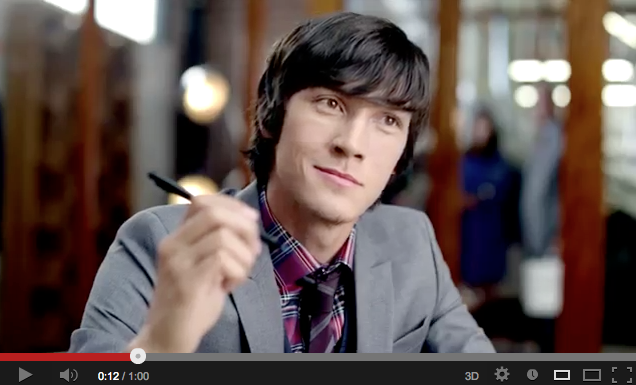 ...and the newly-engaged tWitch and Allison Holker. In fact, see that table everyone's dancing on throughout the "executive meeting?" Well, rumor has it that when filming wrapped, tWitch got up on that table to bust a freestyle move, and then grabbed Allison to join him.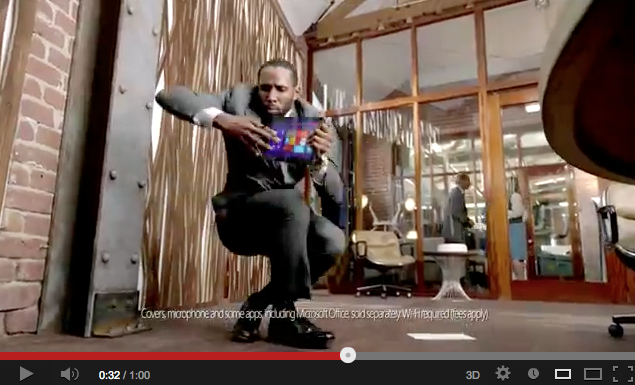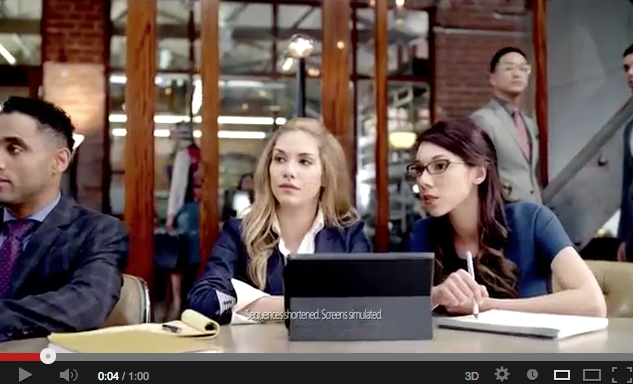 And then—boom!—tWitch dropped to one knee, said a bunch of romantical things, gave Allison a diamond and asked her to marry him. Oh, and her family was there to surprise her, including her so cute daughter, Weslie.
But yeah, other than all those details, this commercial is basically just a day in the life at DS...Enjoy!
Want more? Here's a behind-the-scenes look at the making of the commercial: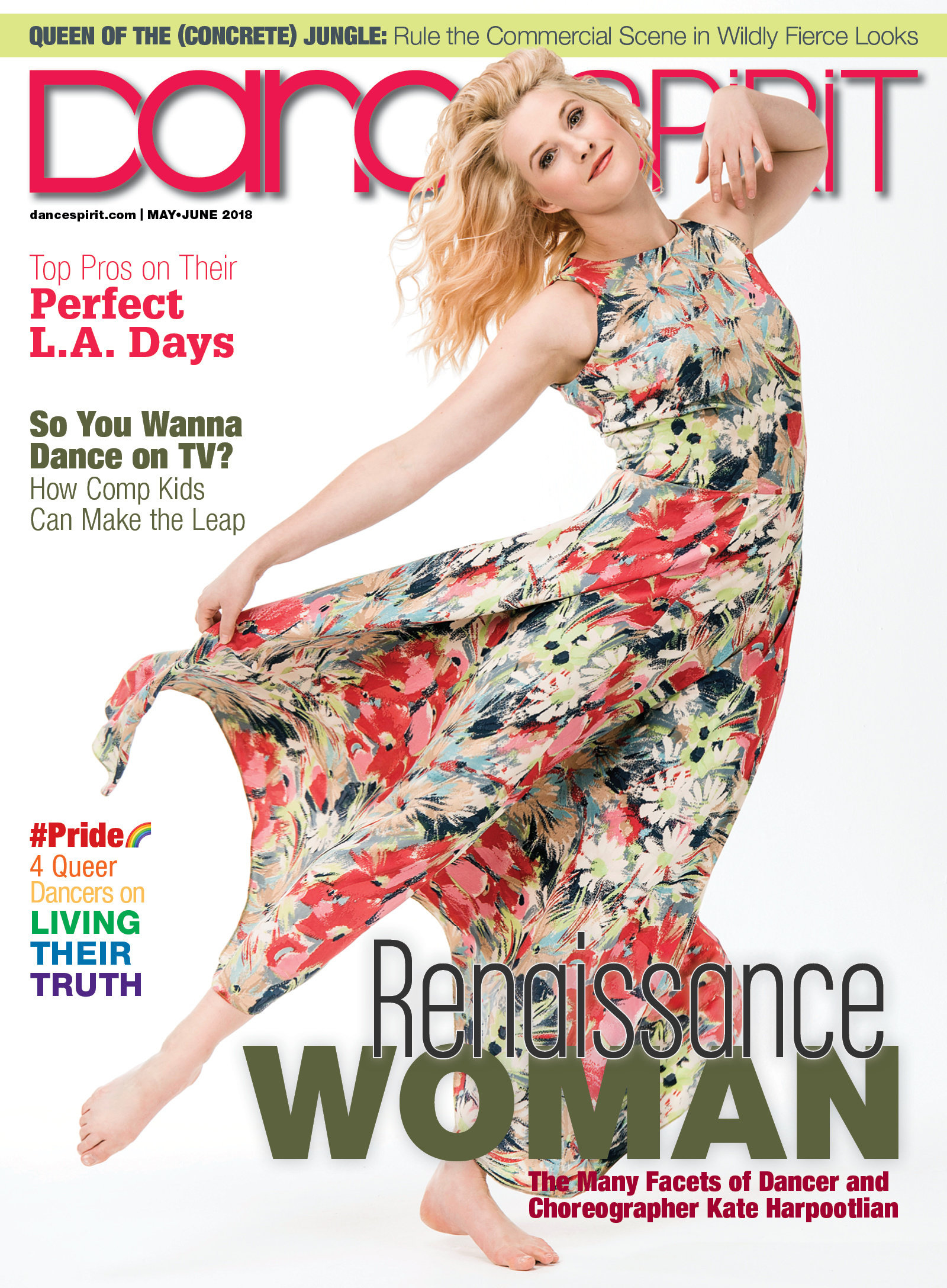 Get Dance Spirit in your inbox