Rachel Quiner performs Clara in the Christmas Spectacular (courtesy Rachel Quiner)
Think the Rockettes are the only stars of the Radio City Christmas Spectacular? Think again. Each year, a few lucky girls share the role of Clara, who appears during the Nutcracker portion of the show. Clara gets to do some real dancing, too, including solos and pas de deux. (Past Claras include Juliet Doherty and Tiler Peck!)
Dance Spirit sat down with this year's three Claras—Emerson Alexander, JoseBella Morton, and Rachel Quiner, all 12 years old—to find out what it takes to play Clara in the Spectacular, and the best parts of sharing the stage with the world's most iconic precision dance company.
Keep reading...
Show less
Happy March!
Here at DS HQ, we're more than ready to be kicking off a new month (please please please tell us that March is going to finally bring us some warmer temperatures and pretty flowers...please?) and, fittingly, a brand-new issue!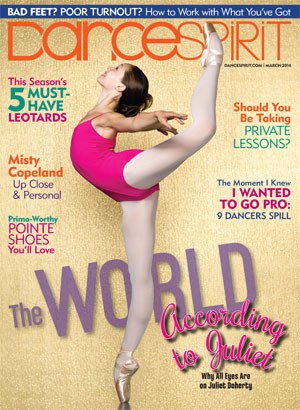 Introducing...Juliet Doherty!
The March issue of Dance Spirit is our annual Ballet Issue, and how lovely is this prima-in-the-making on the cover?
A little backstory...
I have been obsessed with Juliet Doherty for years. I saw her perform the role of Clara in the Radio City Christmas Spectacular and I fell hard for her gorgeous facility, sweet smile and perky onstage personality. At the time, Juliet was a competition dancer training at Fishback Studio of the Dance—her great-grandmother's studio—in her hometown of Albuquerque, NM. Now, at 16, Juliet's making big moves toward a serious ballet career: She's currently a level-seven student at the San Francisco Ballet School and she's performed as Clara in San Francisco Ballet's Nutcracker. Earlier this year she competed at the Prix de Lausanne in Switzerland. And let's not forget—she's a ballerina named Juliet. It's perfect.
We are so excited to feature Juliet on the cover of this issue. Not only is she a stunning dancer (as you can see from the cover—can this girl take a beautiful picture or what?), she's also super-smart (she was asked to give an inspirational TEDx Talk in 2012!), ultra-sweet and insanely humble.
Click here to read Juliet's cover story. And, as always, we've got plenty of extras for your viewing enjoyment: click here to check out a ton of outtakes from Juliet's cover shoot in L.A. with photographer Joe Toreno, and then watch a behind-the-scenes video from the shoot.
We love you, Juliet, and we can't wait to see what you do next!
Mar. 01, 2014 11:42PM EST
Joe Toreno
In the summer of 2012, Juliet Doherty gave a talk at a TEDx conference in her hometown of Albuquerque, NM. She was the only teenager to speak that day—and, in a ballet costume and pointe shoes, the only person not wearing a suit. After her speech, during which she encouraged listeners to "be great," Juliet performed a solo. That was the day she got her first standing ovation. "The amazing thing," she says, "is that it wasn't just about my dancing. It was about the message I was trying to put out there."
It's safe to say that won't be Juliet's only standing ovation during her ballet career. Now 16, Juliet is a student in the San Francisco Ballet School's pre-professional training program, and she's already collected a handful of professional performing credits (as Clara in the Radio City Christmas Spectacular and in San Francisco Ballet's Nutcracker) and competition wins (she won gold at the Youth America Grand Prix finals when she was 14). Earlier this year, Juliet competed at Prix de Lausanne in Switzerland. She talked to Dance Spirit about ballet competitions, Broadway and "being great."
By the time this issue comes out, you will have competed at Prix de Lausanne, which was a longtime goal of yours.
Juliet Doherty: This will be my first overseas competition. When I came to San Francisco Ballet two years ago, I talked to Patrick [Armand, the associate director of the SFB School] about it. He said I could compete right away, but I chose to train for a year with the school first so I could get the full experience without the added stress of competition. After a year of training, I filmed my competition application video. In November, I found out I had been selected to compete. Since then it's been a lot of rehearsing, working on my variation, learning my contemporary solo and adding my own artistry to the pieces.
Which pieces did you prepare?
JD: My age division had 10 variations and four contemporary selections to choose from. I chose the Swanilda Scene 1 Act 1 variation from Coppélia, and for my contemporary I picked "Saraband," from Vasos Comunicantes. Most of the contemporary options were a minute long, but this one is almost three minutes. I wanted to be challenged.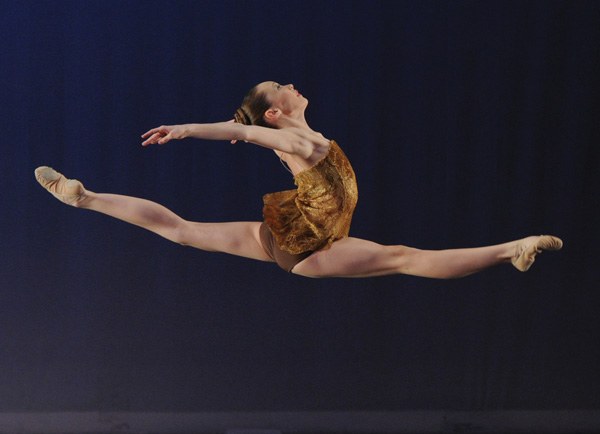 Performing at the Youth America Grand Prix finals in 2012 (courtesy Juliet Doherty)
Not everyone in the ballet world is on board with competitions. What's your take?
JD: When you're dancing in a company, you're constantly under the pressure of performing and being looked at. I think the best way to get a taste of that at a young age is through competitions. Then, down the road, you can think, "OK, this has happened before. I know how to handle it."
I try to bring everything I've learned at competitions into my performances. I have a solid technical base; my competition experiences won't hinder that.
The SFB School is a big supporter of ballet competitions. Did that factor into your decision to attend?
JD: Yes. I was competing at the YAGP finals in NYC in 2012 and took the scholarship class on the last day of the competition. That's when Patrick offered me a summer scholarship. I was 14 and starting to consider moving away from home to a pre-professional school. I got a few different offers that day, but I had a good feeling after talking to Patrick.
I spent the summer at SFB and I loved it, so I stayed for the entire year. Now I'm back for my second year. I've also been lucky enough to perform with the company for two years as Clara in Nutcracker.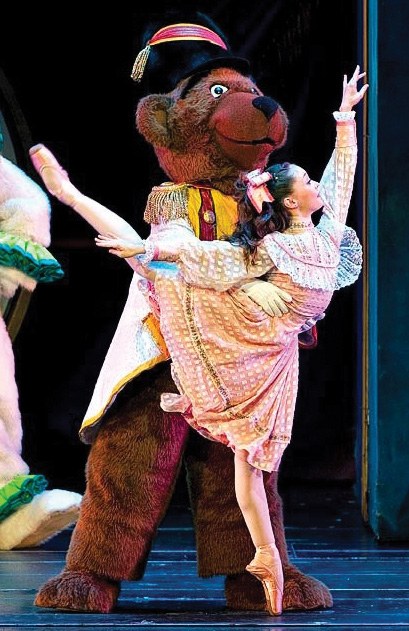 As Clara in the Radio City Christmas Spectacular in NYC (photo by Gene Schiavone)
How'd you get that role?
JD: People just came into class for five minutes with a clipboard and watched us during barre combinations. Then four of us got calls later saying we'd been cast.
It's neat because I got to work one-on-one with Helgi Tomasson [SFB's artistic director]. As a student, we're always looking at Helgi wondering, "Who is this mysterious guy?" The first time we ever danced in front of him, he said, "Are you nervous?" We were hesitant to say yes, so we just nodded, and he said, "OK, you should be."
But dancing Clara with SFB wasn't your first time being Clara.
JD: I was Clara in the Radio City Christmas Spectacular for three years—two years on tour, and one year in NYC. Dancing at Radio City Music Hall, on that huge stage, was incredible. During our first dress rehearsal, we were doing our center bows, and I had to run off after my bow. I didn't realize how far I actually had to run to get into the wings! I could hear the director, Linda Haberman, yelling at me, "Keep running, keep running!" It took me so long to get offstage.
Have you always known you wanted to be a ballerina?
JD: No! I've danced my entire life—I grew up dancing at my great-grandmother's studio, Fishback Studio of the Dance—but even when I was doing Radio City, I wasn't set on ballet. I thought I might want to sing and act more. It was my mom's idea to take me to YAGP—she was my main teacher and coach until I was 14—so I went for the first time when I was 9.
I was a brat then. I never wanted to practice my variation. But that summer, something clicked. I realized I had to change my attitude or no one would work with me. From then on, I decided I would pursue ballet, and I've become a totally different person.
"I look back at when I was 6 years old and I had no idea how to do a jazz square. I was just onstage having fun. That's what audiences enjoy. They don't come to see a perfect performance—they come to be moved and to feel something."
—Juliet Doherty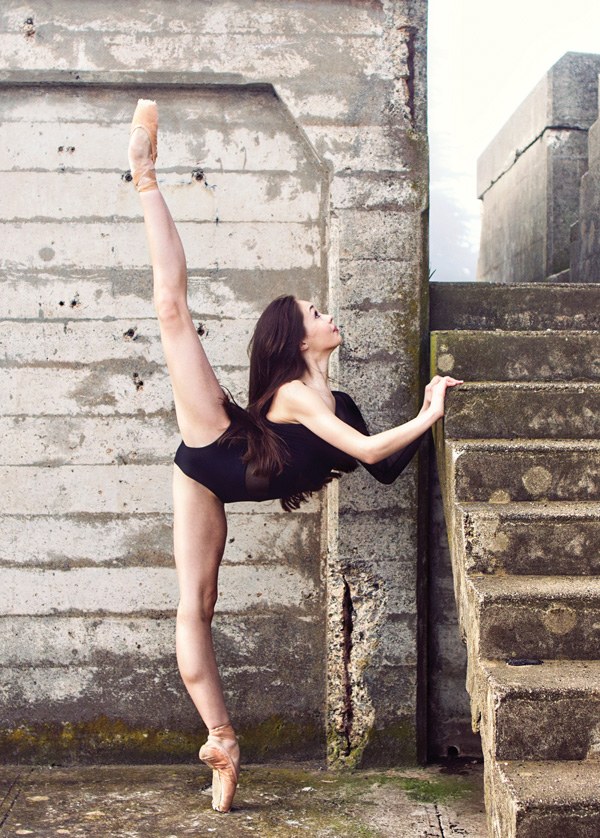 (Photo by Oliver Endahl/Ballet Zaida)
Walk us through a day in your life.
JD: I wake up around 7:30 am. I live in the student residences at the SFB School. The first thing I do in the morning is make my breakfast, which is usually a green drink.
I take the public bus to get to SFB. I usually start with technique class or floor barre, then pointe or pas de deux, or special extra rehearsals. Each class is 90 minutes to an hour and 45 minutes.
After my last class, I go about my day. I shop for groceries, do laundry or clean my room. Then I'll cook my dinner and squeeze in some schoolwork. I go to sleep between 10:30 and 11 pm. Any later than that and I can't function the next day. I have one class on Saturdays at 9:30 am, but I have the rest of the weekend free.
How do academics factor in?
JD: I'm doing an independent study online. I read a lot, and my work doesn't have due dates. I want school to be a part of my life, but it's not my main focus right now.
What's your dream role?
JD: Juliet in Romeo and Juliet!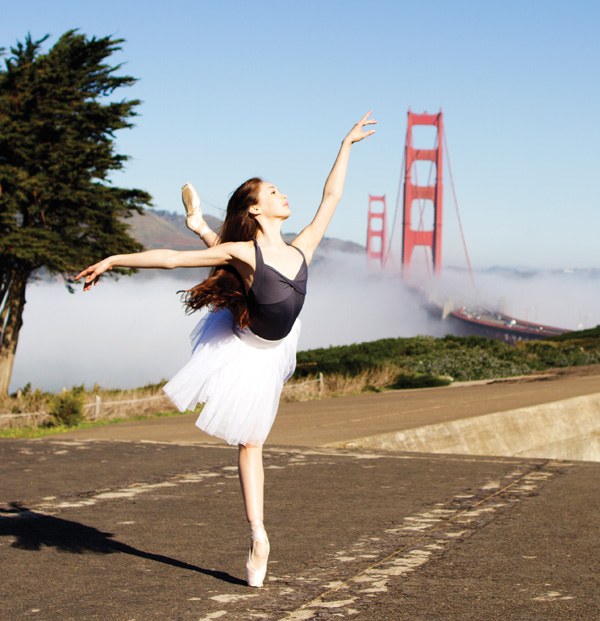 (Photo by Oliver Endahl/Ballet Zaida)
Any idea which company you'll be doing that with?
JD: I'd love to go to Europe—not necessarily with one company, but to dance on multiple stages, working with as many choreographers as possible.
You were part of the workshop for Susan Stroman's Little Dancer in 2012. Now the show is potentially coming to Broadway, starring New York City Ballet principal Tiler Peck. Might we see you on the Great White Way someday?
JD: It's really cool seeing dancers cross over into acting. I love when dancers are versatile and get opportunities to do more than just one thing. I don't think they've had auditions yet for the part I was workshopping, so I'm considering going out for it—we'll see!
What's the most valuable advice you've ever received?
JD: Every dancer struggles with being in her head. There's always that voice saying, "You're not good enough." Before competitions, my parents will remind me, "You're your own biggest competitor. Let go of everything you're holding on to. It will just get in your way. The only person trying to pull you down is the little voice in your head." Once I remember that, everything gets easier. It's an ongoing thing with me. Some days are horrible. But some days I exude all the confidence in my dancing that I want to have. It's just about quieting that voice.
"You are already good enough to get where you want to go. You have greatness inside of you and it can be discovered at any moment. You don't need to be at a certain level to say, 'OK, now I'm great,' or, 'If I add this one thing to my repertoire, then I'll be good.' You're born with greatness. All you have to do is recognize that."
—Juliet Doherty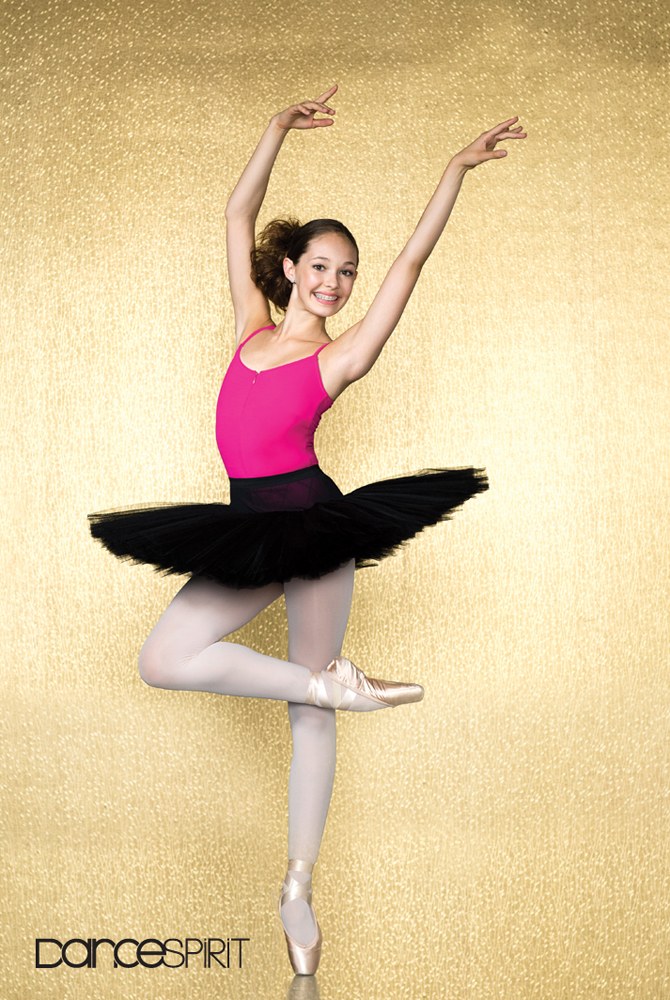 (Photo by Joe Toreno)
Ready, Set, Juliet
Must-see TV: "Even though it kind of corrupted Albuquerque, I watch 'Breaking Bad' when I miss home. But since that show is so emotionally draining, I also like to watch 'The Carrie Diaries,' 'The Mindy Project' and 'New Girl'—I don't have to get involved, I can just follow along and laugh."
If you were a superhero, what would your power be? "I just want to fly."
Your go-to stress reliever: "Calling my parents at the end of the day."
Strangest thing in your dance bag: "A banana holder. It's a hard, yellow plastic banana-shaped thing and it prevents your bananas from getting bruised. It's an amazing invention and I always have it with me."
Favorite dancer of all time: Natalia Makarova
Performer you'd die to work with: Steve Kazee, who originated the role of Guy in Once on Broadway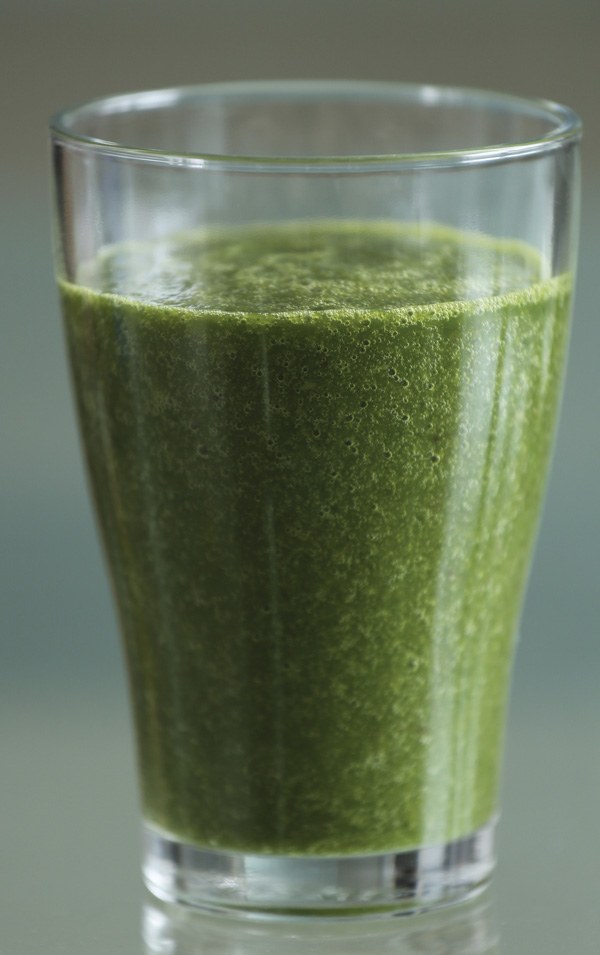 (Vasst/Thinkstock)
Breakfast of Champions
Start your day like Juliet—who follows a plant-based vegan diet—with this recipe for her "Super Green Smoothie."
Combine a handful of kale, a handful of spinach, half a cup of any frozen fruit (she likes mango or mixed berries), a banana, 4 ounces of apple juice, 8 ounces of water and some flaxseeds in a blender. "The greens may seem scary at first, but trust me, the fruit makes it naturally sweet," Juliet says. "You'll feel energized and ready for whatever challenges the day may bring.
Photo Galleries
Feb. 12, 2014 12:28PM EST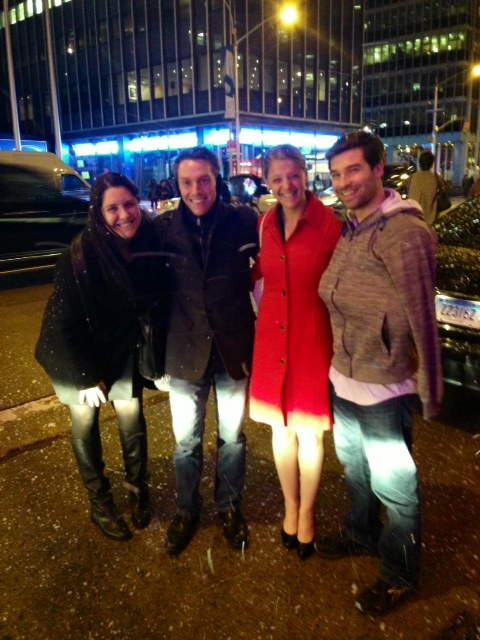 With some of my favorite people after seeing one of my favorite shows! (On opening night, they make it "snow" outside Radio City Music Hall. How's that for magical?) I'm the one in the red coat, flanked by my friends Lauren and Scott on the left, and my boyfriend, Brian (hiding his broken arm in a cast inside his sweatshirt), on the right.
Living in NYC, lots of things get old really fast: car horns, ambulance sirens, crowded subways, car horns, unavailable taxis during rush hour, pollution, car horns... But the one thing that never ever ever ceases to amaze me is the Radio City Christmas Spectacular, starring The Rockettes.
If you've never seen this classic show, here are five reasons to catch it this year, either at NYC's iconic Radio City Music Hall, or in one of the show's tour cities:
1. The Rockettes! Duh. These women aren't just beautiful and talented: They're perfect. I've never seen formations as impeccably spot-on as the ones in "The Parade of Wooden Soldiers," and the reindeer costumes in "Sleigh Ride" make me wish for my own pair of light-up antlers. Plus, the Rockettes can do much more than eye-high kicking. In "The Twelve Days of Christmas," they tap up a storm, and in "Snow," which is new this year (though, sadly, it replaces "Shine," which is my forever-favorite Rockette number), the Rockettes show off a little contemporary style.
While the dozens of women onstage may somehow manage to look exactly alike, it's fun trying to spot familiar faces in the line. This year, I saw former comp kid (and DS model!) Kali Grinder and "Dance212" veteran (and another former DS model!) Jenny Laroche.
2. The "other" dancers. Fun fact: The Rockettes aren't the only dancers in the show. There are more dancers in the show who do more traditional, jazz-based dancing throughout the 90-minute program. ("So You Think You Can Dance" alum Matt Dorame and New York City Dance Alliance demonstrator Chase Madigan are among the NYC group this year.)
3. The Claras! The fourth scene of the Spectacular is "The Nutcracker," and it just might be my favorite part. It's a twist on the classic Nutcracker's "Land of Sweets," with dancers in giant bear suits playing the parts of the sweets. Leading the group of bear-dancers is Clara, a real-life, talented little girl who bounds around the stage on pointe with a grin on her face that seems to stretch from stage right to left.
Past Claras have included "SYTYCD" Season 10 winner and current DS cover girl Amy Yakima, American Ballet Theatre Studio Company dancer Catherine Hurlin, up-and-comer Madeleine Gardella and my all-time favorite ballet dancer, Juliet Doherty. (Click here to meet a whole group of former Claras—all of them came from the comp world!)
4. The camels!!! The second-to-last scene of the show is "The Living Nativity." Surprisingly, this is one of my favorite parts of the show (though, apparently, all parts of the show seem to be my favorite at this point). There's no dancing during this scene, and it's based on the story of the first Christmas. So it doesn't really sound like something I'd be into—and then four camels walk across the stage. Real camels. There are sheep, too, but it's the camels that get me every time. Camels, sharing a stage with Rockettes. I mean...where else can you see that?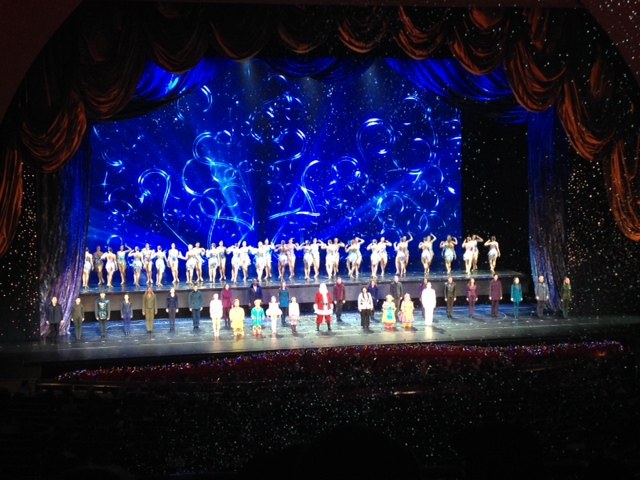 Balcony seats for the win! (You get to see all the formations that way.)
5. The sheer joy it brings. There is something for everyone in the Radio City Christmas Spectacular, whether you're young, young at heart, old, old at heart, a boy, a girl, a dancer, a hater, a Catholic, a Buddhist, a Muslim, a non-believer, a ballerina, a tapper, a tourist or a longtime New Yorker. Basically, The Rockettes = world peace.
So you promise to go see the show? Great! Here's where to buy your tickets.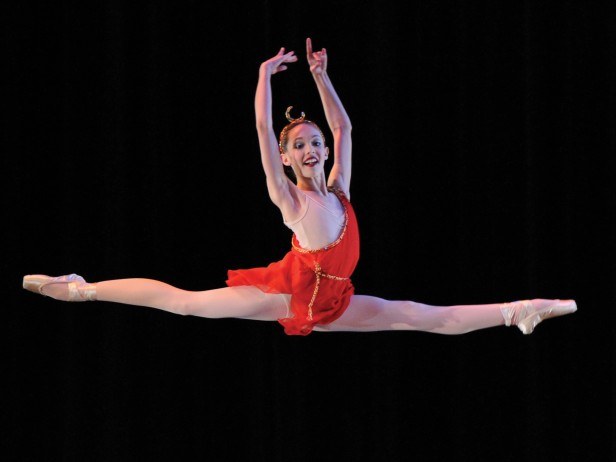 Juliet dancing a variation from Diana and Acteon (pas de deux) at Youth America Grand Prix (VAM Productions)
Juliet Doherty just may have it all: ridiculously long legs, the archiest feet on any given stage, big, beautiful eyes, sky-high leaps and totally controlled turns—plus a starring role at Radio City Music Hall. And she's smart and super sweet? Yes, 14-year-old Juliet has the kind of dance life most of us only dream of.
Juliet started dancing when she was 3 at her great-grandmother's studio, Fishback Studio of the Dance, in her hometown of Albuquerque, NM. "I was born into a dancing family," says Juliet, who trains with her mom. She began with ballet classes, and by the time she was 5 she had added modern, jazz, tap and acrobatics as well. Juliet also made an early name for herself on the competition and convention circuit. "I did my first competition solo when I was 7, and it was a hip-hop number," she says, giggling. "But then I was like, hmm, maybe this isn't a fit for me."
Hip hop wasn't her forte, but ballet certainly is. In addition to attending competitions such as New York City Dance Alliance, International Dance Challenge and Showstopper, Juliet began competing at Youth America Grand Prix at age 9. "I love attending conventions because you get to learn from and put yourself in front of so many amazing teachers," she says. "But at YAGP, you get the opportunity to earn scholarships and take a step even further into your future. I love competing with dancers from all over the world."
In 2009, Juliet traveled to Chicago to audition for the role of Clara in the Radio City Christmas Spectacular. She was cast in the show's Seattle/Pittsburgh tour in what Juliet calls "the most exciting time of my life!" The next year, she was cast in the Florida/Texas leg of the tour. Finally, in 2011, Juliet landed the role of Clara in the biggest production of all: the NYC show at Radio City Music Hall. "After two years on tour, I was ready for New York," she says. During the 2011 season, Juliet performed alongside the Radio City Rockettes in two to five shows a day, six days a week.
With such a grueling dance schedule, is Juliet burnt out? Not even close. "I love performing in front of a live audience," she says. "Someday I want to be in a ballet company like New York City Ballet—those dancers are so inspiring and the Balanchine ballets they perform are gorgeous." And she's already taking steps toward her future dance career. "Last year when I went to YAGP, I had some scholarship interest from overseas programs, and I've kept in touch with those contacts. I want to research my options overseas and in America—I'm figuring out what will be the best fit for me and where I'll be most comfortable."
FAST FACTS
Birthday: June 10, 1997
Most-played on her iPod: "Breathe Me" by Sia. "But before competitions I love listening to Beyoncé's I Am...Sasha Fierce album. She's so confident, and I would love to have that confidence every time I go out and perform."
Favorite movie: Matilda. "When I was 5, she was my hero. I watched that movie every day growing up."
Favorite dance step: Saut de chat. "I'm a powerhouse when it comes to leaping."
Favorite food: Octopus and white rice. "My parents spent time in Japan before I was born, so I was introduced to really good food from other cultures."
Dance idols: Misty Copeland and Ashley Bouder
Who would play her in a movie? Audrey Hepburn
Dance crush: Daniel Ulbricht. "He has a girlfriend, but don't worry: He'll realize soon his true future lies with me…[giggles.]"
Each spring, young dancers from across the country travel to NYC to audition for the chance to perform alongside the Rockettes as Clara in Radio City Music Hall's Christmas Spectacular. This year, all six of the Claras (from the touring and NYC casts) are dancers from the competition scene! We caught up with them to learn a little bit more about their new roles.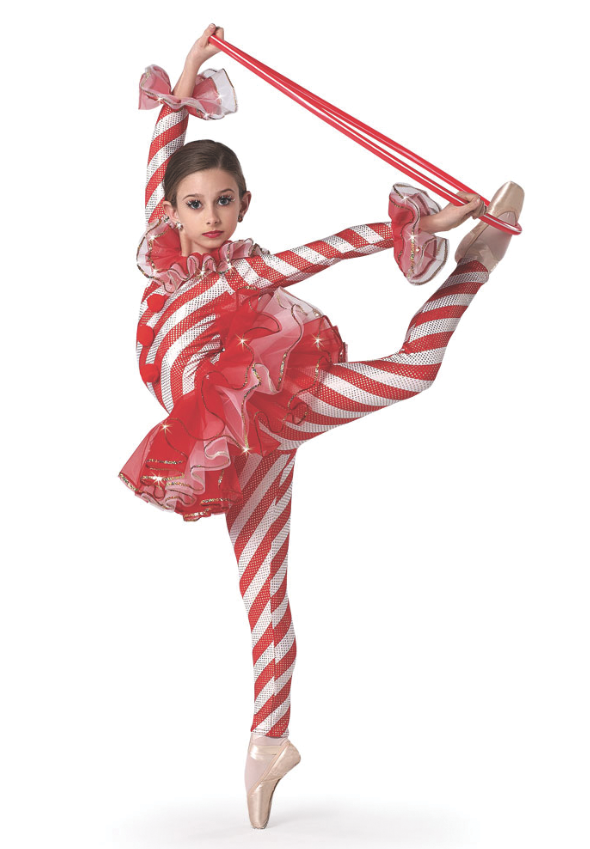 Courtesy A Wish Come True
MADELEINE GARDELLA
Age: 13
Hometown: Yardley, PA
Studio: The Dance Academy
Cast: NYC at Radio City Music Hall
What was the Clara audition like? "We were taught a combination, split into groups of three and asked to dance for the judges. It was like a convention audition—we learned a new combination and the cuts were based on our abilities to learn the combo quickly and execute it well."
What's the most exciting part about getting to dance the part of Clara? "I'll be dancing with the world-famous Rockettes in NYC! Since the Christmas Spectacular has new and old favorites, a 3-D adventure and new music and costumes this season, there are a lot of things that I'm pumped about. Being part of the show is an outstanding opportunity. It's an annual tradition for many families. I can't wait to perform and bring people the magic of Christmas."
What are you most nervous about? "My nerves get to me when I think about how huge the Radio City Music Hall stage is—it's nearly the size of a city block!"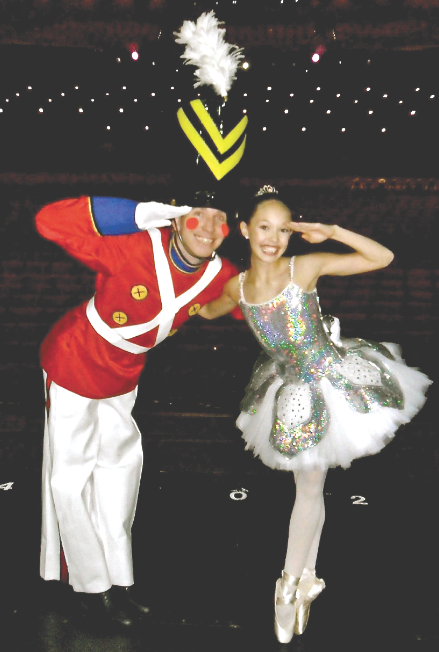 Courtesy Juliet Doherty
JULIET DOHERTY
Age: 14
Hometown: Albuquerque, NM
Studio: Fishback Studio of the Dance
Cast: NYC at Radio City Music Hall
What advice do you have for dancers who want to audition for the role of Clara? "Make sure you're comfortable dancing on pointe and, most importantly, be genuine, smile and present the choreography with confidence."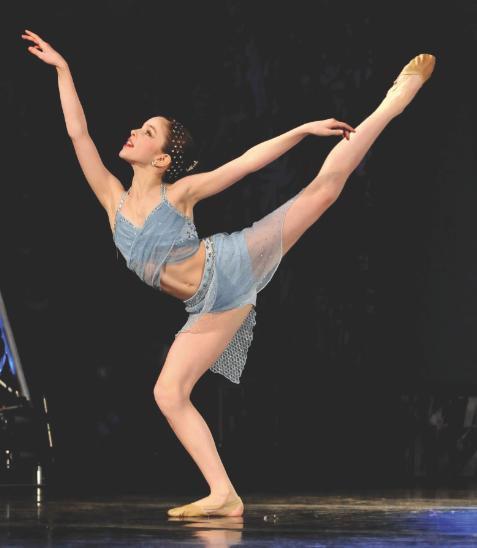 Courtesy Break The Floor Productions
SARAH SIBOLE
Age: 12
Hometown: Dearborn Heights, MI
Studio: Noretta Dunworth School of Dance
Cast: Nashville, TN, at the Grand Ole Opry
How did you feel when you learned you'd been cast as Clara? "I was in the dressing room at Nationals when I got the call from Radio City. I saw the NYC area code on my mom's cell phone, and I knew it must've been about Clara. I was thrilled, and that feeling lasted all day while I was competing."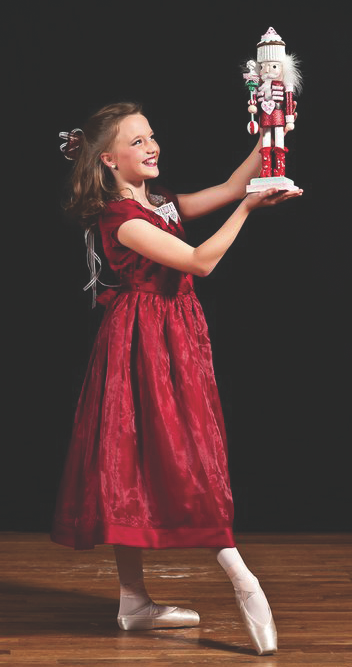 Photo by Shannon Hager/XML Photography
CHLOE ELLIS
Age: 11
Hometown: Mooresville, NC
Studio: The Academy of Dance and Fine Arts and Piedmont School of Music and Dance
Cast: Durham, NC/Boston, MA
Why are you excited to play Clara? "It's such an honor to be around these dancers and to learn from them. I'm going to be a part of this Christmas tradition!"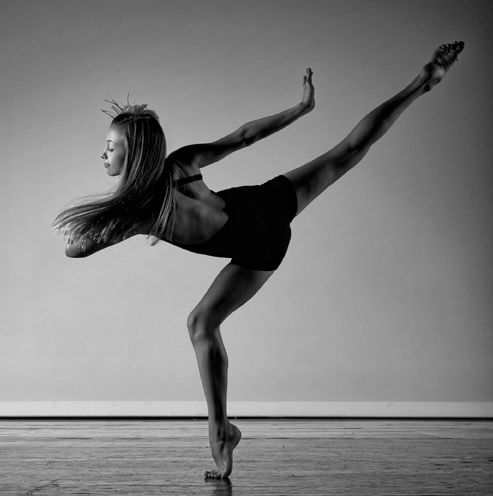 Courtesy Kalyn Berg
KALYN BERG
Age: 13
Hometown: Tucson, AZ
Studio: Tucson Dance Academy
Cast: Durham, NC/Boston, MA
What was the Clara audition like? "I was very nervous. There were a lot of girls there and everyone was so talented."
Why is this show special? "I did the arena tour last year and it's the best feeling seeing how the Christmas Spectacular makes everyone happy for the holidays! It's wonderful being a part of something that makes people smile and brings joy to their hearts."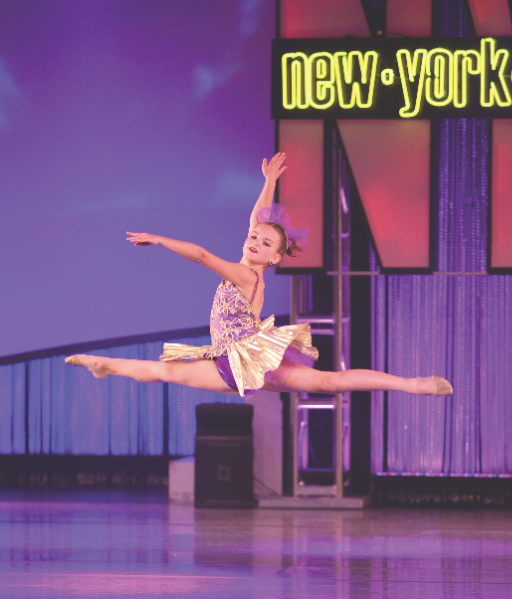 Photo by ProPix
LAUREN YAKIMA
Age: 10
Hometown: Northville, MI
Studio: Noretta Dunworth School of Dance
Cast: Nashville, TN, at the Grand Ole Opry
How did you feel when you found out you'd been cast as Clara? "I cried because I was so happy! My sister was a Clara in the Radio City show for four years and I had dreamed about doing it, too. And now I get to!"
If you're between the ages of 7 and 14, proficient on pointe and 4' 10" or shorter, you can audition to be Clara, too! Specific casting information will be posted at radiocity.com in February 2012.
Dec. 01, 2009 08:12AM EST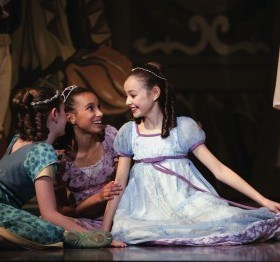 You might not guess it if you saw her perform today, but Elizabeth Gaither of The Washington Ballet started her Nutcracker career wearing a pair of knickers—as a little boy in the party scene. But it wasn't long before she got to don the coveted party dress worn by the ballet's lead, Clara. At age 12, Gaither took center stage with students from her mother's studio, The Miami Conservatory, in the first of many Clara performances of her career; she later danced the role with Houston Ballet at 16, and with American Ballet Theatre in her early 20s.
As many times as Gaither tackled the role, it never became boring. "There's lots to explore with Clara," she says. "She's in so many scenes and has so many different emotions. Also, I love roles where the character carries the ballet from start to finish." Clara is joyful in the party scene, fights bravely in the battle between the mice and toy soldiers, then travels through the Land of Snow to the Kingdom of the Sweets. She's also one of the few ballet leads who remains onstage for almost the entire production.
Gaither's not the only professional who has fond memories of her Clara days; dancers around the world cite this role as the one that started it all, their first chance to carry the narrative of a ballet—a great opportunity for any aspiring pro! This month, hundreds of dancers will try on Clara's slippers for the first time—and thousands more will watch from the audience, dreaming of the day when it might be their turn. So what makes Clara—or Marie, as she's also known—so iconic? DS investigates.
Where She Came From
The Nutcracker ballet was adapted from an 1816 short story, "The Nutcracker and the Mouse King," by German author E.T.A. Hoffmann. In this story, a young girl, Marie, learns the tale of the Nutcracker—which involves a cursed princess, the Mouse Queen and her seven-headed son, Drosselmeyer's nephew and the world's hardest-to-crack nut. (For the entire story, check out the English translation with illustrations by Maurice Sendak, simply titled Nutcracker.) Hoffmann's Marie is very similar to the ballet's Clara/Marie character. However, in the short story, Clara is the name of one of Marie's dolls.
So why did "Clara"—not "Marie"—become the preferred name for the ballet's main character? No one really knows. (In Russia, where the ballet originated, she's known as Masha.) What is documented is the famed collaboration between Marius Petipa and Peter Ilyich Tchaikovsky that first brought Hoffmann's strange story to life onstage. Since the heroine of the story was a child, one of Petipa's important additions was the role of the Sugar Plum Fairy featuring a virtuoso principal dancer. The ballet premiered in 1892 with choreography by Petipa and his assistant Lev Ivanov (who took over when Petipa became sick). Its first performance in the U.S. was danced by San Francisco Ballet in 1944. The name "Marie" made its comeback in George Balanchine's New York City Ballet version, which premiered at New York City Center in 1954. Since then, The Nutcracker—with either Clara or Marie—has been a holiday tradition.
How She's Danced
Choreographers continue to search for new spins on the classic Nutcracker story, but one of the biggest decisions concerns who's actually performing the part of Clara. It's sometimes danced by a girl close to the character's age, which is around 12 years old. In this scenario, "Clara's role is of a girl on the cusp," explains Jennifer Fisher, author of the book Nutcracker Nation. "She's dedicated [to protecting the Nutcracker] but still youthful and enthusiastic. She shows that you can be fun and serious at the same time."
Other productions cast a professional dancer with the chops to pull off more challenging choreography. She may look a bit older than her onstage "friends," but The Joffrey Ballet's artistic director Ashley Wheater points out that a mature dancer can enhance the character. "I've seen older dancers play 16-year-old Juliet so convincingly," he says, "because they understand what it's like to be that child. It's the same in Nutcracker. An experienced dancer can re-create the magic of her childhood."
Still other productions have two dancers split the role: A child Clara played by a young dancer transforms into an adult, often before the snow scene. Alexandra Dickson, a former Pacific Northwest Ballet dancer who has coached young Claras for PNB's Nutcracker, explains that this choice taps into a child's desire to be grown-up. "Every girl wants to be a little bit older," Dickson says. "How great would it be to live Clara's dream and have those cool, grown-up experiences—wearing the beautiful glittery dress, dancing in the snow—but then have the safety of coming home to your parents when the dream is through?"
The common thread throughout these different takes on Clara is obvious: magic. Regardless of who's playing the part, Wheater says it's most important that the dancer truly believe in the story—and Clara's youthful innocence and enthusiasm. "You want someone who can take the magic and make the audience believe it, too," he says. "Clara's story has to be infectious."
Why We Love Her
Clara's allure for young dancers goes beyond the fact that she's a role they might conceivably dance in a few years. For one thing, Clara is relatable. The story unfolds through her eyes, which allows the audience to imagine how they'd respond if they were in her shoes. Dickson asks the Claras she coaches, "If this were your reality, what would you do? If you were in a room and the tree was growing, how would you react?" And, many elements of Clara's story—she's at a party, she has an annoying little brother, she receives a toy that gets broken, she has a fantastic dream—are universal.
But if you look deeper, you'll also find a character with many admirable qualities that have nothing to do with dance. "Clara is a role model in ruffles," explains Fisher. "She's a sweet, optimistic little girl, but she's also determined, ambitious and talented. Young girls can aspire to be like her—onstage and off."
Current Claras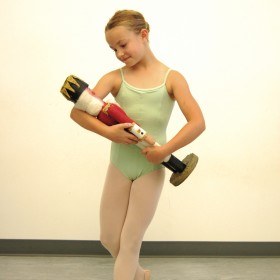 Annastasia Beller, 9, will play Marie in Oregon Ballet Theatre's George Balanchine's The Nutcracker
Past Nutcracker experience: Three years as an angel, and one as a party girl and soldier.
What are you looking forward to? "I'm looking forward to throwing my shoe at the Mouse King!"
What do you think the challenges will be? "The hardest part about being Marie will be sitting still while everyone else is dancing. I hope I can keep my feet still. I think they are going to want to 'dance' all of the roles!"
Stephanie Bandura, 11, will play Marie in the Pennsylvania Ballet's production of George Balanchine's The Nutcracker.
Past Nutcracker experience: Two years as an angel and one year as a party girl.
What are you looking forward to? "I can't wait to be Marie and have everyone looking at me, instead of being in the background!"
What do you hope to bring to the role? "I want people to feel like it's real, not just acting. And I want them to enjoy the ballet!"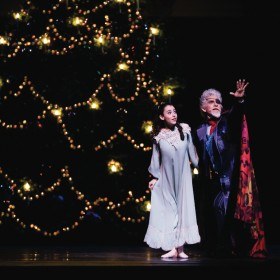 Jessica Cohen, 17, played Clara in San Francisco Ballet's The Nutcracker in 2007 and 2008.
Favorite part of playing Clara: "Clara is a young girl so you can put yourself into the role. It's about innocence, seeing something magical occur and going on a journey. The first time I opened my eyes and everything had changed in the living room onstage, it was spectacular. I'll never forget it."
Clara Challenges: "It's show business, so you never know what will happen. There's a couch that moves Clara around the stage as the living room transforms. One time it broke—but the show must go on!"
From Clara to Sugar Plum and Dew Drop: Three professionals look back on the coveted role.
Jennie Somogyi
Now: Principal, New York City Ballet
Then: Marie in NYCB's Nutcracker twice, at ages 9 and 10
"I always enjoy Nutcracker because I have memories of doing it as a child. Dancing that part felt like being in an elite club—and it was overwhelming. One of the biggest rewards of being Marie is that in the second act, you get to watch all the professionals dance up close. When I joined NYCB, the people that I'd watched from the throne and idolized—like Darci Kistler and Kyra Nichols—became my coworkers!"
Julianne Kepley
Now: Soloist, San Francisco Ballet
Then: Clara in Atlanta Ballet's Nutcracker at ages 9 and 10
"It was motivating to have the chance at 9 years old to taste what it's like to be the focus of a show. During one scene in the first dress rehearsal, it came over me that I was the only person onstage, and I got so excited I almost forgot what I was doing. I was thinking 'I like this, I want to do this, so I have to do everything right'—and then I almost ran the wrong way!"
Jade Payette
Now: Company member, The Washington Ballet
Then: Clara with California's Festival Ballet Theatre's The Nutcracker, from ages 13 to 16
"I'd always wanted to dance this role and when I got it I was in tears, I was so happy. Because I did it for four years, I was able to grow into it and add different things over time. The great part about a role like Clara is that you're able to experiment with acting. You can figure out what kind of girl you are—a happy Clara, a brave Clara, a scared Clara. Being given the chance to do that as a young person helped me learn how to become different characters onstage."
Get Dance Spirit in your inbox