Sep. 17, 2015 12:10PM EST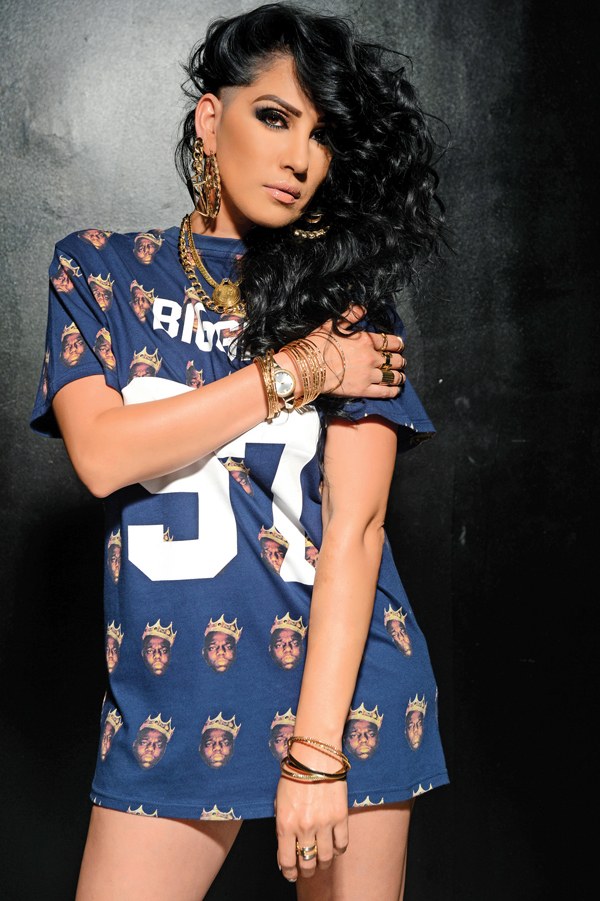 (Photo by Mike Quan, courtesy Tricia Miranda)
Tricia Miranda may have left the world of classical dance, but the years she spent training with Arizona's Yuma Ballet Theater and on the convention/competition circuit haven't completely left her. As a choreographer for artists including Beyoncé, Demi Lovato and Missy Elliott, Miranda draws on her balletic roots, sometimes inserting an extension or a pirouette into her hard-hitting, full-bodied hip-hop routines, which regularly rack up millions of views on YouTube. Miranda's choreography can also be seen on "The X Factor" and "So You Think You Can Dance," and you can find her on the faculty of The PULSE on Tour. —Jenny Dalzell
"Missy Elliott called me to create her section of the Super Bowl Halftime Show because she wanted kids to perform, and she knew I had the best students. I love Missy's music—I've probably choreographed to every song she's ever done!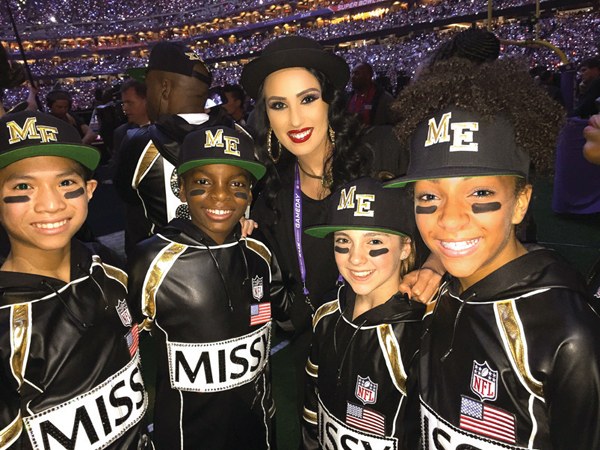 (From left) Gabe De Guzman, Will Simmons, Miranda, Kaycee Rice and Charlize Glass at the Super Bowl (photo courtesy Miranda)
I had to keep in mind that I was working with children, but those dancers can do anything. They can freestyle, tumble, break—and they're amazing at contemporary choreography, too. Missy wanted the work to be super-energetic and told me not to hold back."
"If I ever get choreographer's block, I go on YouTube and watch old videos of Tina Landon, Janet Jackson and Paula Abdul. They're my biggest inspirations. I love how simple yet visually effective their movement is."
"For my 2014 PULSE Summer Intensive piece, I wanted to do something a little out of my element. I'd been working with PULSE students for the previous three years, and I was known for high-energy dance-hall numbers. This time, I tried something a little smoother, a little cooler. I love NYC in the 1930s—I picked out the dancers' costumes first and looked for images from the time period to appear on screen behind the dancers. Then I started creating the movement to match that theme."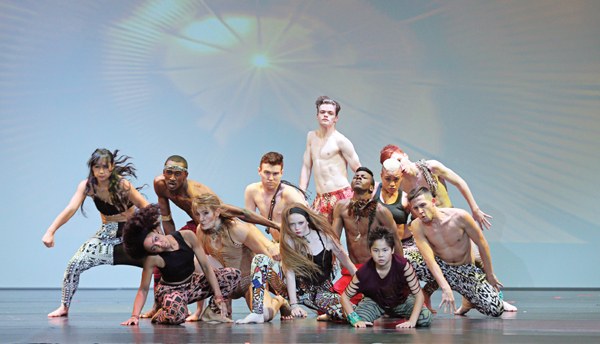 2013–14 PULSE Elite Protégés (Platoon, courtesy The PULSE On Tour)
"For the 2013–14 PULSE Elite Protégé routine, I used a song by Elliphant called 'Booty Killah (featuring The Reef).' When I first heard the music, it sounded very jungle-like, almost tribal. I went shopping for the costumes and found a perfect mask for the dancers to wear—all black with a large beak. As it turned out, the mask didn't really work. It was too hard to see through. Still, I used it as my inspiration. I choreographed a lot of head-pecking movements and animalistic crawling."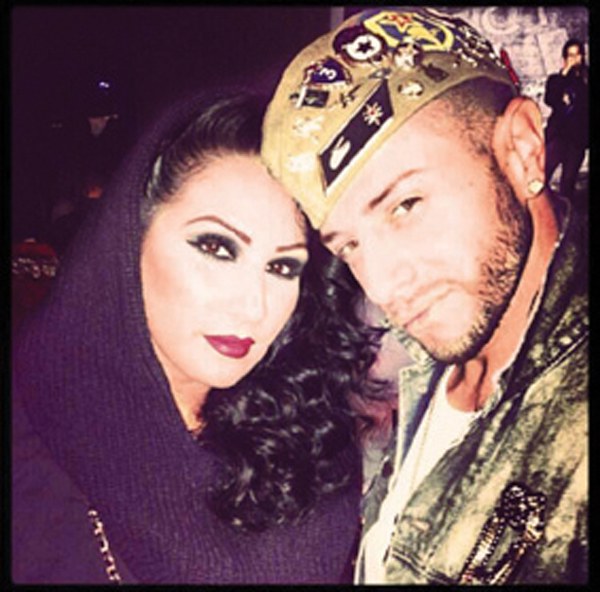 (Photo courtesy Miranda)
"Brian Friedman inspires me in every aspect of life. He's had such a long career. I used to compete against him when I was a kid in Arizona—he'd win everything! It's so cool to see where his path has taken him. I get a lot of my drive from watching him work."
Choreography
Jun. 15, 2012 10:34AM EST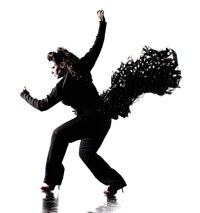 Liz Imperio. by Ed Flores Photography
Liz Imperio's choreography is electric. True to her Latin dance roots, her work exudes smooth sensuality and rhythmic vitality.
The first in her Cuban family to be born in America, Imperio started out as a ballet dancer before falling in love with flamenco. At 15, she began assisting choreographer and director Kenny Ortega, who introduced her to the world of commercial dance. Today, Imperio choreographs commercials, award shows and concert tours for the likes of Madonna and Jennifer Lopez, and recently started working on Lopez's new Latin music and dance show on FOX, "¡Q'Viva! The Chosen."
What inspires Imperio? Read on to find out!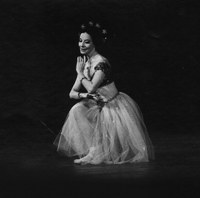 Alicia Alonso in La Péri. by Luis Cateñada, courtesy Dance Magazine Archive
"When I was 9, my mom took me to see the Ballet Nacional de Cuba in L.A. We saw all four performances, and on the night of the third, we went backstage to meet Alicia Alonso. She had just performed Carmen and was still in her red outfit. She reached out to touch my hand, and that's when I noticed she was blind. In that moment I realized there is nothing in this world that can stop you from becoming what you want to be—except you."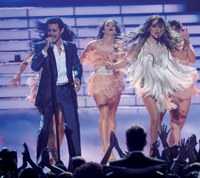 by Michael Becker/FOX
"I like to take what's been done in the past and ask: How can I reinvent it? For the 'American Idol' Season 10 finale with Jennifer Lopez and Marc Anthony, we took the 1950s Tropicana nightclub in Cuba and threw it into the modern age."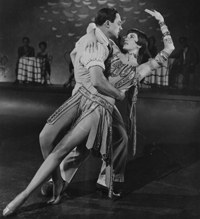 courtesy Dance Magazine Archive
"The first musical I ever saw was Singin' in the Rain. Cyd Charisse taught me sophistication. Her movement, her approach to her character and the way she interacted with Gene Kelly was spectacular—she was so sexy and mature."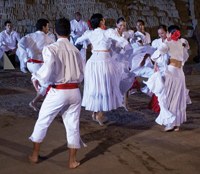 Performers from Lima, Peru, on "Q'Viva! The Chosen." by Robert Sebree/FOX
"Not long ago, Jamie King brought me into '¡Q'Viva!,' and it felt like everything I've ever learned collided into one project—from Mexican folklorico to flamenco to the mambo to tango to salsa partnering. I feel proud to represent my heritage and the artforms that have transformed my life."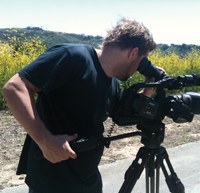 courtesy Liz Imperio
"My business partner Chad Carlberg opened my eyes to a whole new way of looking at life that helps me feel awake and present. He got me into listening to Tony Robbins and meditating and basically coached me to become a better mentor."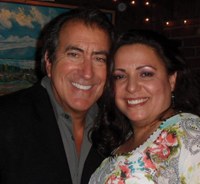 courtesy Liz Imperio
"My own mentor is Kenny Ortega. He is a walking visionary who pushes the limits. He transformed me."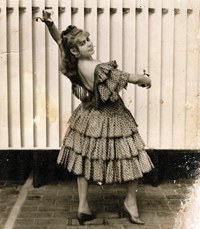 Imperio's mother, Daisy, in Havana, Cuba. courtesy Liz Imperio
"My mom is the backbone of my life. When my family came to America, she was adamant that I have options. When we're together, there's always a big dance party. Even my 94-year-old grandmother still shakes it up."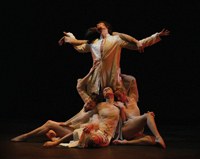 courtesy Liz Imperio
"When I had my own company, I based a piece called Mercy on a page from my journal. At the time, there was so much going wrong in my life. Mercy helped me understand that choreography is not just pretty pictures. We're storytellers."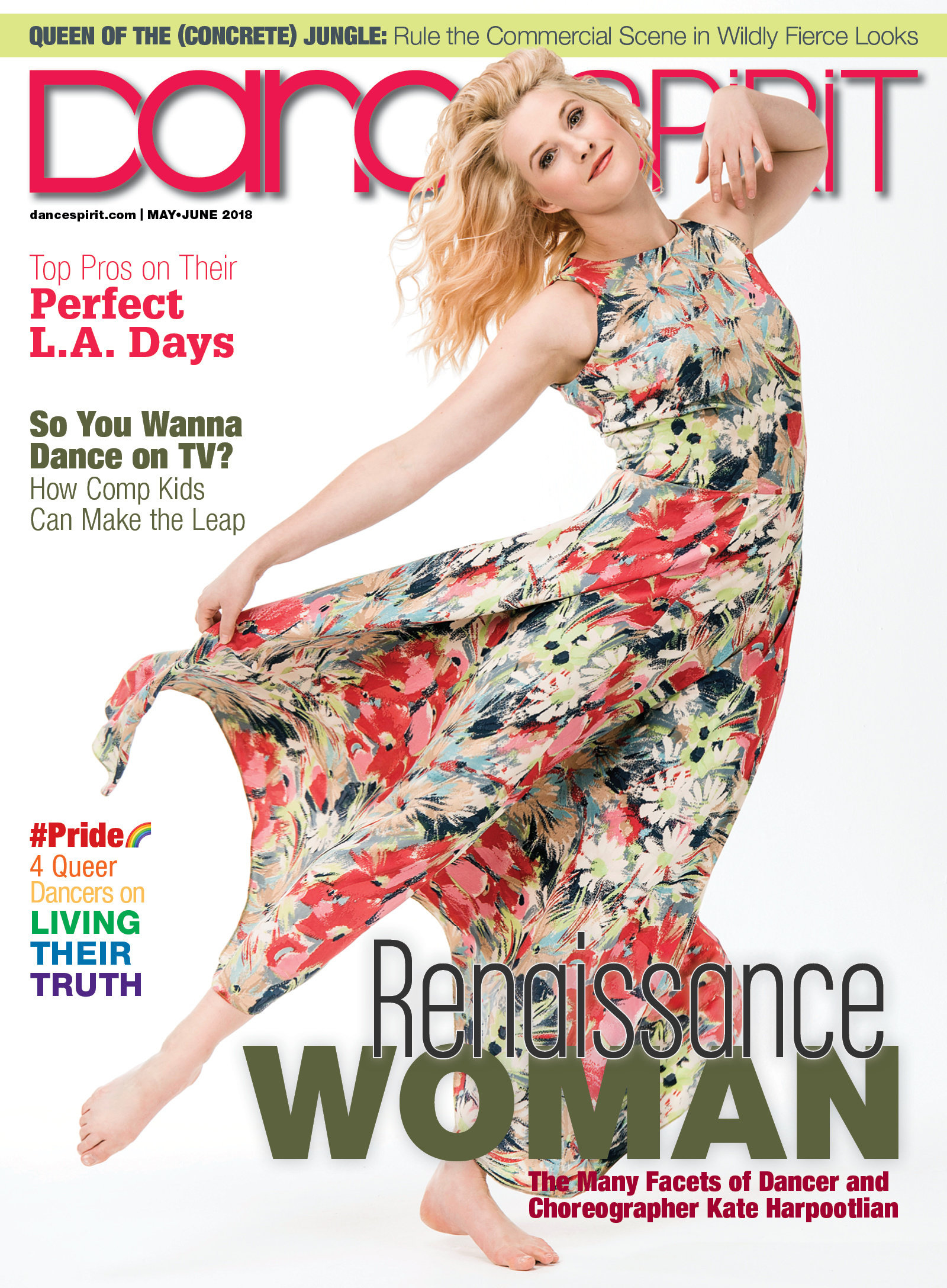 Get Dance Spirit in your inbox