Alicia Graf Mack (courtesy Webster University)
July 1 marks an exciting new era for The Juilliard School. Vail Dance Festival director and former New York City Ballet principal Damian Woetzel steps into the role of president, and the dance division will also have a new leader: Alicia Graf Mack, 39, will take over from Taryn Kaschock Russell, acting artistic director for the current school year.
Applying for a college dance program can feel like a guessing game. Should you highlight all your competition titles and awards? How important are your academic grades? And how should you act in the audition? Here's advice from admissions officers from some of the top dance programs in the country about how to make your application stronger.
Keep reading...
Show less
Guides and Resources
Apr. 06, 2017 12:58PM EST
Stressed about the application process? The Dance Magazine College Guide is here to help! As the one and only higher ed resource exclusively for dancers, the College Guide effortlessly guides you through every option available, whether you're looking to get a dance degree or simply want to keep dancing in your college life. Find the program that's right for you.
Keep reading...
Show less
If you're a rising junior or senior living in the Southeast, you'll want to mark your calendar for the College Dance Fair, taking place in Boca Raton, FL, from August 29-31. The Dance Fair brings several great college and university dance programs together under one roof, and gives you the opportunity to speak one-on-one with admissions counselors.
Want to know how often you'll get to perform as an undergrad? How 'bout what the dance studios are like on each campus or whether there'll be opportunities to show your own choreography? Curious how often guest artists come to teach? Don't be shy - now's the time to ask!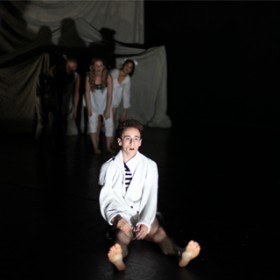 NYU's Tisch School of the Arts (photo by Ella Bromblin)
The Dance Fair also hosts two days of master classes with teachers from the various colleges. This is a great chance to get a feel for different teachers before you throw yourself into the college audition process.
Applying to college can feel completely overwhelming. But you'll be able to make the best possible choices if you're well informed about each of the schools you're considering.
Click here for more info, and best of luck!
You know what I love?
Smart dancers.
Do you know how you can become a smart[er] dancer?
Go to college!
I love dancers who make the decision to continue their education after high school. I know it's not for everyone—some dancers want to get their professional careers kicked off right away, and hey, any ambition is good ambition, right?
But it's the ones who choose to pursue a bachelor's (or master's!) degree—while still dancing!—that really impress me.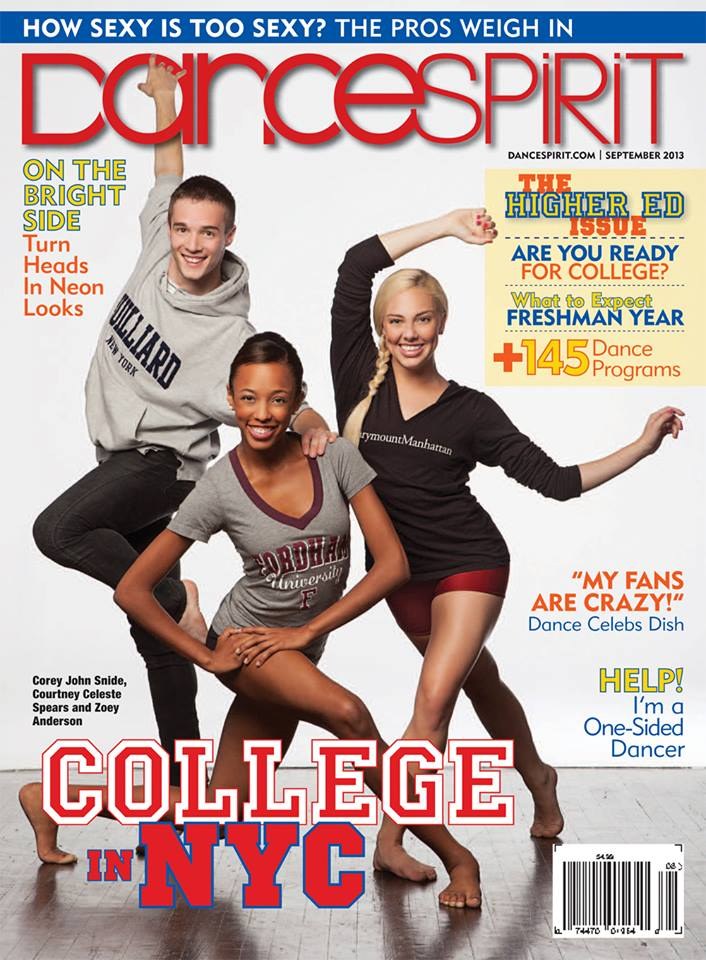 Dance Spirit's September Issue! Cover photo by Erin Baiano.
And with that, I proudly present to you...Dance Spirit's September issue! It's our annual Higher Ed Issue, and you should've received it in your mailbox by now. (If not, go snag it at your local Barnes & Noble. I'll wait.)
On the cover, meet three current college students who are making the grade in NYC: Corey John Snide, Courtney Celeste Spears and Zoey Anderson. All three grew up on the competition circuit, and now they're getting a glimpse of all life has to offer in the classroom, in the dorms, on the college stage and beyond. Corey's studying at The Juilliard School (impressive, I know), Courtney's enrolled in the Ailey/Fordham BFA Program, and Zoey is a dance major at Marymount Manhattan College (all the way from her hometown in Utah!).
We are so proud of them and are thrilled to have their smarty-pants faces beaming on the cover. Click here to read their cover story, "University of NYC."
Also in this issue: 
Must-know details about six standout NYC college programs

"Am I Ready for College?" I don't know. But in this story, we break down five common challenges university-bound dancers face, and we'll help ease any fears you may have about heading to the dorms.

Emily Bernet, a sophomore at Southern Methodist University in Dallas, TX, shares all the gritty details about her first year as a dance major at SMU. (She got bit by a poisonous spider, but don't worry about that. It's not a common college thing. Promise.)

Dance Spirit's annual Higher Ed Guide, with all the info you need on 145 top-notch college dance programs.
Go check it out and then let us know what you think on Facebook or Twitter!
Study hard, dance hard, play hard and have the best school year ever!
Montclair Debuts Studio-Teaching Concentration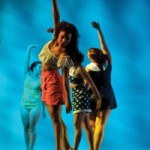 Lauren Alvarez, photo courtesy Lauren Alvarez
Dream of running your own studio? Check out Montclair State University's new dance studio teaching concentration, available to students pursuing a Bachelor of Arts in dance education.  "The program will prepare students for both the marketing and education sides of owning and working at a dance studio," says Dr. Elizabeth McPherson, Montclair's dance education coordinator. In addition to a full load of technique classes, students enrolled in the program will complete an internship at a local dance studio and take three general education courses, two dance education classes and four business courses.
"I'm hoping to gain more insight into owning my own studio," says Lauren Alvarez, a dance education major at Montclair who recently added the concentration.
University of Rochester Adds Two Dance Minors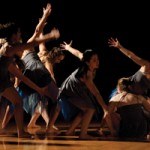 Students perform in the spring 2011 University of Rochester dance concert, photo by J. Adam Fenster/University of Rochester
When Missy Pfohl Smith became director of the University of Rochester's dance and movement program in 2010, she was blown away by the level of enthusiasm for dance on campus. With 14 student dance groups and about 600 students taking dance classes, Smith decided it was time to add two dance-related minors to the program. "After students take one course, they realize just how broad the dance world is and they want to learn more," she says.
The two minors launching this year are in dance and movement studies. The dance minor covers technique and choreography in styles such as ballet, jazz and West African dance, while the movement studies minor focuses on Eastern somatic studies, such as yoga, tai chi and qi gong. Unlike the school's student dance groups that highlight specific genres, like ballroom, hip hop and even South Asian folk dance, the two minors allow students to explore many styles and design a program around their individual interests.
Movin' On Up
Wondering what dancers from the Class of 2011 are up to now that they've graduated? We checked in with three top ballet programs to find out.
The School of American Ballet
Meaghan Dutton-O'Hara, Peter Walker, Aaron Sanz, Joseph Gordon and Harrison Ball have joined the New York City Ballet…Pennsylvania Ballet hired Alexandra Hughes…On the West Coast, Chloe Sherman, Bianca Bulle and Ben Winegar have joined the Los Angeles Ballet and Angelica Generosa is now a member of the Pacific Northwest Ballet School's Professional Division…Dresden Ballet hired Zarina Stahnke.
Miami City Ballet School
Jovani Furlan has been promoted to the Miami City Ballet…Daniel Savetta and Laura Chachich have joined The Washington Ballet…Sarah Chisholm is now a part of Ballet Arizona…Ashley Baszto was hired by Orlando Ballet.
Houston Ballet's Ben Stevenson Academy
Derrin Harper Watters has joined the Houston Ballet…Sarasota Ballet has hired Sareen Tchekmedyian…Amy Potter is now dancing with Ballet West II.
What does it mean to dance in college? For many high school dancers, the answer is a mystery. Dancewave, a non-profit dance organization for teens in NYC, is working to change that through its Kids Café Festival Goes To College. Now in its second year, the festival comprises a series of free events designed to expose high school students to multiple college dance programs through classes, performances and information sessions.
"We're hoping people will become excited and eager to major in dance," says Veronica Carnero, Dancewave's education and marketing manager and Kids Café Festival Goes To College coordinator. "In this economy, I think people are hesitant to go into the arts, but we're saying, 'Go for it. Continue with your passion because that's what's going to make you happy.' "
The festival kicked off last October, when Dancewave partnered with organizations including Career Transition For Dancers, Dance/NYC and Pentacle to produce Dancing Through College And Beyond at The Juilliard School in NYC. Open to high school dancers and their parents, the event offered a master class, panel discussions and a college fair with representatives from more than 25 college dance programs.
This month, up to 150 high school juniors and seniors will take master classes at Long Island University's Brooklyn campus. Professors from Marymount Manhattan, LIU—Brooklyn, and the University of Massachusetts—Amherst, and will teach. (The event, scheduled for January 29, is open to the public, but limited to high school juniors and seniors. Call 718-533-4696 or e-mail jeso@dancewave.org to reserve your space.)
The festival will culminate with two shows featuring performances by NYC teen dance groups and dancers from 13 college programs. The shows will be held February 5 and 6, 2011, on the LIU—Brooklyn campus.
DanceU101.com
College application deadlines are drawing near! Before submitting your app, head to DanceU101.com to read up on application strategies. The site is also chock-full of information about dancing in college and has up-to-date facts on more than 600 college dance programs. Check it out!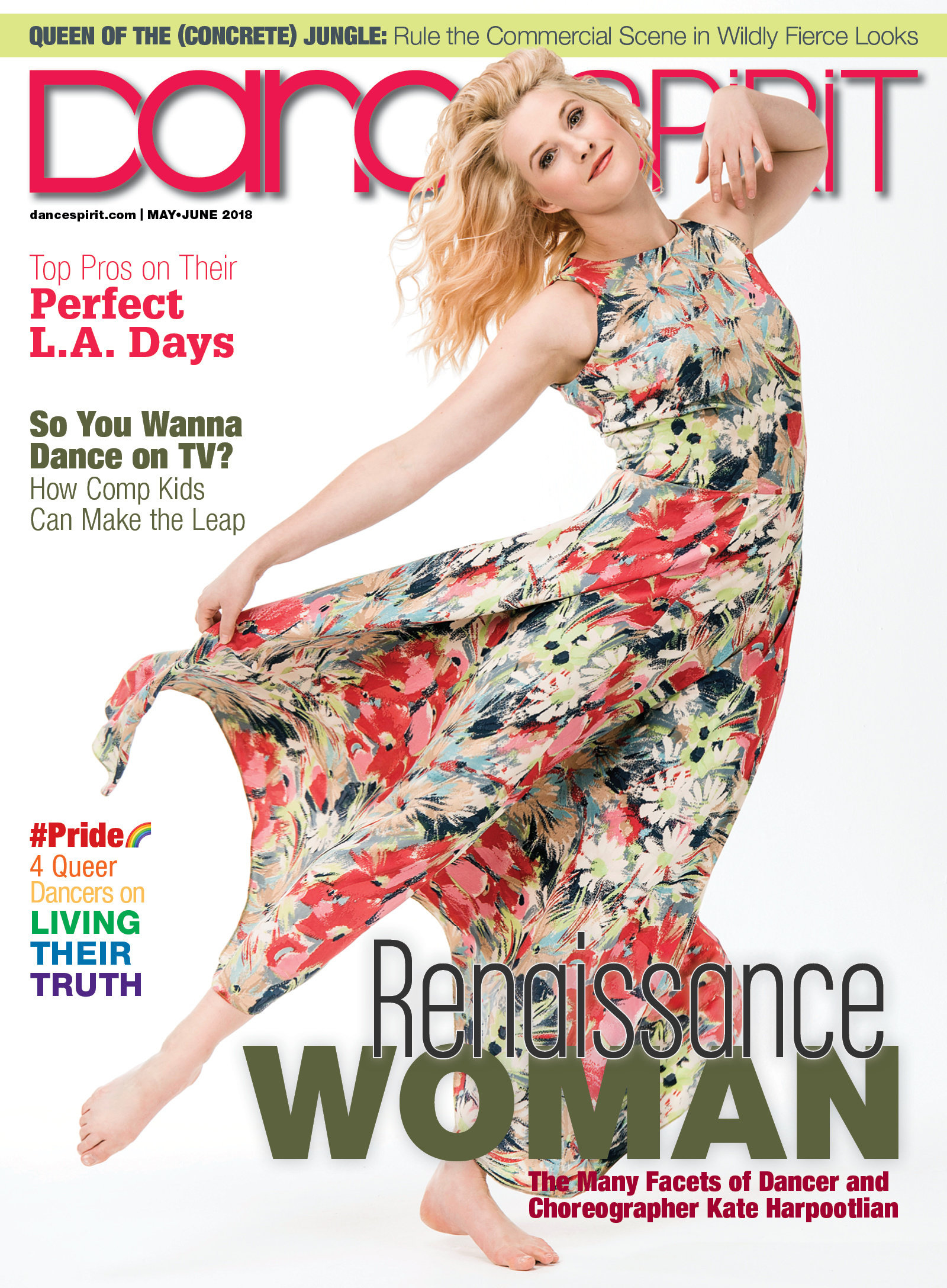 Get Dance Spirit in your inbox